CHEF/HOTEL PROFILE   .   .   .
FALL FLAVORS AT BLUEWATER GRILL
Through October 31 Bluewater Grill Santa Barbara Honors    National Seafood Month with Sensational Fall Special of        3-Course Meal for Two                 
by Bonnie Carroll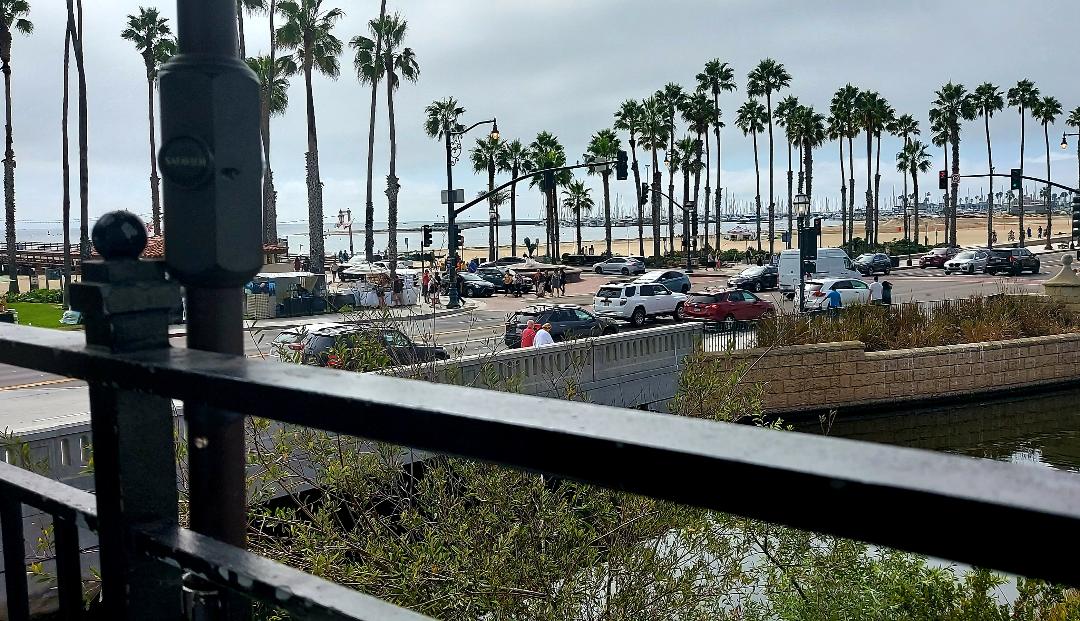 View of Santa Barbara Harbor from Bluewater Grill

Bluewater Grill Santa Barbara, located at 15 E. Cabrillo Blvd in Santa Barbara, is celebrating National Seafood Month with a special three-course meal for two for just $65 through October 31. Our visit was amazing sitting on the patio overlooking Santa Barbara Stearns Wharf, while savoring a perfect Caesar salad, a bowl of divine Moules Frites (a presentation I've not had before with crispy fries setting a top steamed mussels with chorizo, grape tomatoes, white wine, and garlic combined in a seafood soup that was so sensational), and lingering over the signature Key Lime Pie dessert was such a memorable sweet ending for this afternoon for two by the sea experience.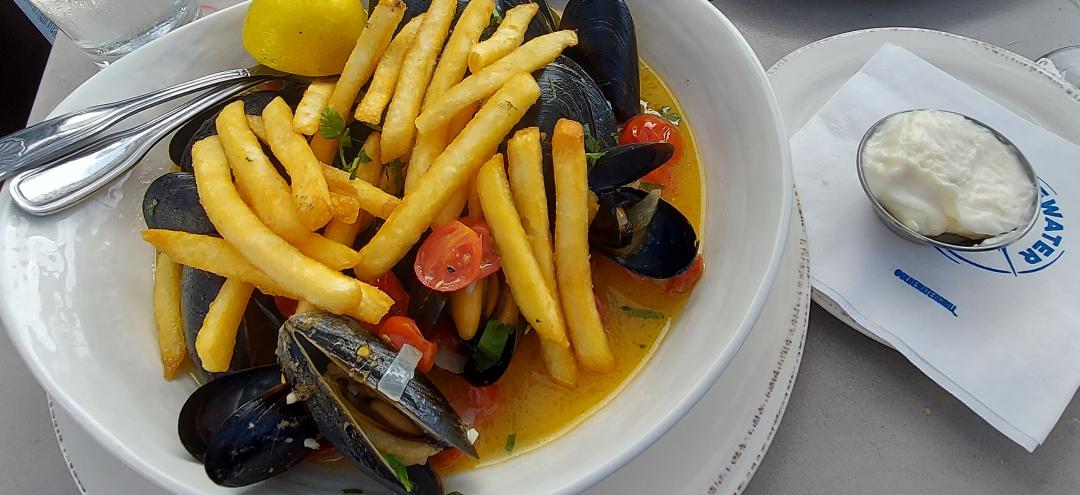 Moules Frites
"Bluewater's National Seafood Month Celebration for Two" gives a pair of seafood lovers their choice of Hearts of Romaine Caesar Salad, a cup of New England or Manhattan Chowder, or a glass of red or white house wine as a starter; a choice of eight classic entrees off the Bluewater menu or a new dish created for National Seafood Month; and a slice of housemade Key Lime Pie for dessert.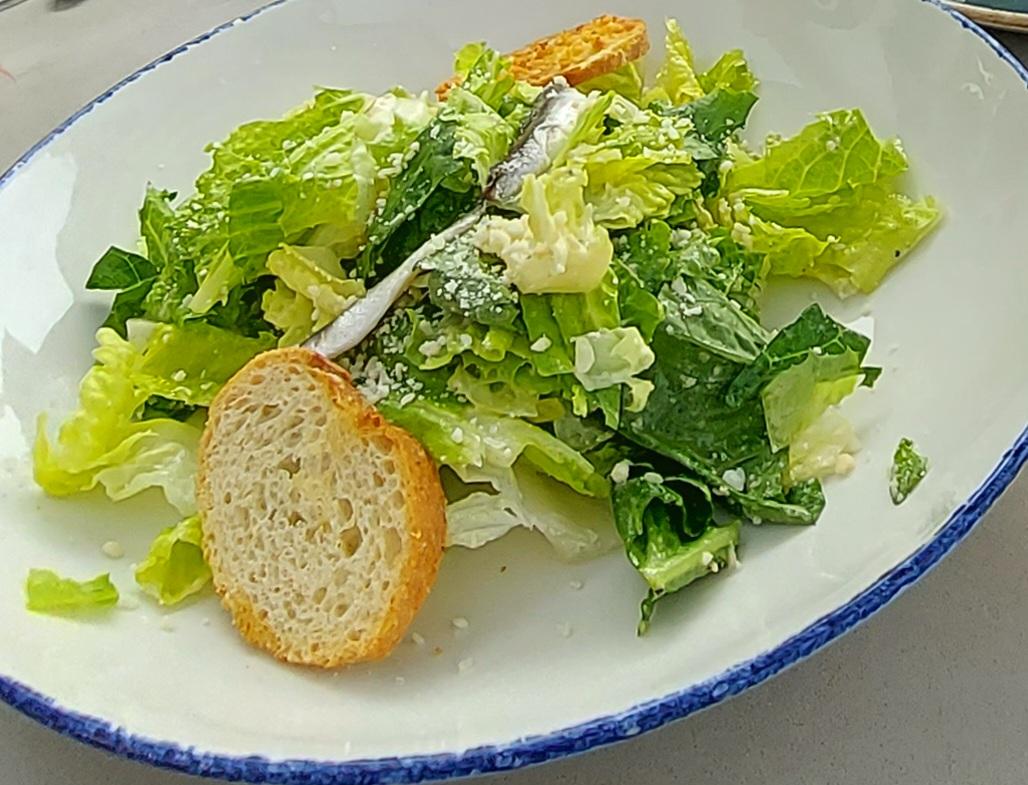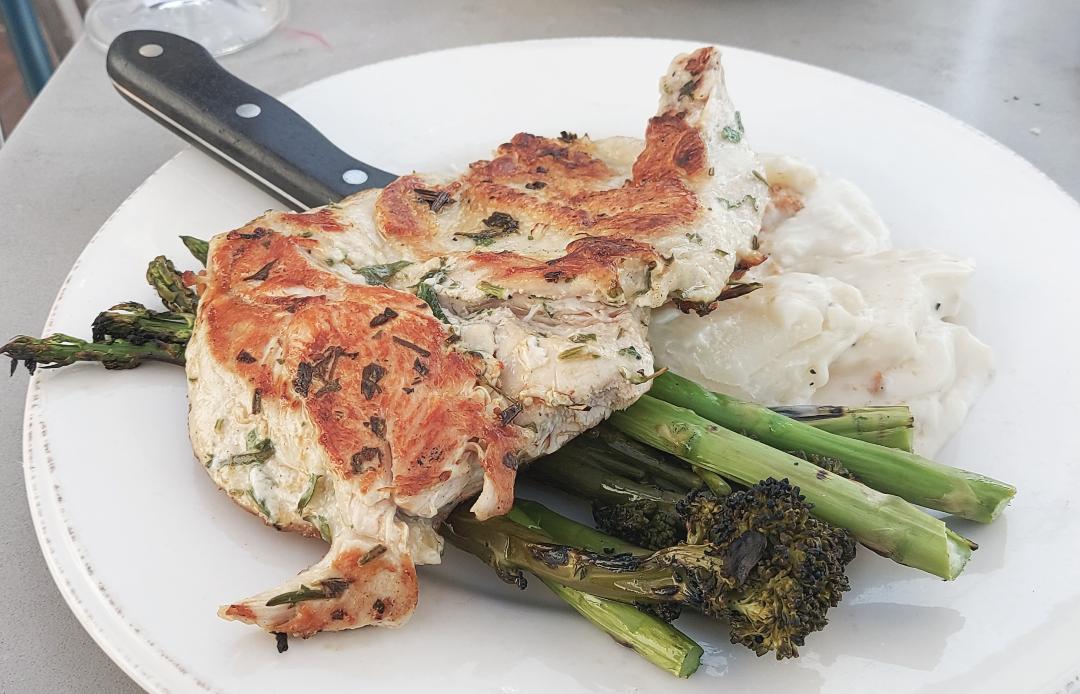 Bluewater Grill Caesar Salad & Chicken Under a Brick
Included among the nine entrée October special choices are Maryland Style Crabcakes with steamed spinach, remoulade, chive oil and micro greens; Gemelli Pasta with Shrimp and Sea Scallops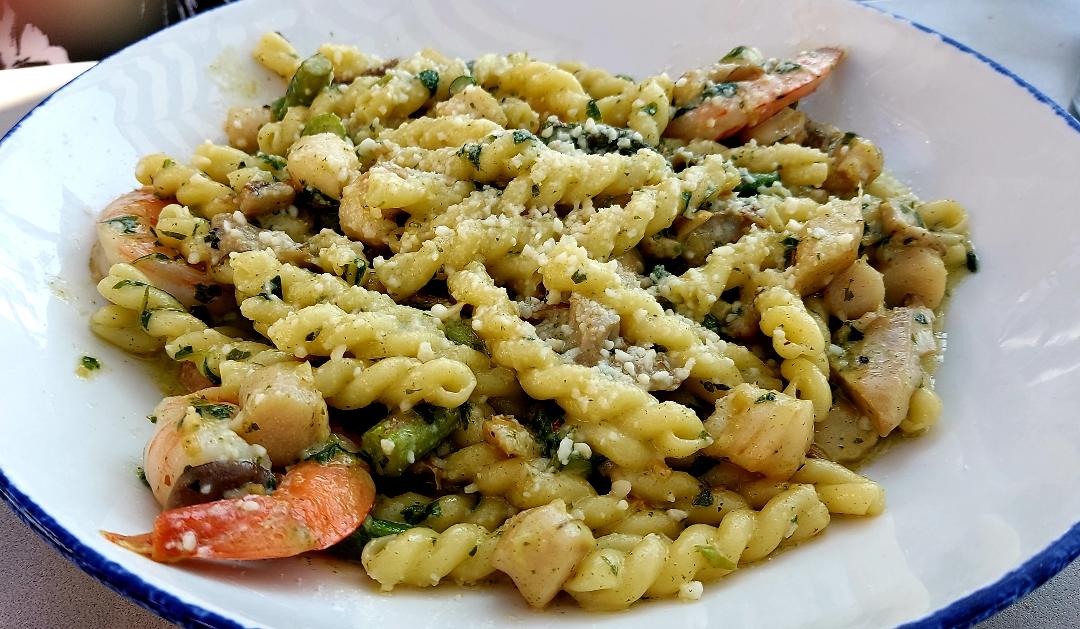 paired with oyster mushrooms, asparagus, pesto cream and parmesan; Beer Battered Fish & Chips; a Panko-breaded Calamari Steak with fries and cole slaw; Sauteed Sanddabs from local waters; and Grilled or Blackened Rainbow Trout with delicious, scalloped potatoes and spinach. The scalloped potatoes served at Bluewater with fish plates are so sensational and are so appreciated by this lady potato lover!
Three other options included were Moules Frites, a classic French dish of steamed mussels with chorizo, grape tomatoes, white wine, and garlic served with French fries and mayonnaise; moist and tender Chicken Under a Brick, featuring an herb crust, scalloped potatoes, and asparagus; and Firecracker Shrimp, available during October only with coconut steamed rice and broccolini.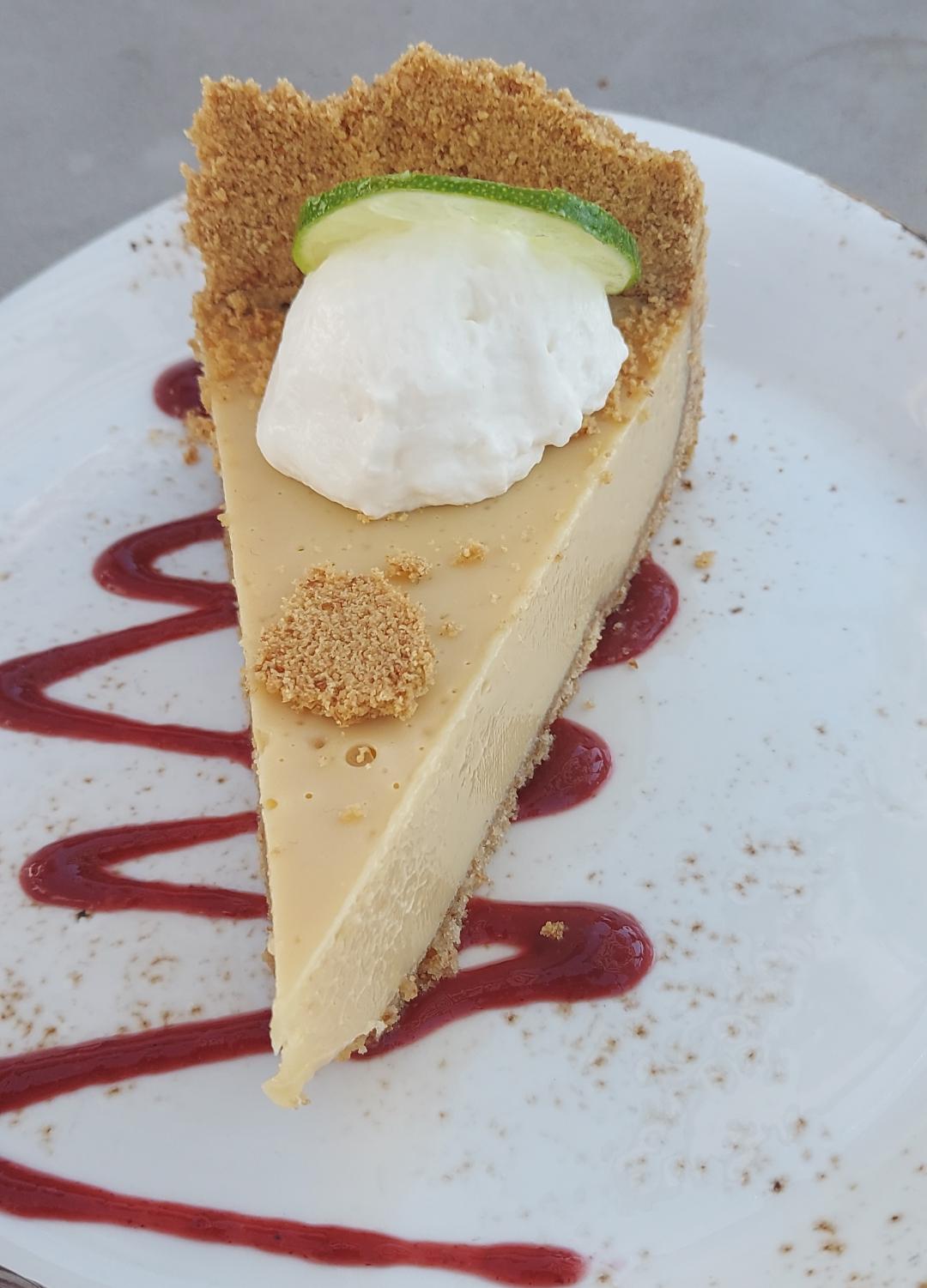 Sweet Ending of Keylime Pie
According to Bluewater co-founder and co-owner Jimmy "Jim U" Ulcickas, Bluewater's obsession with freshness and sustainability makes a National Seafood Month menu a no-brainer. "Back in 1996, Bluewater was at the forefront of the fresh, sustainable seafood conversation," he said. "Folks weren't used to getting hyper-fresh seafood and shellfish right in their own neighborhood, and the question of fish origins was just starting to take off."
Jim Ulcickas and co-owner Richard Staunton consider themselves fisherman at heart. It would seem this appreciation for the ocean is what makes Bluewater such a favorite among seafood lovers. They have obviously worked hard over the years to build the consensus that if you want the absolute freshest fish, you come to Bluewater.


Note: In addition to the original location in Newport's Cannery Village, there are Bluewater Grills at King Harbor in Redondo Beach in Los Angeles County's South Bay; in a newly remodeled space in central Phoenix; in Temecula Wine Country in Southern California's Inland Empire; over the water on Avalon Bay on Catalina Island; and in the former Hotel del Coronado boathouse on Coronado Island in San Diego.
Bluewater's two newest restaurants are in Carlsbad Village in northern San Diego County and in an iconic lighthouse on the Santa Barbara beachfront. Visit: www.bluewatergrill.com for location operating hours, menus and specials. For information on Bluewater Grill's industry-leading sustainability program visit: https://www.bluewatergrill.com/sustainability/.
____________________________________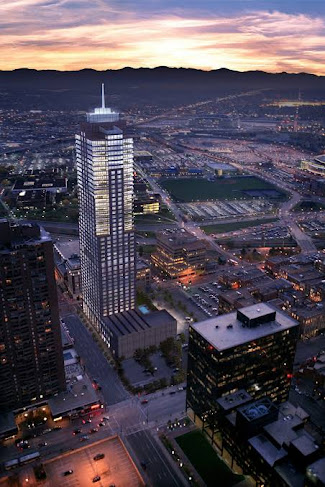 FOUR SEASONS DENVER COLORADO
Unexpected Bliss in the Center of the Mile High City
by Bonnie Carroll
Situated in Denver's Theatre District, this member of the Four Seasons hotel family draws luxury-seekers with the promise of sumptuous amenities and high-end service. Decked out in simple yet sleek decor, rooms at Four Seasons Hotel Denver features hardwood floors and creamy hues, not to mention amenities like plasma-screen TVs and Wii gaming systems (upon request).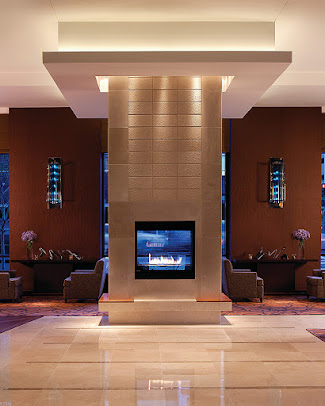 Fireplace Lounge
Qn-site amenities include a full-service spa and the AAA Four Diamond EDGE Restaurant. Visitors praise the Four Seasons' hotel staff for their friendly and helpful vibe.  It's expensive but you'll find yourself in the lap of luxury, and the truth is you get what you pay for!
The sun is so warm and inviting in Denver because you're much closer to it, just one mile above sea level in a laid-back mountain metropolis. Denver is much more than the great outdoors and will begin with breakfast in bed, followed by an exploration of the many independent boutiques and restaurants of historic Larimer Square. Spend your afternoon relaxing at the Spa or lounge at the Four Seasons rooftop pool. Sweet ending could be a hearty dinner at EDGE Restaurant before walking across the street for a show at the Denver Performing Arts Complex.
EMBRACE THE SEASON
In the summer, there's fly fishing, mountain biking, hiking and rock climbing. In winter, it's all about the slopes. Whatever the season, you can pick your activity and the hotel staff will guide you through a morning filled with adventure, followed by a gourmet picnic lunch at Icelantic Skis flagship in Golden, Colorado, to meet the artists behind the famous designs. In the winter endless ski and snow activities abound.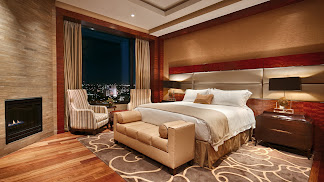 Four Seasons Denver Guestroom
The guest rooms and suites embody a sophisticated contemporary styling with sleek furnishings, rich polished woods, and soothing earth tones. Large windows allow for plenty of natural light and either city or mountain views. In-room amenities include terry cloth robes, down duvets and pillows, tea/coffee makers and refrigerated minibars. The stylish and well-appointed guest rooms offer the very best in comfort and privacy, while providing a peaceful retreat in which to relax and unwind throughout your stay.
DINING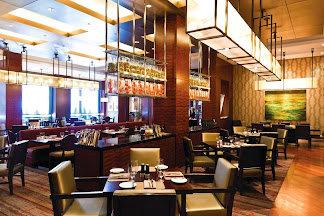 EDGE Restaurant
The EDGE Restaurant culinary team refined the modern steakhouse menu – adding new raw bar selections and seafood, fine aged cuts of meat, creative twists on appetizers, entrees and sides, and artful, house-made desserts. EDGE offers an unmatched selection of proteins from the world over; guests have the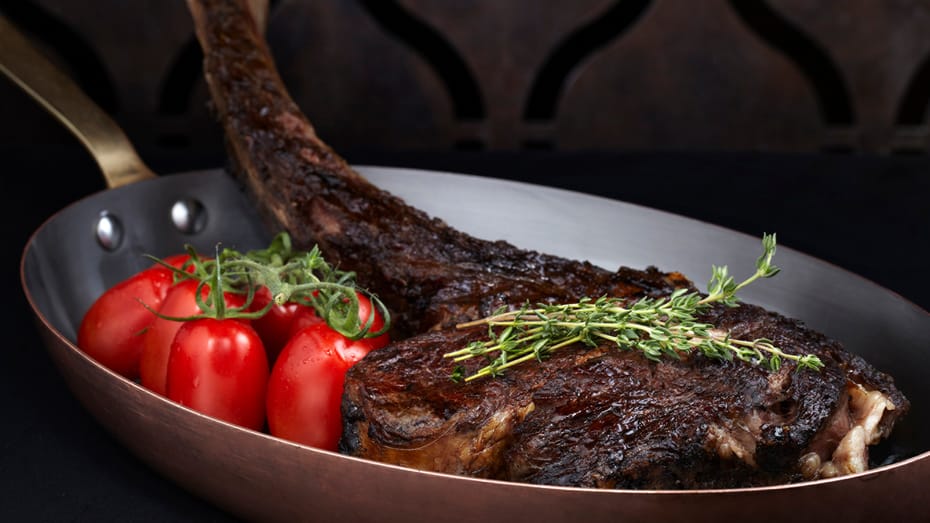 opportunity to choose their preferred cut, and sauce prepared exactly how they'd like it. Favorites for breakfast include Three Egg Denver Omelet, Traditional Benedict or Biscuits and elk sausage gravy. The raw selections include a rotating selection of oysters (seasonal mignonette with lemon and cocktail sauce), ahi tuna crudo, Wagu Tomahawk Steak (seen in photo), Japanese A5 Wagyu flight  (rib eye filet, tenderloin, NY strip, hot stone ) $245.00 USD. Also bone marrow & beef tartare, Bang Islands rope mussels, Hudson Valley foie gras torchon, charred Spanish octopus, or local Burrata. Their grill offers an amazing collection of outstanding beef selections, pork chops and chicken. Sauces include a choice of Soloman's sauce, Bearnaise, Sauce au Poivre, Horseradish Cream, and desserts specialties like sticky toffee pudding and Valrhona chocolate cake.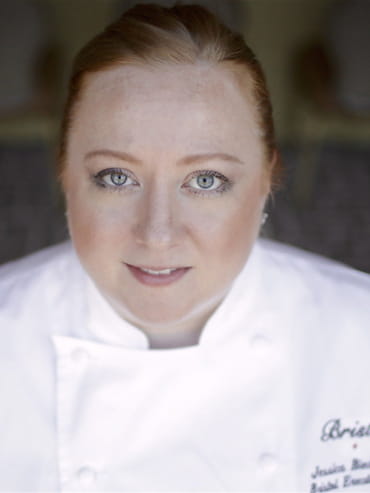 Chef Jessica Biederman
EDGE Restaurant Chef Jessica Biederman brings a wealth of experience to EDGE Restaurant & Bar. She was born and raised in South Carolina and spent her early career on the east coast - working her way north from the Carolinas through Washington DC and up to Boston. Most recently, Chef Biederman headed up Bristol Restaurant and Bar at Four Seasons Hotel Boston as their Executive Chef. Biederman prides herself on the ability to balance the fast-paced, high energy of the kitchen with her intense attention to detail.
"I strive to ensure that all of our guests have an equally extraordinary experience when dining with us. Whether you're a vegan, vegetarian, pescatarian, meat lover, or anything in between, my goal is to ensure that your dining experience is like no other. Each dish that comes out of my kitchen should be equally beautiful, unique, and most of all, delicious." The best seat in the house is the Chef's Table - one of three,glass enclosed,private-dining rooms featuring an exclusive look into EDGE's lively kitchen, where intimate groups of up to 10 guests can see all the behing-the-scenes activity. EDGE bar consists of three separate bars bringing each corner of the spacious venue to life, including the corner bar off the lobby, the original EDGE bar, and the newraw  bar. Each offers an extensive list of cocktails, champagnes, wines, microbrews and shareable plates.
THE SPA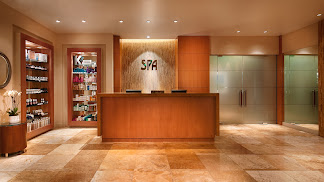 Four Seasons SPA Denver
The Four Seasons Denver SPA offers some unique treatments perhaps not experienced at other properties including: Biologique Recherche Cold-Therapy Facial, a bespoke cold-therapy facial featuring a contouring facial massage and curated cocktail of serums and masks designed to provide instant results.
The HydraFacial An incredibly effective resurfacing and anti-aging facial utilizing Hydra dermabrasion technology, this facial benefits all skin types by improving the appearance of fine lines, wrinkles, acne, hyper-pigmentation, congested pores and uneven skin tone. The treatment includes a thorough exfoliation, extractions assisted by Vortex-Fusion, LED therapy and exceptional hydration through antioxidant, peptide, and hyaluronic acid infusions. This facial also includes a lymph drainage technique to relieve puffiness and support toxin elimination. Both services yield remarkable and immediate results.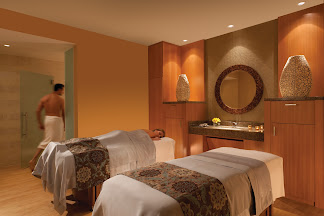 THE SPA Couples Massage Room
The Fire & Ice Facial is intensive and remarkably effective facial designed to resurface the skin rapidly and safely. Precise combinations of two professional treatment masks are complemented by serums and creams expertly selected to address your skin concerns. The Red-Carpet Facial experience enhances the Fire & Ice facial by adding an oxygen serum infusion leaving your skin camera ready.
I've enjoyed the Oxygen Infusion Facial which is outstanding and a results-driven facial that includes the use of hyperbaric oxygen and a serum consisting of skin-renewing botanicals and hyaluronic acid. Using oxygen under light pressure aids the delivery of these age-defying ingredients in a modern treatment. Oxygen promotes natural collagen and elastin production, improving skin texture while visibly smoothing fine lines and wrinkles. It is an ideal treatment right before a special event, for jet lag or whenever an amazing glow is desired. The SPA also offers specialized skin masks, Celluma light therapy, and special unique serums to plump and hydrate while fighting fine lines and wrinkles.
PARKING
Hotel Parking: Please note the only parking is the Hotel Valet Parking at $50.00 per night. The hotel offers a free shuttle to shopping center.
FOUR SEASONS DENVER

1111 14th Street

Denver, Colorado 80202

1-303-389-3000
*  *  *
---