TRAVEL ADVENTURES
STAR CHEFS AT RIVER CAFE, TRIO & CAFE DES ARTISTES SHINE
DURING AVANT-GARDE PROGRESSIVE DINNERS
by Bonnie Carroll
Guest attending the 20th Anniversary Festival Gourmet International in Puerto Vallarta in November 2014 had the extreme pleasure of participating in the avant-garde progressive dinners, which included courses at three star restaurants featuring the talent of chefs and visiting chefs. The dinner I had the pleasure to savor included dishes at The River Cafe, TRIO and Cafe Des Artistes. This was a gastronomique safari style experience that every 'foodie' would relish.
THE RIVER CAFE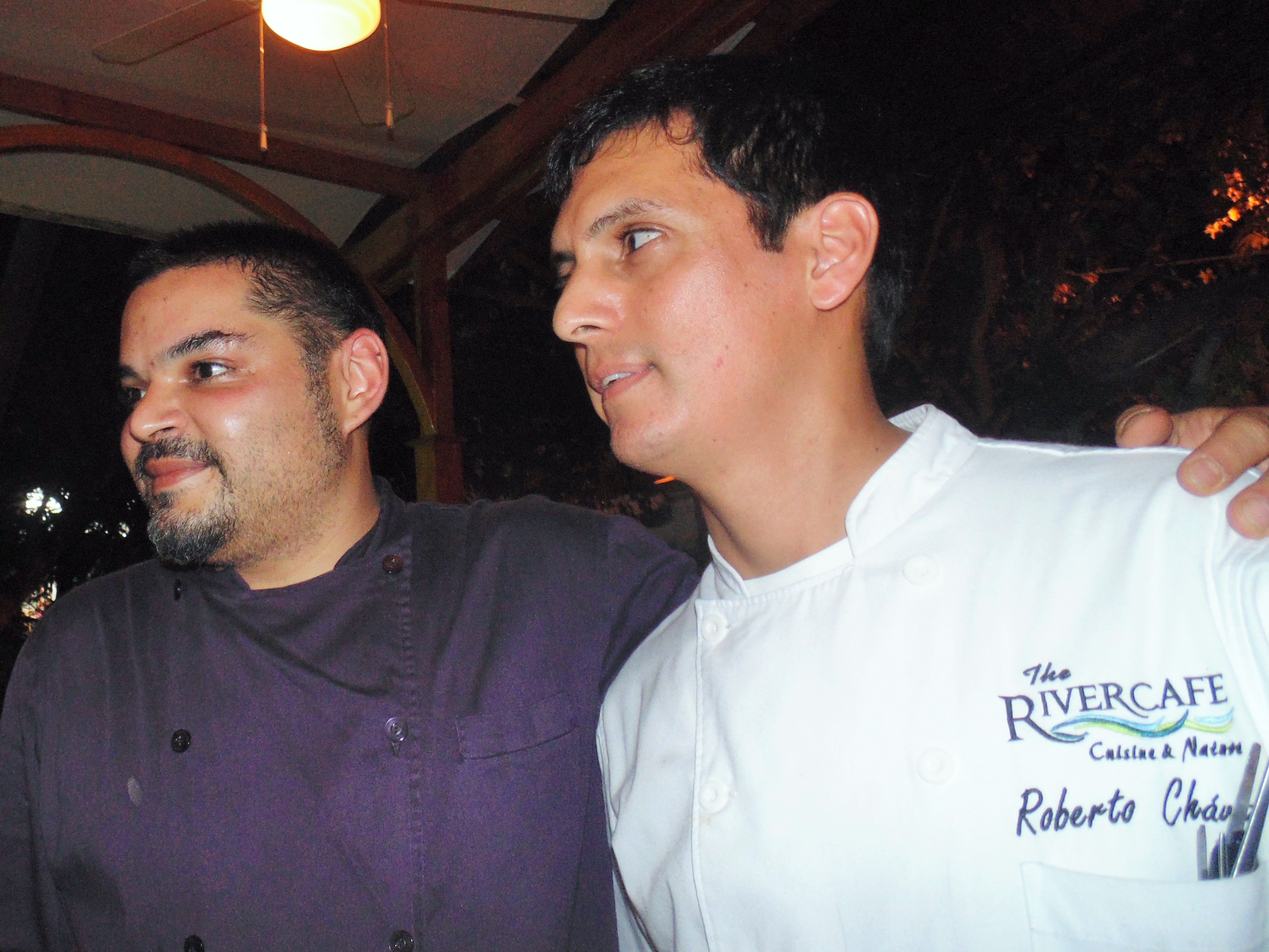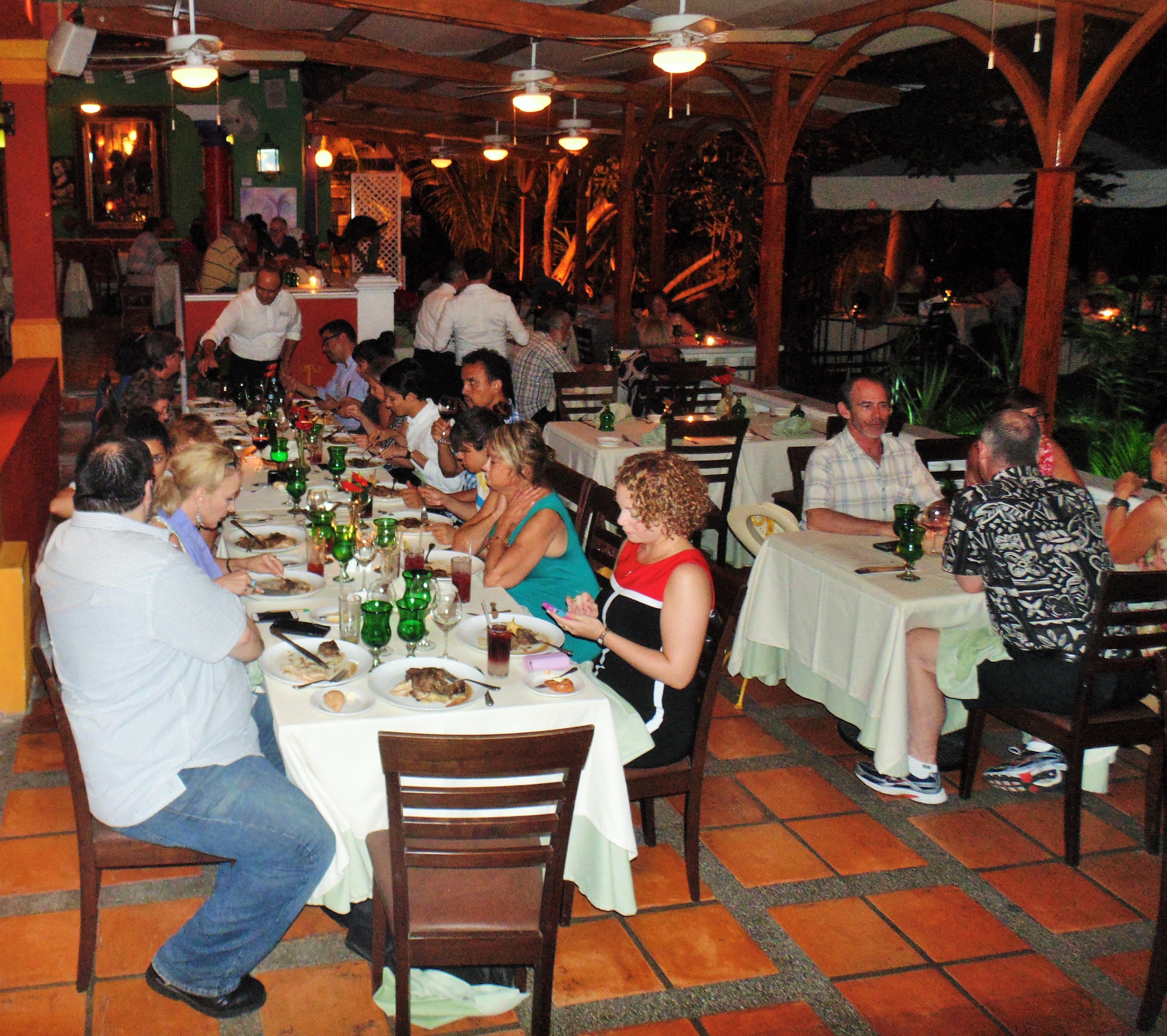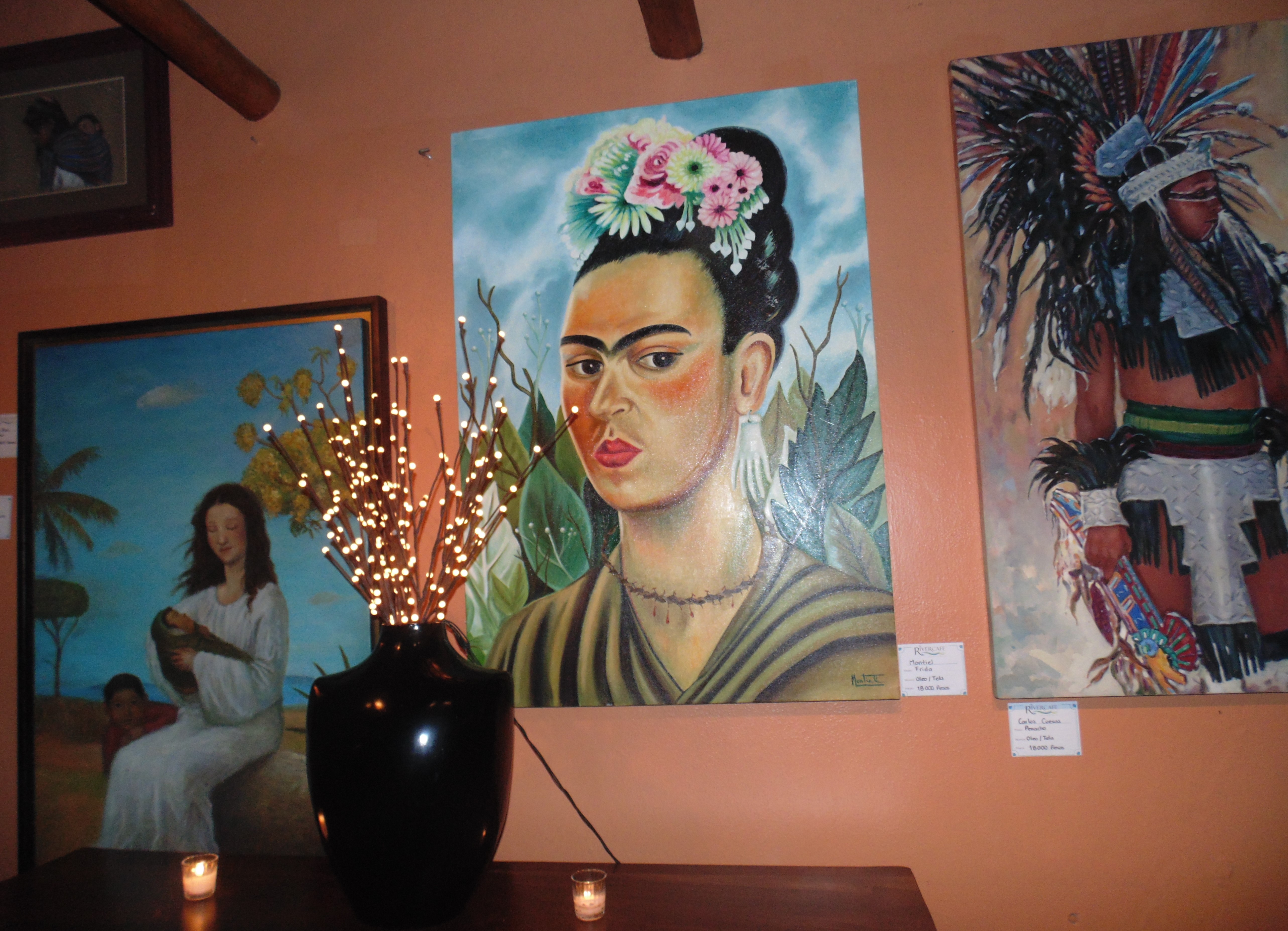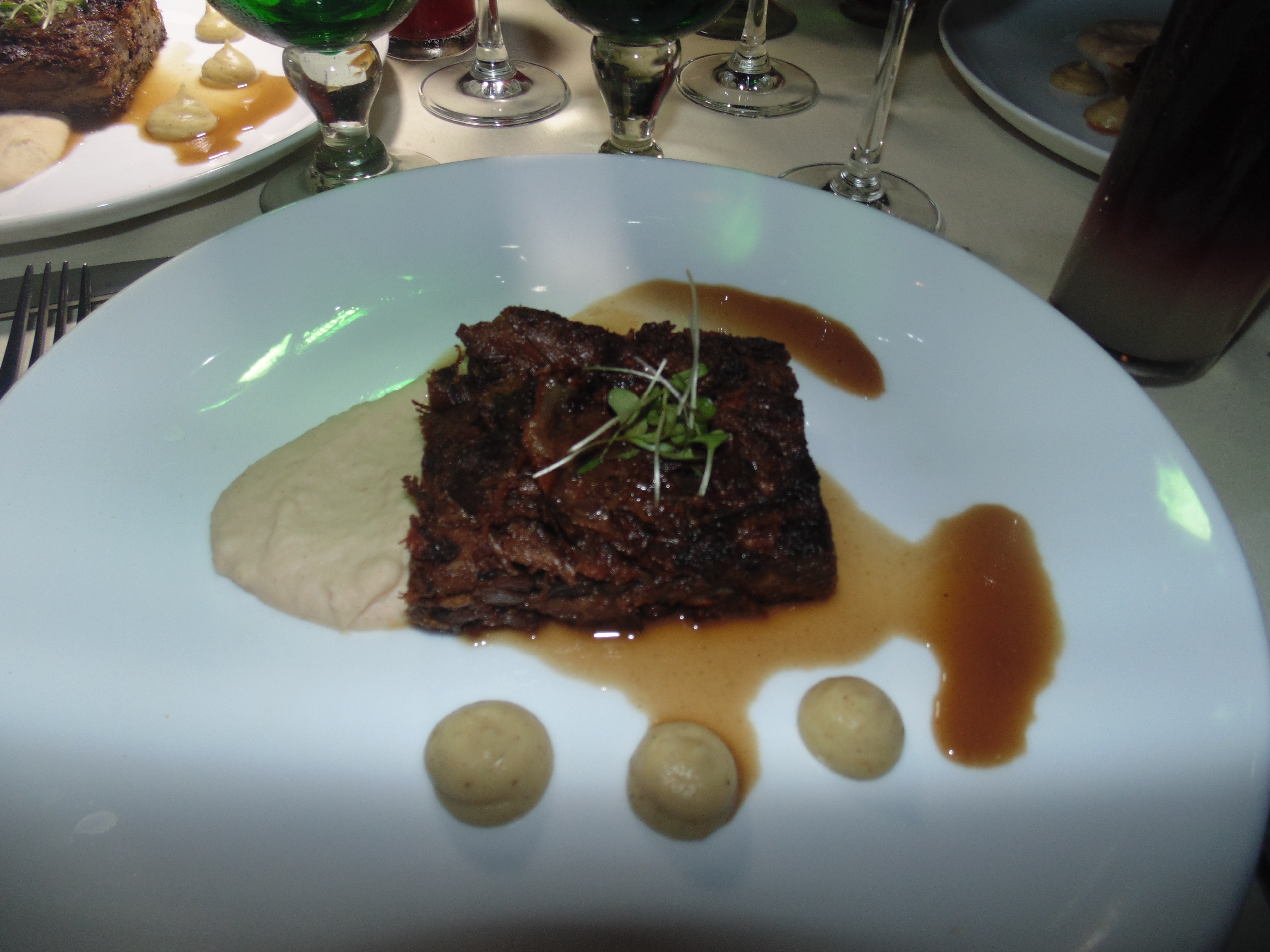 This colorful restaurant, filled with paintings and artwork by talented Mexican artists, is located on the rivers edge of the Rio Cuale, and is a very exciting dining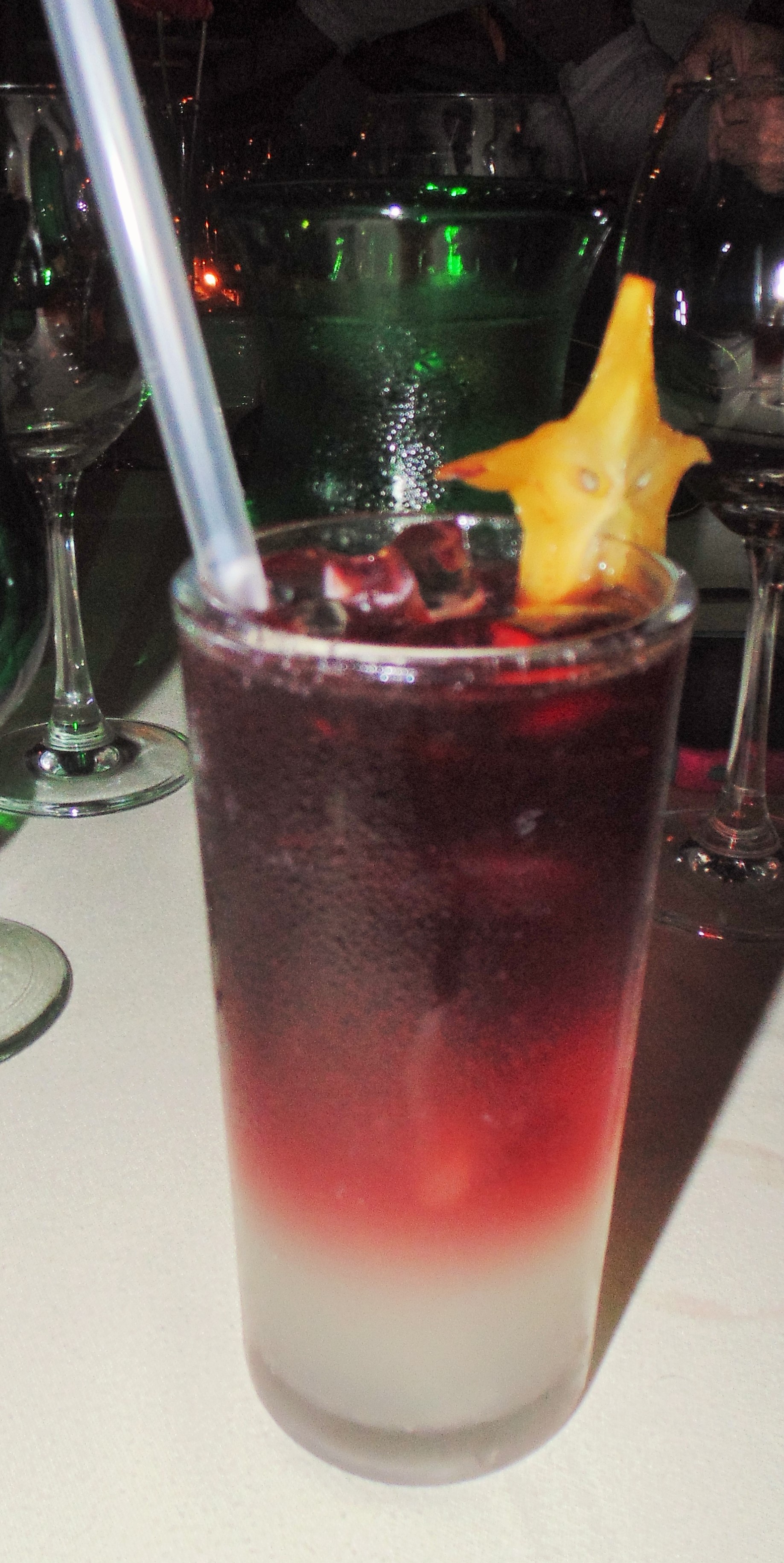 venue. The gourmet cuisine with traditional flair is unique and outstanding. The river, live entertainment and the general ambiance of the venue provide a tasteful and peaceful experience for guests. The lamb plate we enjoyed was unique in preparation and presentation, and was paired perfectly with The River Cafe's home-made sangria.
Roberto Gavino Chavez Oviedo The River Cafe Chef is from Peru, and has formed a philosophy of responsibility, harmony and passion for his cooking during his18 year career. Health cuisine concepts are paramount to Chef Roberto. Guest chef Marcos Gabriel Fulceri came to Mexico 14 years ago and is proud to implement his personal touches to the gourmet menu of this beautiful that has earned them a best restaurant in Mexico award. Visit www.rivercafe.com.mx
TRIO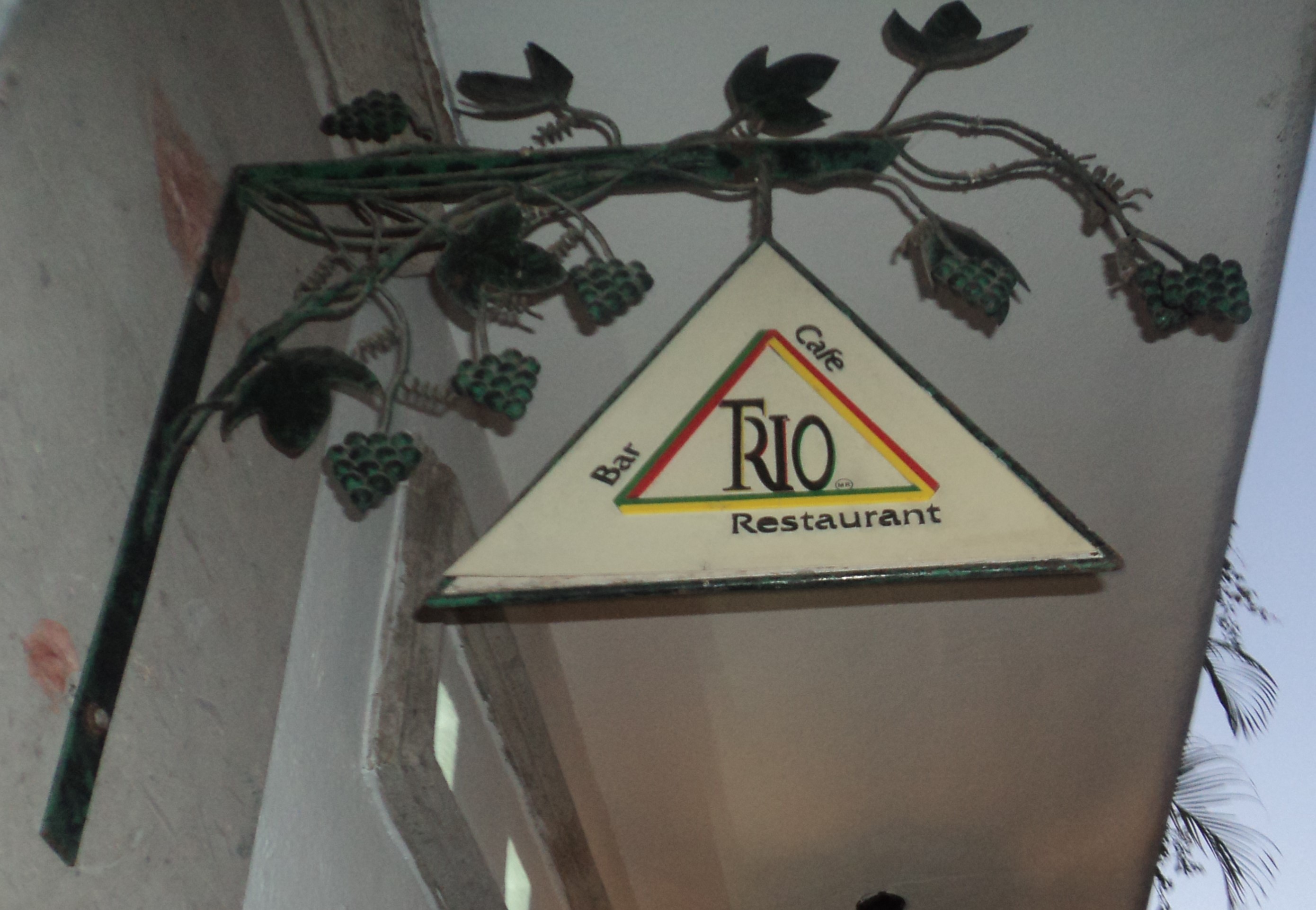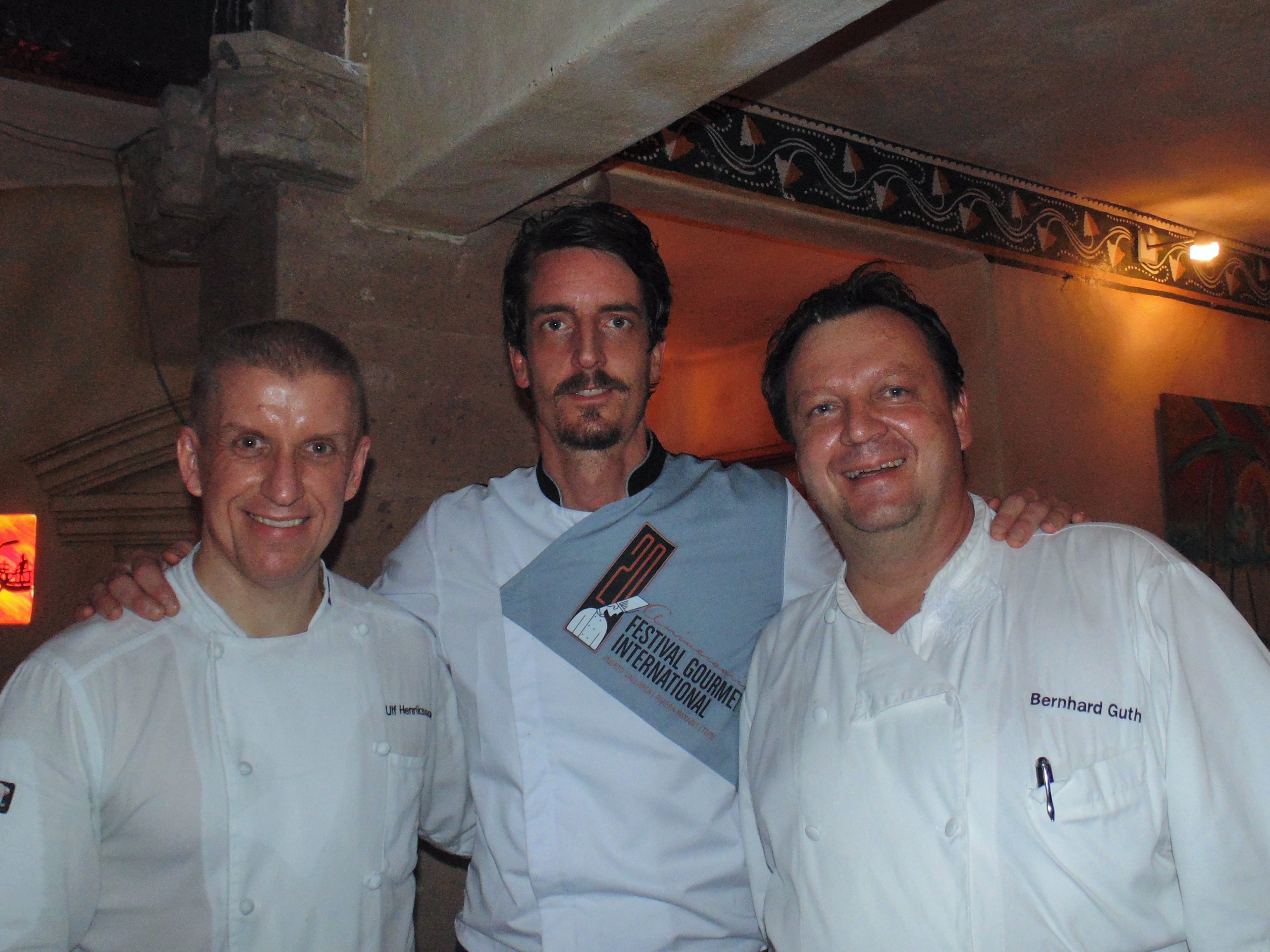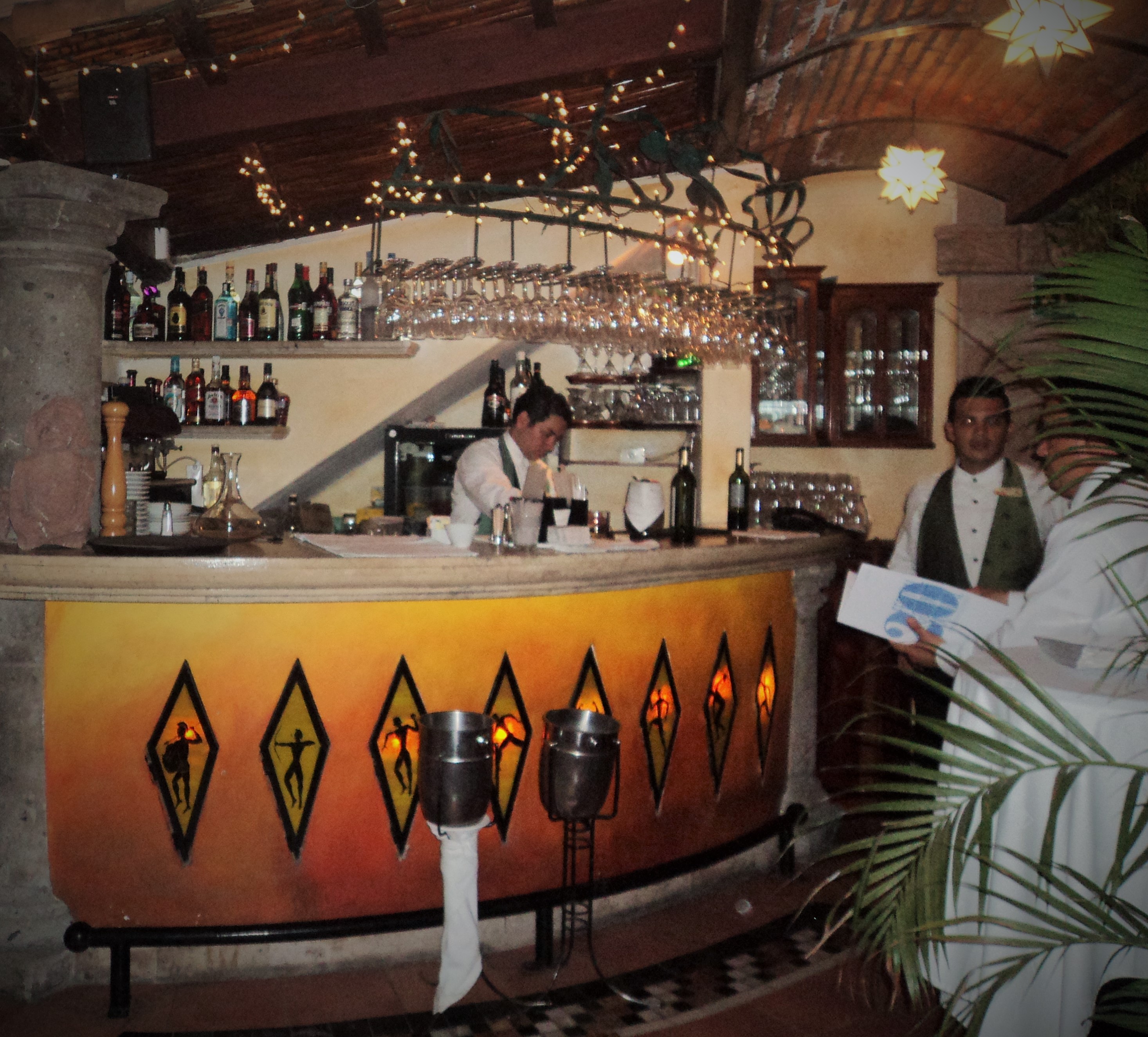 The TRIO upstairs dining room with it's beautiful and colorful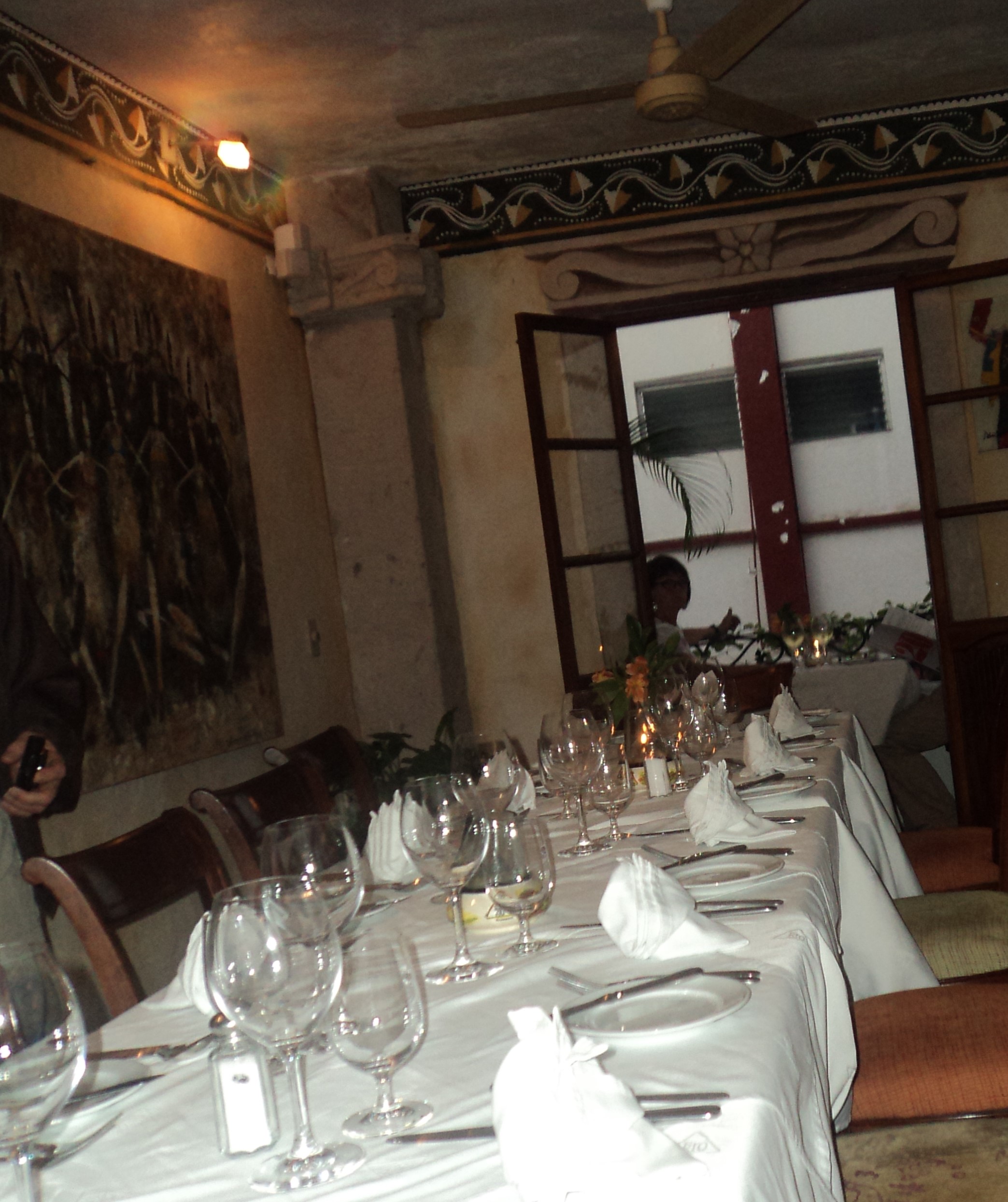 tile bar is one of my favorite venues in Puerto Vallarta. The ambiance is warm, elegant and upbeat, and the food is always magnificent. The delicious salmon preparation with a Swedish flair melted like butter in the mouth, and was simply outstanding, as were the appetizer and beet salad. Wines served with this memorable dinner included a red and white by Vinas Pijoan, Baja California.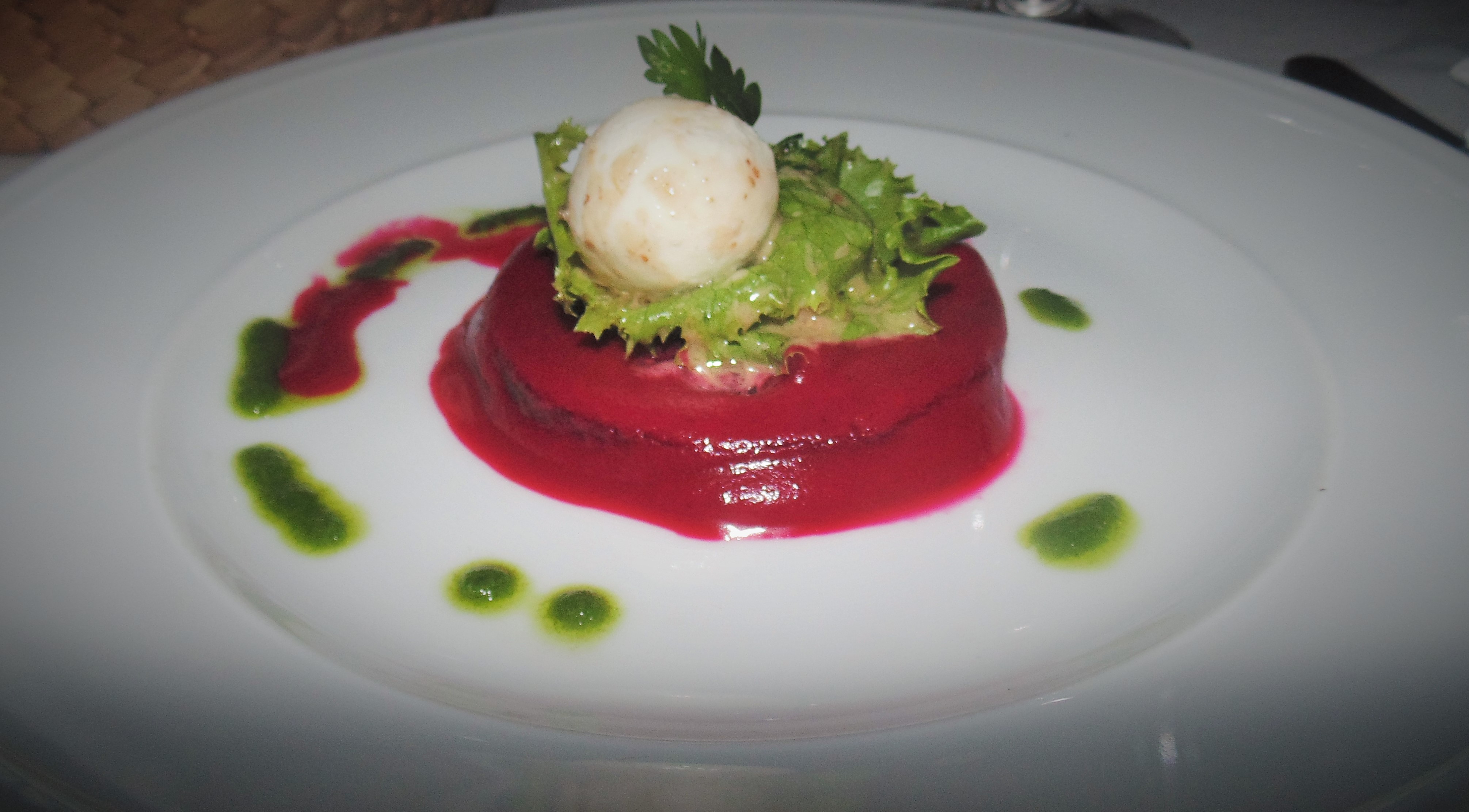 TRIO Chef Bernhard Guth was born near the Black Forest region of Baden, worked in Italy and New York and now creates a menu in Puerto Vallarta that is described as "Mediteranian Cuisine with Mexican spice." Ulf Henriksson TRIO chef was born in Kalix, Sweden and invited guest chef Kirstoffer Andersson, chef/co-owner of award winning Jazzkoket restaurant in Sweden, to participate at TRIO during the festival. Visit: www.triopv.com
CAFE DES ARTISTES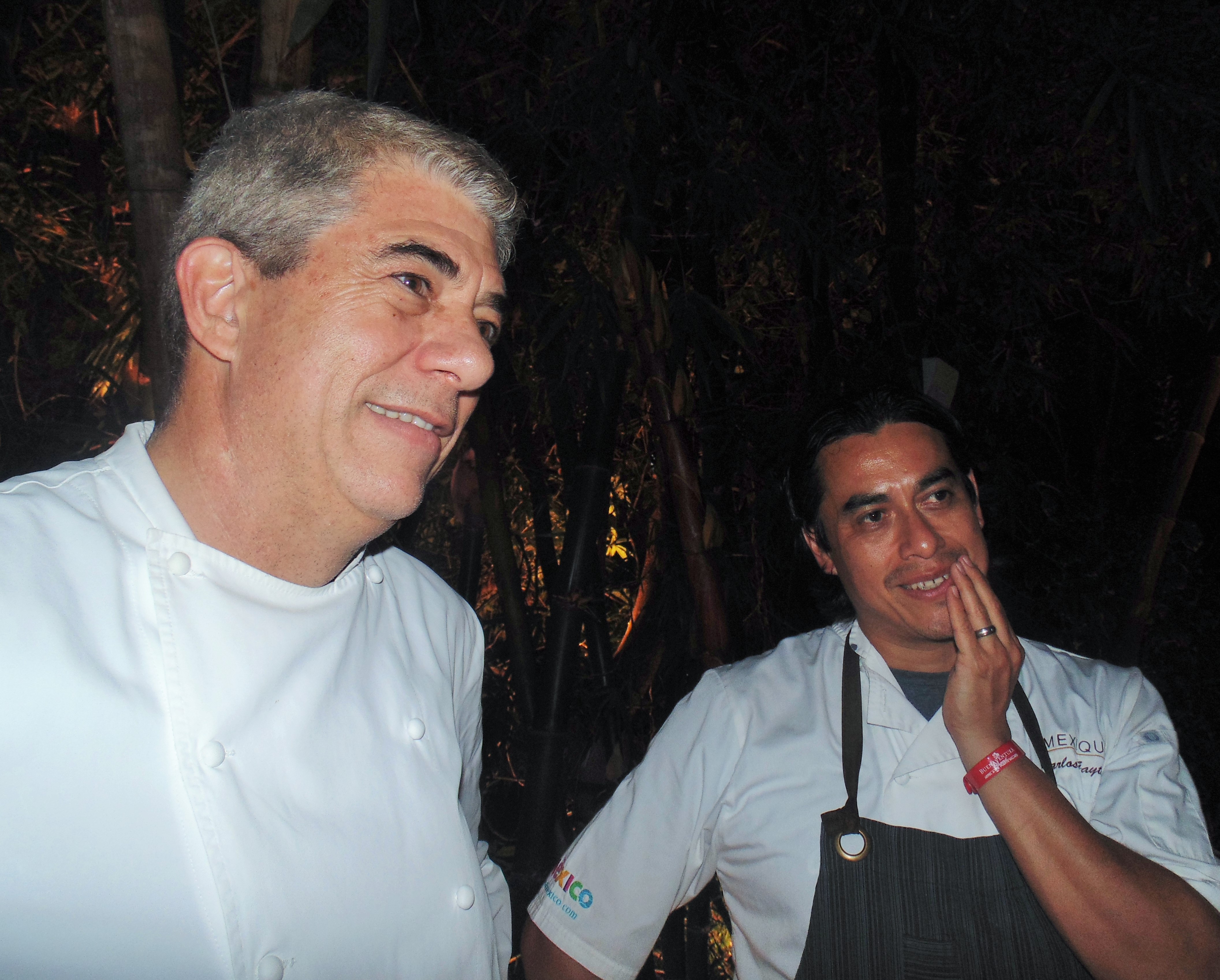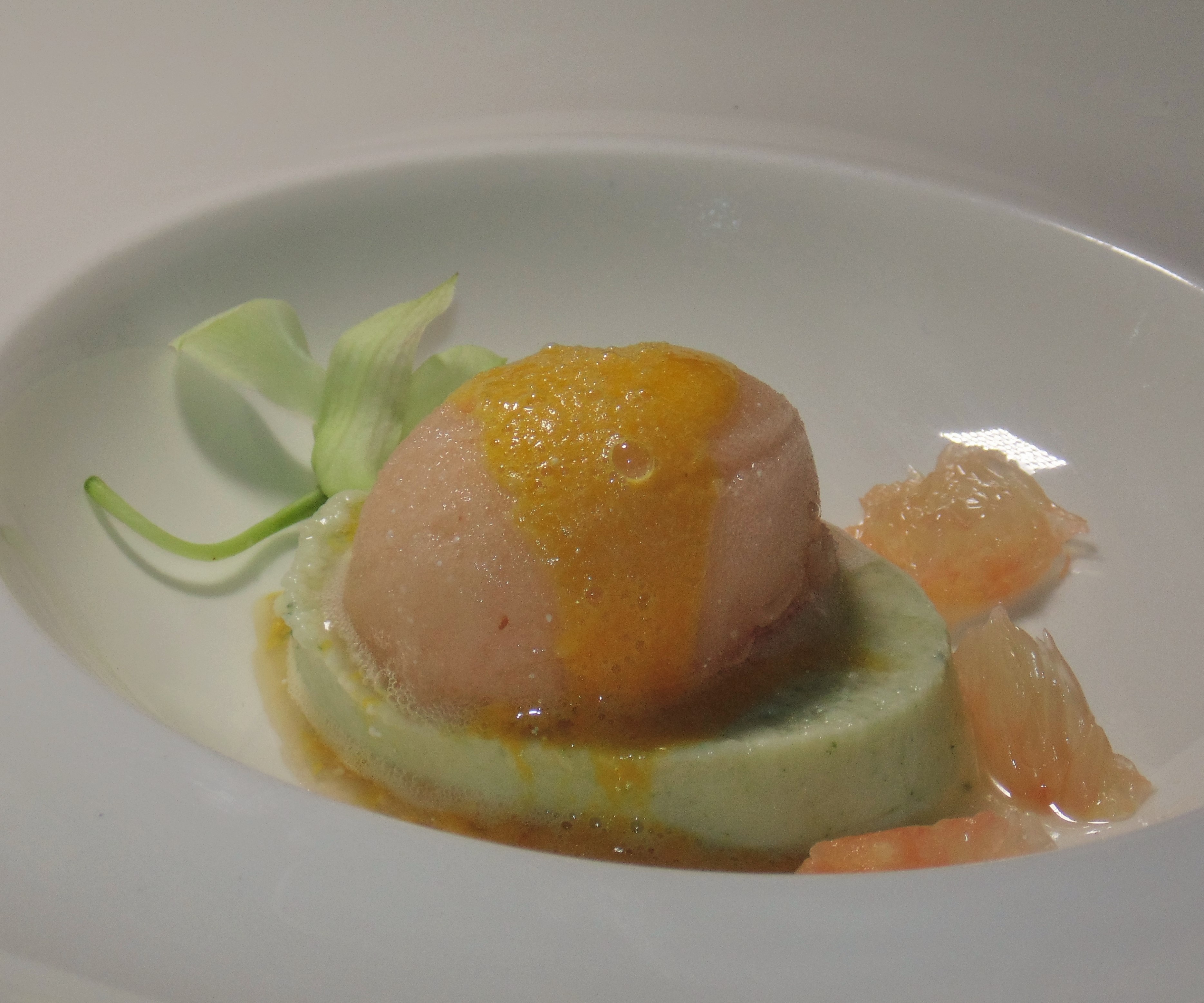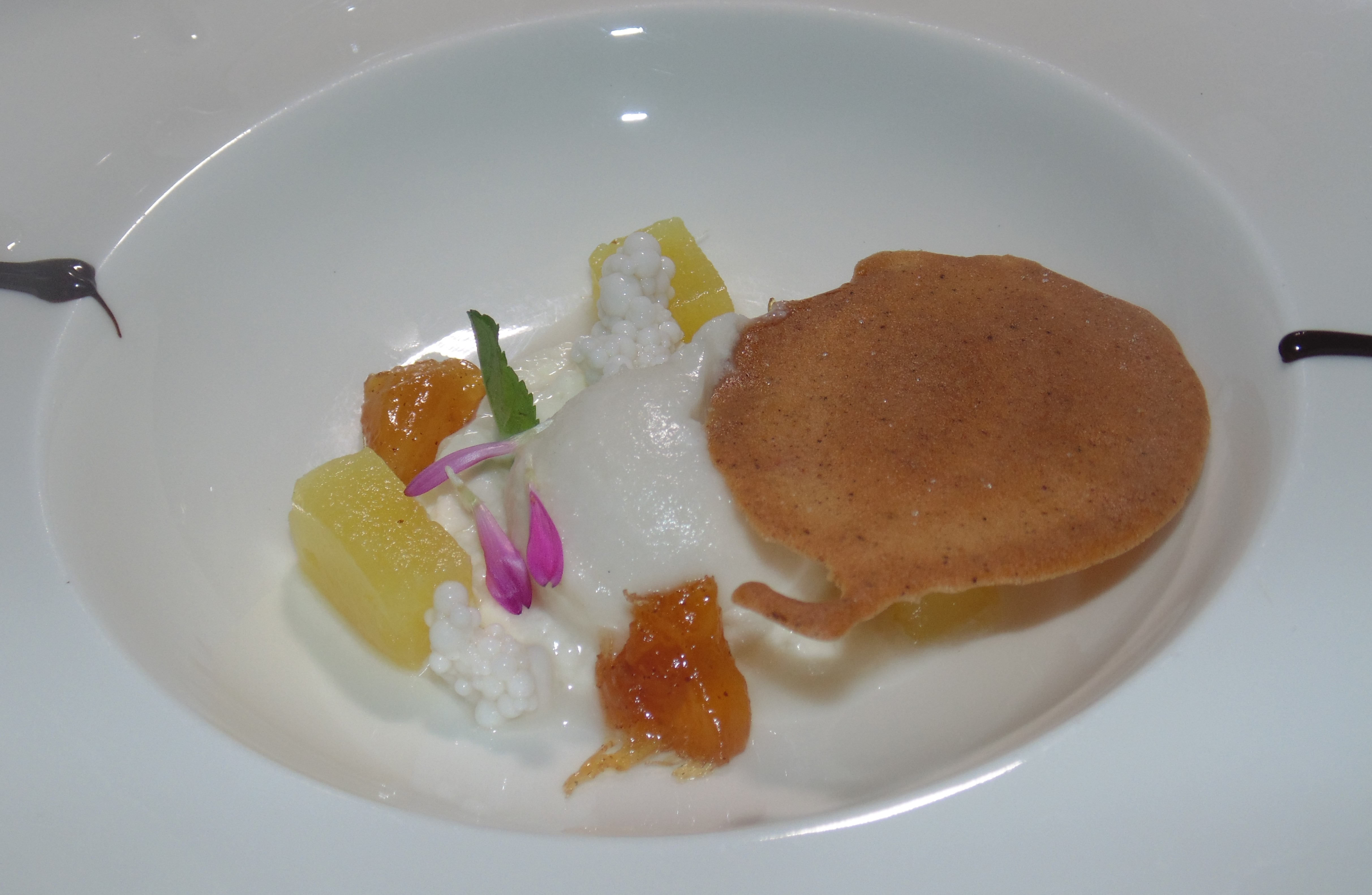 Cafe Des Artistes is located in the heart of Puerto Vallarta, and was founded twenty-four years ago. It is one of the most outstanding gourmet restaurants in the world, and the ambiance is pure magic! Upon our arrival Cafe Des Artistes was alive with activity and we were escorted to the rooftop dining patio, which offers views of the lush garden outdoor patio below.
Guest Chef Carlos Gaytan, chef/owner of Mexique in Chicago - first Mexican chef to get a Michelin Star, was working in tandem with Thierry Blouet, chef/owner of Cafe Des Artistes to prepare a medley of beautiful and delicious desserts, paired with Monte Xanic wine. Chef Blouet is one of the founders of this festival, and has received countless awards and accolades for his amazing culinary talents.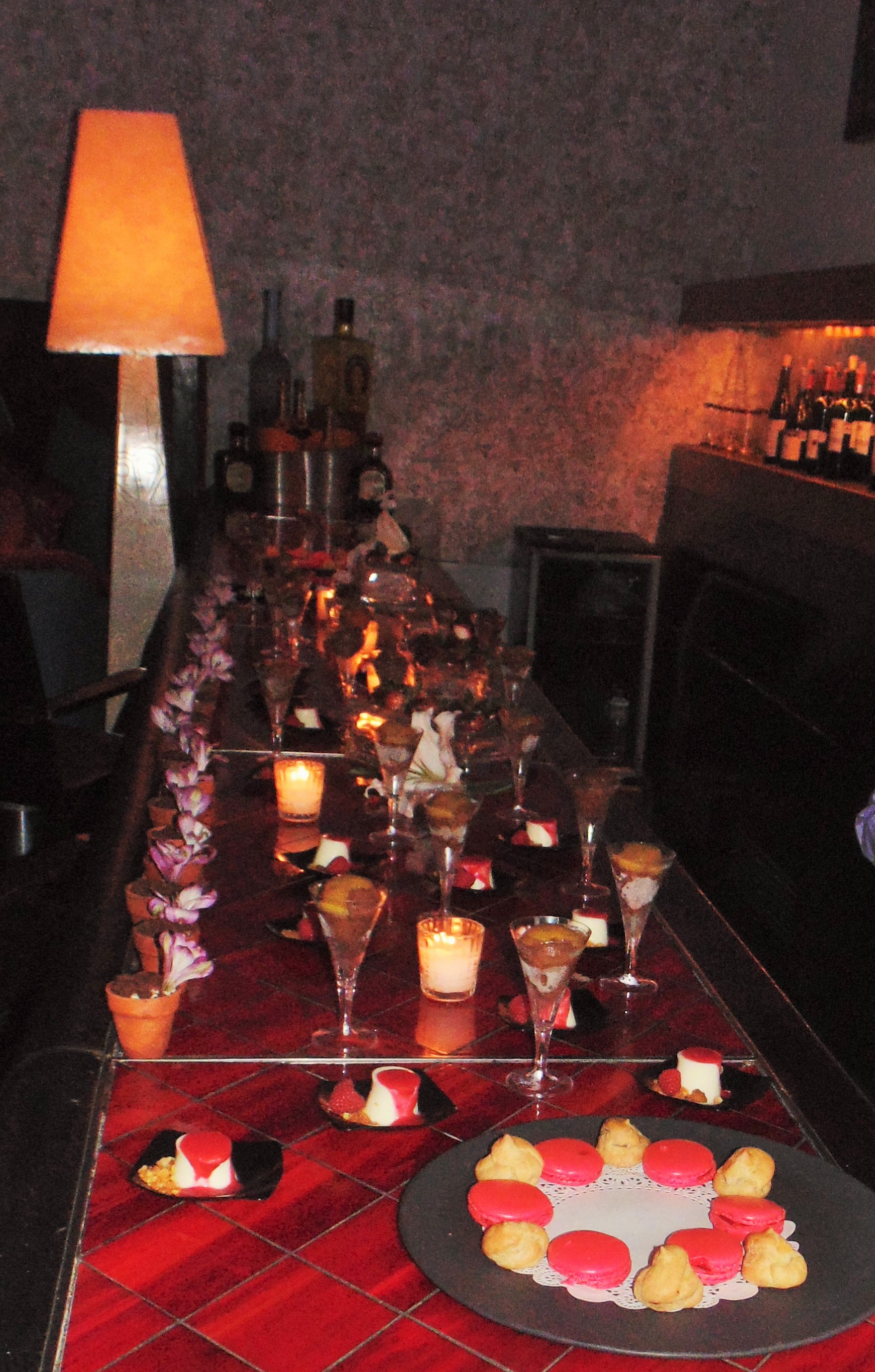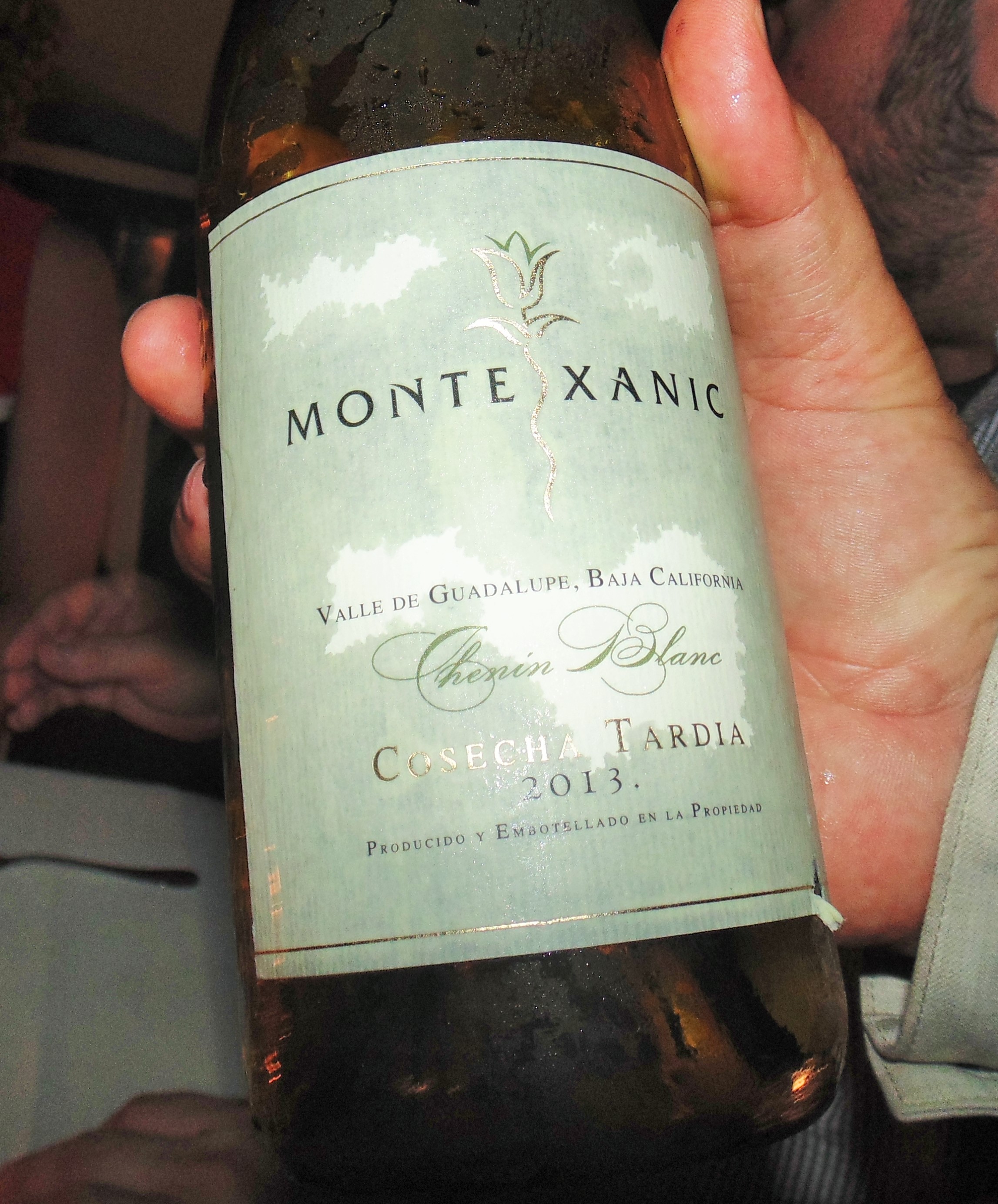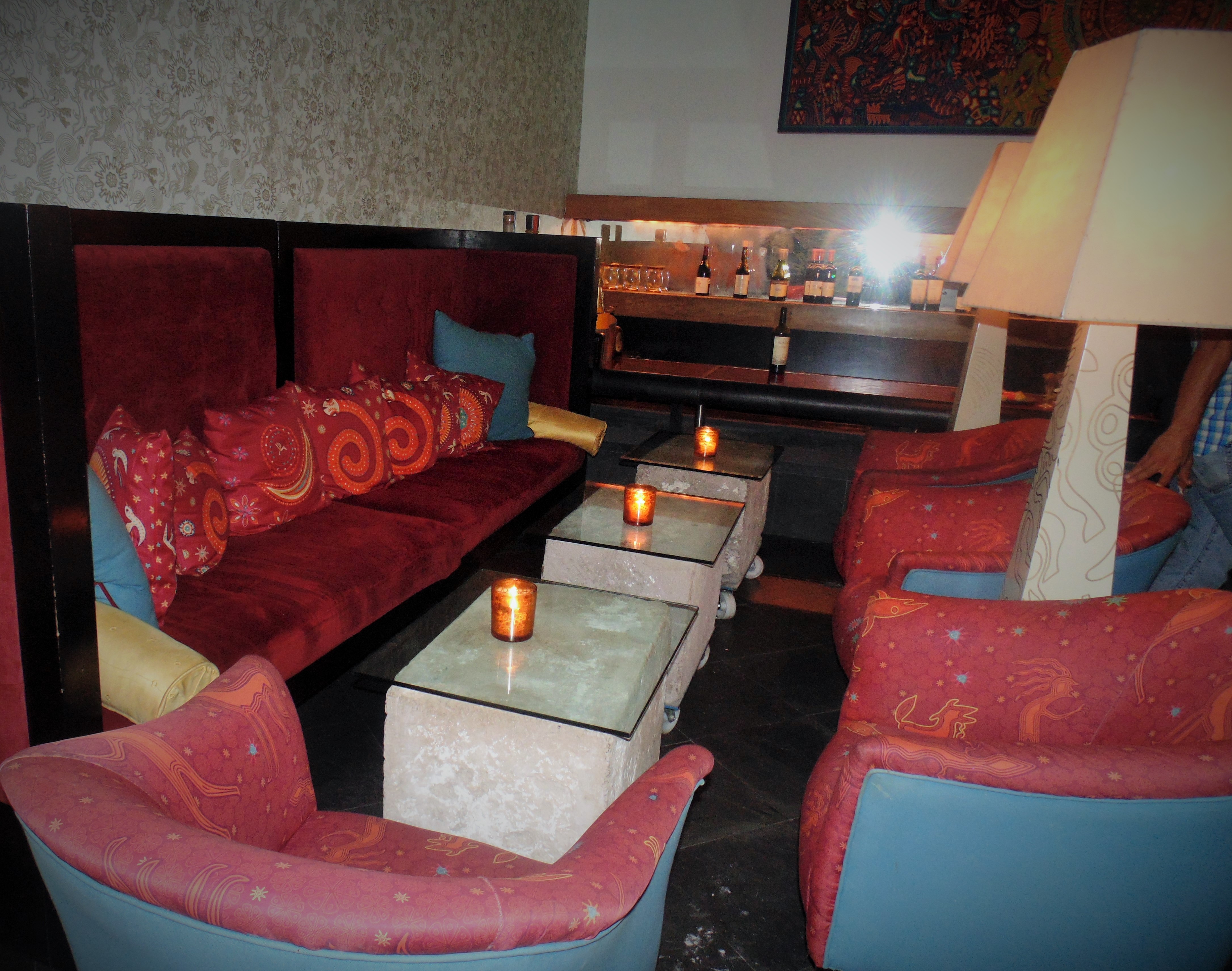 Our dessert visit was followed by a stop at the restaurant lounge, where live entertainment created a fun backdrop around the exquisite dessert bar; a bar literally covered with decadent little French desserts to pair with Patron or Moet & Chandon  or Tattinger Champagne. There could not be a sweeter ending to this beautiful progressive dining experience in Puerto Vallarta than was offered the chef and staff at this lovely venue. Visit www.cafedesartistes.com.
For information on the additional outstanding gourmet restaurants who participated in the 2014 progressive dinners during the festival please visit: www.festivalgourmet.com.
_____________________________________________________________________
Arlington Tavern - Home For The Holidays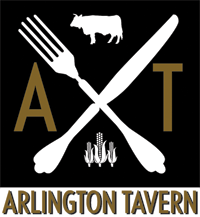 Open For Christmas & New Year's Celebrations

Arlington Tavern brings the traditional tavern experience to modern day, in a contemporary atmosphere. Chef Ron True serves his seasonal, farm fresh take on American Tavern classics, using the best local ingredients he can get his hands on. Signature dishes include AT Fried Chicken, Lamb Shank, Crispy Pork Belly, AT Burger made with Rancho San Julian Beef and crowd-favorite Mac & Cheese.

Partner Diego Barbieri takes craft beer and local wine seriously, recommending food and beverage pairings that take the meal to the next level. Cozy tables set amongst red leather booths, exposed brick walls and a buzzing open kitchen set the scene for modern comfort cuisine at its best. Patio seating allows guests to enjoy dinner and drinks outside all year long.

                         Open daily for dinner 5pm- late night, happy hour 4-7 pm.
                    See website for special holiday menus: www.arlingtontavern.com
                          21 W. Victoria Street, Santa Barbara, CA, 805.770.2626.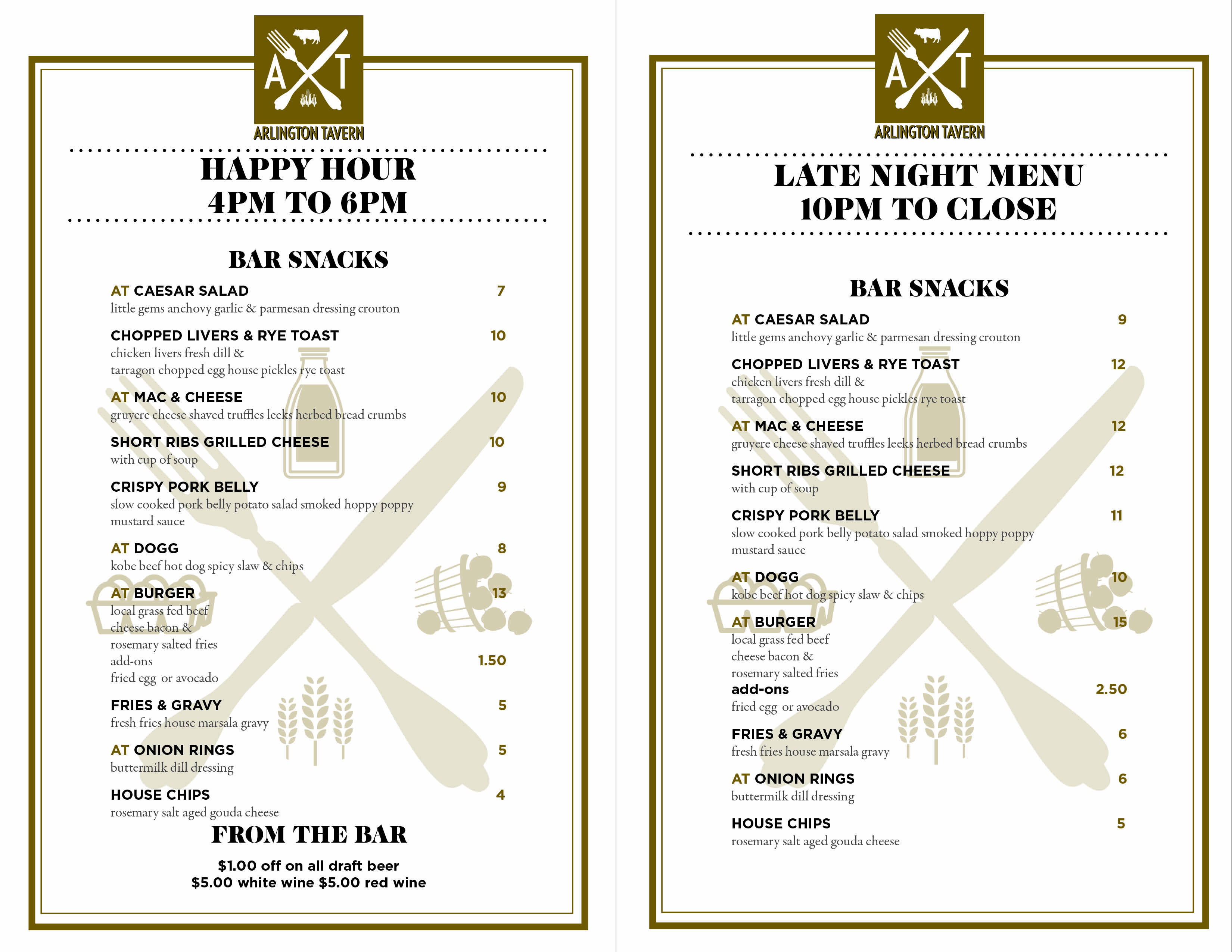 Arlington Tavern Holiday Gift Cards Available


____________________________________________________________________
The Baltics Visits Los Angeles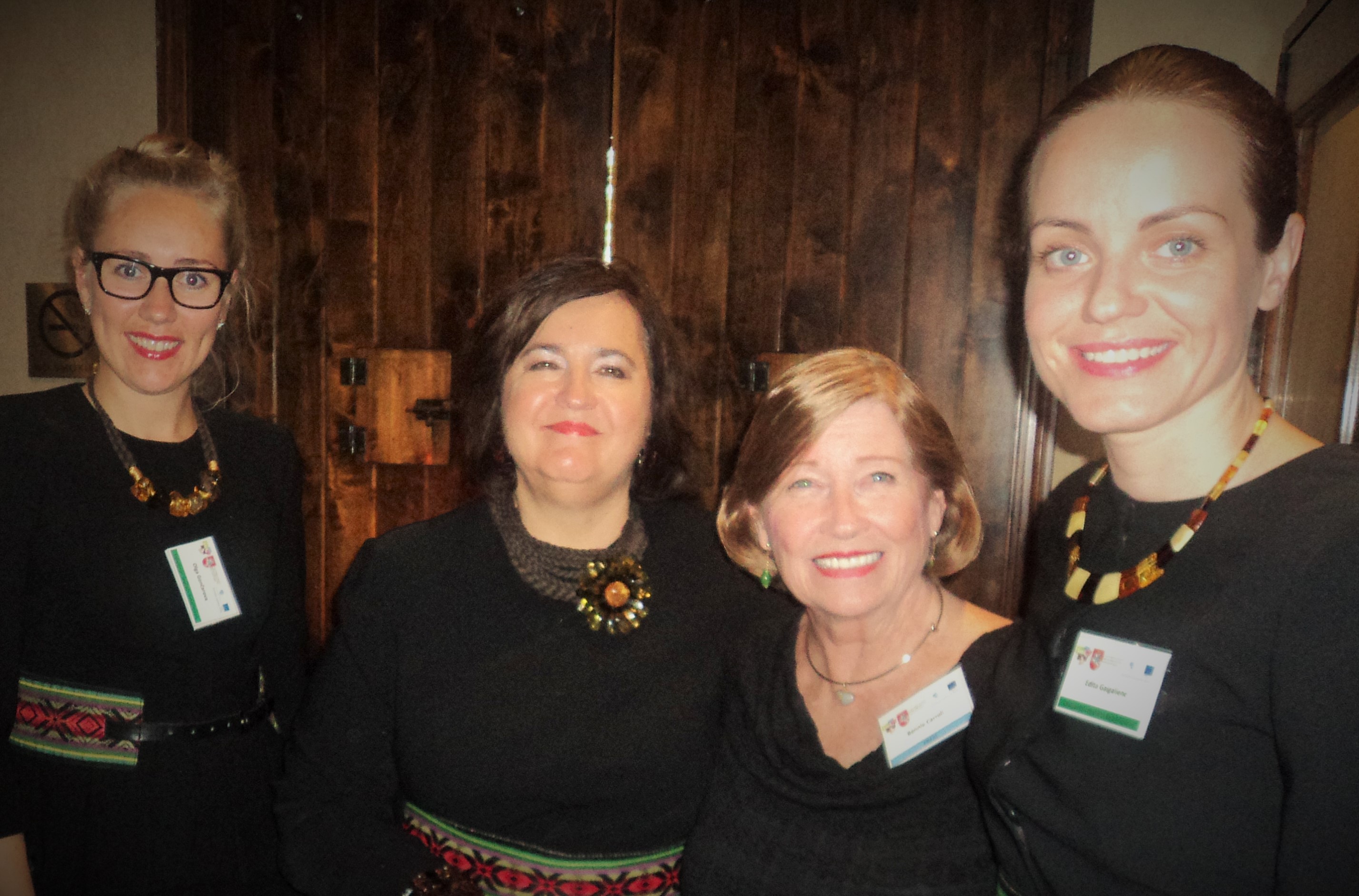 Los Angeles media, travel agents and travel executives had a chance to "Discover the Baltics" at a special luncheon on Oct. 30 at the Sunset Marquis Hotel in Hollywood. Those in attendance were excited to hear about the numerous travel options that are available to U.S. travelers to the three Baltic States. Guests had a chance to try authentic Lithuania Ragulois, commonly referred to as Tree Cake, and took home bread and delectable honey from what can only be described as the world's happiest bees. Comprised of Lithuania, Estonia and Latvia, the Baltic States have gorgeous nature scenes, UNESCO approved historical heritage sites and untouched beaches.
Recently included in Lonely Planet's "Best in Travel 2015," Lithuania began the day with a beautiful visual presentation on what makes the country of 3 million people attractive to international travelers. Visitors from the United States to the former-Soviet country - Lithuania was the first to declare its independence 24-years ago - will enjoy its new & modern accommodation facilities from worldwide hotel chains, an abundance of fresh & healthy food options, clean drinking water and last but not the least - striking historical heritage. The Baltic country is home to numerous UNESCO heritage locations, including the Curonian Spit - named one of the best places to see before you die - a narrow strip of sand along the Baltic Sea with sand dunes that features rare flora and fauna and a forest with centuries-old pine trees.
Following Lithuania's presentation, Latvia gave the group information on why the country is "Best Enjoyed Slowly." The small but important country of over 2 million people has been a NATO & EU member state since 2004 and just recently joined the Eurozone. One of the significant features of the country is allowing U.S. travelers to appreciate the feeling of being secluded and in touch with nature as beautiful untouched forests covers 50 percent of the country. For those looking to experience a larger city, the country's capital of Riga is the biggest city in the Baltics and has been named the European Capital of Culture for 2014.
Lithuania is the start of the world-famous Amber Road, an ancient trade route for the transfer of amber from coastal areas of the North Sea and the Baltic Sea to the Mediterranean Sea. A variety of amber products were on-display at the event like candies, tea, therapeutic oils and more. As an important raw material, dubbed "the gold of the north," amber was transported from the North Sea and Baltic Sea coasts overland by way of the Vistula and Dnieper rivers to Italy, Greece, the Black Sea, Syria and Egypt thousands of years ago, and long after.
U.S. travelers can reach both Latvia and Lithuania in as little as an hour after making a connection in almost all major European cities. For more information on Latvia, please visit http://www.latvia.travel. To learn about the travel options that Lithuania holds, please visit http://www.lithuania.travel.
____________________________________________________________________
HOLIDAY TRAVELS . . .
HOTEL HASSLER ROMA ANNOUNCES
CHRISTMAS AND NEW YEAR'S PACKAGES 
With this holiday season right around the corner, Hotel Hassler Roma invites guests to take in the Eternal City's spirit with a selection of Christmas and New Year's packages highlighting its Michelin-starred Imágo and elegant Salone Eva restaurants. The packages, which can be viewed in full on the Hotel Hassler Roma's website, include: 
Imágo
Enchanting Christmas Dream Package at Hotel Hassler Roma
Three-night stay in a Deluxe Double or Grand Deluxe Double room
Daily buffet breakfast for two
Six-course Christmas Eve dinner for two at the Michelin-starred Imágo 
Afternoon Christmas tea for two at Salone Eva with live harp music performance 
Special Christmas surprise in room upon arrival 
Priced from €1,696-€1,996 (approximately US$2,162-US$2,544), the package is valid for arrivals from December 22-24, 2014.
___________________________________________________________________
Oh Canada for Christmas!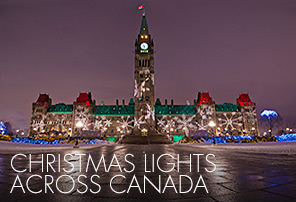 December 3, 2014 at 7 p.m. for the Christmas Lights Across Canada Illumination Ceremony.
Capital cities throughout the country are brought together by the annual celebration of Christmas Lights Across Canada.
In Canada's Capital Region, the winter landscape glows with hundreds of thousands of multicoloured lights during the holiday season. The festivities begin with an illumination ceremony in early December and continue until early January. Throughout Christmas Lights Across Canada, the lights in Ottawa–Gatineau glow each evening from 4:30 p.m. to 2 a.m.
About Christmas Lights Across Canada
The Christmas Lights program was launched in 1985 to brighten the Ottawa winter. At first, the lights were only on Parliament Hill, but over the years the program expanded. Now, Ottawa and Gatineau glow each winter with Christmas lights at many sites along Confederation Boulevard.
The program also grew to include our 13 provincial and territorial capitals, becoming Christmas Lights Across Canada. Throughout the country, Canadians come together each year to brighten their wintery capitals with thousands of holiday lights.
Christmas Lights Across Canada is supported by partners in the national, provincial and territorial capitals of Canada.

View the YouTube video of Christmas Lights Across Canada Illumination Ceremony
___________________________________________________________________
PENINSULA HONG KONG FOR THE HOLIDAYS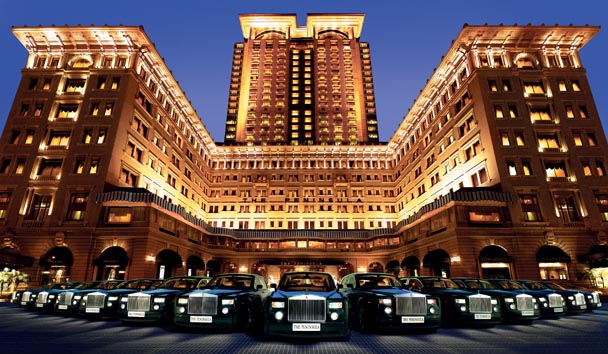 Classic, contemporary chic arrives at The Peninsula Hong Kong, as this legend of the East launches its newly renovated guest rooms and leading-edge, guest-focused technology. A bespoke luxury residential feel blends with an aesthetic that melds the design touches and practicality present in today's luxury yachts and private jets, to redefine luxury and take The Peninsula's guest experience to the next level of in-room comfort. The hotel boasts a fleet of fourteen Rolls-Royce Phantoms, a private helicopter and twin helipads on the roof, while its nine bars and restaurants are amongst the city's most stylish gastronomic venues. The Peninsula Spa occupies two floors and offers sweeping views of Victoria Harbour from its fourteen state-of-the-art treatment rooms, while the Roman-style swimming pool flows out onto the hotel's glorious sun terrace and offers superlative views from its floor-to-ceiling folding windows. The Concierge team are well-connected, friendly and unerringly professional and will introduce you to some of the city's most exclusive experiences, courtesy of The Peninsula Academy. 
__________________________________________________________________
«Live on Ice» Lucerne
«Live on Ice» Lucerne is being held for the fourth time this year from 27 November 2014 to 4 January 2015: this Christmas fairytale world on the shores of Lake Lucerne next to the KKL Luzern offers free skating alongside many other attractions. Here on Europaplatz, light artist Gerry Hofstetter is creating a beautiful Advent and winter experience for the whole family.
Luzern Tourismus AG
Zentralstrasse 5 - CH-6002 Luzern

Email: luzern@luzern.com
Internet: www.luzern.com
Tel.: +41 (0) 41 227 17 17
Fax: +41 (0) 41 227 17 18
_____________________________________________________________
BY SEA . . .
CARNIVAL CRUISE LINES TO OFFER SERIES OF
UNIQUE LONGER LENGTH VOYAGES IN 2015-16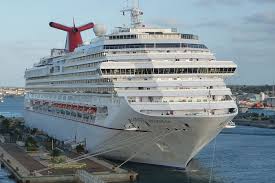 10-14-Day Voyages Depart from Seven U.S. Homeports on East and West Coasts, Gulf of Mexico, Visiting Destinations Throughout Caribbean, Bermuda and Mexican Riviera
Carnival Cruise Lines will offer a series of unforgettable 10- to 14-day voyages on six different ships in 2015-16 that feature extended calls at magnificent destinations throughout the Caribbean, Bermuda, Mexican Riviera and The Bahamas.
Reservations opened today on 11 different voyages offered on Carnival Miracle, Carnival Dream, Carnival Glory and Carnival Sunshine which depart from five convenient U.S. homeports and visit more than two dozen tropical destinations, including less traveled ports like Bonaire, Martinique, Dominica, Grenada and, for the first time on a Carnival ship, Trinidad & Tobago. Several of the 10- and 11-day voyages can be combined into three-week-long Caribbean adventures providing an unmatched combination of breathtaking ports of call, amazing experiences ashore, and fun-filled sea days, all at an incredible value.
These new voyages are in addition to a previously announced series of nine 10- to 14-day departures to the Caribbean and Bermuda offered on Carnival Triumph and Carnival Pride in 2015-16.
"Based on feedback from our guests and travel agent partners, we're delighted to offer these longer length voyages which provide vacationers an opportunity to visit some of the world's most breathtaking destinations while enjoying all the wonderful on-board innovations and features found aboard Carnival's ships," said Terry Thornton, Carnival's senior vice president of itinerary planning and revenue development.
The new voyages include:
Carnival Miracle
Jan. 31- Feb. 12, 2015:  13-day Mexican Riviera voyage round-trip from Long Beach, Calif., calling at Cabo San Lucas (two-day call), La Paz, Mazatlán, Zihuatanejo/Ixtapa, Manzanillo, and Puerto Vallarta (overnight call).
Carnival Dream
Oct. 4-15, 2015: 11-day Caribbean/Bermuda cruise from New Orleans to San Juan featuring Nassau, King's Wharf, Bermuda (overnight call), St. Maarten and St. Thomas.
Oct. 15-25, 2015: 10-day Caribbean cruise from San Juan to New Orleans with calls at St. Thomas, St. Kitts, St. Maarten, Grand Turk, and Falmouth, Jamaica (the above two cruises can be combined to create a 21-day round-trip voyage from New Orleans).  
Jan. 3-14, 2016:  11-day southern Caribbean cruise from New Orleans to San Juan with stops at Grand Turk, Aruba, Bonaire, St. Kitts, Antigua and St. Maarten.
Jan. 14-25, 2016: a 10-day Caribbean cruise from San Juan to New Orleans calling at St. Thomas, Dominica, St. Kitts, Grand Turk and Falmouth (the above two cruises can be combined to create a 21-day round-trip voyage from New Orleans). 
 Carnival Glory
Oct. 31–Nov. 13, 2015: 14-day Caribbean cruise round-trip from Miami visiting Aruba, Bonaire, Grenada, Barbados, St. Lucia, Antigua, St. Thomas and St. Maarten.
Jan. 23-Feb. 2, 2016: 10-day cruise from Miami to San Juan calling at the private Bahamian island of Half Moon Cay, Grand Turk, Antigua, Martinique, St. Lucia, St. Kitts and St. Thomas.
Feb. 2-13, 2016: 11-day cruise from San Juan to Miami visiting St. Croix, St. Maarten, Dominica, Grenada, Bonaire, Aruba, and Curacao (the above two cruises can be combined to create a 21-day round-trip voyage from Miami).
Carnival Sunshine
Nov. 28-Dec. 2, 2015: 11-day Caribbean/Bahamas voyage from Port Canaveral, Fla., to San Juan visiting Grand Turk, St. Thomas, Tortola, St. Kitts, Dominica, St. Lucia, Antigua and St. Croix.
Dec. 9-19, 2015: 10-day Caribbean cruise from San Juan to Port Canaveral featuring St. Thomas, Antigua, Dominica, Martinique, St. Croix, and Grand Turk (the above two cruises can be combined to create a 21-day voyage round-trip from Port Canaveral). 
Feb. 21-March 5, 2016: 13-day southern Caribbean cruise round-trip from Port Canaveral calling at St. Maarten, Dominica, Barbados, Scarborough (Trinidad & Tobago), Grenada, Martinique, St. Kitts and St. Thomas. In addition to fantastic dining, entertainment and activity options available on board, each of these destinations offers beautiful beaches, interesting historical attractions and natural landmarks, and unique sightseeing, dining and shopping opportunities.  During these cruises, guests can zipline across the lush countryside, view centuries-old architectural structures, visit world-class museums, and snorkel and scuba dive in crystal-clear waters teeming with tropical fish and other sea life.
For additional information and reservations, contact any travel agent, call 1-800-CARNIVAL or visit carnival.com.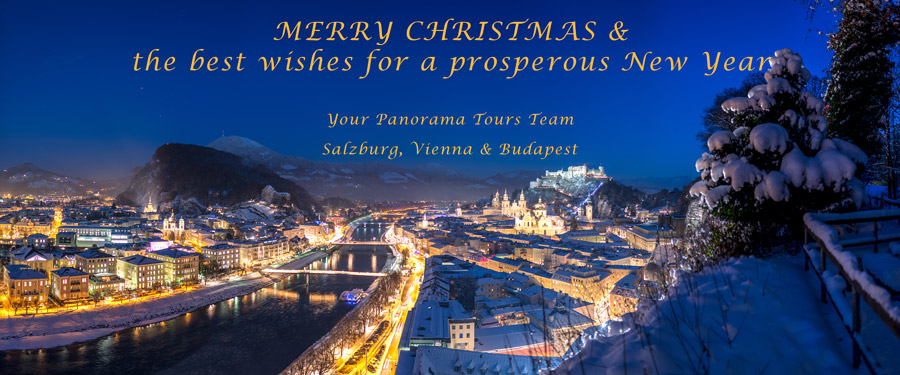 ---