CHEF & HOTEL PROFILE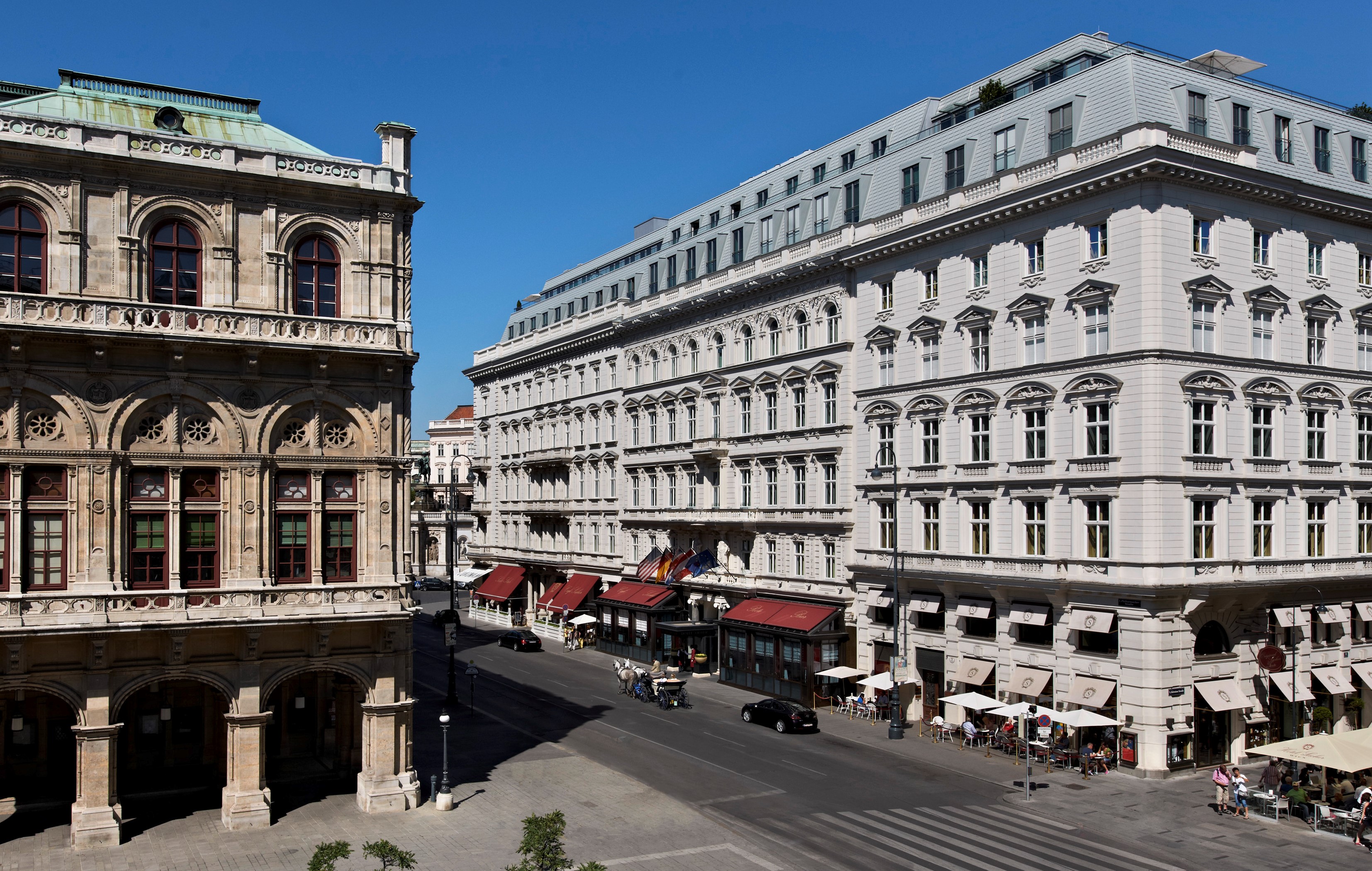 HOTEL SACHER VIENNA
THE ULTIMATE 'LET'S DO LUNCH' VENUE
by Bonnie Carroll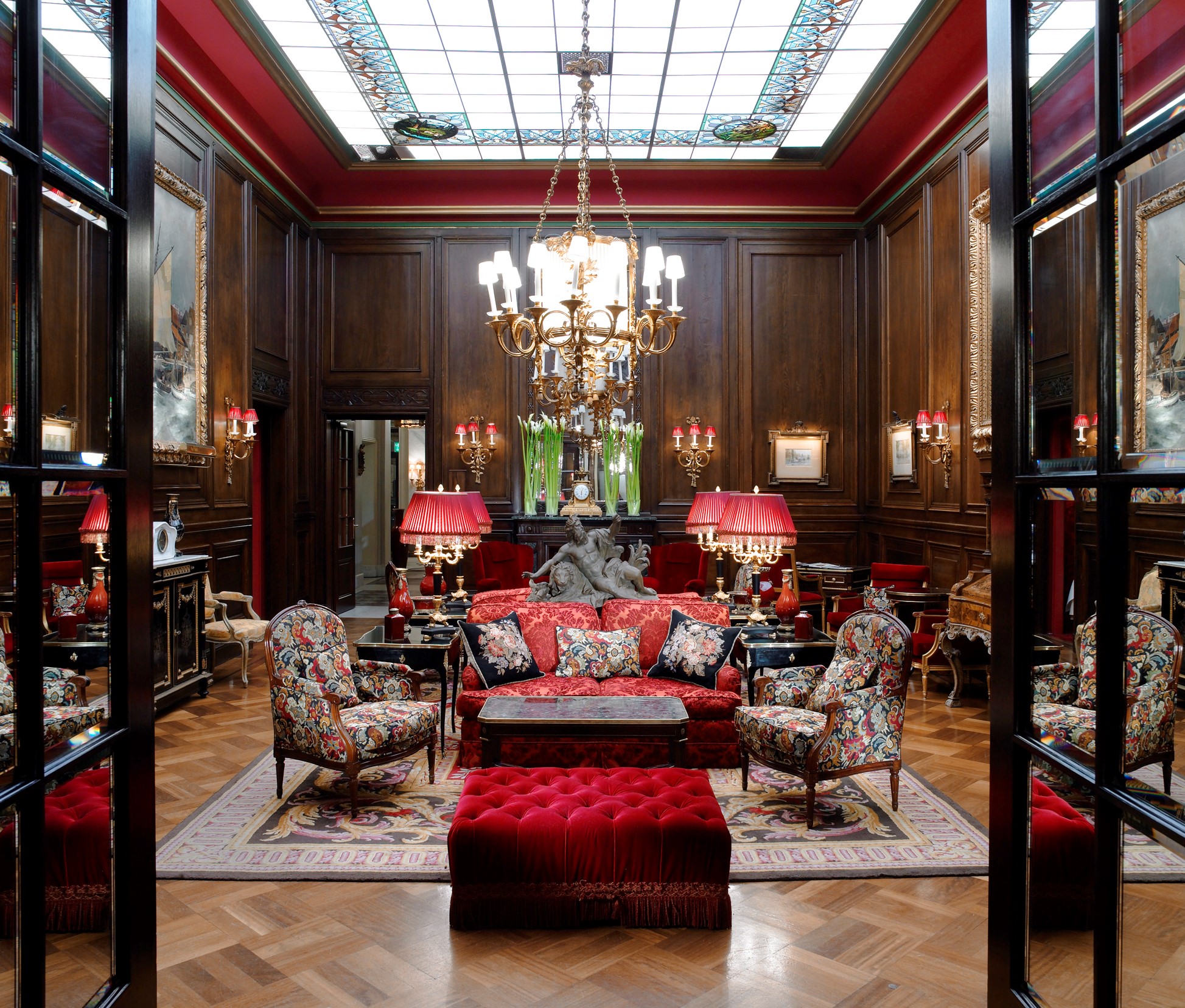 One of the world's most elegant hotels to sit down for lunch, for business or pleasure, is Hotel Sacher in Wien. The luxurious Rote Restaurant Bar is rich in history and hospitality. It is renowned for its lap of luxury red velvet ambiance and walls covered with museum artwork that continue to keep it at the top of the bucket list as most prestigious rooms of the world to dine in.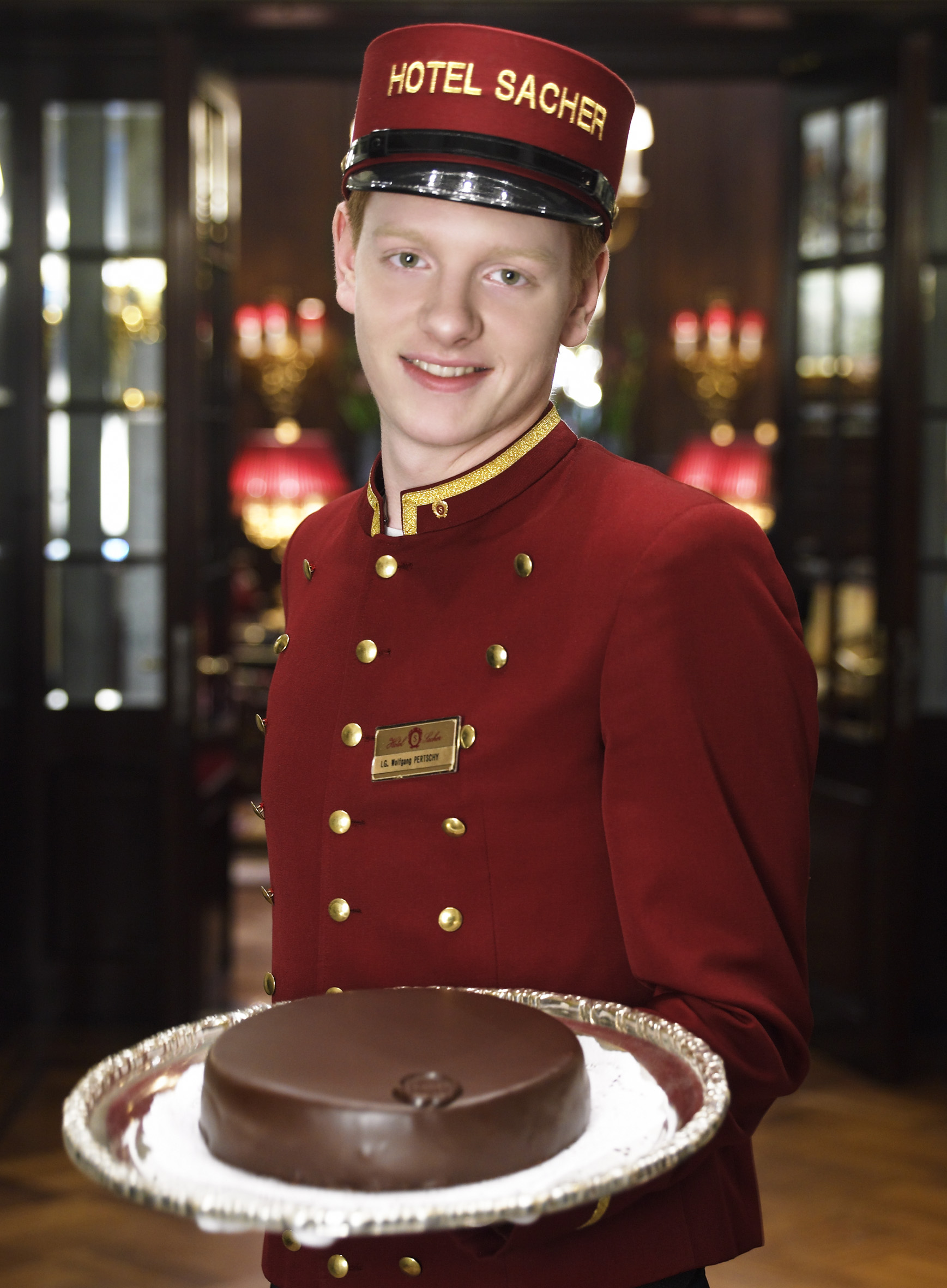 The hotel history of this property could fill volumes, for The Hotel Sacher was founded in 1876 as a maison meublée at the site of a demolished theater by the restaurateur and purveyor to the court Eduard Sacher, born in 1843. His father was the confectioner Franz Sacher, born in 1816 who became famous for his Sacher torte, which was purported to have been created for a reception given by Austrian State Chancellor Klemens von Metternih in 1832. He opened his first restaurant in 1873 on Karntner Strasse.
In 1880 Franz married Anna Sacher née Fuchs, who became the hotel manager after his death. She was said to be an eccentric who was never without her French Bulldogs, or a cigar. Under her rule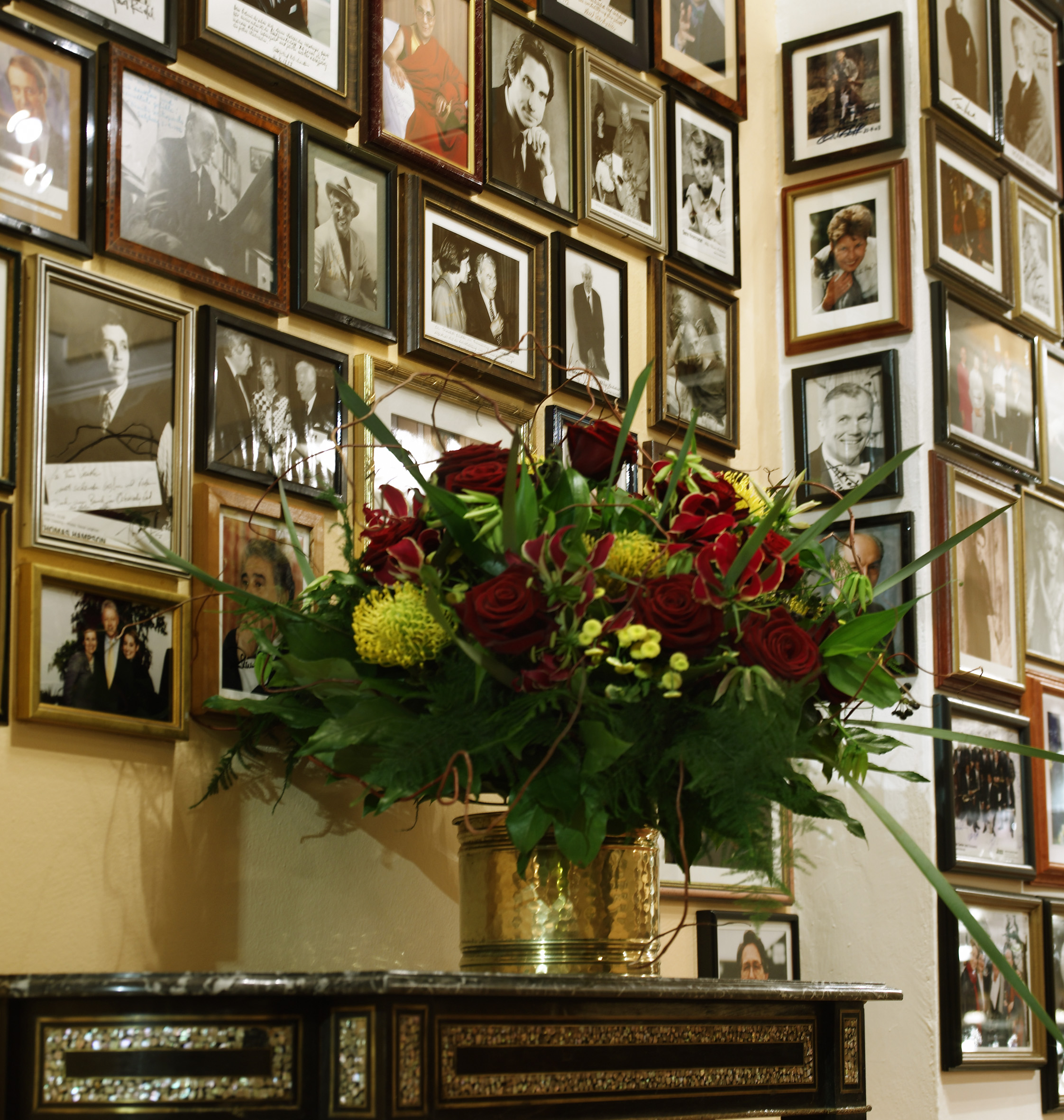 , Hotel Sacher became one of the finest hotels in the world, where the aristocracy and diplomats would meet. Mrs. Sacher ran into serious financial problems and the hotel changed ownership in 1934. She is remembered in the portrait room she created; a room filled with photos of the prominent guests who visited the hotel during her reign. The property is currently owned by one of Austria's top socialites and businesswomen, Elisabeth Gurtler, who also serves as the property's Managing Director and has put her personal touch on the innovative new design of the property.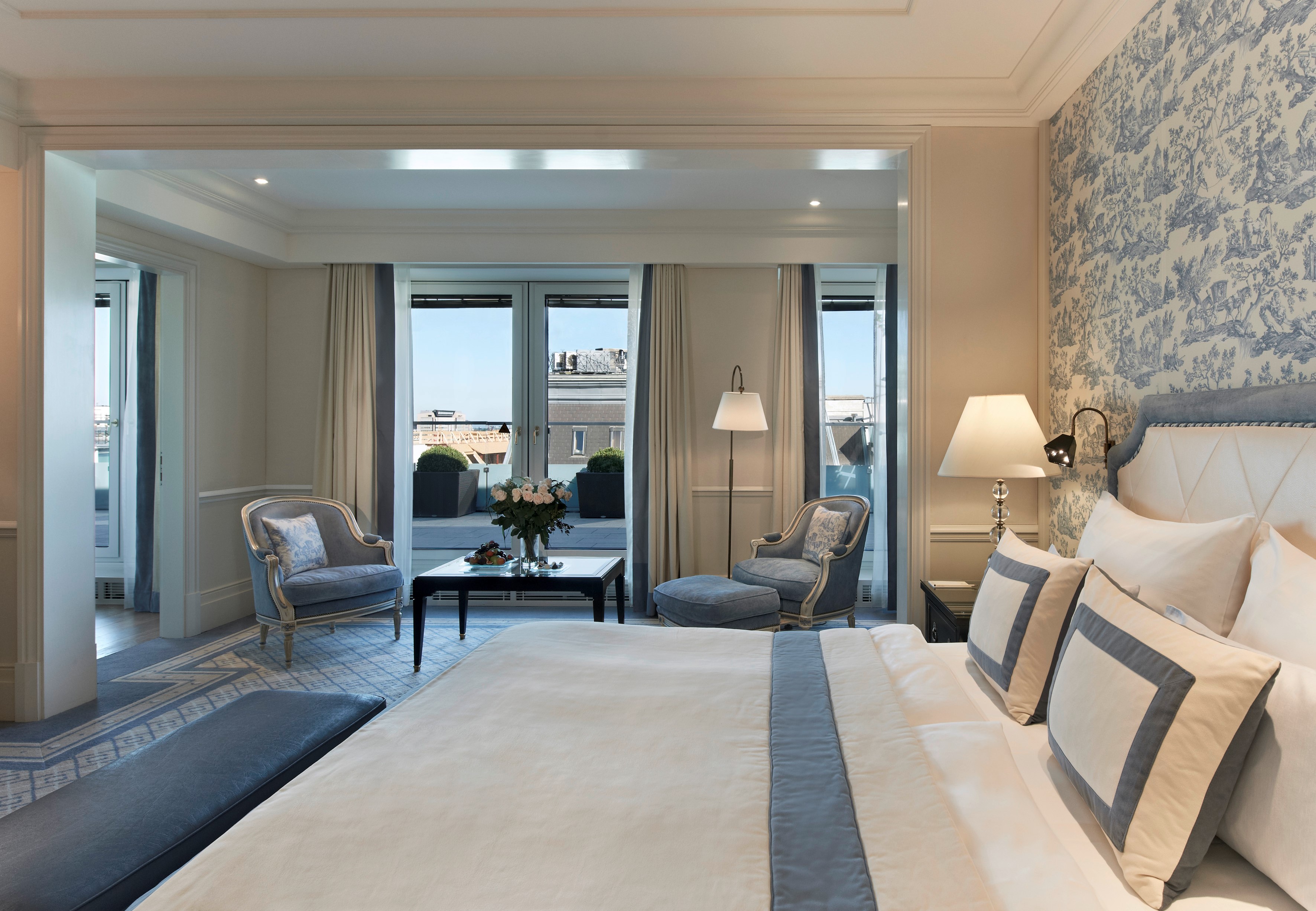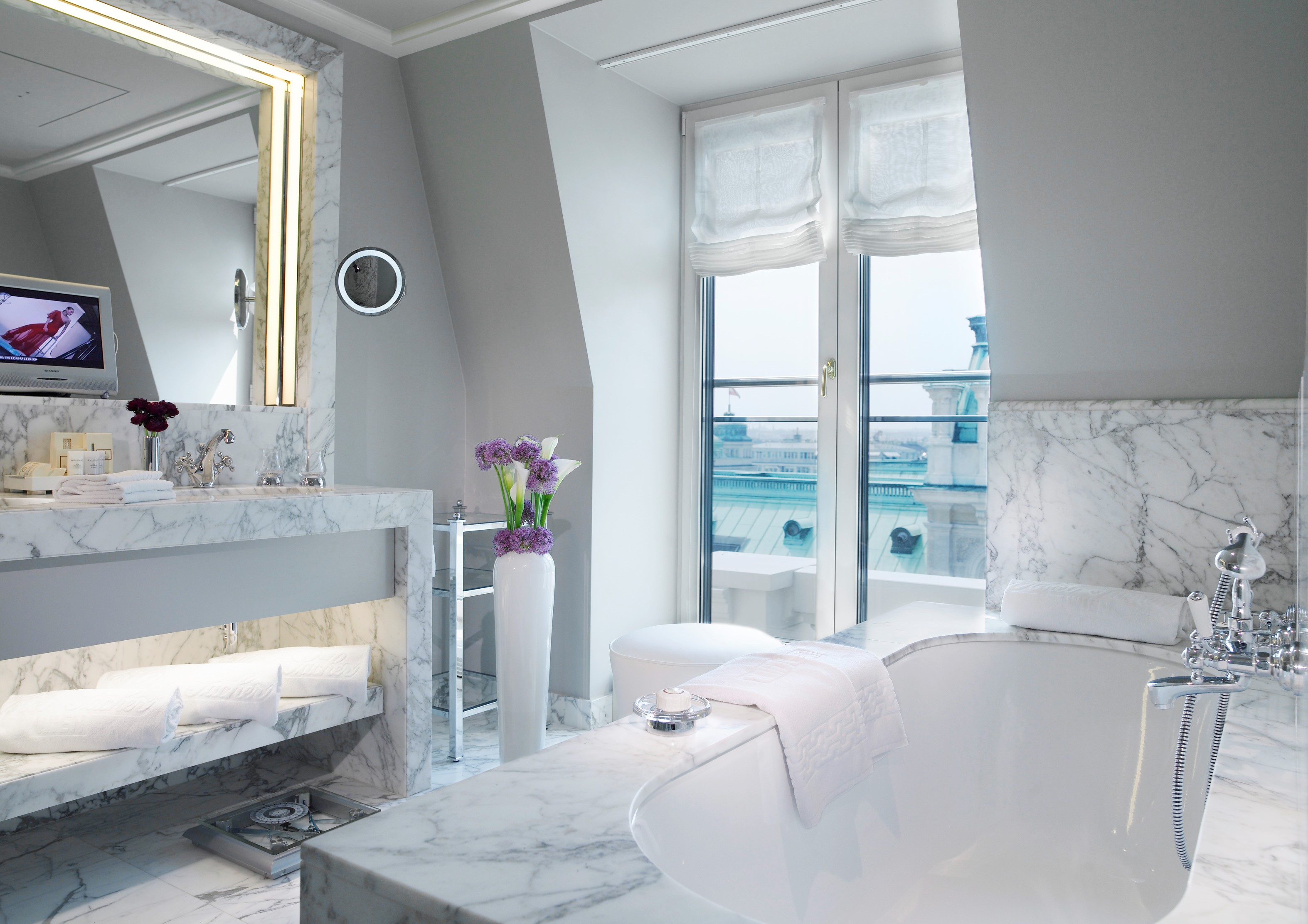 Located across the street from the Vienna State Opera, and as a Member of Leading Hotels of the World, Hotel Sacher continues today to attract great artists and public figures of renown. Since its inception it has been visited by Emperor Franz Joseph, King Edward VIII and Wallis Simpson, Queen Elizabeth II and Prince Phillip, Prince Rainier III of Monaco and Grace Kelly, President John F. Kennedy and many more.
Today the 149 exquisite rooms and suites of the Hotel Sacher Wien represent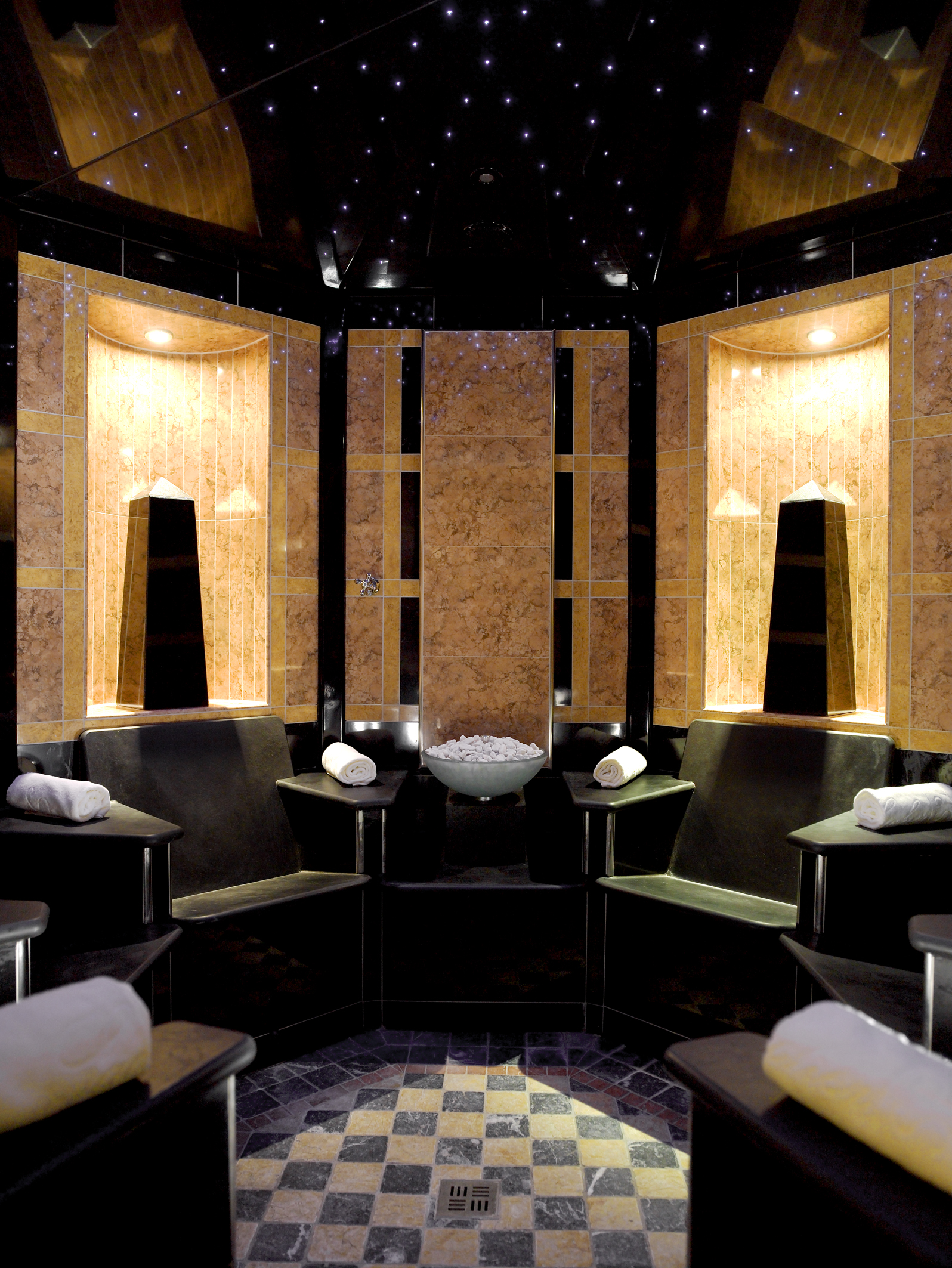 the ultimate in hotel design and comfort. The Sacher spa offers the latest in health and beauty treatments, including Clinique La Prairie in Montreaux in Switzerland, and yes they do have signature chocolate treatments. The hotel is known for their historic Sachertorte, a chocolate cake with apricot filling, which is sold in their gift shop and savored in their dining rooms. There is also an outstanding art gallery in the hotel with works from the 19th century.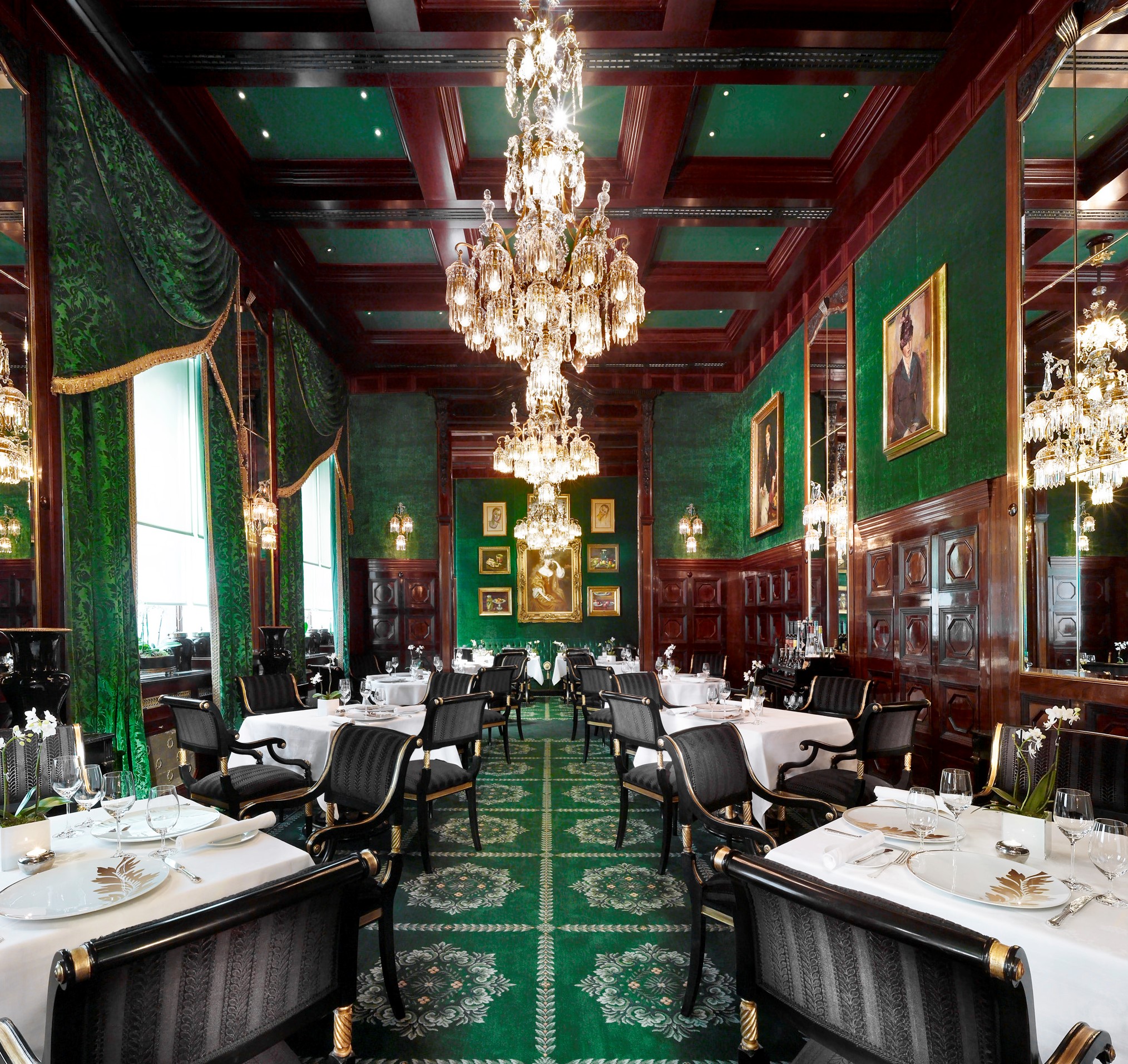 Both the Anna Sacher Restaurant, an opulent room of gold and green silk, and the Rote Restaurant Bar are helmed by renowned Executive Chef Werner Pichlmaier, holder of three Gault Millau Toques and countless gastronomique

awards, who serves what have been described by experts as some of the most delicious and creative dishes in the world, paired perfectly with fine wines. The Hotel Sacher wine cellar boasts an outstanding international wine assortment. In harmony with the Viennese cuisine, however, the Hotel also offers a wide range of Austrian wines, particularly from the fine wine-growing areas of Vienna, and the surrounding region.
Chef Pichlmaier's iced pea soup with buttermilk and lobster over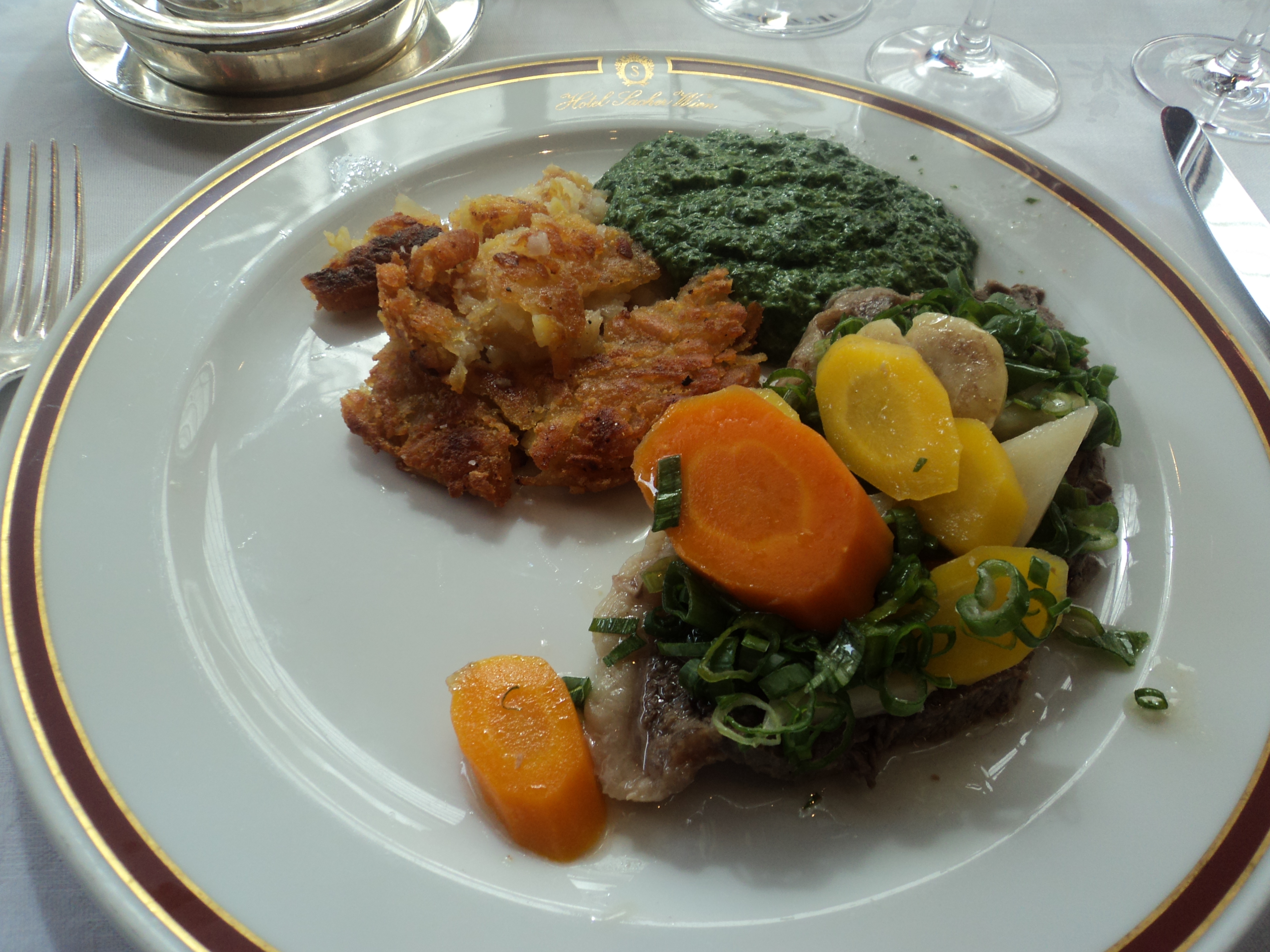 flowers and herbs was a perfect choice on a very warm day, and the (Sacher Tafelspitz mir Apfelkren, Schnittlauch sauce and Erdapfelschmarn wahlweise mit Semelkren) "Sacher" boiled beef with apple horseradish, chives sauce and Viennese potatoes served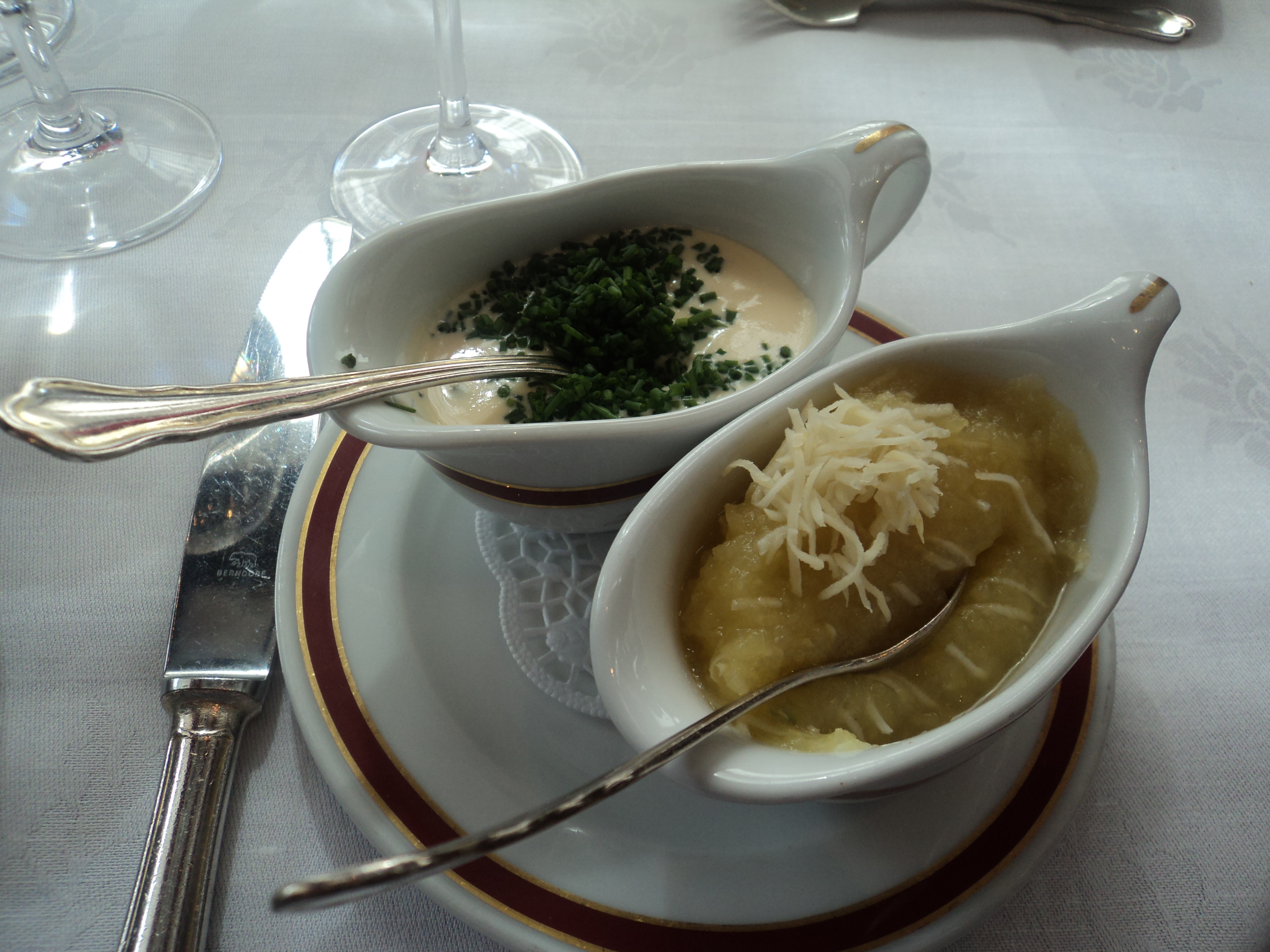 with creamed spinach was beyond amazing. Wines enjoyed with our lunch included signature Sacher Brut, and two fine Austrian wines selected by our host. Naturally, we savored our petit Sacher Torte dessert with whipped cream to the last crumb.
I was completely drawn to the Blaue (Blue) Bar, a charming place to rendezvous for a champagne or cocktail before or after dinner or an opera, where blue brocade walls merged beautifully with lush velvet couches and sparkling hanging chandeliers offered an irresistibly enticing hue. Such a magical place that speaks of another time, perhaps a magical time when the Blue Danube waltz was revered.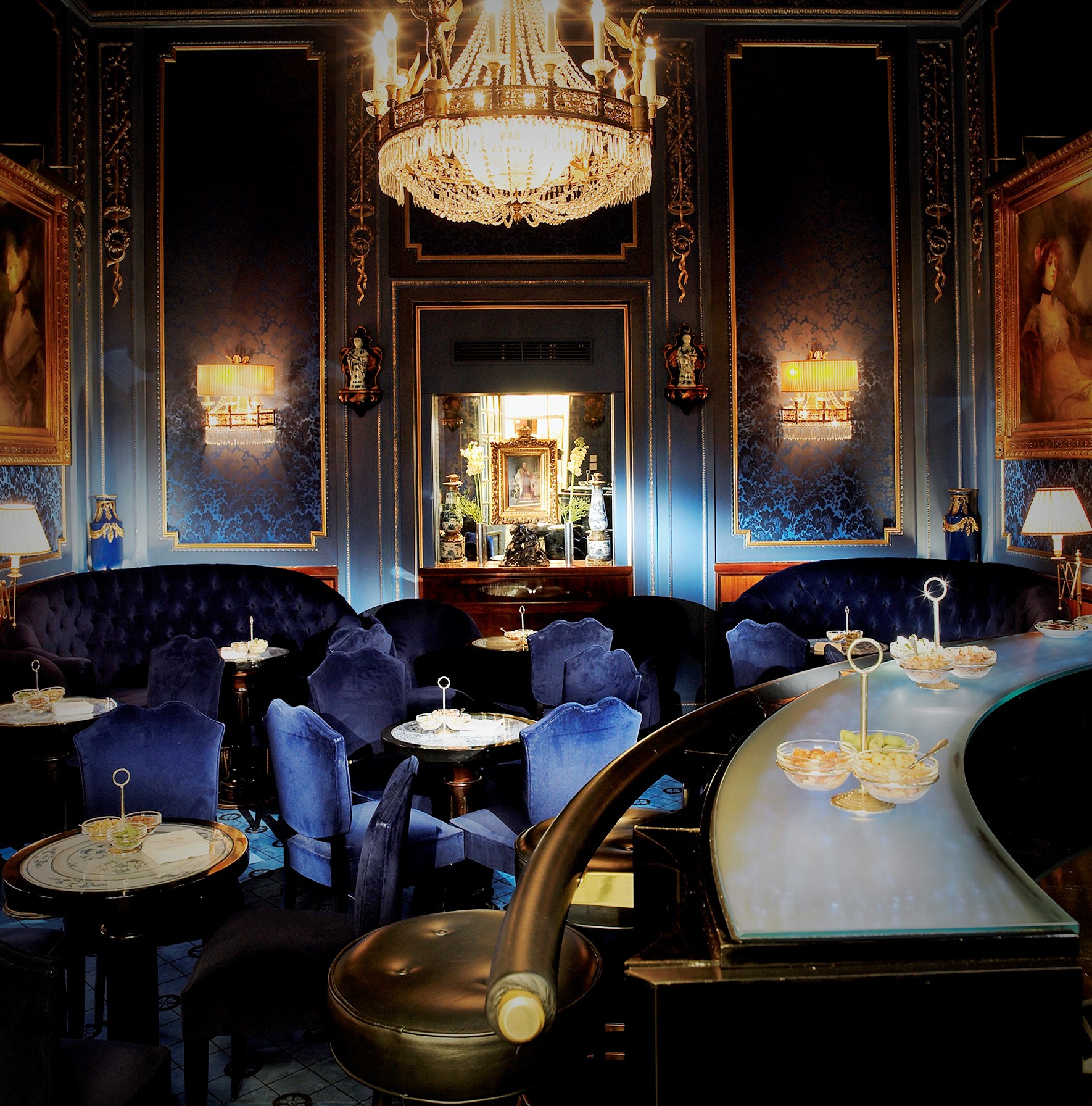 If your budget won't allow lunch or dinner at Hotel Sacher, do stop by at the Cafe Sacher and have a slice of Sacher Torte with coffee or tea before you leave Wien. Let yourself be one with the spirit of this beautiful history filled jewel-box hotel in the city center of beloved Vienna. Liebesleben!
Hotel Sacher, Philharmonikerstrasse 4, Vienna Austria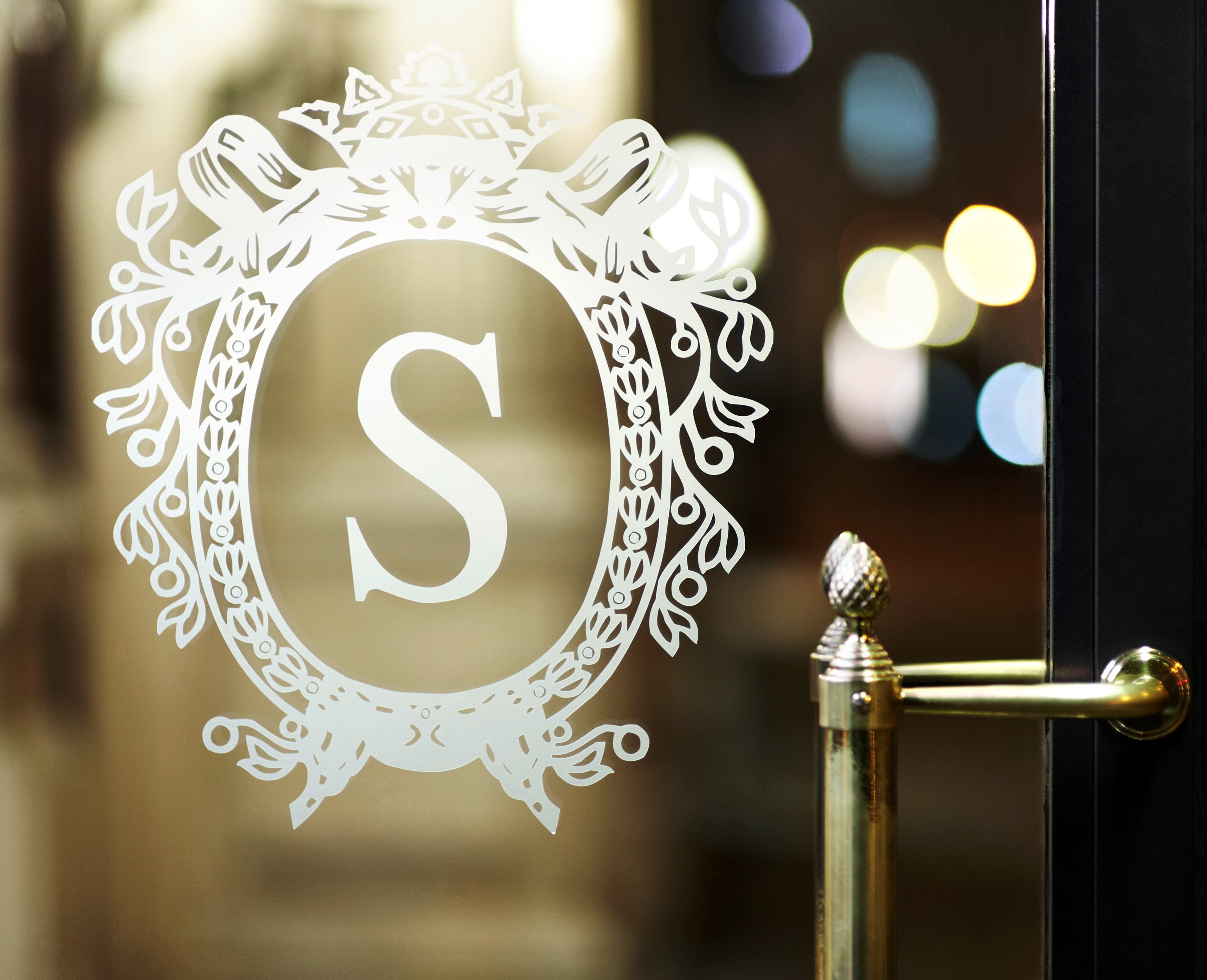 ---