HOTEL & CHEF PROFILES   .    .    .    .
HISTORIC HAUNTS ALONG THE CENTRAL COAST
From San Luis Obispo to Carmel-by-the-Sea Classic Hotels Have Appeal
by Bonnie Carroll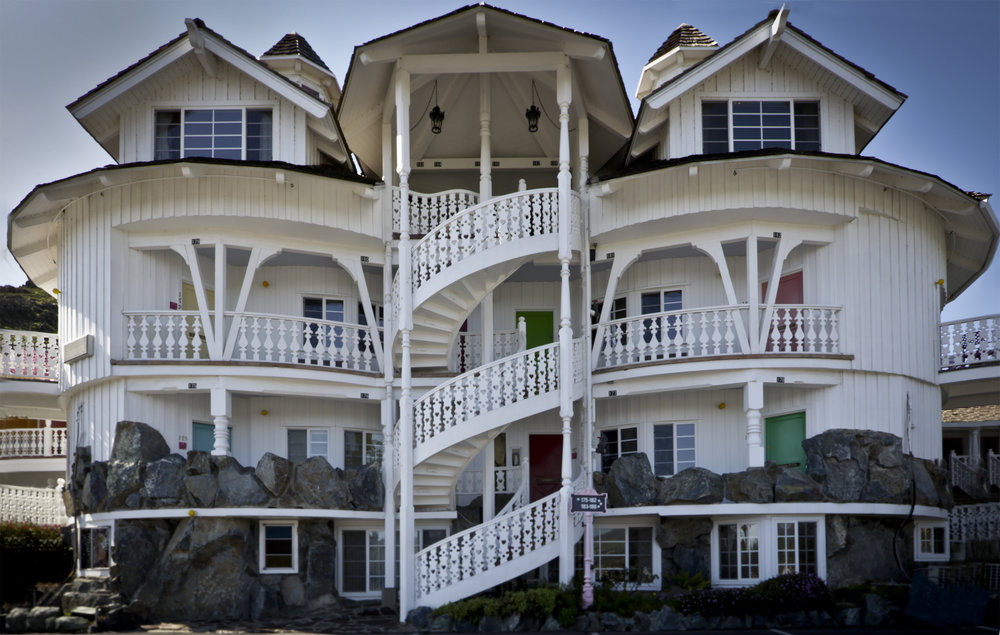 Madonna Inn, San Luis Obispo
Along the Central Coast in the 1940s two hotels opened that were the dream of two families who had settled on the coast and began their individual hotel legacies. Both properties were designed and built by the owning families to their own specifications over the years and include touches that make them uniquely different, attractive and comfortable. The welcoming history of these properties continues to attract visitors from around the world to the Central Coast.
The Madonna Inn Hotel is the halfway point on the way from Santa Barbara to the Carmel-Monterey area, and is an amazing hotel designed by Alex Madonna with the first 12 rooms being completed in1958, and today the hotel boast 110 unique rooms including rock rooms with waterfall showers, rock fireplaces, European fixtures, and fine furnishings. The hand-carved marble balustrade in the Gold Rush dining room came from the Hearst Castle. The hotel is still owned and operated by the Madonna family.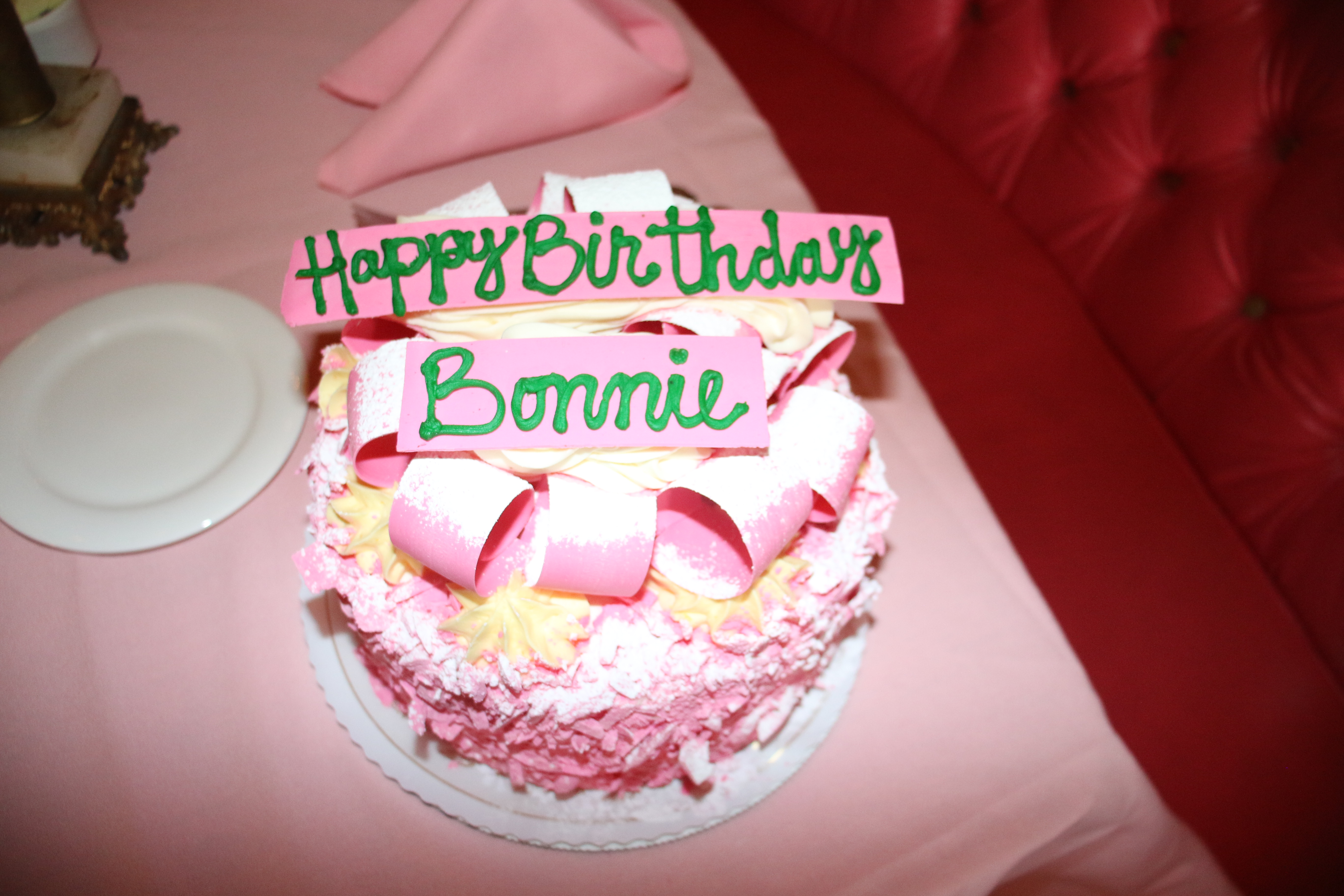 The Renowned Madonna Inn Pink Champagne Cake
Madonna Inn Bakery is renowned for their exquisite cakes, and I recently stopped on my way up the coast to Carmel to celebrate a birthday featuring a champagne pink cake at the "Pink Palace" on the Central Coast. Their specialty Black Forest cake is so divine it rivals some I've had in Europe, but pink seemed right for a birthday party. The hotel rooms, one of which is called 'barrel of fun' which I've stayed in, are unique, imaginative and really fun.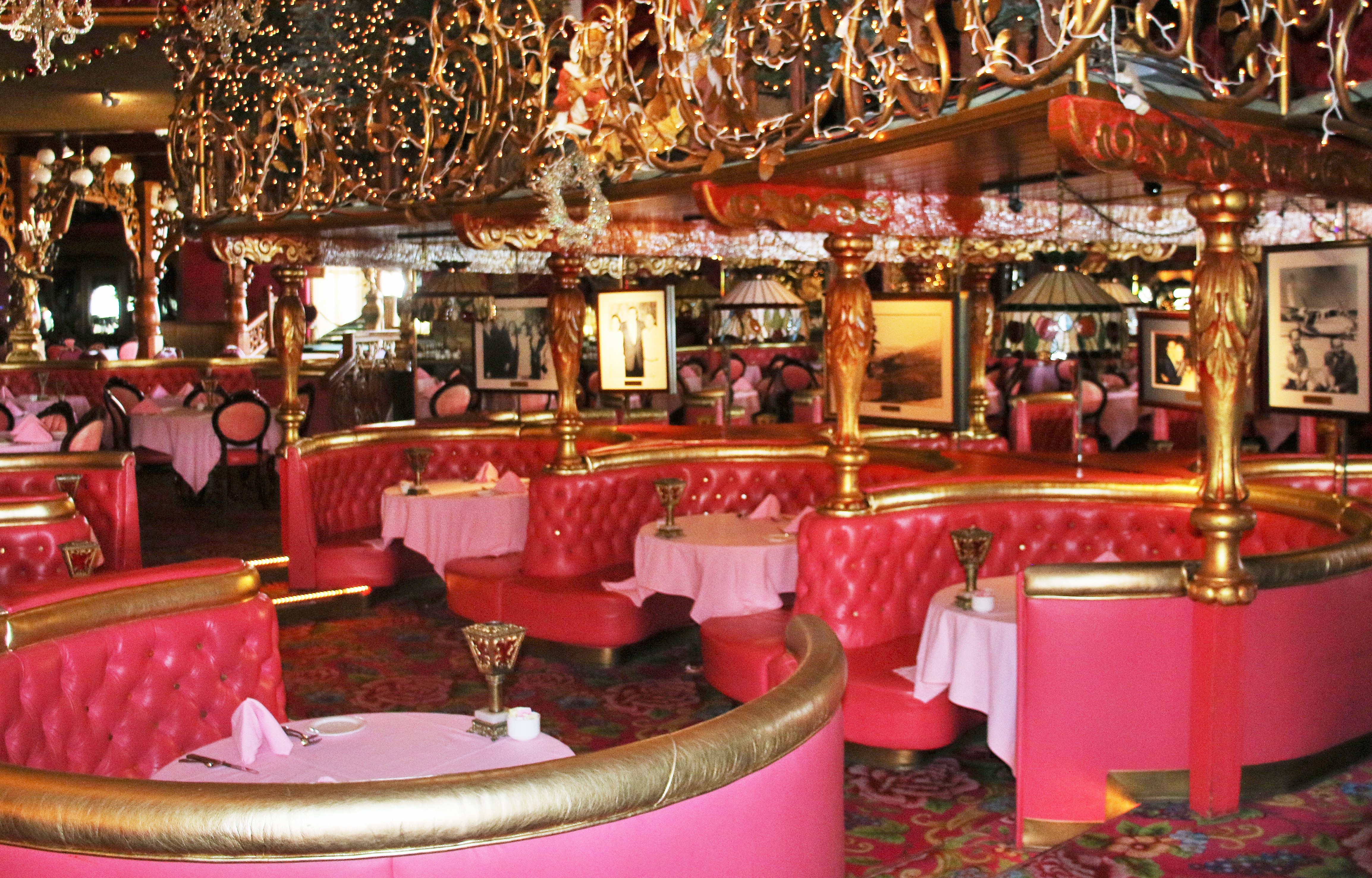 Alex Madonna's Gold Rush Steak House
The Copper Cafe Restaurant is perfect for a meal break while traveling up Hwy 101 from 7:00 a.m. til 10:00 p.m. I thoroughly enjoyed my Keto breakfast in the warmth of this family friendly room. For Valentine's Day or any special anniversary the Alex Madonna Gold Rush Steak House serves up delicious dinners and dancing to a live orchestra. Special couples spa treatments with unique treats can also be experienced at their spa and I always enjoy a dip in their lovely pool area overlooking San Luis Obispo. For reservations or information visit: Madonna Inn, 100 Madonna Road, San Luis Obispo, (805) 543-3000reservation@madonnainn.com.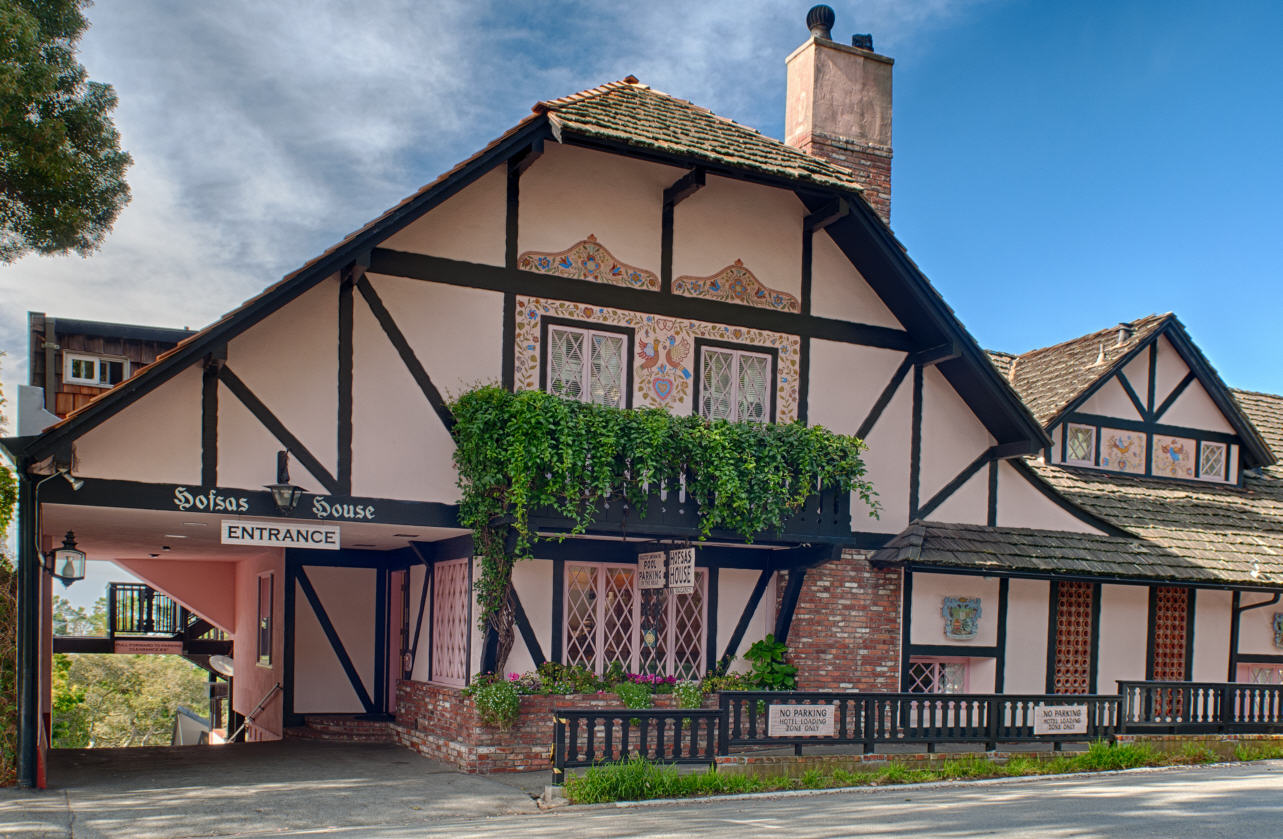 Hofsas House Hotel, Carmel-by-the-Sea
HOFSAS HOUSE HOTEL is my very favorite destination on the way to Monterey. Located in Carmel-by-the-Sea, it is a short walk to a beautiful beach. The Danish inspired hotel was built by the grandmother of present owner and general manager Carrie Theis.

Carrie's grandmother Donna Hofsas spent years building and making additions to the hotel, which today has 37 spacious and comfortable rooms, some, some with fireplaces, wet bars or full kitchens, and many with ocean views overlooking the pines in the village of Carmel-by-the-Sea. The Dutch doors are a charming touch in each room allowing guests an opportunity to enjoy the fresh ocean air, watch glorious sunsets from their room or on welcoming decks with a view. According to Carrie "there soon will be four generations of our family at Hofsas House, which is a welcome place for visiting families and we also have pet friendly accommodations."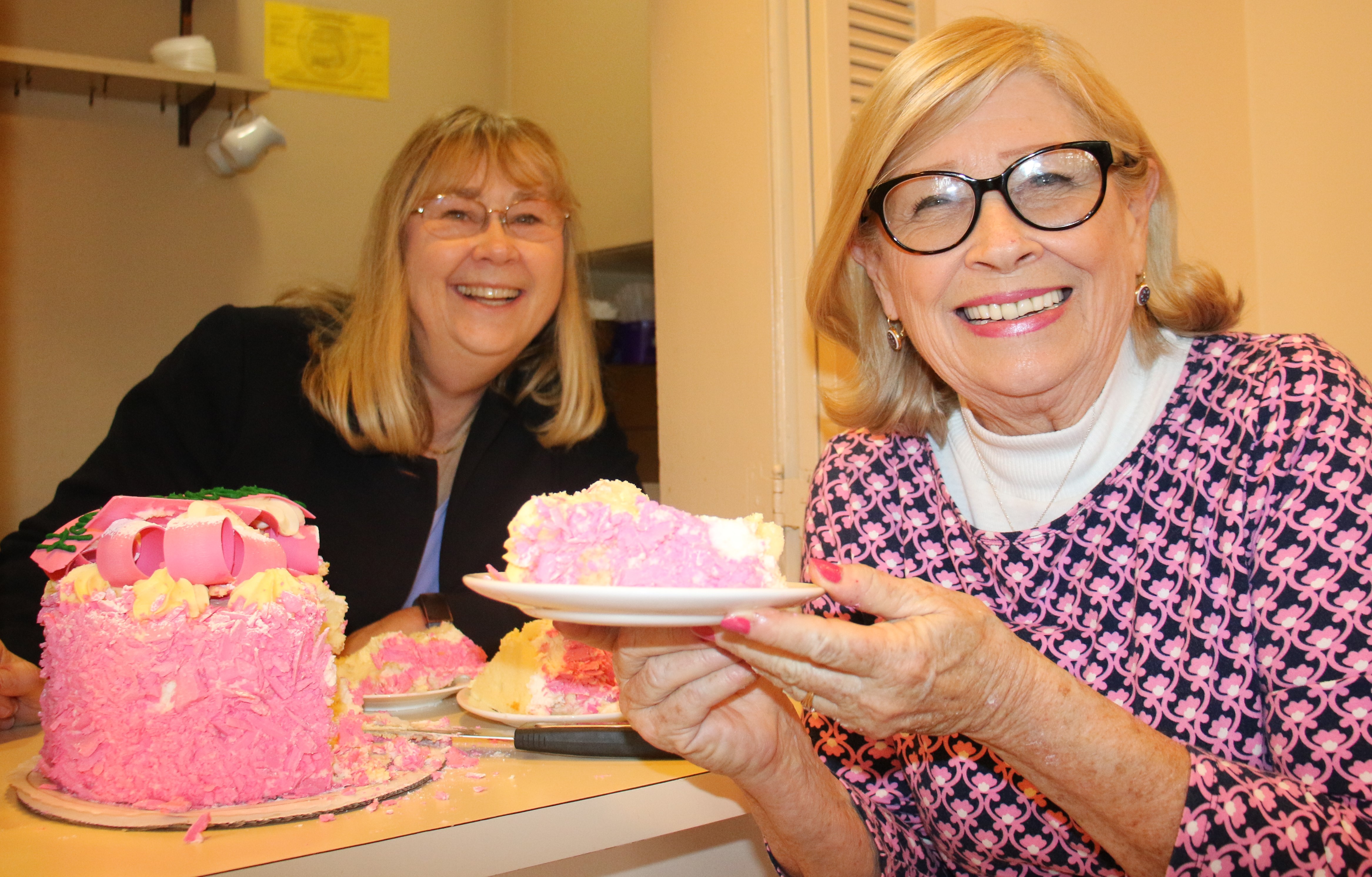 Having Your Cake & Eating it Too in Carmel! Cake with Carrie Theis & Magical Sunset from my Room

I was over joyed to spend my birthday weekend at Hofsas House, along with an opportunity to visit with Carrie Theis and her mother Doris, who have become special friends over the years. We all shared some of my pink champagne cake with coffee and Chef Brandon at Il Grillo (located 3 blocks away) made me an amazing duck dinner. Etats-Unis' French-American Brunch was a delightful way to start the day before visiting art galleries, including Gallery Apodaca, where the colorful works of Johnny Apodaca can be viewed.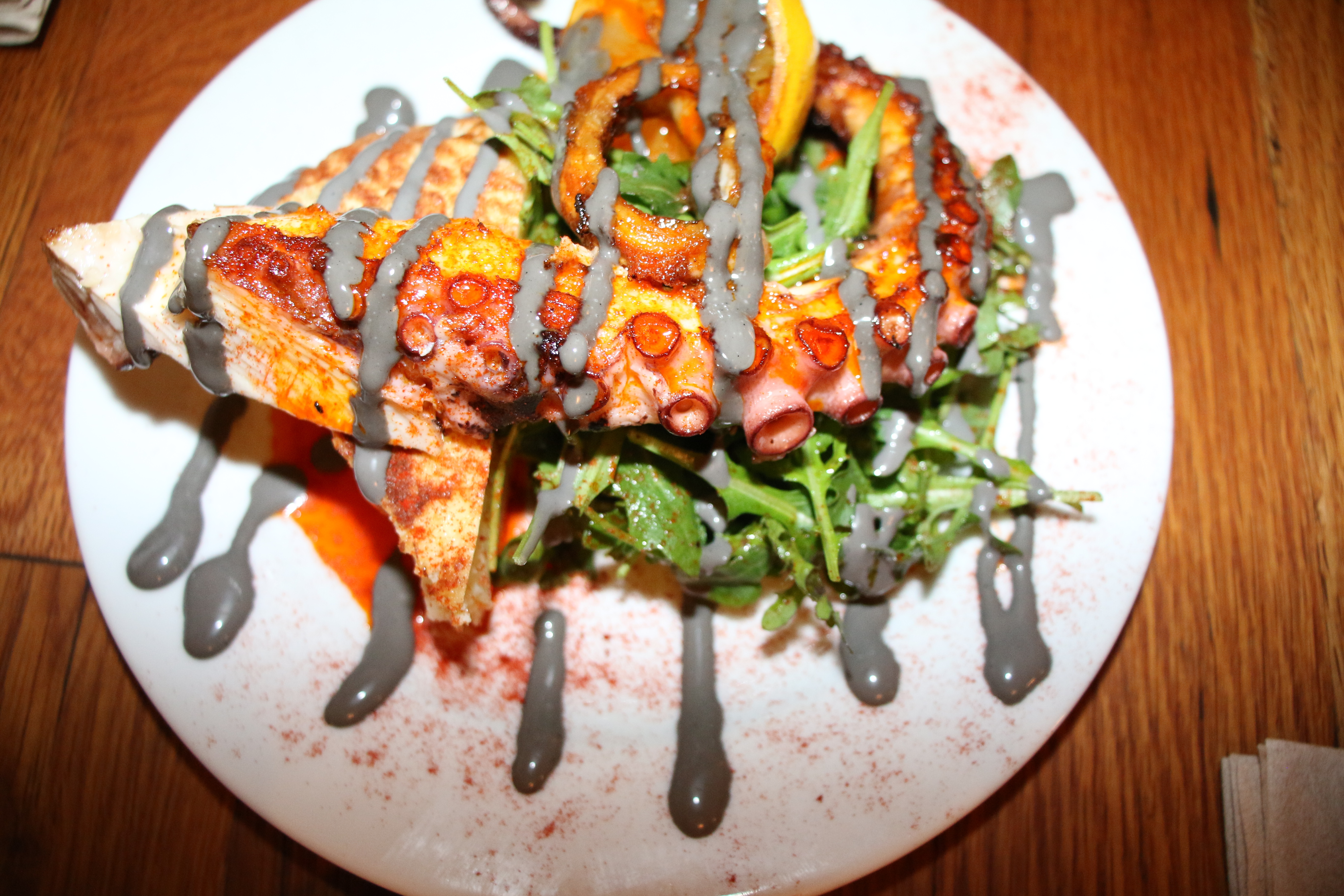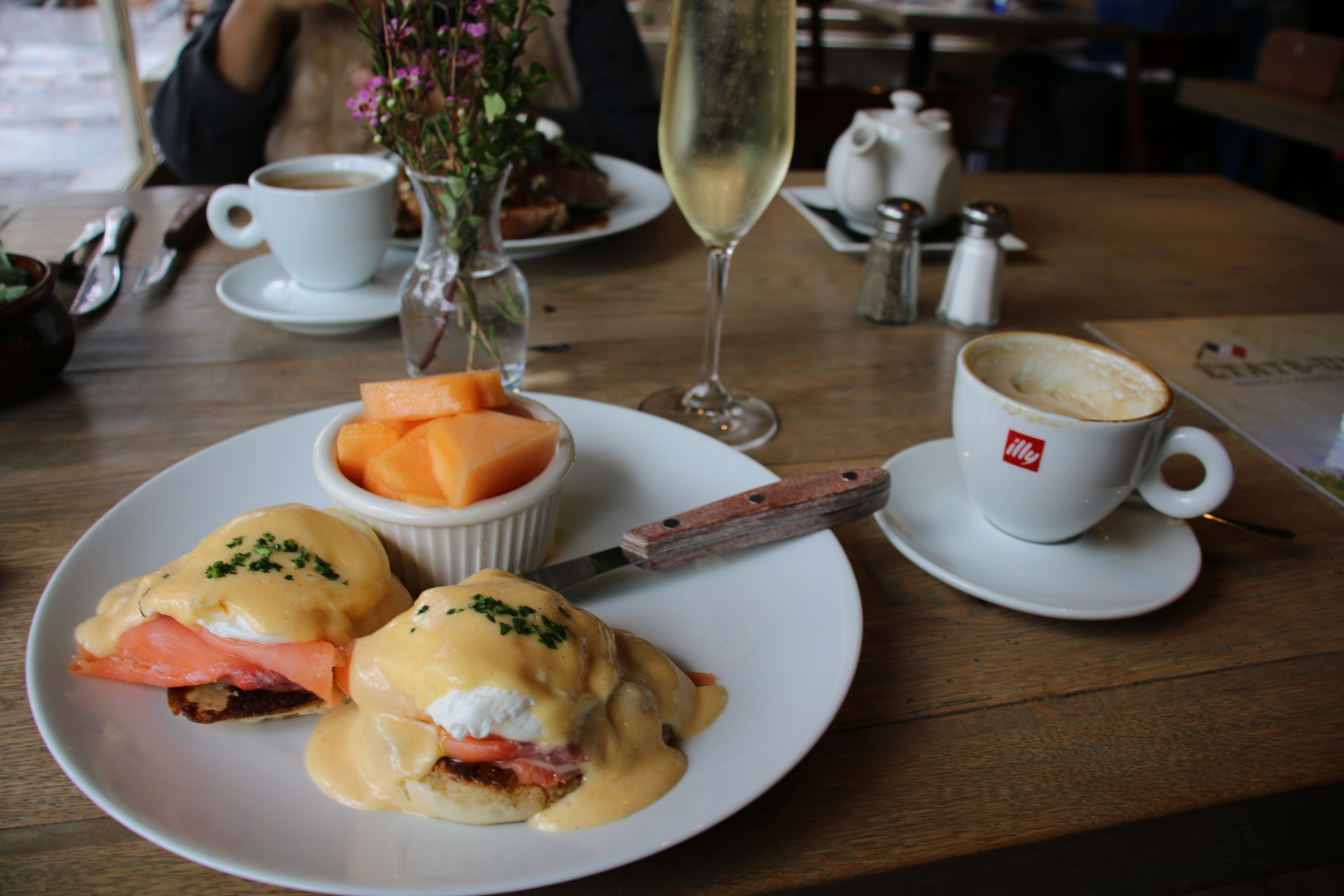 Octopus Dinner at Il Grillo & French-American Brunch at Etats-Unis

I'm addicted to the spectacular sunsets in the evening, and really cannot think of a more perfect birthday escape. Hofsas House is located in the center of Carmel-by-the-Sea and is a destination I would always recommend for a weekend get-a-way. Just strolling through town visiting the fantastic art galleries or checking out the many wine tasting venues is so entertaining. I noticed they have a sweet package for Valentine's Day that includes local a bottle of DeTierra Wine and 2 passes to their tasting room, a gourmet cheese box or Lulu hand-crafted Chocolates. It is such a perfect place for a couple to get lost, chill and enjoy each others company.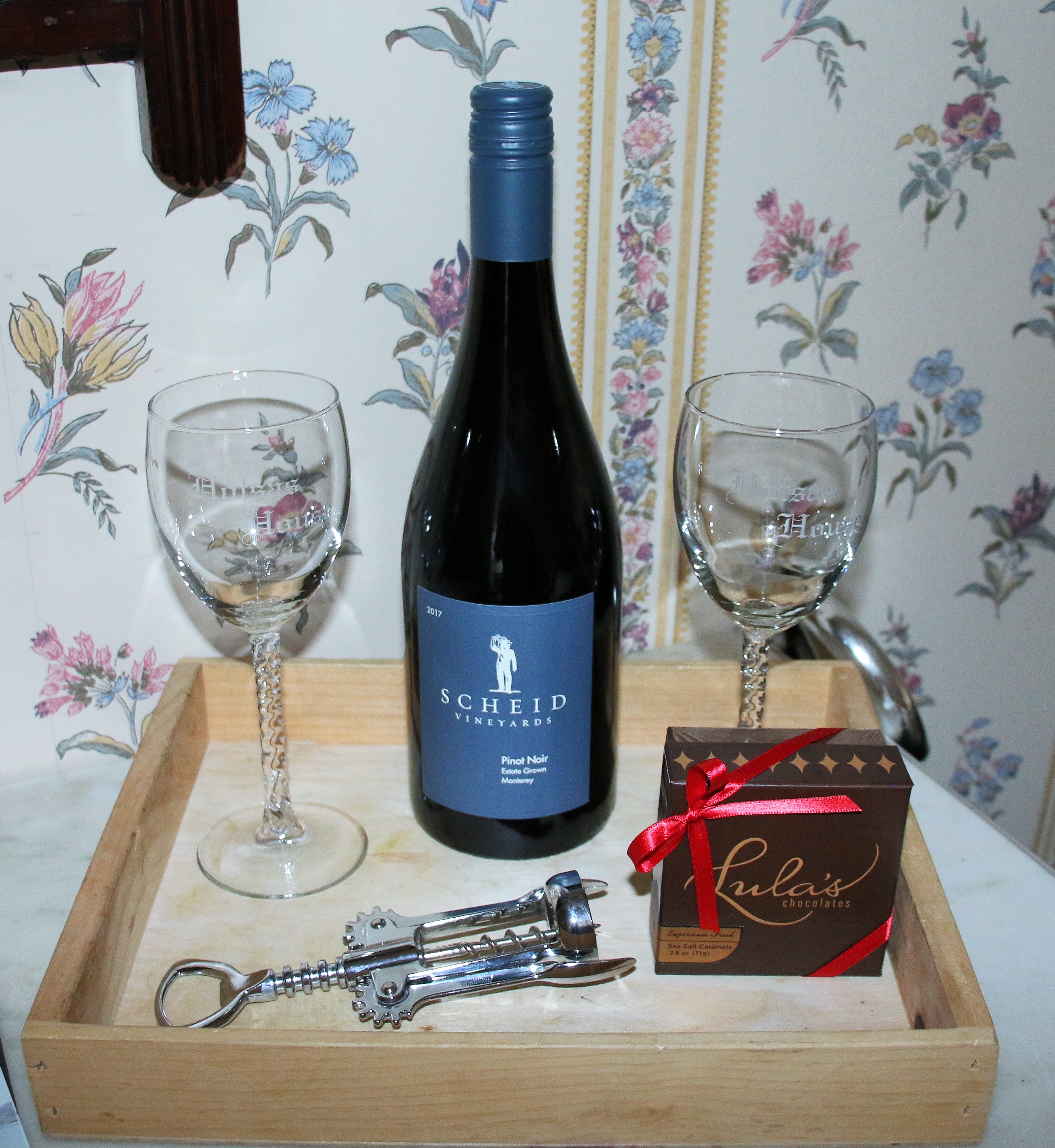 Local Guest Wine & Chocolates
The hotel is .8 miles from Pebble Beach and the 17 Mile Drive, 1.1 mi from Carmel Mission and 3 miles from Point Lobos State Park. Monterey Airport is 14 miles (15 minutes), San Jose International Airport is 56 miles away and San Francisco International Airport is 108 miles. Contact: Hofsas House Hotel Between 3rd & 4th Ave, on San Carlos Street., P.O. Box 1195, Carmel-by-the-Sea, CA 93921, Phone: (831) 624-2745, Visit: www.hofsashouse.com.
February Event Spotlight:
 AT&T Pebble Beach Pro-Am
February 6 - 9, 2020
Since Bing Crosby brought his Clambake to Pebble Beach more than 60 years ago, the tournament now known as the AT&T Pebble Beach Pro-Am draws talented PGA TOUR pros and an amateur field best known for its celebrities, and has raised more than $100 million for charity. After tournament play on the Pebble Beach Golf Links, Spyglass Hill Golf Course and the Monterey Peninsula Country Club Shore Course Thursday through Saturday, the final round at Pebble Beach features the top-scoring pros and amateur players. 
Carmel Shuttles to the AT&T Tournament Quick Facts
Wednesday -- Sunday, February 5 - 9, 2020
SHUTTLE SCHEDULE
* Wednesday: 9:00 a.m. -- 6:00 p.m.
* Thursday -- Sunday: 6:30 a.m. -- 6:00 p.m.
Where: Buses leave from the front of Carmel Plaza on Ocean Avenue and drop off near the Pebble Beach Equestrian Center
How often: Buses are running continuously about every 15 minutes.
SHUTTLE COSTS
* $20 day pass
* $75 for 4-5 day pass
All sales final. No refunds.
All tickets must be purchased on the website or at the gate. You can ride the Carmel Shuttle and purchase a ticket at the gate. You will not need a ticket to board the shuttle.
Parking: 
Free parking is available at Vista Lobos at 3rd and Junipero, Sunset Center Parking lot at 8
th
 and San Carlos as well as on residential streets outside the commercial district.  
Paid parking is available at Carmel Plaza, Mission between Ocean & 7th.
_____________________________________________
HOTEL HASSLER ROMA INTRODUCES
THE RAFFAELLO EXPERIENCE
Celebrating 500 years of Raphael's work
during the Italian Renaissance
The Marriage of Cupid and Psyche
(1517) by Raffaello Sanzio, located at the Villa Farnesina
Hotel Hassler Roma
, the iconic five-star hotel located atop the Spanish Steps, is offering a "
Raffaello Experience in Rome
" this year in honor of the 500th anniversary of the death of famed Italian Renaissance artist Raffaello Sanzio.
Throughout the 37 years of his life, Raphael quickly established himself as a Master of the Renaissance, creating such masterpieces as 
The Marriage of the Virgin
(1504) and the 
Disputation of the Holy Sacrament
 (1510). Together with Leonardo da Vinci and Michelangelo, Raphael is considered part of the "holy trinity" of the master artists of his time. 
Hotel Hassler Roma will be honoring his work with a two-night package, offering an opportunity for guests to experience art, history and "dolce vita romana," while staying in Rome's best hotel. The package includes a visit, led by a historian, to the Raphael Rooms in the Vatican Museums, featuring the artist's famous frescoes. Also included will be a tour of the Villa Farnesina, an architectural marvel dating back to the 16th century, featuring the artist's masterpiece, the
Marriage of Cupid and Psyche.


This package, valid for stays until December 20, 2020, includes:
A two-night stay in a Deluxe Double room or Grand Deluxe Double room
Daily buffet breakfast served in the Salone Medici or Palm Court Garden Restaurant
An Italian aperitivo for two on arrival at the elegant Salone Eva, Palm Court or the seventh-floor panoramic terrace
A four-hour tour themed around the "Raffaello Experience - The Early Roman Days," including visits to the Vatican Museums and Villa Farnesina.
The package starts at
€
2,088 (approx. US$2,324), based on two adults sharing a room.
For more information on the Hotel Hassler Roma and on the new Raffaello Experience package, visit
www.hotelhasslerroma.com
. 

ABOUT HOTEL HASSLER ROMA:

Set atop the Spanish Steps and featuring a panoramic view of the entire city, Hotel Hassler Roma is owned by President and General Manager Roberto E. Wirth, fifth generation of a famous Swiss hotelier dynasty. For more than a century, Hotel Hassler Roma has continued its legacy as Rome's five-star lodging of choice for the world's elite and discerning travelers. Each of the 87 rooms, 21 of which are suites, is individually designed with an elegant combination of classic and contemporary touches. Highlights include the Michelin-starred panaromic restaurant, Imàgo, the Salone Eva and Palm Court restaurant and the Hassler Bar, as well as the neighboring, Hassler-owned Il Palazzetto, a hotel, wine bar and special event space.

---