November 2006
BLUE ON BLUE RESTAURANT AT THE AVALON HOTEL
A Flash From the Past with Dreamy Food & Drink Presentations
by Bonnie Carroll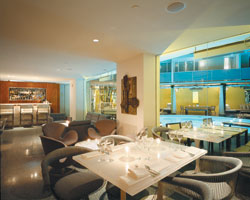 Blue on Blue Restaurant in Beverly Hills is one of my very favorite little hide-a-ways. It features delicious modern American cuisine in a sophisticated and relaxed California patio atmosphere that is created at poolside and features Lucite tables, custom benches and seductive private cabanas, all encased within bamboo trees and floor to ceiling glass windows. It cannot be seen from the street, and really does give diners a degree of privacy.
Blue on Blue's New American menu is an innovative, exciting approach that offers seasonal selections with an emphasis on the freshest products available each day. Must have items include the scallop and celery root risotto, which is outstanding. The cinnamon braised short ribs with Brussels sprout mash, also a favorite of mine, and please don't miss the chefs special duck presentation with red cabbage; this modern twist on an old German favorite is simply fantastic. The wine list is quite impressive, and includes Nicolas Feulillate Rose Champagne, Marquis Phillips Cabernet from Australia, and Canadian Inniskillin ice wine for dessert. The talented waiters are happy to assist guests with perfect parings. The desserts are all wonderful, and you will be pleased with any one you select.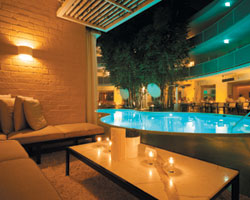 Located in the bustling City of Beverly Hills on Olympic Boulevard, this venue provides a unique, relaxed environment for fine dining, where cushioned lounge chairs surround a 1950's pool. Guests can unwind in the California sunshine, or at tables set inside cabanas. This is a cheerful place for breakfast and lunch, and offers guests and neighborhood professionals a very eclectic gathering spot to enjoy cocktails or discuss business. The sparkling blue water of the pool, combined with the rich blue décor of the restaurant, creates an oasis, where visitors can escape for a while, and enjoy great food and drink along with their fun company.
When the sun goes down, Blue on Blue becomes a distinct destination for enjoying fine cuisine, drinks and intimate gatherings. Inside, the restaurant and bar offers guests a cozy lounge atmosphere with plush couches, custom marble tables and vintage chairs. Under the stars, blue on blue's cabanas and candlelit tables create a dramatic setting around the pool, which is filled with sparkling table lights that provide a very sexy ambiance at dinner.
For a great place to start your day in typical California style, or end it with a very romantic dinner, in what could be described as an pristine MGM movie set, Blue on Blue is always a delightful choice. The renovation of this intimate little gem of a hotel has been a real gift to area residents and business locals. I was told that following its opening in the 50s that stars like Marilyn Monroe lived in the hotel, and today it is a favorite haunt for celebs and music icons.
For information visit www.avalonbeverlyhills.com.
---
THE HOTEL MEDITERRANEO
Rooftop Splendor in the Heart of Rome
by Bonnie Carroll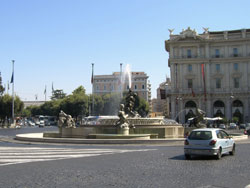 The Hotel Mediterraneo, a 4-star hotel in Rome, was initially designed to be a hotel in the grand European style and this goal has indeed been fulfilled. With 261 rooms on 10 floors, the building is the highest building in the historical center, built on the highest of Rome's seven hills, the Esquilino.
For me, the highlight of a visit to this hotel is the view from their Rooftop Lounge, which offers guests a lovely lunch menu, afternoon tea and cocktails to enjoy along with the most beautiful view of the Eternal City. The hotels interior design is inspired by a monumental and understated luxury. The lobby is adorned with marble busts of Roman Emperors and mosaics portraying the departure and return of Ulysses to Ithaca, the young Telemacus, Penelope and his dog Argus. The interior design is dominated by fine woods and marble, found throughout the entire hotel, and a sea theme which includes a clock with waves and a wheel which turns on it.
The beautiful Breakfast Room with its high ceilings is decorated with tritons and mermaids in carved oak, with two large chandeliers decorated with mermaids and matching lanterns. The hotel staff serve a breakfast buffet in this room each morning that is simply wonderful.
The Hotel Mediterraneo is one of the best examples of Art Deco in Rome. Ten floors of understated classical rationalism style with marble and fine woodwork staircases, steps and landings built with solid pieces of marble suspended in air. The bar has an alabaster counter and wood panels inlaid with fine woods depicting Bacchus in the company of grape harvesters. On the upper level in the grand lobby one of the walls boasts a painted vellum map of the Mediterranean Sea.
The Hotel's central position, near the Railway station TERMINI, permits one to visit on foot the Fountain of Trevi, Coliseum, Imperial Forums, the Opera Theatre, the National Museum, and Basilica of Santa Maria Maggiore.
Hotel Mediterraneo is equipped to handle conferences, and has every amenity a guest could wish for. The hotel is located across the street from a sister hotel Massimo d' Azeglio, which houses one of the best and most historic restaurants in Rome. Below you will find a review of this charming Italian restaurant and wine cellar.
Hotel Mediterraneo
Via Cavour, 15 - 00184 Rome Italy
Ph: [+39] 06.4884051 - Fax: [+39] 06.4744105
E-mail: hb@bettojahotels.it

---
RISTORANTE MASSIMO D'AZEGLIO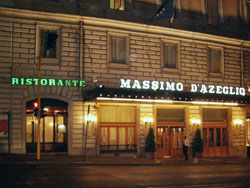 Located in the hotel of the same name Restaurant Massimo d'Azeglio represents authentic recipes, gracious style, and impeccable services. This Roman historic dining venue is located within a few blocks of additional hotels owned by the Bettoja Hotel Group, and is frequented by their guests, local Romans, and tourists who have heard the stories regarding the original decor and dedication to fine food and wine.
The pasta and meat dishes are quite wonderful, and many entrees are prepared and served at the table. The Italian vegetable soup is simply outstanding, and is a huge serving for one person. All the breads are home made and represent a variety of very different options. The desserts are served from a moving cart and offer many selection of original treats. Because this family has been in the wine industry for many years, the wine selections are varied and quite good. There is a wine cellar located under the restaurant, where tastings are done.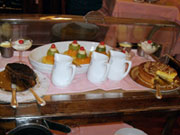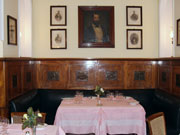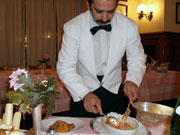 I became a bit obsessed to find out who the mysterious man in the portraits that fill the walls of this restaruant was, and below you will find the story on a very interesting man that I think I would have loved to enjoy an espresso with.
Hotel Massimo D'Azeglio
Via Cavour, 18 - 00184 Rome Italy
Ph. [+39] 06.4870270 - Fax [+39] 06.4827386
E-mail: hb@bettojahotels.it
---
WHO WAS MASSIMO D'AZEGLIO?
Massimo Taparelli, marquis d'Azeglio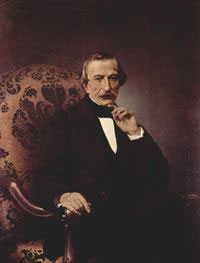 Massimo d'Azeglio 1860
Massimo Taparelli, marquis d'Azeglio -
October 24, 1798 - January 15, 1866,
was an Italian statesman, novelist and painter.
Following a simply delightful dinner at the Restaurant Massimo d'Azeglio in Rome, I need to know who this mysterious looking man was, and here is his story for your enjoyment.
Massimo d'Azeglio was a very attractive personality, as well as an honest patriot, and a characteristic example of the best type of Piedmontese aristocrat. He was cautious and conservative; in his general ideas on the liberation of Italy he was wrong, and to some extent he was an amateur in politics, but of his sincerity there is no doubt. As an author his political writings are trenchant and clear, but his novels are somewhat heavy and old-fashioned, and are interesting only if one reads the political allusions between the lines.Besides a variety of newspaper articles and pamphlets, d'Azeglio's chief works are the two novels Ettore Fieramosca (1833) and Niccolò dei Lapi (1841),and a volume of autobiographical memoirs entitled I Miei Ricordi, (D'Azeglio Memoirs - p. 1867) a most charming work published after his death, in 1866, but unfortunately incomplete.
Marquis d'Azeglio was born at Turin. Following Pius VII to Rome after the fall of Napoleon, Cesare d'Azeglio was sent as special envoy to the Vatican, and he took his son, then sixteen years of age, with him as an extra attaché. Young Massimo was given a commission in a cavalry regiment, which he soon relinquished on account of his health. During his residence in Rome he had acquired a love for art and music, and he now determined to become a painter, to the horror of his family, who belonged to the stiff and narrow Piedmontese aristocracy. With his fathers consent, Massimo settled in Rome, devoting himself to art. He barely maintained himself by his painting for several years. But he was a student of the political state of Italy. In 1830 he returned to Turin, and after his fathers death in 1831 removed to Milan. He lived there twelve years, moving in the literary circles of Milan.
He became the intimate of novelist Alessandro Manzoni, whose daughter he married. Literature became his chief occupation instead of art, and he produced two historical novels, Niccolò dei Lapi and Ettore Fieramosca, in imitation of Manzotti, and with pronounced political tendencies, his object being to point out the evils of foreign domination in Italy and to reawaken national feeling. After a visit to Romagna in 1845 he published his famous pamphlet Degli ultimi casi di Romagna in Florence. He was expelled from Tuscany, and spent the next few months in Rome, sharing the general enthusiasm over the supposd liberalism of the new pope. like Vincenzo Gioberti and Balba he believed in an Italian confederation under papal auspices, and was opposed to the Radical wing of the Liberal party.
On the outbreak of the first war of independence, d'Azeglio donned the papal uniform and took part under General Durando in the defence of Vincensa, where he was severely wounded. He retired to Florence to recover, but as he opposed the democrats who ruled in Tuscany, he was expelled from that country for the second time. He was now a famous man, and early in 1849 the King of Sardinia invited him to form a cabinet. He refused, and was later called upon again and accepted, concluded a treaty of peace, dissolved the Chamber, and summoned a new one to ratify it, The treaty was accepted, and d'Azeglio continued in office for the next three years. While all the rest of Italy was a prey to despotism, in Piedmont the king maintained the constitution intact in the face of the general wave of reaction. D'Azeglio conducted the affairs of the country with tact and ability, improving its diplomatic relations, and opposing the claims of the Roman Curia.
Owing to ill-health and dissatisfaction with some of his colleagues, as well as for other reasons not quite clear, he resigned once more and retired into private life, suggesting Cavour to the king as his successor. For the next four years he lived modestly at Turin, devoting himself to art, although he also continued to take an active interest in politics. When war between Piedmont and Austria appeared inevitable he returned to Italy, he was sent as royal commissioner by Cavour to Romagna, where the papal troops had been expelled. Early in 1860 Cavour appointed him governor of Milan, evacuated by the Austrians after the battle of Magenta, a position which he held with great ability. But, disapproving of the governments policy with regard to Garibaldi's Sicilian. expedition and the occupation by Piedmont of the kingdom of Naples as inopportune, he resigned office.The death of his two brothers and of Cavour in 1861 caused d'Azeglio's great grief, and he began go live a comparatively retired life. But he took part in politics, both as a deputy and a writer, his two chief subjects of interest being the Roman question and the relations of Piedmont (now the kingdom of Italy) with Mazzini and the other revolutionists.
He strongly disapproved of the convention of 1864 between the Italian government and the pope. The last few years of d'Azeglio's life were spent chiefly at his villa of Cannero, where he set to work to write his own memoirs. He died of fever in Turin on. The family went on to become wine and food merchants, and later opened dining venues including the namesake ristorante in Rome.
Ristorante Massimo d'Azeglio is located in the sister hotel of Hotel Meditteraneo in Rome, Italy. They part of the Bettoja Hotel Group.