TASTE OF ABRUZZO WEEK AT VIA MAESTRA 42 IN SANTA BARBARA
A Week of Authentic Flavors from the Region of Abruzzo Italy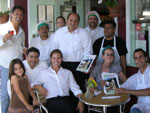 August 6-11 marked a special week when Renato Moiso, owner of Via Maestra 42 welcomed diners wishing to experience authentic dishes from Abruzzo, Italy to his restaurant. Menu items included entrees', desserts, and wine selections from this wonderful, but relatively unknown area. Dante Sigismondi, the general manager of the popular neighborhood venue, presented authentic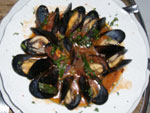 recipes sent by his family members living in this region of Italy, and they were all enjoyed by guests during Taste of Abruzzo Week at the restaurant located at 3343 State Street, Santa Barbara.
Abruzzo is a region which sits gracefully between the Gran Sasso, Majella and the Adriatic Sea. It is on the border between the M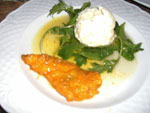 arche and Molise and has always been described as strong and gentle due to the gentle welcome given to visitors and strong for their ability to remain tied to their historic roots. The area is closely associated with inspiring religious holidays, and fun family festivals.
The week of August 6-11 also marks the celebration of The Feast of San Lorenzo on August 10, one of the earliest celebrations of the Roman Church in Italy. St. Lorenzo was roasted to death by Empero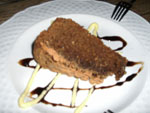 r Constantine's troops in 258 AD, and he is the patron saint of fireman, bakers and those who work with fire and roasting. Each year the huge festival in the Abruzzo region is followed by a fireworks display, and legend is that the stars shining above represent the tears the saint shed for the evil of mankind.
From August 6 through August 11. Renato, Dante and the Via Maestra 42 staff shared the best flavors of Abruzzo with their patrons, and each dinner guest was given a beautiful book on Abrusso Italy, compliments of the Italian Government Tourist Board, LA & NY, the Italian Travel Promotion Council, the Region of Abruzzo and Eurofly Airlines.
---
HOTEL EDEN
At the Center of Rome Style
by Bonnie Carroll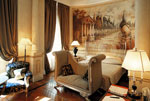 A short walk to the Piazza De Spagna, and with a rooftop view of the best of Rome, this venue is not only the best seat in t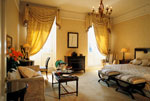 own for dinner, but is also a member of The Leading Hotels of the World, and this is obvious at first glance.
Built in 1889, it is an icon of elegant hospitality, and steeped in Roman history. Surrounding venues include Villa Borghese, and the Via Veneto, a hub for world-class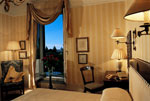 shoppers. A friendly concierge is on duty to provide a map and make helpful suggestions, and there i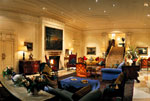 s a taxi stand just to the right of the entrance.
The refined grace of the marble entry lobby, and elegant antique furniture in the rooms and suites present a comfortable home away from home for visitors to the 'Eternal City'. The dining room, overlooking Vatican City, and the endless beauty of the city, is an enchanting place to watch the sunset, while enjoying the exq
uisite Mediterranean menu offered.
Every possible tour in Rome can be tak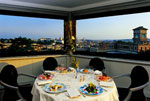 en from the front door of the hotel. The hotel is literally in the heart of culture, shopping, and it is accessible to every type of transportation for a daylong adventure.

HOTEL EDEN
ROMA
Via Ludovisi, 49 -00187 Roma
www.hotel-edin.it