CHEF/HOTEL PROFILE    .     .     .

COIN & CANDOR WHERE HEALTH MATTERS
FOUR SEASONS HOTEL WESTLAKE VILLAGE, CALIFORNIA
by Bonnie Carroll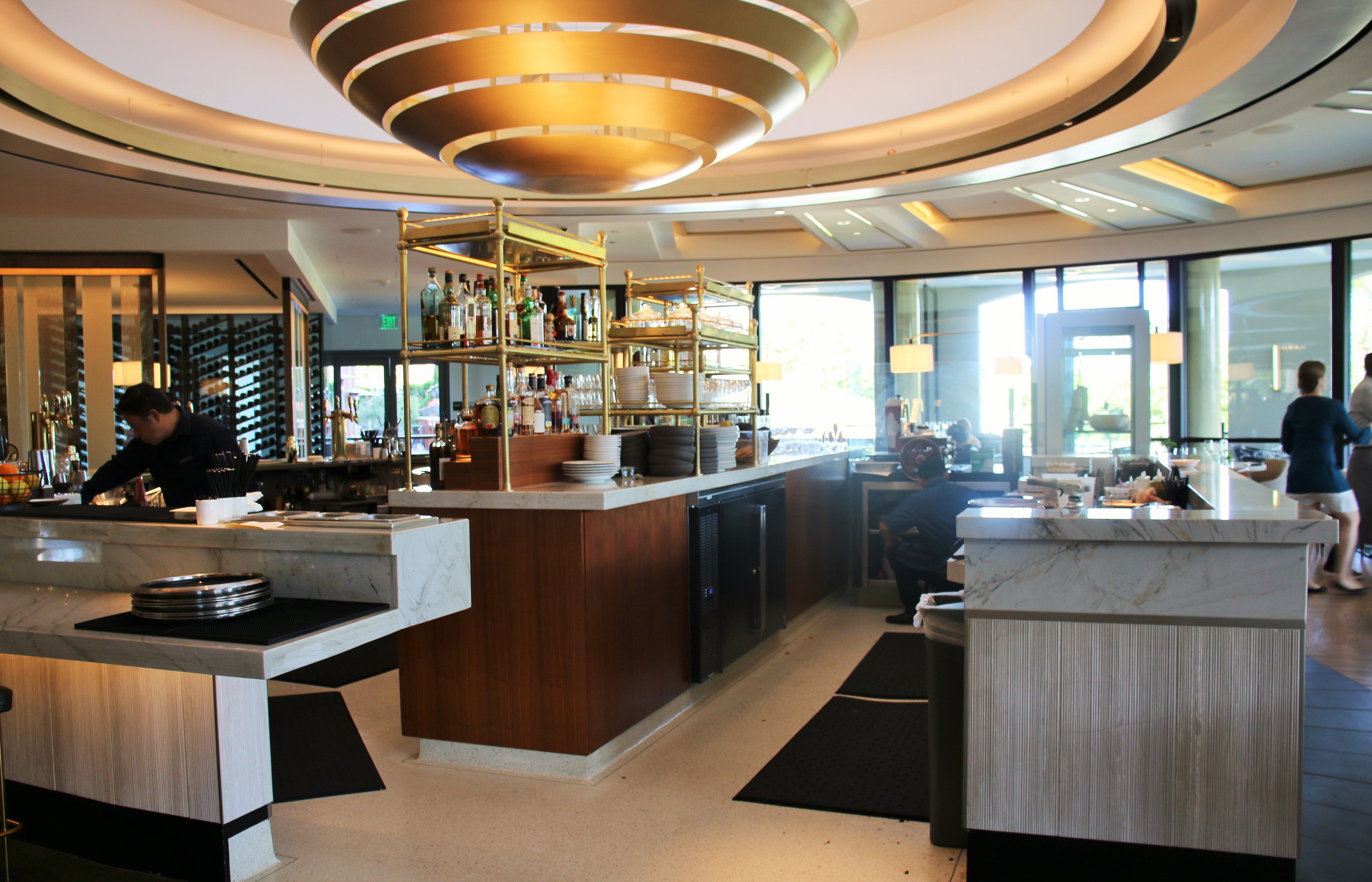 David Murdock's Four Seasons Hotel Westlake Village is not only his personal tribute to humble beginnings, but is also a symbol of his dedication to the importance of maintaining good health. In 1943 Mr. Murdock found himself homeless after returning from serving in the United States Army during World War II. Destitute and with only a nickel and a penny in his pocket he had an encounter with a Good Samaritan who loaned him a bit of money to purchase a closing coffee shop. He then began developing his keen sense for business and passion for hospitality that helped him take complete ownership of the coffee shop and pay back the entire loan with a profit from selling the business. It was then he began his journey on the road to the David Murdock we all know and admire today as a real estate entrepreneur and share owner of multinational companies.
The Four Seasons Hotel in Westlake Village has become known for it's health focus and for Mr. Murdock's vision of maintaining excellent health, which has garnered awards and recognition from health experts, physicians and authorities on healthy living and longevity. The excellence in fine food, and the best in farm to table is paramount at the hotel and is incorporated into the versatile and delicious menus created by Coin & Candor Executive Chef Jose Fernandez, and Pastry Chef Patrick Fahy.
Executive Chef Jose Fernandez is from Barcelona, Spain, and spent his formative years working in Michelin-starred restaurants throughout his native country. This along with memories from his family's kitchen created his culinary point of view - to use fresh and seasonal ingredients, with an emphasis on local, organic and sustainable whole foods. The Chef also oversees several new fruit, vegetable and herb gardens located on the premises. Prior to joining Four Seasons Hotel & Resorts Fernandez served in culinary capacities with Peninsula Hotels and Ritz-Carlton Hotels & Resorts. His career has taken him to Laguna Niguel, New York City, Tucson, and Washington D.C.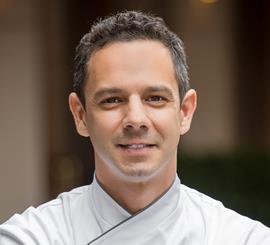 Executive Cher Jose Fermandez
Chef Patrick Fahy hails from the critically acclaimed Thomas Keller French Laundry, were he was the Head Pastry Chef responsible for the dessert program, and regularly collaborated with Keller's other restaurants including Per Se, Bouchon, Bouchon Bakery, Ad Hoc and Ad Lib. As executive pastry chef of Trump International Hotel and Tower Chicago, Chef Patrick led the restaurant Sixteen to earn two Michelin stars in 2013. At Blackbird restaurant Chicago, Chef Patrick was a James Beard Finalist for Outstanding Pastry Chef in 2011 and a Semifinalist in 2012 and 2013. He has also worked in the pastry kitchen at The Ritz Carlton Chicago (formerly a Four Seasons Hotel).
My recent dinner in the welcoming restaurant included a magical combination of menu selections that were skillfully prepared by their talented chefs using the finest fresh produce from Thorne Family Farm, Malibu Tamai Family Farms, Oxnard, Apricot Lane Farms, Moorpark, Jidori Chicken Various Farms, Niman Ranch, Alameda, Pachamama Farms, Days Creek, Oregon and Snake River Farms, Boise, Idaho and were presented by an attentive restaurant staff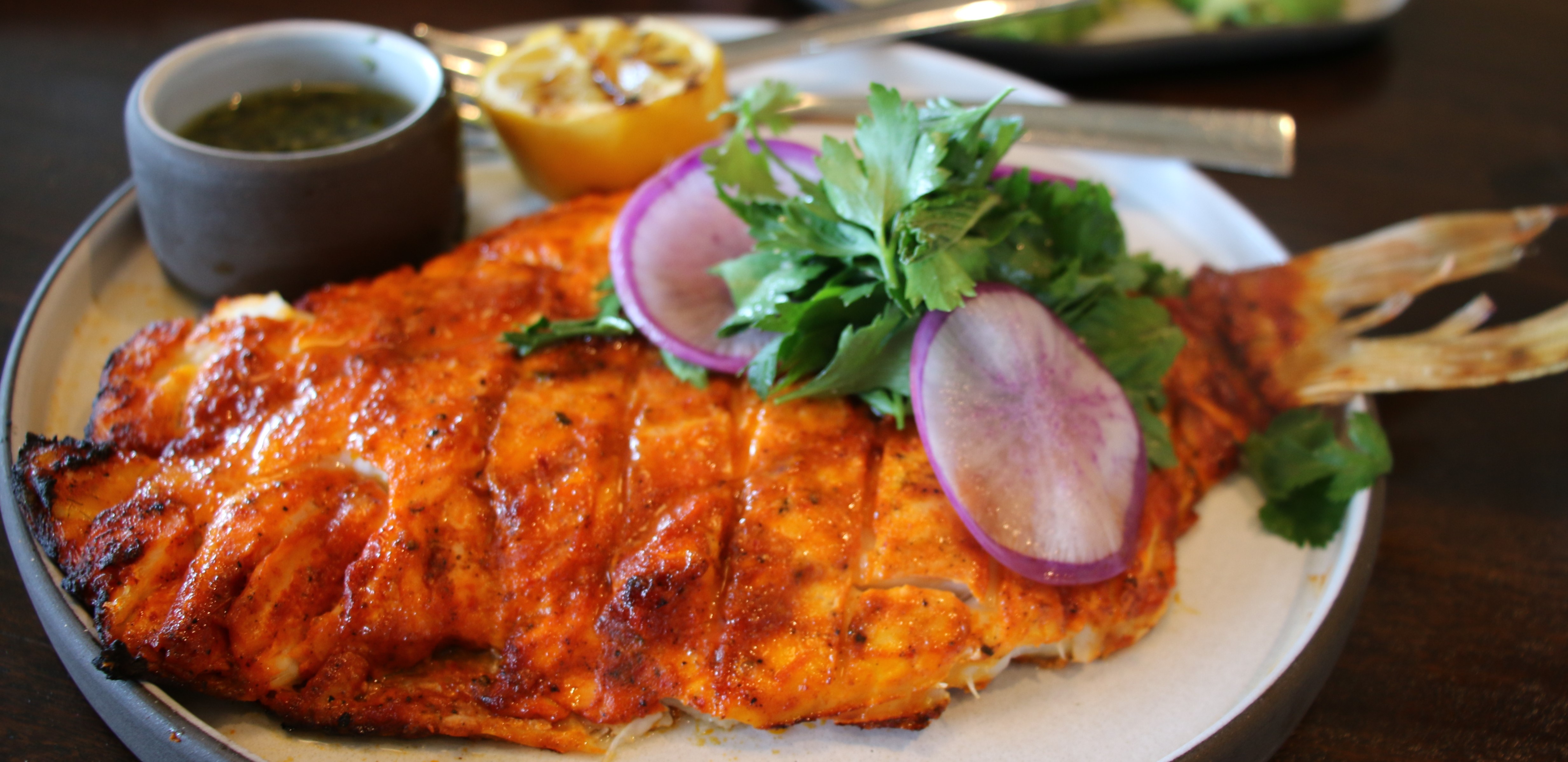 The sourdough bread at Coin & Candor is considered a 'must do' and is served straight from the oven with delicious organic Strauss creamery butter. Don't be fooled by the California Avocado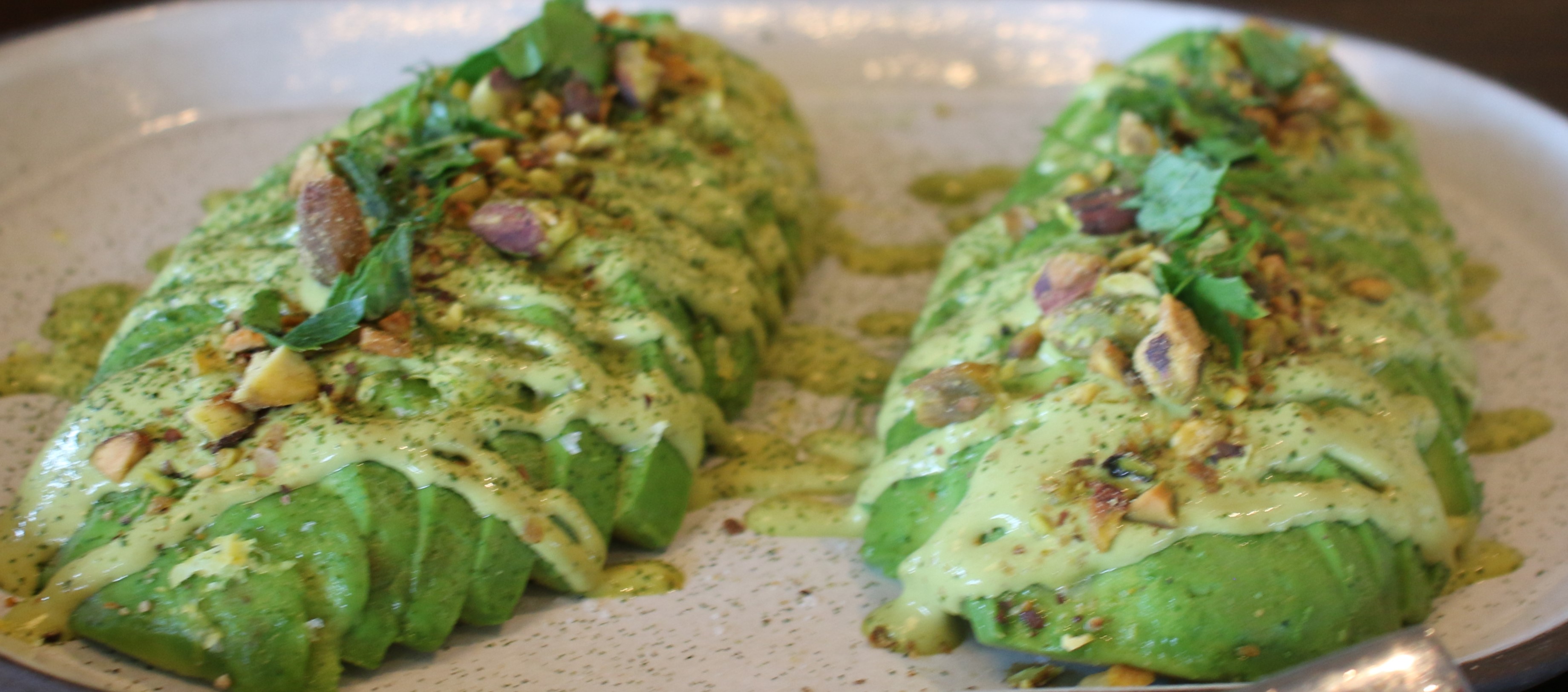 name, this is not some simpleton's avocado plate, it is an amazing presentation of Santa Barbara pistachio, lemon zest and seaweed dust kissing two perfect avocados that will delight your taste buds. Another original recipe we enjoyed was the Heirloom Corn Stew made with ancho chili aioli, cotija and cilantro that was so good I took some home. I selected a signature dish Baja California Red Snapper as my entree and the chef's presentation of this perfectly cooked fresh fish favorite with adobo and herb salad was awe inspiring and delicious.
The sommelier selected two wines including Emeritus, Hallberg Ranch, Russion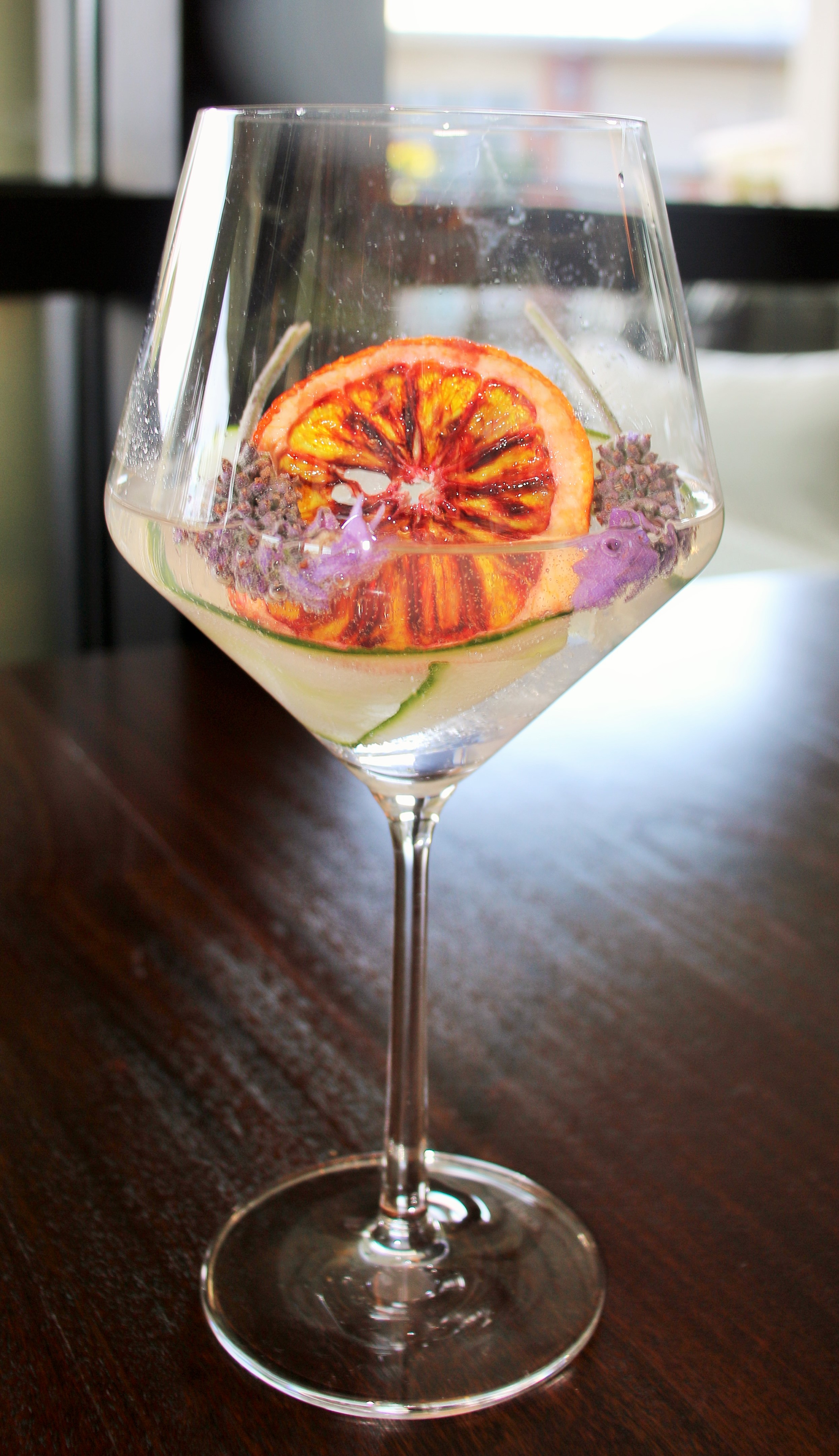 River 2015 Pinot Noir and Flowers Cellars, Sonoma Coast 2016 Chardonnay. Both were point on with the dishes we shared. The

wine list is a manuscript of outstanding local & national wines, as well as fine selections from around the world. Try one of their before dinner cocktails, the Coin & Candor on Tonic is an exquisite cocktail containing Monkey 47 Gin, house-grown lavender, juniper berry and dried lime.
Coin & Candor has an airy and open feeling with floor to ceiling windows which bring the outside inside and provide a feeling of merging with the sun as it sets. There is a comfortable outdoor patio where guests may enjoy the beauty of a gorgeous waterfall, as well the zen sounds of the rushing water. Sitting inside provides guest a close up and personal visual access to chefs preparing small plates, and the mixologists whipping up the latest signature cocktail requests.
It would be unfair of me to close this story without sharing my sinful ending with you. Our dessert was the Pavlova, made with Thorne farms blueberries, lemon verbena ice cream and pink champagne sorbet and it was one fantastic experience for the senses – exquisite in every way.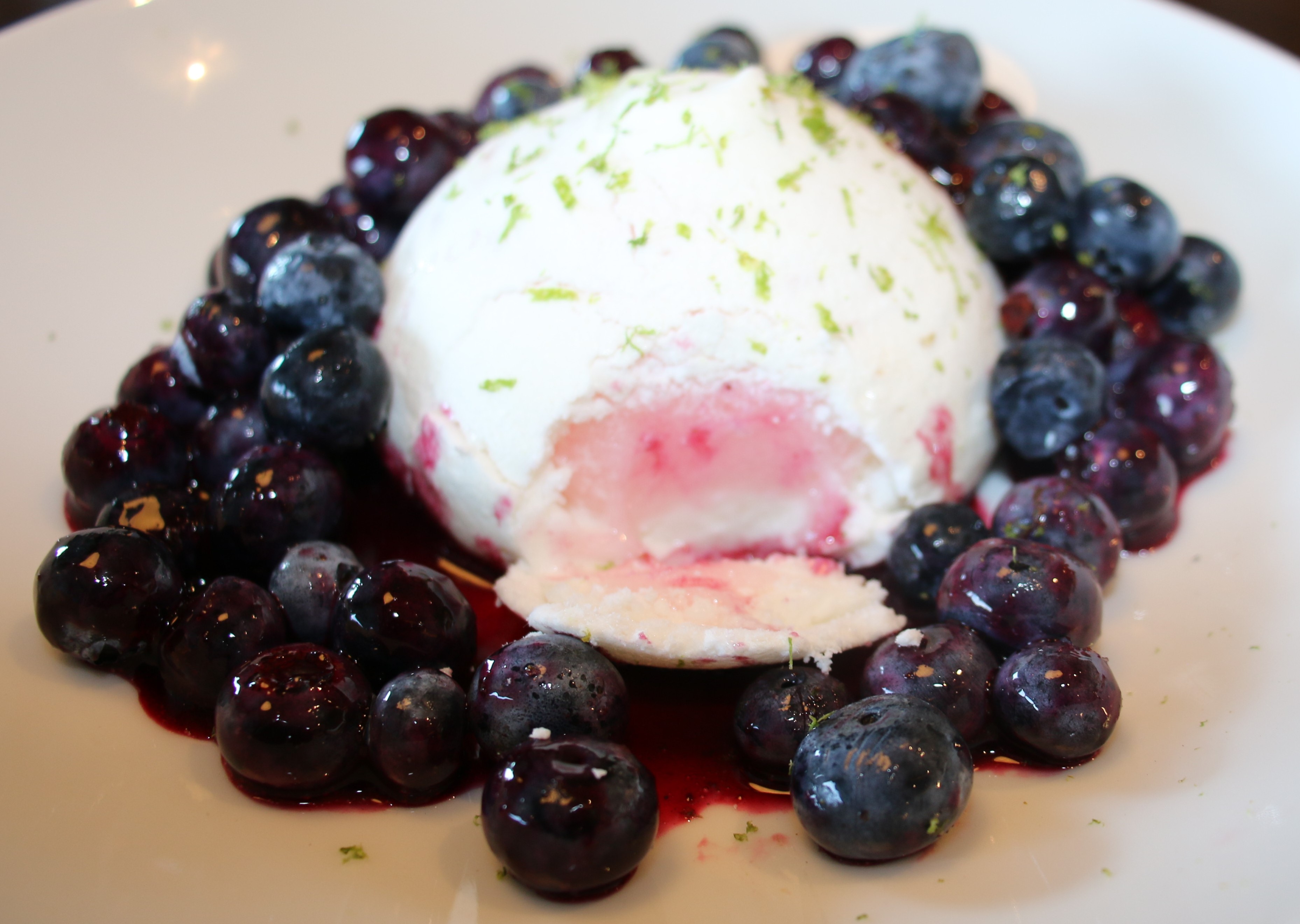 Yes, I do recommend you escape for a weekend to this delicious destination and spoil yourself with the finest in farm to table dinners with an outstanding wine selection. They also have an award winning spa, one of the largest in the country, two pools and anything else your heart desires for a perfect hotel sta-cation or vacation. Yes, you may see me there because I plan to go back for a second helping of everything that is outstanding at Four Seasons Hotel Westlake Village, especially the health minded original recipes at Coin & Candor.
COIN & CANDOR
Four Seasons Hotel Westlake Village
2 Dole Drive
Westlake Village, CA 91362
818-575-3044
6:30 am – 11 pm Daily
---