WHEELS   .  .  .
Great New Book On Auto Museums!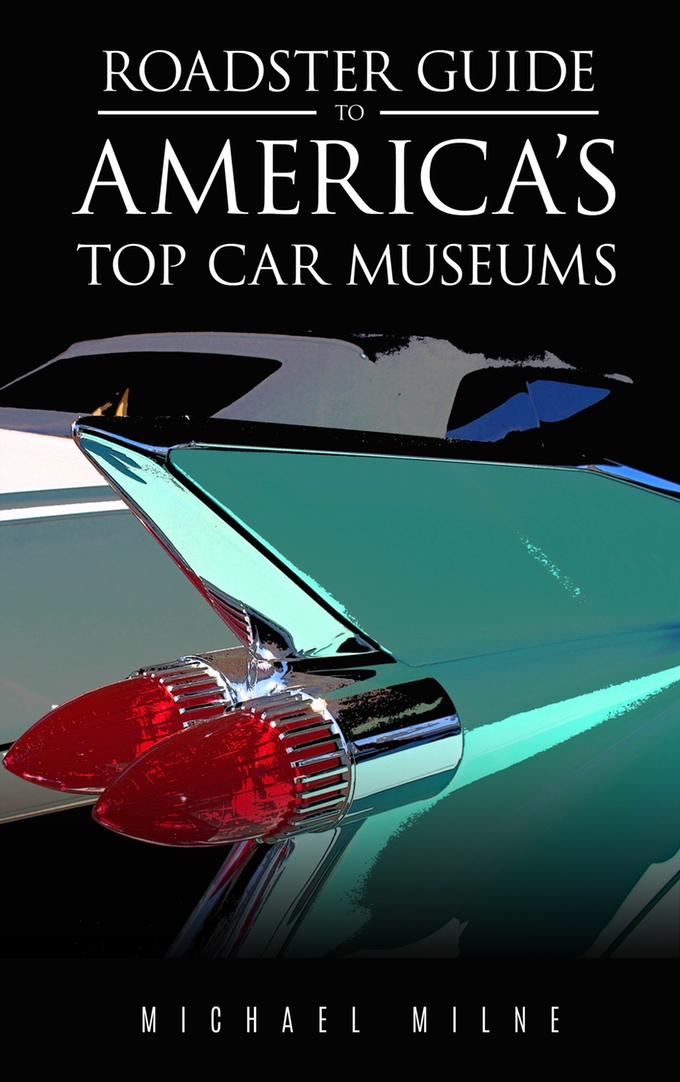 ___________________________________________________________
Champagne, Pimms and luxury sports cars: David Brown Automotive toasts its new showroom in Germany
David Brown Automotive launched its first non-UK-only showroom in Germany yesterday evening and showcased a production Speedback GT, alongside the original prototype, in front of media and guests at the British-themed party.
The new showroom, which is based within Classic Remise in Düsseldorf, becomes the second showroom to join the bespoke David Brown Automotive dealership network since the company was founded in 2014.
The beautiful British Racing Green production Speedback GT was displayed at the showroom's launch alongside the original prototype. Speedback GT is made in Britain using traditional coachbuilding methods. The handmade luxury sports cars can be tailor-made to any client's specification, making it one of the most truly customisable and luxurious sports cars on sale today.
Following the first international deliveries of Speedback GT, which started earlier this year, the all-new showroom further showcases David Brown Automotive's ongoing success within the market and dedication to its growing customer base. The Germany-based showroom will offer sales support and customer care to its customers within Classic Remise's luxury location.
"We've always known that Germany was a key market for us since the very start" said Company founder and CEO David Brown. "We have partnered with Classic Remise a number of times and they certainly share our passion for beautiful automobiles and excellent quality. Their centre in Düsseldorf is a destination for luxury classic and modern car fans from all over the world. I am delighted to be opening a showroom here in Düsseldorf, a place that has gained a reputation for excellence within the automotive world. I can't wait to see what the future in Germany will hold, including many more deliveries of Speedback GT to customers in the region."
The launch saw both David Brown and Marcus Keller, the company's Brand Representative for the region, open the showroom in front of customers, stakeholders and media who were welcomed with British-themed refreshments including Pimms and beer from David Brown Automotive's sister company, The Brewing & Distilling Company (BAD Co.).
David Brown Automotive has a long-standing relationship with Classic Remise, including displaying Speedback GT on its stand at Techno Classica Essen in 2015 and 2016 and showcasing the car's prototype at its showroom location in Düsseldorf in 2015.
The new Düsseldorf-based showroom is open to the public from today, 9th June from 9am to 5pm local time. Media are welcome to visit the new showroom within Classic Remise on request by contacting the PR representatives listed below.
Priced at £495,000 exclusive of taxes, Speedback GT promises exceptional performance and handling, hosting a 5.0-litre V8 supercharged engine with 510bhp and 461ft lb of torque, hitting 0-60mph in 4.6 seconds with a top speed of 155mph (limited).
Potential customers who were unable to attend the event are invited to register their interest via the company's website: www.davidbrownautomotive.com.
Classic Remise Düsseldorf: Harffstraße 110A, 40591 Düsseldorf, Germany
More details on Speedback can be found at: www.davidbrownautomotive.com
_________________________________________________________
BY AIR   .   .   .
Transatel and Air France-KLM Launch Bitebird,
a 4G Wifi Hotspot to Stay Connected Abroad
From today on, travelers will be able to purchase a 4G wifi router and data credit to use in 48 countries from Air France-KLM's new mobile internet offer, Bitebird, at www.bitebird.com. The mobile solution behind the brand is Transatel's SIM 901, a universal, network- agnostic SIM card offering cellular data connectivity at local conditions around the world. 
The Bitebird mobile solution
Starting today, the 4G wifi router for €99.95 is available for purchase via www.bitebird.com . A choice of €30 (paid 25€), €50 (paid 40€) or €130 (paid 100 €) of prepaid credit can be added. Air France-KLM customers can buy the 4G Wifi device including €50 of prepaid credit for 55,980 Flying Blue Miles on store.flyingblue.com. In any case, the credit is valid for a year for all destinations, and easily rechargeable anytime on bitebird.mobi 
Bundled with a prepaid and pre-installed SIM card, the Bitebird router opens a private, secure connection via a password. Perfectly adapted to professional or private use, it is already operational in close to 50 countries* at local rates and can connect up to 10 devices (smartphone, tablet, PC) simultaneously.
Transatel, the preferred enabler for universal data needs
Transatel recently won the 'Best Aggregator' Award at the MVNO World Congress for the fourth year in a row, confirming public recognition for its outstanding enabling capacities. These capacities are increasingly developed in the area of global data, where Transatel offers a one-of-a-kind solution, SIM 901. Chosen by Air France-KLM to support their new data offer for travelers, SIM 901 is particularly adapted to laptops, tablets, and???as is the case for Bitebird???Wifi hotspots.
Marie-Julie LE GUEN, Head of Retail at Transatel: "It's a great opportunity for us to show off our capacities in providing cellular data worldwide for demanding end-users of technological devices. We have signed agreements with over 100 countries to date and 48 are already commercially active. We continue to add countries every month to our network to ensure travelers benefit from local prices for data wherever they go."
About Air France-KLM
A global giant with a strong European base, the Air France-KLM Group's main areas of business are passenger transport, cargo transport and aeronautical maintenance.
Air France-KLM is the leading Group in terms of international traffic on departure from Europe. In 2016, it offers its customers access to a network covering 320 destinations in 114 countries thanks to its four brands Air France, KLM Royal Dutch Airlines, Transavia and HOP! Air France. With a fleet of 534 aircraft in operation and 89.8 million passengers carried in 2015, Air France-KLM operates up to 2,200 daily flights, mainly from its hubs at Paris-Charles de Gaulle and Amsterdam-Schiphol.
Its Flying Blue frequent flyer programme is one of the leaders in Europe with over 27 million members.
Air France-KLM and its partners Delta Air Lines and Alitalia operate the biggest trans-Atlantic joint-venture with 270 daily flights.
Air France-KLM is also a member of the SkyTeam alliance which has 20 member airlines, offering customers access to a global network of over 16,270 daily flights to 1,057 destinations in 179 countries.
Airfranceklm.com
@AirFranceKLM
_______________________________________
Fiji Airways Launches its New Non-Stop Service from SFO to Fiji
Friday, June 17 2016 (San Francisco, CA) - Fiji Airways' new A330 aircraft landed at SFO yesterday afternoon and took off for the first time late last night, marking the start of the airline's new seasonal non-stop service from San Francisco (SFO) to Fiji.
Fiji's National Carrier will offer twice-weekly non-stop services from San Francisco to Nadi, Fiji until August 14th, 2016 and again during the holidays, in December 2016 and January 2017. The flights will operate from San Francisco International Airport (SFO) to Fiji (NAN) on Thursdays and Sundays, with flight times to provide easy connectivity to the Fiji islands, Australia, New Zealand, and the South Pacific Island nations. Flights are available for purchase on www.fijiairways.com.
###
About Fiji Airways: Founded in 1951, Fiji Airways Group comprises of Fiji Airways, Fiji's National Airline and its subsidiaries: Fiji Link, its domestic and regional carrier, Pacific Call Comm Ltd, and a 38.75% stake in the Sofitel Fiji Resort & Spa on Denarau Island, Nadi. From its hub at Nadi International Airport, Fiji Airways and Fiji Link serve 49 destinations in 13 countries (including code-share). Destinations include Australia, New Zealand, Hong Kong, Singapore, Samoa, Tonga, Tuvalu, Kiribati, Vanuatu and Solomon Islands. Fiji Airways rebranded from Air Pacific in June 2013.
Visit www.fijiairways.com for more information.
_________________________________________________________________________________________________________


_________________________________________________________________
---