WHEELS...
Sea Crest Beach Hotel's Railroad Rendezvous Package Conjures Up
the Romance of Yesteryear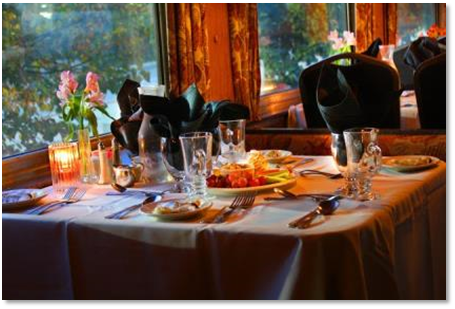 The Quintessential Beach Hotel Partners With Cape Cod Central Railroad on Romantic Dinner
Package From North Falmouth Through Cape Cod Canal and Falmouth Line
Evoking images of romance of bygone days, Sea  Crest Beach Hotel, the beloved hotel located on its private Old Silver Beach, has partnered withCape Cod Central Railroad to bring its guests back to the era of luxury train travel with a Railroad Rendezvous Package. Couples are invited to board the Cape Cod Dinner Train on Aug. 8, the only train departing from the area for the entire summer, from North Falmouth for a two hour journey over the Cape Cod Canal and through the scenic Falmouth Line. 
The Railroad Rendezvous Package affords guests the opportunity to climb aboard the Cape Cod- cranberry-colored train for a chance to get up-close-and-personal with the hidden beauty of the Cape while enjoying an exquisitely prepared Cape-inspired candlelit dinner. Available for stays over Aug. 8 with a minimum of two nights based on double occupancy, the package starts at $499 per night inclusive of tax and gratuity and includes: 
·         Overnight accommodations for two in a newly renovated guestroom
·         Daily breakfast for two in Sea Crest Beach Hotel's Ocean View Room
·       Shuttle service to and from the Cape Cod Dinner Train on Aug. 8  5 p.m.
·     A five-course dinner including hors d'oeuvres, Cape Cod Central Seafood Chowder, Tossed Field Greens Salad, a choice of an entrée, and dessert. Entrée selections are Herb Encrusted Roast Tenderloin With Shrimp; Pistachio Encrusted Salmon in a Lemon Beurre Blanc; Breast of Chicken Cadillac With Alfredo Sauce, Julienne of Ham, Puff Pastry and Hollandaise Sauce; and a Vegetarian Roasted Vegetable Manicotti With Mascarpone Cheese, Pan-Fried Eggplant and Tomato Provencal.
     www.seacrestbeachhotel.com or call (508) 356-2111.
_________________________________________________________________________________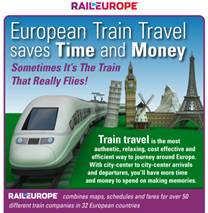 Rail Europe has developed a fun, insightful infographic that displays the ways European train travel saves travelers both time and money.
The infographic, "Sometimes It's the Train that Really Flies," illustrates time comparisons between rail, car and air travel, as well as the energy efficiencies of high-speed trains as compared to regional trains and cars. Rail Europe confirms that high-speed trains are the most efficient and convenient way to travel across Europe.
Travelers can easily see the value in booking high-speed European rail this summer with Rail Europe, and today we've announced two more reasons:
·         As of July 8th: Receive $75 off the purchase of a Swiss Pass alongside a baggage service to maximize travel experiences in Switzerland.
·         Beginning Thursday, July 10th: Purchase any Eurostar ticket and be automatically entered into a Rail Europe exclusive sweepstakes for a chance to win a $500 Rail Europe gift card
Please find details on the two offers below, and if I can interest you in a high-resolution version of the infographic, please let me know.
BE ENTERED TO WIN A $500 RAIL EUROPE GIFT CARD WHEN YOU BOOK ANY EUROSTAR TRAIN TICKET
Details: Rail Europe, Inc., the largest distributor of European rail products in North America, announces an exclusive offer where travelers who book any Eurostar train ticket will be automatically entered for a chance to receive one of ten $500 Rail Europe Gift Cards. Eurostar is the best way to swiftly between top European travel destinations including London, Paris, Brussels, or beyond. 
The gift card award can be used on any Rail Europe product, including train tickets, rail passes and activity offerings, allowing travelers to explore more of Europe's greatest cities or to travel off the beaten path for genuine interactions with Europeans.
·         Booking dates: July 10 – August 7
·         Prices start at $71 for a Eurostar ticket
·         Prices subject to change
·         Visit: http://www.raileurope.com/european-trains/eurostar/index.html
RECEIVE $75 OFF THE COMBINED PURCHASES OF SWISS PASSES AND BAGGAGE SERVICES
Details: Rail Europe Inc., the largest distributor of European rail products in North America, in partnership with Switzerland Tourism and The Swiss Travel System, is offering $75 off each booking that consists of a Swiss Pass or Swiss Flexi Pass and either a Fly Rail Baggage or Fast Baggage service.
Travelers will choose between the Swiss Pass or Swiss Flexi Pass, and then select either one of the two great ways to maximize their travel experience by limiting the burden of luggage with either the Fast Baggage or Fly Rail Baggage Service:
·         The Swiss Pass offers 4, 8, 15, 22 days or 1-month of consecutive travel days.
·         The Swiss Flexi Pass offers 3-6 days of rail travel within a 1-month period.
·         Fast Baggage incudes same-day luggage delivery between 45 cities throughout Switzerland.
·         Fly Rail Baggage allows you to check in your luggage with an airline carrier in North America and receive it once you've arrived at your final rail station destination in Switzerland.
With the Swiss Pass, travelers can enjoy transport on some of Switzerland's most scenic routes such as the Bernina Express, Glacier Express, GoldenPass Line or Wilhelm Tell Express, and public transportation in more than 75 Swiss cities. Plus, the Swiss Pass offers a 50% price reduction off most mountain railways, and free admission to more than 470 museums in Switzerland. 
·         Booking dates: July 8 – August 14
·         Use coupon code SWISSSAVE75
·         Prices start at $495 for the 4 Day First Class Consecutive Swiss Pass, and $25 for a baggage service
·         Swiss pass must be booked in conjunction with a baggage service to receive discount
·         Prices subject to change
·         For Swiss Passes, visit: http://www.raileurope.com/rail-tickets-passes/swiss-pass/index.html
·         For Baggage Services, visit: http://www.raileurope.com/activities/fly-rail-baggage-to-switzerland/index.html; http://www.raileurope.com/activities/fast-baggage/index.html