February 2006
HOTEL SEIYO GINZA
Intimate in Scale and Grand in Hospitality
by Bonnie Carroll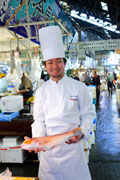 Gracing the Ginza, The Hotel Seiyo Ginza is a destination jewel of Tokyo, Japan, located in the heart of the city's most prestigious area. The 77-room property offers guests a warm, residential atmosphere of luxurious European style, accented by Japanese art. It is an oasis of calm in one of the world's busiest cities, and is considered a "home away from home" for upscale travelers.
Visitors to the hotel find themselves walking distance from the fashion and financial epicenter of Tokyo, the International Forum, Idemitsu Museum, Imperial Palace, Kabuki Theature, Meiji Shrine, and Ueno, a famous park where spring cherry blossoms attract tourists each year. The park contains a zoo, museums, art galleries, a temple and a shrine.
Fine food and elegant service abound at this lovely hotel, where the 30-year Grand Chef Shoji Hirata oversees their renowned international restaurants, and Chef Makoto Lijima provides special menus at Kitcho restaurant. Hotel dining options include REPERTOIRE, the main dining room, where Chef Hirata prepares dishes featuring matsutake mushrooms, fresh oysters from Hiroshima and Shanghai crabs; many of his French dishes are served in low-calorie alternative recipes. In addition to a full-course menu, Repertoire features a daily "Chef's Tasting menu" for an ever-changing selection of Chef's favorites and a new French menu with international inspiration. A variety of wines and champagnes can be paired with these menus.
ATTORE offering a variety of fine regional Italian cuisine options, and featuring a Wine Bar that is filled with selected specialty Italian wines to sample. KITCHO is a renowned legendary Japanese restaurant featuring Kaiseki, multi-course formal dining prepared by Makoto Lijima, that can be enjoyed in intimate private rooms. The hotel also showcases a bakery and pastry shop, and a chic lounge that is a favorite meeting place for Ginza business people.
Hotel Seiyo Ginza is now offering guests an opportunity to visit the world-renown Tsukiji fish market with the hotel's Chef Makoto Iijima to create a customized, made-to-order dinner, each unique meal is composed of fresh seafood from Tsukiji Fish Market, a cornerstone of Ginza and Chuo-ku, located within walking distance of the hotel. Tsukiji Fish Market is known as the world's largest fish market featuring the very best variety of seafood not only in Japan but worldwide. Chef Iijima, a regular visitor to Tsukiji, who goes frequently for exploration and inspiration, will review each guests' special tastes and interests and personally visit Tsukiji early in the morning on the date of reservation to find the best and freshest items to be prepared exclusively according to his interview notes. Guests are invited to join Chef Iijima on his forays wandering among the 1700 or so booths of fishmongers and auctioneers. Only one booking per day - from two to 30 diners will be privileged to enjoy this offer as the chef will personally look after all details.
Shopping is a popular pastime for tourists, and the Ginza is the Rodeo Drive meets Madison Avenue of Tokyo; showcasing the world's most famous designers, including Hermes, Cartier, Louis Vuitton, Montblanc and others. Second to shopping in popularity is visiting the Kabuki Theatre, where exquisite costumes and specialized acting provide entertainment for guests almost year-round. For a fast and furious overview of the area try the "Bullet Train" that connects the capitol city of Tokyo with Northern and Western Japan. Six trains an hour operate between Tokyo and Shin-Osaka during the day. The Shinkansen are know for speed, and travel 275 kilometers per hour or 170 mph. For information visit www.japanrail.com.
Cultural must see venues include Meiji Shrine, the sanctuary dedicated to the Meiji Emperior and features over 20,000 trees that were donated from all over Japan. The Iris Garden is most spectacular in June during the cherry blossom time. UENO, the park known for its cherry blossoms contains art galleries, and additional points of interest, including the Tokyo National Museum, which boasts the finest Japanese art collection in the world and is open from 9-4:30 daily.
Hotel Seiyo Ginza is a Rosewood Hotel. For information visit: www.rosewoodhotels.com.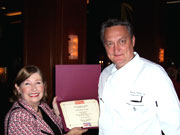 Chef News
Executive Chef Conny Andersson, The Regent Beverly Wilshire Hotel, Beverly Hills is awarded the "LBN Best American Chef 2005" Award by Publisher Bonnie Carroll in The BLVD Restaurant.