November 2005
Chef de Cuisine - Greg Wangard
LOEWS SANTA MONICA BEACH HOTEL
by Bonnie Carroll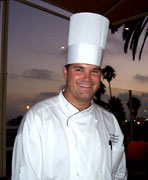 The new restaurant in Loews Santa Monica Beach Hotel, Ocean & Vine, has been anticipated by many, and the addition of Chef de Cuisine Greg Wangard is also a delightful surprise. Wangard comes to Loews following a strong and respected career in the culinary world.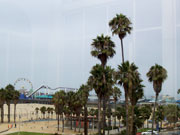 His new and innovative dishes are bringing smiles to satisfied customers from the very young to the long-time customers who frequent the seaside haven. Transforming a restaurant that was legend for its gastronomical French dishes into a slick and modern venue, featuring healthy and exciting new menu items, has been quite an accomplishment, but Wangard is passionate about his charge and charming in the process. My favorites at dinner included the Santa Monica vegetable roll; Hudson Valley foie gras, seared sea scallops, Alaskan halibut and cumin scented muscovy duck breast. The wine list is extensive, and wine recommendations for pairing with these selections is standard.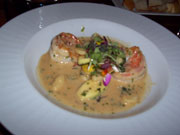 I was delighted with Chef Wangard's unique presentations, and lunch or breakfast on the patio is the most relaxing experience I can remember in a long time. Watching families playing on the beach and enjoying the rides on the Pier is inspiring and a credit to American staying power. It is hard to believe that the travel industry has obviously recovered completely from the 9/11 disaster, and tourists are once again filling up all the lovely hotels along Ocean avenue.
The rooms in the hotel went from Martha Stuart living sweet to a more sophisticated look, with the comfort of international travelers in mind. The views from the ocean side of this hotel cannot be beat. The Ocean Park amusement center on the Santa Monica Pier is simply mesmerizing at night when the lights are twinkling on the water. I have always been so pleased by the bathroom amenities at this venue, including toothpaste and a brush, just incase you forgot yours.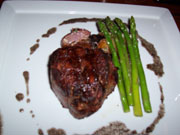 The cocktail lounge is a great place for drinks with friends in the evening, and talented jazz groups are featured for your enjoyment. The lobby offers a jewelry shop, gift shop, and the spa lobby is filled with great workout gear and delicious body products. The massage I enjoyed at the spa was amazing. My spa therapist was very knowledgeable about muscle tightness and how to get things working right for those of us who have necks that are frozen from sitting at a computer too long. I also enjoyed a pedicure treatment in the spa, where I let them paint my toes one of those vibrant OPI colors that look so great with open sandals.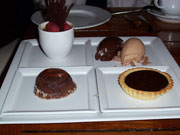 The pool and Jacuzzi, as well as the patio overlooking the beach, are designed for letting go. Servers will bring you a delicious lunch or appetizer with a beverage at these locations, as well as towels and ice-cubes when needed. The pool shack carries a complete line of luscious tanning products, and water toys for kids.
This will always be a magical venue for family vacations, honeymooners, or business conference attendees. This beach is steeped in history and has been a special place to relax since the early 1900s. The Loews staff has thought of everything, and work hard to make your stay comfortable. For reservations visit www.loewshotels.com.
---
EXECUTIVE CHEF ASHLEY JAMES BRINGS A TOUCH OF BUENOS AIRES TO LOS ANGELES FOUR SEASONS AT Beverly Hills HOTEL
by Bonnie Carroll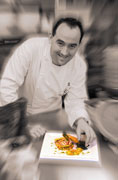 Ashley James, who worked in Europe for 10 years at numerous highly acclaimed restaurants in Bordeaux, Paris and Mall orca, Spain before joining Four Seasons Hotels and Resorts, is sailing a smooth and delightful ship at the popular Four Seasons Hotel at Beverly Hills, in Los Angeles, California.
Chef James brings with him more than 30 years experience, of which the last 8 years have been spent at the Four Seasons Hotel, Buenos Aires, the Four Seasons Resort, Punta Mita in Mexico and Chef de Cuisine at Maxims de Paris at the Regent Singapore. James was the recipient of Young Chef of the Year in France, is a member of the prestigious Academie Culinaire De France, and graduated from Staffordshire College of Food and Domestic Arts in England.
Vidal Buzzi and Guiabam voted him best chef in Buenos Aires, and his talent revitalized the cuisine and image of the Four Seasons hotel restaurant Le Mistral. Classically trained, his cuisine has a modern approach with influences from the Mediterranean, Latin America and Asia. Beverly Hills visitors and guests are extremely happy with the culinary skill and enthusiasm Chef James brings to the trendy Los Angeles hotel. Congratulations to the Cohen's and the community on a delicious future with him.