March 2006
THE ISLAND HOTEL
Executive Chef Bill Bracken Heads Culinary Team
at Urban Island Resort
By Bonnie Carroll
How surprised was I to learn that my favorite award winning Beverly Hills Chef Bill Bracken had left the Peninsula Hotel to head up the culinary team at The Island Hotel Newport Beach. Bracken, a terrific human being and a remarkable chef, was a part of the star chef scene in the Los Angeles community for many years, and he will now oversee two restaurants and a staff of 65 cooks, pastry chefs, stewards and banquets, as well as in-room dining personnel. This week it was announced that Michael Owens, former Pastry Chef of the Peninsula, will also join The Island Hotel team.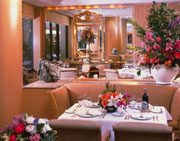 Bracken, who originally honed his culinary skills at this hotel when it was the Four Seasons, has plans to focus his energy on the resort's signature restaurant Pavilion, a restaurant with a history on the culinary map. "Pavilion is a wonderful venue and our goal is to take it to an even higher level of excellence," said the chef. The talented chef has merged his love of refined American cuisine with globally inspired fare, incorporating influences from around the country and the world. "Our entrees derive inspiration from South of the Border and the Pacific Rim, and always utilize the freshest ingredients possible," he said. According to Bracken, "as a child he says he was drawn to the kitchen because I loved to eat, and was motivated to cook the things I like. I believe that you don't choose a career, it chooses you -- and that I was born to be a chef."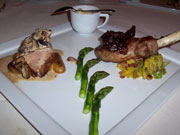 Pavilion's new menu introduces Bracken's specialties such as Pistachio-Dusted John Dory with Roasted Beets and Celery Root, Carrot-Cinnamon Reduction; Crab Cake with Asian Slaw and Black Bean Remoulade; and Bone-in Kansas City Steak with Garlic Stir-Fry Broccolini and Homemade Truffle Fries. Pavilion is a combination of elegant old world and island charm. The staff is friendly and knowledgeable about the menu items, as well as pairing the perfect wine to complement each course. A more casual dining venue in the hotel is the Gardens Lounge and Café, where the Palapa Bar offers poolside fare and refreshments, and the Lobby Lounge provides an eclectic menu of spirits and live entertainment.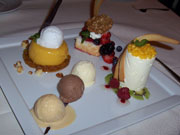 The hotel property has the elegance associated with Four Seasons properties, and has graciously serviced Orange County for nearly two decades. I found the new sophisticated tropical touches that are now visible everywhere very pleasing, including the new island flavors being incorporated in the menu by Chef Bracken. The whole property has a resort like ambiance, despite the fact that it is in the heart of an upscale business center. The California Riviera locale offers rooms with views of the Pacific Ocean and the nearby islands of Balboa, Lido and Catalina, and is just minutes from Newport Harbor. The suites and rooms are equipped with every amenity any guest could wish for, including really comfortable beds with Frete linens.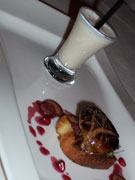 The gold and pale aquatic blue décor in the Spa is delightful, and this is just the place to escape and leave your stress behind. The new facility is beautifully appointed with island inspired furnishing and colors, and features a relaxing waiting area where hot tea or lemon water can be enjoyed before or following treatments. The spa menu offers a variety of magical treatments including a Lomi Lomi and stone therapy massage, numerous facial and body treatments, enhancements, a sea mud wrap, a Newport Beach body buff, or organic carrot wrap. Islands Spa has an amazing collection of options, and will prove a happy hideaway for any serious spa baby.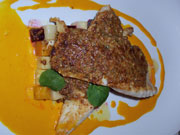 My visit included a Newport Beach Nourisher treatment, the ultimate anti-aging treatment for the body. The 90 minute exclusive Island Hotel treatment began with a steam, and included a skin scrub, wash and a massage with deep moisture serum, and anti-oxidant rich creams. This experience is nirvana for tired travelers. Following my treatment I was served a sweet fresh fruit sushi tray. I'm rarely surprised, but this delightful and creative little after massage treat, served with a cool glass of water, was simply amazing. The sweet rice sushi fingers, topped with a variety of fresh fruit, including raspberries, strawberries, blueberries and blackberries, were uniquely delicious.
Located adjacent to Fashion Island, where 200 upscale specialty shops and restaurants, cinemas and a Venetian carousel can be found, this hotel is a world-class shoppers dream come true. There are also wonderful attractions for traveling families including Disneyland, Universal Studios, the San Diego Zoo, Balboa Park, Sea World and Newport Beach. Island Hotel is located ten minutes from John Wayne Airport, and a short drive from Long Beach and Los Angeles International Airports. For information call 1-888-321-4741 or visit www.theislandhotel.com.
---
MICHAEL OWENS NAMED HEAD PASTRY CHEF AT THE
ISLAND HOTEL NEWPORT BEACH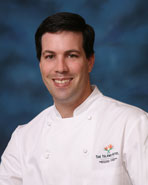 Former Peninsula Beverly Hills Chef Joins Culinary Team at Newly Renamed Hotel
Continuing the repositioning of its culinary operations, The Island Hotel Newport Beach – a newly renamed luxury 20-story, 295-room property – has appointed Michael J. Owens as its new head pastry chef. According to the hotel's Executive Chef Bill Bracken, Owens will play an important role as part of The Island Hotel's culinary team, overseeing bakery operations for two restaurants, banquet services and room service. For reservations and more information, please contact The Island Hotel Newport Beach, toll-free, at 1-888-321-4752; or visit the website at www.theislandhotel.com.