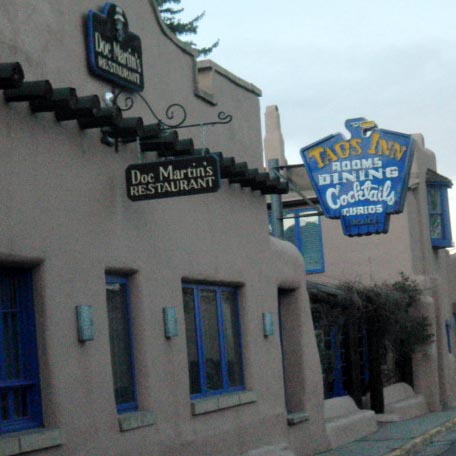 TAOS INN                                                                                                 Doc Martin's Community Living Room
By Bonnie Carroll
The Historic Taos Inn comprises several adobe houses, which date from the 1800's and surround a small plaza, which is now the Inn's inviting lobby, where guest and tourists meet at night to enjoy local entertainment by an open fireplace and enjoy appetizers and margaritas from the Adobe Bar. The lobby is referred to by locals as the Taos living room.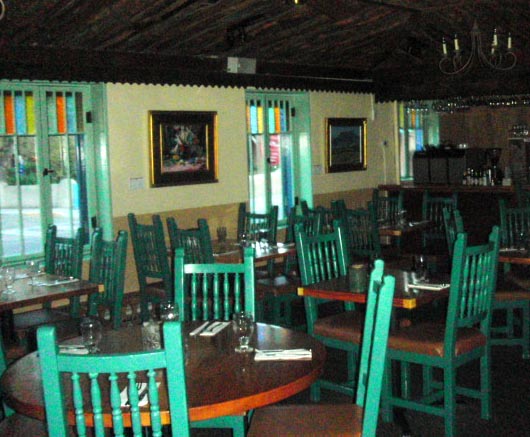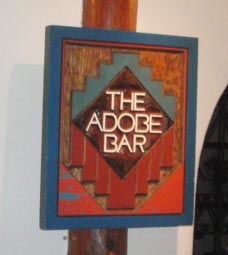 Dr. Thomas Paul (Doc) Martin was the county's first physician in Taos and bought a large house that is now Doc Martin's Restaurant. He was respected and appreciated for his concern for his fellow man, and for his work treating patients who lived miles from his home.
Helen Martin was a gifted batik artist, and a sister-in-law of artist Bert Phillips, a Taos founder. Phillips and Ernest Blumenschein founded the Taos Society of Artists in Doc and Helen's living room in 1912. Later they purchases additional rooms and rented to writers and artists. The hotel burned in the same year that Doc Martin died and Helen then began her hospitality career, buying the Tarleton house which is now the site of the Adobe Bar. She enclosed the patio and opened the Hotel Martin in 1936.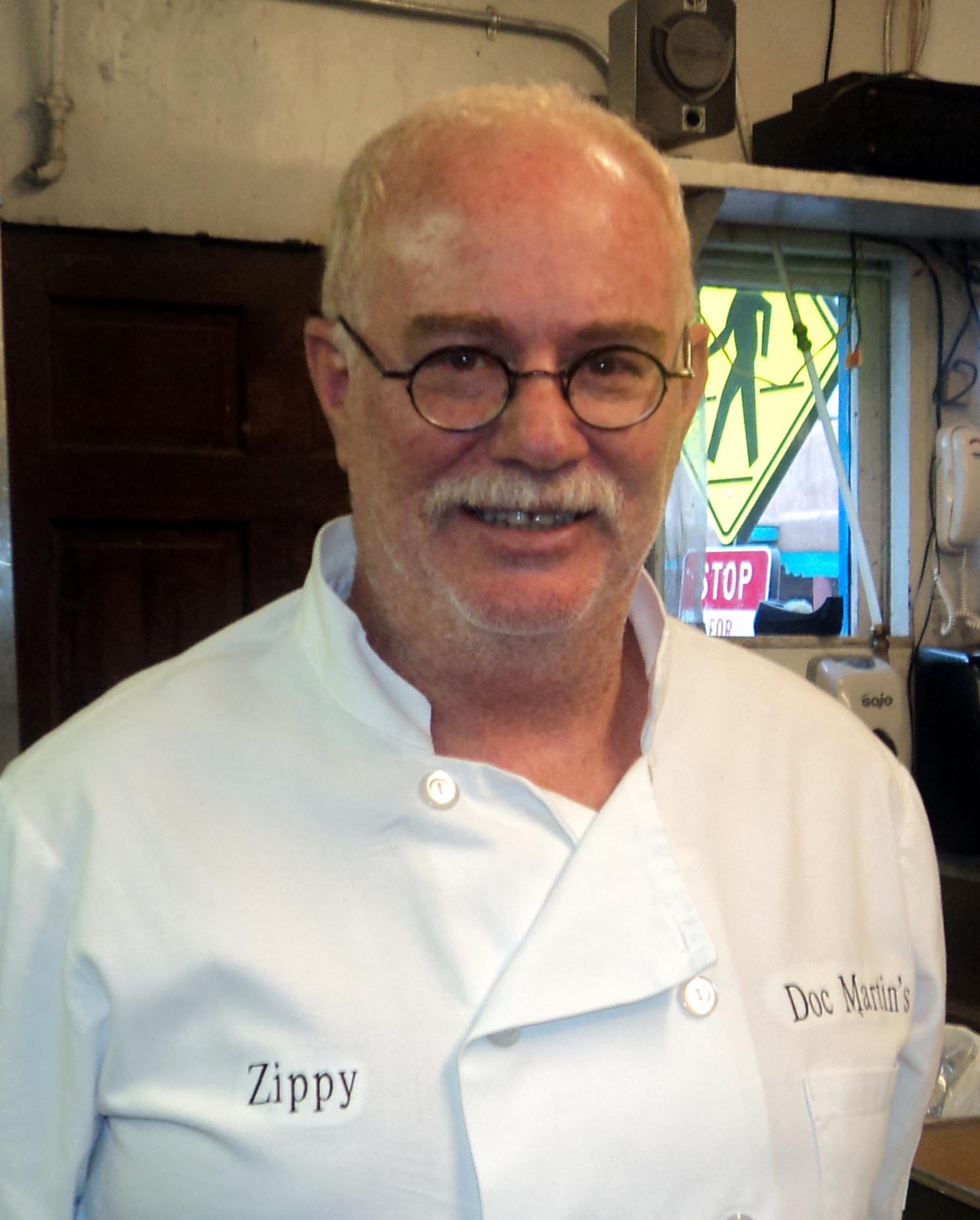 Today Doc Martin's Restaurant is a hot spot for some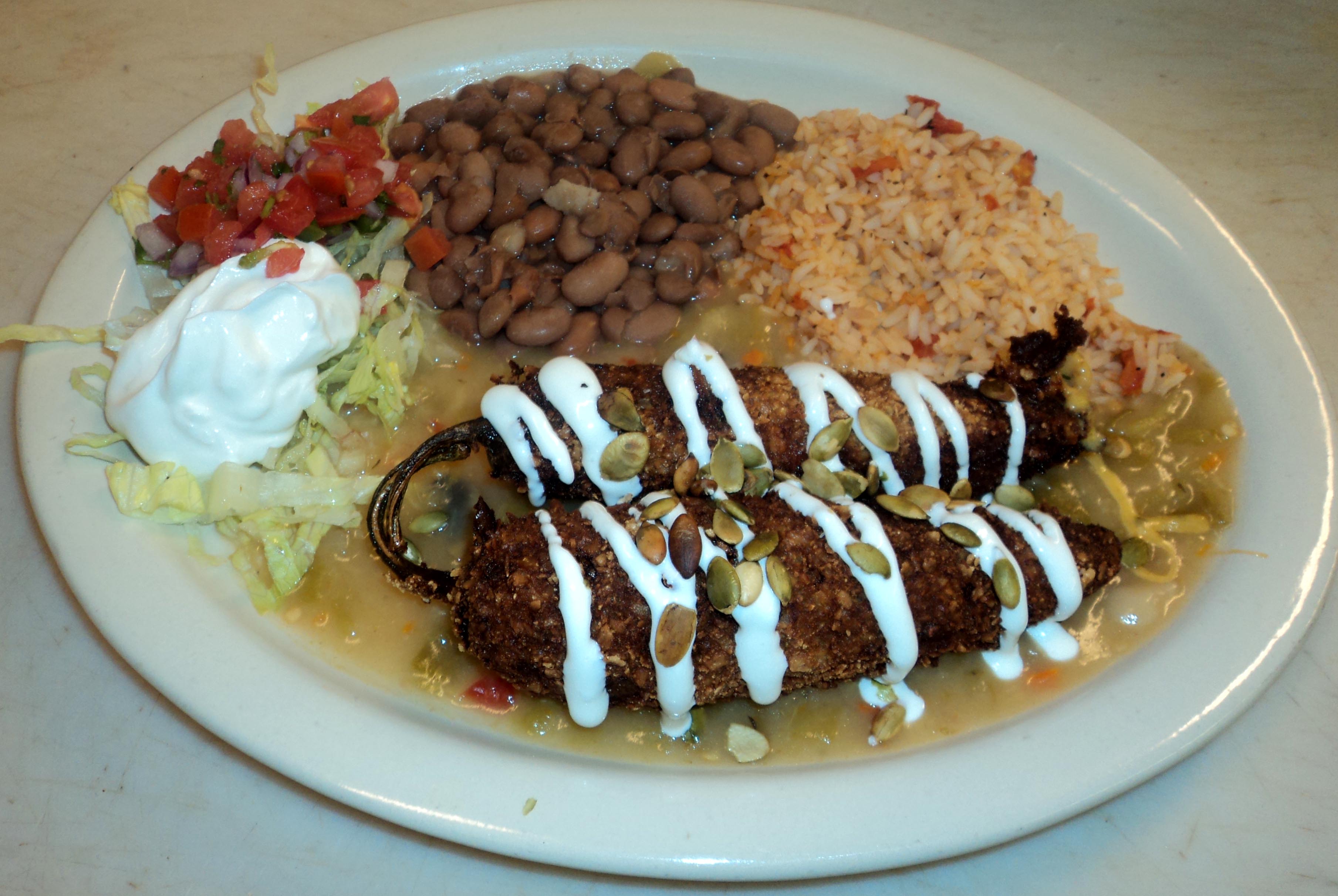 of the best food in Taos, with Chef Zippy White preparing and presenting fresh local food with a splash of the South West and some New Mexican specialties including grilled rattle snake-rabbit sausage with ancho chile dried cherry sauce; blue corn enchiladas, elk burgers and Doc's renowned Chile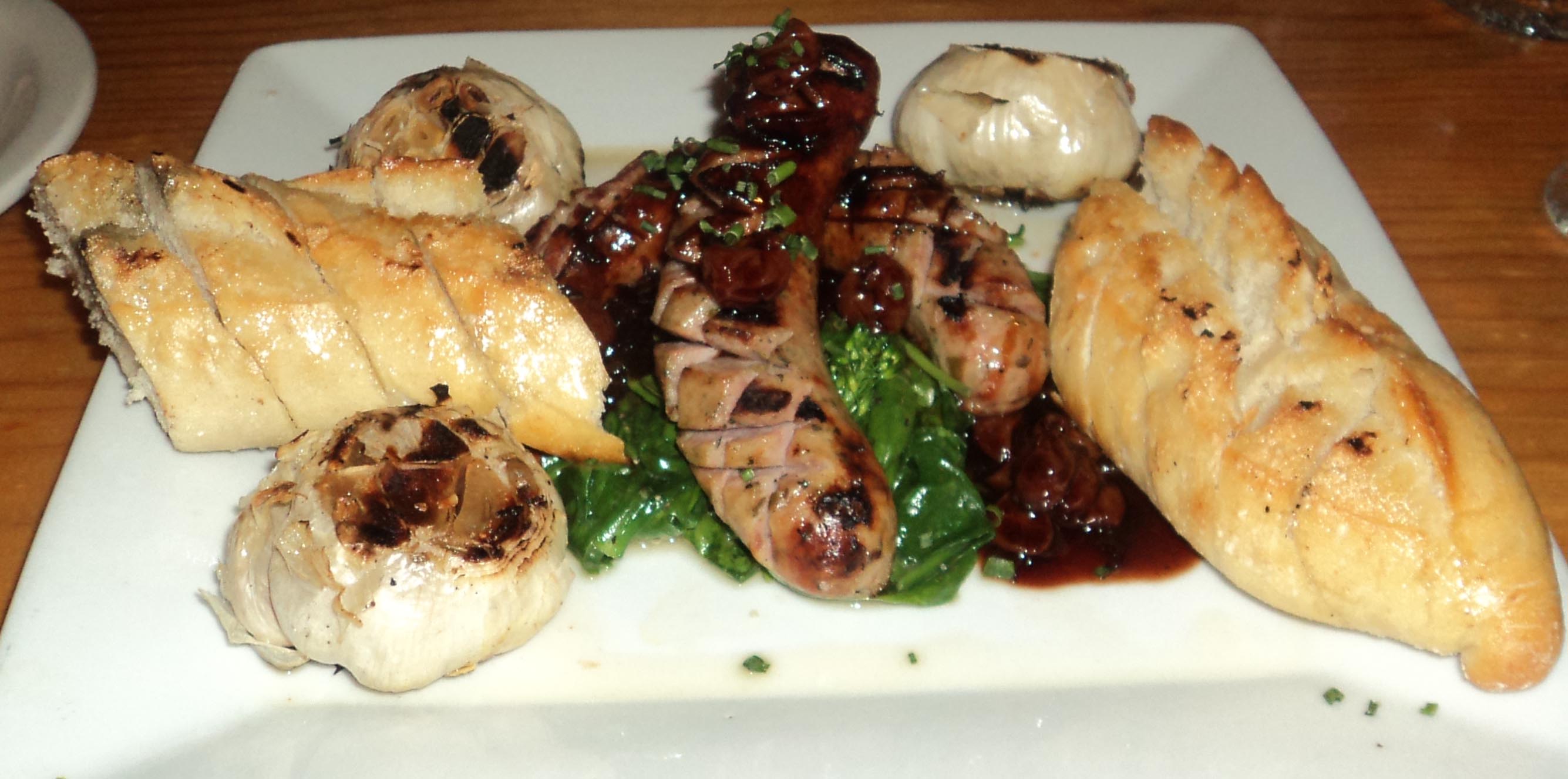 Releno Platter (see recipe in Publisher's Letter section). Doc's has 400 plus wines on their menu, and they have been on Wine Spectator's "Best of" list for 22 years.
Taos Inn is surrounded by an endless variety of gift shops and some amazing art galleries, featuring the spectacular work of local artists. There are also some historic museums to visit during your stay including the Millicent Rogers Museum, the E.L Blumenschein Home and Museum and The Hartman Museum of Art.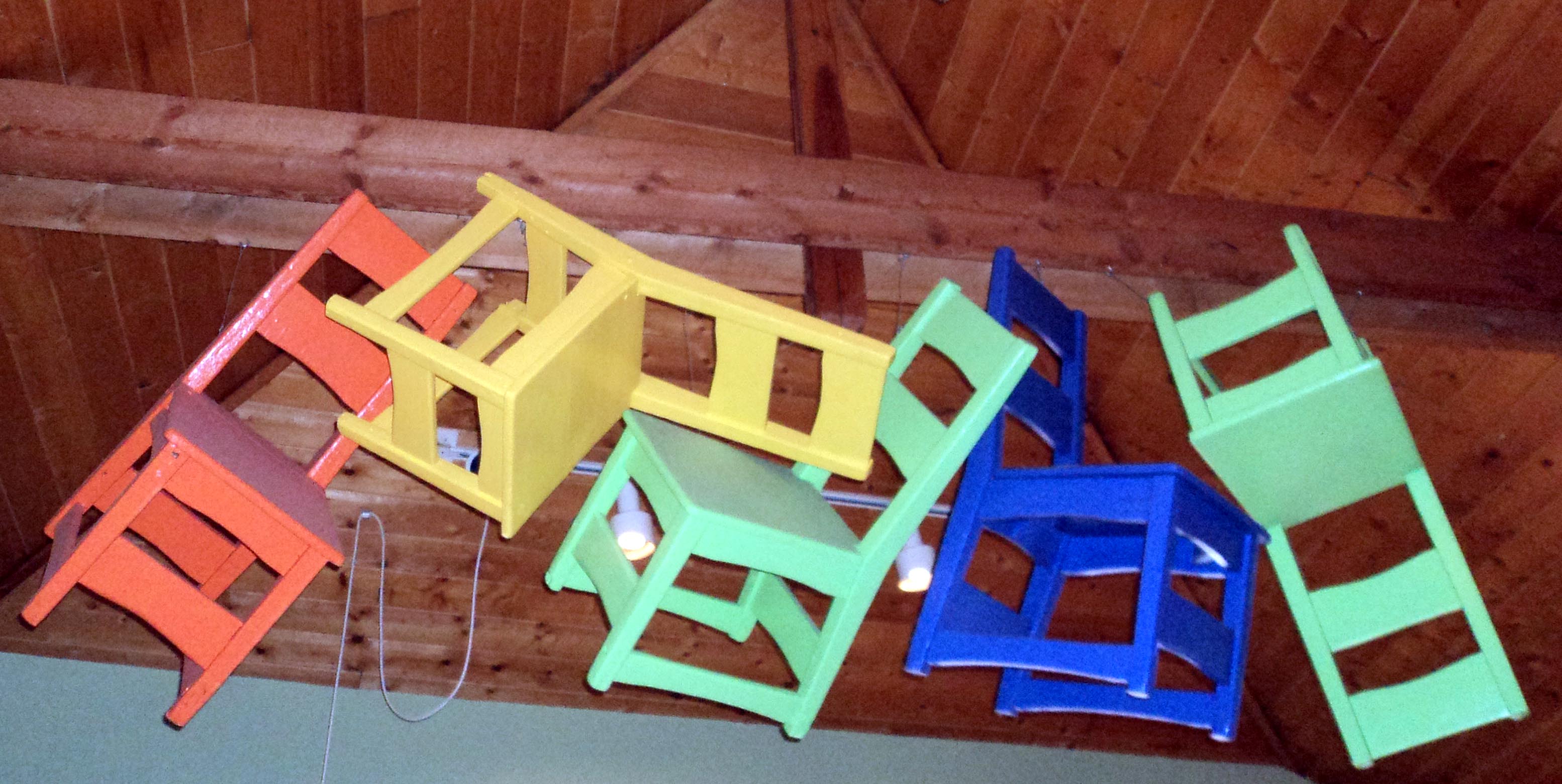 This is a jewel of a hotel, where a good nights sleep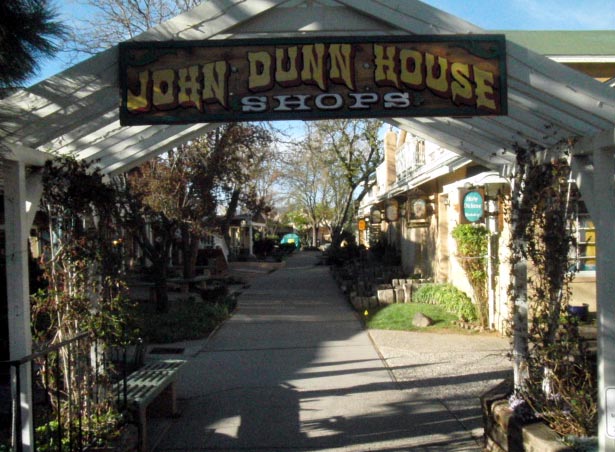 is assured, and an introduction to Taos life is always happening in the lounge, restaurant and at the coffee bar in the morning. A full breakfast can be found one block away at Bent Street Café, in the John Dunn House courtyard, where owner Charlene Dulong serves some big breakfast plates as patrons enjoy ceiling art and 'flash from the past' music selections like "Devil in a Blue Dress" with their fantastic eggs Benedict.
The Pueblo is a short ride from the hotel, and should be number one on any tourist agenda. This is the heart of Taos, and still home to many Native Americans who are dedicated to preserving their Native American heritage. There is also a delightful Taos Labyrinth at the Mabel Dodge Luhan House, where you can lose yourself in a religious tradition that goes back 4,000 years.
Taos has always had a reputation for special spiritual powers that allow people to surrender to their true selves and synergize into the best of New Mexico life for a day, a week or forever.  Hope you can get to the Taos Inn soon to be one with Taos. Visit www.taosinn.com for reservations and additional information.
---