OSTE DEL CASTELLO HOTEL
An Historic Weekend in Verucchio
by Bonnie Carroll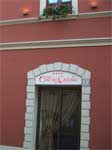 Nestled in the town of Verucchio, and sitting just below a museum filled with ancient history, and just few cobble stones away from "La Rocca" a delightful family restaurant that overlooks the entire valley below, stands the recently renovated Oste del Castello Hotel. Verucchio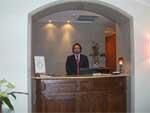 is the town of origin of the Malatesta family, the dynasty that ruled the entire area from the middle ages to the renaissance.
This wonderful hotel venue has many suites and rooms that are all different, but they are all comfortable and tastefully decorated; one has a rather elegant looking jacuzzi. The authentic painted Italian wall murals of royal life in Verucchio are the first thing guests see when they enter the lobby, other than the smiling faces of the helpful manager an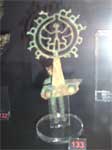 d his staff. This is an ancient building that has been given every modern convenience, including internet, but has retained its original warmth and charm.
The castle houses an important museum of Villanovan culture, and contains an ancient throne. Objects of interest include ornate and well preserved jewelry, war weapons, furniture, and information on agricultural practices and garment creation. Visitors leave with a very clear impression of the past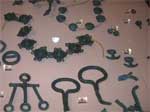 life experience in this area. The women's jewelry display was one of the best I have seen, and the museum guides were so helpful and spoke English quite well.
The hotel breakfast, which is included in the nightly rate, is filled with wonderful juice and fruits, local pastries, fresh cereals and cheese, as well as delicious Italian coffee favorites. The dining area is inviting and located conveniently near the entrance for a quick escape to your waiting tour bus. This fantastic region is filled with magical castles, art museums and is over flowing with rich Italian history. Before embarking on a study of this region I would recommend you get the book "Vendetta"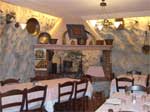 by Hugh Bicheno, which contains well researched and valuable information on the rivalry and royalty of the Provincia di Rimini inhabitants.
Dinner at La Rocca, just up the hill from Oste del Castello, is something no visitor should miss while traveling through this region. The owner and her entire family work to provide a memorable dinner for guests. The antipasto includes local cheese and meats t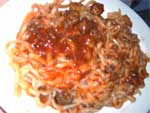 hat are wonderful. The pasta, which came with a variety of sauces, was simply outstanding. I especially enjoyed one called "the strangled priest" pasta, which was served with a rich meat sauce. Guests could eat family style at long tables, or enjoy an intimate table by the fireplace. Every guest seemed overwhelmed by the panoramic vi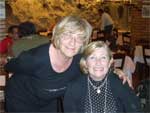 ew from the restaurant. It is literally built into the top of a rock that gently leans over a magnificent valley. The warm hospitality of our hostess and her staff was genuine and unforgettable.
A trip through the Provincia di Rimini really would not be complete without a few days in Verucchio. For additional information visit: www.provincia.rimini.it.
Hotel Oste Del Castello
Via Dei Martiri, 10
47826 – Verucchio – Rn
Tel. 0541.679308
---