HOTEL/CHEF PROFILE   .   .   .
RETURN TO THE LARK AMID MIRACLE AT THE FUNK ZONE KITSCHY CHRISTMAS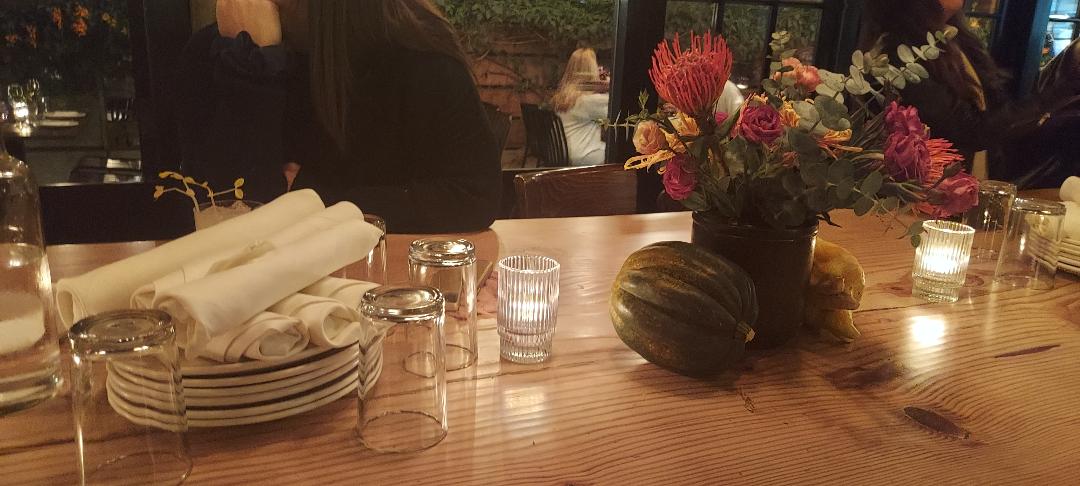 By Bonnie Carroll
Originally from Tomball, Texas, Jason Paluska began his cooking career in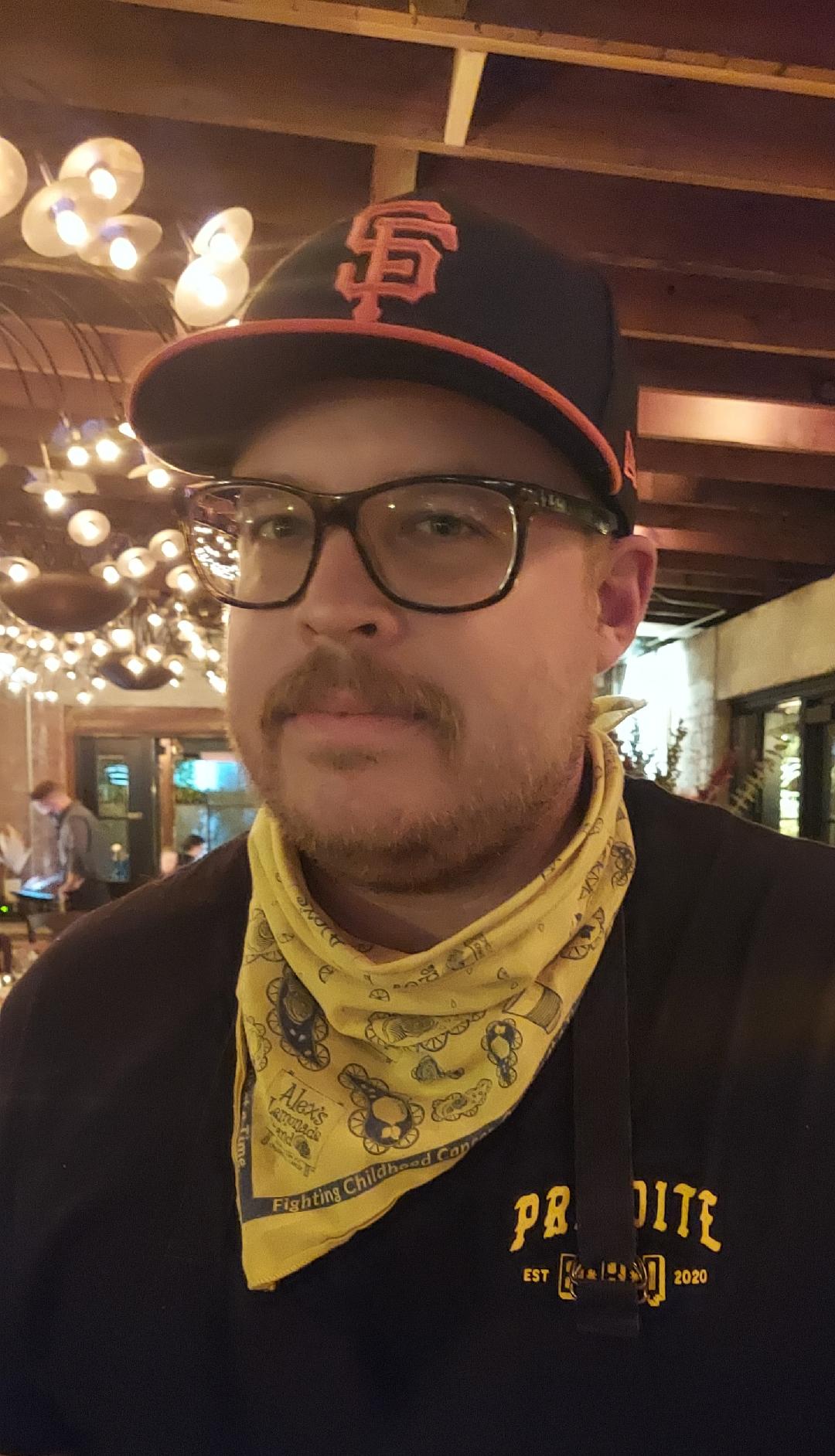 San Francisco under chefs Mitch and Steve Rosenthal of Town Hall, Salt House, and Anchor & Hope in 2006. Jason went on to become a sous chef at Michael Mina's RN74 in San Francisco. For four years he worked under renowned chef Jason Berthold, formerly of the French Laundry & Per Se. In 2013 he left the Bay area and moved to  Santa Barbara as the opening executive chef of The Lark Restaurant and most recently in June of 2019 Jason and his team at the Lark received the Michelin Plate award.
I did a review on The Lark in Food & Beverage International Magazine when they opened in the Funk Zone in 2006, and I was enchanted not only with the menu, but with the restaurants healthy and family friendly atmosphere where groups could share thoughtfully prepared dishes over lively conversation and the staff were exceptional in their menu and wine knowledge.

The Lark was a venue that from the get-go had all the elements I love most, an open kitchen where you could see the chef and his team preparing the food, a communal table where patrons could dine and chat with other guests, an opportunity to share cuisine prepared with farm fresh products and good health in mind. The comfort level in this inviting restaurant is so unique, and the menu items are so outstanding that it comes as no surprise they were recently awarded a prestigious Michelin award.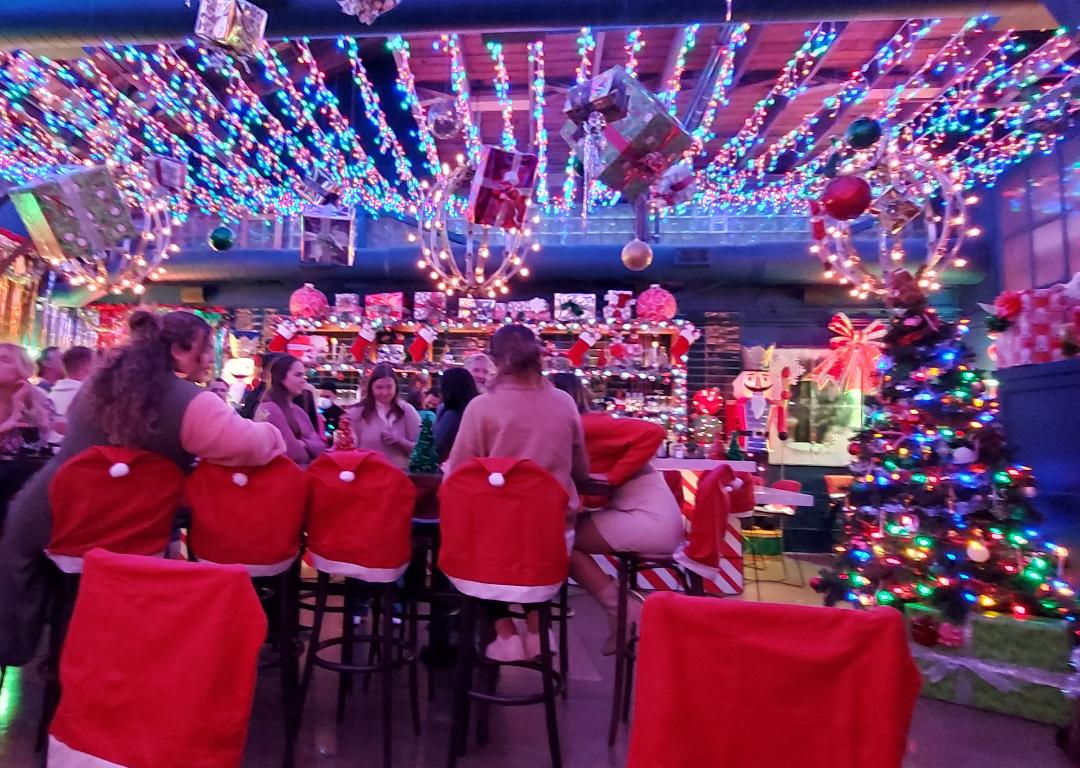 The Kitschy Christmas at Pearl Social Pop-Up 5-9 p.m.

It was a pleasure to have dinner at The Lark, following a sneak peek preview of the Christmas in the Funk Zone event, an international smash "Miracle" pop-up Christmas bar at Pearl Social. Pearl Social will go into hiatus until January 3 to bring guests the Miracle on the Funk Zone "home for the holidays" experience to locals and visitors to the Funk Zone this season.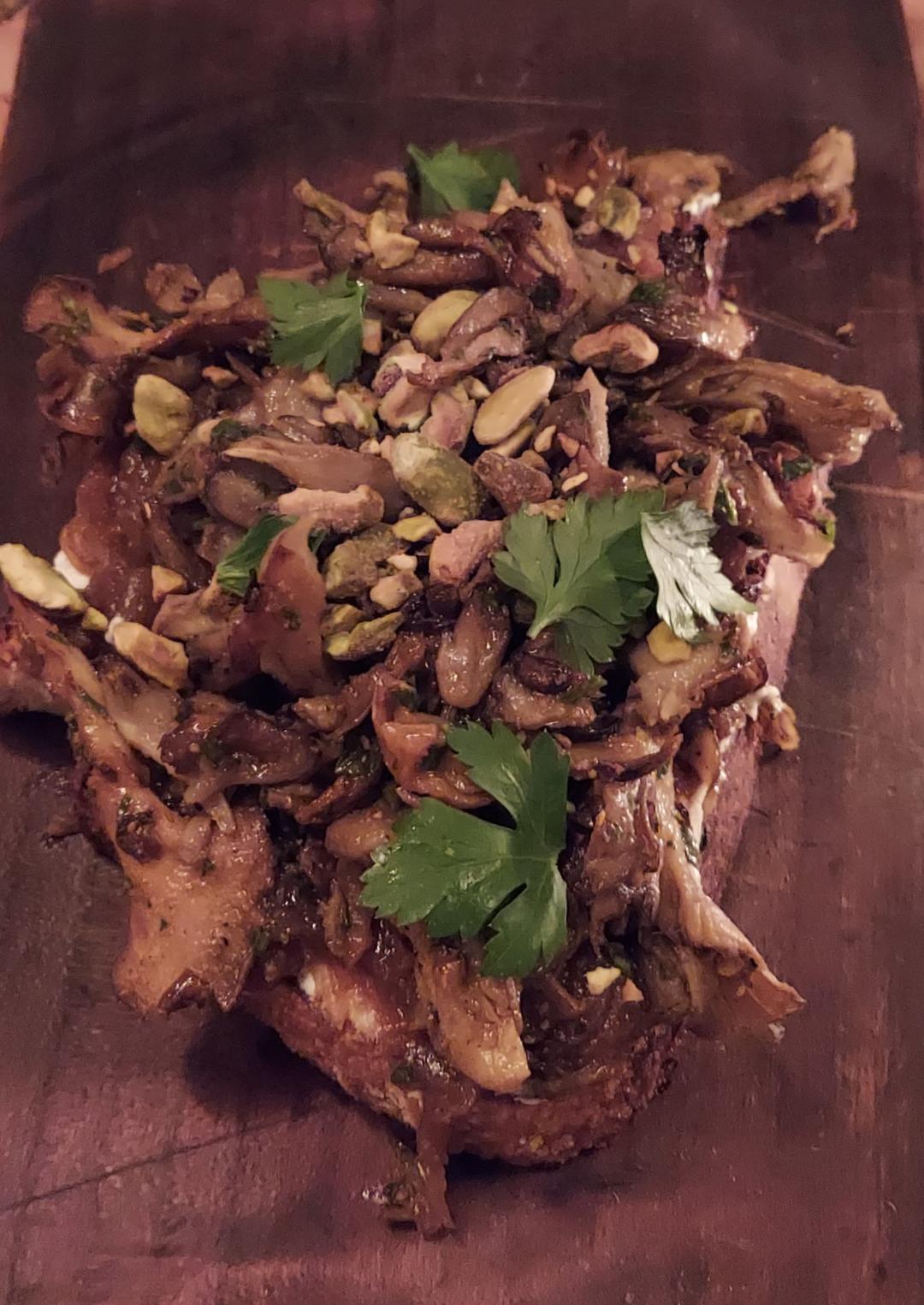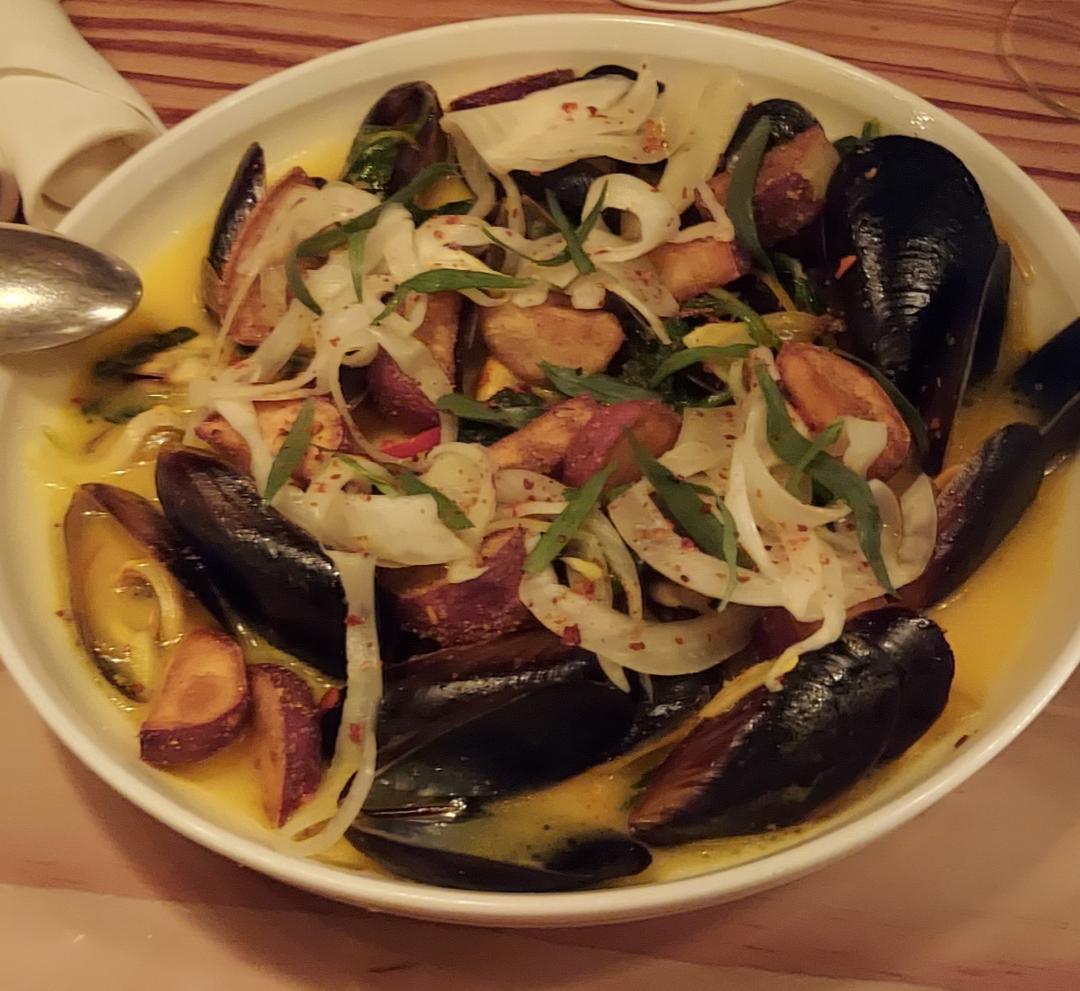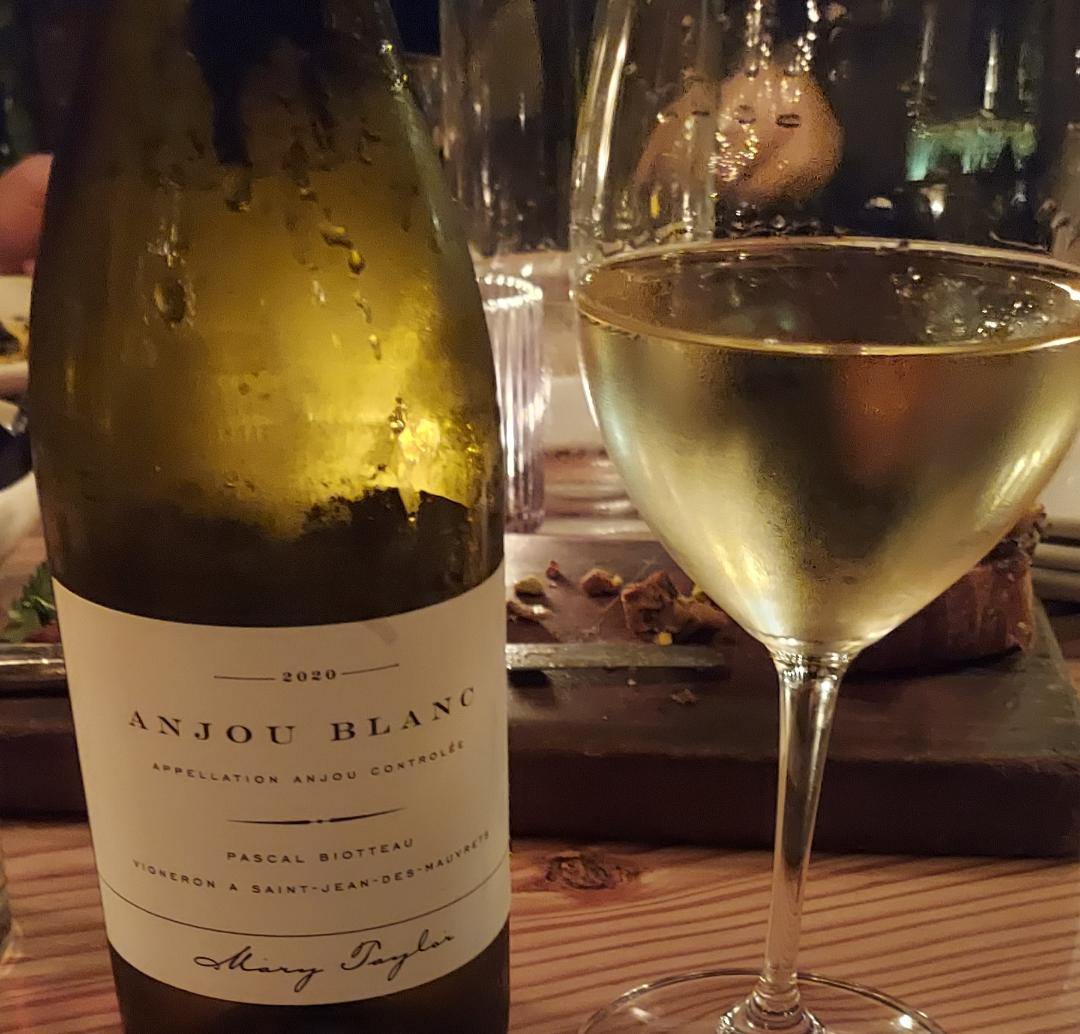 Hawaii Marinated Mushroom Tartine - Hope Ranch Mussels - Anjou Blanc
Executive Chef Paluska's Hawaii marinated mushroom tartine, comprised of Cypress grove goat fromage, caramelized onion jam, toasted pistachio and parsley was perfect with the Anjou Blanc wine recommended by our server. I am not a big mussel lady, however, The Santa Barbara Hope Ranch mussels' in saffron crème of fraiche, jalapeno, citrus pickled fennel, coriander, and Milliken crispy sweet potatoes was outstanding. I was also grateful for a taste of my companions California lamb kofta kebob that was a hit with everyone at our end of the communal table.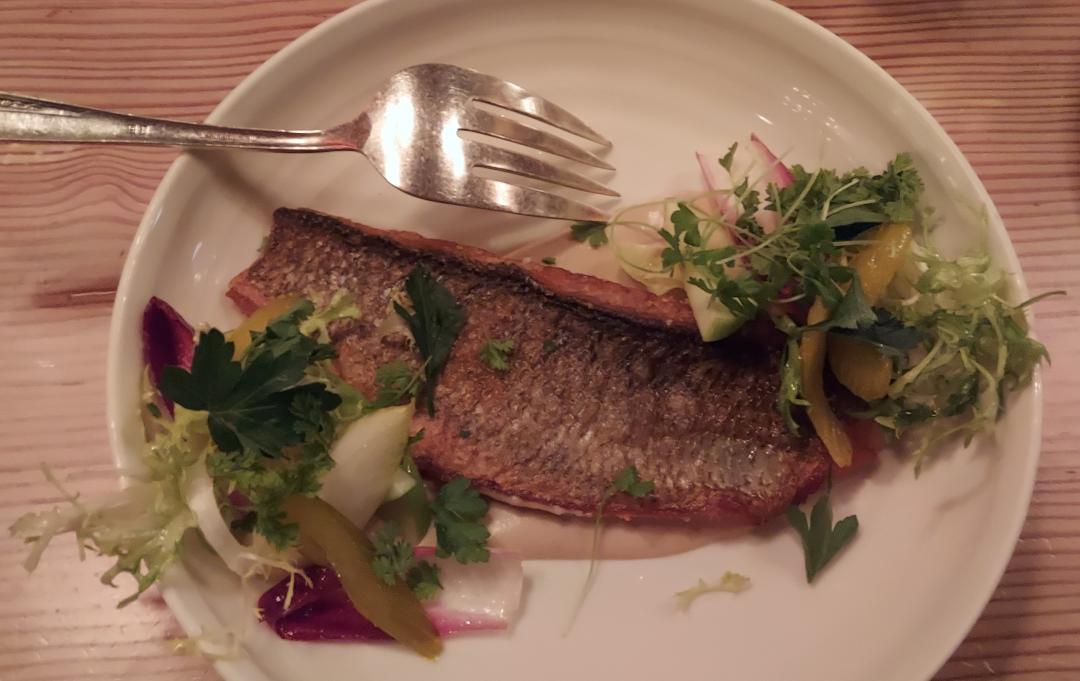 Cast Iron Roasted Mediterranean Branzino
The star of the menu ocean options was the cast iron roasted Mediterranean Branzino (a european sea bass or sometimes known as loup de mer), a pan roasted fish with granny smith apple, endive, and calamansi lime swimming in a divine butter celery root puree. This is a dish alone makes a patron long for a repeat visit to The Lark. The Branzino skin is crispy, richly flavored, and the whole fish was immersed in a puree that made it melt in my mouth.
Yes, there was a very sinful ending of chocolate brownie with outrageous toppings that was shared and loved by all! For dinner reservations visit them at www.thelark.com.
Gift yourself a visit to "Miracle at the Funk Zone" Christmas Bar celebration at Pearl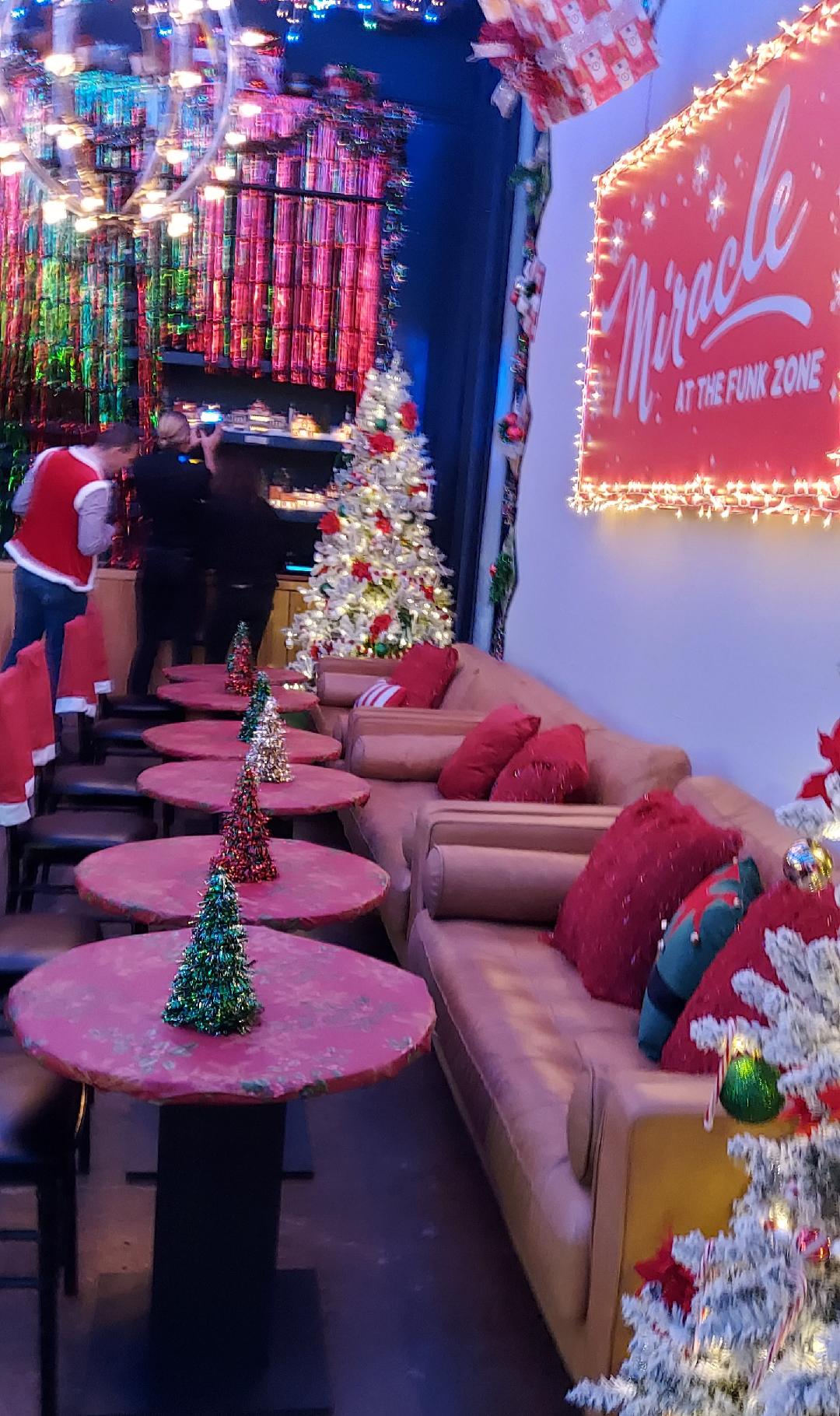 Social, located right next door to The Lark. According to Kacey House, general manager, the gorgeous holiday pop-up venue took
three days for the staff to decorate. It is warm and inviting and offers a fun collection of delightful cocktails by mixologist Alberto Costello with appropriate jolly holiday names to savor with a selection of vintage small bites. I thought the Christmapolitan of vodka, elderflower, dry vermouth, spiced cranberry sauce, lime, rosemary and absinthe mist was a very magical holiday libation.
To be sure, if this charming venue does not get you into the holiday spirit nothing will! It's a brilliant campaign that began in Manhattan's East Village, is being done in euorpean cities like Montreal and Paris and will also run at Pearl Social through January 3. Wishing you a very Merry Christmas in the Funk Zone or what ever special zone you are in for the holidays! For additional information please visit www.pearsocialsb.com.
The Lark

131 Anacapa Street

Sant Barbara, CA 93101

---