CHEF RON TRUE
An Epiphany of the Divine Nature of Culinary Style
by Bonnie Carroll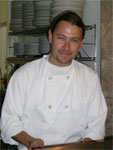 January 6 historically marks the Christian celebration of the Epiphany, but, the first week in January 2008 will also celebrate Life Bites News "2008 Best American Chef" honors to Chef Ron True, Epiphany Restaurant in Santa Barbara. The LBN prestigious annual award has previously been given to career executive chefs for culinary excellence at renowned hotel resorts in the US and Europe, and it is a delightful surprise to find such a talented professional chef to honor in our own home town.
True is a Santa Barbara native who loves food and savors living in a place where people know and enjoy quality. He is a member of a local soccer team, and also shares an affinity for photography with his mother, who is a well known professional photographer. An interesting note is that two years ago the LBN "Best Chef" award went to Conney Andersson, Executive Chef at the Four Seasons Beverly Wilshire Hotel, and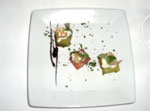 Andersson is an award winning photographer. It does make you a believer in the expression "if you can see it you can make it happen". However, what Ron True really has in common with celebrated career chefs throughout the world is his great passion for cooking and his unique imagination for food presentation. He began his culinary career eighteen years ago, working in a variety of fine venues, including Soho Restaurant, which was located on the current site of Epiphany. True honed his craft working at Zuni Café in San Francisco, Union Square Café in New York, Gramercy Tavern in New York, La Varenne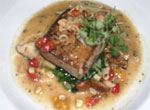 in France and Kimmel Center for the performing Arts in Philadelphia. His work in France has had a direct bearing on the style, taste and presentation of his plates. His style is what he calls "French influenced California cuisine" and it is uniquely his own. His fine knowledge of food and wine pairing is also an added asset he brings to the table.
Epiphany Restaurant, owned by Michelle and Alberto Mastrangelo, is an amazing place to enjoy dinner or cocktails. The rambling structure offers little hide-a-way places to enjoy a roman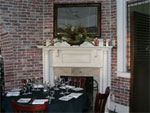 tic dinner for two or family style dining in front of a burning fireplace for ten. The lounge is always alive with people, who are doing business or waiting for a table. The décor is elegant and comfortable, and the servers are outstanding. True has an open kitchen that makes him and his food creations accessible to guests, and observing the chef in action can be very stimulating to the senses.
Dining with Chef True may be an unexpected revelation. A few times in my life, including an unforgettable dinner with renowned Italian Chef Innocenti at the Grand Hotel in Florence, I have experienced a dinner where each dish surpassed the last, and it was like riding a crescendo that was spiraling to a final extraordinary dessert, and that is the agenda at Epiphany. True is also very congenial, and takes time when possible to talk with patrons and answer questions, which is something else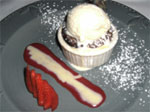 he has in common with star chefs. The best American chefs know how to work the room.
Menu recommendations include seared Foie Gras, served with a cabernet sauce, a warm frissee duck salad served with fig vinaigrette and crispy shallots, filet mignon Carpaccio (see recipe below), and the Ahi tuna tartar served with two sauces are all culinary treats. Dinner selections include an outstanding crispy skin roasted duck, wild mushroom fettuccini, pan roas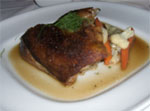 ted herb chicken, fish of the day, and for the meat lover a cracked pepper filet mignon or rib-eye steak. The wine list is long and wonderful with selections from around the world or around the corner. There is also a six course Epiphany "Limo Ride" tasting menu with the chef as your chauffeur. Final endings are so important, and the desserts are all sinfully delicious and beautiful. The chef welcomes our readers to join him at Epiphany for good food, good wine and good company. Mangia Bene!
Epiphany Restaurant
21 E. Victoria
Santa Barbara, California 93101
805-564-7100
www.epiphanysb.com
---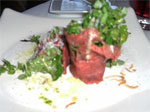 Filet Mignon Carpaccio
by Chef Ron True, Epiphany Restaurant, Santa Barbara, California
FILET MIGNON CARPACCIO
(Serves Four)
Ingredients:
4 pieces filet mignon 3 ounces each (tall pieces preferred)
2 bunches cleaned arugula
¼ cup fried shallots (purchased at specialty Asian super markets)
¼ cup fried potatoes (optional)
¼ cup micro greens (available at supermarkets)
¼ cup Balsamic reduction (available at Trader Joe's)
¼ cup Chive Oil (1/4 cup chopped chives ½ cup olive oil blended in the blended until smooth)
Vinaigrette
¼ cup Sherry vinegar
2T Dijon mustard
1 cup Parmesan cheese
3T Truffle oil
1t salt pepper to taste
2 cup extra virgin olive oil
Mix in food processor all ingredients, except olive oil, start processing. As machine is running slowly ad olive oil; check seasoning and adjust if necessary. This mixture can be stored in the refrigerator for one week.
Making the Carpaccio
Pull along piece of plastic wrap approximately 24 inches, place a portion of the meat in the top section of the plastic, then fold the plastic over by half, you should be left with 12 inch double plastic with the flat centered, start pounding the filet to an 1//8th of an inch in width, reserve the filet in the refrigerator until ready to serve.
Making the Dish
Start by decorating four plates with Balsamic reduction and olive oil, then dress the arugula with the vinaigrette, add the fried shallots and some grated parmesan cheesse with salt and pepper to taste. Layout each of the Carpaccio pulling the top layer of plastic away, season each with salt and pepper and some vinaigrette to each. Take the dressed arugula divide among four Carpaccio than roll each into a log, cut in half and place on your decorated plates. Drizzle some vinaigrette over each, garnish with more arugula and parmesan cheese, fried shallots and fried potato strands.