ORLANDO HOTEL, LOS ANGELES
by Bonnie Carroll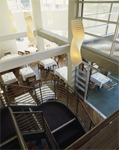 This amazing and charming little jewel on 3rd and Orlando should not be missed by any local or visitor to Los Angeles. From the inviting modern lobby to the adorable pool and steam room, to the bar and lovely rooms and suites, this property has genuine European style, and is so centrally located to enjoy all the pleasures of Beverly Hills and Hollywood. This chic venue is heaven sent for business, shopping, entertainment and foodies.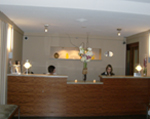 Not only are the rooms modern and chic, but the entire property smacks of Hollywood, and the best attraction is their exquisite Italian cuisine, prepared by renowned chef Gino Angelini.
The Le Terza menu is brimming with original plates from Rimini Italy and the surrounding regions, and the delicious plates are paired with the finest in Italian wines.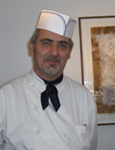 La Terza Restaurant Star Chef Gino Angelini
Gino Angelini, Chef/Owner was born in San Clemente, in the heart of Italy's richest food region, Emilia Romanga. Since the age of 14, he has devoted his life to food and its preparation.
Gino Angelini is best known for his acclaimed tenure at Los Angeles restaurant Rex and Vincenti. As Chef of Vincenti, Angelini became known for his inventive and traditional Italian Cuisine. Named one of the "25 Best Restaurants" by Esquire (December 1997) and the 'best New Restaurant in Los Angeles" by Los Angeles magazine (August 1998), Vincente was a critical and commercial smash.
Mr. Angelini's newest venture, Angelini Osteria, highlights his flair for traditional Italian cuisine. Since opening in October 2001, Angelini Osteria has been named "one of the 10 best restaurant in Los Angeles" and was featured in "the Best of LA" issue of Los Angeles magazine.  Angelini Osteria has also been fea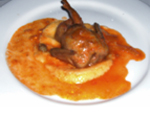 tured in the Los Angeles Times, The New York Times, Food & Wine, Gourmet and Metropolitan Home.
As an expert in historic Italian menus, Mr. Angelini has attained the status of Master Chef, and has been called upon to cook with the great chefs of Italy. Mr. Angelini has prepared meals for world notables such as French President Francois Mitterand, Mikhail Gorbachev and Pope John Paul II.
At the age of 23, Mr. Angelini became the youngest Chef of a five-star Hotel Restaurant, The Ambasciatori. Since then he has served every Italian head of state including the Prime Minister Craxi and Andreotti. His reputation was so widespread that many notable people of Italy dined in his restaurants, including Luciano Pavarotti and Federico Fellini.
Breakfast: Daily, 7am-11:30am
Lunch: Daily, 11:30am-2:30pm
Dinner: Daily, 5:30pm-11pm
Bar Menu: 2:30pm-11pm
Reservations: 323.782.8384
La Terza Restaurant
8384 West Third St. Los Angeles, CA 90048
---