CHEF/HOTEL PROFILE    .   .   .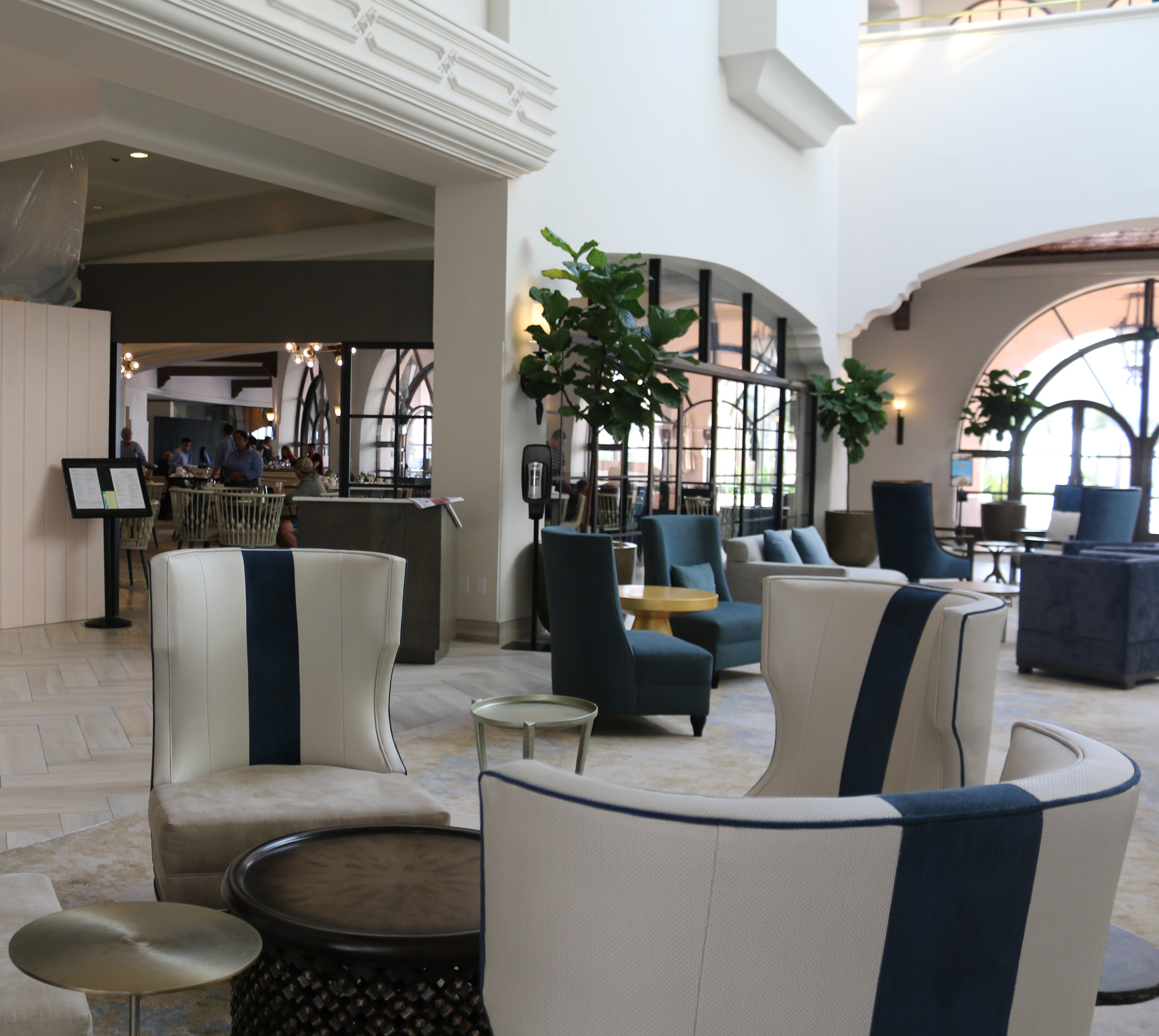 HILTON SANTA BARBARA - NEW LOOK & HISTORIC MENU
by Bonnie Carroll
The Newly renovated Hilton Santa Barbara Beachfront Resort, located at 633 East Cabrillo Boulevard, Santa Barbara, is the first resort property for the Hilton brand on California's central coast and offers a modern look coupled with authentic Santa Barbara leisure.
Santa Barbara's iconic destination opened its doors as Hilton Santa Barbara Beachfront Resort early in June to share stunning coastal views in 360 newly-remodeled guest rooms that are stylishly appointed with ocean and sky-blue tones, driftwood inspired interiors, private balconies or patios.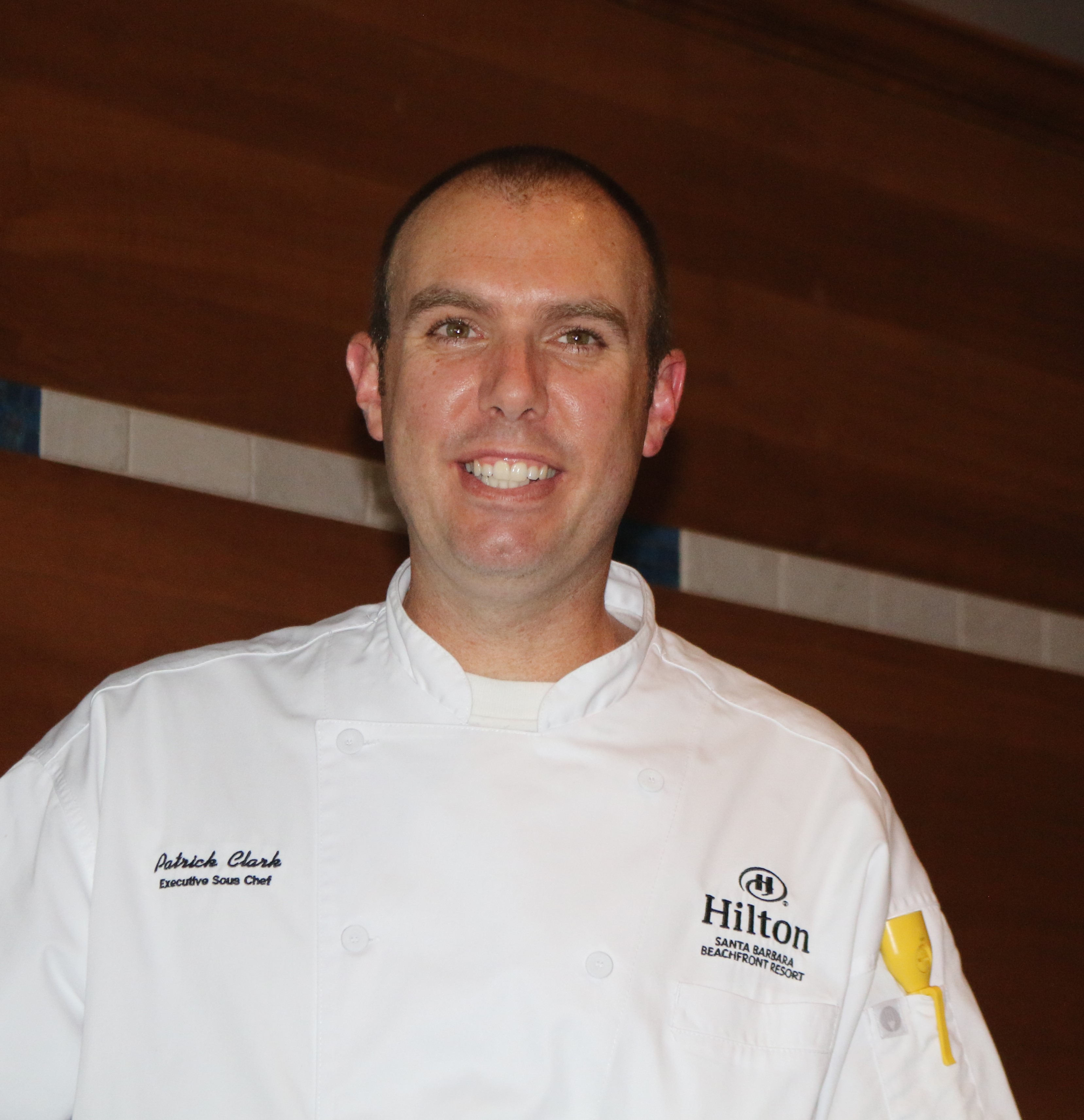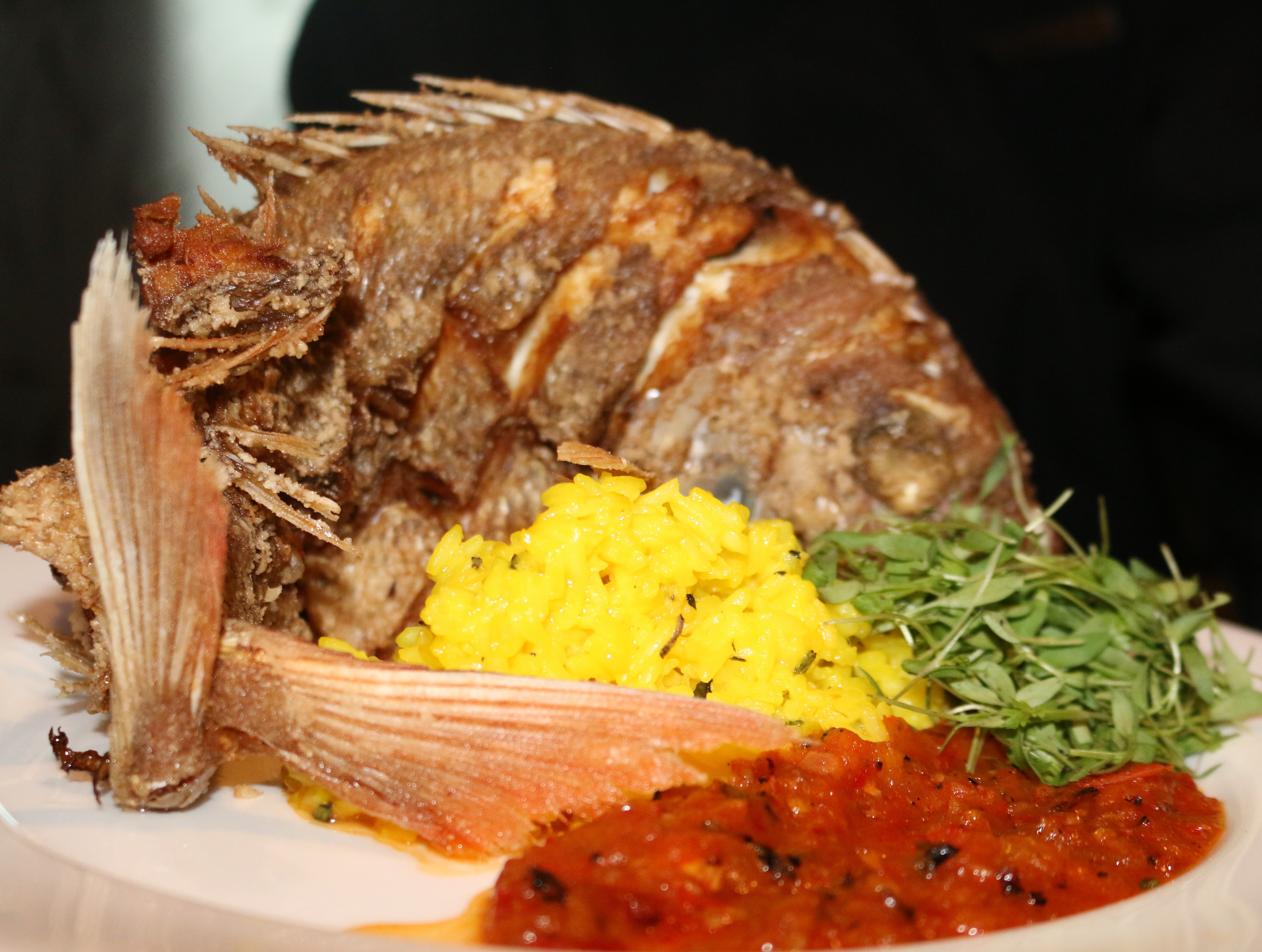 Chef Patrick Clark - Whole Fried Snapper with Vizcaina Sauce
The most exciting new changes can be seen in the menus being presented by Sous Chef Patrick Clark and his culinary staff, along with refining some renowned Rodney's favorites on the menu. Sous Chef Clark is now serving a California heritage menu accenting flavors of the original residents along the central California coast. Some of these offerings include a churrasco flat iron steak with chimmichurri sauce, chicken topped with sofrito sauce (a tomato sauce from the times of Spain's world globalization), heirloom gazpacho soup, whole fried snapper with Vizcaina Sauce (Sweet red pepper iconic sauce from Northern Spanish), as well as a colorful vegetarian quinoa paella with mushrooms, cilantro, peppers and artichokes.
The flat iron steak with chimmichurri sauce is tender and delicious with rich tastes of parsley, garlic, rosemary, thyme, shallots and orange oil. This is a quick and easy dinner for two that can be prepared at home in 20-30 minutes. I have included the recipe for this Rodney's Grill favorite at the bottom of the page for your home dining enjoyment.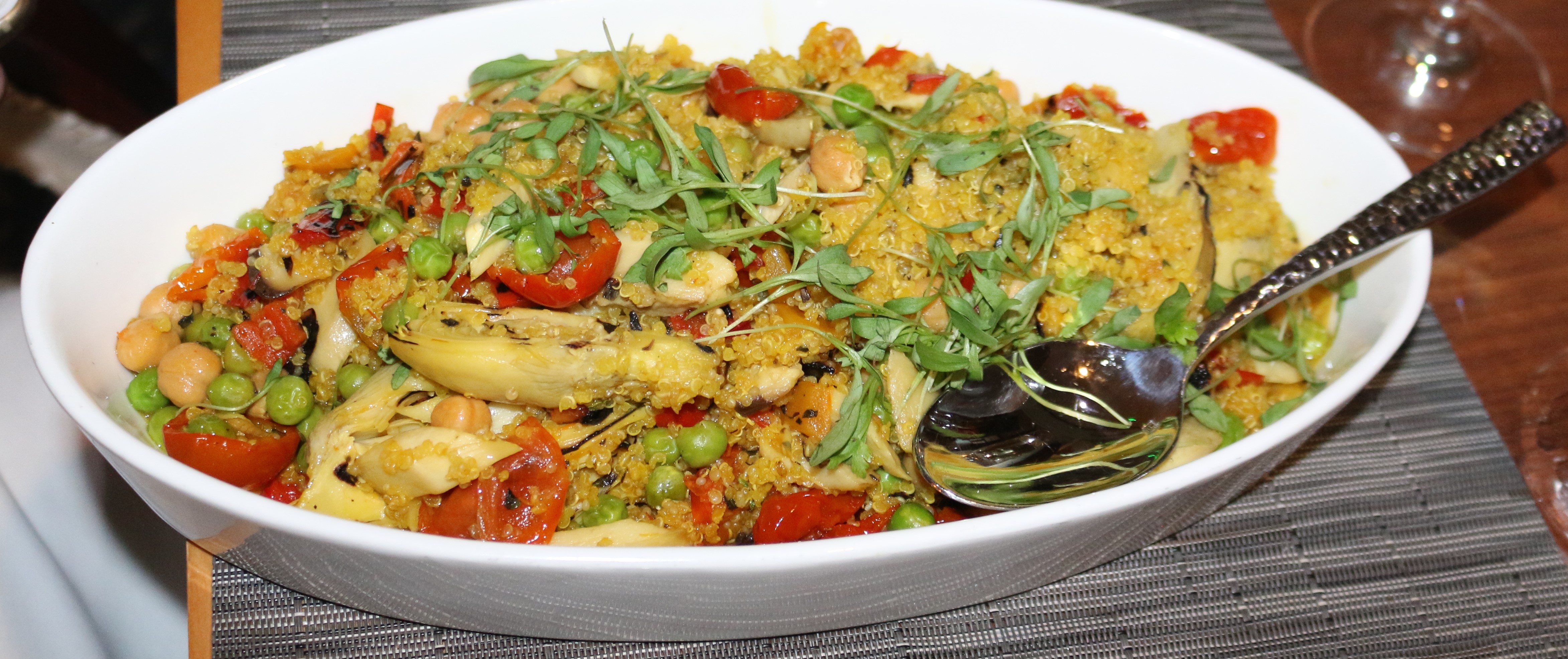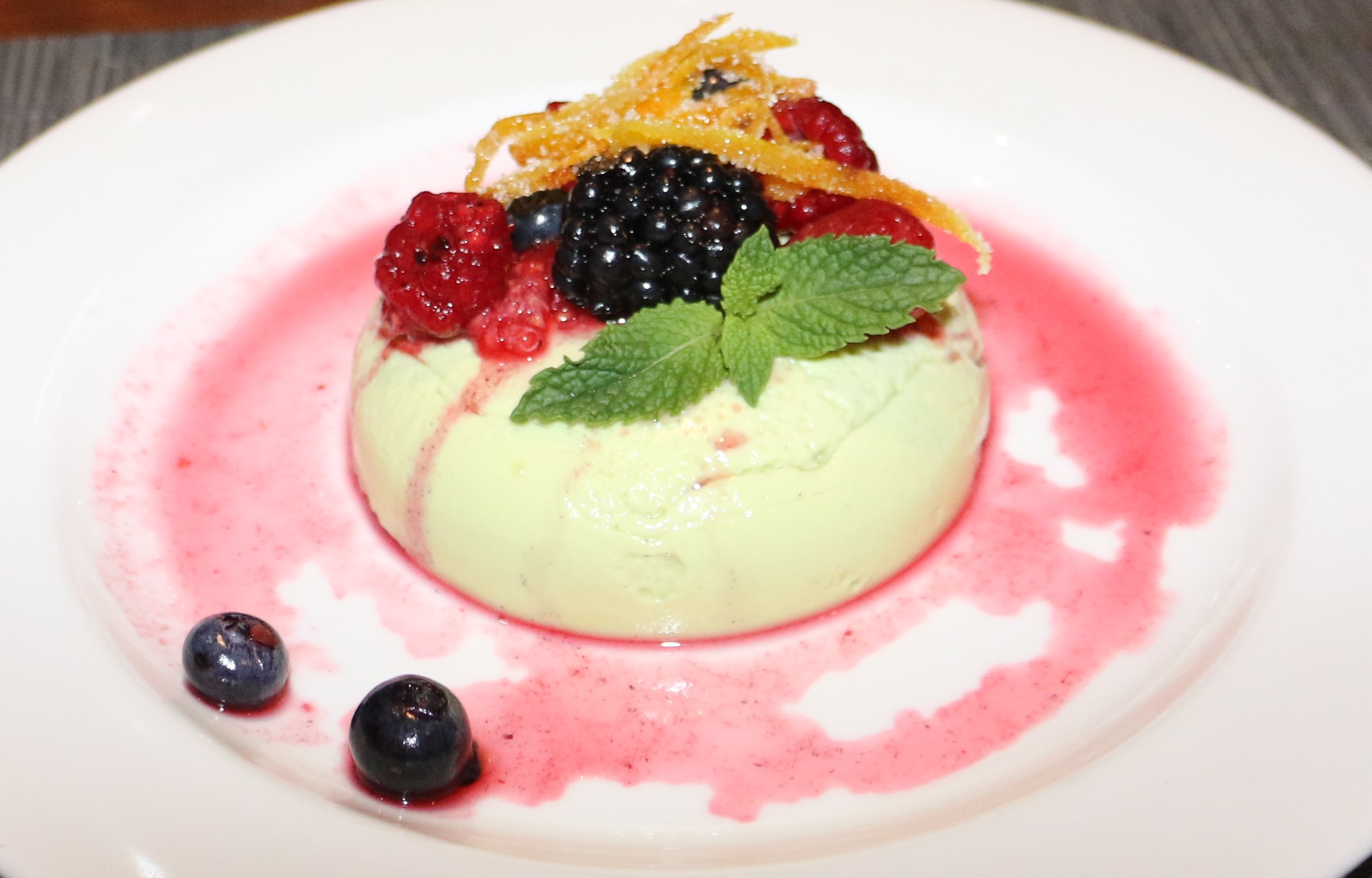 Vegetarian Quinoa Paella  and Divine Avocado Panne Cotta
The vegetarian quinoa paella is a colorful dish filled with fresh vegetables and saffron, that according to the chef is becoming a huge hit with vegetarian patrons, and the spectacular whole fried snapper presentation is rich and delicious with a side of crisp grilled asparagus drizzled with citrus oil. The cold heirloom gazpacho soup requires more than a sip, and I opted for a full bowl of this delicious elixir. It is highly probable this historic heirloom menu will be a big hit with locals and visitors during the Annual Santa Barbara Old Spanish Days - Fiesta Celebration on August 1-5 this year.
The grand finale of the heritage menu was a surprise dessert prepared by Chef Clark that left everyone speechless. The exquisite avocado panne cotta with fresh fruit was a divine and delicate sweet ending that delighted everyone at the table. What a perfect ending to Chef Clark's very innovative dinner.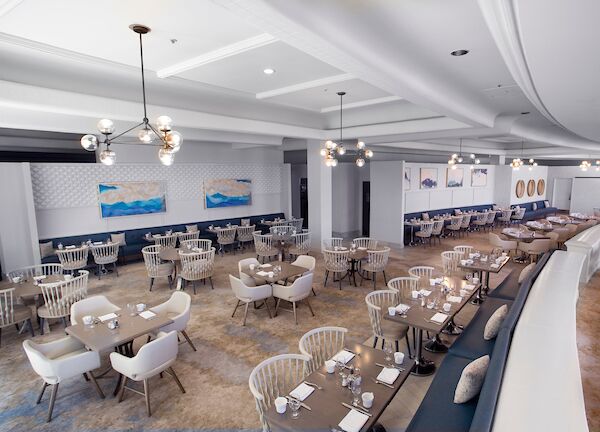 The ROUNDHOUSE
The Roundhouse features a fantastic buffet that includes all the wonderful breakfast favorites of fully packed omelettes made to order, breakfast meats, delicious French toast, countless sweet rolls, muffin and toaster items, a bevy of fresh juice selections and a fruit with yogurt breakfast bowl that was healthy and appetizing. The new look in the room is shades of ocean blue and has practical tables that seat groups and families comfortably, as well as smaller tables for two or four. The open look and feeling is a welcome change to this area with an ocean view, and guests may also order off the menu sitting on the outside patio by the rotunda.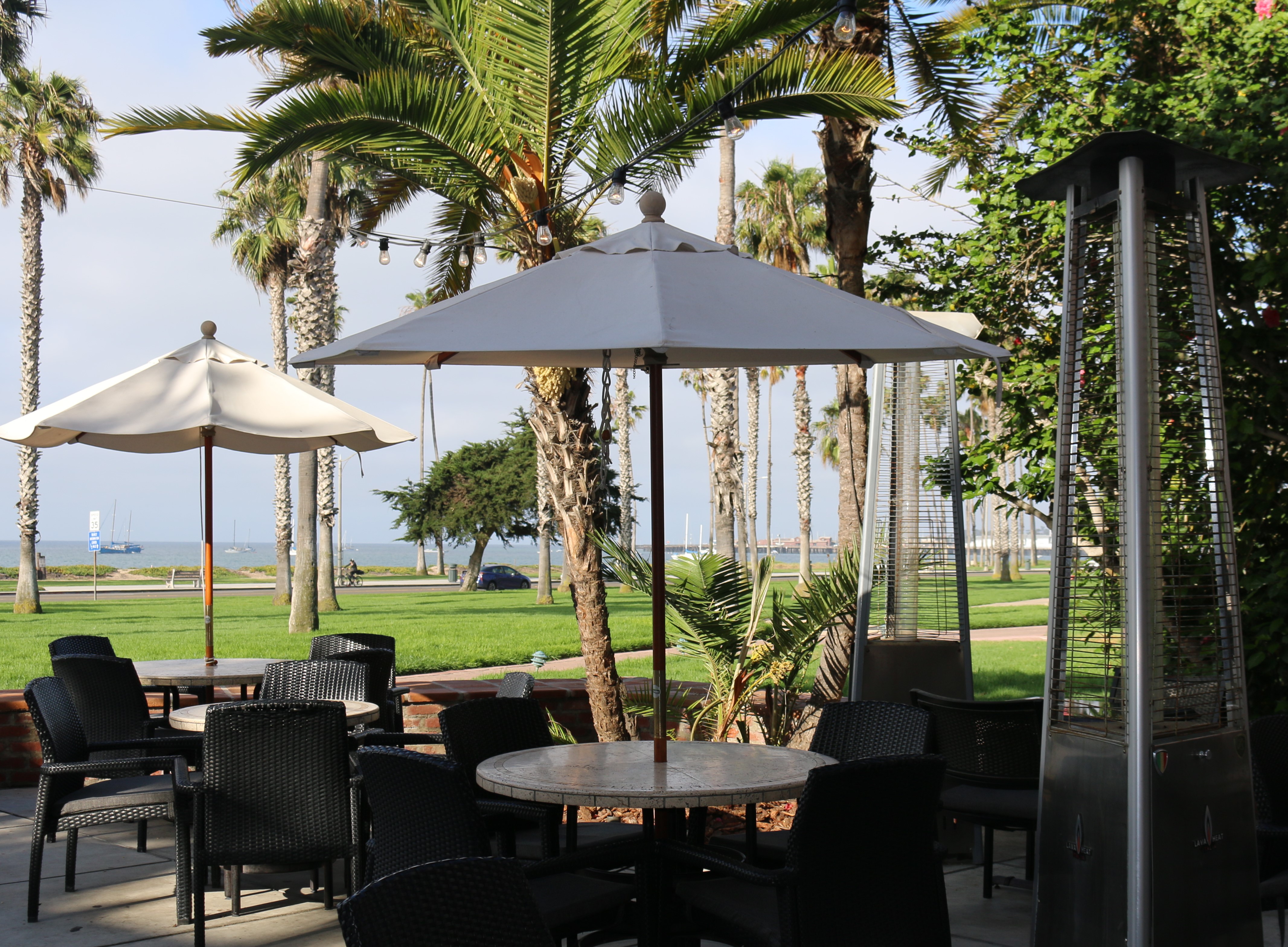 THE SET - Ideal Place to Watch the Sunset
The SET is off the main lobby and offers a comfy outdoor dining patio with an ocean view, where a menu filled with small plates and more. Guests may also enjoy a bevy of wonderful gluten free items.. This is a nice venue for families to enjoy lunch or dinner outdoors. I watched Kids loving the opportunity to make s'mores with their parents by the outdoor fire-pit, and the indoor area and bar looked like a meeting place for people at end of day to partake in 'happy hour' specials.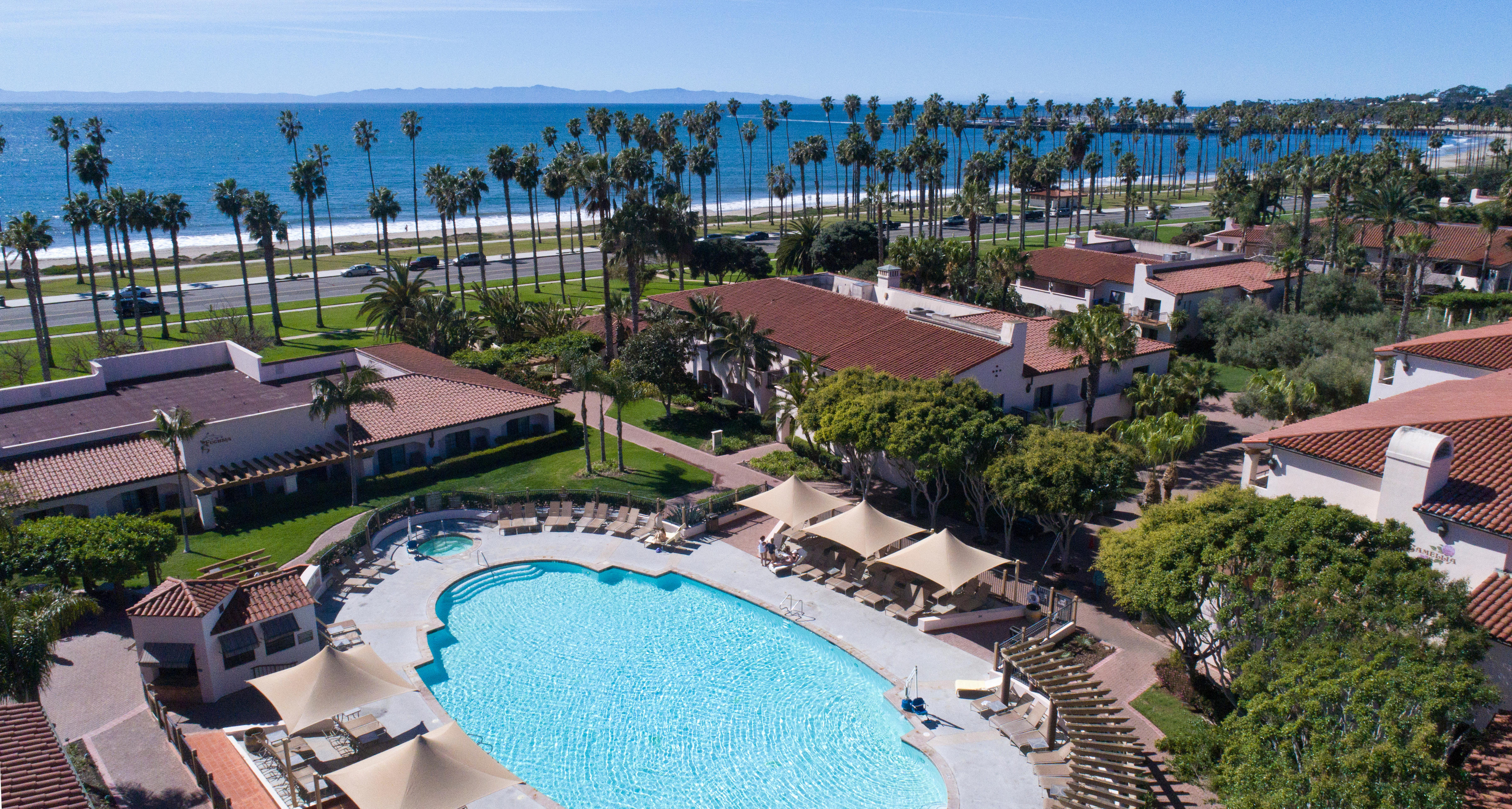 Hilton Santa Barbara Pool & Terraza Del Mar Cafe
I must mention the beautiful Hilton pool, which has a large jacuzzi, and is equipped with two handicap chairs to assist guests with special needs getting in and out of the pool. There is a comfortable eating area and small venue offering snacks and beverages to swimmers next to the pool.
According to Neil Poisson, Hilton General Manager, very soon the 'Grab-N-Go' will be open in the main lobby allowing guests to literally grab food and beverage items to take to the beach or hotel children's park for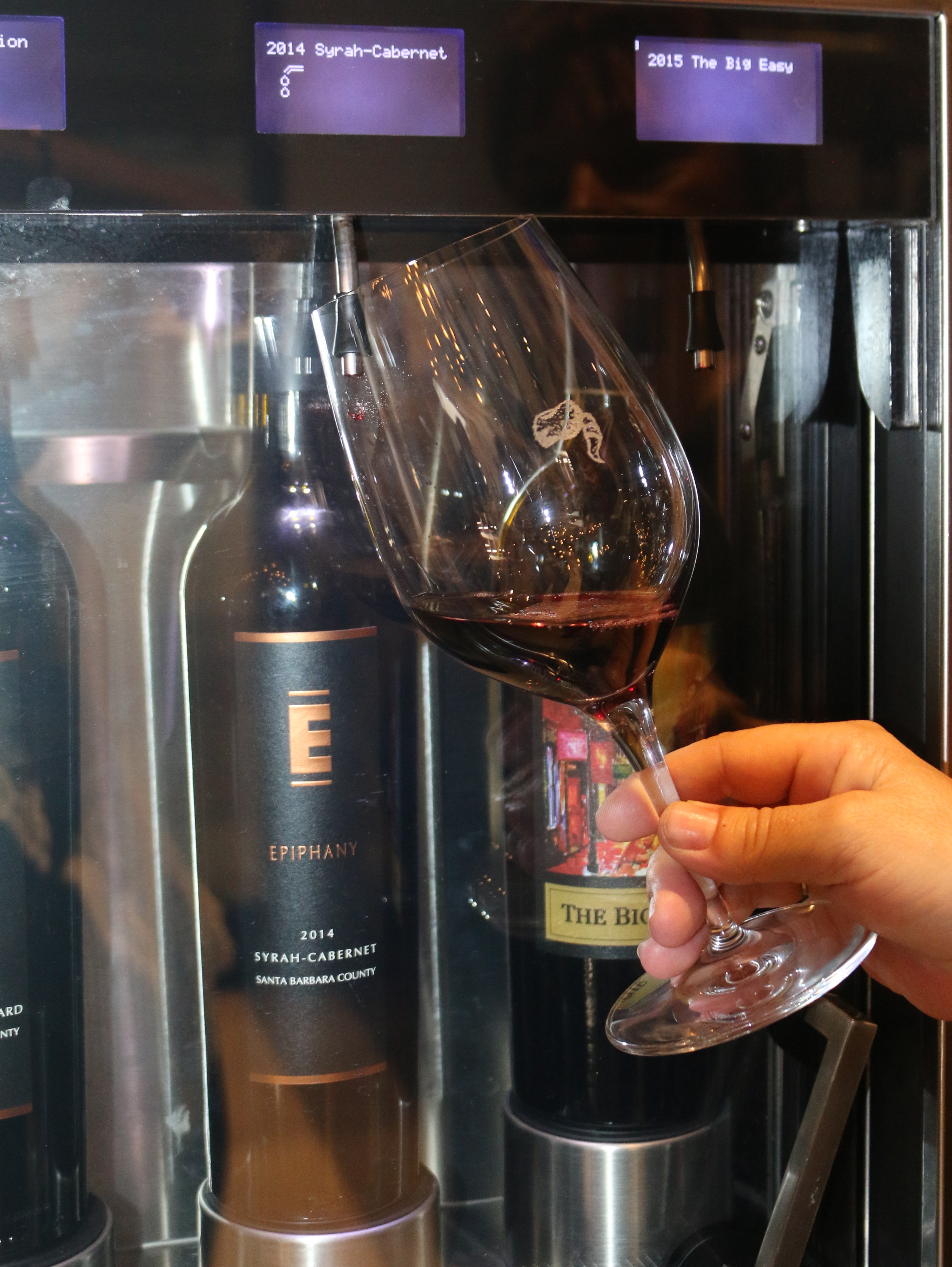 picnics, the pool area or their room private patio for consumption. This new option will also provide guests the opportunity to buy a small salad, sushi or noodle dish and more to the Fess Parker Wine Bar a few steps away to savor with one of the many fine wines available. The wine concierge Melanie Noffz is very helpful in assisting guests with selections, and easy use of the guest card operated wine dispensers. It would be a simple fete to drink Fess Parker's 'Rose all Day' in this lovely relaxed glass enclosure.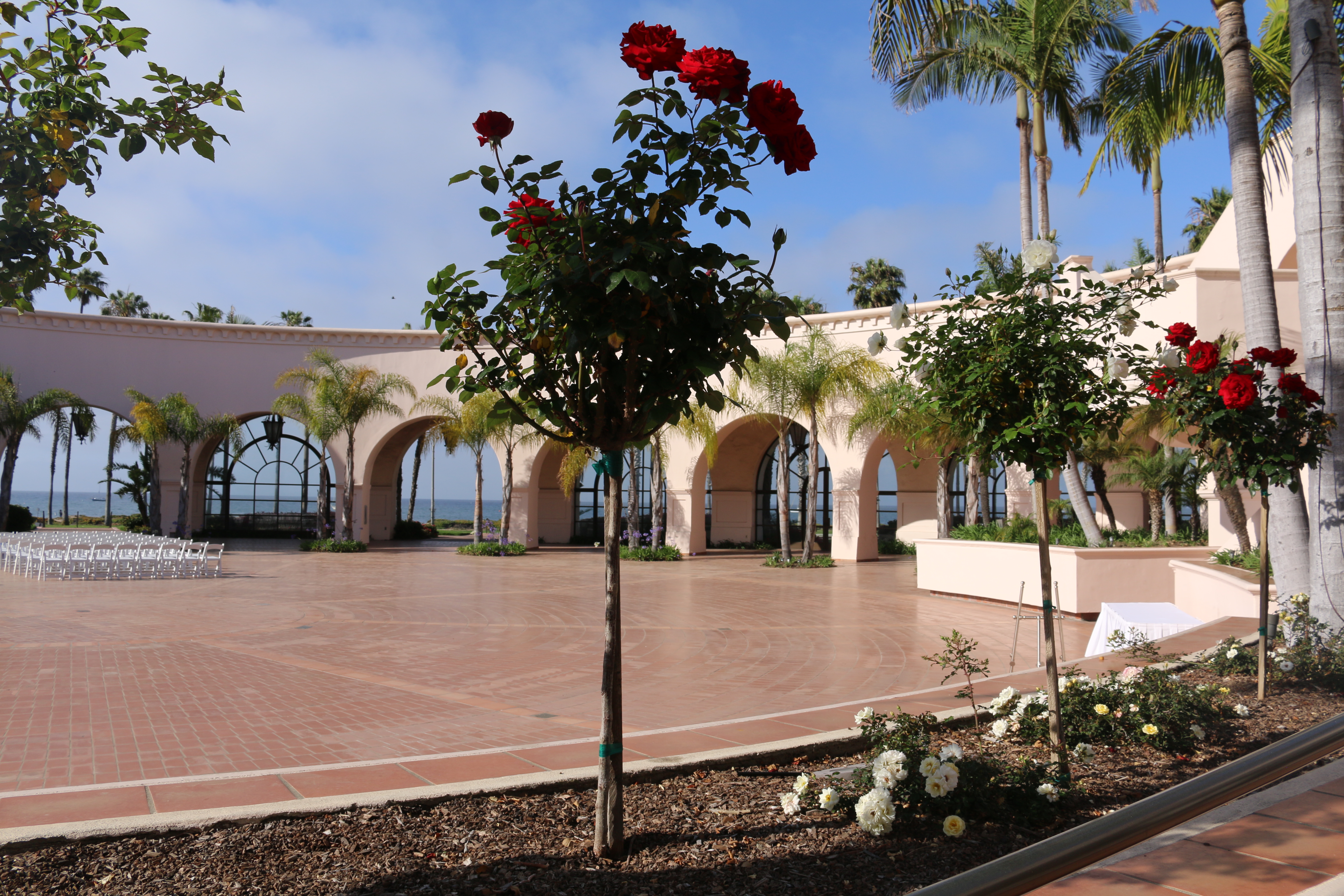 Hilton Santa Barbara Resort Rotunda
The resort is known for being a premier meetings and events destination with a wide array of indoor and outdoor event space, perfect for weddings, conferences and gatherings of any size. Centrally located, the landmark property is walking distance from downtown Santa Barbara and easily accessible to Santa Barbara Airport and the Santa Barbara Amtrak Station via complimentary shuttle service. The newly modernized property continues the legacy established by the Fess Parker family while paying homage to the resort's rich history, stunning location and the unique culture of Santa Barbara.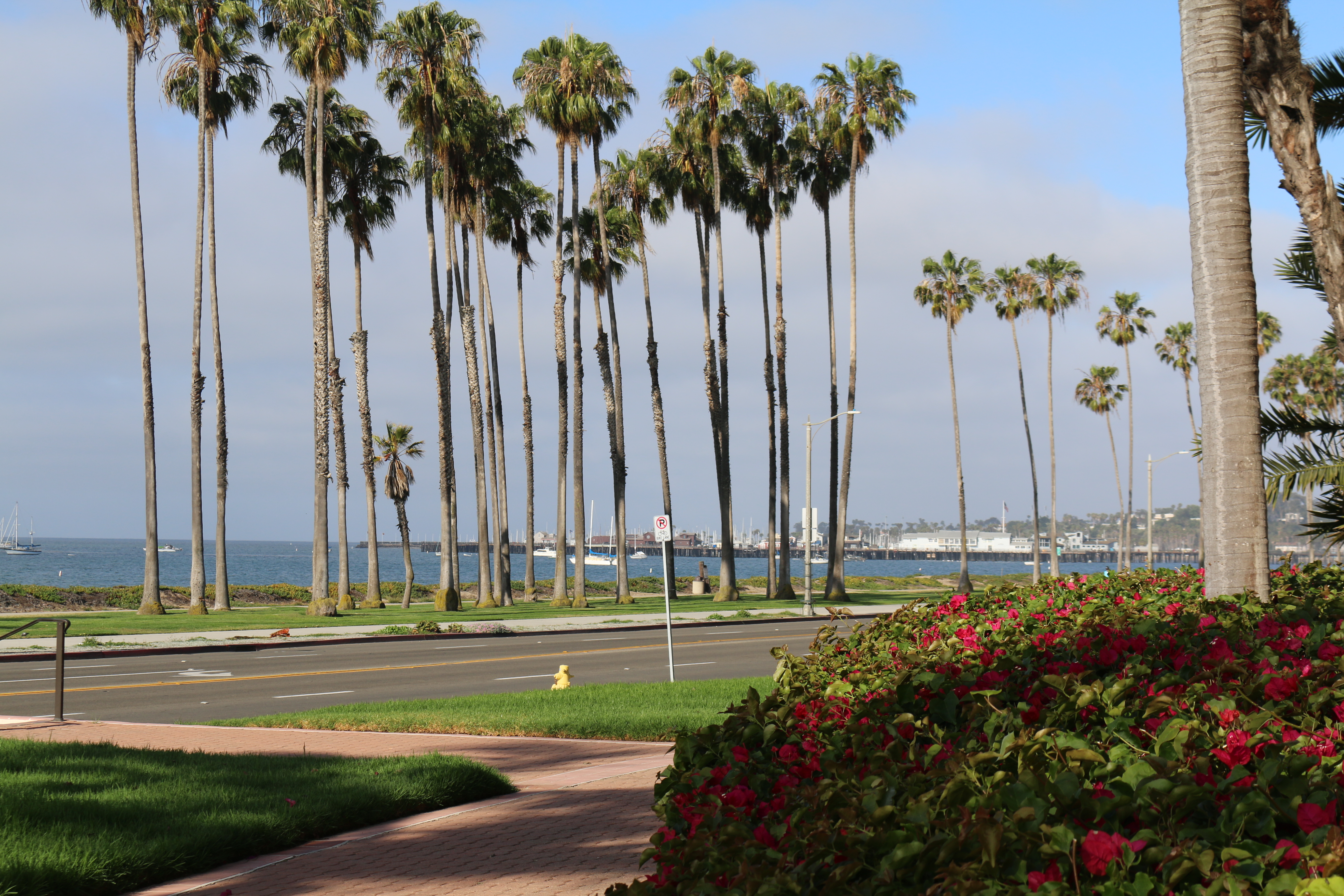 Walk to Cabrillo Beach, Stearns Wharf, Santa Barbara Harbor
"From its unbeatable location to legacy of exceptional service, Hilton Santa Barbara Beachfront Resort represents everything today's travelers value," said Joe Berger, executive vice president & president, Americas, Hilton. "With the renovations and repositioning of this resort, we are poised to redefine the guest experience for visitors to this top American destination."
Formerly known as The Fess Parker, A DoubleTree by Hilton Resort, the hotel has undergone a complete renovation and will remain managed by Hilton (NYSE: HLT) and jointly owned by Park Hotels & Resorts along with the Fess Parker family who are proud to continue their 30-year partnership with Hilton.
"We look forward to this next chapter for the property and to continuing our long-standing partnership with Hilton," said Eli and Ashley Parker, son and daughter of Fess Parker. "The resort may have a new look and a new name, but will continue to provide the same first-class visitor experience that has made both locals and travelers feel at home for several decades."
The new hotel is a part of  Hilton Honors®, award-winning guest-loyalty program for Hilton's 14 distinct hotel brands. Members who book directly have access to instant benefits, including a flexible payment slider that allows members to choose nearly any combination of Points and money to book a stay, an exclusive member discount that can't be found anywhere else and free standard Wi-Fi. Members also enjoy popular digital tools available exclusively through the industry-leading Hilton Honors mobile app, where Hilton Honors members can check-in and choose their room. The hotel is also part of Hilton's Travel with Purpose corporate responsibility strategy, which fosters sustainable travel and tourism globally.
Hilton Santa Barbara Beachfront Resort 
633 East Cabrillo Boulevard
Santa Barbara, CA 93101
(805) 564-4333
-  -  -  -  -
CHURRASCO FLAT IRON STEAK
From the Kitchen of Rodney's Grill
Serves 2
Prep Time 20-30 Minutes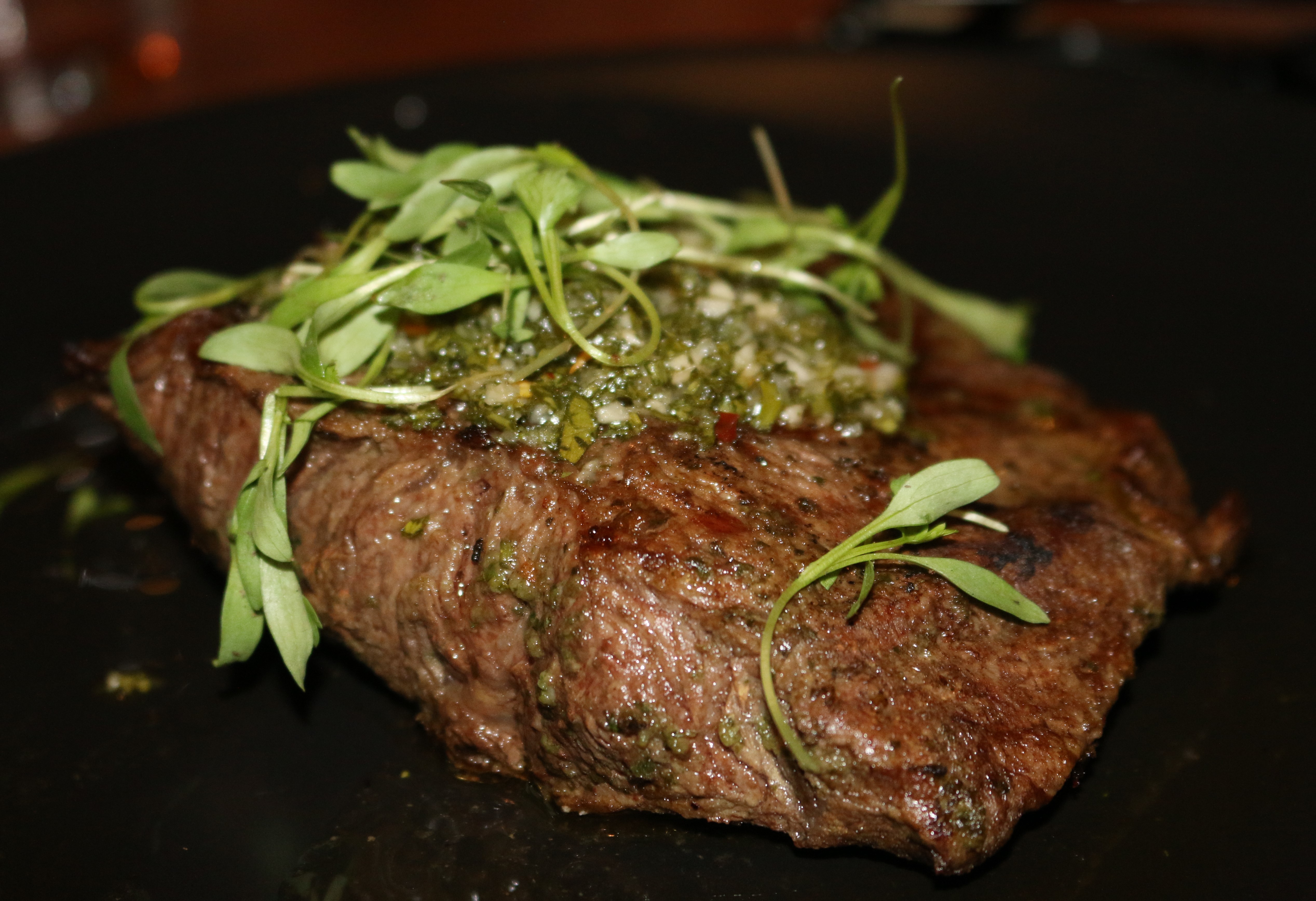 Churrasco Flat Iron Steak
Ingredients:
6 bunches parsley
1 cup garlic
¼ cup red wine vinegar
1 tsp chili flakes
¼ cup rosemary, stems removed
½ cup shallots
2 oz orange oil
4 cups olive oil
2 10oz. flat iron steaks
Directions:
1. Make the Chimmichurri sauce – combine half the parsley, half the grlic, all te red wine vinegar & chili flakes in food processor, blend until smooth.
2. Make the Citrus herb oil – combine remaining parsley, remaining garlic, rosemary, thyme, shallots, orange oil & olive oil in blender, blend until smooth.
3. Marinate steak with citrus herb oil.
4. Cook steak to desired temperature
5. Top with chimmichuri sauce.
---