BRUNCH AT HOTEL BEL-AIR
The Great Escape
by Bonnie Carroll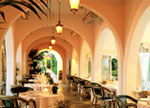 Enjoying the gardens of the Hotel Bel-Air can be one of the most serene experiences in Los Angeles. But, enjoying the swans on the lake over a splendid Sunday brunch at this premiere luxury boutique hotel is the perfect ending to a busy week, or the perfect restful beginning to a vacation visit in the City of Angels. It is an ideal venue for business or pleasure.

A picture perfect setting, beautiful food presentation and flawless service are the ingredients this 1940s property has become known for, and provides visitors with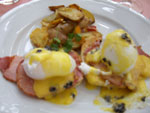 an unforgettable dining experience. My favorite items on the brunch menu include a unique Lobster Pot Pie, the Dungeness Crab Cakes with Dijon Sauce, and the Maple-Bourbon Creme Brulee French Toast with Apple Smoked Sausage. Main Course favorites include the incomparable signature Eggs Benedict with fingerling potatoes or the Kobe beef with egg and truffles, served with dill potatoes. The desserts are numerous and include light fruit sorbets, a delicious chocolate and cookie plate, and a strawberry short cake with c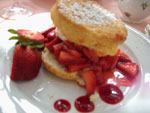 ream Chantilly that is outstanding. Fine champagne is served by the glass, and classic brunch cocktails are featured on the menu to compliment your Sunday feast.

Hotel Bel-Air Executive Chef Douglas Dodd and Chef de Cuisine Bruno Lopez, combine fresh i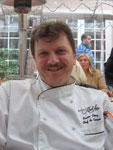 ndigenous products with herbs and unique sauces, creating flavorful and innovative cuisine in a 'French-California' style.

Sunday brunch is a tasting showcase of the talent of Chef de Cuisine Bruno Lopez. Chef Lopez joined Hotel Bel-Air in 2005, is a native of France, was trained at the Ferrandi School in Paris, and apprenticed at L'Espadon, a Michelin one-star restaurant at the Hotel Ritz in Paris. During his career he has been Executive Chef at two renowned Beverly Hills Hotels, along with the Ritz-Carlton properties in Half Moon Bay, Marina Del Ray and Dubai.

There are two dining venues that include the formal country-French dining room or the outside terrace, which is currently offering a 'Rose by the Glass' menu for spring, and there is always service for hotel guests by the pool. The hotel also features an exclusive in-kitchen dining room called "Table One," where guests may watch their meal being prepared. Wine Maker Dinners are a favorite of wine connoisseurs and feature delicious multi-course meals matched with rare and extraordinary wines.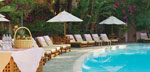 Dining at the Terrace offers relaxing alfresco dining for those who prefer a less formal atmosphere. The Terrace is set against a backdrop of lush gardens and Hotel Bel-Air's signature Swan Lake. Hotel Bel-Air is located just off Sunset Boulevard in Bel-Air estates, minutes from the beaches in Santa Monica, Century City shopping, Rodeo Drive in Beverly Hills and UCLA in Westwood.

Hotel Bel-Air
701 Stone Canyon Road
Los Angeles, California 90077
phone 310-472-1211 or 800-648-4097
fax 310-476-5890
Breakfast
Monday to Saturday
7:00 a.m. - 10:30 a.m.
Sunday
7:00 a.m.- 10:00 a.m.

Sunday Brunch
11:00 a.m. - 2:00 p.m.

Lunch
Monday to Saturday
12 noon - 2:00 p.m.

Afternoon Tea
Monday to Saturday
3:00 p.m. - 5:30 p.m.

Dinner
6:30 p.m. - 10:00 p.m.
---
NOEL BADILLO APPOINTED CHEF DE RESTAURANT OF
DUO, A STEAK AND SEAFOOD RESTAURANT
"Local Boy" Brings Vast Gourmet Culinary Experience to
Maui's Newest Premium Steak and Seafood Restaurant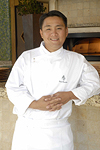 Four Seasons Resort Maui at Wailea promotes Noel Badillo to Chef de Restaurant at DUO, whose menu will focus on perfectly aged prime cuts of beef, including Japanese Kobe, and the freshest of seafood and island produce served in a luxurious poolside garden setting. Badillo brings 15 years of culinary experience to DUO's fresh and innovative cuisine, which features entrees made from only the finest and freshest ingredients, to pair with a distinctive collection of premium vintages.
No one knows and understands Hawaii's produce better than Noel Badillo, who prides himself on only purchasing top quality ingredients. Since an early age, Chef Badillo has been entertaining his family and friends with impressive and inventive culinary creations. "Being born and raised on Lanai there was not much to do besides having a gathering for family and friends," says Badillo. "Most of the time we would have a BBQ or family dinner and I would make dishes up just to impress them." Impress he did with creative masterpieces such as whole Snapper prepared with shoya sauce, yuzu and local Hawaiian chili pepper.
At the age of 16, Chef Badillo was given the rare opportunity to train at a local hotel on Lanai, where he learned the foundation of the kitchen and the fundamentals of cooking. The high accolades and encouragement he received on the job inspired Badillo to attend the Maui Culinary Academy, where he mastered his art and passion for cooking before joining the award-winning team at Four Seasons Resort Maui.
In the fifteen years Badillo has been with Four Seasons Resort Maui, he has trained under six Executive Chefs and four restaurant chefs, all of whom have influenced his technique and enhanced his pallet. Four Seasons Resort Maui Executive Sous Chef Martin Knaubert who has worked in 10 different countries with over 30 years of culinary experience, cites Badillo as "incredibly talented and an inspiration to all those who work with him." Badillo's influences have been Master Chefs Joel Robuchon, Alain Ducasse, and James Beard award-winning Chef George Mavrothalassitis, whom he had the pleasure of working with for four years.
---
CLICK HERE for Marshmallow Chicks Recipe
by Chef Francisco Migoya, The Culinary Institute Of America.