CHEF/PROFILE  .  .  .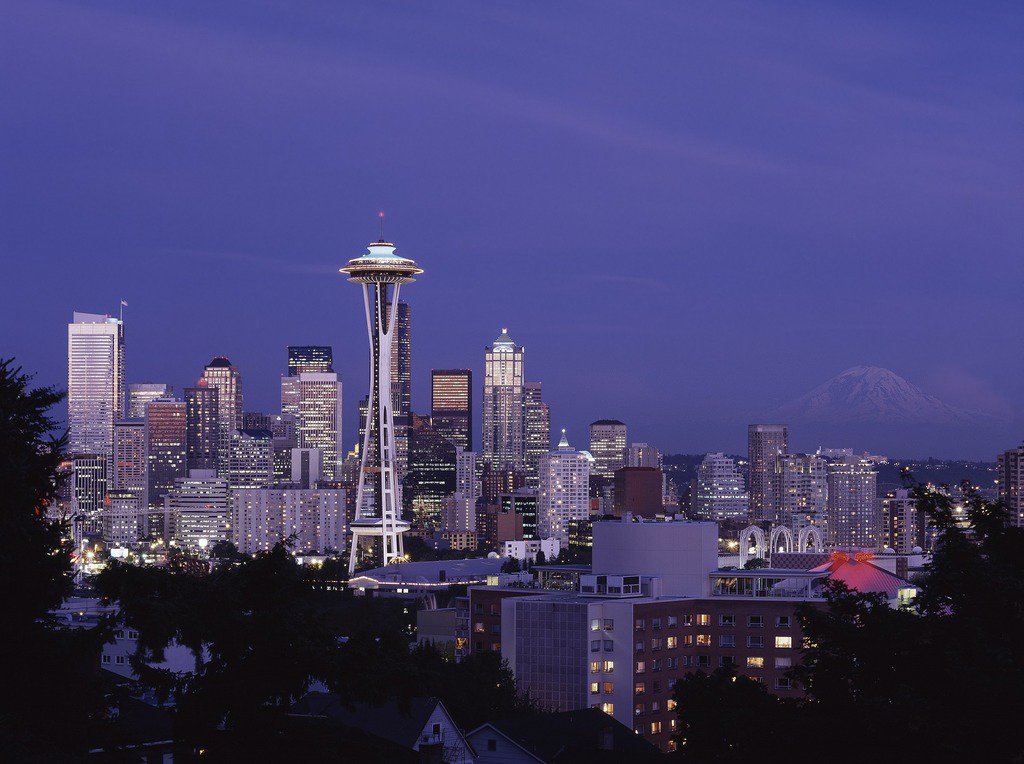 SHERATON HOTELS PRESENTS "HEART FOR THE CITY" CELEBRATION
Re-Opening of Sheraton Grand Seattle Honors Rich History

by Bonnie Carroll
The October re-opening of the Sheraton Seattle Hotel as the new Sheraton Grand Hotel was an amazing visit where Sheraton Hotels & Resorts presented a two-week celebration of immersive experiences on the property that brought to life then and now loved characteristics of the city of Seattle, along with a fabulous Gala event that included 400 Seattle VIPs, hotel guests and community supporters.
The fun immerisive property experience provided guest with historic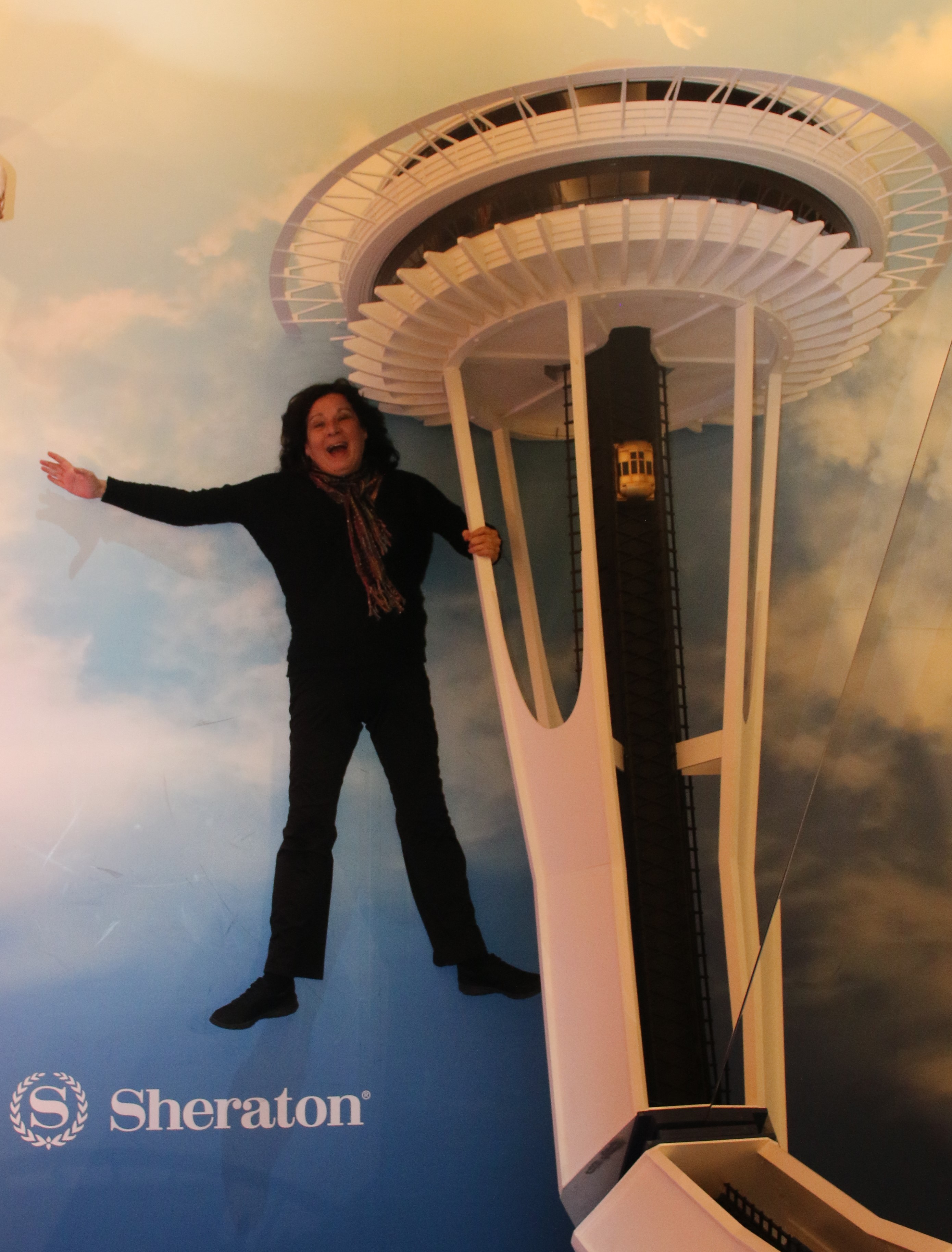 enactments of sipping coffee at the original Starbucks in Seattle, becoming their own Cirque du Soliel stars on a replica of the Seattle Space Needle, singing in the rain above the Seattle city scape and more. The Sheraton "Heart for the City" campaign kicked off at Saint-Hyacinthe Hotel (Quebec, Canada) in August and tours also were scheduled for Sheraton Cairo Hotel & Casino (Cairo, Egypt) November 7; Sheraton Grand City Hyde Park (Sydney, Australia) November 15; Sheraton Santos Hotel (Santos, Brazil) December 2018; Sheraton Grand Bengaluru Whitfield Hotel & Convention Center (Bengaluru, India) 2019, and Sheraton Beijing Lize (Beijing, China) 2019.
Guests at the hotel were encouraged to experience a fabulous Seattle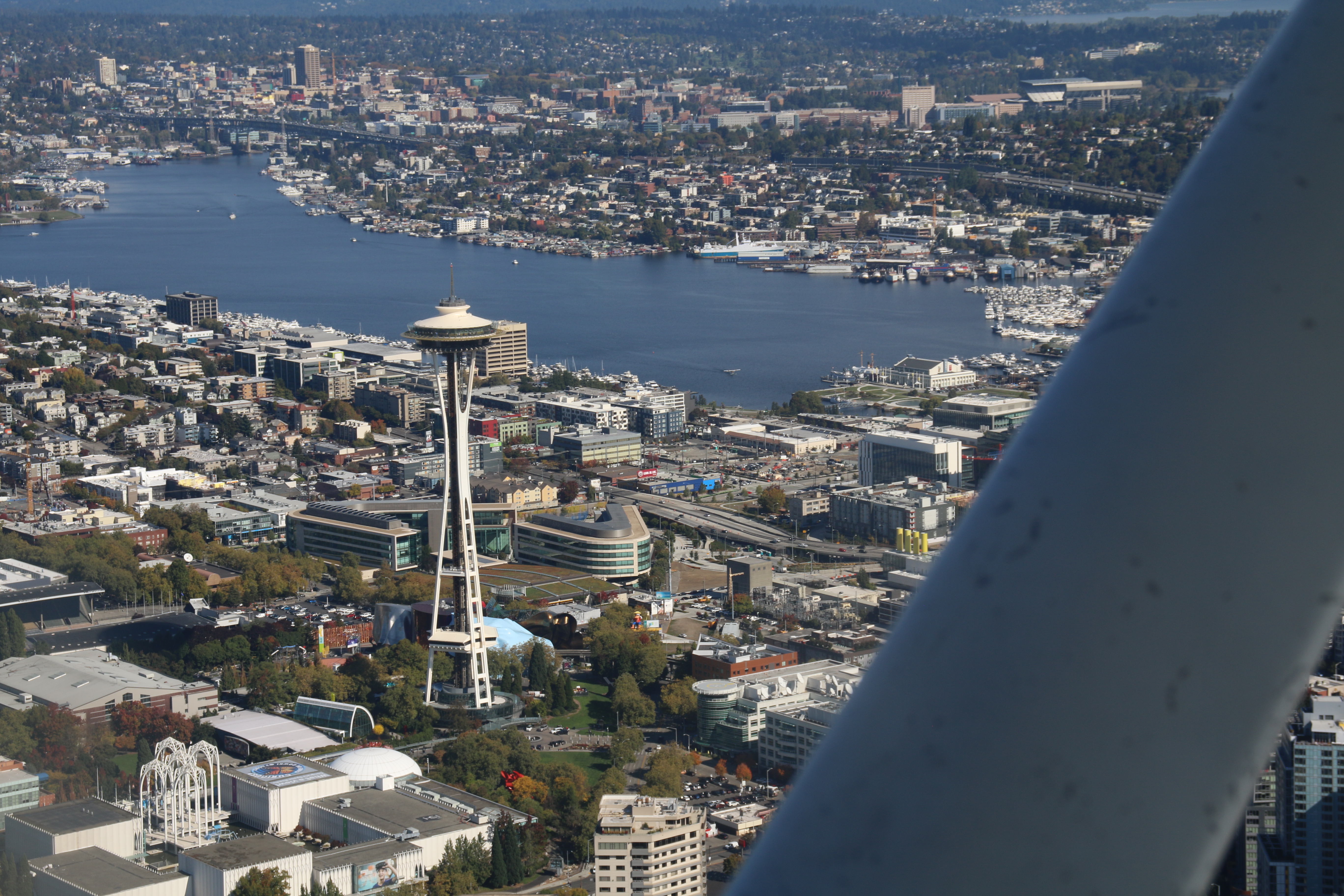 Seaplanes tour 10,000 feet above the city to get a personal aerial view of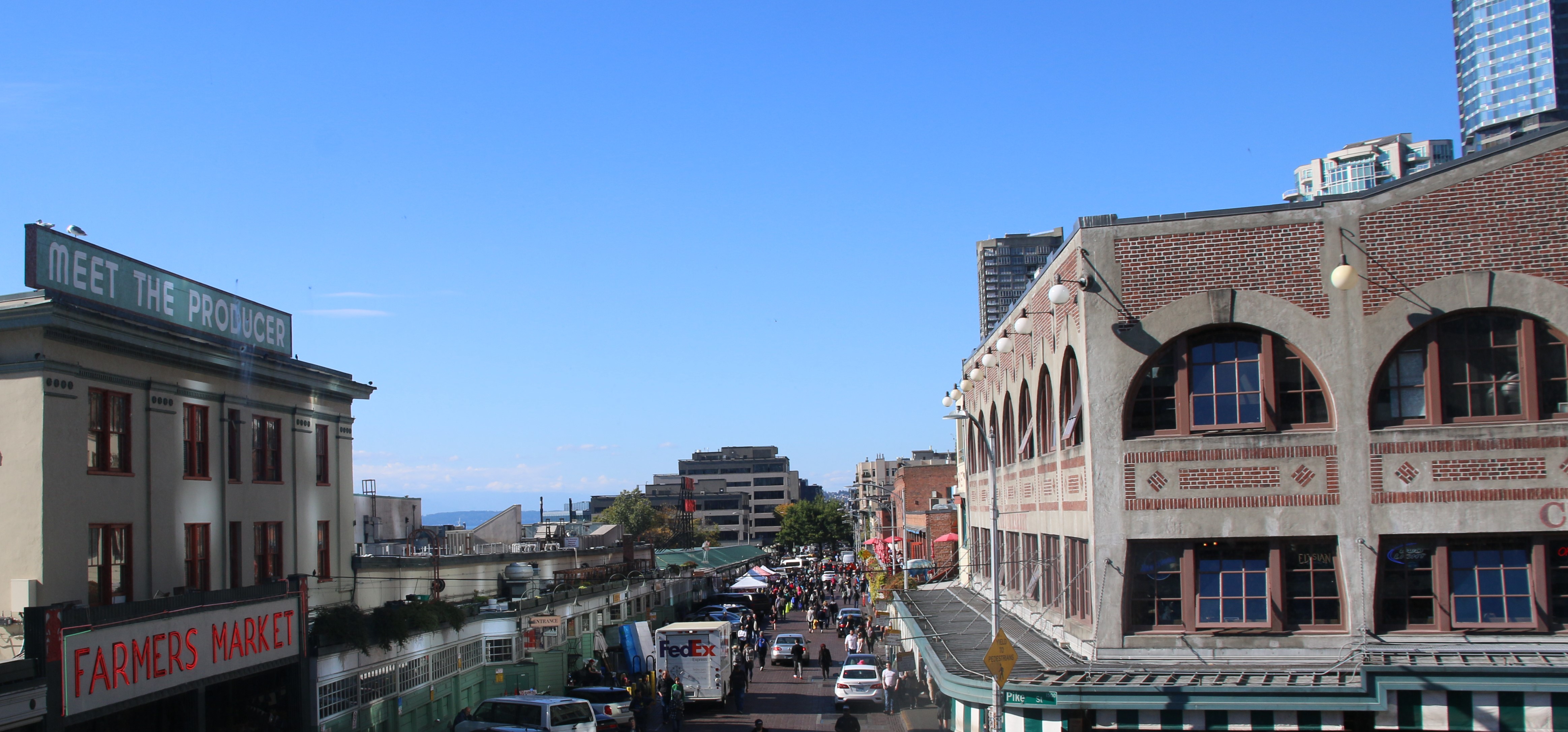 the current Seattle, as well as take a historic tour through the Pike Place Market with a market historian to learn of its 1907 beginnings that created the amazing world renowned market and learn what this major destination is today offering locals and tourists, including a diverse collection of foods, products, fresh and delicious seafood and gift items.
Seattle Seaplanes give visitors an amazing thirty minute aerial view of Seattle that is outstanding and thrilling. Our pilot was a skilled woman pilot named Yvette who pointed out places of interest to photograph. If you are a nervous flyer you will enjoy the video below of our landing, which was smooth as glass.
Executive Chef John Armstrong IV and his outstanding team presented a gala that attracted a crowd of local VIPs, hotel guests and loyal supporters that was simply outstanding, and according to the chef "the menu included the imagination and talent of our entire culinary team." On the menu were delicious bites of salmon, Asian inspired chicken, Korean smoked beef, lamb chops that melted in your mouth, Thai style Ahi tuna pops, gourmet soup shots, divine dessert items and more. Every bite was a delightful surprise.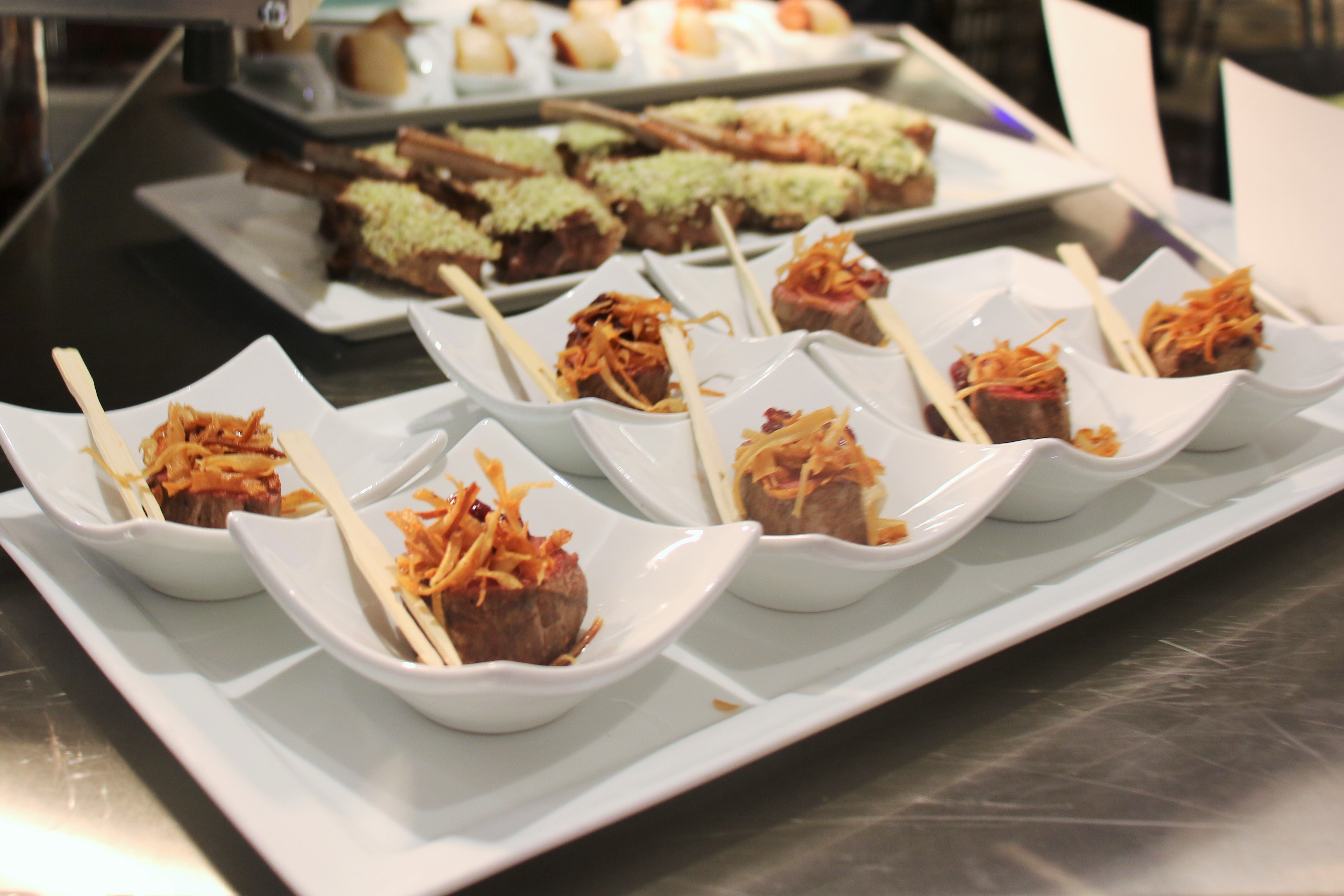 Chef Armstrong has a long history with Sheraton and Marriott hotels, including chef and food & beverage positions in exceptional properties in Ohio, Orlando, and Texas. During my interview with him the chef shared how much he, his wife and two children love living in Seattle. He began cooking with his Italian grandfather as a young boy. "I had an Italian grandfather who was a cook, and he told me to sweep and mop or get out, but he also inspired me to love cooking."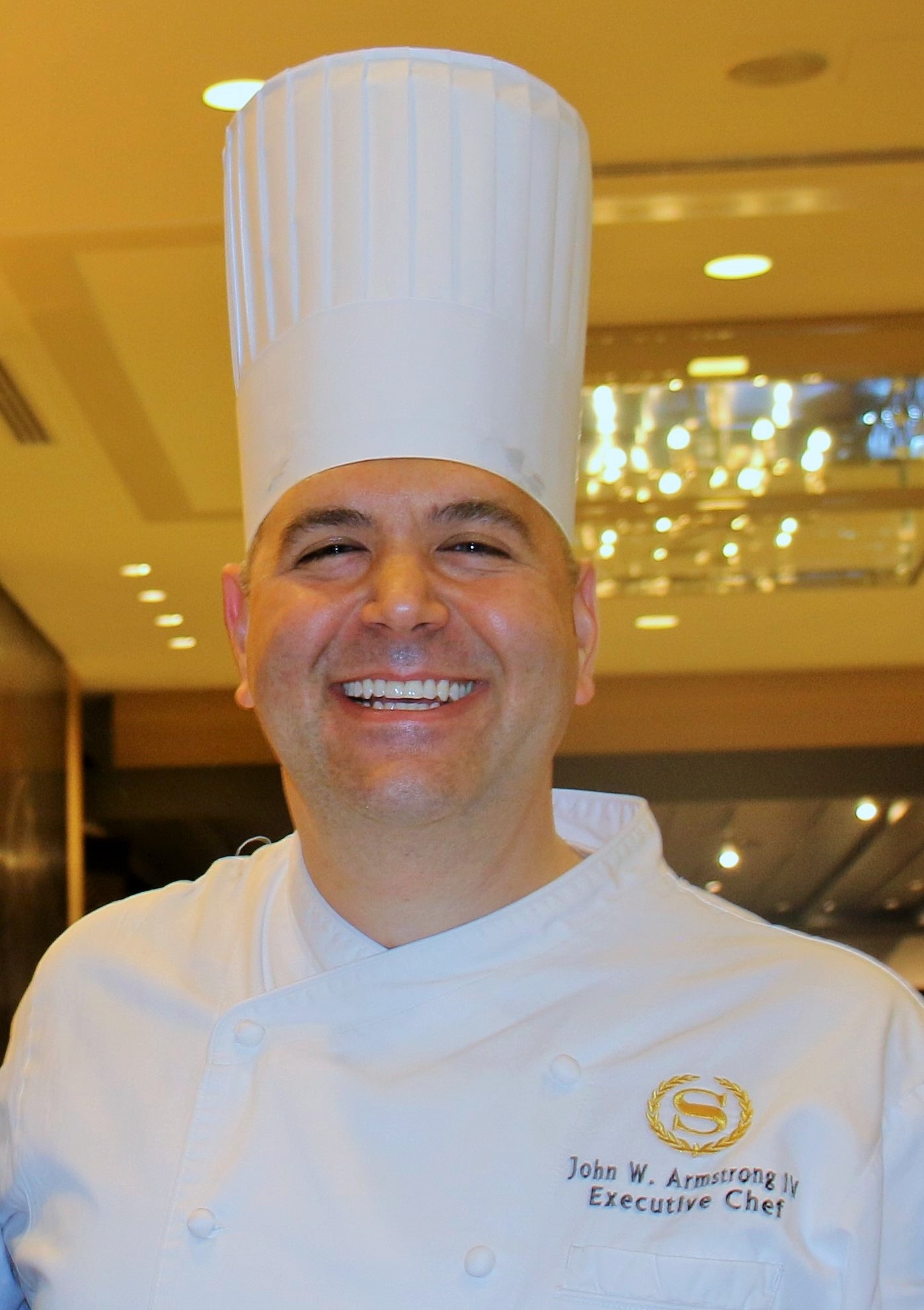 Executive Chef Armstrong IV
Not only does Chef Armstrong feel grateful Seattle has the freshest seafood and produce year round to include in the plates prepared at the hotel, but also for his employees, many of whom have been with the hotel for twenty years and more, who represent so many different countries and happily include their traditional tastes and flavors in the plates served during the countless events presented by the hotel. The candied salmon with crustini, apricot nut smoked cheddar and spun sugar was just one of the unforgettable bites served during the gala that got raves. "Gregg Williams F&B Manager does an excellent job overseeing wines, along with Trevor Brauser, Hotel Manager. Our entire team are outstanding at coming together to present spectacular events at the hotel" said the chef. The "Heart for the City" celebration Gala was no exception. This was a magical evening.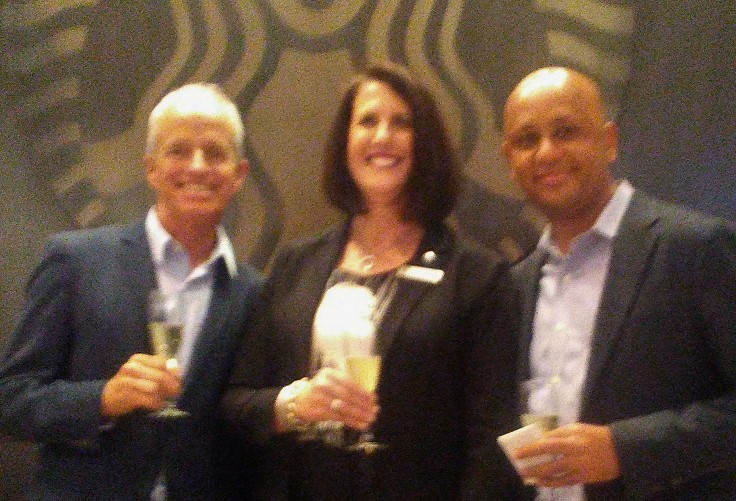 Howard Wright III, Keri Robinson, Indy Adenaw
A unique hanging champagne wall made of carved ice was a show stopper, and the champagne flutes were topped with a delightful hors d'oeuvre that was not only delicious but quite a photo moment for guests. Cocktail bars were making all the classics, and hand served bites were everywhere. The sweet ending of this special event was the announcement by General Manager Keri Robinson, with Indy Adenaw, VP & Global Brand Leader, Sheraton Hotels & Resorts and Howard Wright III, partner that the hotel would now be know as the Sheraton Grand Hotel followed by a toast.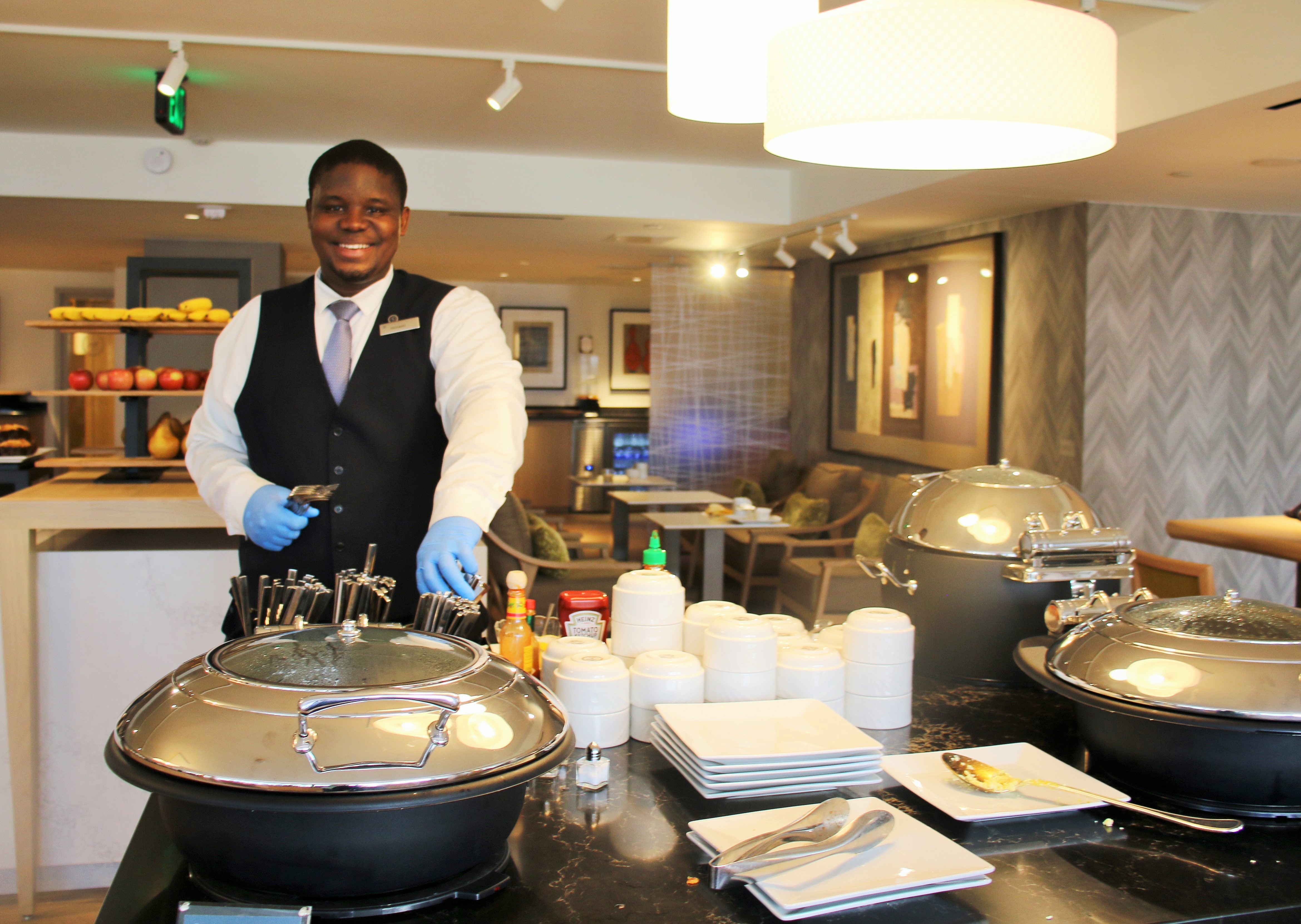 Guest are now experiencing the inspiring renovation of the hotel located in the heart of the city, and enjoy the beautiful new design of guests rooms, the lobby filled with outstanding art from renowned Northwest artists, and the new Sheraton Club, a delightful escape to enjoy food & beverage, internet availability, watch the latest news or just enjoy the amazing views of Seattle from the 33rd floor. I thoroughly enjoyed a delicious breakfast complete with hot and cold items accompanied by a cup of Starbucks coffee in this inviting venue.
Loulay Restaurant and Bar, a fabulous French escape of the hotel obby, where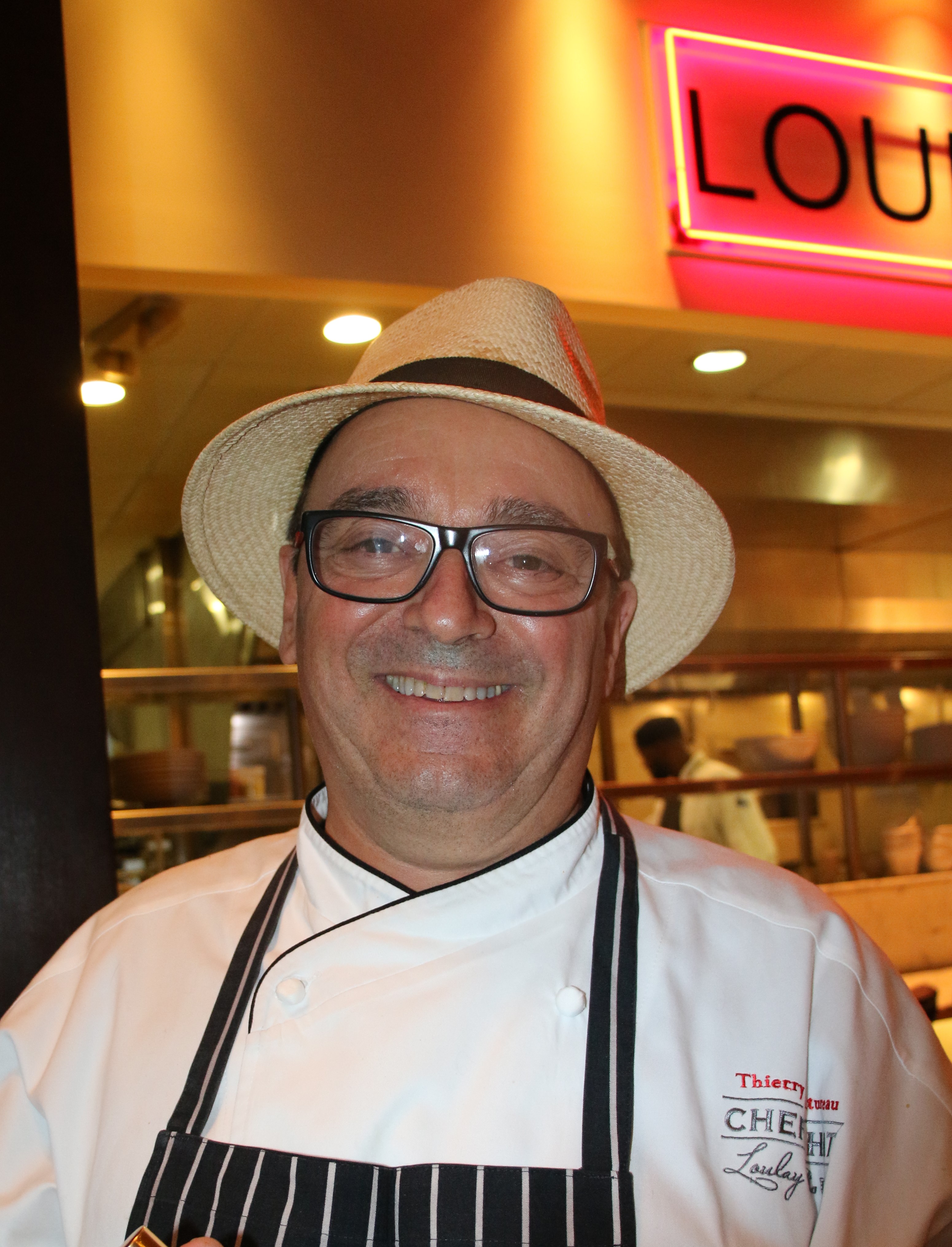 "Chef in the Hat" Thierry Rautureau presents exceptional dishes, including everything from Caviar Eggs to divine desserts. This is a dining experience not to miss while in Seattle. The ambiance is alive, the décor captivating, staff excellent and the cuisine coming out of the open kitchen is truly special, paired with fine wines, especially Washington wines.
The Santa Barbara Airport in my home town is now featuring direct flights to Seattle on Alaska Airlines and I can hardly wait to return to Seattle to experience another Sheraton Grand Seattle visit, see more historic sites, savor best Alaskan king salmon lunch ever at Steelhead Diner down the street from Pikes Place Market, buy more fresh seafood packed to take home on my return flight, as well as revel in the kind hospitality of the people in Seattle. The City of Seattle and Sheraton Grand Seattle are irrestable, and I in the words of former California Goverrnor Arnold Schwarzengger "I'll be back!
Sheraton Grand Seattle Hotel
1400 Sixth avenue
Seattle, WA 98101
Sheraton.com/seattle
---