CHEF/HOTEL PROFILE   .    .     .
HISTORIC HOFBRAUHAUS 
Munich's Renowned Bavarian Tavern
by Bonnie Carroll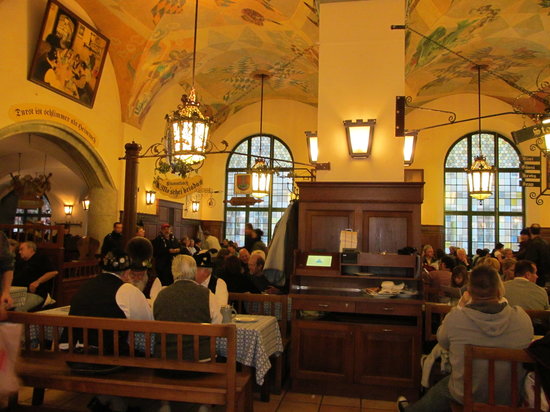 Traditional Bavarian Dining
The brew making history of Hofbräuhouse in München began with Wilhelm V., Duke of Bavaria (1579 – 1597), who had a thirsty and demanding royal household, which was dissatisfied with the beer brewed in Munich. As a result, beer had to be imported to Munich from the city of Einbeck in Lower Saxony. Wilhelm ordered his royal court to come up with a plan to balance cost and pleasure. On September 27, 1589, Wilhelm's chamberlains and council members approached him with an idea: why not build their own brewery? Wilhelm welcomed the plan with enthusiasm, and on that same day he recruited the master brewer of the Geisenfeld Monastery, Heimeran Pongraz, to be the planner, developer and the first "brown" Hofbräuhaus' master brewer. It went into operation at the "Alter Hof" (Old Court) in 1592. It was known as the "brown" Hofbräuhaus, as only brown ale was brewed there.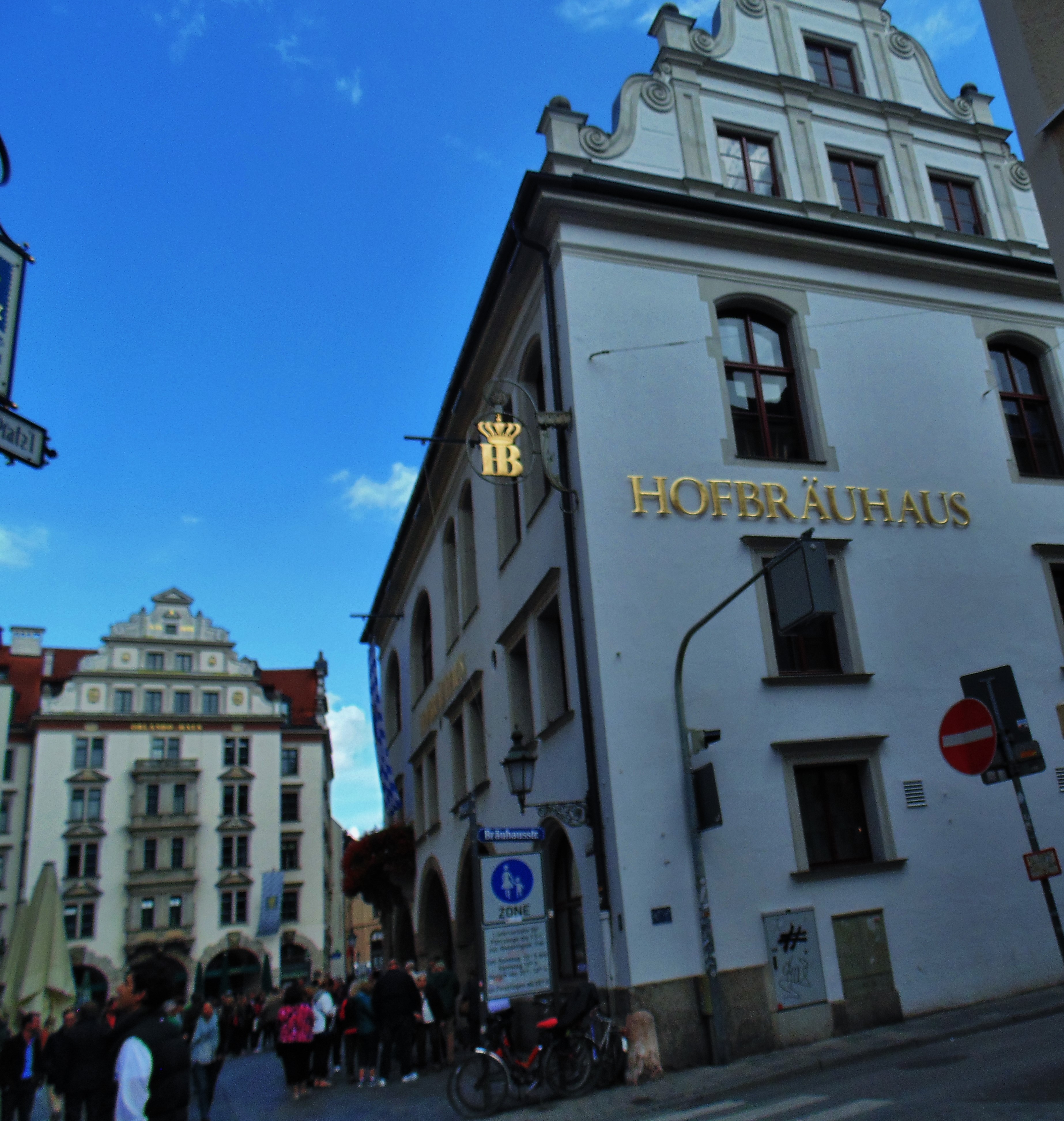 Hofbrauhaus Today
Quickly they outgrew the space at Hofbräuhaus at Platzl. Because it was no longer feasible to house the brewery and restaurant under one roof Prince Regent Luitpold decided to move the brewery out of the Hofbräuhaus and to build a completely new brewing site above the storage cellars on Innere Wiener Street. The last batch of beer was brewed at the old site on May 22, 1896 and delivered to the new fermentation cellar on June 2nd. The first batch of beer was brewed on August 10, 1896 at the new site.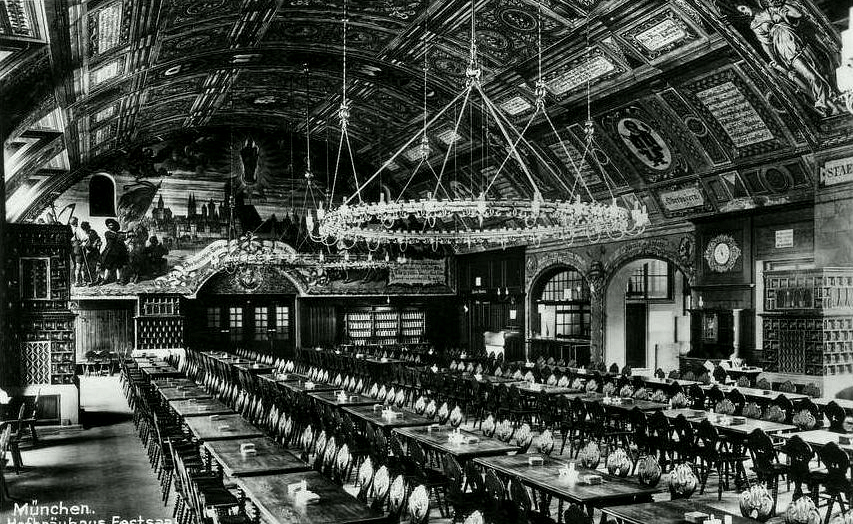 Hofbrauhaus Hall 1920s
Another interesting note was that Adolf Hitler delivered his first political speech at the Hofbräuhaus. The meeting and his oratory were a great success, and subsequently in February 1920 he organized a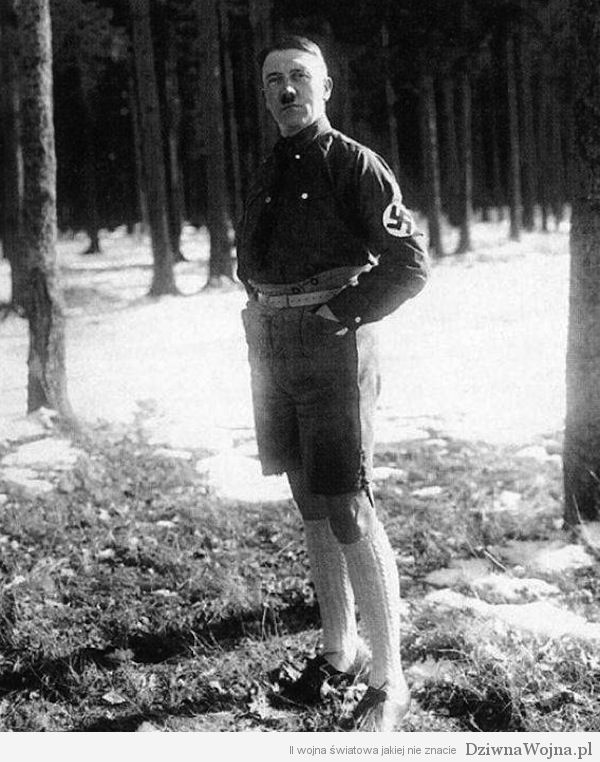 much larger event for a crowd of nearly two thousand in the Munich Hofbrauhaus. Hitler himself was not the main speaker, but he successfully presented what later came to be known as his Twenty-Five Theses Speech, which was considered to be the outline for the foundation of the Nazi party. The name of the party was itself changed to the National Socialist German Workers Party (Nazi for short) on April 1st 1920. The following quote is an excerpt from a speech Hitler later gave in the great hall on February 24, 1941. "When I first entered this hall twenty-one years ago, I was an unknown, nameless soldier. I had nothing behind me but my own conviction. During the twenty-one years since, a new world has been created. The road leading into the future will be easier than the road from February 24, 1920, to the present. I look to the future with fanatical confidence. The whole nation has answered the call. I know that when the command is given: "Forward march!" Germany will march."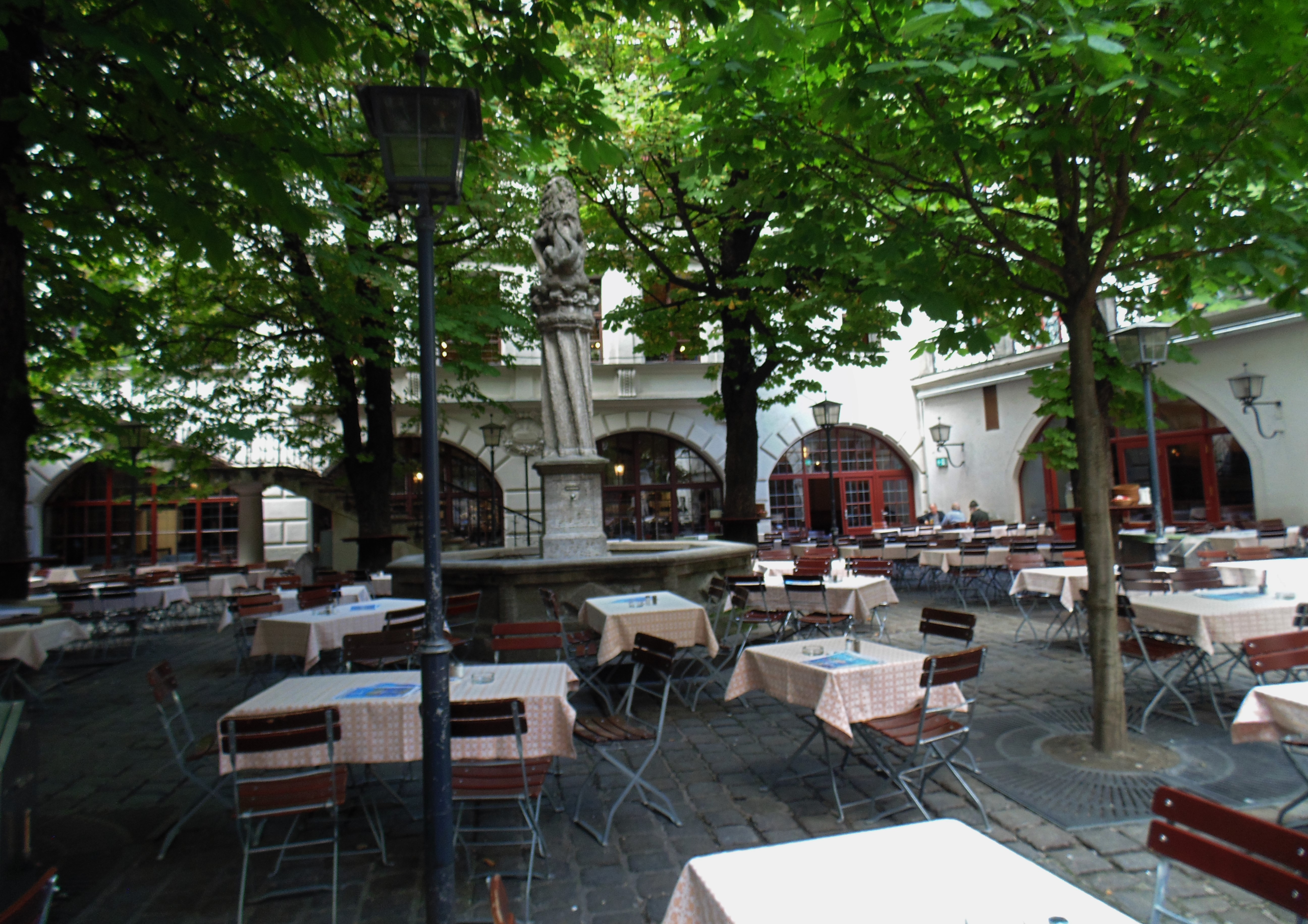 Hofbrauhaus Garden Patio
Not even the most famous beer tavern in the world was spared the catastrophe of World War II. On the night of April 25, 1944, the first airborne bombs struck the Hofbräuhaus. Three subsequent air raids almost completely destroyed the building. When the weapons finally fell silent in Germany on May 8, 1945, only a small section of the main beer hall was still operational – all other rooms had been destroyed. Just in time for Munich 's 800th anniversary in 1983, the Hofbräuhaus' new Festival Hall reopened, marking the end of the renovation work after World War II. It is believed US soldiers returning home from Germany after WWII contributed to the popular demand for Hofbräuhaus beer in America.
Landlords Michael and Gerda Sperger took over the management of the Hofbräuhaus, and after her husbands death Gerda Sperger continued successfully running the traditional establishment until the beginning of 2004. On April 29, 2004, at the annual first tapping of Maibock beer, Wolfgang and Michael Sperger, the sons of Michael and Gerda Sperger, resumed the family tradition of managing the Hofbräuhaus.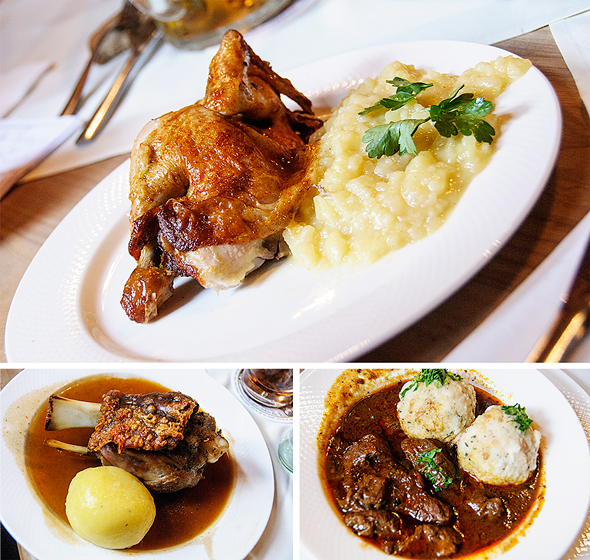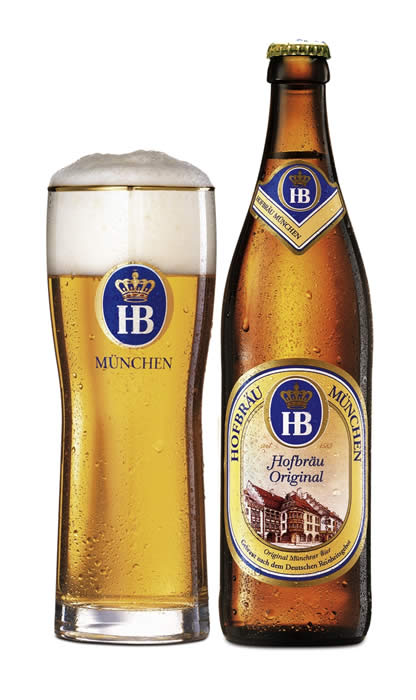 Traditional Faire and Brew
Today it is always teaming with tourists, and locals alike, enjoying its old world ambiance and delicious traditional dishes, such as Weisswurst with a Bretzel (white sausage sans the skin with pretzel), Schweinbraten with knodel (pot roast pork with potato & bread), Weiner Schnitzel with Kraut (breaded fried veal and wite cabbage with olive oil & vinegar). Most famous soup is Keberknodel Soup, seasoned with liver and onions. Favorite side dishes include apfelrot kaut (red cabbage with apples) and Bretzel (pretzel) with dips. Servers can be seen carrying more than an armful of mugs filled with beer to thirsty patrons. The entertainment at Hofbräuhaus is also authetic, with musicians in costume playing German/Bavarian favorites to huge crowds. Munich's popular sweet endings feature a local favorite of Apfelstrudel with vanilla sauce, or the ultimate Bavarian dessert known as Prinzregent Torte, a traditional Bavarian Torte, with 7 thin layers of sponge cake, lined with chocolate butter cream and toped with apricot jam, covered with a dark chocolate glaze.
Hofbräuhaus is a venue that has such rich history, and is so much fun that it would be a shame to miss it if you are in Munich. The internal and external design of the building is photo perfect, and the art throughout is quite interesting, with murals on the ceiling throughout. The outdoor patio is also a charming respite in summer and offers patrons a view of the buzzing activity of Munich while enjoying some delicious Bavarian favorites.
For more than a decade, Americans have enjoyed these fine beers in the Munich tradition. They are easy on the palate, yet tasty and refreshing. Additional Hofbräuhaus venues are located in Hamburg, Regensburg, Kaiserslautern, Berlin and Berchtesgarden, Germany. Hofbräuhaus franchises have opened in Newport, Kentucky, Cincinnati, Las Vegas, Pittsburg, Chicago, Cleveland, Columbus, St. Petersburg, Florida and recently in Belo Horizonte, Brazil in 2015. Only the authentic Hofbräuhaus beer is served at all these locations.
The Marriott International in Dubai has licensed the Hofbräuhaus brand and has opened a restaurant in their hotel. The Hofbräuhaus Seoul was the first Hofbräuhaus in Asia and There a franchise also opened at the Don Mueang International Airport in Bangkok.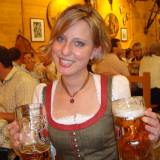 Hofbrauhaus Beer Maiden
Renowned Hofbräu beers include:
Hofbräu Original: More than any other, Hofbräu Original embodies Munich's character as a city of beer, spreading its fame throughout the world. Full-bodied with an alcoholic content of approximately 5.1% by volume, and offering a truly fine hops aroma, it is a superbly well-balanced lager.
Hofbräu Dunkel: Dark beer existed in Bavaria long before light beer. This was the first type of beer to be brewed at Hofbräuhaus when it was founded. Today, when beer-lovers all over the world talk about dark beer, they usually mean a Munich style dark beer.
Hofbräu Hefe Weizen: In 1602 Weissbier could only be brewed by ducal privilege. It was Munich's first Hefe Weizen. Hofbräuhaus enjoyed this exclusive right for nearly 200 years, thus holding a monopoly on Weissbier in Bavaria.
Hofbräu Octoberfest: The Munich Beer Festival, or Oktoberfest, is an event of superlatives – it's the largest popular festival in the world, held in the beer metropolis of Munich. Millions of visitors from all over the world come every year to enjoy its very special atmosphere.
Hofbräu Maibock: By tradition, the first barrel of Maibock is tapped at the Hofbräuhaus in the last week of April, in time for the merry month of May. The success story of Munich's oldest bock beer goes back as far as 1614. Hofbräu Maibock has the longest pedigree of all Munich's Bocks. Its aromatic flavor and alcoholic content of approximately 7.2% by volume makes it one of the best creations from Hofbräu's brewing kettles. Hofbräu Maibock marks one of the high points in the beer-lover's calendar!
Hofbräuhaus operates the second largest tent during the two week long Octoberfest in Munich, where a wine tent, as well as a bevy of delicious Bavarian foods are featured. Millions of people visit the renowned ("Bierzelte") and fairground attractions. The first Oktoberfest was October 12,1810 in honour of the marriage of crown prince Ludwig. For information visit: http://www.muenchen.de
Hofbräuhaus
Platzl 9
80331 München
+49 (0) 89 / 29 01 36-1 00,
Opening hours:
09.00 - 23.30 Uhr
Hosts: Wolfgang Sperger and Michael Sperger
---