April 2006
LA POSADA DE SANTE FE RESORT & SPA
Rahm Fama Enchants Guests with James Beard House Favorites
By Bonnie Carroll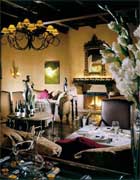 Driving up Palace Avenue toward the La Posada de Sante Fe Resort & Spa the history of this charming city passes gracefully before your eyes. In the 1850's, this avenue was established as a fashionable residential district in Sante Fe, and in 1852 Abraham Staab, an immigrant from Westphalia, Germany, built a formal brick French style mansion for his new bride Julia Schuster Staab. The Jewish family became close friends and financial supporters of Archbishop Lamy, who was directing the building of the impressive Saint Francis Cathedral, which is located a few steps from the resort property.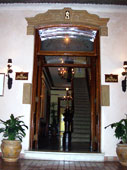 The Staab Mansion played a prominent role in Sante Fe during the late nineteenth century, and today the mansions first and second floor (the third floor ballroom was lost in a fire) are the centerpiece around which the resort is constructed. The Nason family, who began the Pueblo style architectural buildings on property named it so because La Posada means resting place in Spanish. Today, the current ownership group has established it as a premiere resort hotel property, one very rich in history that has retained its grace and solitude through the centuries.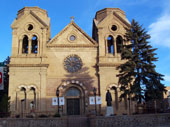 The grounds of the resort are expansive and provide a wonderful venue for morning or evening walks. Breakfast, lunch and dinner are served in a room overlooking the spa garden area, and formal dining at its best is served at Fuego, where candles and gracious ambiance create a magical spot to savor James Beard House award winning cuisine prepared by Chef Rahm Fama. On January 10, 2006, Fama and four other RockResort chefs delighted guests with their award winning cuisine, and this menu is currently available to guests who are dining at the resort.
Chef Rahm Fama is a native of Sante Fe, and began working in local dining establishments at age 14. He was a consulting chef for Guy and Serge Raoul at the Legendary Raoul's Restaurant in New York, he was opening executive chef at the Sierra Grande Lodge in New Mexico, and also had positions at Stratta in the Colorado's Broadmoor Hotel, and Mary Elaine's in the Phoenician Resort in Scottsdale, Arizona before coming to La Posada de Santa Fe Resort & Spa.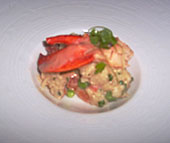 My entirely lobster tasting menu in Fuego included an appetizer, entrée, soup and salad all gourmet presentations that would warm the heart of any lobster lover. Additional specialties included beet marinated wild king gravlax with mustard blini, lobster and pancetta salad, and peppered venison tenderloin with celery root remoulade and huckleberry glaze. Chef Fama recommended a Blackstone Santa Lucia Highlands Reserve Pinot Noir by Constellation Wines US to compliment the five-course oven seared breast of squab, and gala apple "pie ala mode" with foie gras nage. The desserts were dream like visions that melted in your mouth, The superior overall experience of this restaurant came as a total surprise to me. The elegance in preparation and delicate presentation was superb, and it left a culinary impression that I am certain will linger in my memory evermore.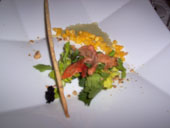 Entering through the main lobby of the resort you find a room with a huge fireplace, with a fire that is always burning, in front of two huge and comfy sofas. Guests gather here in the morning to enjoy complimentary coffee and tea, and read the latest news. But, not to worry, you can make Starbucks coffee in your room if it pleases you. In the evening the lobby sitting area becomes a rendezvous destination before dinner. Cocktails are served in the lounge just beyond the original Staab Mansion entry steps, within the lobby. The original mansion houses several charming seating areas, tastefully decorated with original antiques and paintings, and it represents an extraordinary example of architectural emersion of one historical period within another.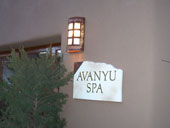 By the name you know there is a spa on this property, and what a spa it is. The design is simple, modern and very serene, using fabrics and colors that say 'you can take it easy here.' Water pools and streams are used skillfully throughout the property to maintain a feeling of peace. The dressing rooms are adjacent to a cozy steam room, and the treatment rooms provide absolute privacy and quiet, where the subtle sounds of Native American music can be heard. The spa menu is filled with Tewa-inspired treatments and services using indigenous products from the surrounding High Desert region to rejuvenate body, mind and spirit.
I was delighted with the chocolate-chili wrap treatment I had the good fortune to experience at Avanyu Spa. I was initially brushed all over with a soft bristle brush, and then a paste mixture of warm chocolate, chili powder and cayenne pepper was applied to my body. A light-weight aluminum and plastic blanket was wrapped around me to help produce a detoxifying body heat. While I was detoxifying, and becoming intoxicated by the chocolate filling my senses, my therapist gave me a sleep inducing foot massage. Too soon my wrapper was removed, and my paste was washed off with warm water. The ultimate ending for this delicious treatment was a therapeutic massage, with a divinely scented emulsion to restore moisture to my skin. Good health is synonymous with Sante Fe, and I am convinced that spending a morning at Avanyu Spa, which translated to 'awaken the spirit', can only add unexpected years to your life.
Art Collectors, antique hunters, and world-class shoppers staying at the resort will find themselves strolling distance from all the galleries, boutiques and historical points of interest of their hearts desire. La Posada also offers packages for skiing, destination touring, business meetings and family vacations. For details visit: www.rockresorts.com or call 1-800-For-Rock.
---
PROVIDENCE RECEIVES JAMES BEARD FOUNDATION NOMINATION
"BEST NEW RESTAURANT 2005"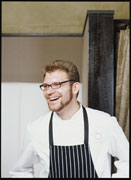 Providence, the imaginative new seafood restaurant by Chef Michael Cimarusti has received a coveted nomination from the James Beard Foundation in the category of Best New Restaurants 2005.

The nomination is the first for both Chef Michael Cimarusti and partner Donato Poto. Since the debut of Providence in June 2005, Cimarusti and his team, Poto, Chef de Cuisine Paul Shoemaker, Pastry Chef Adrian Vasquez and partner Crisi Echiverri, have been touted by the the public and culinary journalists as the preeminent talents of the year. The awards will be presented in New York on May 8. For further information on the awards, visit www.jamesbeard.org