MONTAGE BEVERLY HILLS KEEPS ITS PROMISE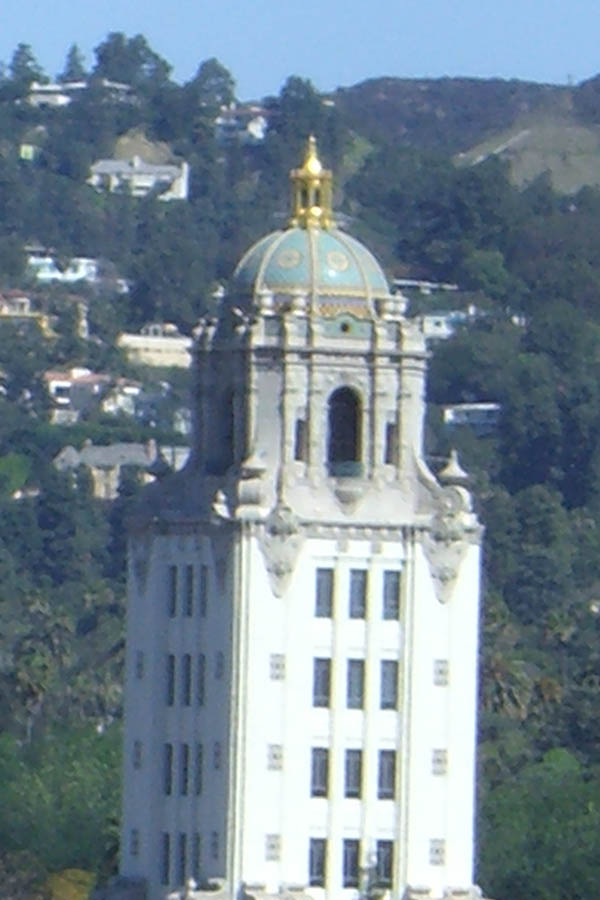 A Hotel Jewel Glimmers in the Golden Triangle
by Bonnie Carroll
The waging parties that went to war over the development of the Montage Beverly Hills Hotel may well go down in the annuls of the City's sophisticated history, but the end result is a glittering hotel jewel in the center of the 'Golden Triangle'. Alan J. Fuerstman, founder and CEO of Montage Hotels & Resorts, kept his promise to provide a property that the community would be proud of.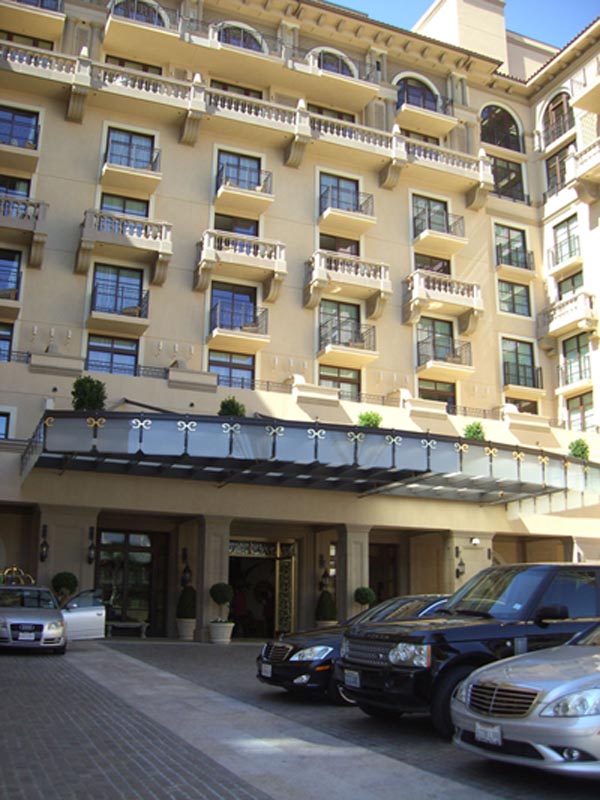 Ali Kasikci, a respected hotelier who has garnered more than his fair share of gold stars and awards during his impressive career, is the managing director of the majestic looking hotel property, which pays tribute to old-style Hollywood and modern day luxury. Kasikci has hand selected a staff of the best to oversee all areas of the ultra-luxury hotel, which had a soft opening in November 2008.
From the minute you leave your automobile until you get back in to leave this property you will be pampered. The original art and antiques are dazzling, and one area is more beautiful than the next. The Athens Group was the developer for the property and the architect was HKS Hill Glazier Design Studio. The interior design for Montage Beverly Hills was done by Darrell Schmitt Design Associates, Los Angeles and the art consultant was Julie Cline Fine Art Services, Santa Barbara, California.
The special amenities are simply splendid, and include things like a bed pillow
with your initial on it, as well as an electric push button to open and close the draperies, and a television to watch while enjoying a relaxing bath. They really have it all covered when it comes to comfort, convenience and elegance. The Agraria bath products are luscious, and the wooden hangers in the closets are custom-made to provide optimum care for designer wardrobes.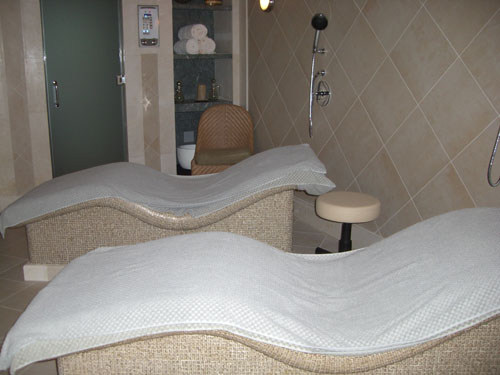 The Spa Montage is also among the most beautiful I've seen, and offers a separate area for men, women, and couples with a complete menu of treatments to meet every need. There is also a full service salon that is the flagship of celebrity hair artist and colorist Kim Vo. The gift shop which adjoins the spa, salon and gym is filled with excellent products and tasteful gift items.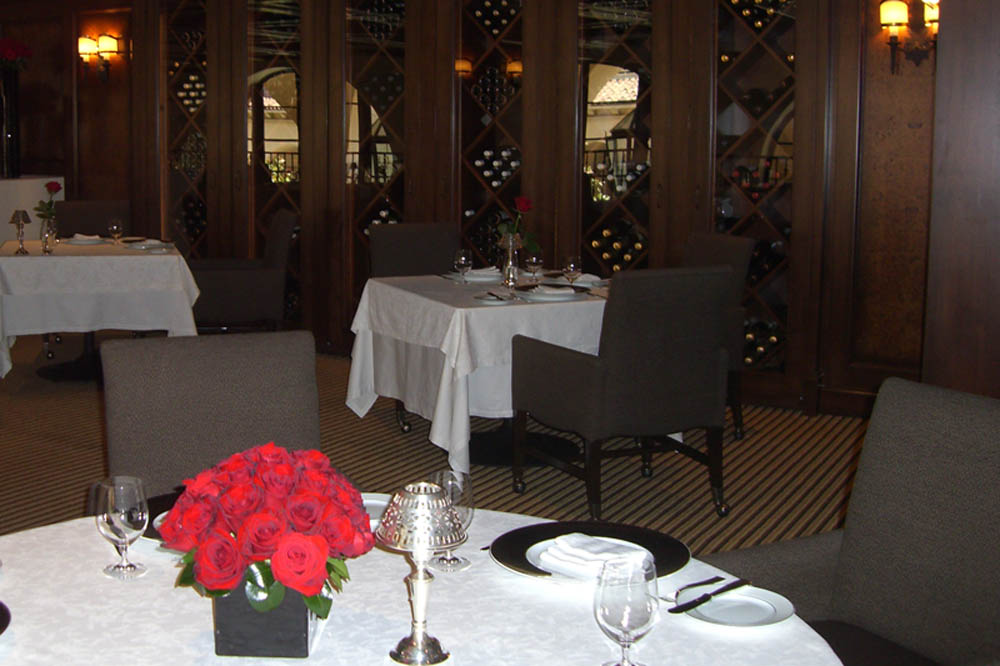 Last but not least at the Montage is a dining experience with award winning Executive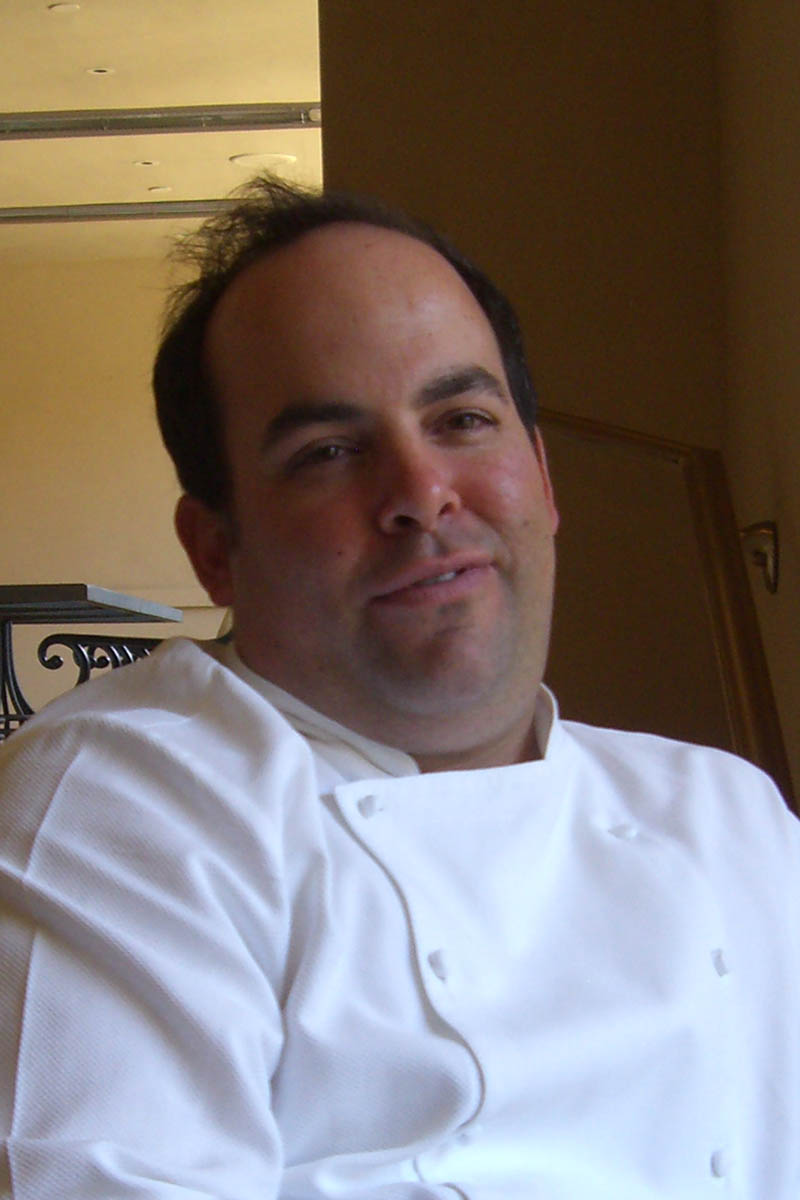 Chef John Cuevas, whose outstanding and imaginative menus give a new meaning to the term inventive. He is renowned for plates that feature simple food with bold flavors, and he leads a winning team of chefs, sommeliers, servers and fromagier's who care, and it really shows. Cuevas has a culinary resume that is outstanding, and his passion for combining sweet and savory in his dishes plays a strong  part in this. Some favorite dishes include pan-seared local white sea bass with roasted peppers, crispy artichokes and whipped mustard oil; braised natural vintage short ribs with charred romaine, cheddar and braising jus, and his signature 28-day dry-aged coffee crusted New York strip steak with fourme d'ambert cheese, wild arugula and bourbon-caramel sauce.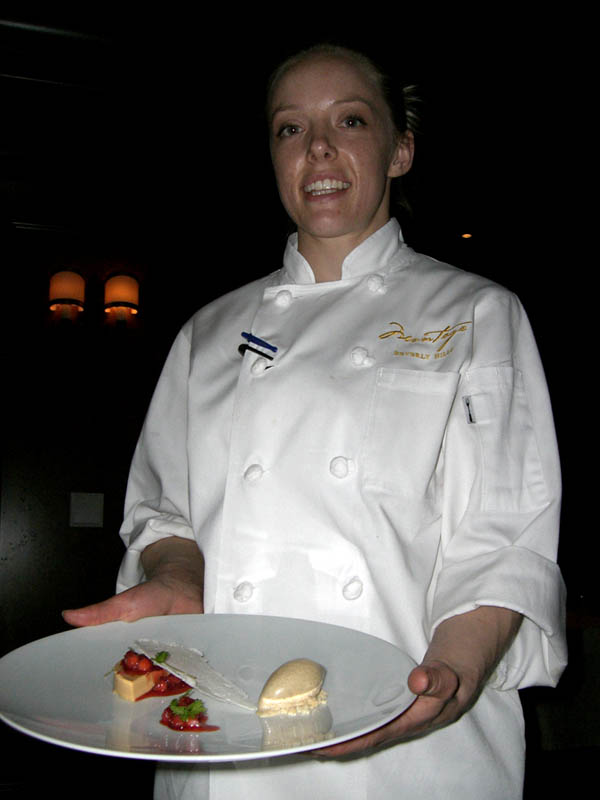 The Muse is where award-winning chef Cuevas shows off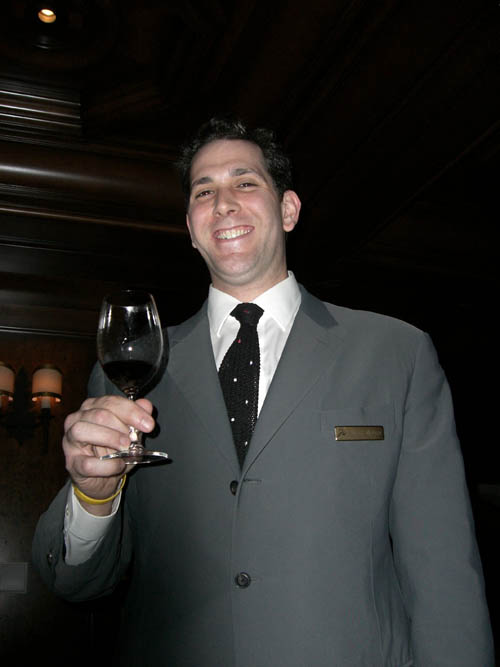 his memorable exotic seafood and artisanal prime meat specialties. The room has an old world style that lends itself to romantic dinners, and there is also a large private room for corporate dinners or special celebrations. The chef offers two tasting menus: a micro-seasonal menu featuring first-of-the-season foods and the grand tasting menu suggesting seven to eight courses which can be paired with rare, vintage wines. The sommelier in Muse is magical at his job of perfectly pairing Chef Cuevas' plates with rare, vintage wines, and Maren Henderson, a star pastry chef on the rise, offers delicious and decadent sweet endings to a dinner at Muse.
The Chef's Table, located within the custom-designed European kitchen, is where the chef offers five to six individually designed menus and hors d'oeuvres on signature china, with silver, glassware and custom-designed linens for up to twelve guests. This is a great way to get to know the chef, and to understand his culinary style in a very up close and personal setting.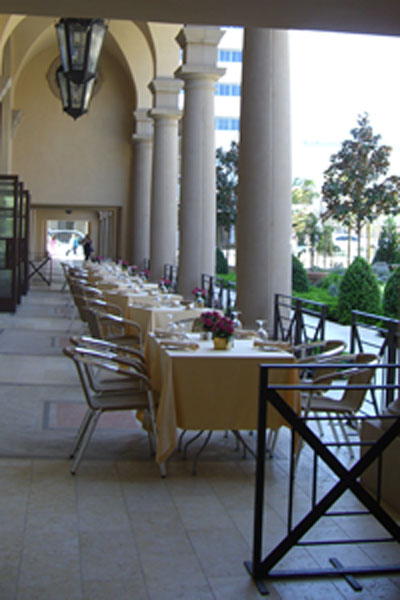 Parq, a lovely restaurant overlooking the garden, is a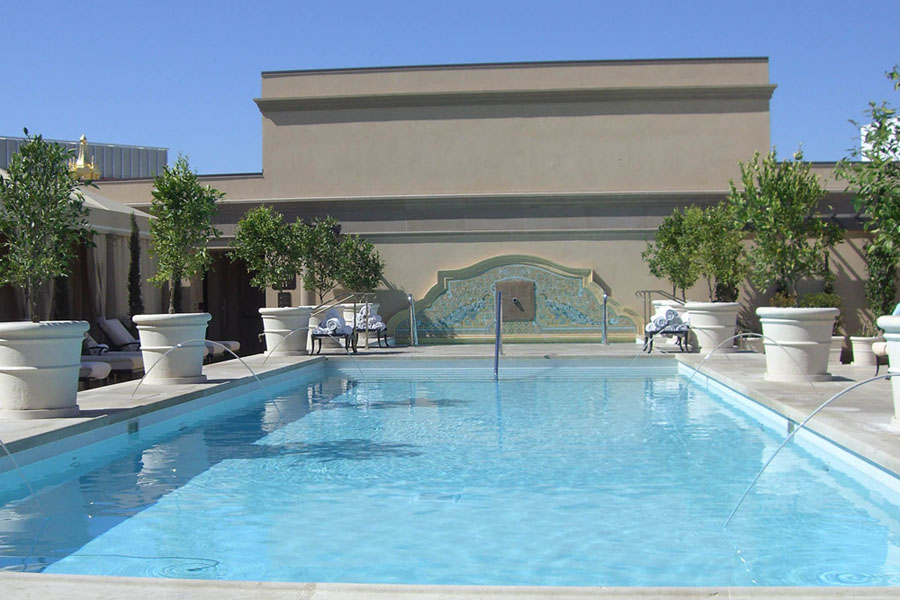 perfect business or pleasure destination for daily dining indoors or on the patio. Parq is adjacent to a chic little bar, where locals and hotel guests enjoy exotic and classic libations heralding the Golden Age, while viewing artwork form the Doheny collection. The rooftop pool, which offers breathtaking views of the Hollywood Hills and Beverly Hills City Hall, is the site of the Conservatory Grill, where healthy breakfast and lunch selections are enjoyed by sun lovers and patrons who prefer a view.
It is clear that the ball rooms, restaurants and corporate meeting areas in this elegantly appointed property will become favorite venues of not only spoiled locals, but visitors from around the world. The experience at Montage Beverly Hills is totally european, but with designer amenities not seen abroad yet! If you love the best, I highly recommend a visit to this 'five star' hotel, located only two blocks from Rodeo Drive. For additional information visit: www.montagebeverlyhills.com.
Montage Beverly Hills
Beverly Hills, CA 90210
---