May 2006
A DEBUT FOR THE SIGNATURE AT MGM LAS VEGAS
Luxurious Suites, Spectacular Entertainment and Diva Dining
by Bonnie Carroll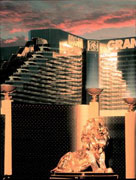 May 2006 marks the debut opening of the 1st Tower of The Signature at MGM Grand, Las Vegas, where The Signature suites will be set within three beautiful and distinct towers and will provide guests with a serene retreat in an intimate setting where personalized services is paramount. Tower 2 is scheduled for opening in December 2006, and Tower 3 will debut in May 2007.
The guest services at The Signature will begin immediately upon arrival with a private entrance and elegant lobby that remains separate from the main MGM Grand check-in facilities. A dedicated staff and 24-hour concierge will provide unparalleled comfort, security and intimacy to guest. Services including valet parking, bell staff and in-suite dining will be available around the clock.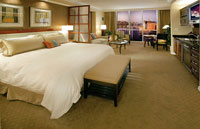 The Signature at MGM Grand offers a variety of spacious, well-appointed one-bedroom, two-bedroom and junior suites, and is the only hotel in Las Vegas with private balconies that offer stunning views of the Strip and surrounding mountain landscape. Amenities include deluxe king beds with 300-thresd count Anichini sheets, marble and granite bathrooms with Jacuzzi-brand whirlpool tubs and June Jacobs spa products. You will also find deluxe appliances, ultra-thin flat screen high definition TVs, and high-speed Internet access with wireless capabilities in your suite.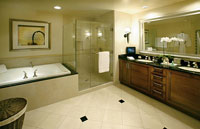 A complete resort experience is available to guests, including a Fitness Center with state-of-the-art workout equipment, multiple heated outdoor pools, pool-side cabanas and cocktail service. Visitors have the best of both worlds: convenient access to a dynamic, energetic "Maximum Vegas" environment, along with a retreat to their own suite for refreshment and relaxation. The MGM Grand is now the world's largest hotel to hold the prestigious AAA Four Diamond Award, presented to respected travel destinations.
Arriving guests are greeted by a 45-foot, 100,000-pound bronze lion statue, and are invited to visit the MGM Grand one-of-a-kind Lion Habitat, where Keith Evans trains his exotic animals. The habitat was created for public education and appreciation for this majestic creature. MGM Grand also has an alliance with Dr. Craig Packer that is a working partnership with the Lion Research Center to assist in obtaining grants for Packer's lion preservation programs in Africa.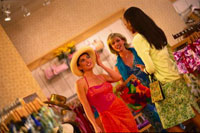 People with a palate for distinctly different cuisine will appreciate the diverse dining options at the hotel, which include Joel Robuchon at the Mansion, Executive Chef Claude Le Tohic; Shibuya, Executive Chef Stephane Chevet; Diego; Executive Chef Christopher Palmeri; 'wichcraft, Chef Tom Colicchio'; Wolfgang Puck Bar & Grill; SEABLUE, Chef Michael Mina; Fiamma Tratoria & Bar; NOBHILL, Michael Mina; Craftsteak, Chef Tom Colicchio; Emeril Lagasse's New Orleans Fish House, Chef de Cuisine Jean Paul Labadie; Pearl, Executive Chef Kai-Wa Yau; The Rainforest Café; Stage Deli; Studio Café; Grand Wok and Sushi Bar; Cabana Grill; Farmer's Market Food Court; MGM Grand Buffet and a Starbucks for coffee lovers. Whether it's French, Japanese, Italian, Chinese, Mexican, American, International, or a quick fast food snack, MGM Grand has every taste sensation covered. If you can't find it here-it's probably not happening anywhere on the Strip.
According to MGM Grand President Gamal Aziz "The MGM Grand of today is nothing like the resort that opened in 1993. We have come a long way in recent years. We've combined excitement with escapism and an exceptional level of service so when people stay at MGM Grand they feel special in a way they won't feel anywhere else."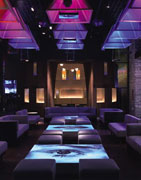 Among the highlights, aside from their 170,000 square feet of phenomenal gaming facilities, they offer performances of Cirque du Soleil's KA; countless clubs including Studio 54, Tabu, Teatro Euro Bar, Centrifuge, Zuri, Hollywood Theatre, Grand Garden Arena, La Femme Theatre, rides on the Las Vegas Monorail, and countless shopping venues to buy anything beautiful your heart could desire.
Shadow Creek exclusive golf course provides guests the opportunity to play on one of the 10 top ranking golf courses in the country, that was designed by Tom Fazio, and is rated among the best in the world by the Robb Report. Reservations can be made 60 days in advance at Shadow Creek by calling 702-791-7161.
The Grand Spa is the ultimate experience for the body, mind and soul. Services include facials, aromatherapy treatments and general stress relief services are abundant. The Dreaming Ritual treatment incorporates Australian Aboriginal massage techniques, a hair mask and hand & foot treatments into a two hour rejuvenation that is heavenly. The Grand Spa is open daily 6:00 a.m. to 9:00 p.m. Following an afternoon of pampering at the spa guests can stop in at the renowned Christophe's Salon for the latest celebrity cut and color, or a just a quick blow-out before dinner.
So, If you are a trend setter, and like to be the first kid on your block to try the latest in travel destinations, The Signature at MGM Grand will be the hot ticket for the month of May. For reservation information visit www.signaturemgmgrand.com or contact 877-727-0007.
The Signature at MGM Grand
3799 Las Vegas Boulevard South
Las Vegas, Nevada 89109
702-891-1111/mgmgrand.com
---
MAX SANTIAGO ANNOUNCED AS NEW EXECUTIVE PASTRY CHEF OF PENINSULA BEVERLY HILLS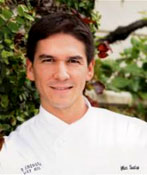 Award-winning pastry chef Max Santiago joins The Peninsula Beverly Hills from his native Florida, where he served for three years as Executive Pastry Chef for celebrity chef Norman Van Aken's three South Florida restaurants: Norman's, Mundo New World Café, and Cary's Fort at The Ocean Reef in the Florida Keys. He was honored as Rising Star Pastry Chef of Miami by the <I style="mso-bidi-font-style: normal">Star Chefs Rising Stars Review, which showcases up-and-coming chefs, and was among the final 15 nominated for "Best Pastry Chef in the Country" (2005) by the prestigious James Beard Foundation. Santiago will be working directly with Peninsula Beverly Hills Executive Chef Sean Hardy. A native of South Florida, Santiago attended culinary school after serving in the United States Air Force, and is a self-described trend-setter who loves working with chocolate, favors exotic fruits, and is happiest with unusual combinations of sweet and salty, Santiago does all of his own garnishes and transfer sheets. His signature dessert is the "Knox Chocolate Goddess," a layered confection that uses five forms of chocolate and three forms of port cherry (an emulsification of port wine and cherry syrup). "I like to keep the product in its most original state," he says. Seasonality is another big issue. "If it's not in season, I don't like to use it."
RESTAURANT AT MARQUIS LOS CABOS RESORT AWARDED FIVE STAR DIAMOND FOR THIRD STRAIGHT YEAR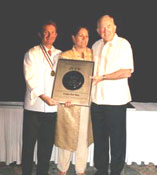 Los Cabos, Mexico – For the third consecutive year, Canto del Mar Restaurant in Los Cabos, Mexico was awarded the Five Star Diamond by the American Academy of Hospitality Sciences. Since its first honor in 2004, the elegant French restaurant, located inside the Marquis Los Cabos, Beach, Golf, Spa and Casitas Resort, has received the prestigious Five Star Diamond award for outstanding food service, presentation, quality, creativity and taste. The Five Star Diamond award is presented exclusively to five-star establishments exceeding quality standards. For reservations or more information, call toll-free 1-877-238-9399 or visit www.marquisloscabos.com.