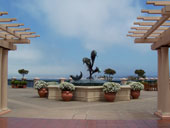 June 2006
MONTEREY PLAZA HOTEL & SPA
A Jewel by the Sea
by Bonnie Carroll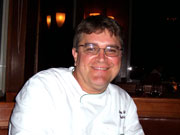 Located at 400 Cannery Row in Monterey, the Monterey Plaza Hotel is an award winning symbol of elegance, hospitality and fine dining built on the site of the former mansion of Hugh Tevis, a seaside location that continues to delight guests, and provides memorable views of the ongoing history of Monterey Bay. This world-class resort features the sustainable seafood recipes of 5 Star Diamond Award winning Chef James Waller, as well as a full service rooftop spa with an outdoor Jacuzzi, and a selection of attractive room and suite accommodations.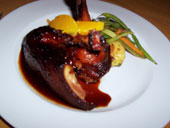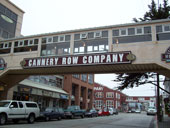 The Duck Club Grill is a casual dining room with an elegant ambiance and outstanding service. The room is romantic by night, but offers a panoramic view of the Monterey Bay during the day. Perusing the Cannery Row News over a wonderful breakfast or Sunday brunch is an ideal way to plan your day to visit the many historic nearby sites. In the words of restaurant writer Larry Lipson "you should never name a restaurant after a dish unless it is a great dish," and the Duck Club Grill has without a doubt the most delicious oak roasted duck preparation I have ever tasted anywhere. Chef James Waller, a chef who is renowned for including the aquatic and agriculture bounty of Monterey Country in his plates, has created a marinade that gives his slow roasted duck a delicious taste, crisps the skin perfectly, while keeping the meat moist and delicious. The restaurant also offers some wonderful seafood specialties and beef preparations, including a delicious Steinbeck steak. Pastry chef Sharon Campbell offers some exquisitely designed surprises for a sweet ending to your dinner by the sea.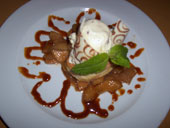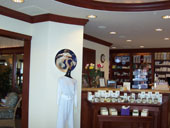 The Plaza is centrally located on historic Cannery Row, and is walking distance to the Monterey Bay Aquarium and historic Old Monterey, as well as minutes from Carmel and Pebble Beach, the home of world-class golf. The walk from the Plaza along Cannery Row to the Aquarium is filled with interesting history on this pioneering community. There is a bust of Nobel Prize-winning author John Steinbeck, who was born in Salinas. Below the bust is a quote from his impression of Cannery Row in 1945. Steinbeck considered this area by the sea a dark row filled with despicable bars and whore houses; quite a far cry from the community that exists today.
Monterey is a special place where pride in preserving the history of the city is paramount, making it a great destination spot for California history buffs. It is also home to some fantastic wineries, and Cannery Row, known to locals as 'A Mile of Smiles' is dotted with a collection of charming tasting rooms.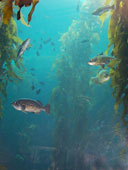 Dozens of quaint little shops, restaurants, and a culinary school are located on the waterfront today, and at the crown at the end of this road is the exquisite Monterey Bay Aquarium, an amazing credit to the architects who envisioned it, and the staff who currently work to make your visit so magical that it stays with you forever. Since 1984, people from across the globe have marveled at ocean wonders at the Aquarium.It provides visitors a journey through shallow tide pools to vast open ocean. It offers a million-gallon indoor ocean view, a towering three-story kelp forest, and jewel-box exhibits with delicate sea creatures. Children receive special individual instruction from staff members throughout the structure, while the playful sea otters are so much fun to watch, and were drawing a huge crowd when I was there. A visit to this amazing aquarium is a treat that no child or adult should ever miss. For information visit www.montereybayaquarium.org.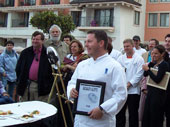 This year the Monterey Plaza hosted an 'Iron-Chef' style competition that I dubbed "The Windy City Competition" due to a fierce and sudden wind that whipped up on the Dolphin Patio just before the event began and created some major challenges for the hotel staff and the chefs, who were visiting Monterey as participants in the Monterey Bay Fifth Annual Cooking for Solutions two-day event. Despite the wind, the competition proved to be great fun for the chefs, the judges, including Rick Bayless, Cooking for Solutions2006 honored chef, and all the invited guests. A magnificent buffet was provided for guests by the hotel staff that was appreciated by all.
Monterey has everything for a honeymoon, a family trip, or just a visit by the bay. The options available include boat trips, bike rides, kayaking, the Monterey Bay Aquarium, visiting historic spots and a bevy of places to investigate. The people here are so friendly and make visiting their city a very pleasurable experience. The energy in Monterey is invigorating, and yet you come away from your trip feeling completely rested. For hotel reservations information visit: www.montereyplazahotel.com or for tourist information visit www.montereyinfo.org.