KIDS K PAGE  .  .  .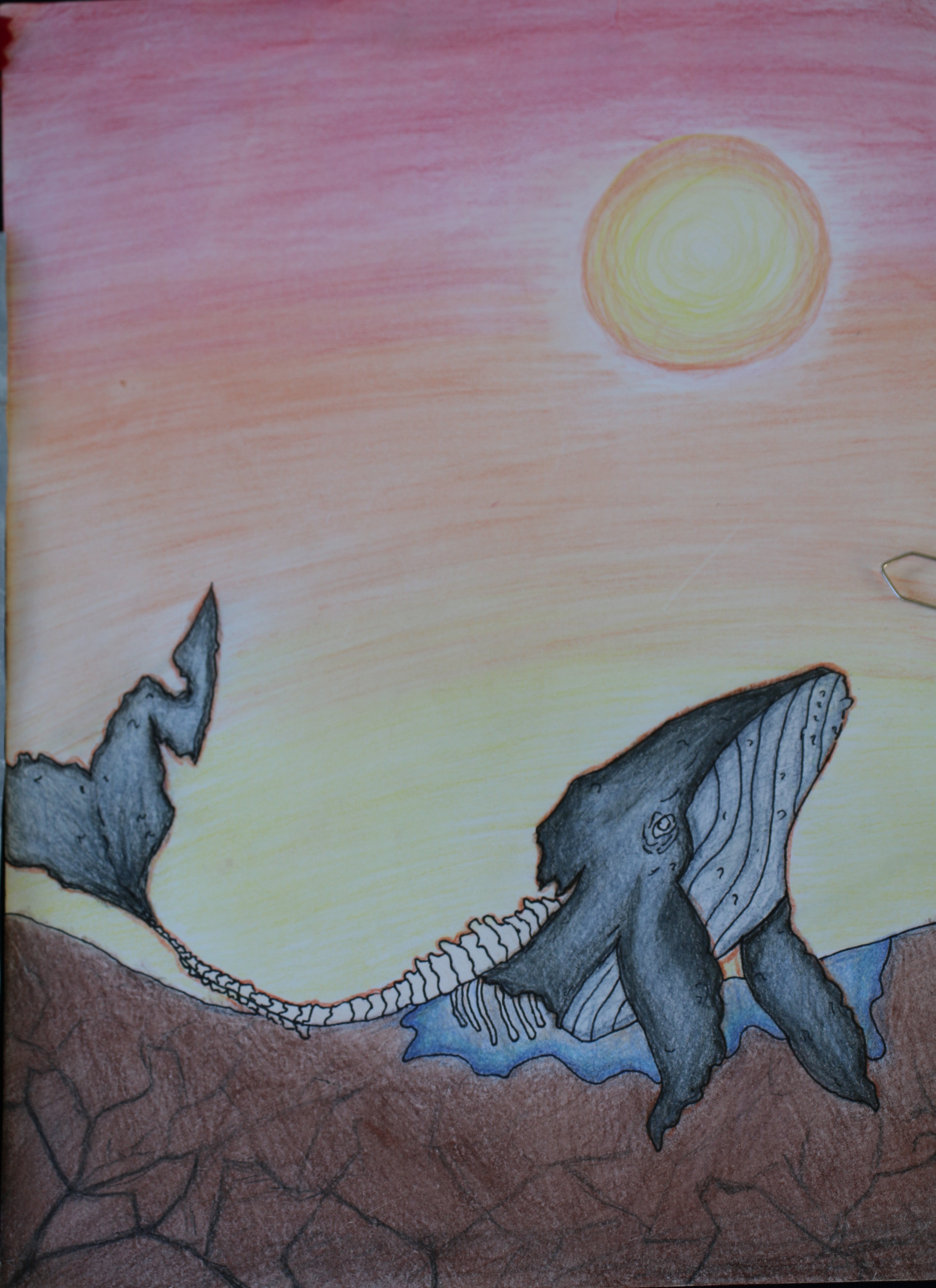 1st Place Winner Itzel Arrelano Rocha
SANTA BARBARA SISTER CITIES YOUNG ARTISTS SHOWCASE ANNOUNCES 2022 AWARD WINNERS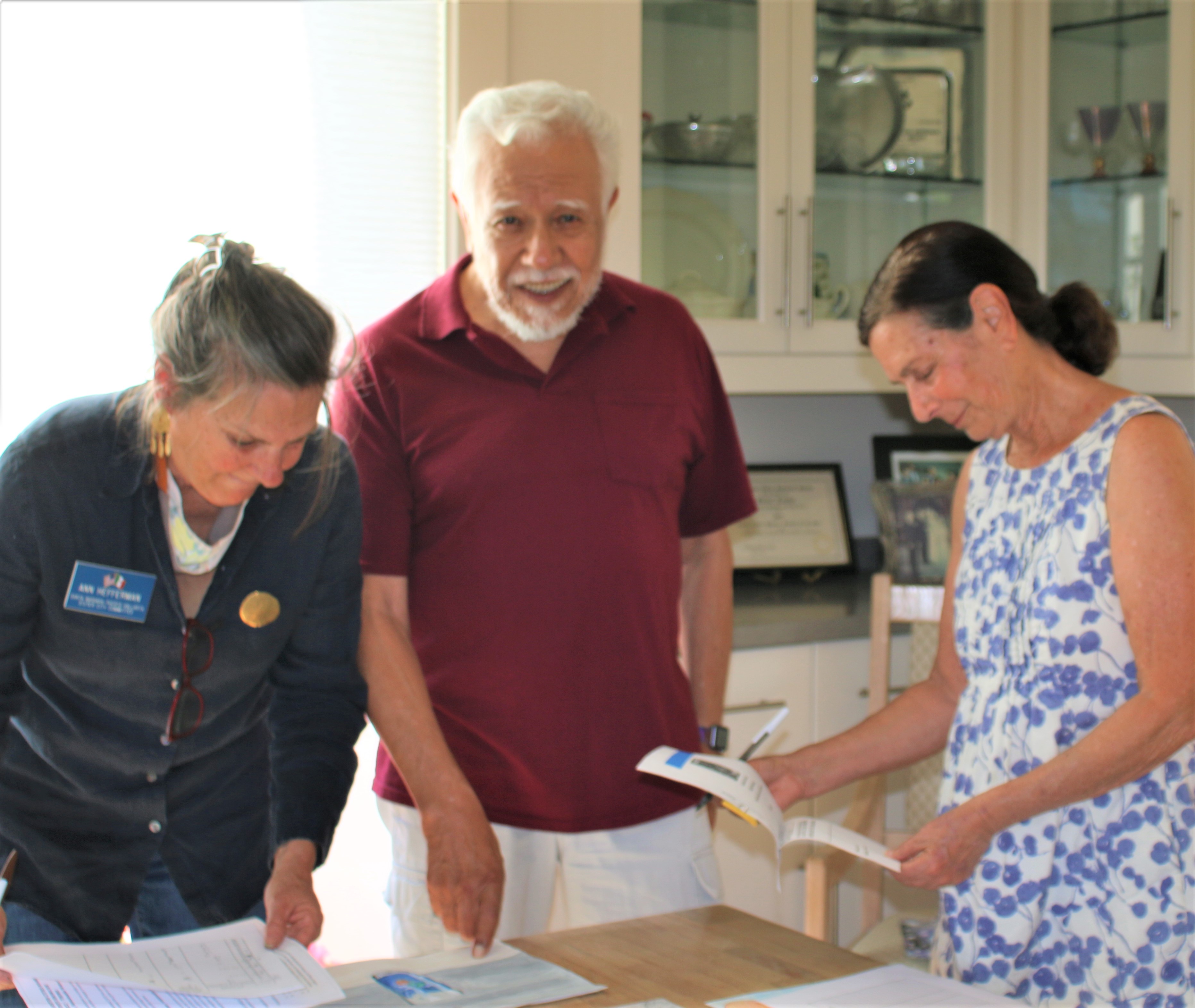 Young Artists Showcase host Gil Garcia Santa Barbara Sister Cities with honorable judges Ann Hefferman, and Kathy Koury

A large crowd of Santa Barbara Sister Cities members, friends and young artists gathered at the home of Gil and Marti Garcia, long-time board members of the Santa Barbara - Puerto Vallarta Sister City Committee to participate in the reception, viewing and judging of the Sister Cities 2022 Young Artist Showcase. The Theme for the competition was Generation Rescue: Sustainable Water for All, where thirty-nine area students, ages 13-18, submitted their art with written descriptions for consideration.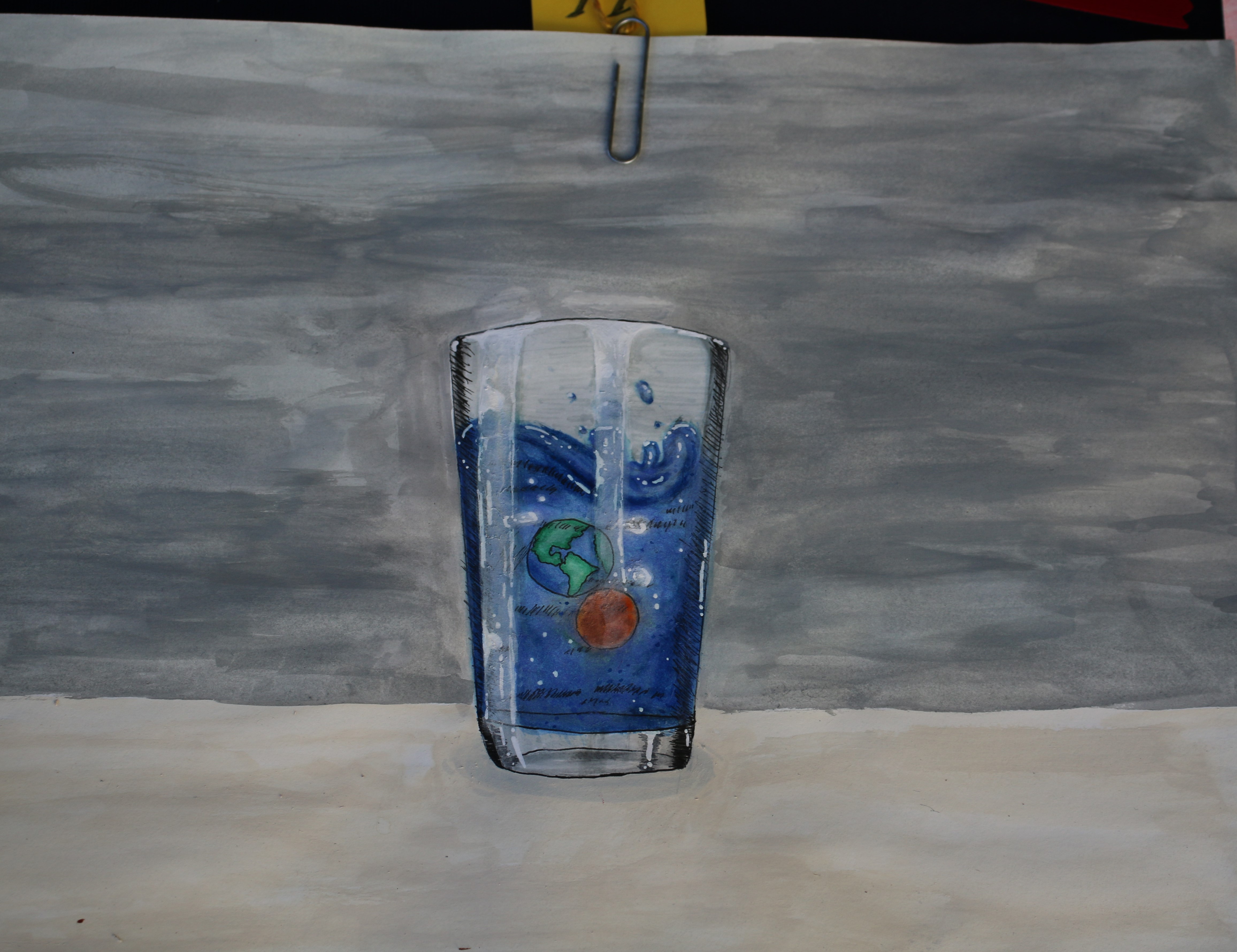 2nd Place Winner Chloe Copelland
Winning artists included 1st place, Itzel Arrellano Rocha $250 prize, 2nd place, Chloe Copeland $150, 3rd place Veronique Durham $100, and Honorable mention to Celia Louis and Hannah Lovejoy. Winners will participate in the international competition in Puerto Vallarta later this year as part of the 50th anniversary celebration of Santa Barbara International Sister Cities. Oscar Gutierrez, from SBTV and a member of the SB/PV Committee did a great job documenting the Young Artists Showcase and award presentation. Sponsors for the artist prizes included Pacific Premier Bank and Santa Barbara/Puerto Vallarta Sister Cities Committee.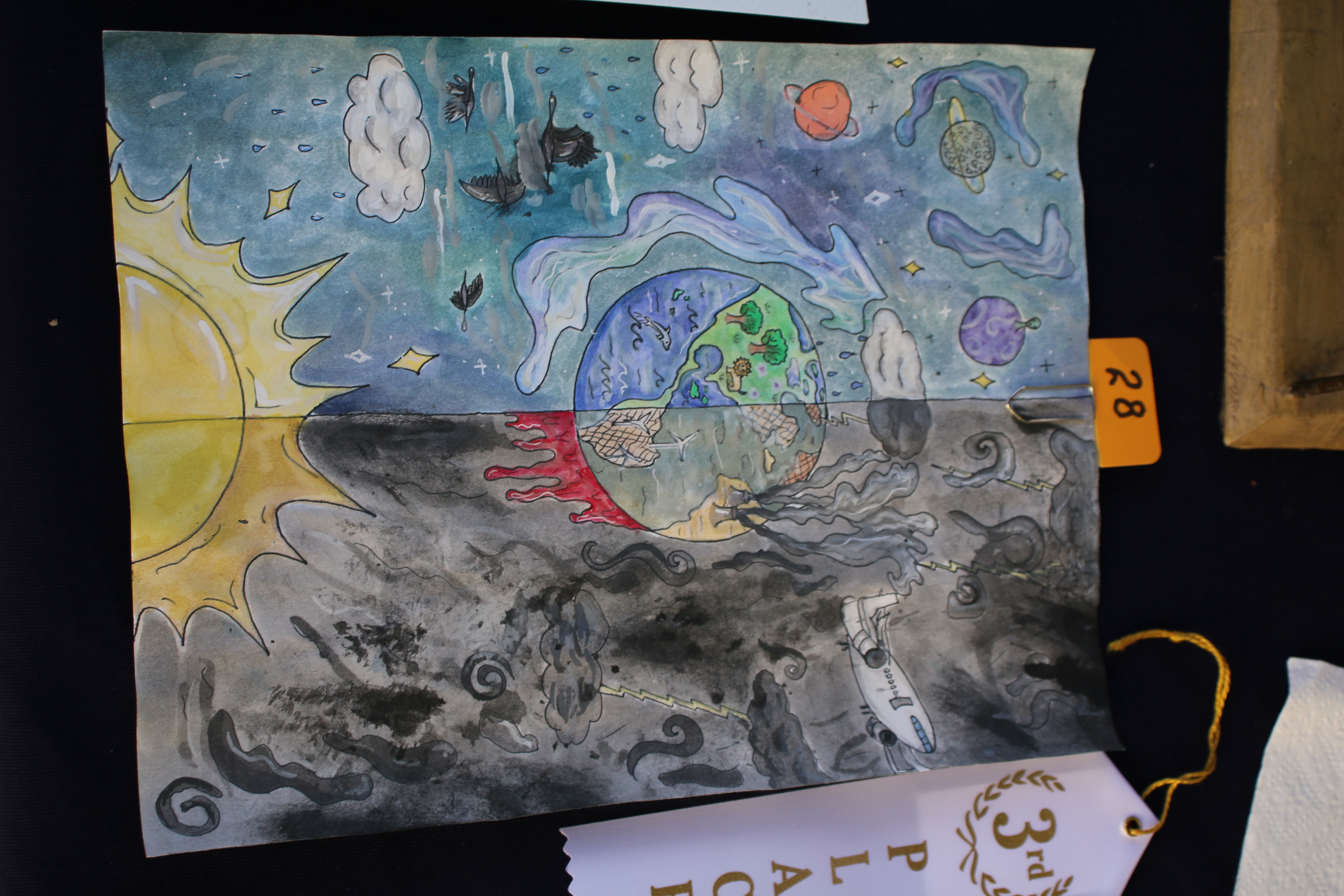 3rd Place Winner Veronique Durham
Local judges Kathy Koury, and Ann Hefferman said it was a challenge to reach the final selections due to so many submissions this year and the insightful representation of the theme by the students. Guests reviewed the art works and relaxed on the verandah to learn the final cash prize award winners. The winners will participate in the international competition in Puerto Vallarta later this year as part of the 50th anniversary celebration of Santa Barbara Sister Cities.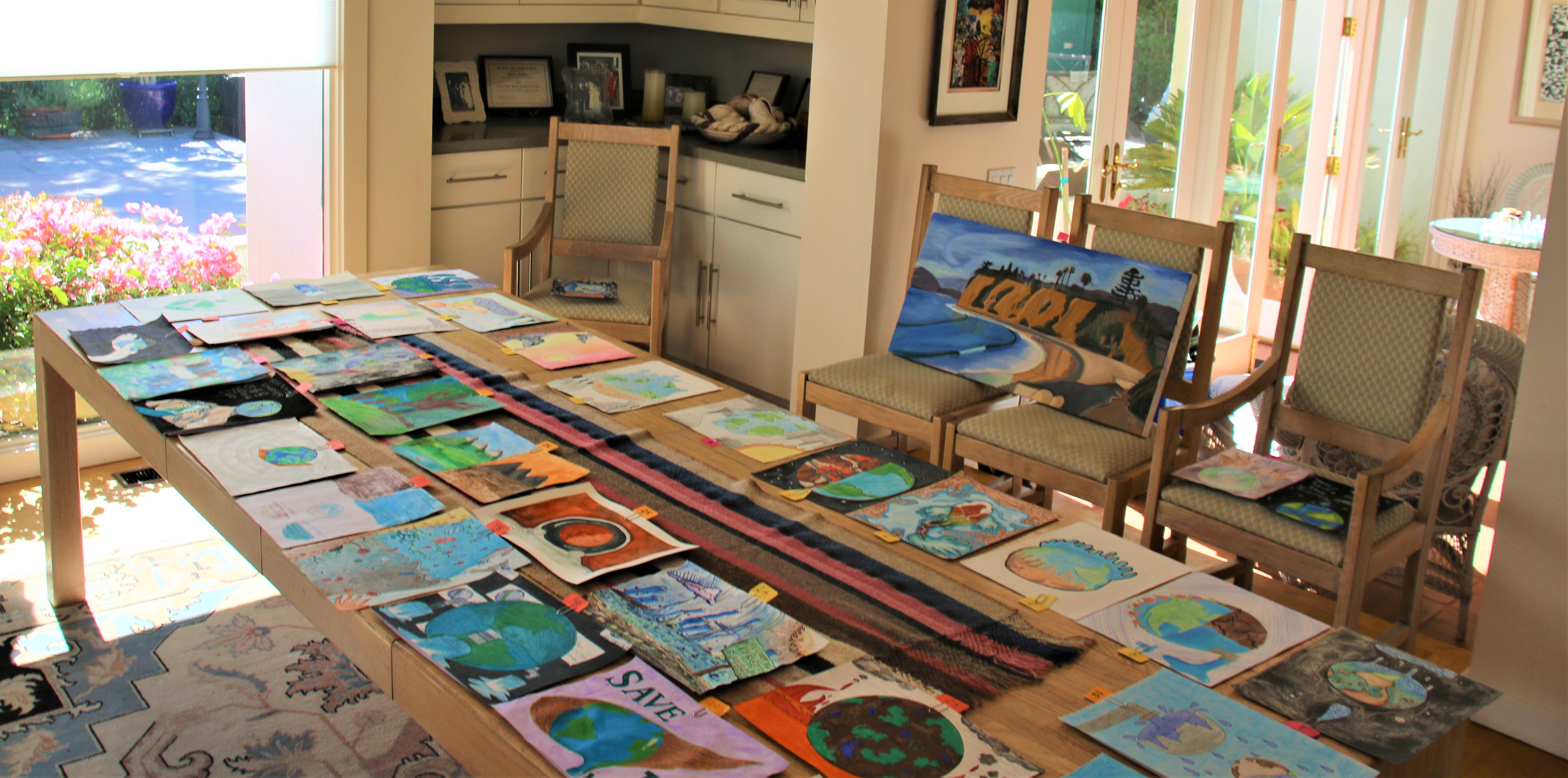 Young Artists Showcase Viewing
The 2022 Young Artists Showcase theme selected was climate, which has become an undeniably harsh reality in our lives. As temperatures rise, water patterns are disrupted, ecosystems are disturbed, cultures are affected, and energy resources are proven to be unsustainable for long-term use. These ongoing changes impact our local and global communities on every aspect, and youth are the key to tackle this global reality. Event hosts Marti and Gil Garcia commended and thanked all the area art teachers who assisted the young artists with their outstanding work.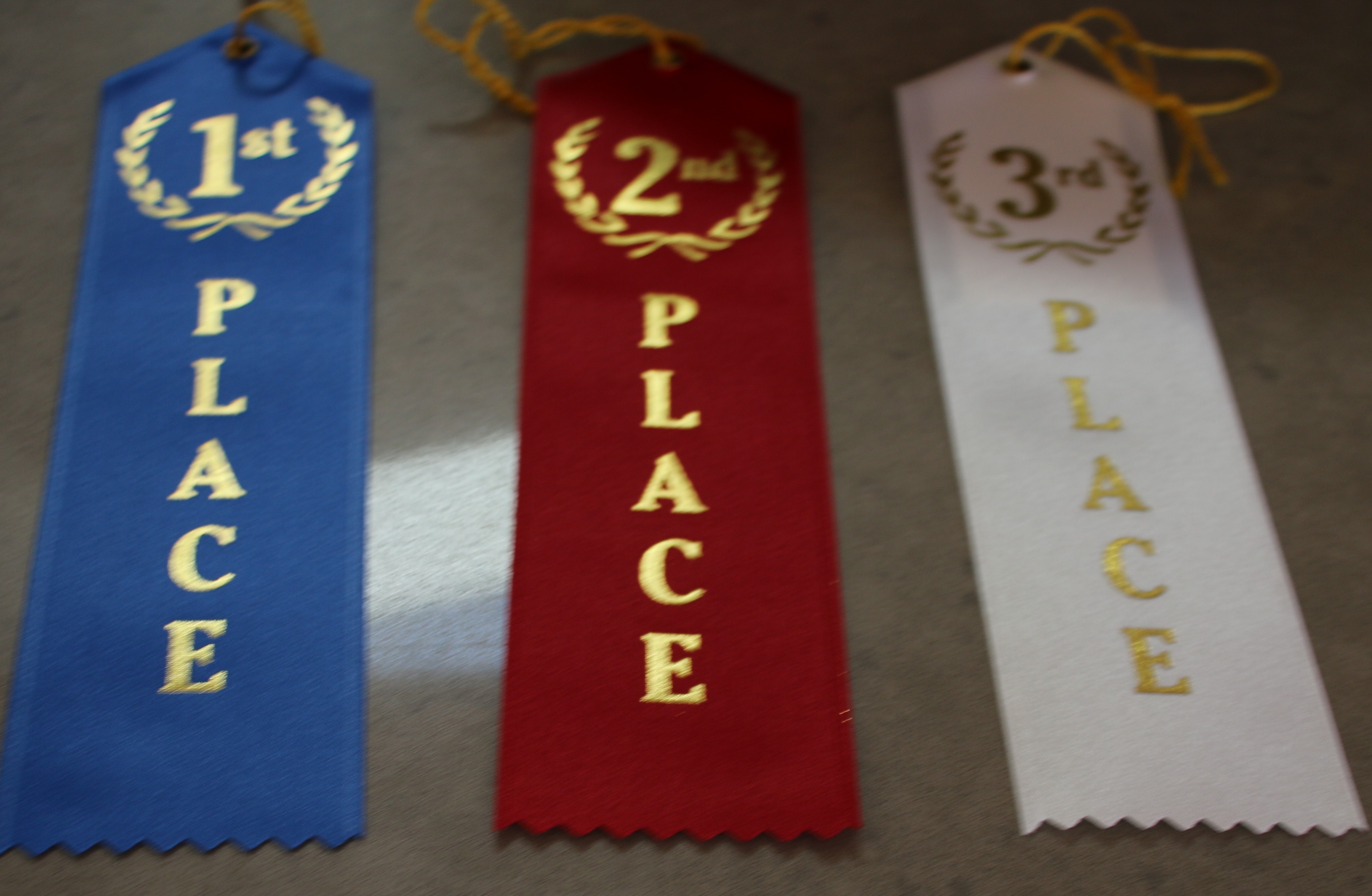 Sister Cities International aims to promote peace through mutual respect, understanding, and cooperation – one individual, one community at a time. Current Santa Barbara Sister Cities include Puerto Vallarta, Mexico, Toba, Japan, Patras, Greece, Weihai, China, Kotor, Montenegro, San Juan, Philippines. Guests representing all the Santa Barbara Sister Cities were in attendance ath the Young Artists Showcase, as well as Kathryn R. Martin, CEO of Santa Barbara Symphony & her husband, whom I enjoyed welcoming to the event.
For information visit: https://www.santabarbaraca.gov/gov/brdcomm/nz/sistercity/cities/default.asp.
______________________________________________
Summer fun for kids:
Santa Barbara Zoo
Summer Zoo Camp Begins
June 6, 2022 9:00 AM

-

3:00 PM
Zoo Camp dates: June 6 – August 19
Zoo Camp introduces kids ages 3 to 12 to the wild world of animals and science. Age-appropriate themed programs include games, teacher-led workshops, behind-the-scenes visits, up-close animal introductions, hands-on science, and animal-related crafts, songs, and skits. Half and full-day options available.
For more info, visit our Zoo Camp page or contact the education department by phone (805) 962-5339 or email. Register today! www.sbzoo.org/learn/200-camp/

______________________________________________
KID FUN IN MONTEREY
MONTEREY BAY AQUARIUM

https://www.montereybayaquarium.org/visit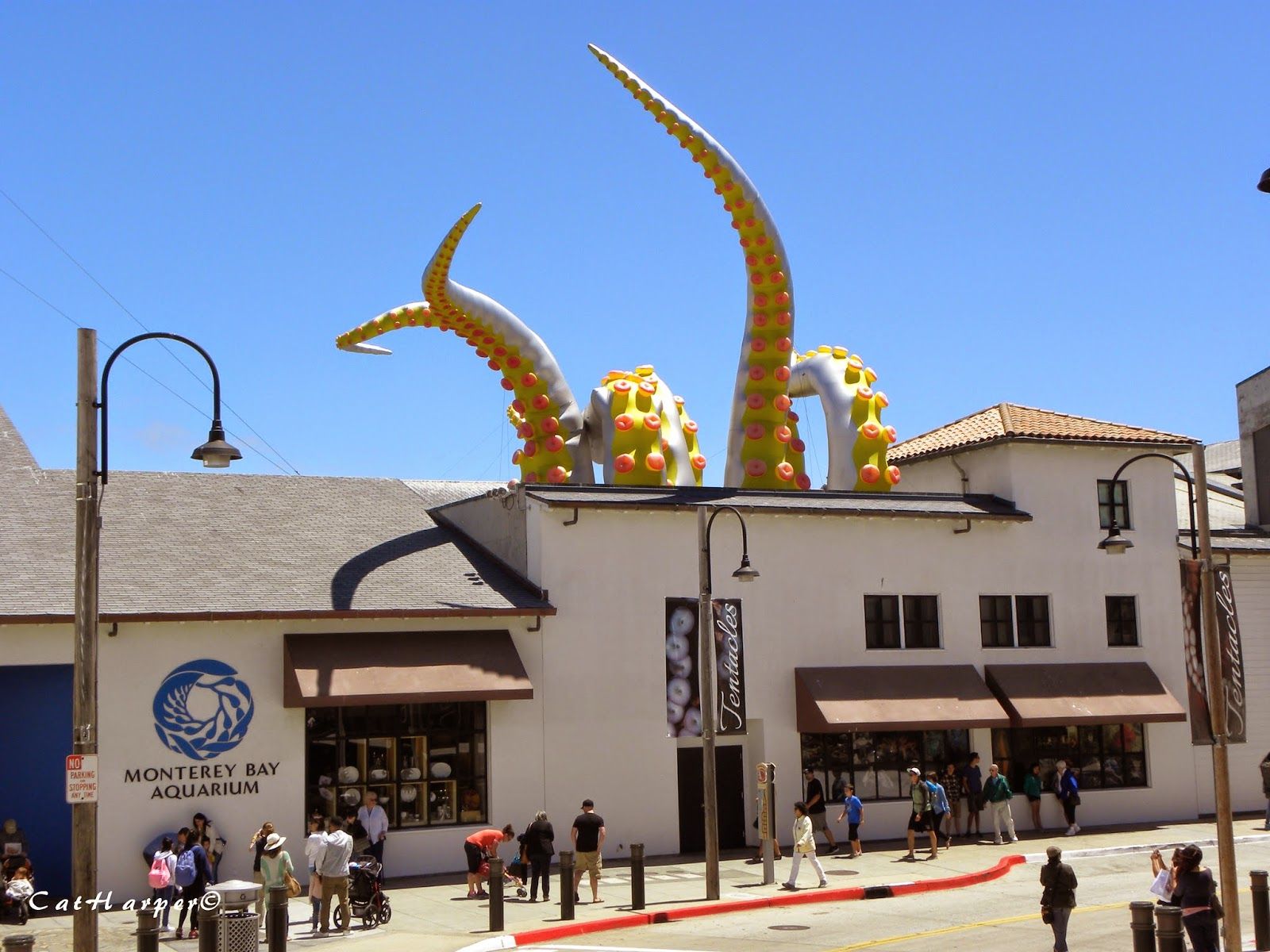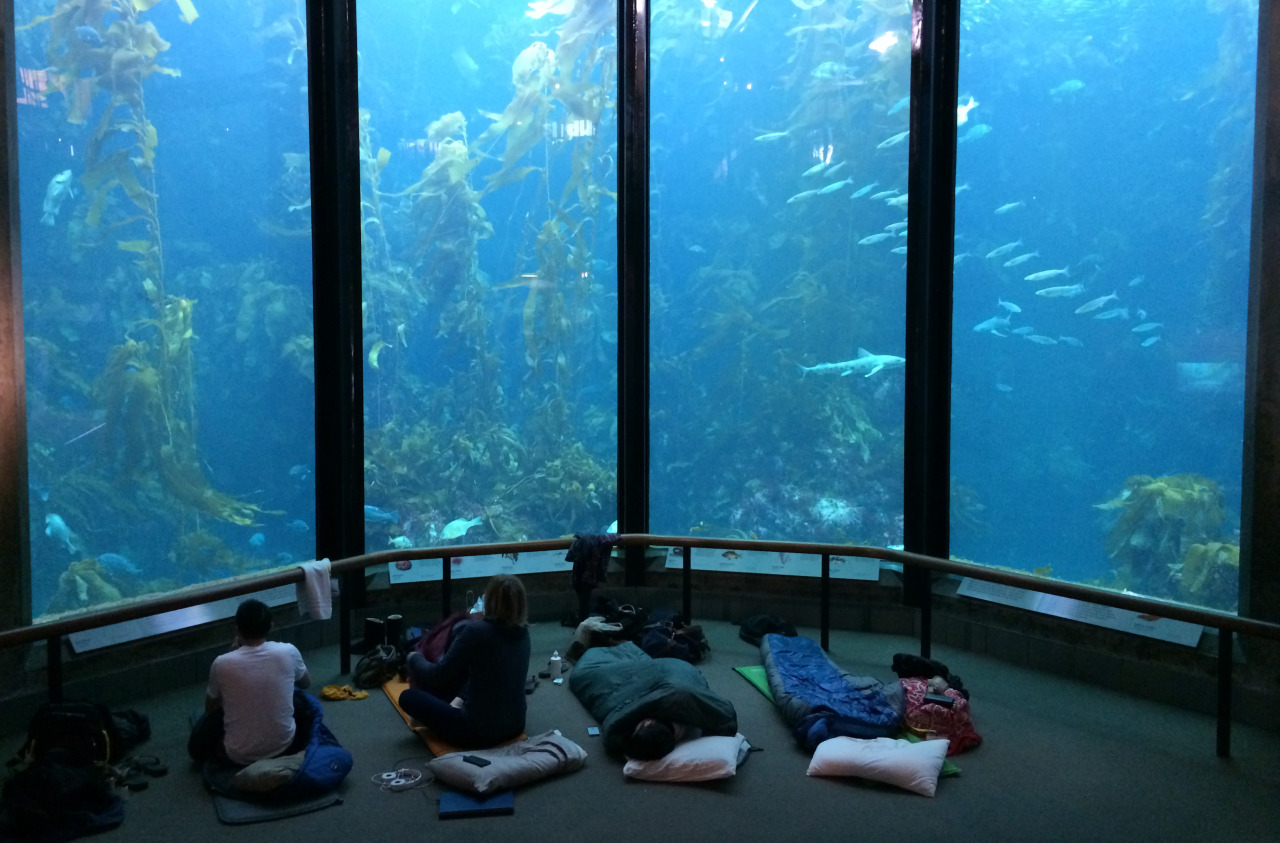 ____________________________________________________________________
TAKE THE KIDS TO A DODGER GAME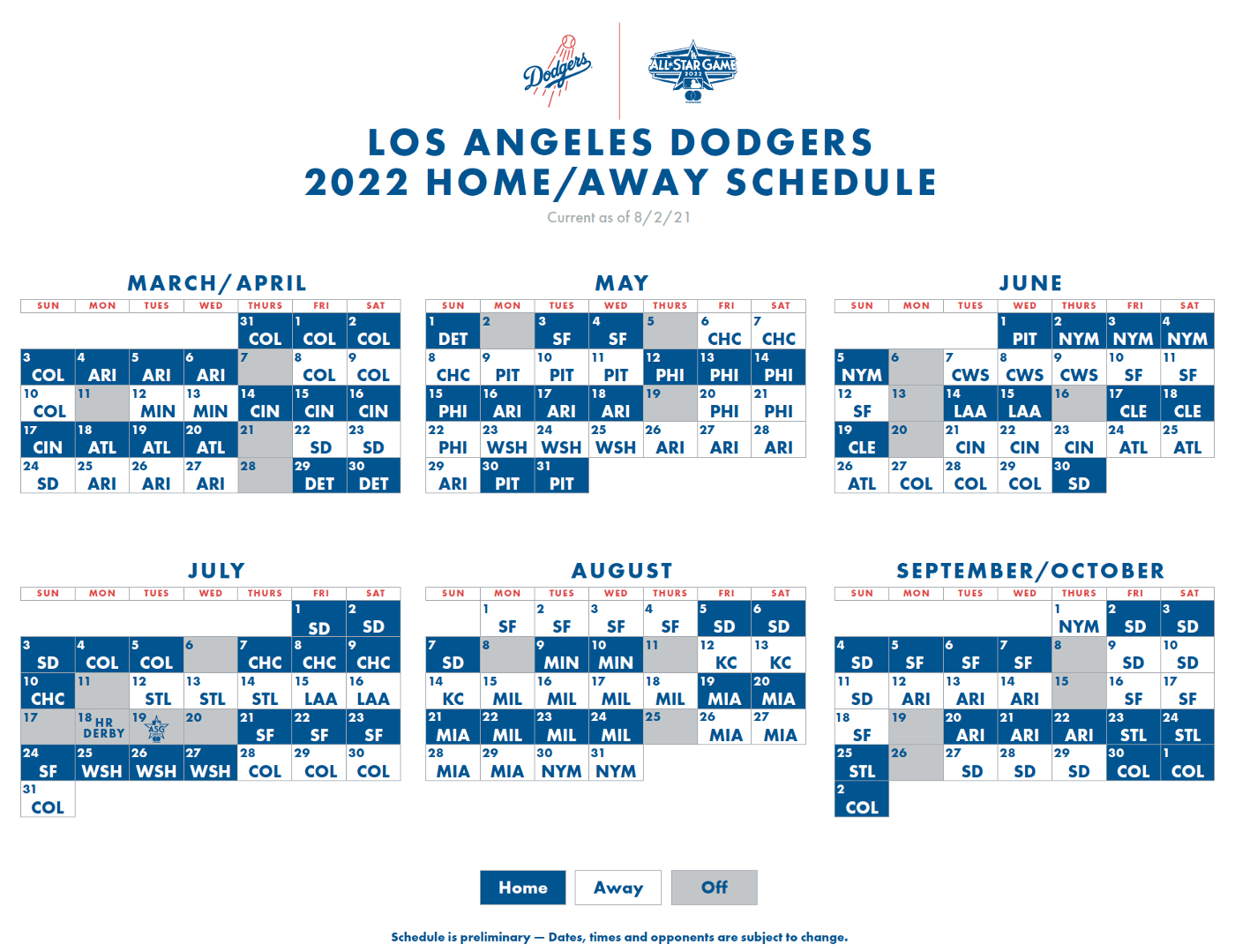 www.dodgerstadium.ticketsoffice.org
_______________________________________________________________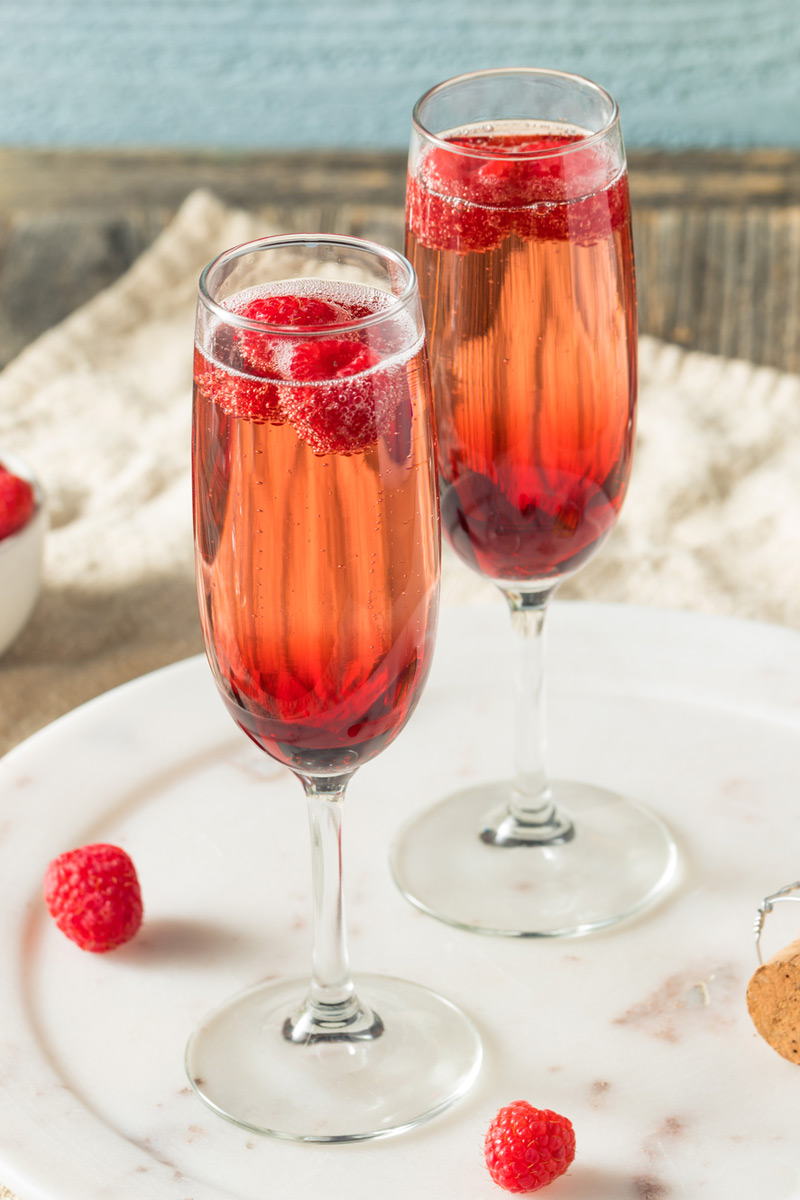 CHEERS! TO THE RETURN OF ROAR AND POUR AT THE SANTA BARBARA ZOO
 The Zoo is seeking wineries, breweries, and beverage partners to participate!
Santa Barbara, CA – The Santa Barbara Zoo toasts the return of Roar and Pour, a wild wine and beer tasting event where the animals stay out late and guests can explore the Zoo after hours, on Saturday May 7 from 5:00 - 8:00 PM, with a VIP hour from 4:00 - 5:00 PM. Tickets are on sale now, and can be purchased online here. Don't miss this roaring good time!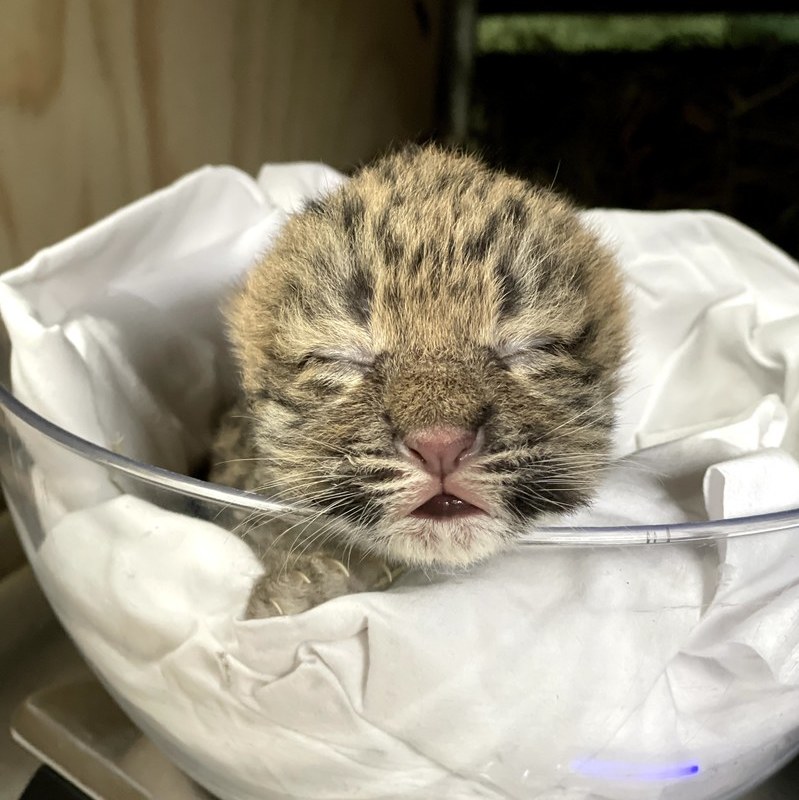 Not only will guests enjoy a taste of the region's leading wineries and breweries, but they can feed the giraffes, ride the Zoo Train, and listen to zookeeper talks. Guests will also take home a souvenir Roar and Pour 2022 wine glass. All proceeds benefit the animals at the Santa Barbara Zoo. Wineries Wanted! The success of Roar and Pour is due, in great part, to the generous donations from winery partners. Wineries, breweries and beverage purveyors interested in participating can get more information here! Register for Roar and Pour early, as space is limited. General admission tickets are $85/person and include unlimited wine tastings and one souvenir glass, train rides, giraffe feedings, and exclusive access to Zoo grounds after hours. VIP tickets are $120/person and include all general admission perks, plus early entry/VIP hour (4–5 PM), appetizers, and animal encounters. All proceeds benefit the animals at the Santa Barbara Zoo.
For more information about Roar and Pour and to see participating winery and brewery partners to-date, please click here or call (805) 962-5339.
About the Santa Barbara Zoo The Santa Barbara Zoo is open daily from 9 am for members and 9:30 am for general admission until 5 pm; general admission is $19.95 for adults, $14.95 for children 2-12, and free for children under 2. Parking is $11.
The Santa Barbara Zoo is accredited by the Association of Zoos and Aquariums (AZA). AZA zoos are dedicated to providing excellent care for animals, a great visitor experience, and a better future for all living things. With its more than 200 accredited members, AZA is a leader in global wildlife conservation and is the public's link to helping animals in their native habitats. Visit www.sbzoo.org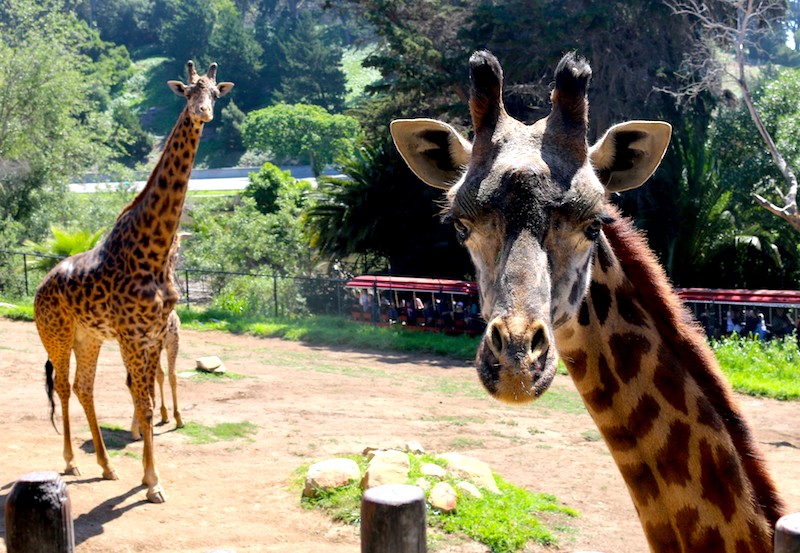 ---