CHEF & HOTEL PROFILE   .   .   .
DE JE VOUS AT HYATT CARMEL HIGHLANDS INN

by Bonnie Carroll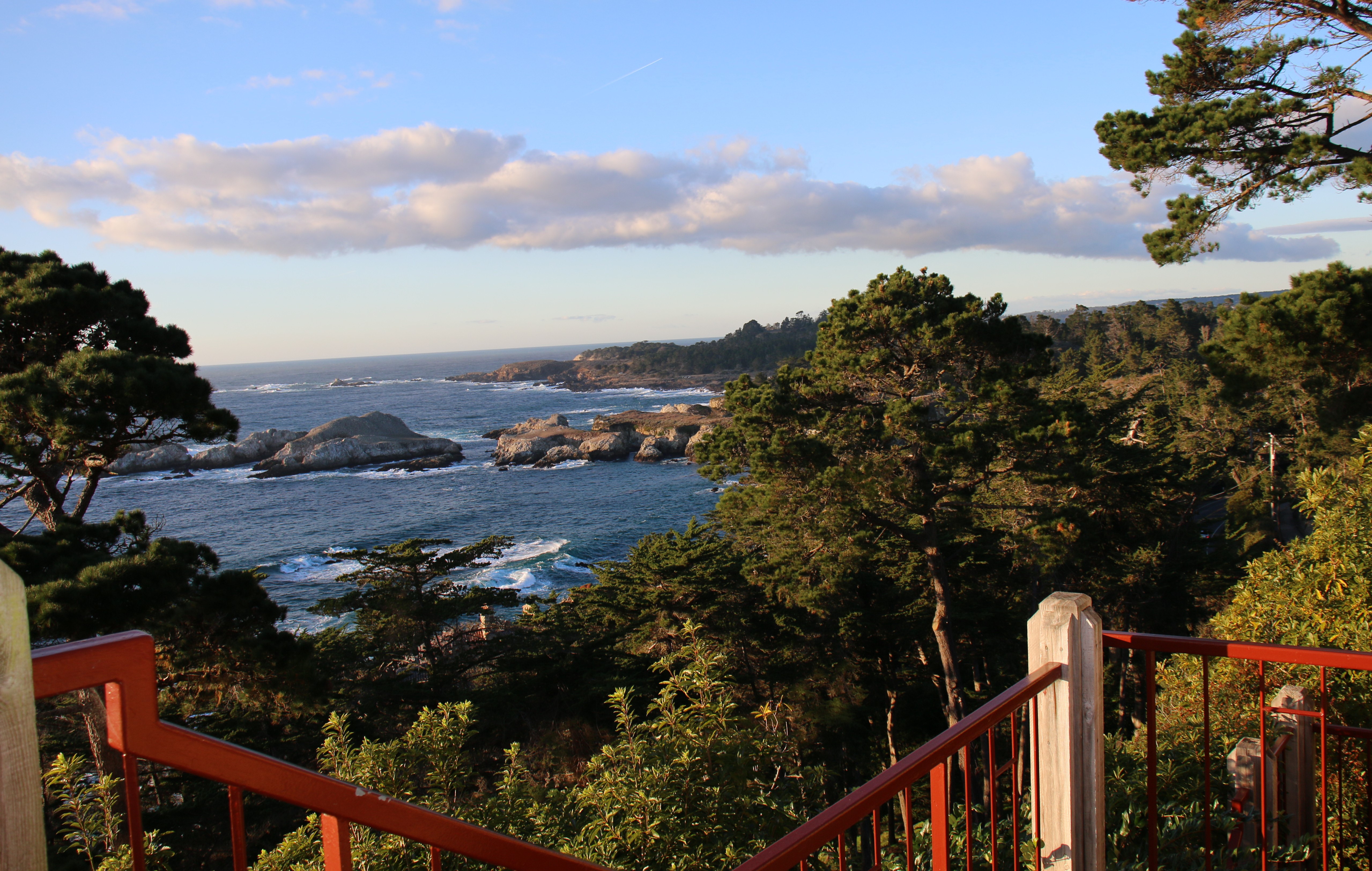 Photos by Bonnie Carroll
The Carmel Highlands Inn, is home to two adjoining properties Hyatt Carmel Highlands and the "Residence Club" timeshares that are located just south of Point Lobos State Reserve, and the northern gateway of the Big Sur coastline along California State Route 1. Carmel Highlands was laid out in 1916 by developers Frank Powers and Franklin Devendorf. The inn is 4 miles from Carmel and a short hike from Point Lobos Reserve. Visitors to the Monterrey Peninsula are welcomed (non-hotel guests) to sample some of the amenities, including the restaurants, and explore the lush grounds, where trails and stone stairways meander through cypress and color-splashed bougainvillea as well as views of the Santa Lucia Mountains.
The inn opened in 1917 and rented cabins in the Monterey pine forest. At the time, owner J. Frank Devendorf told the Monterey Herald that his inn "combined the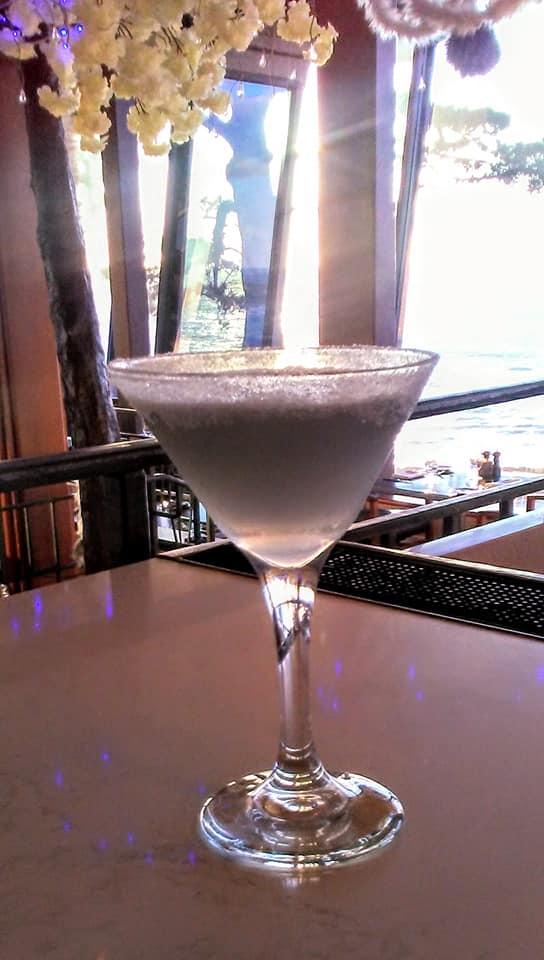 rustic qualities of its setting, yet offered travelers all the luxury that the progress of the new century could offer." There were 48 cabins completed over time.
The Two buildings sit beautifully on a well-landscaped 11 acre oasis that has managed to avoid the disgrace of some older establishments who have succumbed to drastic renovation changes. The older guests and celebrities who loved the rocky shoreline and forested hills of this coastal stretch continue to return. As I was exiting the diingroom during my visit I overheard a woman telling her friends "It's new, but it has kept the same lodge-like charm I loved years ago on my first visit." Some of the celebrities-of-the-day who have stayed and played over the decades include Ansel Adams, Elizabeth Taylor, Marlon Brando, Julia Child, Robert Redford, Steven Tyler and Christina Aguilera and more.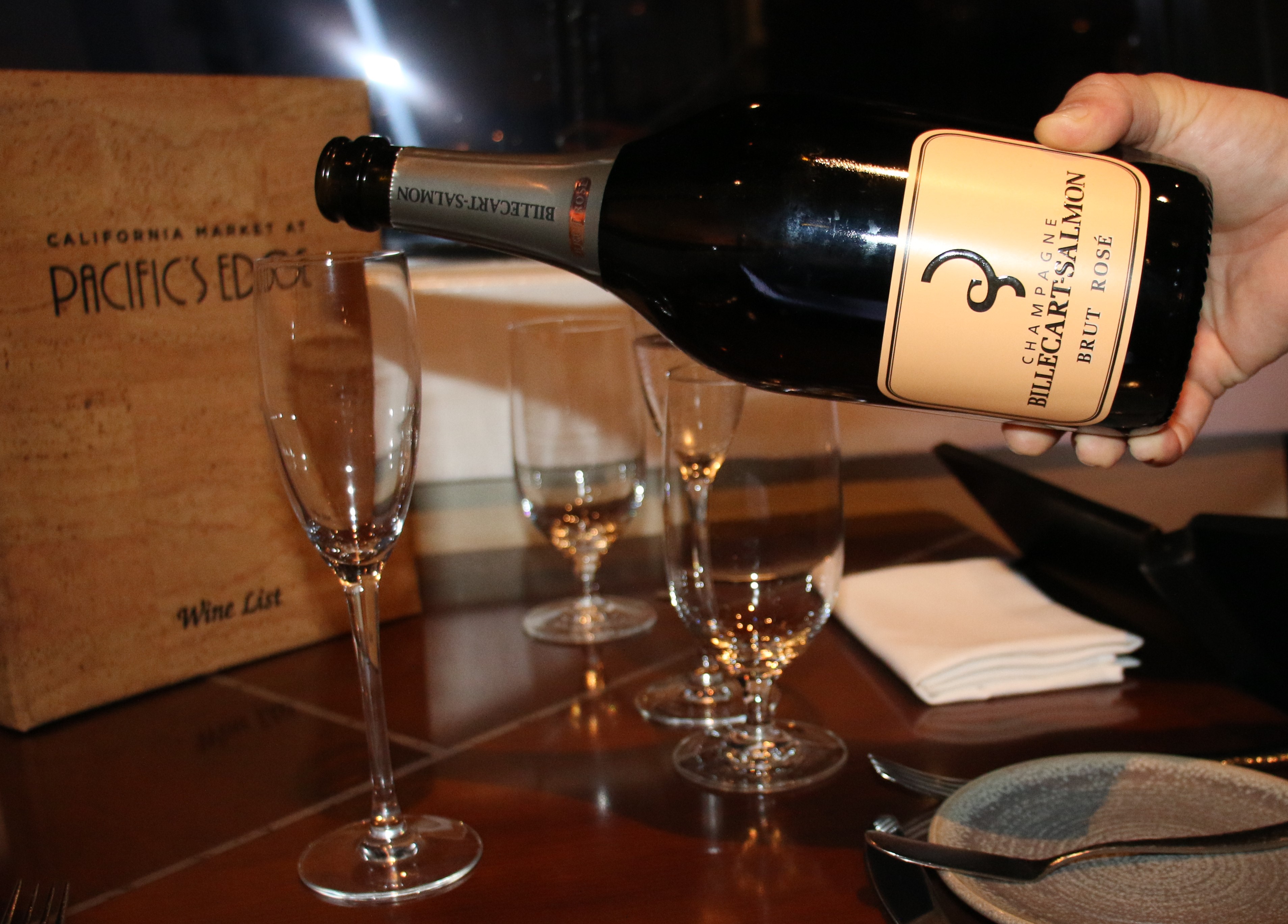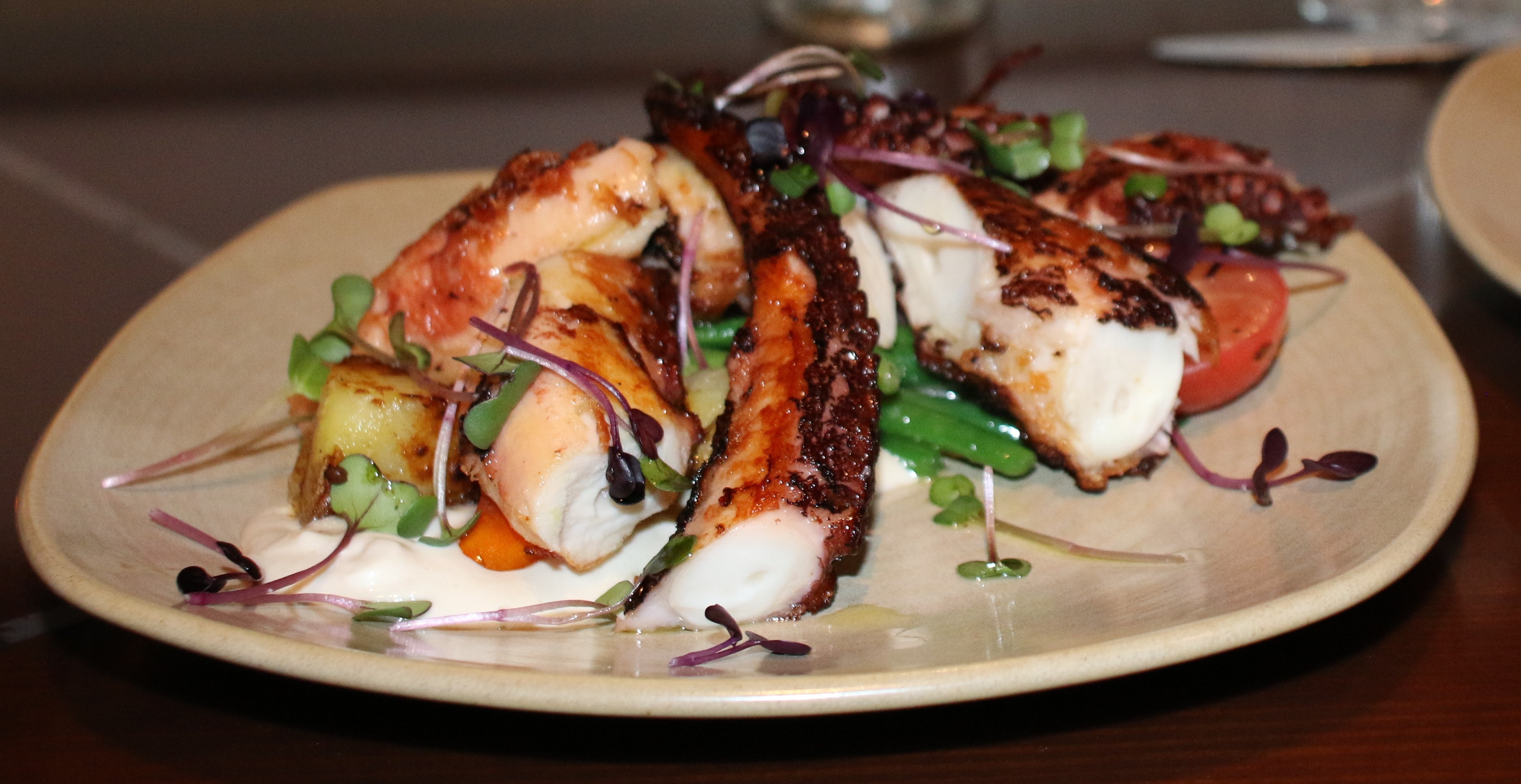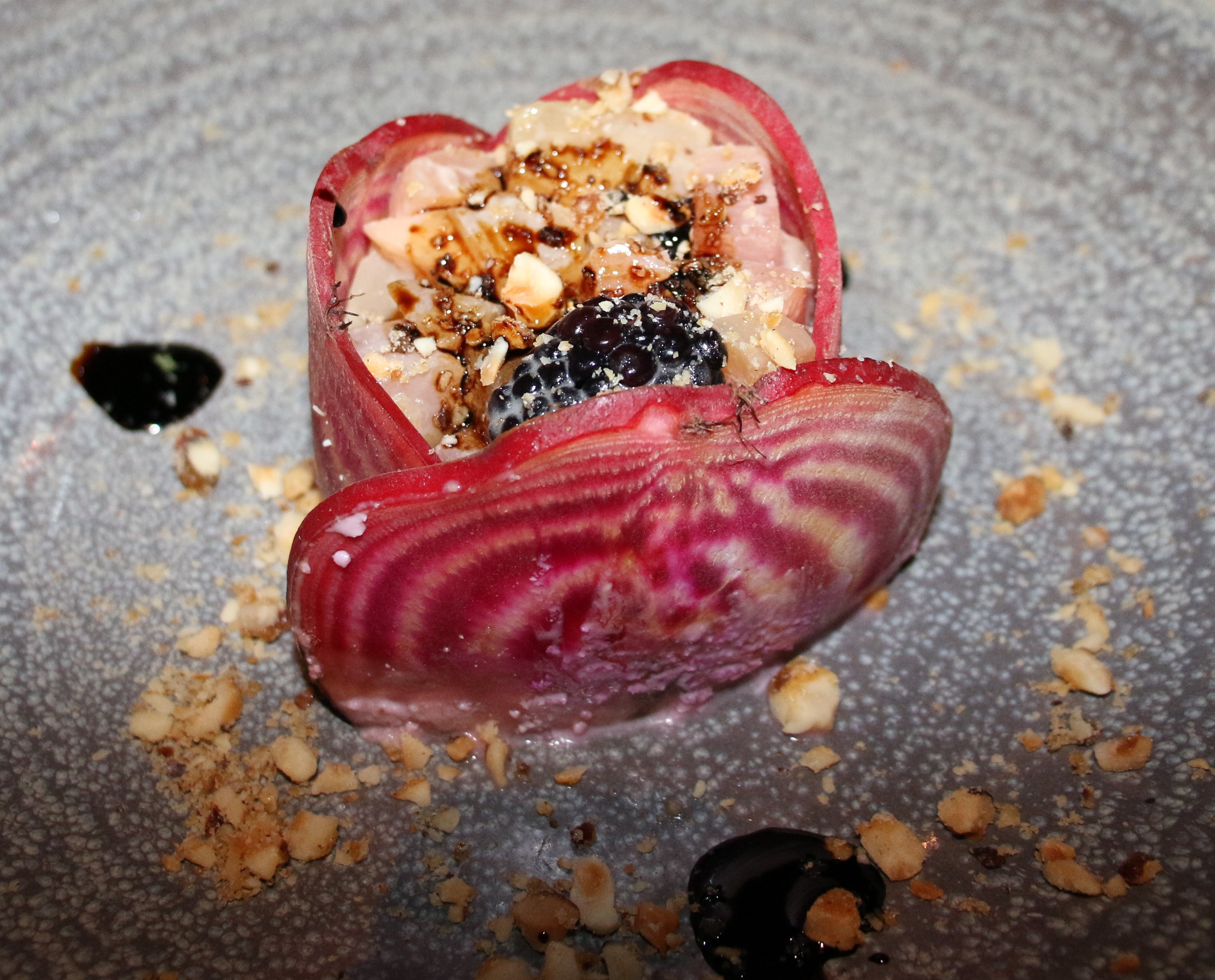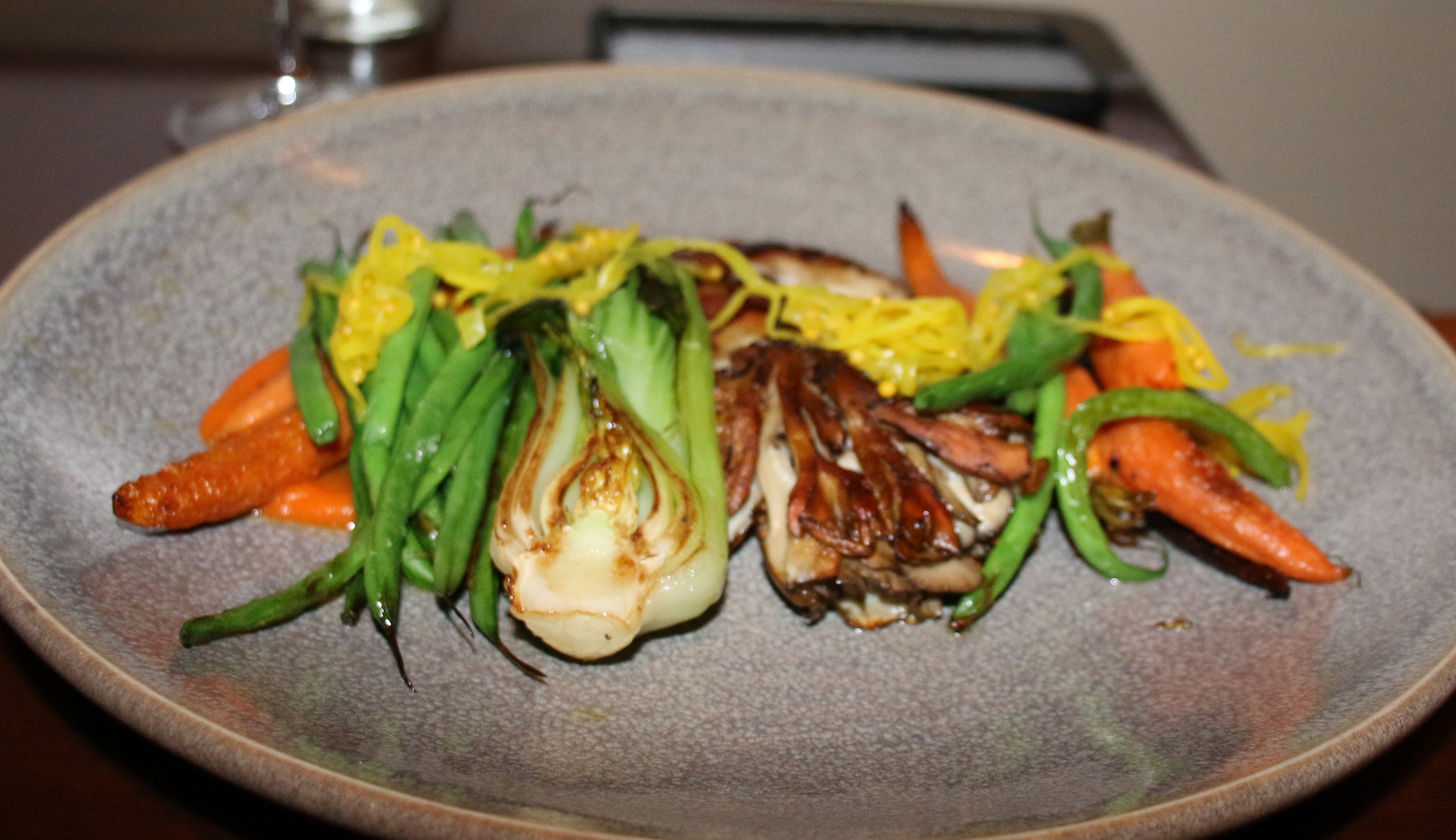 Our dinner reservation was at the showcase restaurant, four-star Pacific's Edge, which has been a sought after venue by "foodies" and lovers of culinary delights, as well as reviews by restaurant critic's from around the world. Their wine cellar holds over 3,000 bottles, and the bar with its breath taking view offers an outstanding cocktail menu. The Lavender lemon drop martini, a violet delight with sugar coated rim was as beautiful as it was delicious. The sunsets are like no other and the views in the Pacific's Edge are breathtaking before sunset; a 5:30 reservation is ideal to view the whole "our sun is going to sleep" spectacular experience.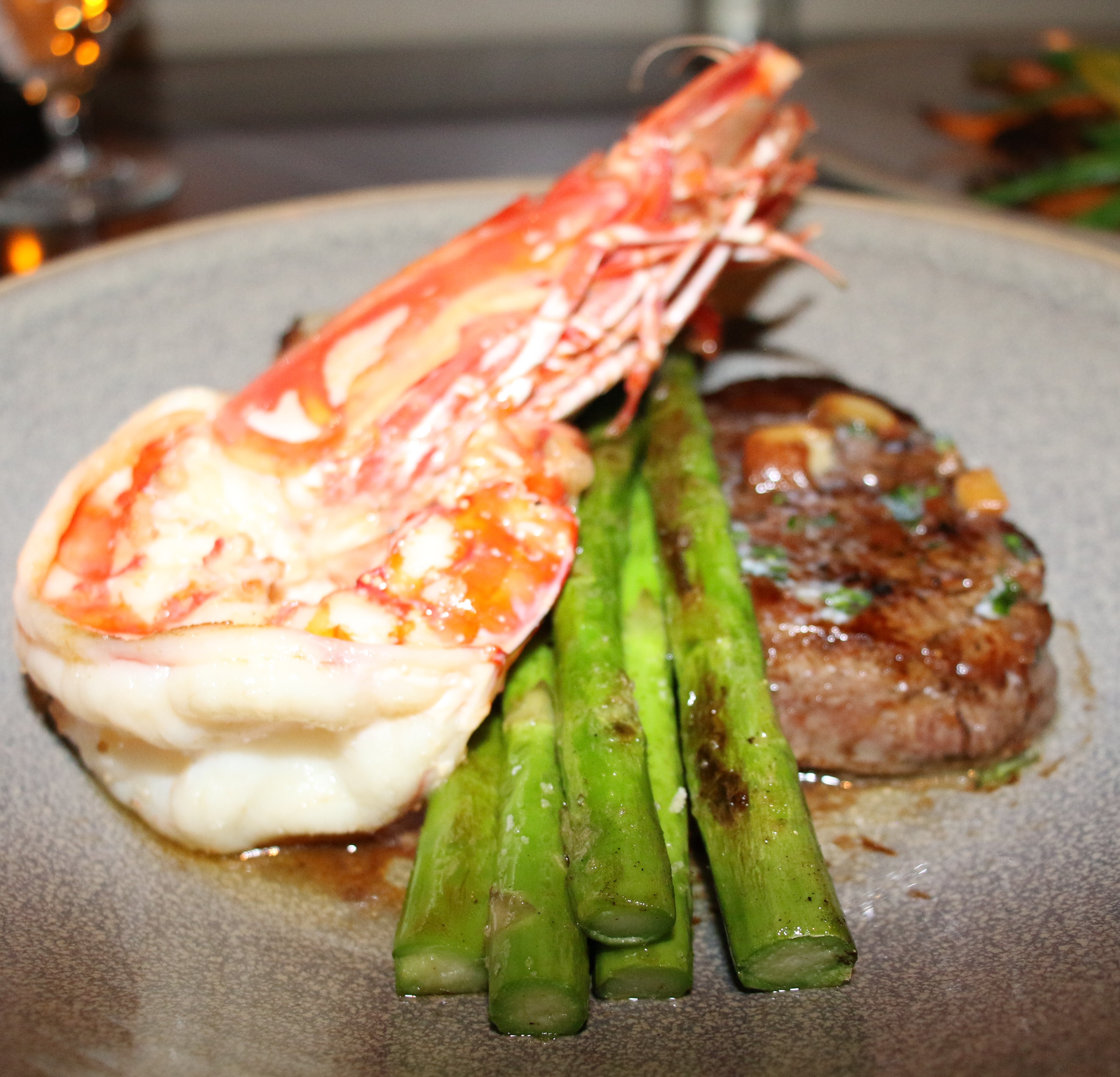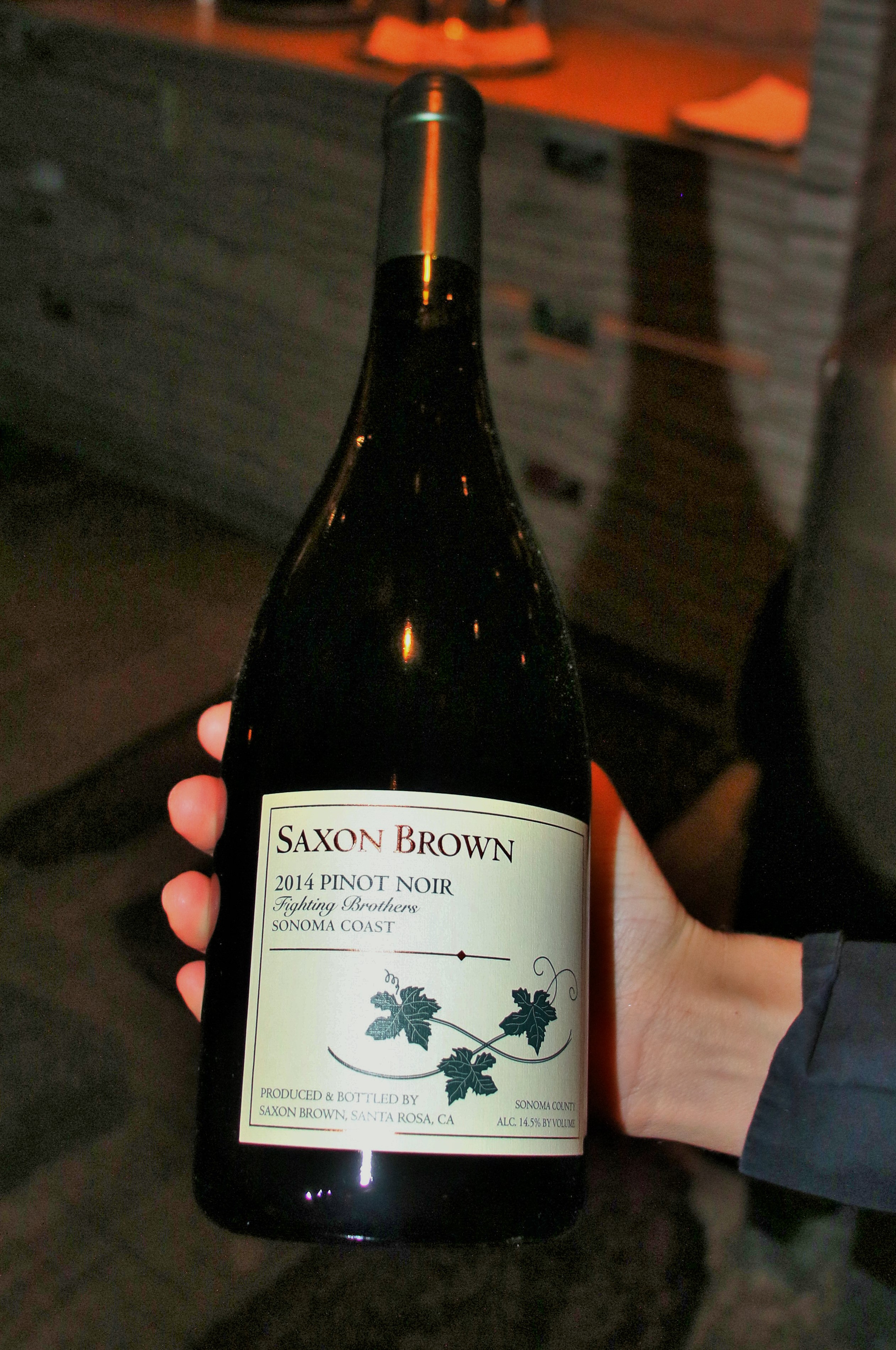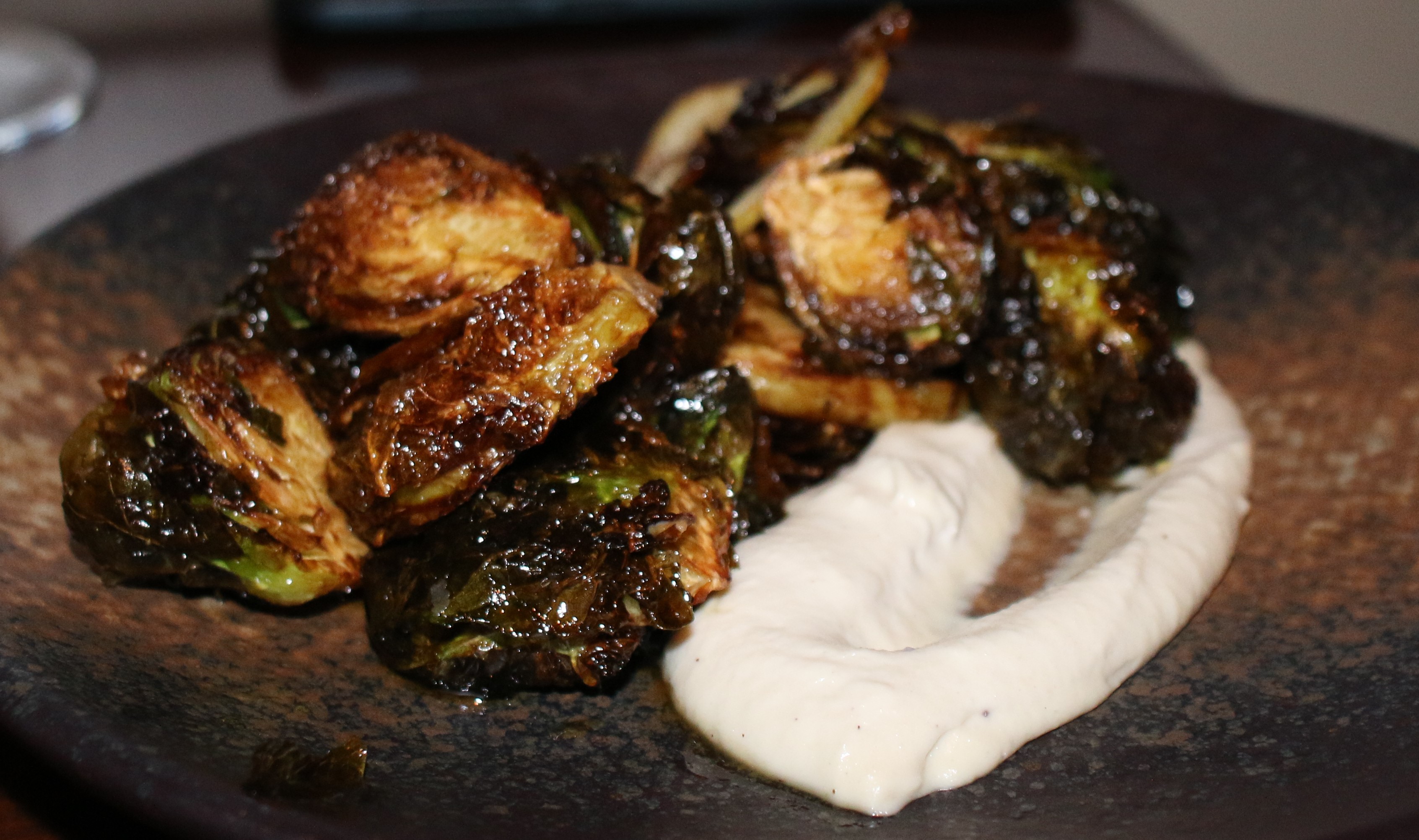 We were anxious to taste the new plant-based and vegan menu items, as well as a unique version of Surf n' Turf, a 6 oz. alien bros filet with potato gratin, wild head-on tiger prawn with red wine jus and asparagus in garlic butter and were not disappointed with any of the inventive plates coming out of Executive Chef Chris Vacca's kitchen that included an exquisite beets and berries salad featuring candied hazelnuts, almond cheese, balsamic, heirloom beets and radishes, the broiled brussel sprouts were served with milagro, pancetta, cashew cheese and meyer lemon. The charred octopus featured tuna aioli, local seaweed, lemon oil with sundried tomato and bean salad, and the grand dessert offering was a unique vegan pumpkin cake and a divine selection of sorbet with fresh fruit paired with wonderful wines selected by the sommelier.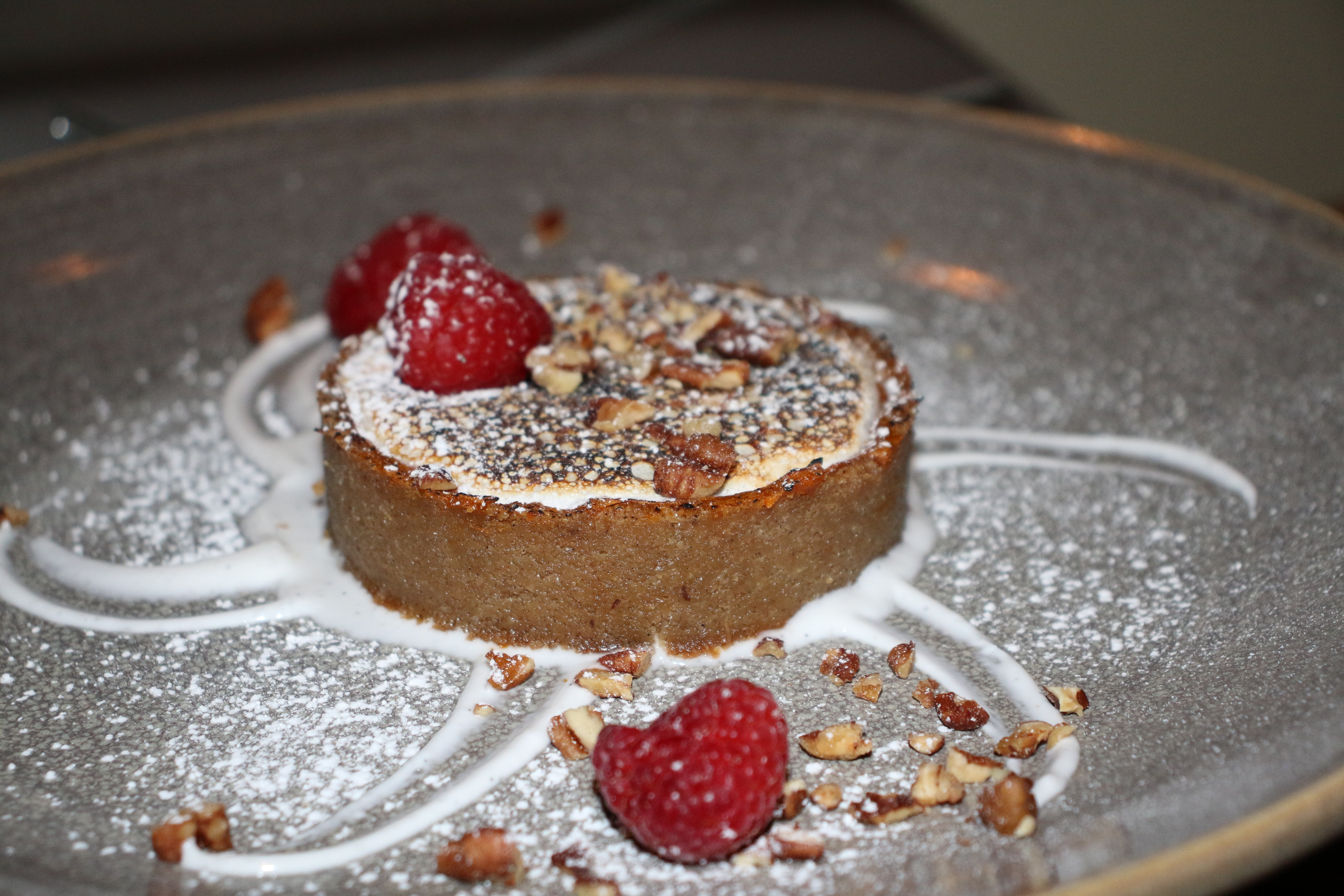 The main lodge with very high ceiling is home to the intimate Sunset Lounge where guests enjoy small plates and beverages and the sprawling wood-and-stone Fireside Lounge is a cozy place to curl up in front of the fire and enjoy an after dinner liquer or hot chocolate. Great bands play in he Fireside Lounge on Friday and Saturday nights.
The California Market Bistro is a casual atmosphere on the redwood deck overlooking Yankee Point a few hundred yards offshore. The 1950s dining room offers fantastic breakfast (especially unique breakfast items) and lunch favorites to enjoy in a family friendly lodge inspired ambiance. I visited the Highlands Inn in the 1960s with my four children who enjoyed the family style breakfast we shared in this inviting room. It was a rather rustic hotel at that time but a very enjoyable place for family vacationing and offered the same stunning natural beauty being savored by guests today.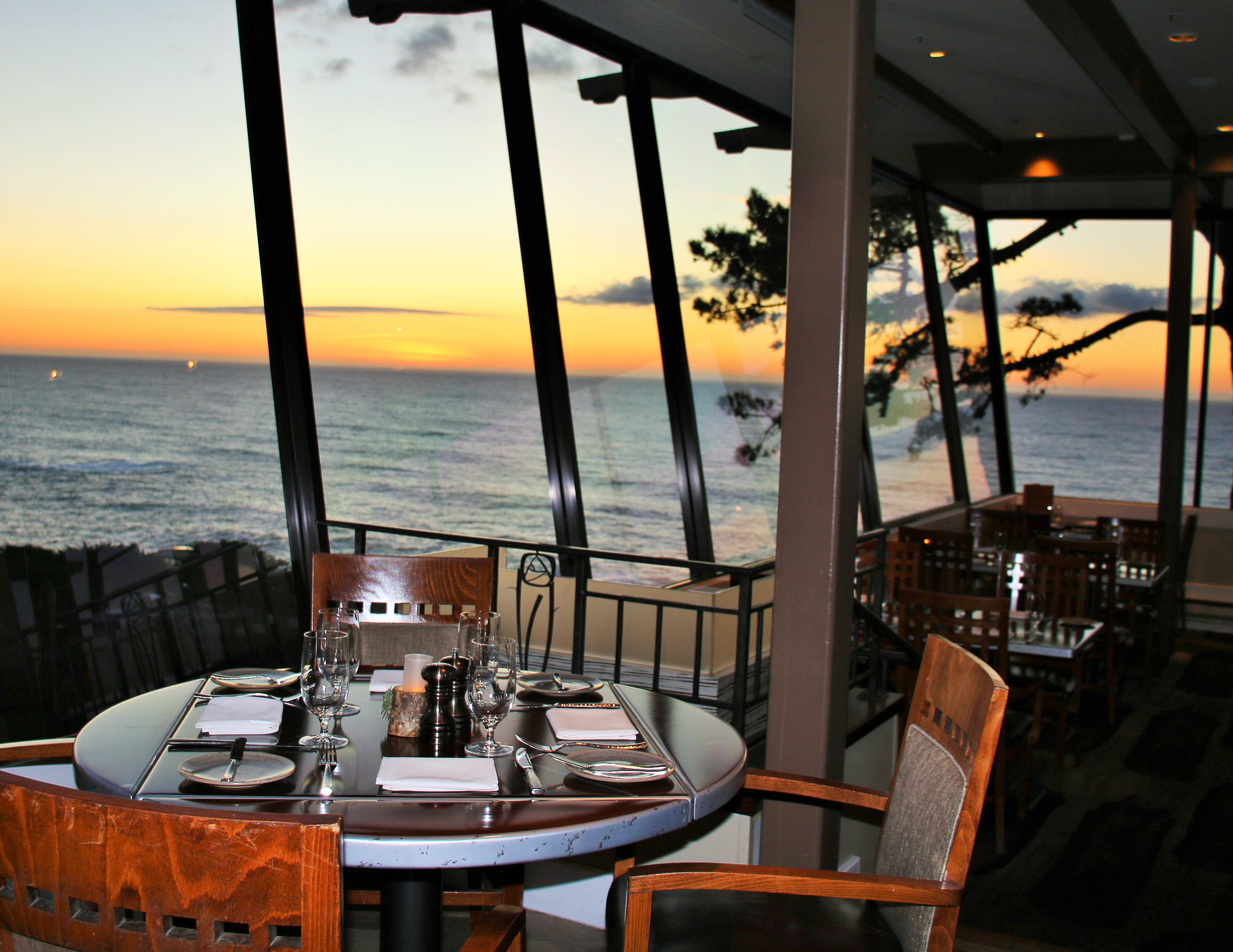 Throughout its history the Highlands Inn has always been a desired wedding and honeymoon destination and currently the hotel hosts over 60 formal ceremonies a year. As the mother of three daughters I loved that they offer a midweek Elopement Package for eight to a dozen guests, which includes "romantic evening turn-down service with rose petals, a chilled bottle of champagne and chocolate-covered strawberries." A wedding chapel was part of the grounds from the 1950s through the 1980s and the brass bell that hung in its spire is now an attraction in the lobby where the plaque on the bell reads "(Hundreds of) couples young and old came to the romantic retreat to exchange and renew their wedding vows."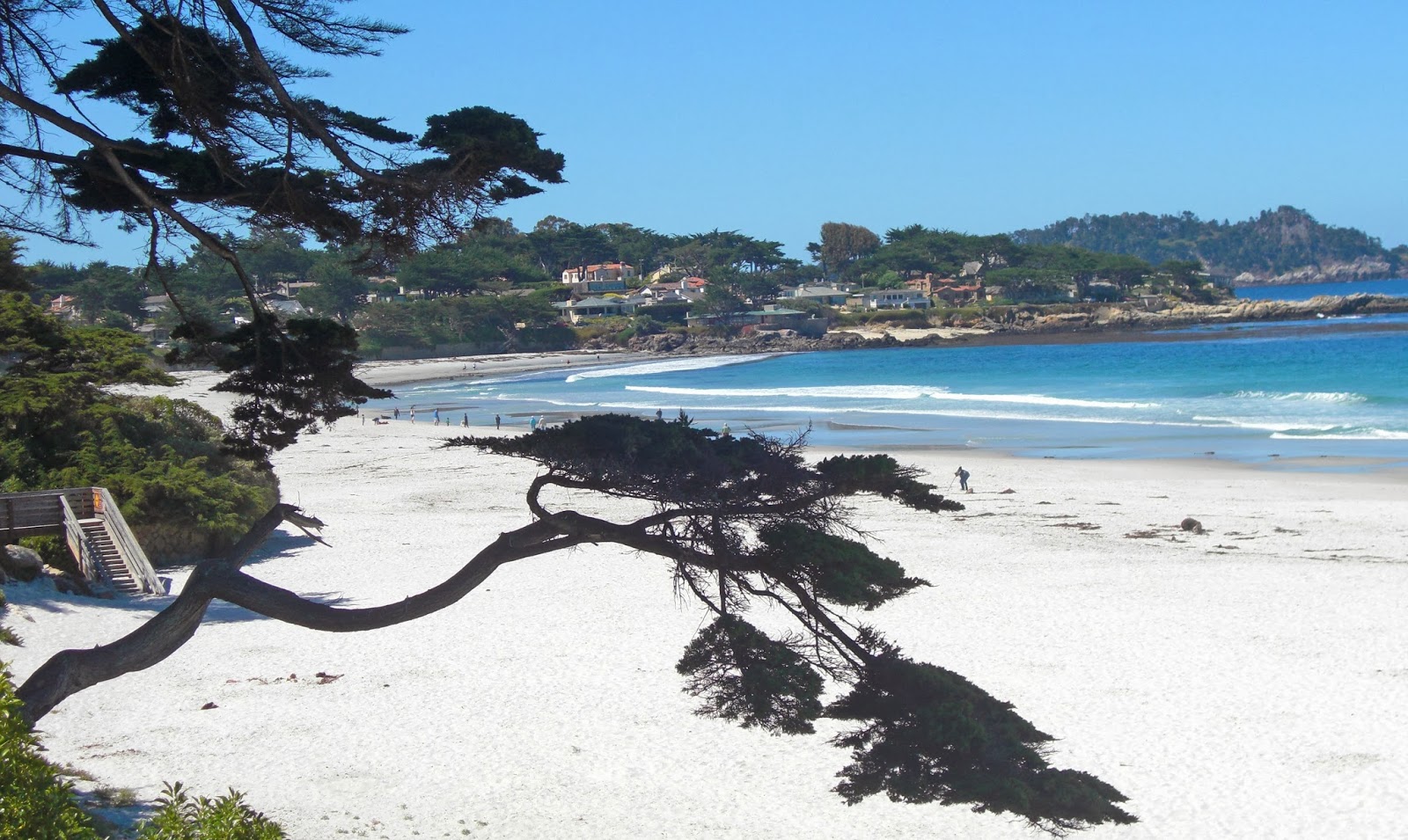 If it's a picnic at the beach you desire the Highlands Inn picnic program provides the public the opportunity to call ahead and arrange for lunch to be packed in a lovely wicker basket (for up to four) or a backpack (for two) and lunch items are selected from their set menu, or custom-designed and priced accordingly. The Carmel River State Beach, located only 4 miles south of Carmel, is the ideal spot to spread a blanket, watch the waves over a delicious picnic lunch.
Returning to this property where years ago I spent happy times with my family brought back such good feelings, and to see the attractive changes that have been implemented to take it into the twenty-first century without altering the special 'one with nature' quality it has become renowned for was heart warming. It is a place that steals a piece of your soul and I look forward to returning in the very near future for more of the God given views and the spectacular food.
Carmel Highlands Inn
120 Highlands
831-620-1234
________________________________________________________________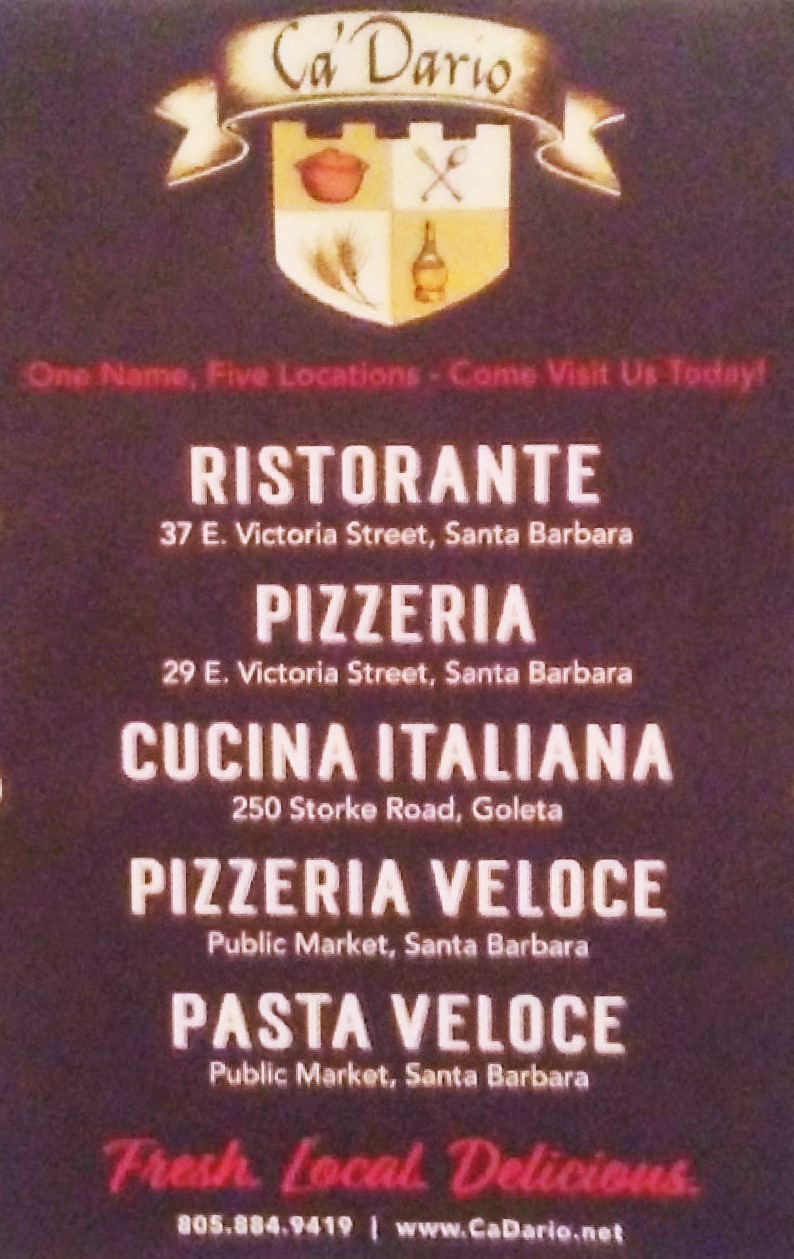 Ca'Dario Ristorante
37 E. Victoria Street
Santa Barbara, California 93101
805-884-9419
---