SPA BABY SECRETS . . .
BURKE WILLIAMS SPA
Burke Williams a leader in innovative skin care for many years in the Los Angeles area has some fabulous new treatments to enjoy, so I sat myself down for a 'Spa Baby Secret' session in their Sherman Oaks location to enjoy a Steam Pedi and Facial with their new Eye Lift option.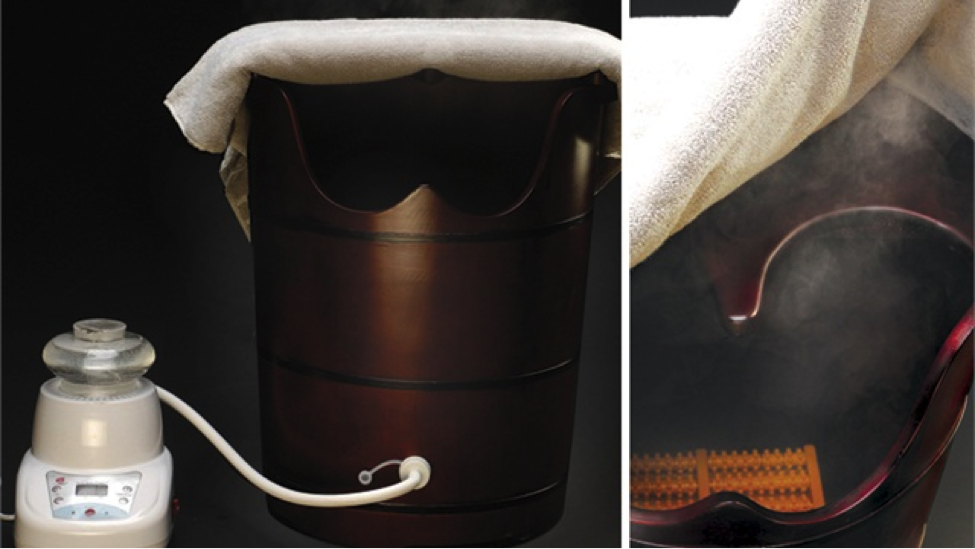 Steam Pedi Treatment
One of the new services being offered at Burke Williams Spa is a steam pedicure. which is a new twist and a great innovative treatment for beautiful feet. I also recommend the facial with new eye lift treatment. During my recent visit I enjoyed both of these innovative treatments and here's the skinny on them.
STEAM PEDI
The new pedicure system replaces the use of water with steam to hygienically open pores and eliminate dead skin cells to leave the feet feeling soft and hydrated for days.
To begin the feet are cleaned with a tree tee oil mix, polish is removed and the nails are shaped. Then a massage lotion is applied to the foot and calf, then wrapped in a warm towel up to the knee and placed one foot at a time into the wooden steam sauna basin. Once each foot has been prepped and steamed, guests indulge in a Burke Williams signature foot and calf massage followed by the OPI polish application of choice.
FACIAL with EYE LIFT
Let BW pamper and soothe you while you enjoy their highly stylized Burke Williams facial treatment. They use their tried and true techniques to heal and rejuvenate the skin with cleansing, hydration, masque, and a relaxing massage to the face, neck, and shoulders. You can also enjoy a paraffin hand dip for your hands if you are so inclined.
To enjoy your facial to the fullest at Burke Williams you will customize your experience by adding a unique enhancement to maximize the results. Ask your  esthetician for her recommendation for your skin. The one I enjoyed was the advanced eye lift. This is great for senior women to renew their wide-eyed youthful look and smooth the entire eye area out for a healthful younger image.
Advanced Eye Lift
Micro-current technology lifts the brows, softens fine lines and wrinkles, while firming the skin for a more youthful, wide-eyed look. The treatment is very pleasant and offers a quick fix to cover a multitude of eye tales.
My visit was to the Sherman Oaks location, however, BurkeWilliams has numerous locations in the Los Angeles area. Visit their site for details.
Burke Williams Spa visit www.burkewilliamsspa.com
---