VILLA D'ESTE ICON CELEBRATES SILVER JUBILEE
WITH SIGNATURE DINNER AT JAMES BEARD HOUSE
Luciano Parolari, Executive Chef Celebrates 40 Years
by Bonnie Carroll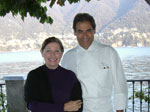 Luciano Parolari, renowned Italian executive chef for the acclaimed Villa d'Este Grand Hotel and Sporting Club, located in Lago di Como, Italy, will prepare a special dinner to celebrate his 40 year anniversary as a chef, and his career at Villa d'Este with a signarure dinner at the James Beard Foundation on Noverber 1.
Parolari is a native of Italy's Lake region, the son of a butcher from the village of Arco. He began cooking at age 13 and attended hotel school to promote his career ambitions. Following apprenticeships in several fine hotels he landed in the kitchen of the Grill at Villa d'Este many years ago. Every year during the hotel closure in October, he would work at the Savoy in London or the Palace in St. Moritz. In 1978 Parolari became executive chef of the Villa. Today, so many years later, he oversees a kitchen staff of forty Italian cooks who produ
ce a strictly Italian menu of regional specialties. Parolari is the author of the Villa d'Este Cookbook, and the author of many an Italian dream.
His forty years of service preparing and presenting the outstanding cuisine he is known for has made him one of the best known and loved chefs in Italy. Patrons return each year with anticipation of the original Italian dishes he will serve them.
The November 1st Jubilee Dinner menu at the James Beard House will include assorted hors d'oeuvre, Shrimp Tails with Fresh Vegetable Flan and Balsamic Vinegar, Risotto with Pumpkin Blossoms and Alba Truffles, Sea Bas with Dried Tomatoes, Capers, Artichokes and Potatoes in Olive Oil, Veal Filets in Mushroom Crust and Chocolate Tartlet with Orange Blossom Sauce. The Risotto with Pumpkin dish is one of my all time favorites, and if you click below there is a copy of this recipe for your enjoyment. For your own treasured copies of Parolari's books or additional information on the villa please visit: www.villadeste.it.
The Beard House is located at 167 12th Street, New York, NY. For information or reservations call 212-627-2308 or visit: www.jamesbeard.org.
---
ZUNICA 1880 Ristorante & Hotel
Mistical World of Civitella del Tronto – Citta Fortezza – Abruzzo, Italy
by Bonnie Carroll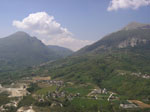 The Zunica Ristorante and Hotel is the final resting place at lunch or dinner for day visitors to the incredible Citta Fortessa, a castle fortress that overlooks the valley of one of the most breath takingly beautiful regions in Italy. This is the Medieval and magical place where actress Michelle Phiffer filmed LadyHawke and was turned into a hawk, through the spiteful spell of a jealous suitor, and was destined to never be one with her love, who had been turned into a wolf. I remember the scenes in this movie vividly, and was completely stunned at how beautiful and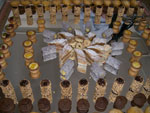 immense it was from the highest tower. Abruzzo provides a bevy of historic information and photo opportunities for visiting art, history and nature lovers.
The tour through this fortress, the last bastion of the Bourbons before the Unification of Italy, gives such a view of the rugged, yet proud life led by its residents in times past, representing a wealth of architectural gems within its ancient walls. It is a complete city with areas devoted to blacksmith areas, laundry and cooking sections, and a large meeting room which flew flags of all the families in the region on the walls. The climb through this structure is entire valley, and one should have good walking shoes. At the top th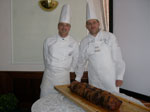 ere are views to the Fiori Mountians and the blue Adriatic sea that are so very unforgettable.
The Zunica Hotel is an elegant historical 17th century mansion that was opened up by the Zunica Family in 1880 to travelers in search of a place to break their journey. 20 quiet rooms and suites offer exquisite views, as well as charming and comfortable décor. The elegance, courtesy and attention to detail are just a few discreet touches to insure a truly special stay. The Zu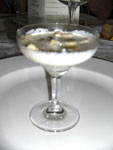 nica is only a few hours drive from Rome, and the small villages along the drive provide such an interesting story of the history of Abruzzo.
The restaurant comes recommended by the best food guides and is a magnet for lovers of good cuisine. Prepare yourself for some of the finest hand-made pasta, bread, desserts, and unique entrée presentations you have ever experienced. The wine of this area is also quite amazing. The dining room is elegant and will provide the perfect venue for an evening to remember with someone you adore.
The menu items here include the unique to this community cheese, sausage, fruit jams, and pasta dishes. The delicious preparations of port, wild game, and dairy for cold soups, and cheese filled cookies still makes my mouth water. This area is renowned for their outstanding food, and once there you will understand why.
For your next Italian adventure, try this special and relatively unknown region for an unforgettable vacation, and for an opportunity to meet many dear local people, and taste for yourself the historic and unique gastronomia of Zunica's gourmet restaurant.
Zunica 1880
Ristorante & Hotel
Piazza Filippi Pepe, 14
64010 Civitella Del Tronto (TE) – Italy
+39 0861 91319
tremonelle@hotelzunica.it
www.hotelzunica.it