September 2006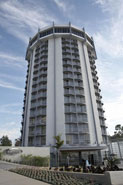 HOTEL ANGELENO
A Boutique Hotel that is Uniquely LA
by Bonnie Carroll
Located at the crossroads of prestigious Brentwood and Bel Air, Hotel Angeleno is centered in the best of the West Side. The historic building that has been a beacon for those passing on the 405 Freeway has been skillfully transformed into a dramatic Modern era icon that features a blending of cool and classic features.
There is a comfortable, but sophisticated ambiance that provides and instant attraction, which is obvious by the crowd of guests that fill the spectacular penthouse level restaurant and lounge area. The penthouse is the home of West, where Chef Josh Moulton proves that steak is a menu star, along with pasta, Tuscan stews and risotto. Homemade gnocchi, Italian-inspired salads, and a smart assortment of small starter plates can also be sampled at the bar before dinner. The yellowtail with avocado appetizer is magnificent. A very fine collection of wines are served in cotinas to encourage enjoyment of several selections over the course of the meal.
This is an amazing venue to sit and watch the sun set, and also offers a birds eye view of the beautiful Getty Museum. The panoramic city view as the lights come on is breathtaking, and offers some fun photo opportunities for tourists. The room itself is all white, silver and sparkles, as do the members of the charming serving staff.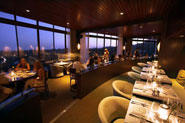 My Italian style New York steak, rubbed in lemon and garlic was simply outstanding, and the chef's whipped potatoes with parmesan cheese would play havoc on anyone's diet, but they are not to be missed. The artichoke starter I devoured was authentic and perfect in size. The desserts are also original, and I highly recommend the Godiva white chocolate soufflé, which is splendid!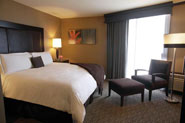 The rooms and suites in the hotel are ultra modern, but totally comfortable, with every modern amenity know to man. You are completely plugged in here with the latest technology. Italian sheets, fluffy feather duvet covers and down pillows make the point that "It's all about the Bed" here. A heated pool with a fireplace will provide guests a wonderful place to watch the Hollywood stars, and the business center is available to handle MAC or PC communication needs.
Each of the 290 guestrooms has a private balcony with view, CD player, ergonomic chair and work station designed with business travelers in mind, plasma flat-screen TV, complimentary HBO, Aveda therapeutic bath products, and all the other necessary good stuff.
The Getty Center, Skirball Cultural center, Geffen Playhouse, Rodeo Drive, UCLA Pauley Pavilion are just minutes from the hotel, and there is a complimentary shuttle service available to destinations within a 3 mile radius, with advance reservations. For information visit: www.hotelangeleno.com.
---
Chef News
TWO NEW YORK CHEFS AWARDED THE 5
CÔTES OF BORDEAUX/LA TUPINA INTERNSHIP
American Chefs Honored in the Spirit of Jean-Louis Palladin at Aqua
Two young chefs, Jeffrey Lizrotte of Le Bernardin and Dennis Stella of Picholine, were selected by the Jean-Louis Palladin Foundation to discover the gastronomy and wines of the Bordeaux region for one week during the harvest at the end of September 2006. The award ceremonies were recently held at Aqua Restaurant in San Francisco, hosted by Laurent Manrique, and at Napa Rose in Los Angeles, hosted by Andrew Sutton, Michael Jordan, and Michael Rossi, the 2005 recipient. "We truly appreciated the quality of the products, the orginality of the recipes, and the quality of the service at Aqua and at Napa Rose," raved Jean-Pierre Xiradakis, owner of La Tupina Restaurant in Bordeaux. "It was a great pleasure to be among this incredible group of American and French chefs."
The aim of the internship, sponsored by the 5 Côtes of Bordeaux Wine Council (Premières Côtes de Blaye, Côtes de Bourg, Côtes de Castillon, Premières Côtes de Bordeaux, Côtes de Francs) and La Tupina Restaurant, is to recognize up and coming American chefs for their talent and commitment in the spirit of the legendary chef Jean-Louis Palladin, and to foster an exchange of ideas between American and French culinary life. "I believe the Jean-Louis Palladin Foundation is a gem in the culinary world, offering young chefs the opportunity to learn and build relationships," said Dennis Stella, executive sous chef at Picholine in New York. "I'm looking forward to seeing everyone again in Bordeaux in September."
The American chefs will also be back in Bordeaux next June for Vinexpo 2007, where they will join forces with previous internship awardees and French chefs to create an unforgettable gastronomic evening.The JLP Foundation was incorporated in June 2003 in memory of Chef Jean-Louis Palladin, a native of Southwest France. The foundation's vision is to create an ongoing tribute to the memory of Jean-Louis Palladin's culinary leadership, including his unrelenting determination to seek out and use the best ingredients, to mentor talent wherever he found it, and to form a great brotherhood among chefs.
The 5 Côtes of Bordeaux Wine Council/La Tupina internship was first created in 2004, when they honored Chef Paul Sterman of Marcel's Restaurant, Washington, D.C. For more information, or to organize a visit of the 5 Côtes of Bordeaux wine region, please contact Christophe Château at cchateau@bordeaux-5-cotes.com.