Messhall's new Executive Chef Shane Pritchett arrived in Los Angeles direct from New Orleans.  Chef Pritchett was hand-picked by Emeril Lagasse to work at his original Emeril's Restaurant and then became Executive Chef at Emeril's famed Delmonico restaurant in New Orleans.  He received rave reviews and perfected his talent bringing big bold flavors to classic recipes. 
The new menu at Messhall will be a mix of new specialties from Pritchett  - Hog Chop with Tchoupitoulas sauce; Stone Ground Grits; Crab Cakes with house slaw and Turkey chili with jalapeno cornbread plus Messhall standards like Willard Fried Chicken, The Messburger and  our "Best of LA" Corn Fritters .  Pritchett promises lots of seafood specials starting with Fried oysters with black eyed peas and brie cream; Ceviche du Jour; and 'peel + eat' Shrimp.  We'll also be adding some "breakfast for lunch items" like Shrimp and Grits and Chicken and Waffles   Next up, Chef Pritchett will be showing off his sweet tooth so stay tuned.
Fat Tuesday Party February 17
"Laissez les bons temps rouler" or as they said in LA, "Come hungry and thirsty"!  There was plenty of food, drink, music, and fun. Special of the Night will be a two-course Mardi Gras feast:  an authentic Crawfish and Shrimp Boil* (with corn, sausage + mushrooms) served on newspaper in a tin can lid and a Cinnamon Raisin Bread pudding with praline sauce for dessert (Feast $36).  And since it's (Fat) Tuesday, all Oysters and all Tacos are just $1. 
In addition to our not-so-traditional Hurricane (recipe below), drinks also included for the night were named after the Seven Deadly Sins – pick your favorite:  Lust, Gluttony, Greed, Sloth, Envy, Wrath and Pride (recipes below). 

$1  Oysters and Taco Tuesday returns to Messhall
Our popular 'no limit' $1 Oysters and Tacos return every Tuesday night. 
That's all night long – not just a happy hour.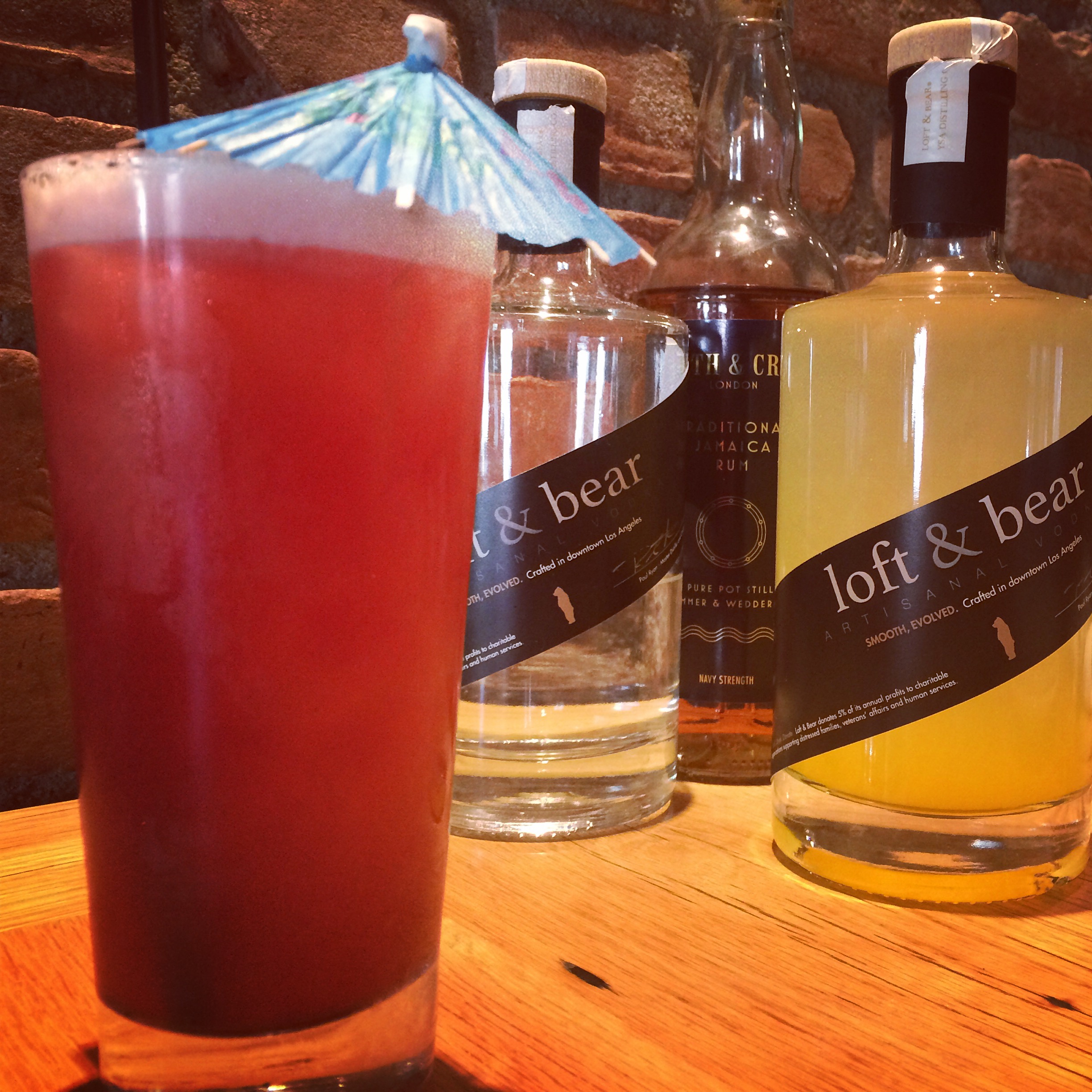 Hurricane (umbrella included)   $10  
3/4 lime juice
½ oz grenadine
1 oz  pineapple juice
1 oz  blood orange juice
1 1/2  oz  Passion Fruit infused Loft + Bear vodka  
3/4 oz  Smith and Cross Rum
Pride  (one of Seven Deadly Sin drinks)
  $12
2 oz  Isle of Skye Scotch 
¾ 
oz Meletti
1/2 oz  Poli Miele
Dash of Angostura and Peychaud's bitters
4500 Los Feliz Blvd
__________________________________________________
Wine Pairing for March 2015
Fleur Bleu 2013 California Gewürztraminer
Our Fleur Bleu 2013 California Gewürztraminer follows its definition with a rich nose of lemon, daffodil and passion fruit notes. Some citrus blossom aromas are lingering in the finish. Gewürztraminer is one of the most pungent varietals of all white wines. Its legendary spicy characters are displayed in the attack. The mouth has a succession of warm spicy aromas, some lychee, along with some calming citrus acidity. This wine is considered a dry white, however a very small amount of residual sugar provides a round, pleasant finish. As for food pairings, this wine is a perfect match for a simple fish or chicken dish, spicy Asian cuisine or even curry-based dishes. Fresh fruits, nuts or cheeses like Havarti, Gorgonzola or Muenster are perfect with this wine. Try it with the featured recipe: "Supreme Salmon Rub."

Specially created for pairing with
the Fleur Bleu 2013 Gewürztraminer
1 pound salmon fillets, skin
1 tablespoon vegetable oil
1 tablespoon firmly packed
Place salmon on foil-lined baking pan.
Brushsalmon with oil. Mix Seasoning and brown sugar
in small bowl. Rub on both
Bake 10 minutes or until fish flakes easily with a fork.
*Recipe and Photo Courtesy of McCormick & Company, Inc.