CULINARY COUP . . .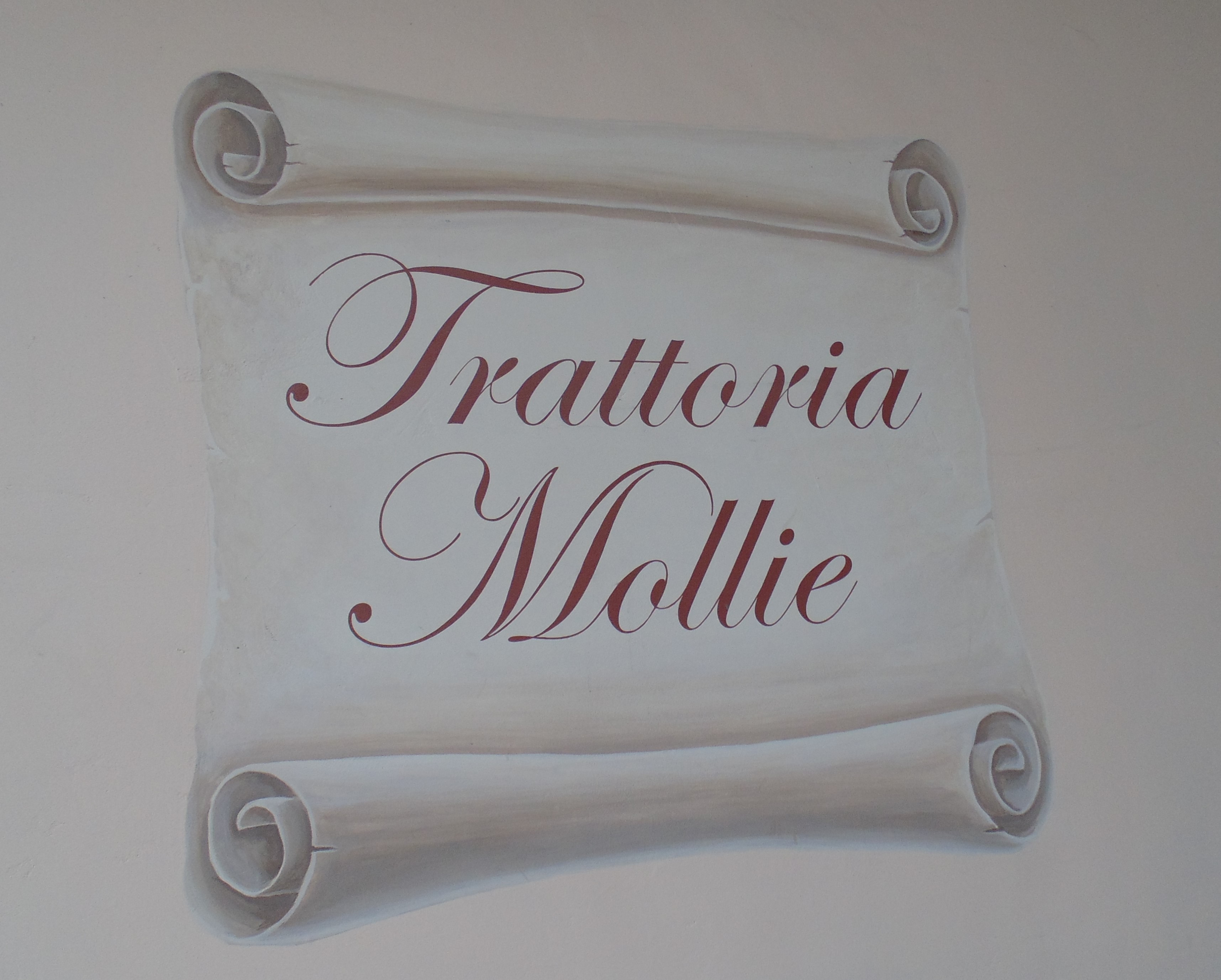 TRATTORIA MOLLIE IN MONTECITO
by Bonnie Carroll
It took me awhile to get to this highly publicized dining spot in Montecito, California, and I'm sure it is because Mollie had been given so much attention by Oprah Winfrey, who had stumbled in Mollie's by accident and became a devotee of one of her signature sandwiches. The iconic TV celebrity invited Mollie on her show and the rest was history.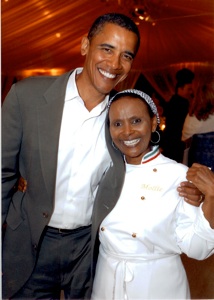 Mollie is as sweet as she is talented. Her career included working as a chef in Milan, and this may explain the authenticity of the divine Italian pasta plates she is putting out of her very busy kitchen. She also baked bread at the Vatican, and has become renowned for her wonderful breads, and desserts. I especially liked her signature pasta of spinach and eggplant smothered in the most amazing sauce, as well as a delicious Caesar salad tossed in a light dressing with hints of anchovy.  Naturally, her fresh and crunchy, right out of the oven, bread with olive oil is sensational, and her fabulous selection of homemade sweets provide an unforgetable sinful ending. I loved the perfect cappuccino with Italian cookies. Mollie's also offers an excellent lunch menu that includes a Margarita pizza with a thin crispy crust that should not be missed, and amazing as this may sound - Mollie delivers!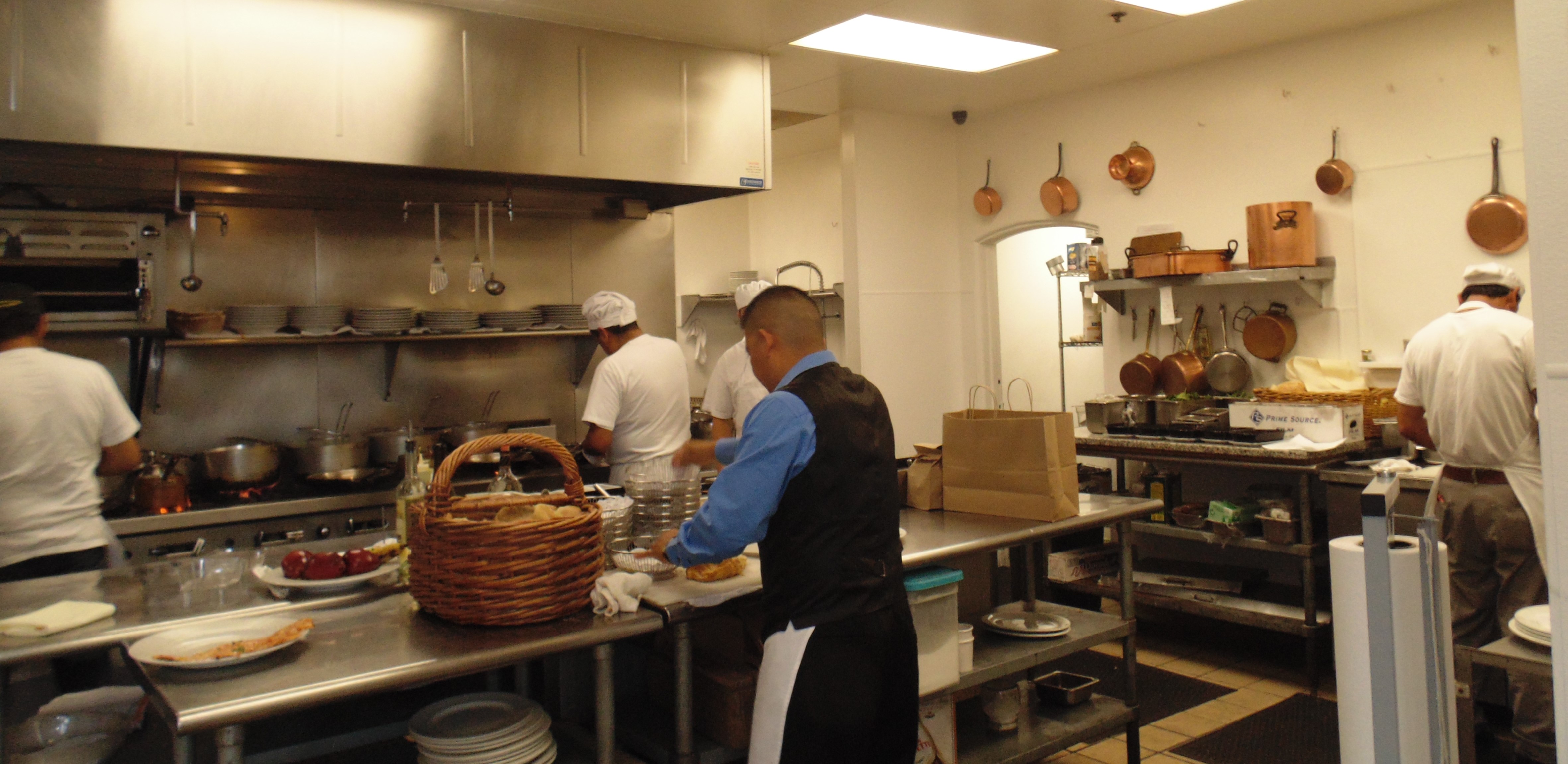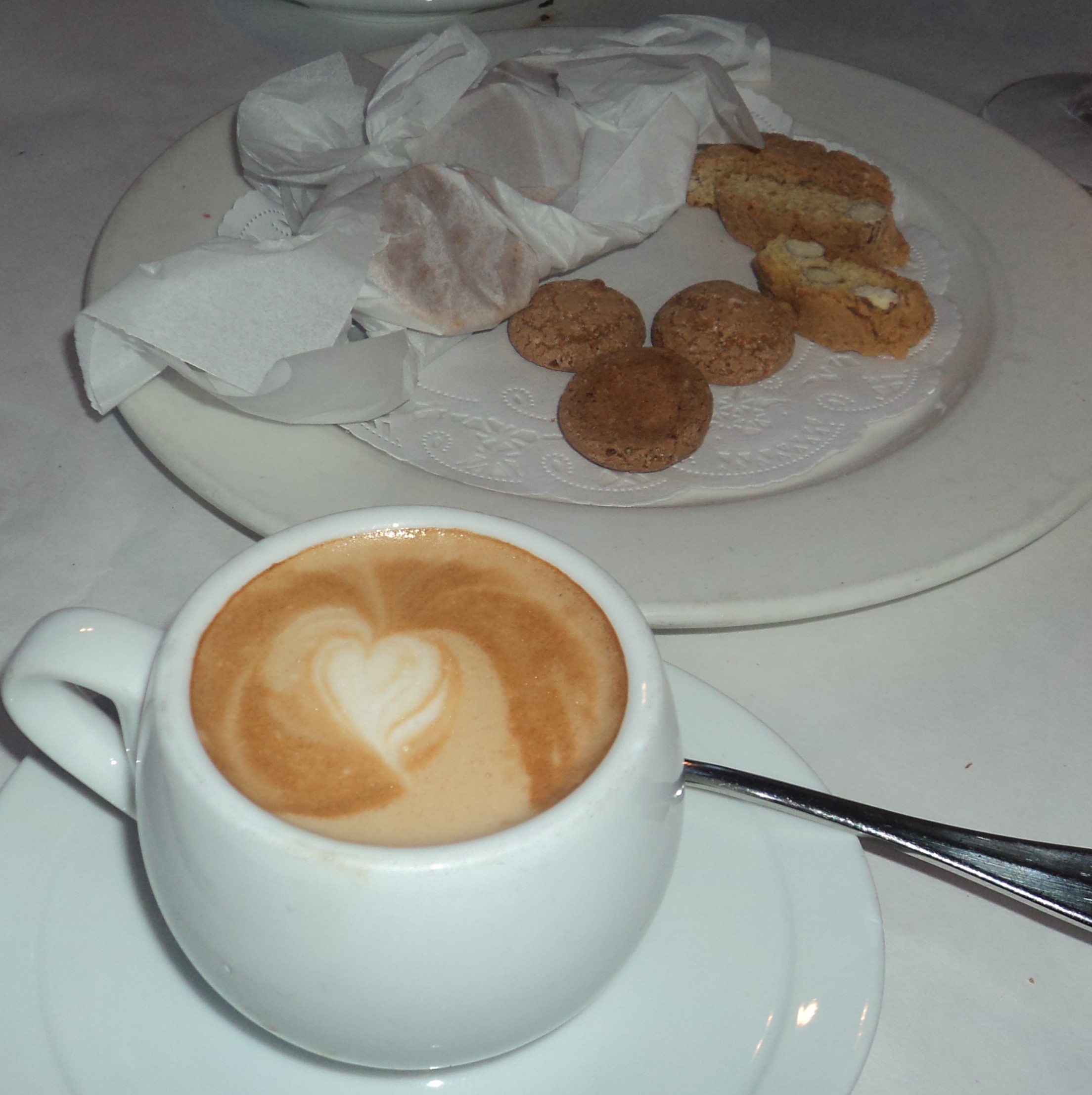 The restaurant is charming, with side tables covered with photos of Mollie and celebrity guests who have graced her place, including photos of Mollie with Barach Obama, and Oprah Winfrey. The use of warm colors and familiar interior touches make this a comfortable livingroom style venue to enjoy Mollie's great food. Their patio is also a magical place to dine, people watch and linger over an Italian liquer.
Overall, Trattoria Mollie is a great spot to dine and enjoy 'breaking bread' for social or business meetings to savor authentic and delicious food, as well as sample sips from their outstanding wine list, which includes fine european and local California wines.  Mangia Bene!
Mollie's Trattoria
1250 Coast Village Road, Montecito, CA 93108

(805) 565 - 9381
____________________________________________________________________
Jeanette's Edelweiss – A New Authentic German Restaurant Experience, Also Featured In A Television Series, To Open In March 2015; Celeb Chef Is Kurt Ehrlich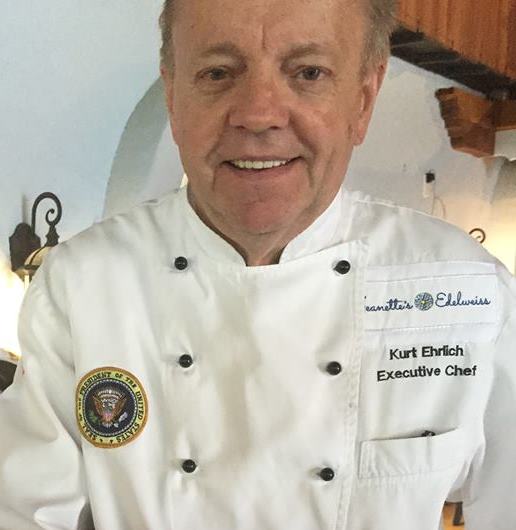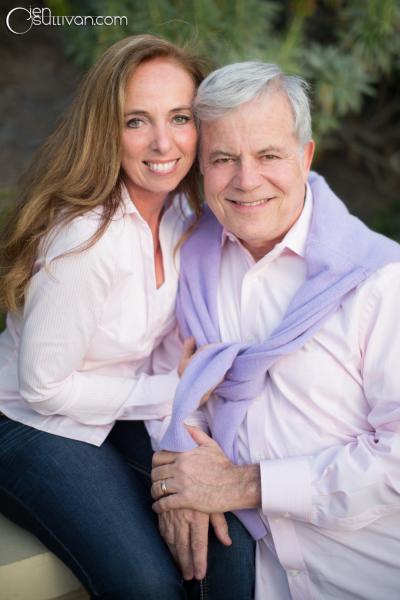 Chef Kurt Erlich     Owners Edelwiess Jeanette & Jim
Southern Californians are about to get a true taste of authentic German food, music and fun with the launch of Jeanette's Edelweiss restaurant in Newbury Park (near Thousand Oaks/Westlake area) in March 2015.
The myth that German food is "heavy" will be proven wrong when German Executive Chef Kurt Ehrlich offers up his mouth-watering, homemade recipes. Kurt's specialties include vegan and vegetarian dishes, along with traditional German fare, perfectly spiced and cooked with fresh, locally grown ingredients.
The renowned Chef Kurt has decades of experience and an impressive track record, having cooked for Hollywood celebrities as well as Presidents Richard Nixon and Ronald Reagan.
Chef Kurt says, "I'm excited to introduce authentic, delicious and healthy German cuisine to the customers of Jeanette's Edelweiss and to share my secret recipes with Jeanette and on the TV show. My intention is to make Jeanette's Edelweiss Southern California's number one German Restaurant,"
Jeanette's Edelweiss will also offer the best of German beers on tap, and German wines imported from family wineries throughout Germany.
Jeanette's Edelweiss is more than an authentic German restaurant with excellent food, beer and wines. It is also a place for fun and entertainment. German born music producer, writer and performer Verenice Buerling – whose music is featured on shows like The Voice, Real Housewives, and Dance Moms – is the entertainment director of the restaurant. Every weekend the German folk band "Hammerstein" will play authentic German folk songs, which will have people leaping out of their chairs and raising their mugs high.
Jeanette's Edelweiss owner, Jeanette B. Milio, is not only born and raised in Germany, but is a renowned Hollywood industry veteran, who has been involved in over 45 motion picture and television projects with Emmy and Academy Award winning talent in front and behind the camera.
"I moved to LA 15 years ago to follow my dream of becoming a Hollywood producer. Even though my work here and raising daughter in a new country kept me busy, I still found myself missing my home country. I still do so to this day." Jeanette wanted to bring a slice of home to America, which was the seed for her to launch a German restaurant, and then hire a top notch, experienced team to run it.
Co-owner Jim Milio has been a writer, producer and director of television and films for more than twenty years. In film, Milio wrote and directed Men Seeking Women starring Will Ferrell and was the co-executive producer of the highest grossing romantic comedy of all time, My Big Fat Greek Wedding. Jim Milio has written, produced, or directed more than 400 hours of television including The Dog Whisperer with Cesar Millan for National Geographic, Founding Fathers for the History Channel, The Discovery Channel Eco-Challenge Australia, Rescue 911 for CBS, the Emmy nominated Great Moments in Disney Animation for ABC, and The Real Las Vegas for A&E.
Jeanette's Hollywood credits include 13, starring Jason Statham, Mickey Rourke, The Experiment, starring Academy Award ® winning actors Adrian Brody and Forrest Whitaker; Dark Tide, starring Academy Award ® winning actress Halle Berry, the upcoming Weinstein Company comedy, Wild Oats, starring Academy Award ® winner Shirley MacClaine, Demi Moore, Jessica Lange and Billy Connelly.
The TV reality series "Edelweiss in Hollywood," featuring Jeanette's Edelweiss and the dream team behind it, is currently being filmed by three time People's Choice award-winning producer writer, and director Jim Milio ("Rescue 911, Dog Whisperer," and "My Big Fat Greek Wedding"). "The reality series is the chance to share my vision of German music, food and fun with the world," says Jeanette.
In March 2015 the restaurant will open to the public; starting with a very special celebrity opening with TV and film stars. The restaurant is located in beautiful Newbury Park, in the Westlake/ Thousand Oaks area of sunny Southern California.
About Jeanette's Edelweiss
Enjoy an instant vacation to Germany when you step through the doors of Jeanette's Edelweiss Restaurant. Jeanette's Edelweiss offers classic German food and beer, friendly service and Hammerstein, an exciting band playing German folk music along with rock 'n roll. In short, JE is more than a restaurant; it's an experience, allowing customers to enjoy the playful, tasty side of Germany for the time they are there. Jeanette's Edelweiss uses organic, natural and locally sourced products as available. http://www.jeanettesedelweiss.com
____________________________________________________________________
After graduating from the Institut Paul Bocuse in Ecully, France, Lesage trained at some of the world's most celebrated establishments, including The Ritz Paris, the Michelin three-star restaurant, L'Astrance, and Michelin three-star restaurant, Bras.
Most recently, Lesage served as Executive Chef of Balboa Bay Resort in Newport Beach where he opened two of the city's only waterfront restaurants, Waterline and A&O Kitchen + Bar. Prior to that, he served as Executive Sous Chef at St. Regis Monarch Beach, managing a culinary team of more than 60.
Today, as Executive Chef of Bacara's renowned culinary program, Lesage oversees the resort's six dining experiences, including a new signature restaurant opening spring 2016. When asked about his vision for Bacara, Lesage says "I approach every outlet as its own distinct concept. From a healthy breakfast at Spa Café to a casual family meal at The Bistro, each experience is unique, and each experience is exceptional."
___________________________________________________________________
NOLA NEWS . . .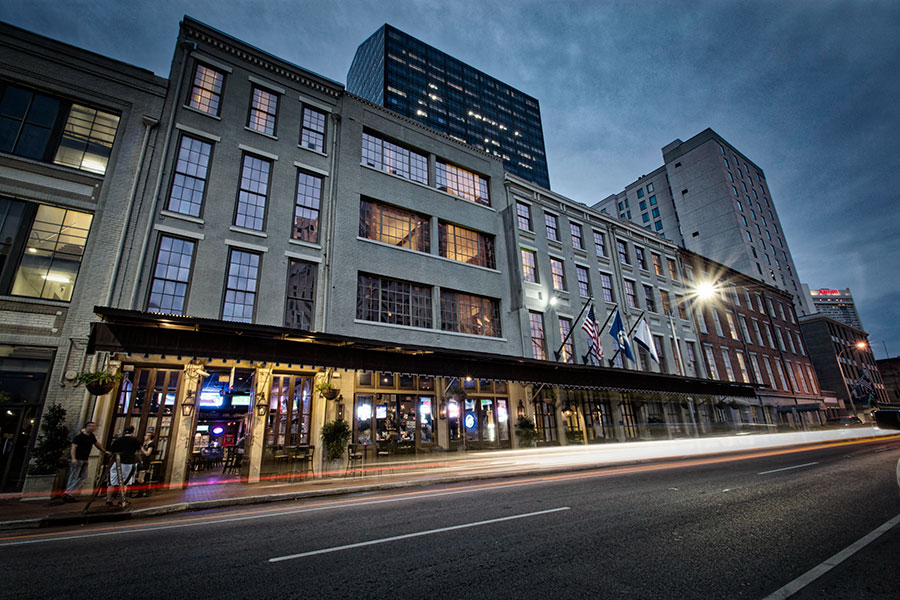 Old No. 77 Hotel and Chandlery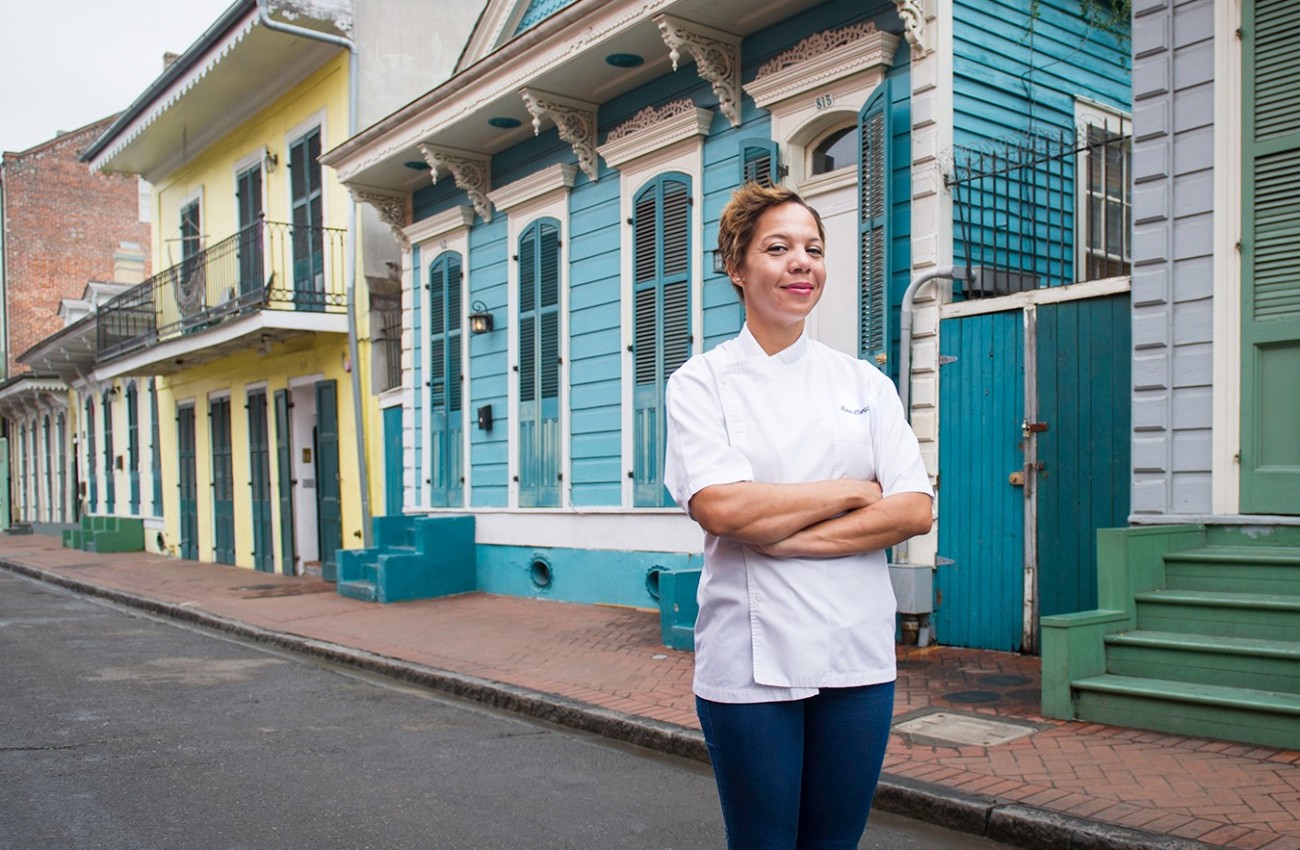 Chef Nina Compton
The opening of Compère Lapin marks a triumphant return to New Orleans for Compton who fell in love with the city during the filming of BRAVO's Top Chef Season 11: New Orleans. Over the course of the show, she earned the admiration of the judges and her fellow contestants, taking the runner-up spot in the winner's circle and being voted the season's fan favorite. It was a journey that played out in front of millions and will come full-circle with the opening of her new restaurant.
A St. Lucia native trained in the French tradition at the Culinary Institute of America in Hyde Park, New York, Compton most recently was chef de cuisine at Scarpetta at Fontainebleau Miami Beach. There she worked with celebrity chef and restaurateur Scott Conant to create a masterful Italian menu that drew raves from far and wide.
As owner and executive chef of Compère Lapin at the Old No. 77 Hotel & Chandlery, Chef channels the delectable diversity of her culinary background while incorporating the rich food traditions for which her newly-adopted home of New Orleans is famous.
___________________________________________________________________
WINNERS OF INNOVATIVE NEW PRODUCT GALLERY AND THE FOOD TRENDS EXPERIENCE ANNOUNCED
AT THE WESTERN FOODSERVICE & HOSPITALITY EXPO
The Winners of the People's Choice Awards for the Innovative New Product Gallery were announced today at the Western Foodservice & Hospitality Expo, being held at the Los Angeles Convention Center. Thousands of attendees voted for their favorite products.
The Overall Winner
was

Fresh Origins

for their Unique Flower Buds are succulent, juicy and salty

. The 1st Place Runner Up was Spindrift for their fresh squeezed seltzer cans - cucumber, lime and grapefruit; and The 2nd Place Runner Up was Menuvative

for their Tablet Menus

. The winner of the Best New Product in the Food Trends Experience was Yummy Baking for their Gourmet Dessert Cups and Bites

. In addition, Annie Doung, Strategic Buyer, Panda Restaurant Group

,

Rosemead, CA, won a $500 shopping spree on the show floor. 
Following is a list of the companies who participated in the New Product Showcase:

 
| | |
| --- | --- |
| Company Name | Product Description |
| | AMBIANCE Fire Features for outdoor patios |
| | Restaurant Cloud POS of Ipad |
| | Industry's First Combi Oven |
| | |
| | |
| | Wireless Liquor Wing and Beer System/ Automated Pizza Saucing Machine/Icing Viper Beer Towers |
| | Oil and Vinegar Bottle and Cruets |
| | |
| | Brutus Power Tub is designed to completely de-grease hood filters and other kitchen items in just minutes |
| | Mobile Requisitioning Module/Software Solutions |
| | |
| | |
| | Dairy Free and Vegan NY Style Cheesecake |
| | Gluten Free and Kosher Margarita Mix |
| | Apex Conveyer Washer/Hand Hygiene for Foodservice/Stain Management |
| | Machine to crack/extract and blend eggs |
| | |
| | |
| | |
| | Unique Flower Buds are succulent, juicy and salty |
| | 3 oz. Packaged Gelato Cups |
| | Tandoori Naan Teardrop/Organic Tandoori Naan |
| | Plazza Stacking Chairs/Tempo Stacking Barstools/ Molded Malamine Tabletops |
| | |
| Haining Aralon Paper Product | Double Wall Paper Cups/Ripple Wall Paper Cup/Cold Drink Paper Cup |
| | BrewLock Draught Beer System |
| | |
| | |
| | Refrigerator Equipment Stand/IM Square Cuber/ Pizza Prep Refrigerator |
| | mobile technology for the restaurant, retail and hospitality industries |
| | |
| | |
| | PURE - a new line of dressing and mayonnaise/GREY POUPON ROUGE Dijon Mustard |
| | Mediterranean specialty cheeses and cultured dairy products |
| | Healthy Rice Pudding for sugar restricted Diets/ Caramel Cream Flan/ Coconut Flam/ Sugar Free Gelatin Snacks |
| | Perfect Utility Tray/Mini Trays |
| | Table Location System/Waitlist and Guest Management App/ Check Point Survey/ New Guest Pager Pro |
| | Chopped Tomatoes in Juice |
| | |
| | Keeps Avocado and Guacamole Fresh |
| | Fruit Cut Cold Pressed 100% California EVOO |
| | full service food packaging |
| | Pre-packaged purified ice cubes |
| | |
| | American made foodservice cooking equipment products |
| | |
| | Made of 50% bamboo fiber; hygienic, Completely bio-degrades. |
| | fresh squeezed seltzer cans - cucumber, lime and grapefruit |
| | |
| | Light Duty Hose Reel/CheckPoint Rinse Faucets/ Swivel/Low flow Spray/EasyInstall |
| | Ginger Lemongrass Syrup/Spice Kola Nut Syrup/Puree Blends |
| | crystal clear upscale disposable and recyclable plastic drinkware |
| | PAR Pixelpoint Software Package |
| | Gourmet Dessert Cups and Bites |
| | Stainless Vacuum Creamer Dairy Server/Water Boiler and Warmer |
---