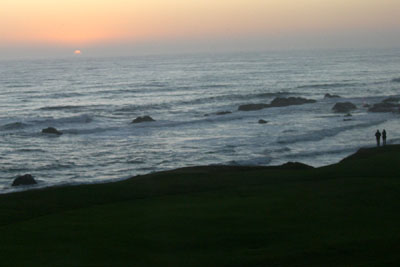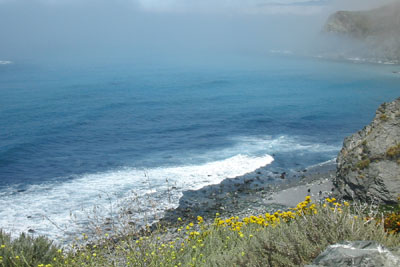 CALIFORNIA COASTING
Story and photos by Bonnie Carroll
The extensive beauty and natural wonders to be seen along State Highway 1 have been the focus of hit songs, countless family vacation photo albums, and have preserved a reputation of international mystique for generations. Recently, I decided to check it out for myself. Much to my delight, the historic winding road between Los Angeles and San Francisco totally lives up to its amazing reputation for providing a commune with nature at its best.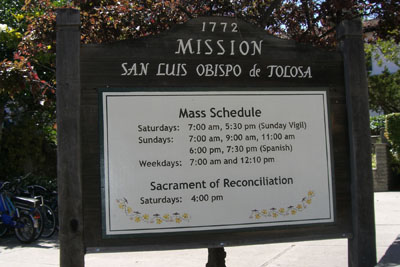 Traveling through San Luis Obispo, known to locals as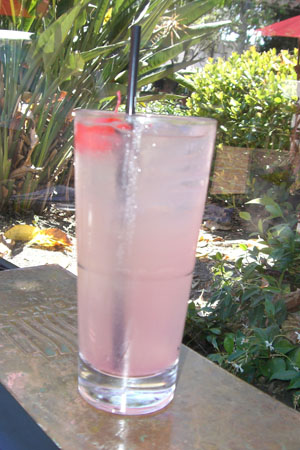 SLO, it was a relaxing break to sit by a rippling brook, savoring a lite lunch and sipping inventive beverages on patio of The Native Lounge as the bells of the Old San Luis Obispo Mission rang out the hour. On my walk to the car I discovered what must have been the original China Town in this historic old community. Although SLO has developed some wide renown for its outstanding wines, it remains a charming little slice of Americana, filled with family owned restaurants that serve wonderful home-cooking and antique shops brimming with collectables that remind you of your childhood visits to aunt Sally and uncle Fred's farm in Clyde, Missouri.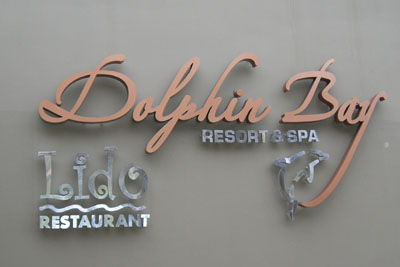 A real surprise along this route is the Dolphin Bay Resort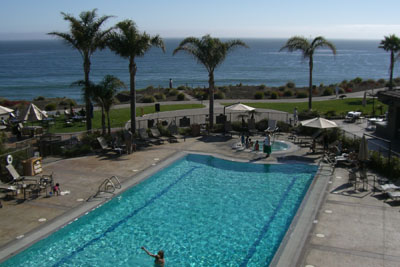 and Spa on Shell Beach, which is a veritable home away from home vacation property that comes with every imaginable amenity to make it as comfortable as your own home, but with a far more elegant ambiance. Each suite has ample room for the entire family, a personal laundry room, a kitchen with state-of-the-art appliances and cooking utensils, a Jacuzzi bath from heaven, and a view of the pool and ocean that at sunset could rival Kannapali on Maui. I really cannot imagine a more delightful place to enjoy a family vacation by the sea, especially with such comforts and elegant amenities.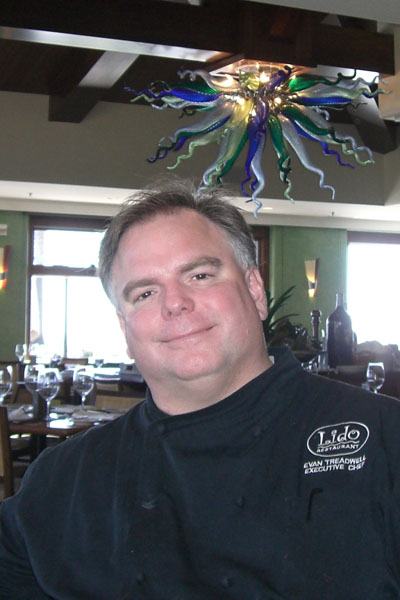 The kitchen in your suite can be stocked with your favorite food items by the hotel staff in advance, or you can call room service from the Lido Restaurant menu. The Lido was recently given an Award of Excellence by Wine Spectator, and Executive Chef Evan Treadwell, a Central Coast Iron Chef Award recipient, is a master with fresh seafood and local produce; he will please your palate with healthy and deliciously prepared faire. The ocean motif dining room dons a beautiful Murano Italian light fixture that sends rays of color through the room, and simulates a creation that designer Barbara Lazoroff might dream up.
Menu items include SLO braised Kobe Beef, Crab fish Capellini, Oysters on the Half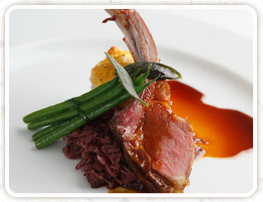 Shell, Duck Comfit and so much more. Letitita, Lucky Rose, Zaca Mesa, and Claibourn & Churchill are just a few of the fine wines paired with these outstanding dishes. Chef Treadwell says he is an aficionado of fresh seafood and produce, and wants his patrons to always feel welcome and well fed. He frequents the local farmers market to find the best for the Dolphin Bay menus, and now offers exciting cooking classes for visitors and locals in the area.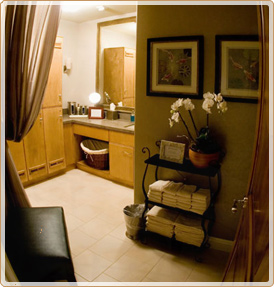 This resort also has Le Bonne Vie Spa, with a complete menu of spa services including body treatments, massage, facials, hair and nail treatments and more for guests to enjoy, either in the spa, by the pool or in the privacy of their room. The service at Dolphin Bay is outstanding, from the doorman who greets you to the servers at the pool, and a relaxing stay is clearly on the agenda for all who visit. A variety of water activities can also be experienced and include fishing, surfing, whale watching and kayaking. For information visit:www.thedolphinbay.com.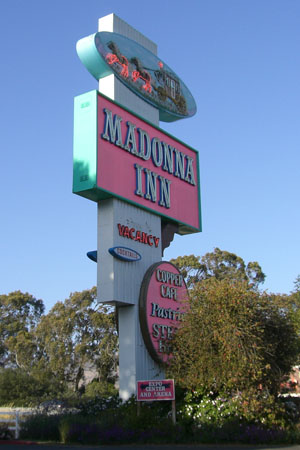 According to Larry Lipson, the former restaurant critic for the LA Daily News, 'you just can't go to this area without visiting the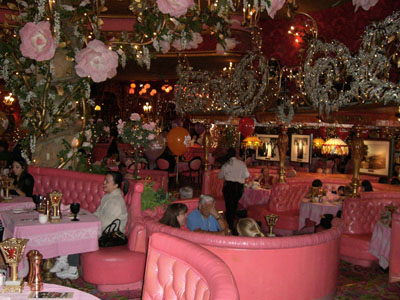 Madonna Inn,' so, dinner was on the agenda at the house of pink nostalgia. This is a place that reminds me of my parents with every detail, including the little silver appetizer dishes filled with carrots, celery, olives and peppers presented before the salad and entrée. Dinners come with appetizer, entrée, salad or soup and dessert. Remember these dishes were favorites of the owner, who opened the doors in the 1940s when a big steak, big baked potato with the works, and a huge piece of banana cream pie was considered the norm. If you like pink, you will love the Madonna Inn, and the prices are quite reasonable. I'm glad I took Larry's advise for this is something you really must see to believe. For information visit:www.madonnainn.com.
Cambria is a delightful destination for lunch or dinner, and convenient if you are visiting Hearst Castle to take one of their many tours. The community boasts a bevy of art galleries and cozy wine bars, as well as some restaurants of renown like Brambles. A line of charming little hotel/motels provide a resting place for travelers on their way to San Francisco, or points of interest in the area.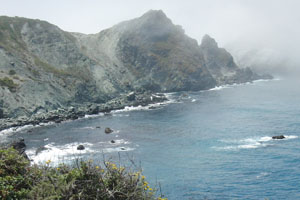 The views traveling up highway 1 to Big Sur are breathtaking. Stopping along the way to get photos of the waves breaking, and surfers lining up to catch a wave will make for some spectacular still and video shots to remember your trip by. Big Sur is lined with rustic eateries and lodges that sell local crafts and gift items. People from around the world congregate here to enjoy a sandwich or a beer while reveling in the exquisite seascapes. My favorite spot along this route is a restaurant called Nepenthe, which sits up high on a cliff, overlooking the Pacific.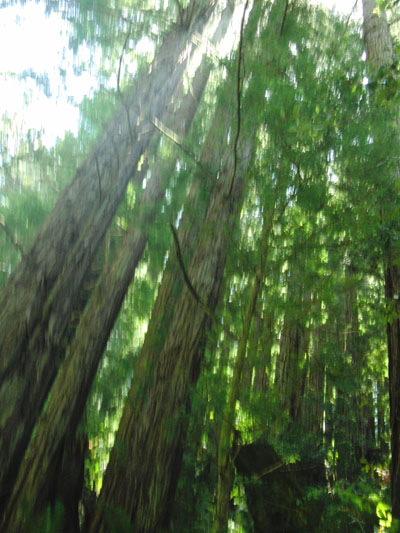 Half Moon Bay is only forty minutes from San Francisco, and a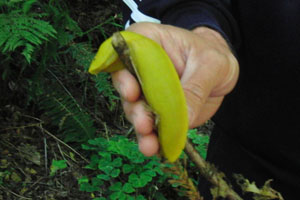 although it is a long distance from Los Angeles on highway 1, it is well worth the drive. The community of Half Moon Bay is small and friendly. The Redwoods are an amazing place to loose your stress, and walking through the forest, over streams to investigate banana slugs, berries, and plant life can be a spiritual escape into nature. I realized that while walking through the trees, with sunlight streaming through the branches, I was completely at peace. The park service offers a booklet with maps to help make it interesting, and it feels so great to lose yourself in these exquisite miracles of nature.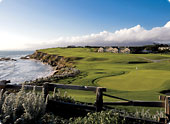 The Ritz at Half Moon Bay is very european in style, and is a perfect resort to vacation or just a place to enjoy an excellent lunch or dinner in a venue with a spectacular view.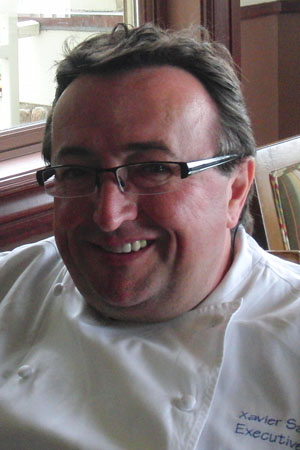 I was told golfers find the golf here outstanding; the courses are very reminiscent of those found in Northern Ireland or Scotland. Career Chef Xavier Salomon is at the helm in the hotel, and this talented French Master Chef creates dishes that will absolutely delight any gourmet in search of rare culinary perfection.  You can also get a great burger or a simple salad to suite your taste if you like. For information visit:www.ritzcarlton.com.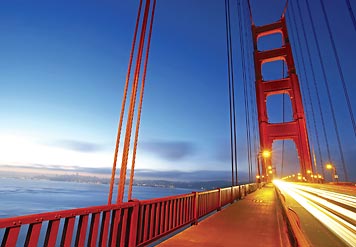 In forty-five more minutes you can be in the heart of San Francisco, where the city offers fantastic old world hotel accommodations, renowned restaurants, historic sites, great museums and the promise of a 'pretty woman' weekend that would appeal to any girl. Yes, traveling on highway 1 is really rather adventurous and the most beautiful way to see some of the many wonders of California.
Happy Coasting!
---