September 2005
LOEWS HOTEL AT BEVERLY HILLS
by Bonnie Carroll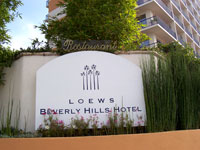 Over the past few years this hotel has gone through some wonderful changes under the charge of the Loews Hotel group. Recently, they introduced Executive Chef Kelly Wangard at Lot 1224 Restaurant. Kelly is a very talented California born chef whose food career began in her high school days, and took her to the famed California Culinary Academy, where she graduated top in her class. She was mentored by Chef Hubert Keller at Fleur de Lys Restaurant, and following her graduation she worked at Fleur de Lyse, and later was Chef de Partie at Turtle Bay Restaurant at Caneel Bay Resort in the British Virgin Islands, where she met her husband Greg, and was married. The changes in the Lot 1224 menu are a tribute to Kelly's take on creating guest friendly recipes of California cuisine, using farm fresh produce.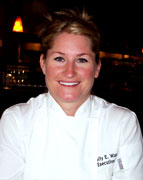 Her years of training and working with a bevy of skilled chefs has more than prepared her to design an exciting new menu, presenting dishes that are perfect for the many guests at the hotel. Menu specialties include Thai fried calamari, grilled Alaskan halibut with mussels, shrimp and herb Nage, and spice rubbed Hawaiian tuna. The breakfast at Lot 1224 is a family style feast, and the buffet leaves nothing to be desired. The morning buffet is a huge hit with guests who want a solid meal before beginning a day of touring or business meetings. However, selections from the menu are also available and include not only a wonderful eggs Benedict dish, but also "toad in a hole," a Kelly original with eggs cooked in the center of sourdough toast and served with sausage patties and fresh fruit or potatoes.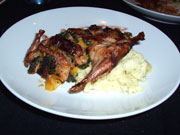 My favorite dinner entrée was the stuffed boneless quail, served with spinach, smoked bacon, apricot and Cabernet reduction. Second choice was the veal scaloppini, served with prosciutto, sage, and provolone, au jus. The Crab cakes, carpacio and escallop potatoes are equally praise worthy. The chocolate soufflé, served with ice cream and fresh berries was a bit reminiscent of a dessert once served at the historic Chasen's restaurant in Beverly Hills, and was outstanding.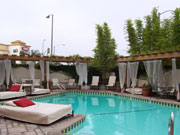 The pool at Loews Beverly Hills has gone through a transformation and is now a beautiful spot for business lunches or a sunny side up breakfast experience. Private little dining areas are designated by flowing drapes, and modern pool lounges create a slick sophisticated look. If exercise is on your agenda, the hotel has a great little gym with equipment that more than meets anyone's requirements for a good workout. The lounge features live entertainment, and an adjoining private room houses a hot red pool table for dedicated pool sharks.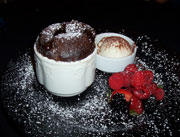 The newly renovated guest rooms and suites are lovely, comfortable, and have every amenity, including amazing views of the City of Beverly Hills and Hollywood. In room dining is always an option for tired travelers or those wishing to share dinner in private before a movie, play or shopping on Rodeo Drive.
This hotel has worked hard to meet the needs of traveling families, as well as business guests, and they have accomplished their goal. It all seems to move together beautifully, and everyone seems happy at this charming hotel edition to the Beverly Hills community. For reservations call 310-277-2800 or visit www.loewshotels.com.