July 2005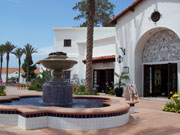 LA COSTA RESORT & SPA
Healthy Cuisine with Imagination
Hans Wiegand, Executive Chef - Legends
by Bonnie Carroll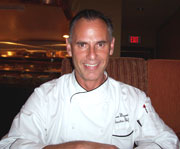 Leading the culinary cast who prepare and present the delicious and healthful meals at Legends Restaurant, Spa Cafe and unending banquet events at the resort is Hans Wiegand, a culinary career chef who has been in the industry for over two decades. Hans was with the Claremont Resort & Spa in Berkeley, and The Ritz-Carlton, Boston. In the 1980s he was an Executive Chef with the Westin Hotels in Dallas, Texas and Ottawa, Canada. Born in Germany, Wiegand is fluent in German, and says he maintains his healthful good looks by cycling and working in his garden.
According to Wiegand "you must give guests food that is light and does not make them tired. We have perfected a menu with items that will keep them going on the golf course or on the tennis court." He believes that a diet containing lots of organic food items and that is low in carbs is always best for athletes who are on the go.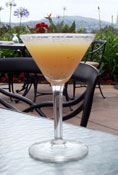 My breakfast at Legends, overlooking the golf course, was a delightful experience, and included samplings from a brunch filled familiar items and some unusual healthy options. Some of the more health conscious options are recommendations from Dr. Deepak Chopra's Wellness Center, located at La Costa, and includes a delicious lemon, herb and cinnamon morning cocktail, served with a tofu scramble. Naturally, the eggs Benedict are perfect, and the omelets were equally delicious. The patio is such a pleasant place to read the paper, enjoy breakfast, and watch the early morning golfers driving their ball up on the green.
The Spa Café, located next to the beautiful new full service spa and gift boutique offers delicious soup, salads, sandwiches and a variety of healthy beverages to enjoy by the spa pool, between visits to the rushing waters cubicles, and a gift shop provides great coffee, soft drinks and light lunch items throughout the day. Also, let me not forget the many designer gift shops at the resort, including Tommy Bahamas, where you can pick up those items you forgot to pack.
BlueFire Grill – Scott Diehl, Chef de Cuisine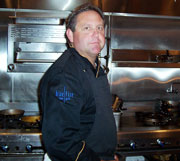 The beautifully designed BlueFire Grill, with over 324 seats was opened in February of 2005, to the delight of resort guests and local residents. The Puccini Restaurant Group, based in San Francisco provided have retained the Spanish integrity of the renowned resort, using rich greens, goldenrod, sunset orange and dark umber to create a sensual ambiance throughout. The Zen inspired design in the BlueFire Grill flows around a waterfall encircled with glowing candles, and the open pit kitchen allows guests to view the culinary skills of the talented staff. The outdoor patio is a major attraction for diners or cocktails, and features live entertainment on weekends.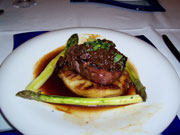 Chef de Cuisine Scott Diehl joined the resort with over fifteen years experience, which began as a sous chef at The Loft Restaurant at the Montage Resort and Spa in Laguna Beach, CA and executive chef at the WineSellar & Brasserie in San Diego. Most recently, he held the position of executive chef of the Ladeki Restaurant Group's Prime 10 Steakhouse in Del Mar, CA, where he was part of the culinary team that appeared at the famed Beard House. The talented chef is a native Southern Californian who began his formal culinary training at Mesa College in San Diego.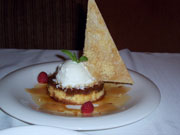 The menu starters include pan seared Maine diver sea scallops, with heart of palm, chanterelle mushrooms and micro greens in bitter sweet orange sauce; sugar cane skewered grilled Ahi tuna, roasted apple B.B.Q. sauce, with shaved fennel and Madjul date in sweet onion salad. The spiced white Port poached Bartlett pear with arugula, Belgian endive, Cabrales blue cheese and spicy glazed pecans is an outstanding salad choice, and the entrees are all wonderful. We especially liked the oven roasted Kobe pork loin chop with chipotle-orange glaze served with baby bok choy, sweet carrots and fingerling potatoes and the grilled Atlantic salmon with mango mustard glaze, wild mushroom, saffron risotto and salsa verde. The short ribs and filet mignon also looked delicious. The perfect ending was a beautiful sailboat inspired pineapple with ice cream and pastry that was cool and sweet. The outdoor patio is a nice spot to enjoy an after dinner cordial, while listening to live entertainment.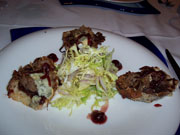 The saving grace of these seductive menus is the state-of-the-art gym at La Costa. Every possible machine and body sculpting machine is available. Treadmills and stationery bikes are equipped with TV monitors, and also overlook the golf course. A Pilate's trainer is available to assist with special body work, and the staff are all so polite and helpful. Bicycles for renting are plentiful, and lighted tennis courts make playing at night fun. This is a resort that has everything for the entire family, especially really healthy and delicious food. Enjoy!