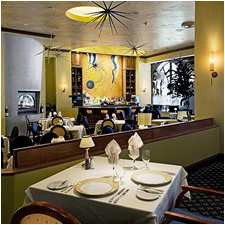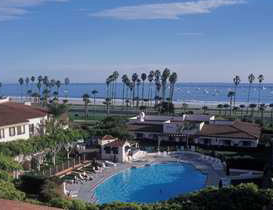 FESS PARKER'S DOUBLETREE RESORT
Rodney's Steak House . . . Over Ten Year's of Fine Dining
by Bonnie Carroll
The late Fess Parker was a renowned actor who was considered an "American Icon" by many, and his portrayal of Davy Crockett and Daniel Boone impacted millions of young viewers in the 1950's and 60's. He loved Santa Barbara and operated two hotels in the area, the Fess Parker's Doubletree Resort, which he jointly developed with Hilton Hotels) and the Fess Parker's Wine Country Inn & Spa in Los Olivos (the family also owns a vineyard which produces wonderful local wine). At the time of Fess Parker's death this year the family was also in the midst of developing a five-star seaside resort called the Fess Parker Santa Barbara Beach Front Hotel.
In June 2000 Rodney's Steakhouse, which was named for Fess Parker's late son-in-law, opened to stellar reviews. I was at this opening and was charmed by the venue and the service, which has remained constant for over ten years. Rodney's uses only the highest quality aged and locally-sourced USDA prime steaks and chops. All the seafood is sustainable and sourced locally as well, and the restaurant continues to be ranked at the top of the Zagat Survey list.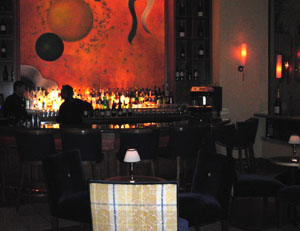 The art deco setting is carefully overseen by a staff that cares, and it is a delightful spot to spend an evening with family or friends; they also have a twenty-five person private room for celebrations or business dinners. The ambiance is quiet and elegant and the Sinatra standards being softly heard in the background create a relaxed and romantic atmosphere for couples to enjoy a special night out together, over a deliciously prepared dinner.   
Executive Chef Kirk DeLong and his staff aim to please and succeed. Chef DeLong, a native of Orange County, graduated from the Culinary Academy in San Francisco and is a certified Culinarian of the American Culinary Federation.  DeLong has been with the Fess Parker's Doubletree Resort since 2007, and previously was with the Doubletree property in San Jose, the Grand Wailea Resort Hotel & Spa in Wailea on the island of Maui, as well as Kelley's Mission Rock Restaurant and La Bocca Fine Catering in San Francisco.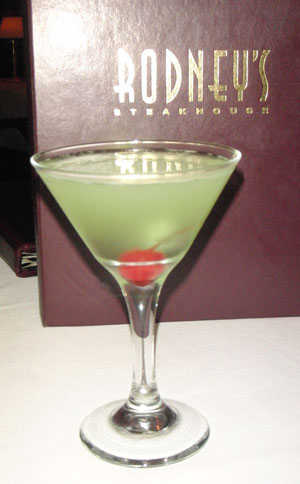 The signature cocktail at Rodney's is the Rodney's Martini made with Appletine Grey Goose Vodka, apple pucker schnapps and a green apple garnish. This is a wonderful before dinner libation that will make you 'pucker up,' and can be enjoyed with favorite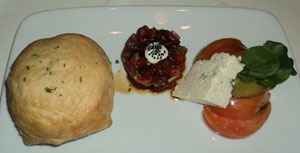 appetizers including the outstanding Lobster Pot Pie, made with lobster, grilled corn and brandy lobster cream, or the Ahi Tuna served with wasabi crème fraiche on fried wontons.
The wine list at Rodney's is amazing and represents not only a variety of local vintners, but favorites from around the globe. Naturally, Fess Parker Winery selections are included, and the Fess Parker chardonnay is delightfully light and a perfect choice to enjoy with any appetizer or seafood dish. The servers know the wines and are happy to assist with pairing.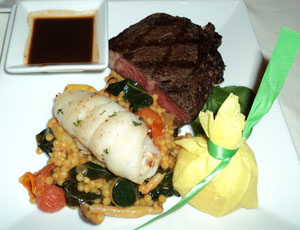 The choices in fine meat and fresh seafood can create a decision delema for diners, but my recommendations include California Petrale Sole, which is prepared with Dungeness lump crab, and served with saffron pearl couscous, braised greens, grilled squash, beech mushrooms and tomato nage. This is a light,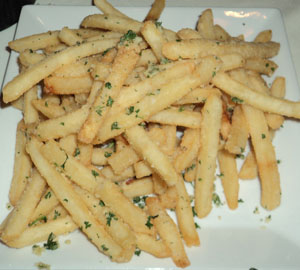 flavorful and wonderful entrée. The signature boneless spencer cut prime ribeye steak is also a great selection that can be paired with a variety of delicious standard sides, however, the truffle parmesan French fries are sinfully delicious and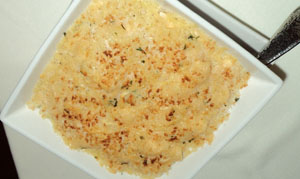 should not be missed. Chef DeLong's version of Mac & Cheese is the best I've ever savored. The Heirloom Tomato Salad served with organic living watercress, gorgonzola cheese and extra virgin olive oil was rich and paired beautifully with the ribeye. Desserts are numerous and include a cookie crumb bread pudding served with Grand Marnier custard sauce; crème brulet du jour; parlor parfaits; key lime pie or banana cream pie; apple cinnamon tart; twelve layer cake and your choice of McConnell's ice creams.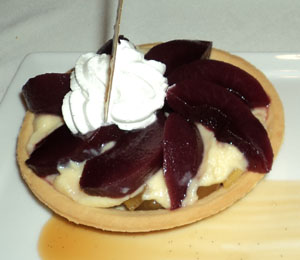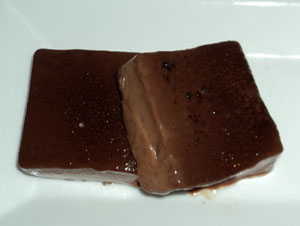 The hotel offers 11 accessible rooms and 360 elegantly appointed guest rooms and suites, a heated year round pool with whirlpool, tennis courts, 24 hour room service, shuffle board, pet friendly rooms, an on-site Spa Del Mar, a variety of golf courses, nearby attractions include Santa Barbara Zoo, Santa Barbara Museum of Art, and Santa Barbara Historical Museum, and complimentary shuttle service to Santa Barbara International Airport and the Amtrak Train Station from early morning until 9:00 p.m. This property also supports environmental programs, using "green" products and services, and they are a member of the Green Lodging Program of California.
Fess Parker's Doubletree Resort and hotel has been providing the perfect venue for organizations and groups in the Santa Barbara Community since its inception, and has hosted the Santa Barbara International Film Festival "Silver Bash" for the past two years to kick-off the annual event. From large to small wedding parties, graduation bashes, political celebrations or nonprofit fundraisers this beautiful hotel that has become an icon property along the historic seascape of Santa Barbara has earned its reputation as a friend to the area residents and the many tourists who visit from around the world.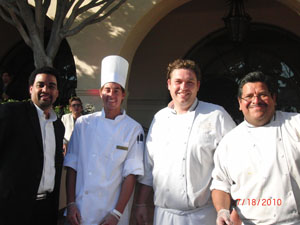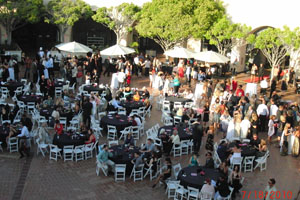 FESS PARKER'S DOUBLETREE RESORT
633 East Cabrillo Boulevard
Santa Barbara, CA 93103
805-564-2929
---