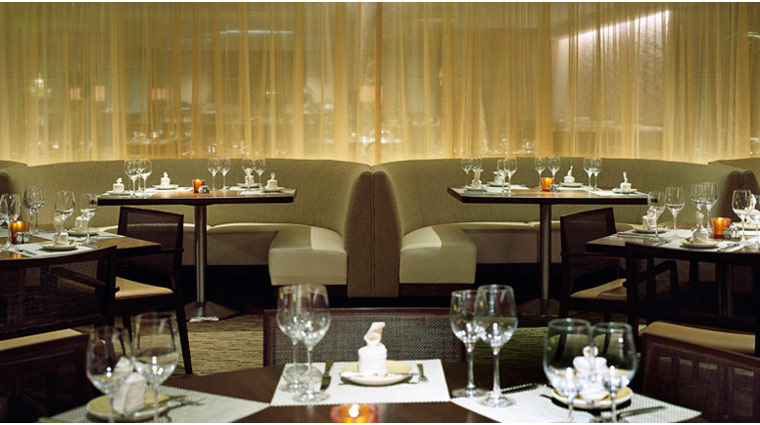 CIRCA 55 BEVERLY HILTON FARM TO TABLE CUISINE
A Perfect Blending of Contemporary Style with Healthy Menus
By Bonnie Carroll
This is one sophisticated venue for enjoying a unique dining experience in the hotel that hosts the Golden Globes each year, and has served the Beverly Hills resident and business community as an event center for decades. The brilliant story of this iconic hotel is told in a priceless collection of photographs that were installed when renowned Merv Griffin purchased the hotel and placed his amazing entertainment story in photos throughout his hotel. Clearly, these photo treasures have assisted in blending Hilton's cherished history with its changing contemporary style.
Circa 55 was formerly a jungle style room with a great buffet that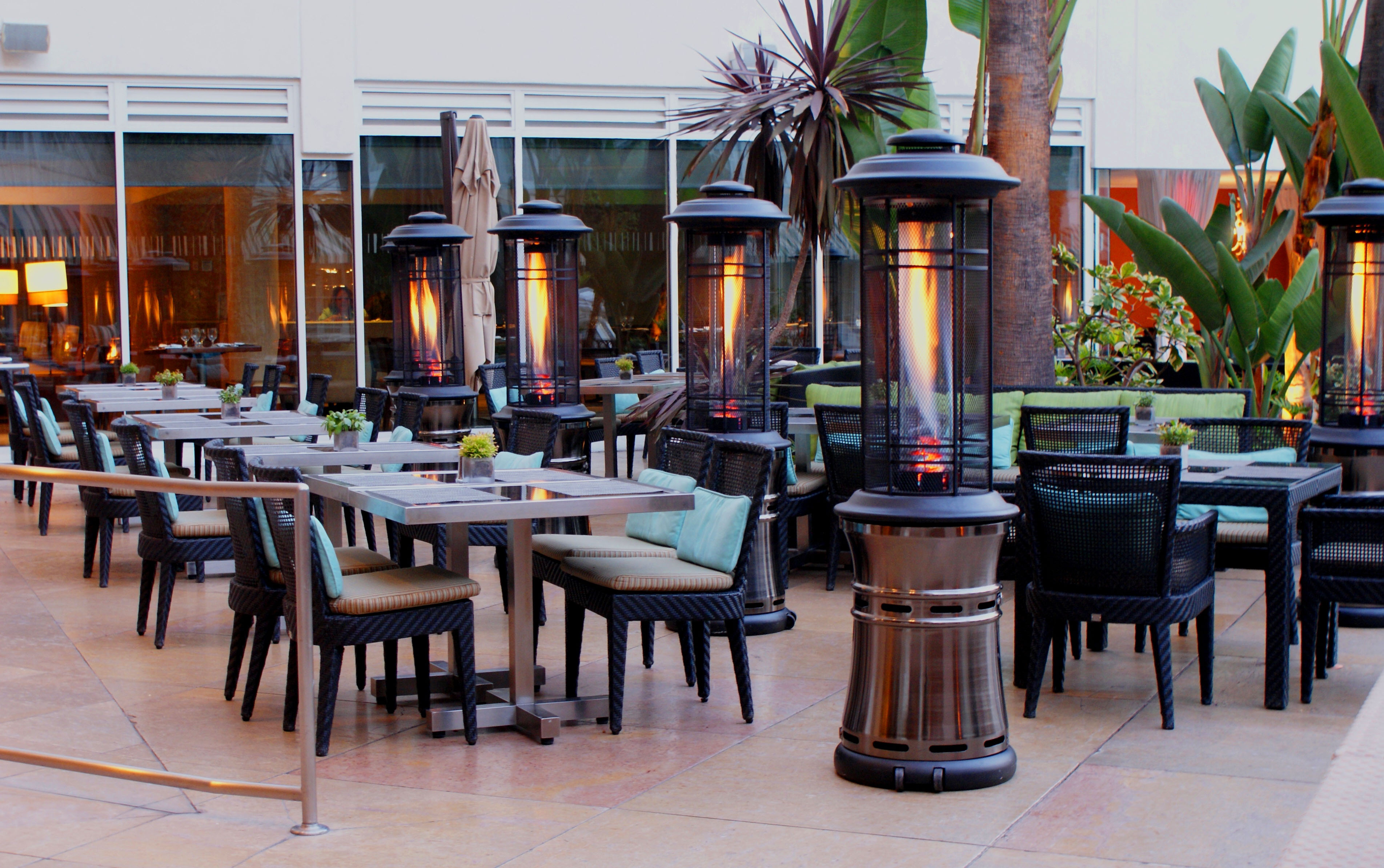 overlooked the pool, featuring animal print fabric on the booths and live tropical birds by the pool. The menu was heavy by today's standards. It is a delight to see that the Beverly Hilton has re-invented this room with a view into a contemporary and inviting dining room overlooking the pool with a farm to table menu that is exciting. The pool dining area has also been given a modern face lift that I was told is lovely on warm summer evenings.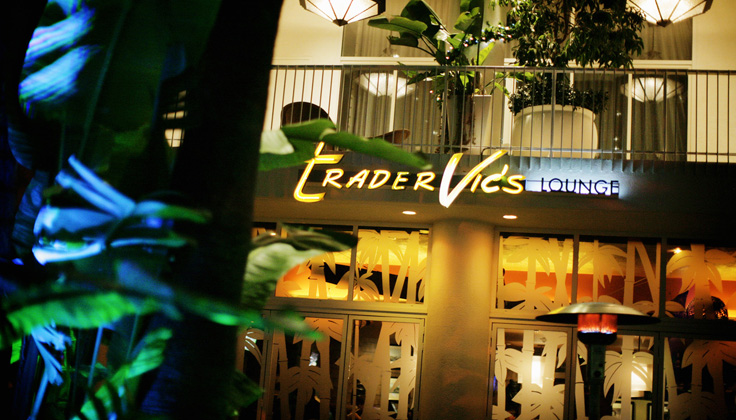 Just behind Circa 55 is Trader Vic's Lounge, where they still serve the historic Island inspired cocktails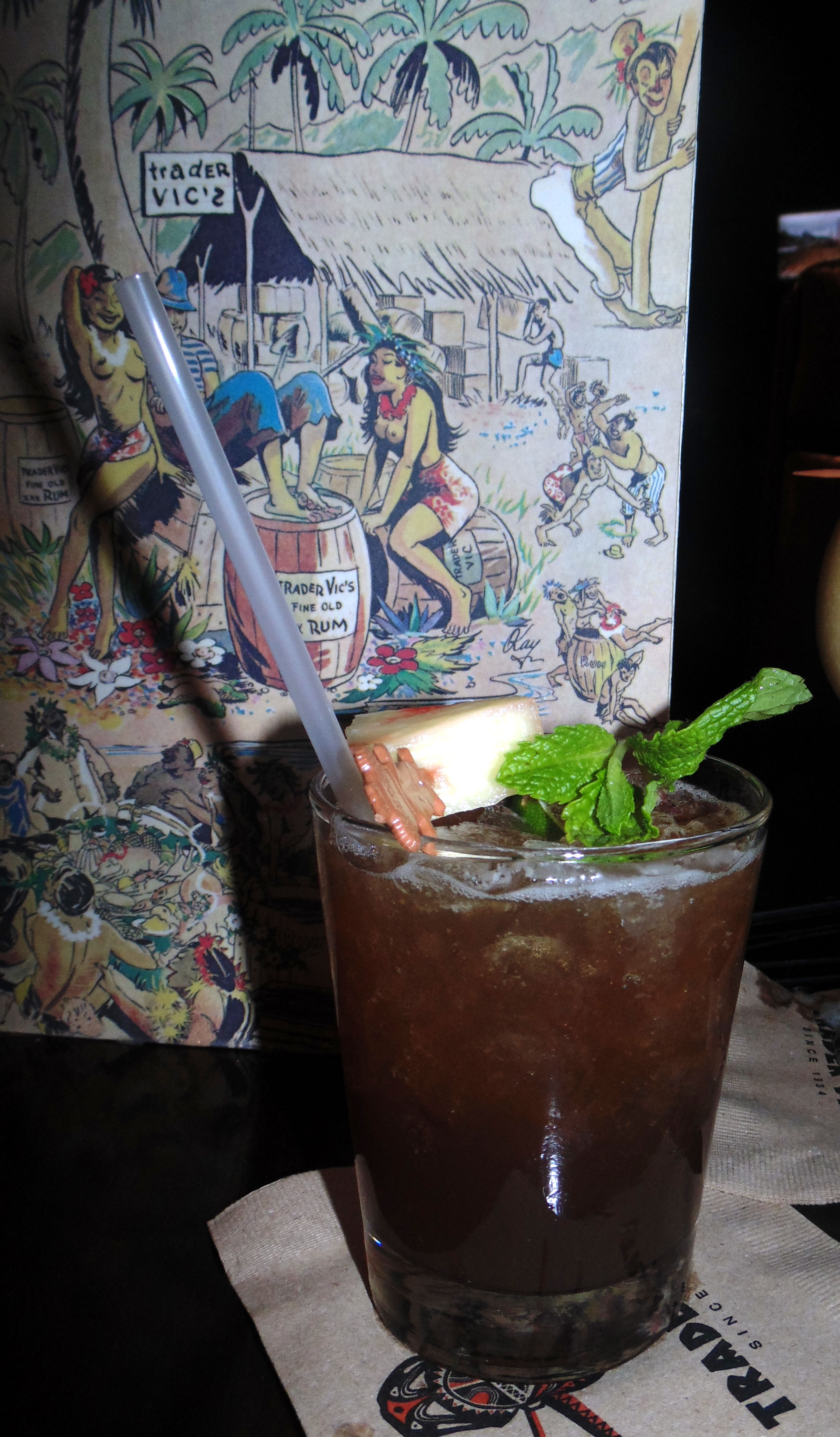 that put the internationally known restaurant and bar on the map in 1946. It was delightful to again meet one of the career waiters Mun Si, who has worked for the hotel for thirty-two years, and see he was still charming guests in the sized down version of the original hotel restaurant. The Mai Tai, which was actually concocted by the owner sixty years ago, is still a star on the cocktail menu and can be enjoyed with nostalgic island designed appetizers.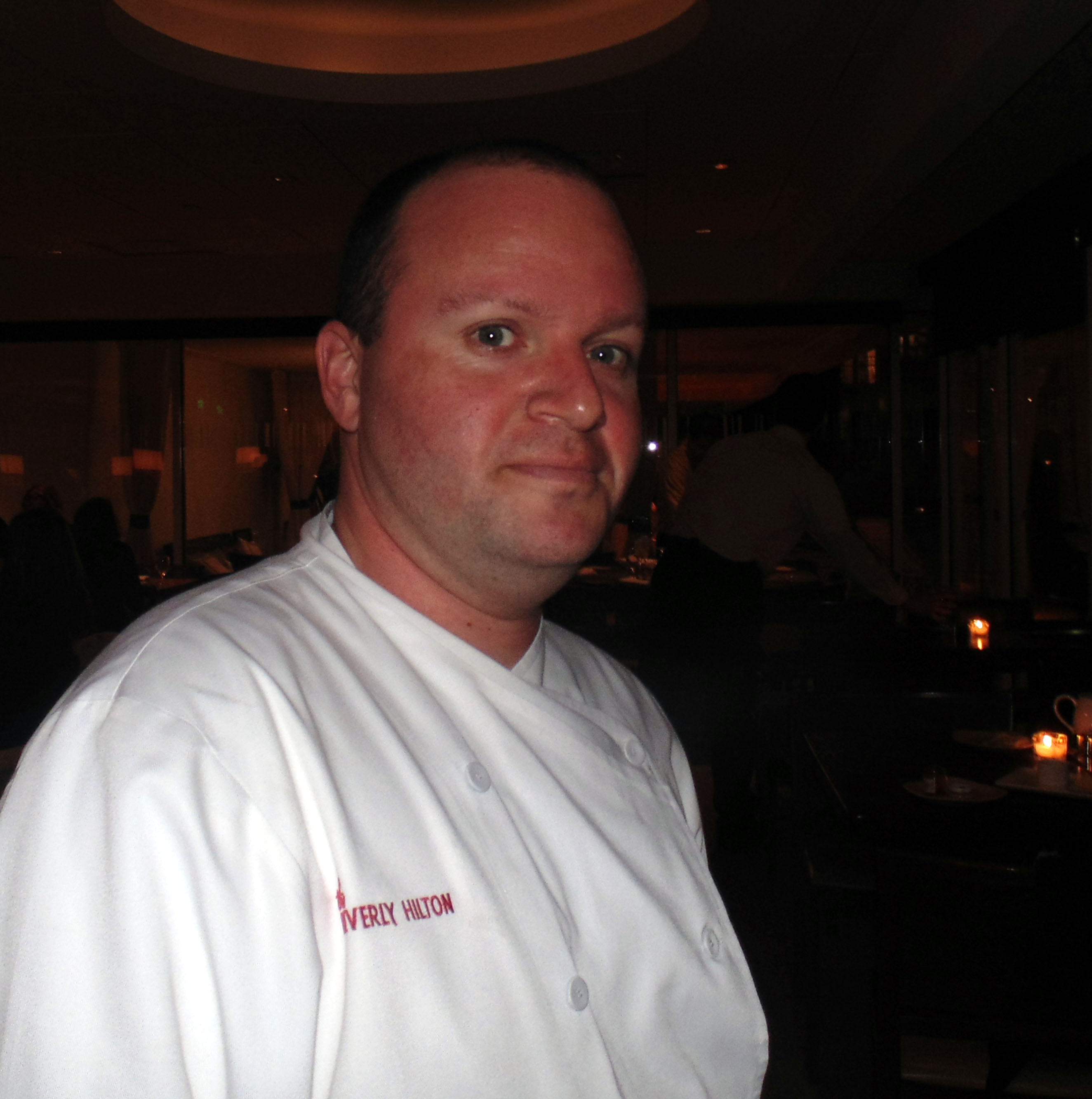 Circa 55 is the culinary domain of Chef Zack Gochin, who joined The Beverly Hilton in 2012, taking the lead of the hotels food and beverage outlets including CIRCA 55 Restaurant and Poolside Lounge, Trader Vic's and the Lobby Lounge. Under Chef Gochin's direction the hotel restaurants transitioned to contemporary menus driven by seasonal ingredients and California-inspired favorites.
Following training in The Netherlands Chef Gochen joined the culinary team at the W Hotel Westwood managing culinary teams. He was in charge of the culinary team at 20th Century Fox Studios where he managed all catering and special events and fed celebrities and studio executives. As Sous Chef at J.W. Marriott and Ritz Carleton at L.A. Live, he oversaw the opening of the hotel property and was responsible for the daily offerings at five outlets and room service for 1100 rooms. During this time, Chef Gochin also had the opportunity to engage with celebrity chefs like Kerry Simon. 
Today, Chef Gochin enjoys applying the classic techniques he learned in Europe to unique, seasonal and local fare – blending the old and new worlds. When he is not leading his team of culinary professionals at The Beverly Hilton, he can be found at the Santa Monica Farmers' Market scouting for the freshest, most exciting ingredients for his next dish.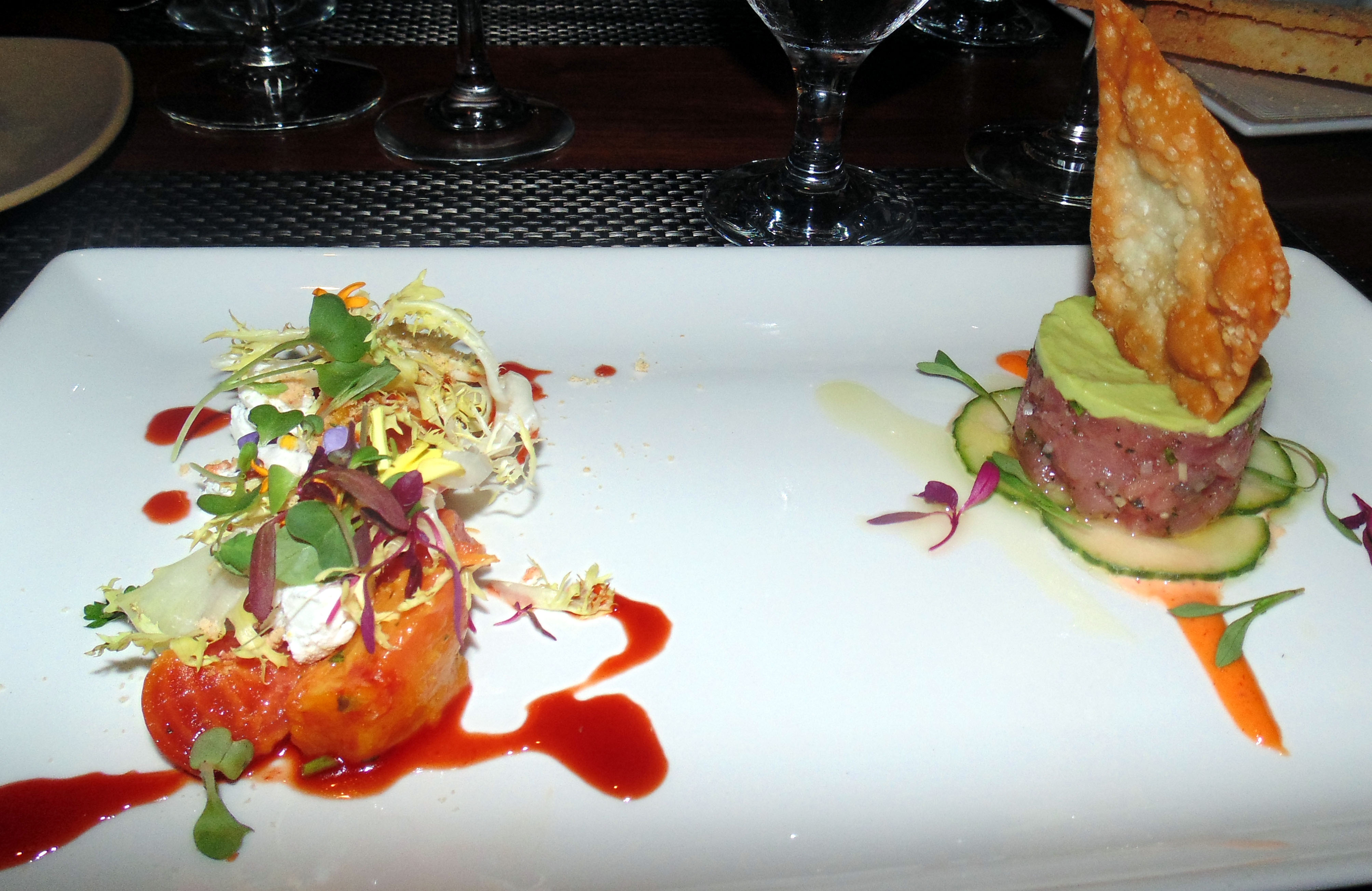 Popular menu items include Tuna Tartar with ginger, lemon, cucumber, wild arugula, avocado and wonton; Roasted Beet & Goat Cheese made with Babe Farm's beets, Cypress Grove goat cheese, blood orange, market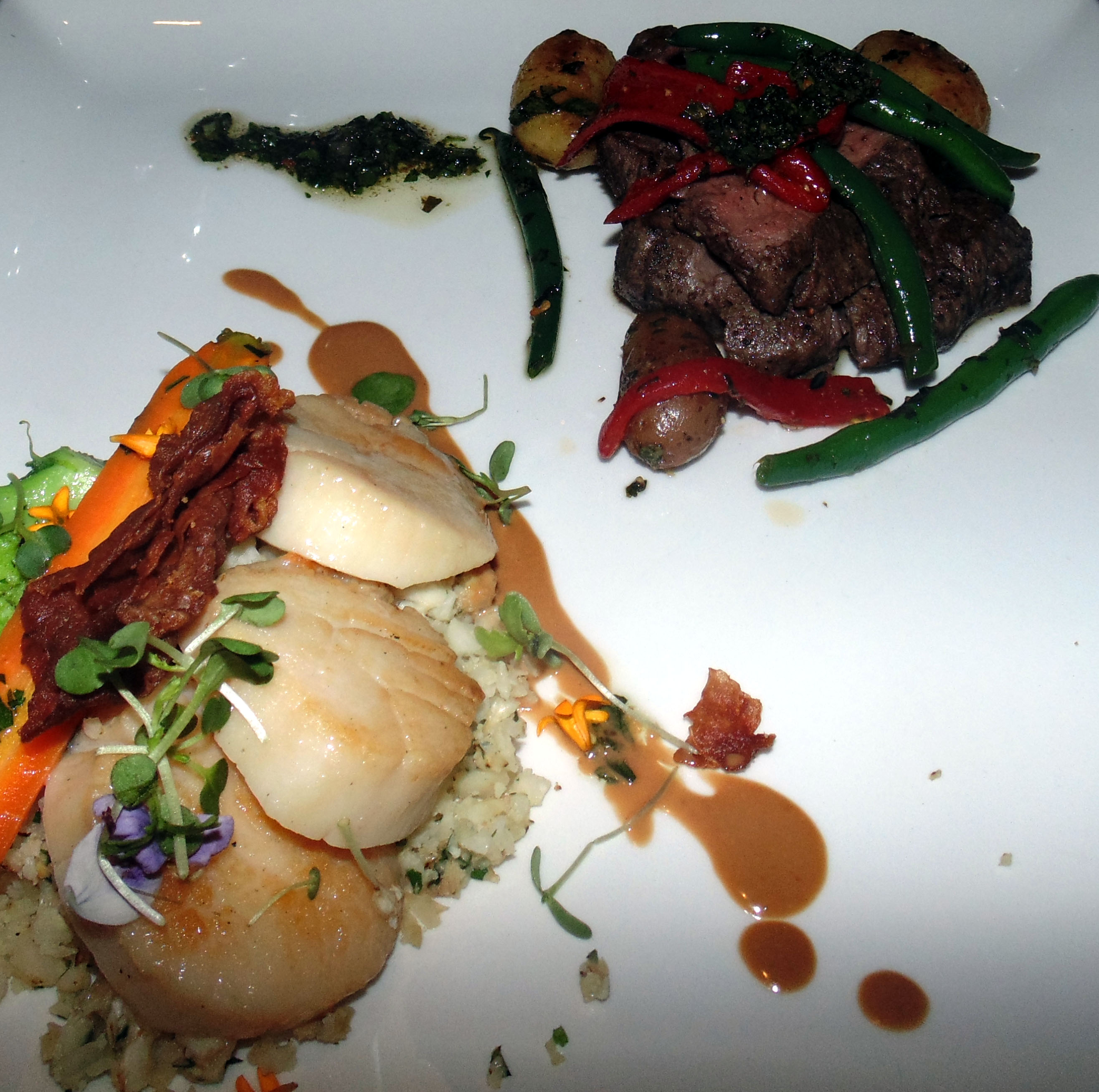 greens, and marcona almonds; roasted sunchokes & parsnips with red pepper puree and chimichurri; seared Skuna Bay salmon with baby carrots, orange & carrot reduction with Kendall Farm's crème fraiche; Maine sea scallops with cauliflower couscous,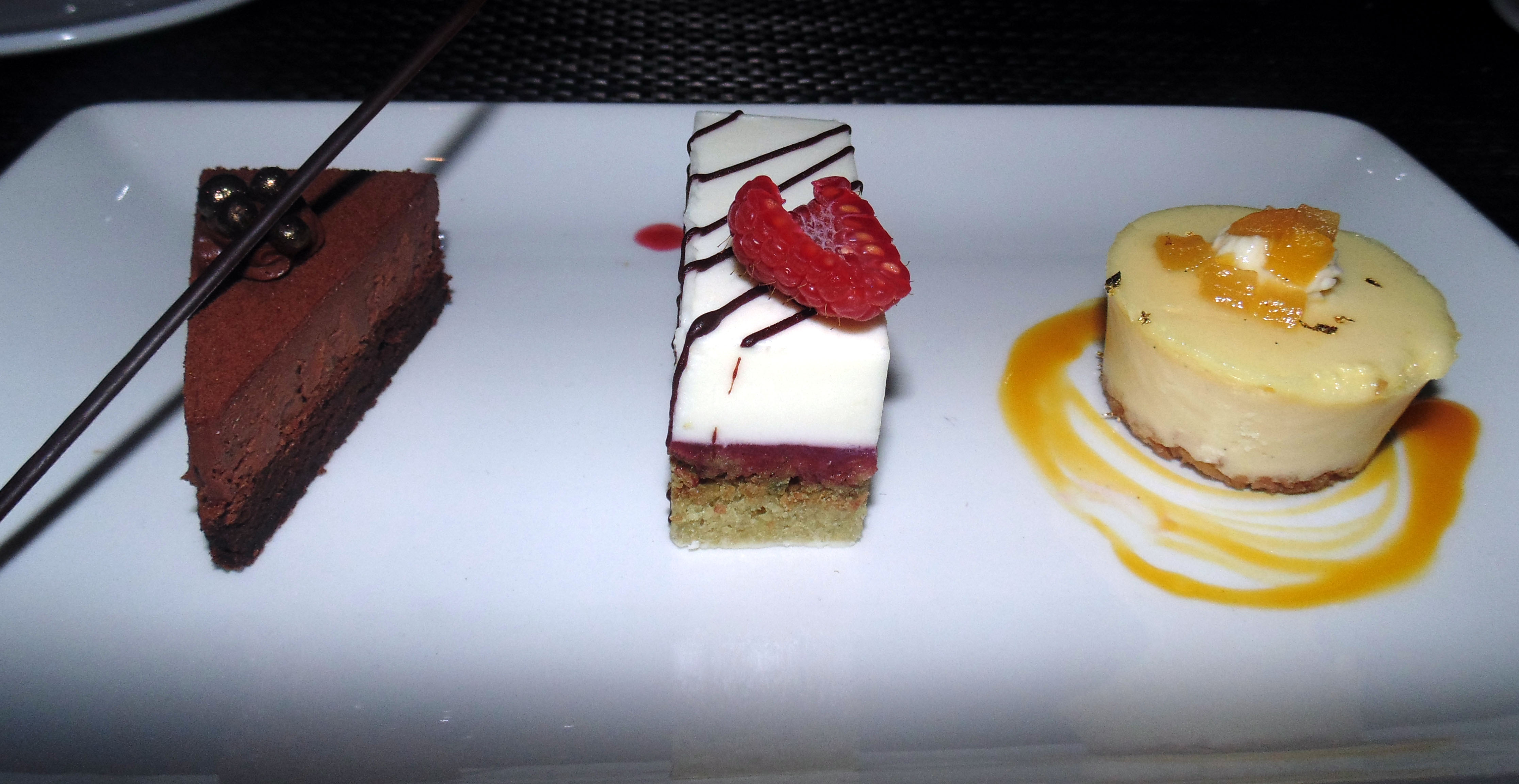 prosciutto, California Gold raisins, vanilla garlic sauce; Free Range Jidori chicken citrus brined, organic farro, grapes, rainbow swiss chard, chicken thyme jus. The menu also includes lovely shared vegetable combination dishes. A variety of fabulous miniature desserts by Executive Pastry Chef Thomas Heinz was an amazing sweet ending to an unforgettable dinner. 
The wine list at Circa 55 is versatile and international in nature. The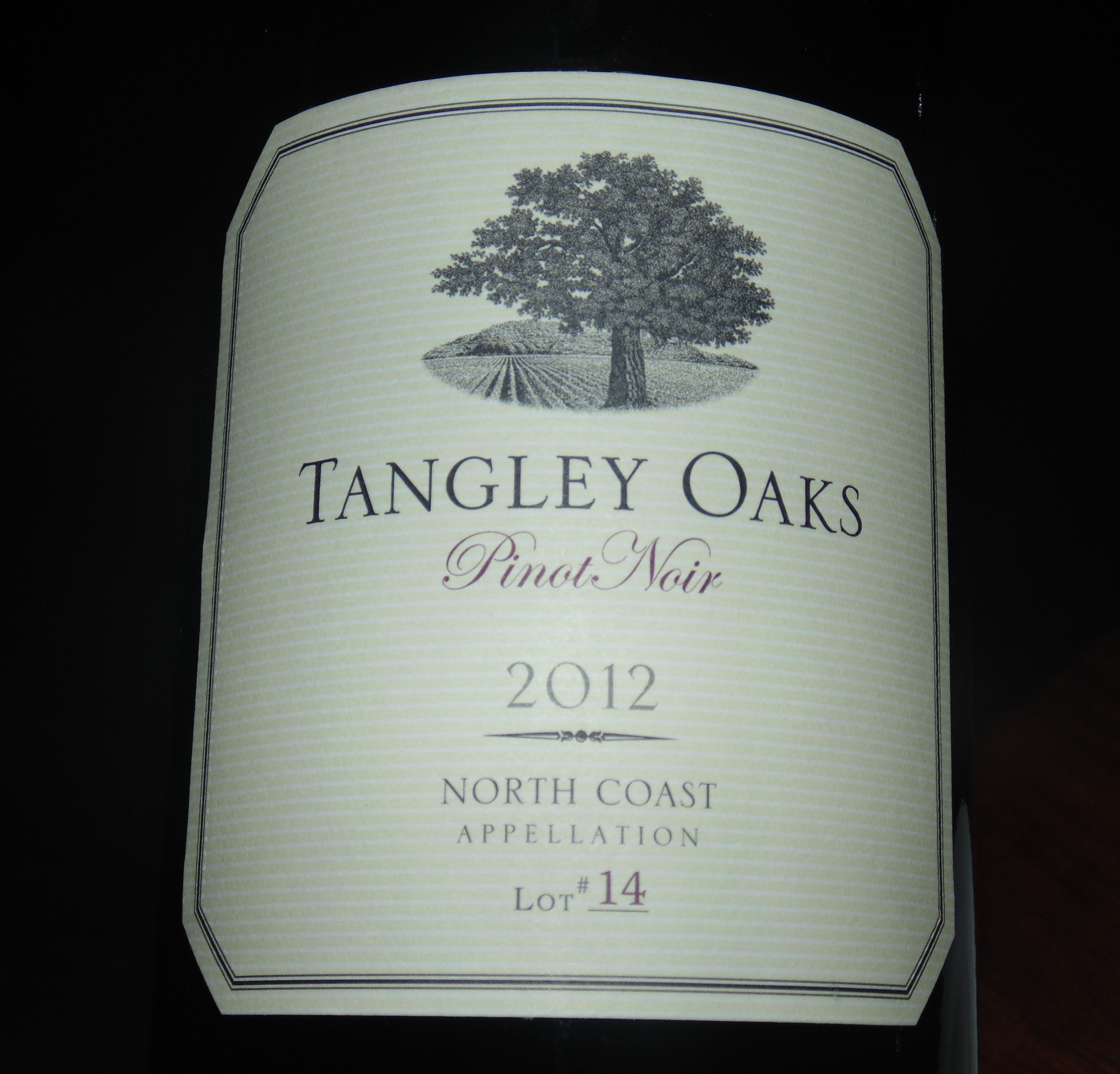 sommelier suggested a Chandon Brut by Moet Hennessy as a starter wine, but they also offer Piper Sonoma Brut and a great Italian Prosecco La Marca by the glass. To sip with dinner the Tangley Oaks Pinot Noir from Somona California is an ideal match with entrees, and is available by the glass at $15 or bottle $49.
For those of you who have frequented this internationally renowned hotel in the past you might want to enjoy cocktails at Trader Vic's for a flash from the past and a delicious market to table dinner in Circa 55 to savor a pleasurable merging of past and present in the Beverly Hilton Hotel. www.beverlyhilton.com
 The Beverly Hilton
9876 Wilshire Boulevard
Beverly Hills, CA 90210
__________________________________________________________________
Master Chef Wolfgang Puck Sets the Cusine Scene
At 86TH ACADEMY AWARDS GOVERNORS BALL 2014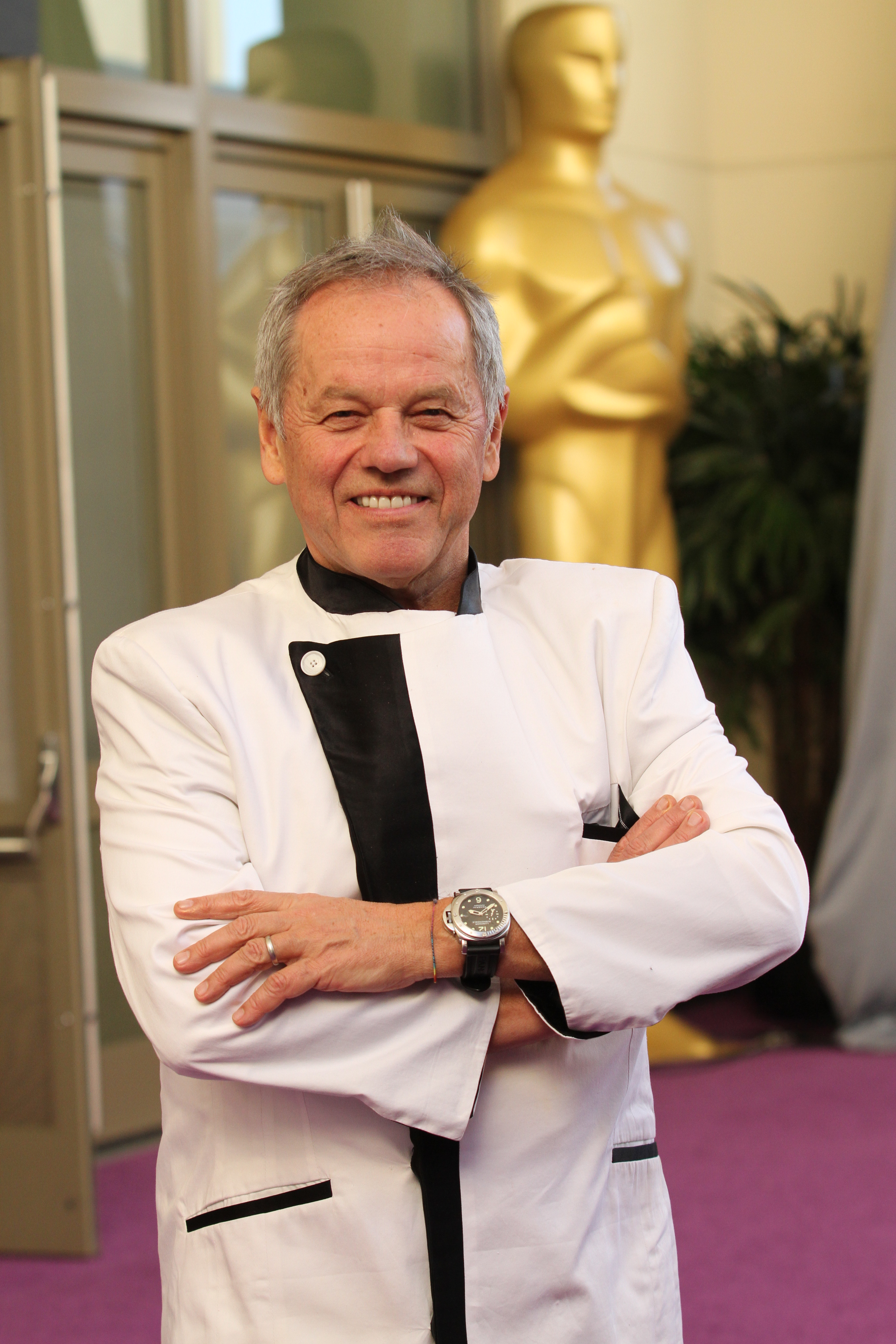 Master Chef Wolfgang Puck again joined Academy governor Jeffrey Kurland and event producer Cheryl Cecchetto to create this year's Governors Ball, the Academy's official post-Oscar® celebration, which will immediately followed the 86th Oscars® ceremony on Sunday, March 2.  The Ball's 1,500 invited guests included Oscar winners and nominees, show presenters and other telecast participants. 
Puck, along with chef Matt Bencivenga, create the menu feturing more than 50 imaginative dishes, from one-bite hors d'oeuvres to small-plate entrees that will be passed throughout the evening. The menu, which includes such signature favorites as smoked salmon Oscars, chicken pot pie with shaved black truffles, and mini American Wagyu burgers with aged Cheddar and remoulade, will incorporate local produce and sustainable seafood.  Modern presentations such as crispy lobster shrimp dumplings with five spice and bites of fried chicken with white grits will add excitement, while an expanded selection of vegan dishes, including shots of carrot orange gazpacho, taro root tacos with avocado, and butternut squash with farro and wild rice will have a more prominent focus.  This year's dynamic pastry team includes Della Gossett, Spago's executive pastry chef; Kamel Guechida, corporate director of pastry for the Wolfgang Puck Fine Dining Group; Romain Lenoir, executive pastry chef of Wolfgang Puck Catering; and Jason Lemonnier, pastry chef for Hollywood & Highland.  Together these chefs provide elegant seasonal desserts, such as chocolate-dipped strawberry cheesecake pops, citrus panna cotta with funky chunky chocolate popcorn, and a celebratory cake to honor Puck's 20th consecutive year creating the menu for the Governors Ball.
As the chair of the Governors Ball, Jeffrey Kurland  oversees the décor, menu and entertainment planning, as well as design the attire worn by the evening's staff.  Kurland is an acclaimed costume designer whose feature credits include "Hannah and Her Sisters," "Radio Days," "Crimes and Misdemeanors," "Erin Brockovich," "Ocean's Eleven," "Collateral," "Inception," "The Dictator," "Beautiful Creatures" and the upcoming film "Tomorrowland," starring George Clooney.  He received an Oscar nomination for Costume Design for "Bullets over Broadway."  This will be Kurland's fifth year serving as the chair of the Governors Ball.
Cheryl Cecchetto, along with her Sequoia Productions team, work with Kurland to manage every detail pertaining to the event, including décor, entertainment, food and personnel.  With the transcendent wonder of nature as a theme, this year's Ball features lush vertical gardens designed with classic, elegant lines, inviting guests to meet, mingle and celebrate under the stars.  Sequoia Productions' clients include The Academy of Television Arts & Sciences, G'Day USA, Children's Hospital Los Angeles, Westfield, and the UCSF Medical Center at Mission Bay.  This is Cecchetto's 25th consecutive year producing the Governors Ball. 
The Governors Ball, held in the Ray Dolby Ballroom on the top level of the Hollywood & Highland Center® immediately follows the Oscar telecast.
The Oscars, produced by Craig Zadan and Neil Meron, also will be televised live in more than 225 countries and territories worldwide.
What The Stars Will Eat: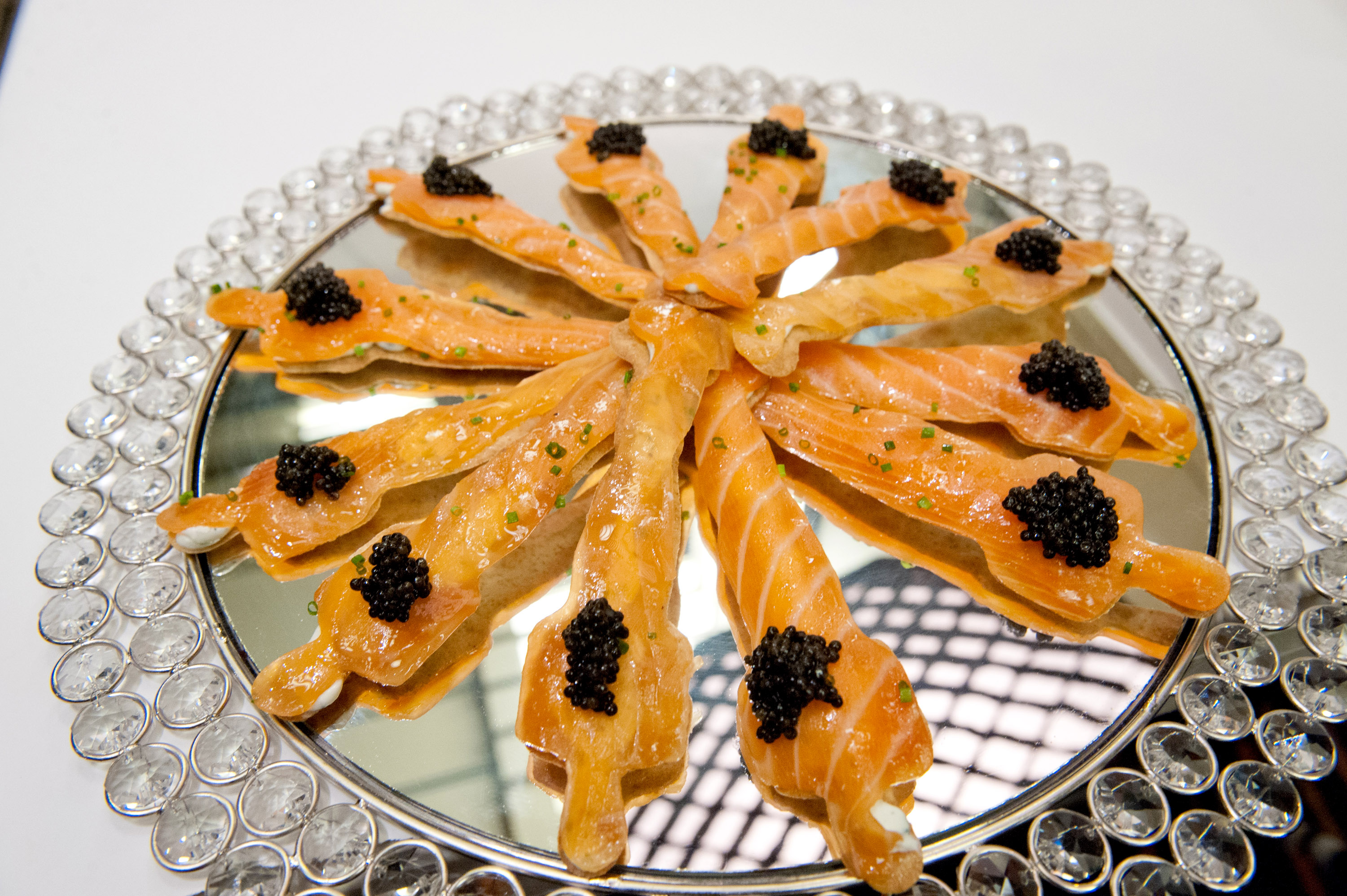 2014 Oscar Menus 
Pre Show - Tray Passed
Smoked Salmon Macaroons
Kale and Cauliflower Chips (Vegan)
Steak Tartare, Parmesan*
Carrot Orange Gazpacho (Vegan)*
Power Smoothie (Vegan)*
Chicken, White Grits*
Tomato Caprese (Vegetarian)
Shrimp Cocktail
Fruit Sticks
On the Bars
Crudité (Vegan)
Homemade Potato Chips (Vegan)
Chicharrónes
Tortilla Chips (Vegetarian)
Passed Hors d'Oeuvres
Spicy Tuna Tartare, Sesame Miso Cone*
Mini Burgers, Aged Cheddar, Remoulade*
Smoke Salmon Oscar Matzo
Assorted Pizza (some Vegetarian, Some Vegan)
Taro Root Taco, Avocado (Vegan)
Vegetable Spring Roll, Chinese Mustard (Vegetarian)
Crispy Lobster Shrimp Dumpling, 5 Spice
Aged Cheddar Grilled Cheese with Roasted Tomato (Vegetarian)
White Bean Quinoa Cake, Roasted Pepper (Vegan)
Bolognese Stuffed Arrancini
Table Platter
Homemade Pretzels, Pimento Cheese (Vegetarian) x2
5 Year Aged Gouda (Vegetarian)
Chilled Spanish Shrimp
Cauliflowers, Smoked Paprika (Vegan)
Parmesan Stuffed bacon Wrapped Dates*
Smoked Almonds
Breadsticks
Seeded Lavash
Tasting Menu
2014 Oscars Governor's Ball
Sushi & Shellfish Station
Passed Small Plates - Hot
 Baked Potato with Caviar*
Chicken Pot Pie, Black Truffles*
Hand Formed Pasta, Roasted Chestnut and Truffles (Vegetarian)
Shanghai Lobster, Jasmine Rice*
Baked Macaroni and Cheese*
Wild Salmon, Ginger & Almonds
Short Rib, Goulash, Spatzle
Weiner Schnitzel, Red Cabbage*
Passed Small Plates - Cold
Chopped Vegetable Salad (Vegetarian)
Chinois Chicken Salad
Beets, Goat Cheese, Citrus (Vegetarian)
Butternut Squash, Farro, Wild Rice (Vegetarian/Vegan)*
Chocolate Buffet
Jars of Candies/Truffles, Rocher, Nougat, Marshmallow
Mini Oscar Lollipops - Raspberry Ganache, Lemon Ganache
Chocolate Dipped Strawberry Cheesecake Pops
Homemade Chocolate Spread and Warm Cinnamon Pretzels
Milk Chocolate Crème Brûlée, Spicy Whipped Cream
Citrus Panna Cotta, Funky Chunky Chocolate Pop Corn
Chocolate Cupcake, Almond Cream  (Vegan, Gluten Free)*
White Chocolate and Lemon Cream Push Up Pops
Assorted Chocolate Barks (Seeds, Nuts, Dried Fruits)
 Passed Small Plates - Dessert
Licorice and Chocolate Parfait, Caramelized Tobacco Leaves (Gluten Free)
Yuzu Semifreddo, Green Tea Meringue and Sake Blueberries
Strawberry Consommé, Angel Food Cake, Olive Oil Sorbet
Carrot Cake, Raisins, Cinnamon Gel (Vegan)*
Caramel Garden - Coffee Soil, Chocolate Malted Tree, Fleur de Sel
---