CHEF/HOTEL PROFILE   .   .   .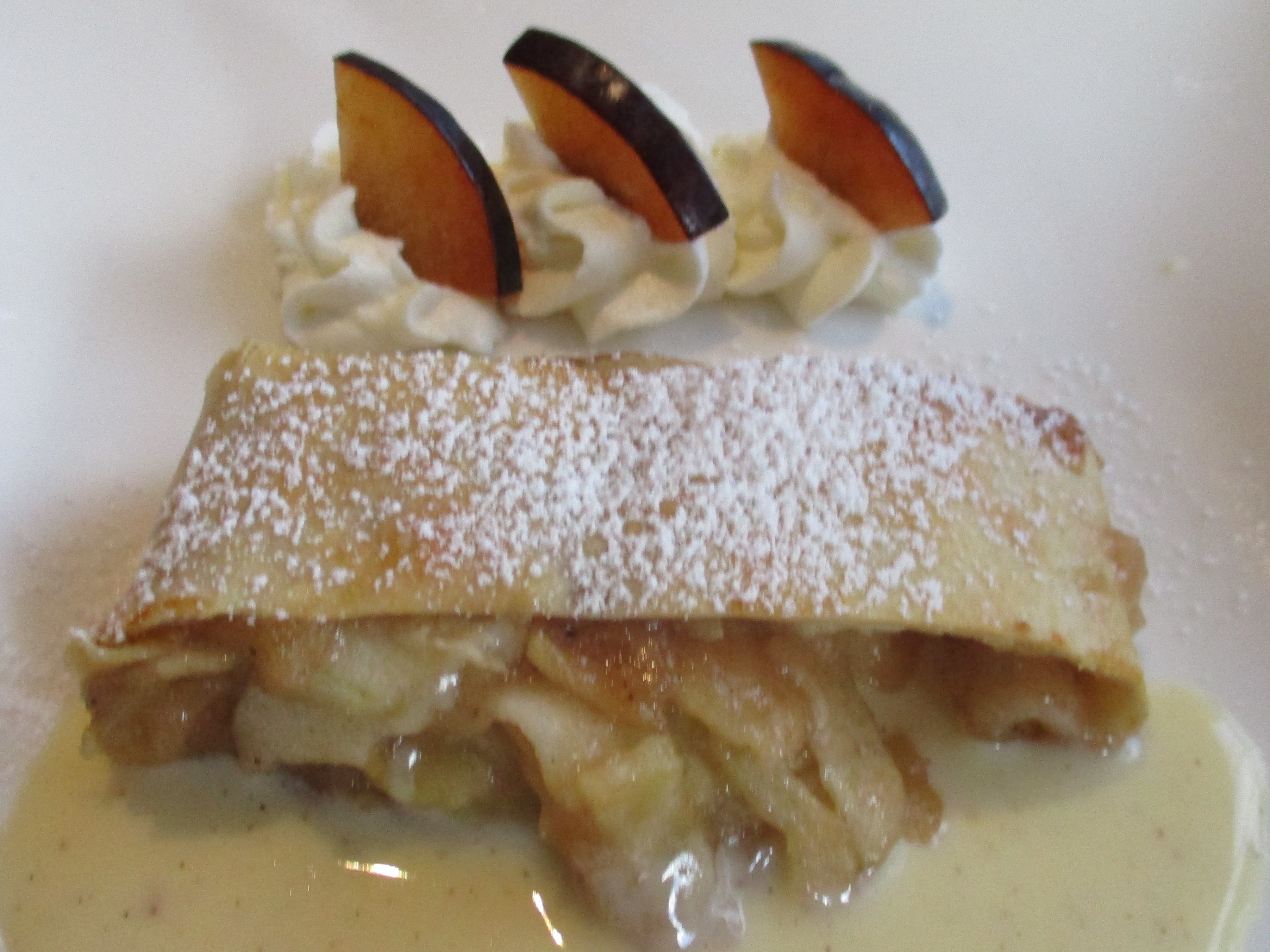 MASTERING THE ART OF STRUDEL ON THE VIKING VILHJALM
by Bonnie Carroll
The art of strudel making takes on a new dimension when Executive Chef Roman Paput takes Viking guests on a trip to the Budapest market to buy ingredients for his unique strudel making class. Guest enjoyed perusing the market with the chef for fresh ingredients to include in the cooking lesson, and participated in the demonstration planned and implemented that afternoon for the entire ships enjoyment in the Vilhjalm lounge.
Viking Chef Paput & Sous Chef Prepare for Strudel Demonstration
In the afternoon two guests joined Chef Paput and his sous chef for the scheduled cooking lesson, where a table filled with all the necessary ingredients was set up in advance for audience viewing in the Viking Vilhjalm Lounge, and a crowd of guests congregated to watch and learn the secrets of making authentic apple strudel.
Apple strudel is considered to be the national dish of Austria along with Wiener Schnitzel and Tafelspitz. The oldest known strudel recipe is from 1697, a handwritten recipe housed at the Wienbibliothek im Rathaus, library. As a type of sweet or savoury layered pastry with a filling inside, the strudel gained popularity in the 18th century through the Hapsburg Empire (1278–1780).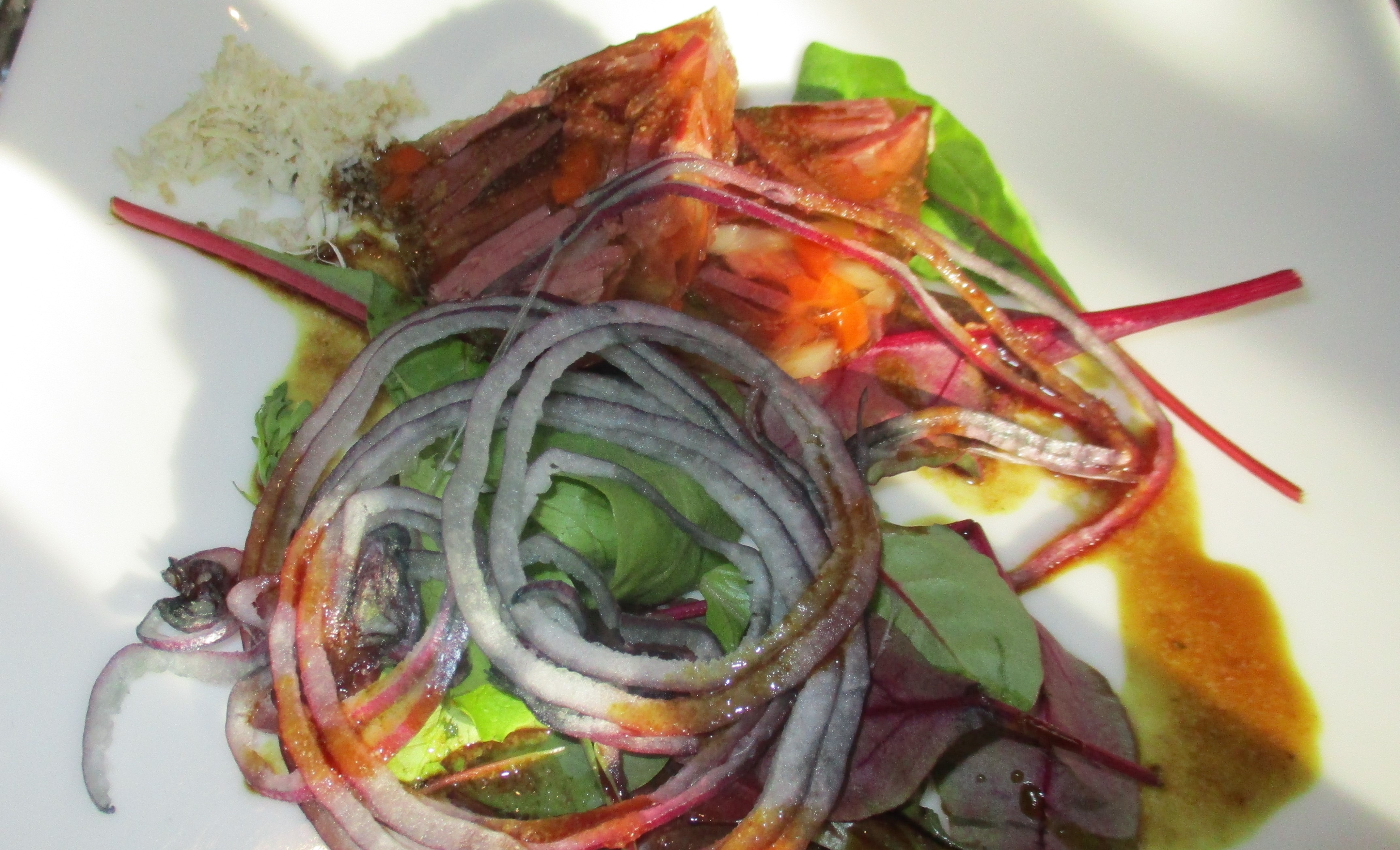 Viking Wiener Schnitzel und Tafelspitz Dinner
Austrian cuisine was formed and influenced by the cuisines of many different peoples over many centuries of the Austrian Hapsburg Empire's expansion. Strudel is related to the Ottoman Empire's pastry baklava, which came to Austria from Turkey via Hungarian cuisine. Strudel is most often associated with Austrian cuisine, but is also a traditional pastry in the whole area formerly belonging to the Austro-Hungarian empire.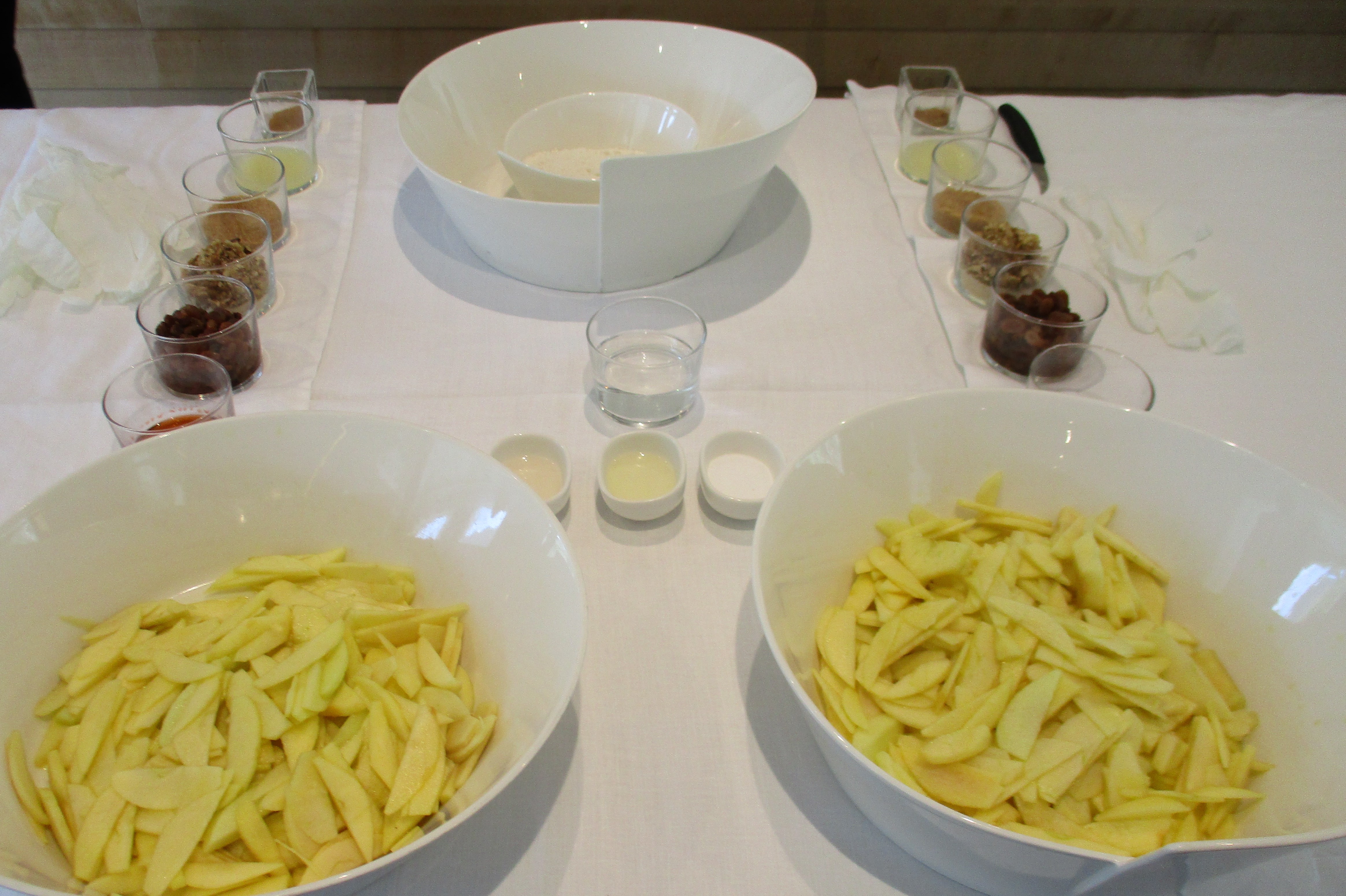 Viking Apple Strudel Recipe Ingredients
Chef Roman Paput has been working for Viking River Cruises for many years, and learned to cook from his family members as a boy. He worked in hotel restaurants while studying and developing his craft, and said he enjoys very much his time working for Viking as an Executive Chef, and appreciates the wonderful staff working with him in the galley.
At dinner that evening the gorgeous strudel was served as our dessert, following an authentic Austrian dinner of Wiener Schnitzel and Tapelspitz, that was indeed worth waiting for. The apples were tender in the rich custard sauce and the strudel was perfectly crisp and sweet. Two of the ladies who had accompanied the chef on the strudel shopping jaunt to the market earlier that morning stopped to give him a kiss and thank him for including them in this fun and educational Viking cooking adventure.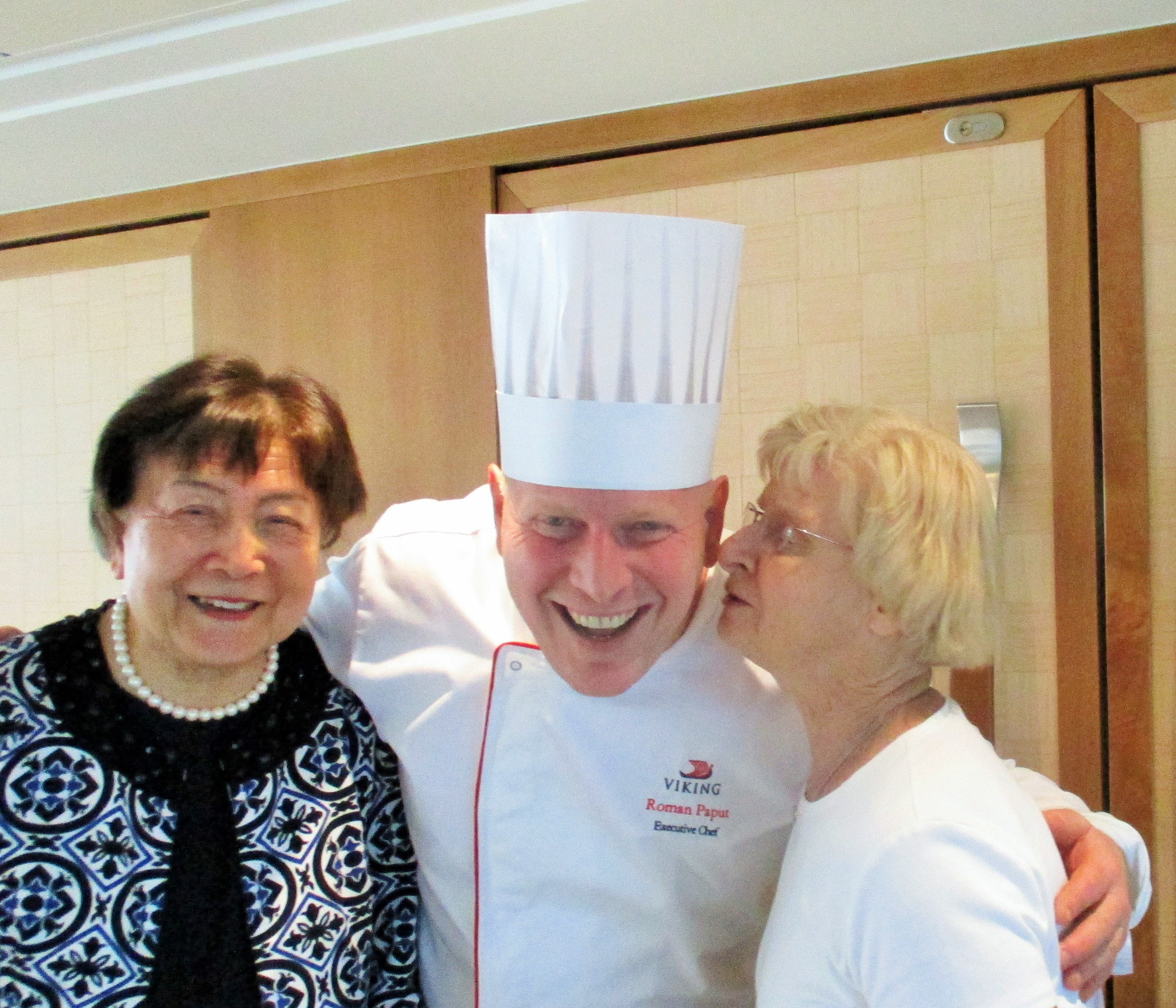 Food trip shoppers thank Chef Paput with a kiss
Little shopping jaunts to local markets in preparation for chef cooking lessons are fairly common on the Viking ships, but this one was especially appreciated by everyone on the Vilhjalm because who in the world does not like Viennese apple strudel? When booking your next trip with Viking you should inquire if they will be offering one of these culinary adventures. I hope to be duplicating, or trying to duplicate Chef Paput's recipe for my friends and family in Santa Barbara, and some of the other guests I spoke with expressed their enthusiasm about doing the same.
A video of this cooking demonstration created by Bonnie Carroll's Life Bites News can be found on You Tube, that was done by Bonnie Carroll while the ship was cruising through the Wachau Valley. Perhaps this video may provide some home enjoyment for you and your friends. Below you will find the recipe for Chef Paput's Viking Apple Strudel. Guten Appetit!
Viking Cooking Demonstration Apple Strudel Recipe

Here is the recipe for Viking Apple Strudel The filling is very traditional, and will bring back memories of cosmopolitan Vienna and sophisticated coffeehouses. Close your eyes and you may even hear a lilting Strauss waltz. See video of Chef Paput created by Bonnie Carroll's Life Bites News on YouTube at https://youtu.be/CHStx8dacZ4.


INGREDIENTS:
Pastry:
1/4 C plus 1 1/2 T (80 ml) warm water
1 3/4 T (26 ml) sunflower oil, plus extra for bowl
1/2 tsp (2.5 ml) vinegar
18 tsp (.6 g) salt
1 C plus 2 1/2 T (145 g) flour, plus extra for dusting
Filling:
1/2 C (96 g) sugar
1/4 C (30 g) walnuts, finely chopped
1/3 C (55 g) raisins
1/2 tsp (1 1/2 g) lemon zest
1 tsp (2 g) cinnamon
2 or 3 Pippin or Granny Smith apples (approx 3 C 1 1/2 kg) chopped)
2 T (29g) butter, melted
1 T (2g) breadcrumbs
DIRECTIONS:
Combine water, oil, vinegar and salt in large bowl. Mix in half the flour with a spoon. Mix in remaining flour, first with a spoon, than with your hands. When dough is a smooth ball, transfer to a lightly floured surface and knead vigorously for 10 minutes, slapping onto the surface every now and then. Dough should be moist but not sticky; add flour as needed.
Rinse a large bowl with warm water, dry and coat with oil, form dough into a smooth, round ball and place in bowl, coating surface of dough with oil. Cover tightly with plastic wrap and let rest for 1 hour at room temperature for up to 3 days, bringing up to room temperature before proceeding with recipe.
Pour air out of dough and trnsfer to a clean, floured kitchen towel. Lightly dust top with flour and roll out to about 14x17 inches (35x35 cm). Pinch any tears in the dough to seal. Dough will be quite thin, don't over handle. Keep dough on towels; set aside.
Place sugar, walnuts, raisins, lemon zest and cinnamon in a medium bowl, stirring to combine. Peel, core and chop apples into small chunks Add to bowl and toss to combine.
Lightly brush dough with elted butter. Sprinkle with breadcrumbs. Add apple mixture down center of dough, leaving a 1-inch (2-cm) margin around the filling. Fold 1 inch (2 cm) along 3 sides of dough, leaving one long side unfolded. Moisten all edges lightly with water. Using towel to assist you, roll dough toward unfolded edge to enclose filling.Press gently along seam and sides to seal.
Using towel as a sling, transfer strudel seam-side down to a cookie sheet. Gently remove towel. Brush lightly with remaining butter. Prick sparingly along top with a fork. Bake about 30 minutes or until golden brown. Remove from heat and let cool for 10 minutes. Cut crosswise into 12 pieces.
Prep Time: 2 hours

Cook Time: 30 minutes

Makes 12 Servings
Nutritional Info Per Serving:
Calories 211, Fat 11 g, Cholesterol 5 mg, Sodium 198 mg, Carbs 29g, Protein 2 g
Serving Suggestions:
Serve warm with vanilla ice cream or custard sauce.
VIKING
_________________________________________________________________________
MAGIC TOUCH OF JEAN-GEORGES  AT THE WALDORF ASTORIA BEVERLY HILLS
by Bonnie Carroll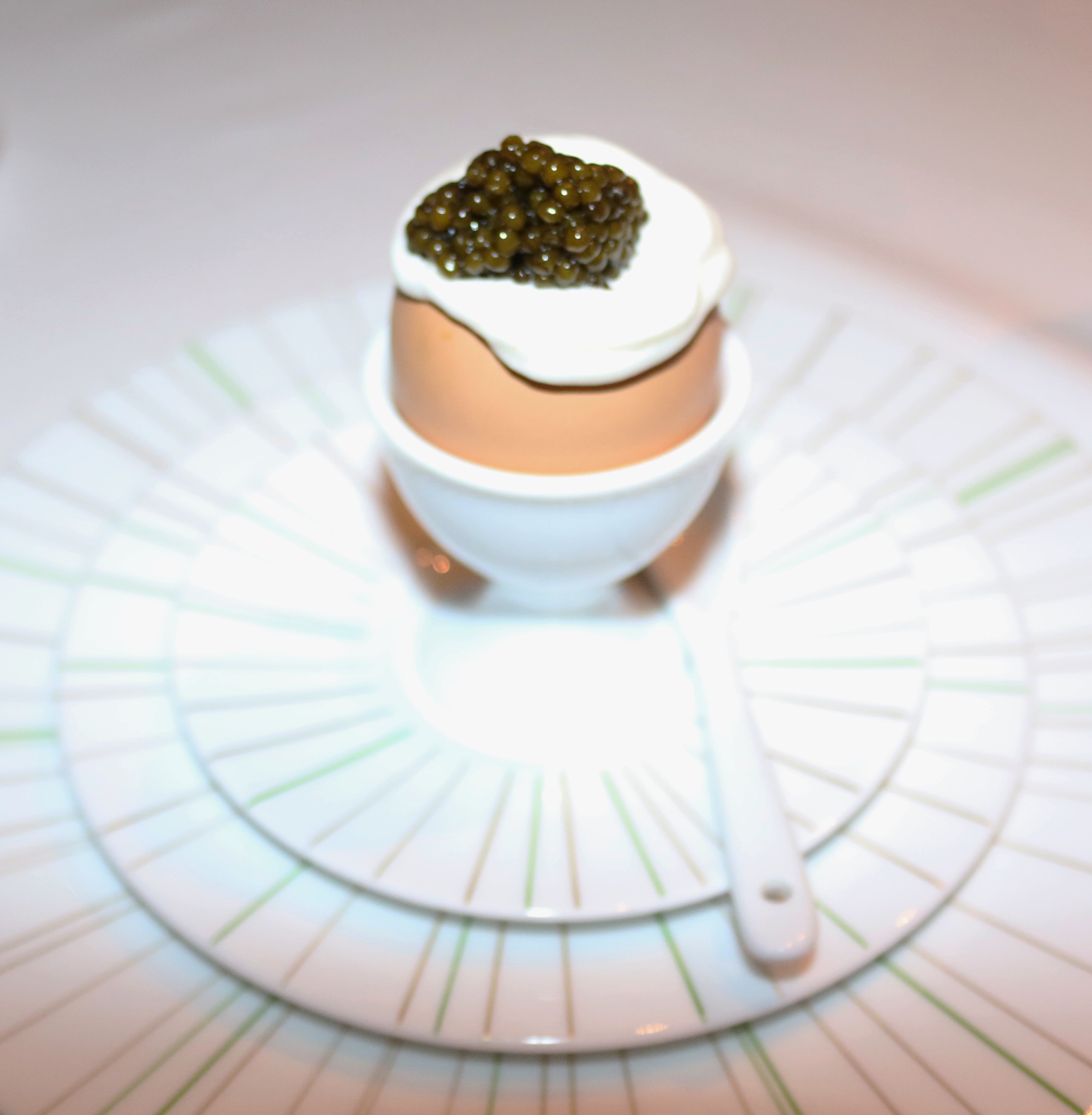 A magical new culinary coup was created by Master Chef Jean-Georges with the opening opening of the Waldorf Astoria Beverly Hills. Among the new hotel mecca location for tourists in Beverly Hills there is now the Waldorf in one of America's most visited destinations. Guests at this new hotel can expect to experience unique Jean-Georges culinary designs, awe inspiring views, and an extraordinary dining experience that combines European style with California inspired plates.
Any visitor would be left completely breathless by the views from The JG Rooftop, and Jean-Georges Restaurant Tasting Menu with Wine Pairing dinner in the lobby level of the new hotel. Jean-Georges Restaurant is beyond any expectation patrons could possibly have imagined in advance. With famed New York restaurateur and Michelin-star chef Jean-Georges Vongerichten at the helm in the culinary preparations and presentations of the sophisticated signature restaurant and unique rooftop, diners could only be impressed by one of the finest sophisticated culinary experiences in Los Angeles, along with outstanding service given seasoned diners as well as the newest generation of dining patrons.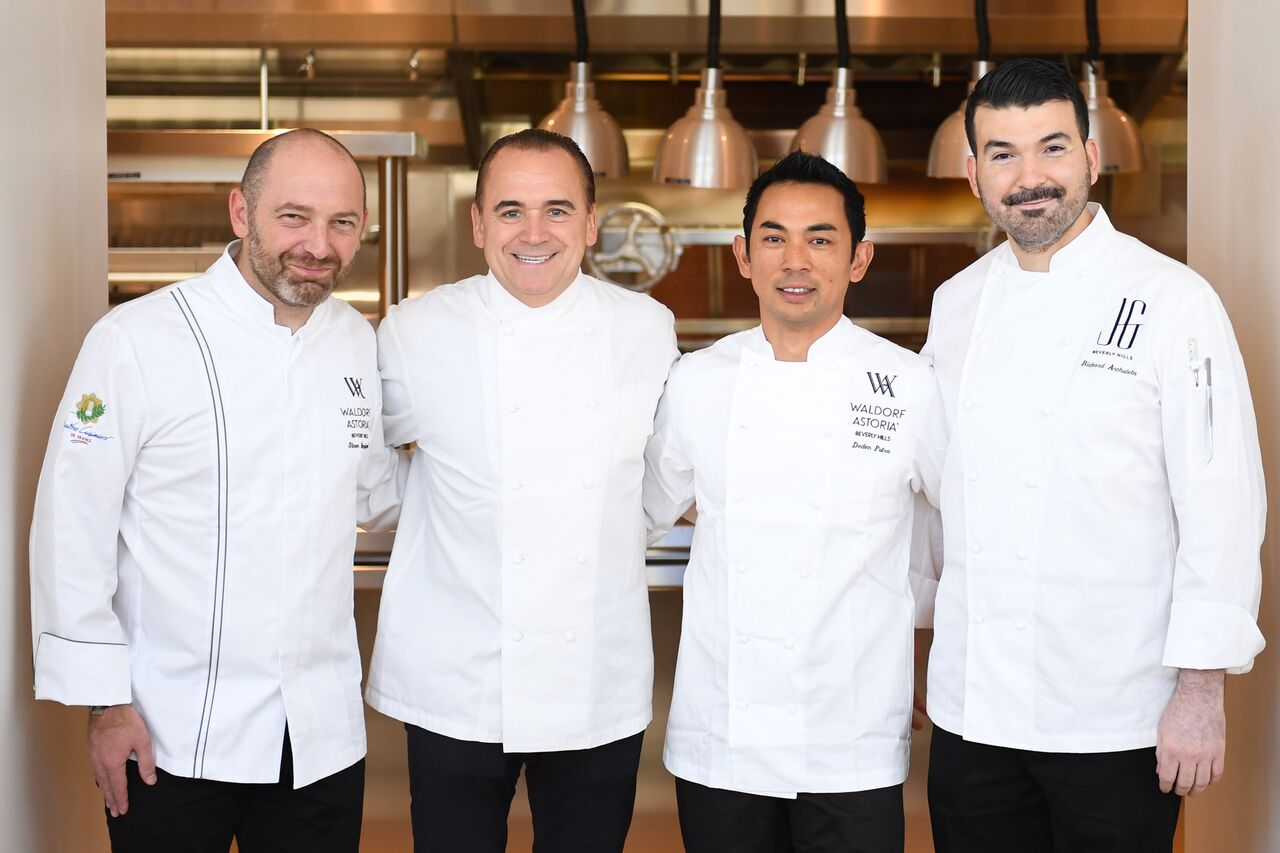 From the picture perfect Egg Caviar, softly scrambled with whipped cream, paired with Billecart-Salmon "Jean-Georges" Brut Rose, French Champagne followed by Ahi Tuna Ribbons with fresh avocado, radish and ginger dressing paired with 2016 Atinori "Guado al Tasso" Vermentino, Bolgheri Italy and then a perfect Parmesan Risotto with pickled pear and black truffle, presented with a golden saki service to sip Born Murokua, Junmai Daigingo ama Genshu Sake from Japan. This was an epic beginning to the entree and dessert courses yet to come.
The two outstanding entree dishes of Seared Black Cod with glazed baby turnips, broccoli de ceccio with herbal broth paired with a stunning 2003 Schloss Schonborn "Erbacher Marcobrunn" Riesling, Kabinett, Rheingau, Germany, followed by Roasted Wagyu Beef Tenderloin, with spinach, basil, sesame and chili paired beautifully with 2013 Staglin "Salus" Cabernet Sauvignon, Napa Valley, California were both unique in composition and flavors.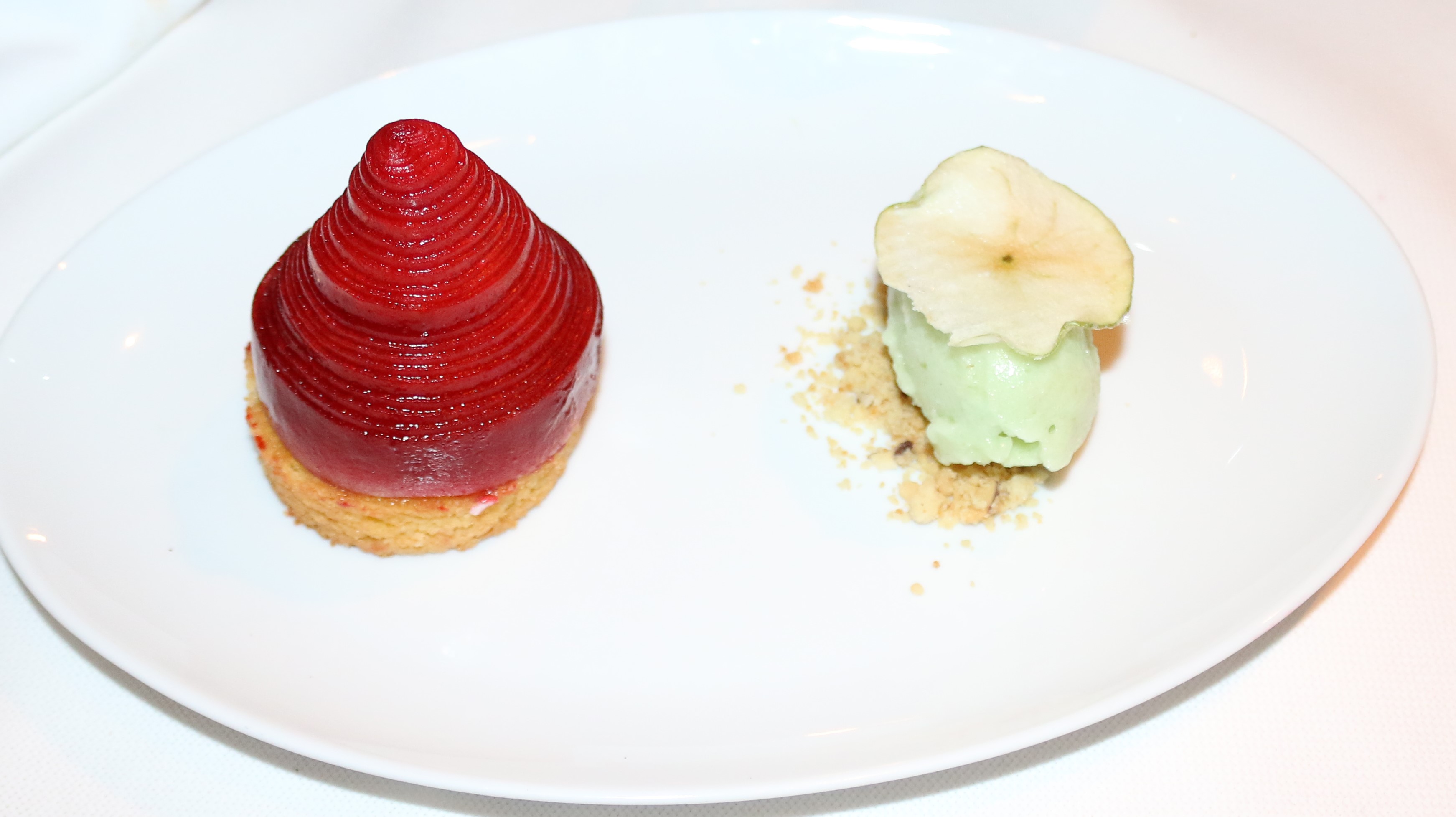 The exquisitely constructed and superb Hibiscus Apple Confit with crème fraiche, green apple sorbet was a sinfully delicious ending paired with 2016 Elio Perrone "Bigaro" Moscato/Brachetto from Piedmont, Italy. The chef also kindly sent a simply beautiful plate of Mignardises popsugar food, derived from the word mignard which means graceful, pretty and delicate. This entire evening of elegant gastronomique is as close as in LA as you may get to the best in Paris. From start to finish you will feel fortunate to find all this food and beverage wonder in the US, however, for Californian's the fusion of their favorite foods and flavors, skillfully synergized with the star chef flair of Vongerichten becomes a dream sequence dining event.
Chef Jean-Georges Vongerichten's culinary innovations and impressive restaurateur skills have given birth to more than two dozen dining establishments, from New York to Paris to Tokyo. Vongerichten grew up on a farm in Alsace, France, where his mother and grandmother taught him to cook and appreciate seasonality. He started his culinary training in France, but it was the time he later spent working and traveling in Asia in the 1980s that proved formative. According to the chef his his first trip to an open-air market in Bangkok was a particularly eye-opening opportunity.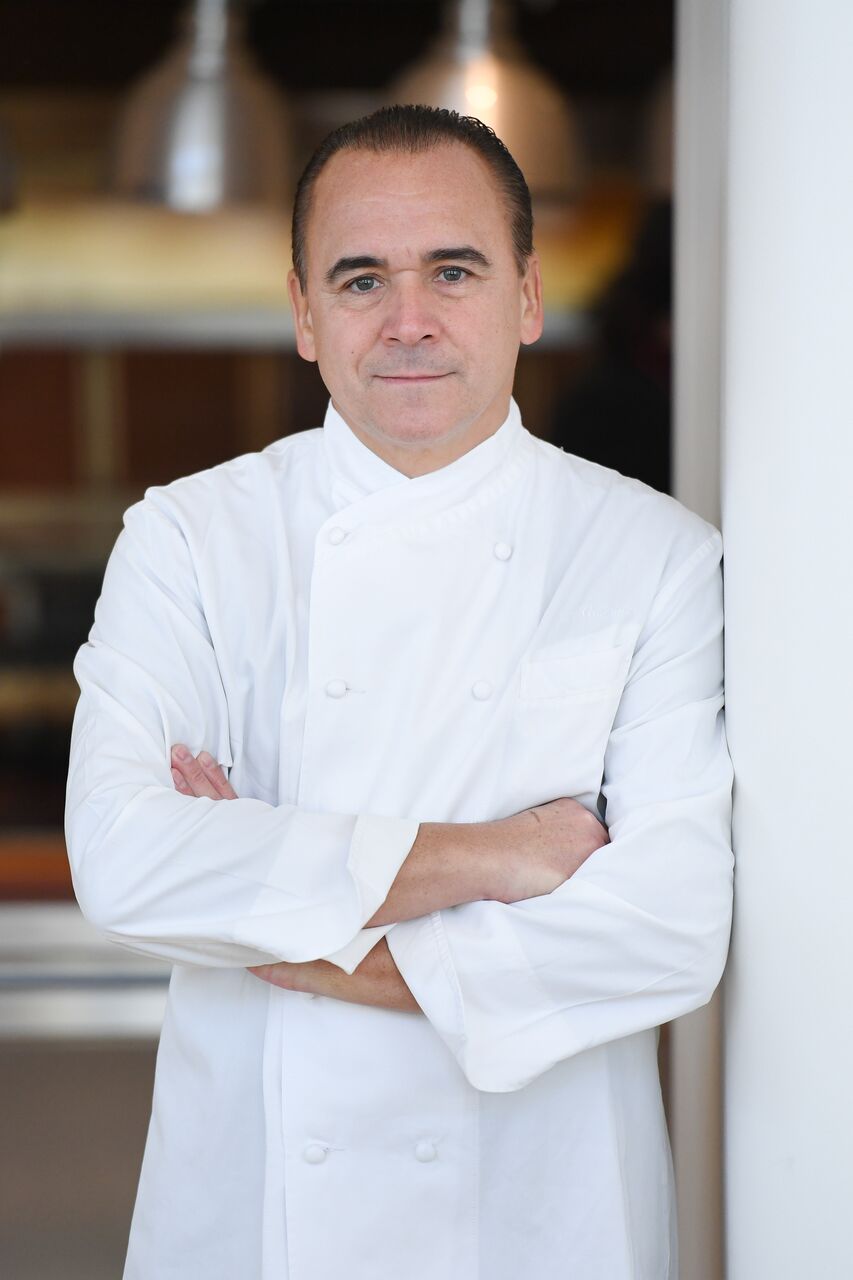 Serving as a protégé to chef Louis Outhier, Vongerichten's career led him to the United States. He first created a stir on New York's dining scene at Lafayette in the Drake Swisshôtel, then struck out on his own with Jojo in 1991. At this French fusion bistro, he pioneered his signature style of cooking with Asian spices, infused oils, vegetable juices and exotic vinaigrettes, while using a minimum of butter, cream and flour. Along with a renowned restaurant in Trump Tower, Chef Jean-Georges has a New York venture that is a French-Thai fusion eatery Vong, which eventually spawned a sister restaurants in London, Hong Kong and Chicago.
"I'm excited to have found the perfect partner to make my West Coast debut and bring my culinary passion to one of the world's most prestigious hotel brands," said Vongerichten. "I truly value the opportunity to bring exquisite food and discerning guests together in one place and look forward to becoming a part of the Beverly Hills community, bringing a new inspiring environment to life and having a presence in California for the first time."
Keeping in line with the hotel's unprecedented luxury and authentic hospitality, both the signature Jean-Georges restaurant and unique rooftop poolside dining at Waldorf Astoria Beverly Hills embodies elegance as guests enjoy contemporary fine dining and an array of hand-crafted cocktails. With the unparalleled abundance of California's local, organic treasures- in support of independent farmers and fishmongers- Vongerichten sources and creates a beautiful harmony of seasonal ingredients and artful craft, highlighting the finest flavors in each dish. The indoor and outdoor dining oasis at Waldorf Astoria Beverly Hills sets out to strike a perfect balance between guests' palates and their views of the space. The culinary dream team lead by Jean-Georges includes Chefs Steve Benjamin, Deden Patra and Richard Archuleta.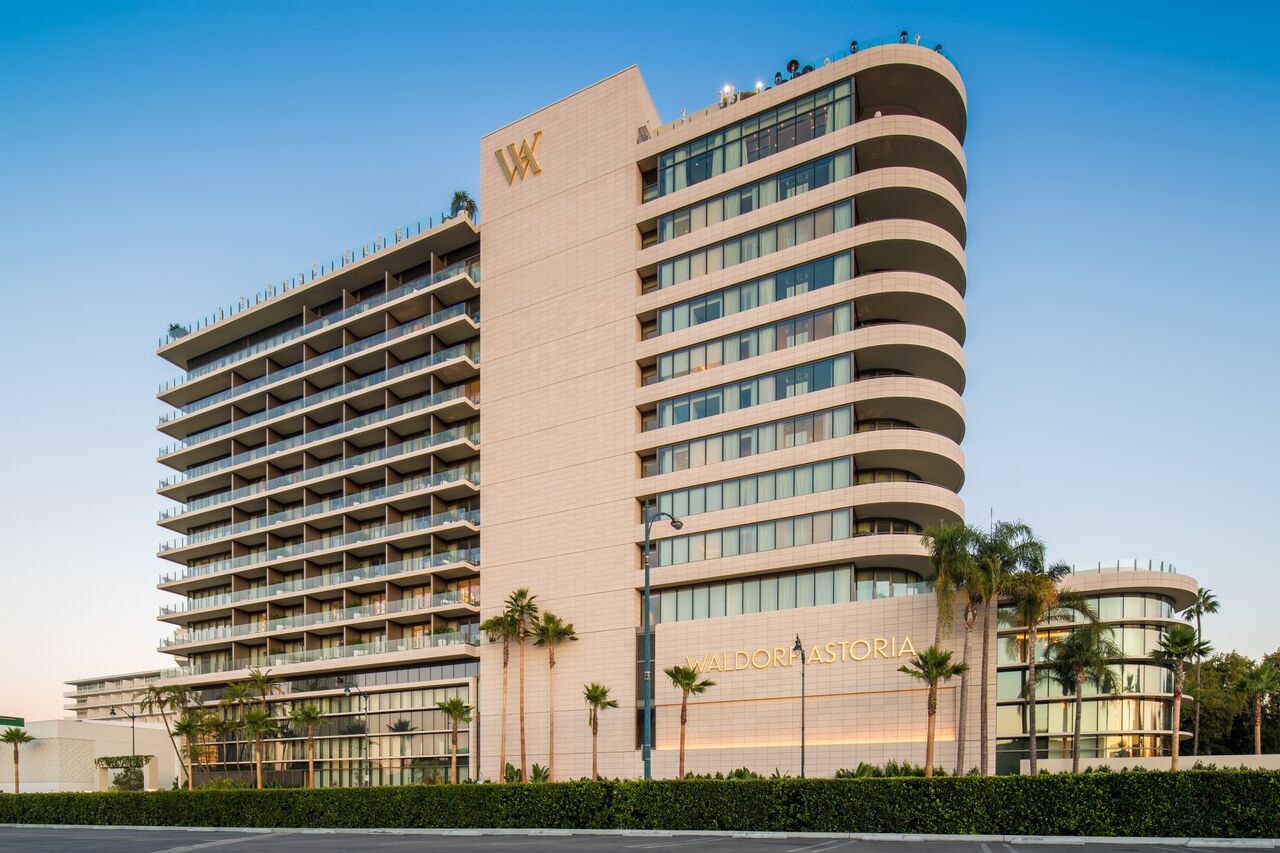 Located adjacent to The Beverly Hilton on the corner of Wilshire and Santa Monica Boulevards, the 12-story, 170-room luxury hotel marks the brand's first new build property on the West Coast- joining the legendary Waldorf Astoria portfolio of 25 landmark destinations. Delivering a combination of luxury and ease that has never existed before and embodying a unique urban oasis, the prestigious hotel brand's debut in Beverly Hills pays homage to Hollywood glamor and the effortless luxury of the California lifestyle.
Waldorf Astoria Beverly Hills participate in Hilton HHonors®, the only guest loyalty program where guests who book directly through www.waldorfastoria.com have access to benefits including a Personal Concierge and complimentary Wi-Fi at 25 Waldorf Astoria hotels worldwide.
Waldorf Astoria Beverly Hills
9850 Wilshire Boulevard
Beverly Hills, California 90210
1-800-774-1500
www.waldorfastoriabeverlyhills.com
---