HOTEL/CHEF PROFILE . . .
The Amazing Grace Marrakech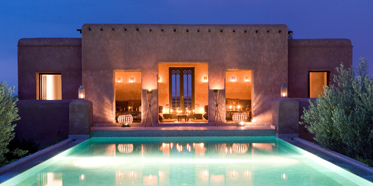 Grace Marrakech is a haven of exquisite taste with a unique aura. This luxury boutique hotel in Marrakech, brings out the true "art-de-vivre" of Morocco - its hospitality, the warmth of its people, as well as the beauty and variety of its landscapes. Grace Marrakech is for those who seek a luxury hotel in Morocco that is an escape into a rural retreat with easy access to the vibrant culture, nightlife and entertainment that Marrakech is famous for. Grace Marrakech harmoniously embraces: urban and rural; body and soul; luxury and authenticity.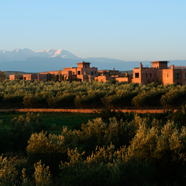 This tranquil hideaway in the foothills of the Atlas Mountains lies in 15 hectares of Moroccan countryside and features its own farmstead with olive trees, vegetable gardens and horse stables. Comprising 18 suites and lofts (some with two or three bedrooms), a restaurant, bar, library, outdoor heated pool, traditional farm kitchen and fully serviced spa with traditional hammam and whirlpool, it provides the perfect escape for both couples and families or those seeking an exclusive corporate retreat. Its prime setting makes Grace Marrakech an exceptional choice for those who feel at ease in both worlds - a hotel in the Red City or a peaceful desert hideaway. Only half an hour separates you from the exhilarating huddle of the historic center, while the attentive service of a world class rural boutique hotel awaits you. The visionary style of design is a perfect expression of authentic Moroccan hospitality. A fusion of Arab and Berber, it combines natural, organic textures with soft, polished and elaborate details. Muted tones echo traditional Berber clay houses, while brighter colours bring out a contemporary Arab aesthetic beautifully suited to boutique hotels.
Grace Hotel, just 22 km SW of Marrakech is a stunning luxury boutique hotel that offers a one of a kind Moroccan experience. It opened in 2015 and is the award winning Grace Hotel chainís first property in the region. Guests are sure to love any of the 18 plush Arab and Berber themed suites and lofts. It has its own farm, stables, and vegetable gardens by the foot of the Atlas Mountains. World class amenities include 2 restaurants, 2 bars, a heated outdoor pool, a library, and a lavish spa with couplesí rooms, whirlpool and traditional hammam make for a truly relaxing stay. The hotel is only a 30 min drive from the historic Marrakech city centre of snake charmers and colourful souks as well as other tourist attractions like the Djemaa El Fna Square and Bahaia Palace.
While in Marrakech you might want to try one of the populare dining spost. A highly recommended cocktail and dining spot in Marrakech is NOMAD.

Kamal Laftimi, one of Marrakechís most creative entrepreneurs, has opened  another modern Moroccan eatery that features a rooftop cocktail bar. The inviting sand-coloured sofas and black-and-white tiled tables are a chic change from Moroccan colors. The menu is fearlessly modern, featuring eclectic versions of classics likecalamari marinated in cumin served with a dash of spicy harissa or date cake with salted caramel ice-cream. Itís also the first place in the medina featuring well crafted cocktails like cucumber martinis and perfect mojitos. Profits from the restaurants daily special go to a local charity.
Nomad's rooftop cocktail bar.
Address: 1 Derb Arjaan, just off Rahba Kedima, Medina
Contact: 00 212 524 381 609, nomadmarrakech.com
Hours: daily, 11am-11pm
cards accepted
.
---