HOTEL/CHEF PROFILES  .   .   .
SWEET SENSATIONS IN THE ALCAZAR SUITE AT HOTEL CALIFORNIAN
By Bonnie Carroll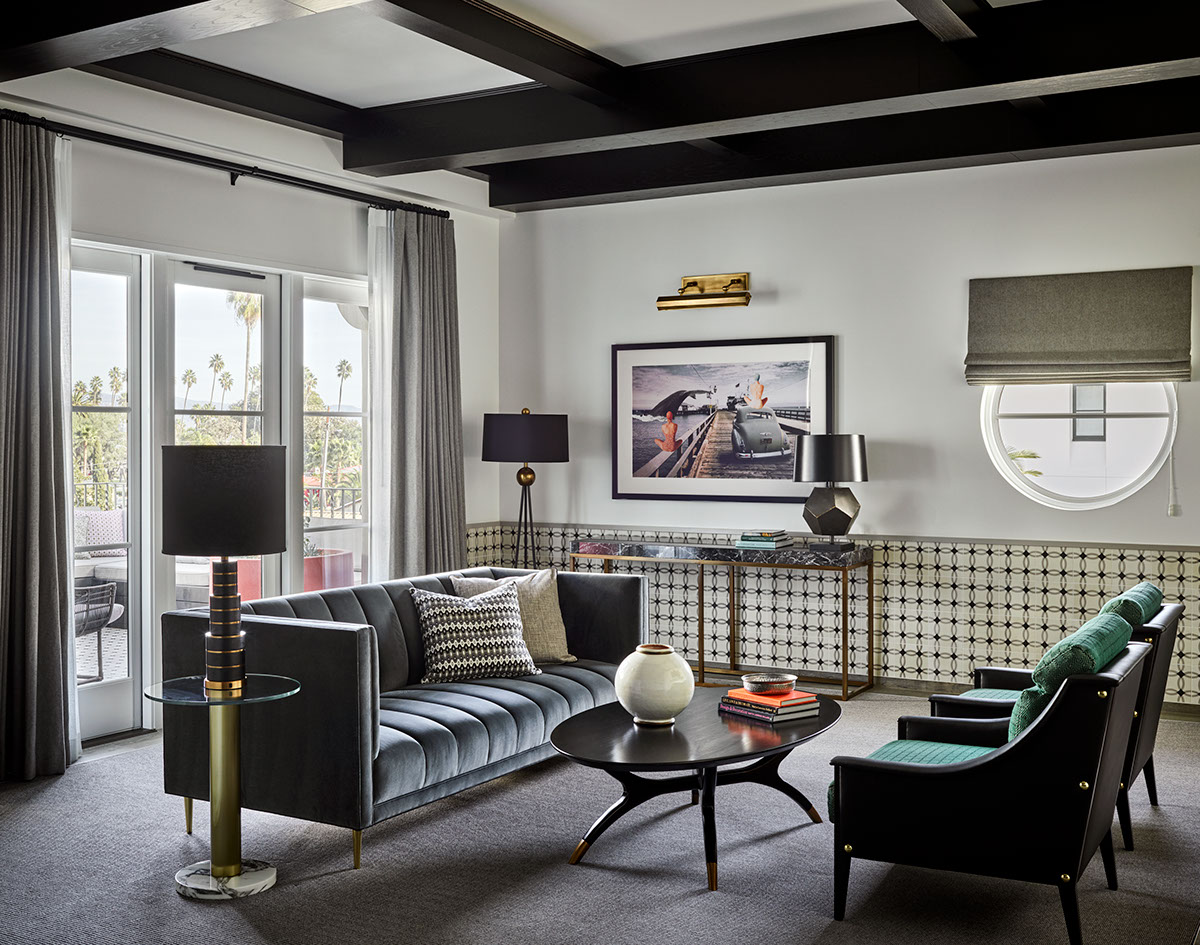 An exceptional wine and chocolate tasting took place in the Alcazar Suite at Hotel Californian to launch an exciting new wine in the United States.  The taste sensation event held in the Alcazar Suite at the Hotel Californian was hosted by Margerum Wine Company to celebrate the release of Margerum Wine company's newest wine Mute-Age, and featured a pairing with Twenty-Four Blackbirds Chocolates. 
"Tasting the Twenty-Four Blackbirds Tanzanian Chocolate with Mute-Age was stunning," said Morgan Kelley, the Margerum Tasting Room Manager.  "The pairing of Twenty-Four Blackbird's Tanzanian chocolate with Mute-Age was as great a food and wine experience as I've ever had." Another Pairing Margerum and Twenty-Four Blackbirds discovered was the perfect pairing for the Margerum Amaro, a Grenache based dessert wine, with the Twenty-Four Blackbirds Bolivian chocolate – both were served at the Alcazar event.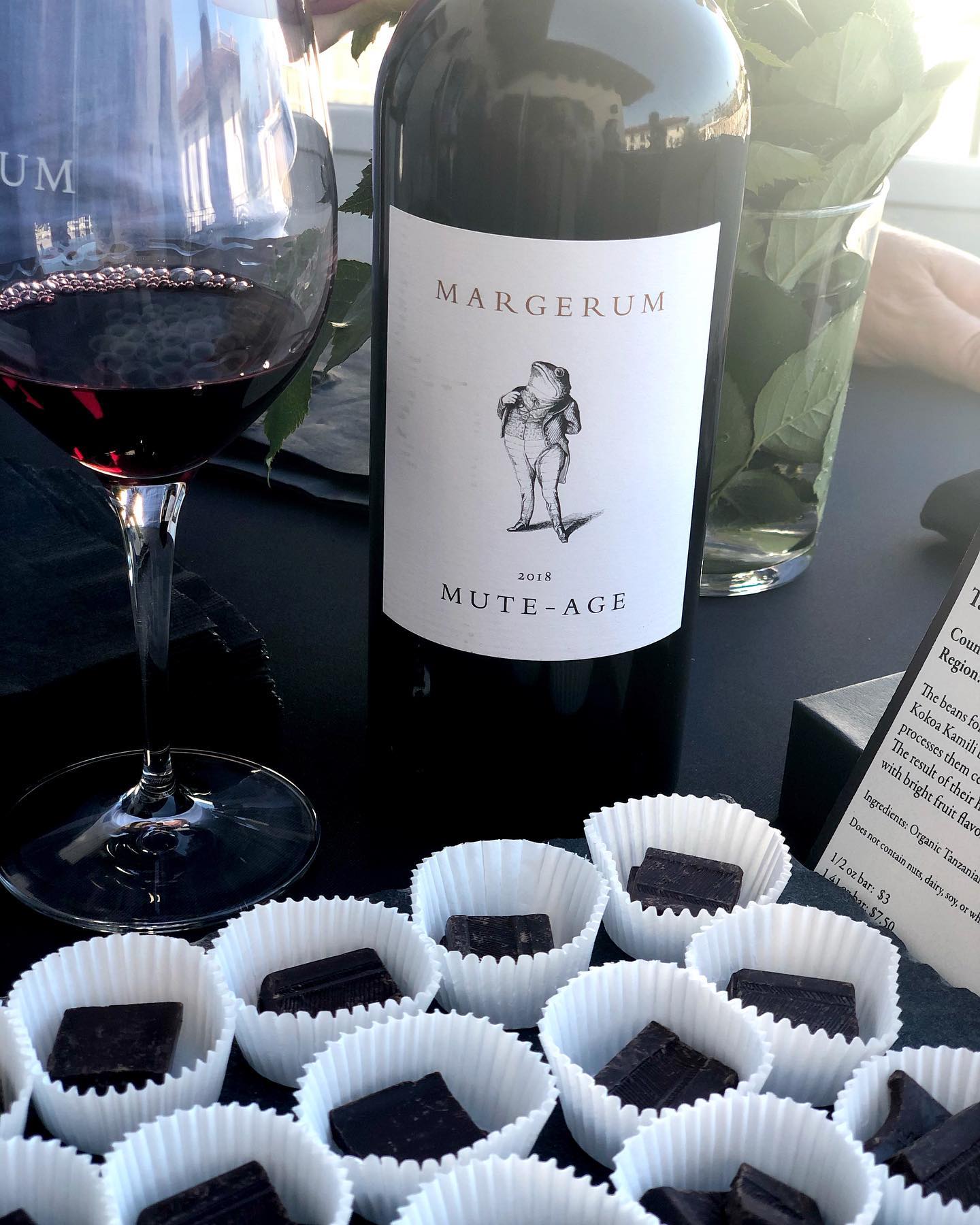 Margerum MUTE-AGE & Twenty-Four Blackbirds Chocolate
Margerum MUTE-AGE is a play on words (mutage is the technique) as this wine has been silently baking and aging in 34 liter demi-johns on the Margerum Wine Company roof for the last two years. Commonly referred to as a VDN or Vin Doux Natural, it's a naturally sweet wine obtained by "mutage" during alcoholic fermentation.  Barrel aged Brandy is added to the must during fermentation to stop the fermentation to maintain residual and fruity sugar, while increasing the tannin extraction. Baking on the roof for two years yields a unique flavor.
Twenty-Four Blackbirds 75% Kokoa Kamili Tanzanian Dark Chocolate bar starts with cocoa beans that are grown in Tanzania´s Kilombero Valley. Founder Mike Orlando buys raw cocoa beans from Kokoa Kamili's farmer network, paying well above market price, and processes them in his downtown Santa Barbara chocolate factory. 
The cocoa beans are naturally very acidic, but through gentle roasting and further refining they are able to strip away sharp acidic notes to reveal berry and red fruit notes, while simultaneously developing roasted and creamy notes to round out the finished chocolate. The result is an elegant dark chocolate whose fruit and creamy dark chocolate flavors dance around each other as the chocolate melts in your mouth. 
Hotel Californian Alcazar Suite is the only guestroom suite in the property's State Building – providing the ultimate Santa Barbara retreat set at the front door of the city's vibrant Funk Zone. Spacious seating and dining areas offer the option to entertain or settle in for a long stay. Two private balconies provide exclusive vantage points from which to enjoy stunning views and sunsets.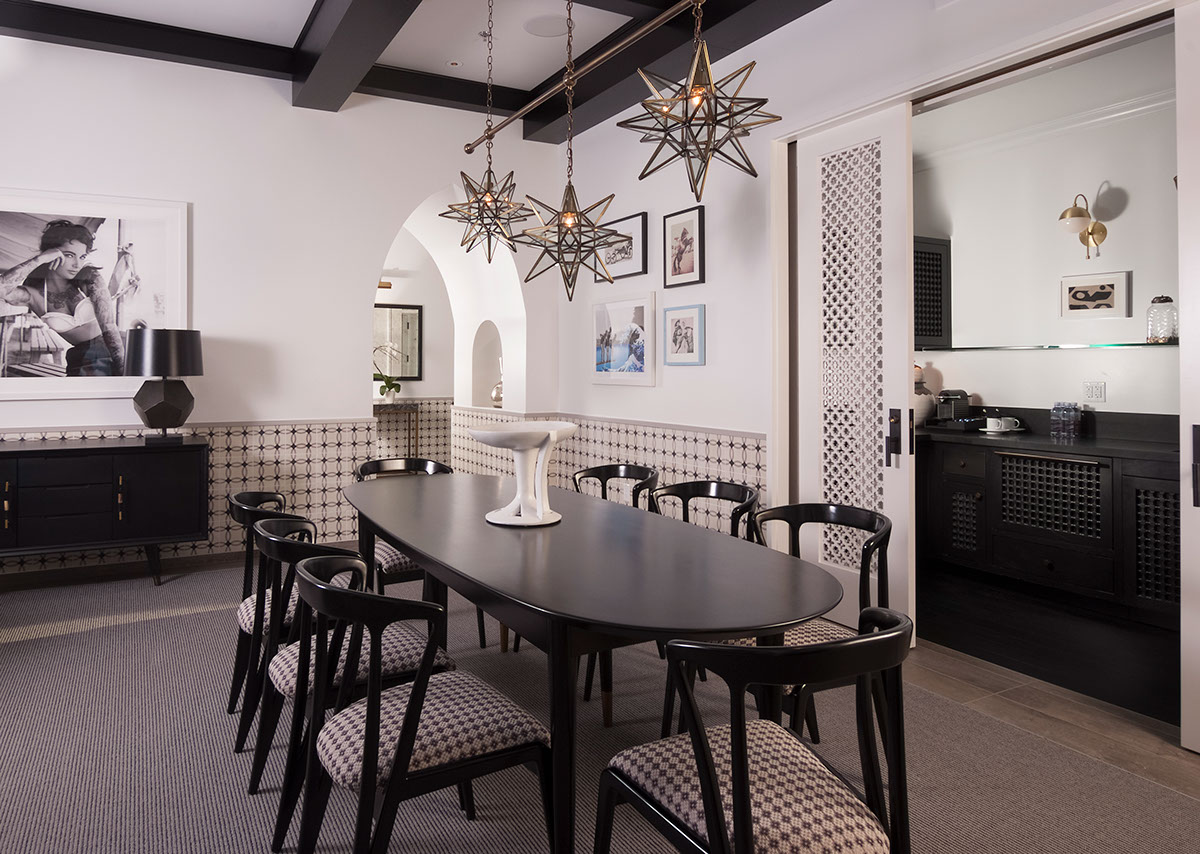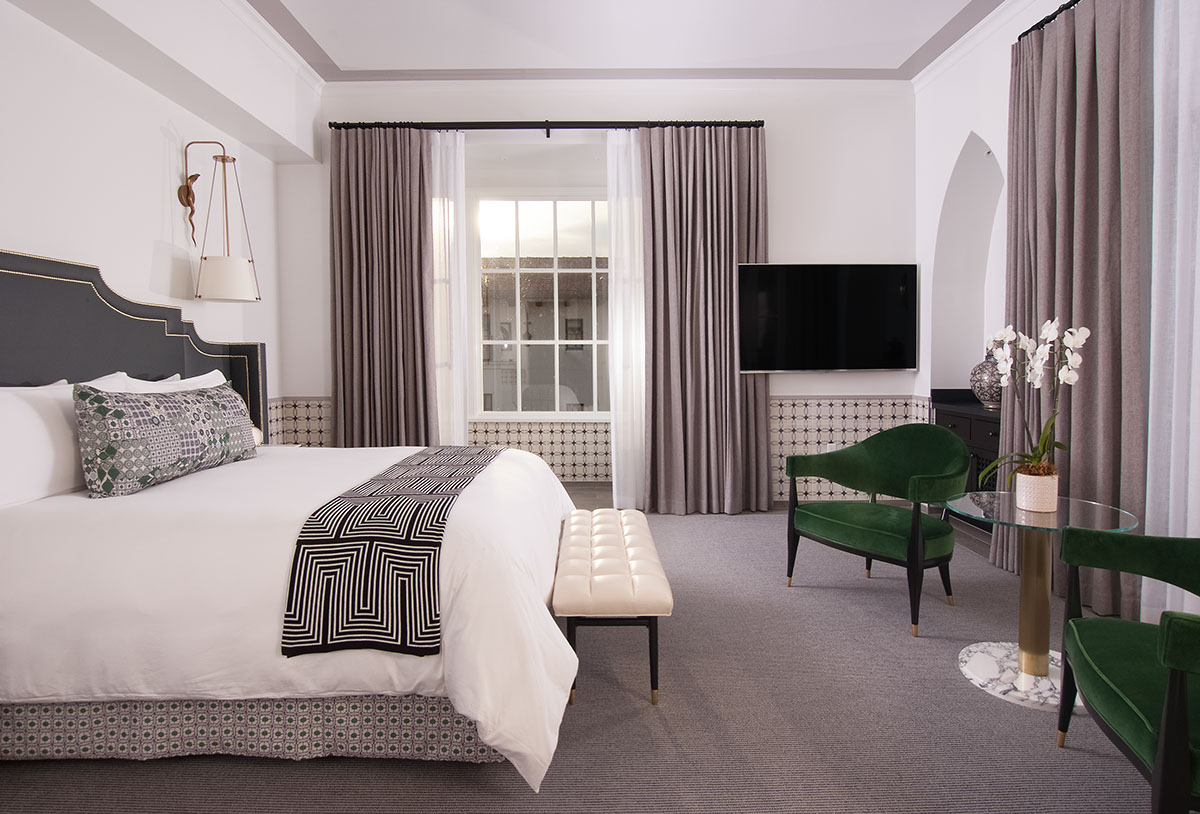 The Alcazar Suite. designed by celebrity designer Martyn Lawrence Bullard, is a gorgeous 17,000 square foot get-a-way suite with two bedrooms, two and a half baths, an inviting dining room with hospitality kitchen and living room with all the bells and whistles, along with two spacious patios. The suite provides amazing privacy for everyone spending the night, as well as a secure entrance for high profile guests. The décor is stunning and combines a sophisticated ambiance with comfortable chic. The spectacular master bath is perfect for two.
Winemaker Doug Margerum and Marni Margerum welcomed guest to sample both Margerum MUTE-AGE and Amaro Grenache based dessert wine with Mike Orlando's delicious Twenty-Four Blackbirds Chocolate while mingling with a bevy of invited guests in the Alcazar Suite patio as the Santa Barbara sun was setting.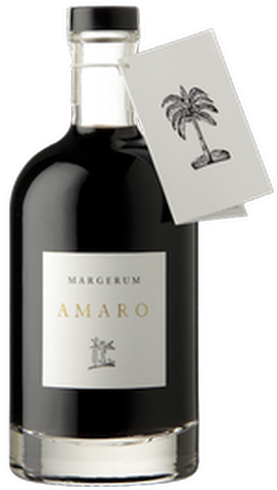 This was my first experience pairing great wines with sensational 75% Kokoa Kamili Tanzanian Dark Chocolate. It is a delicious and unique new taste sensation I highly recommend and I'm sure I will be serving these combinations in my own home during the holidays. For information on the Hotel Californian contact www.hotelcalifornian.com. For information on paired chocolate visit:
www.twentyfourblackbirds.com. For wine information visit: www.margerumwines.com.
_____________________________________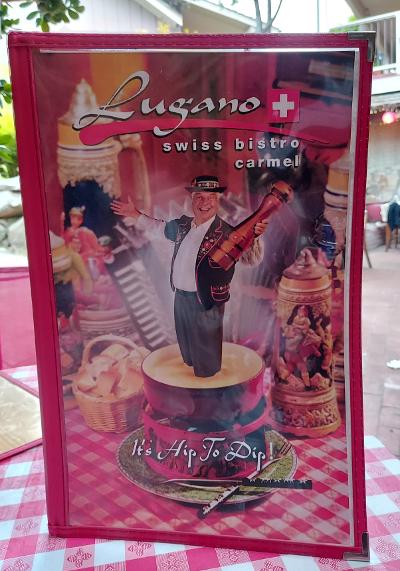 TASTE OF LUGANO FUN IN CARMEL-BY-THE-SEA
By Bonnie Carroll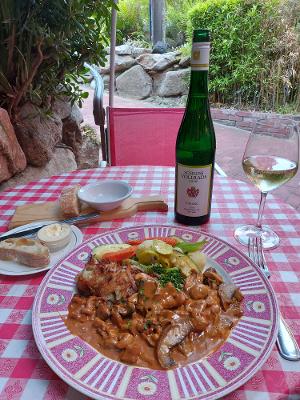 Over a decade ago a charming and talented Swiss Chef named Andre' opened Lugano Swiss Bistro, which is now in the Carmel Barnyard Shopping Village, located ten minutes by car from the heart of Carmel-by-the-Sea. It was his wish to create a little bit of Switzerland in Carmel and It is a very Swiss venue with welcome signs, red checked tablecloths and excellent waiters where locals and tourist flock to savor authentic Swiss recipes and fine imported wine in the cozy restaurant (indoors temporarily closed for corona virus 19 compliance) or on the spacious outdoor patio, where the view is lovely and service is outstanding.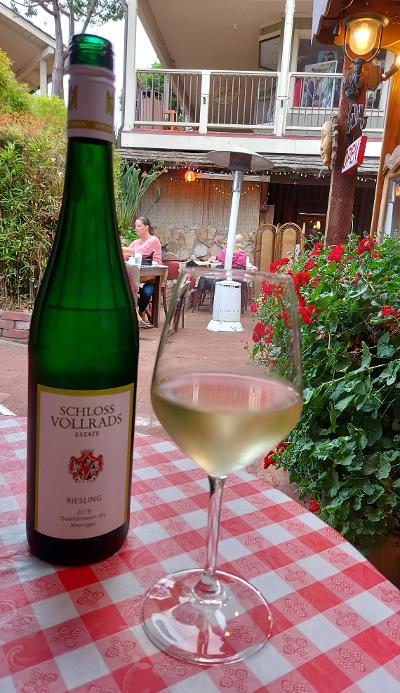 During my visit, the patio was filled with guests, many speaking with Swiss and German accents, who were enjoying the authentic Swiss flavors with imported wines and beer while clusters of people waiting outside to dine. On Thursday nights Lugano Swiss Bistro features a live band of musicians who entertain guests on the patio with favorite Swiss and German music. This is such a fun family destination to share a taste of Switzerland with your kids and sing along with the music. I noticed several young children who were thrilled with the chocolate fondue dessert.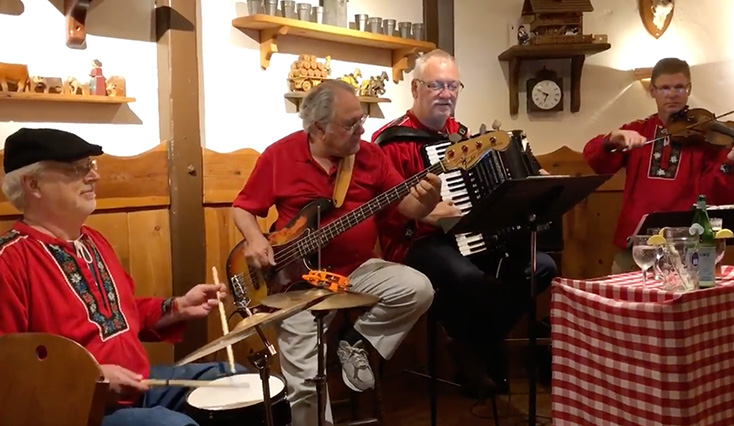 The menu is quite extensive and  includes wonderful Swiss specialties such as Kassler pork loin with Austrian sausage and sauerkraut; Lugano saffron risotto; delicious baked in bread Swiss onion soup as well as chef Andre's beef goulash soup or St. Moritz vegetable-barley soup; four varieties of Schnitzel (2 pork and 2 chicken) or braised meat braised in sherry or burgundy; A Four Course Fondue Special featuring cheese, chicken and beef with potatoes and vegetables and Swiss chocolate fruit fondue dessert. The also offer steak, seafood and vegetarian items to guests who prefer not to go Swiss.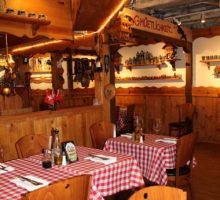 Lugano Swiss Bistro is very dog friendly and even offers a doggie menu with a variety of wonderful selections for four-legged friends including chicken or beef with vegetables, dry choices with meat and/or vegetables as well as doggie water bowls.
My signature Geschnetzeltes from Zurich entrée, a plate of tender Swiss veal swimming in mushroom sauce, alongside spaetzle's and vegetables was paired with a delicious dry German wine that was perfect, and this dining evening was reminiscent of a dinner I experienced in Zurich, Switzerland last October. I have been to Switzerland many times and never stop being in awe of the charm, sincerity, and kind hospitality of the Swiss people. This evening at Lugano Swiss Bistro brought back some fond memories of visits to Lugano, Zurich and Geneva, Switzerland.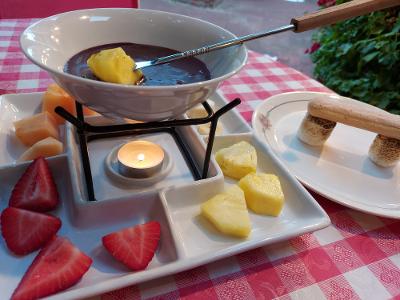 The Desserts, including an authentic baked apple strudel are amazing, but the dessert fondue selections are the crown jewel of this delightful Switzerland inspired venue. The sweetest ending to my visit was a chocolate fondue with fresh fruit and lady fingers that was insanely delicious! For reservations or information visit www.luganoswissbistro.com.
Lugano Swiss Bistro
3670 The Barnyard
Carmel-by-the-Sea 93923
831-626-3779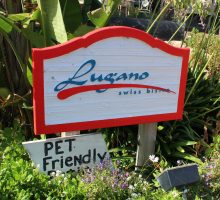 ___________________________________________________________________
ChefsStash
DELICIOUS WEEKLY DINING BOXES

Weekly Changing Menus
Weekly Update - Sept 18th Stash
Welcome to another weekly update of the Chef's Stash!  New this week, we will start sending out our newsletter a little earlier in the week to help remind you to order your Stash before our Tuesday 5pm cutoff. 
(Please note that if you order after cutoff time we will assume that you want a box for the following week.  If you forget, and want a Stash box for the current week, please send us an email and we will do our very best to accommodate you.)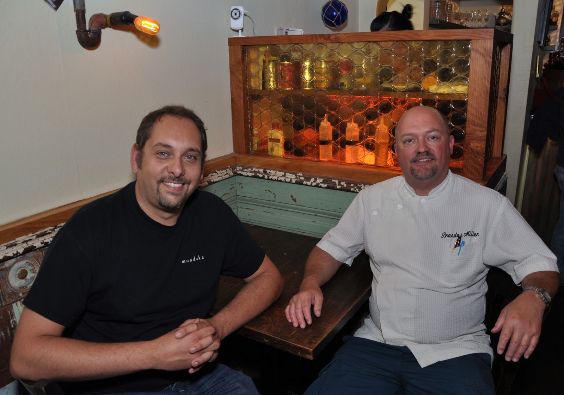 Our amazing local farmers and fishermen are always at the mercy of the sun, clouds, wind and waves.  We try to accurately predict what we will get for our Stash but keep in mind that things can sometimes change at the last minute.  With that said here are some things we expect in the Stash this week:
 boxes are limited in order to keep the quality at its highest.

If you are enjoying your weekly Stash, please share with anyone who you think may be interested.  Now is the time to help us spread the word!

We always welcome feedback, suggestions and requests and will do our best to accommodate them.
Cheers, 
Chef Gabe Georis & Chef Brandon Miller
---