May 2005
Executive Chef Paola Budel
Hotel Principe Di Savoia, Milan Italy
by Bonnie Carroll
Chef Budel is the Queen of the Kitchen at Milan's Award Winning Hotel Principe Di Savoia, where her new and innovative traditional Italian menu reflects her vast global experiences. The thirty-four year-old culinary talent boasts a variety of remarkable cooking experiences. She spent twelve months at the (two Michelin star) Dolada restaurant, and three years at (three star Michelin) Gualtiero Marchesi's restaurant in Milan. In London she was at Le Gavroche (three star Michelin), Munich's Heinz-Winlder (three star Michelin), and also worked in Tokyo and Hong Kong. Upon her return to Milan she contributed to the award of the first Michelin star to Giannino restaurant, and in March 2002, she was the first woman to head up the Galleria restaurant of the Principe de Savoia.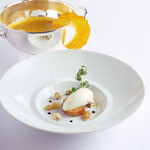 Along with classics such as the Milanese veal cutlet and baby octopus in a tomato and absinth broth with a caper and chili flavored brioche, Budel offers original dishes like geranium honey-glazed duck and tarragon ice cream, corkscrew pasta with lemon sauce and anchovies marinated in traditional balsamic vinegar, steamed filet of sea bass with tasseled hyacinths and lemon verbena, broad bean and chicory heart cakes combined with crispy octopus and the fresh gazpacho with tempura prawns, cucumber and mint. These are just a few of the traditional and innovative creations Paola Budel has synergized for the enjoyment of guests at Hotel Principe de Savoia.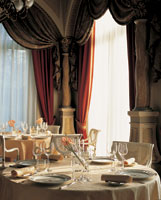 The hotel, which opened in 1927, is an elegant haven within Italy's fashion capitol, and is renowned for its charm, personal attention, and exquisite cuisine. Located on Piazza della Republica, in the heart of Milan, the main entrance is a graceful entry to 404 richly appointed rooms and suites. The hotel was meticulously restored to the highest standards in 1992, and includes world-class technology features amidst an opulent old-world setting. The hotel is regarded as one of Europe's most outstanding hotels, and recently accrued such titles as "Best Business Hotel in Milan" by Travel and Leisure. Needless to say, their guest list is a royal and celebrity who's who.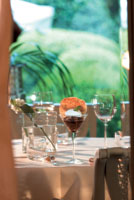 For business or pleasure this is a magnificent venue to visit on your next trip to Milan. General Manager Paolo Guameri and his staff are ready to serve you in the fine tradition this historic hotel is renowned for. Reservations call 011-29-02-62301.
- - - -
The following, for your dining pleasure, are recipes from Executive Chef Paola Budel. Happy Mother's Day!