PRINCIPE LEOPOLDO & RESIDENCE
"Touch of Ticino"
by Bonnie Carroll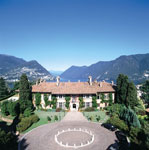 The Principe Leopoldo & Residence is located in Lugano, Ticino, Swiss Alps Switzerland. Originally built for Prince Leopold Von Hohenzollern in 1698, the Four Star hotel rests gracefully on the beautiful Collina d'Oro, overlooking the waters of Lake Lugano. For over a century the hotel has hosted aristocrats, royalty, and celebrities.
Embraced between the peaks of the San Salvatore and Monte Bre, Lugano is filled with awe inspiring views. Standing on the garden patio of the hotel's outdoor restaurant guests are privileged to see the breathtaking views of the Alps and the sparkling lake Lugano. The Principe Leopoldo features four restaurants and a bar. One of the dining rooms hosts the monthly luncheon of the Lugano Rotary.
Renowned Executive Chef Dario Ranza and his staff will thrill you with their light and creative Italian flavors, as well as classic French items for those who request them. Claudio Recchia was awarded the "Golden Bow" as best Maitre d'Hotel in S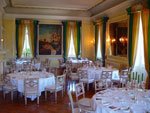 witzerland and is outstanding at his job. The wines at the hotel are a result of the talent of Sommelier Gabrelle Speziate, a master at her craft, who delights diners with her outstanding knowledge and perfect pairings, including Barolo, Barbaresco and Merlot from Ticino. And, do not forget the Grappa, which is a favorite after dinner drink in Switzerland, along with vintage port and cognac.
Lugano is a lovely blending of the best of Italy and Switzerland, with cuisine that is unique and filled with flavorful surprises. The via Nassa offers outstanding finds for world-class shoppers, and for more serious fashion hunters Lugano it is a short distance from Milan, a main center for Italian fashion.
The antique adorned 71 rooms and 4 suites at the hotel are elegant old style, with every modern convenience, and all have easy access to the two heated swimming pools, work out areas, and a stunning Jacuzzi. Jean Kiebert skin and make-up products are featured in the newly opened "Les Arcades" spa, where weary travelers can be renewed with a variety of skin and body treatments.
Boat rides along the picturesque provinces on the lake is a popular pastime, and these pleasant adventures sometimes lead travelers to wonderful Grotto's, or seaside restaurants that feature authentic dishes featuring homemade cheese and sausage, to enjoy with local wines.
There is an expression in Lugano that perfectly describes the overall experience for visitors. It is "Touch of Ticino" and exemplifies the elegance, ambiance, fine service, and attention to detail to be experienced at Principe Leopoldo. Switzerland is magical!
Principe Leopoldo & Residence
Via Montalbani 5
CH 6900 Lugano
Switzerland
www.leopoldhotel.com