February 2005
Chef Luciano Parolari
Villa d'Este, Lake Como, Italy
by Bonnie Carroll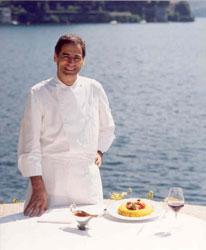 Executive Chef Luciano Parolari has been master chef of the Villa d'Este kitchen for over thirty-eight years, and oversees a staff of twenty that prepares and presents the exquisite signature dishes the resort has become renowned for over the centuries. The hotel restaurant Verandah is pristine in detail and offers panoramic views of the lake and the Italian villas, peacefully perched on the cliffs overlooking the serine lake. Chef Parolari's renowned cuisine was preserved forever in The Villa d'Este Cook Book, written by Jean Govoni Salvadore, Public Relations Director for the hotel. Within the pages of this book you will find all that is most beautiful, unique, and truly creative in Italian culinary excellence. There is also a more relaxed dining experience for visitors at the Grill restaurant and Kisho Japanese restaurant. A buffet luncheon at the Sundeck Bar is available at the floating pool in the lake in warm weather.
Chef Luciano is as charming as he is handsome. He is a host who not only provides unforgettable plates for his guests, but is extremely warm and cordial. I was honored to meet him, and enjoy a full tour of his enormous kitchen; a huge and highly organized venue that is run so efficiently it could easily provide the meals for the Italian army. Chef Porolari has a magnificent garden, including a bevy of delightful herbs the chef uses in his recipes. The menu is enormous, and filled with the best of everything; the wine book is also a collection of the finest in the world.
The dining room is comfortable and elegant, with a panoramic view that is filled with more beauty than most people can absorb in one sitting; it was like a day dream. The outdoor patio next to the lake is equally charming and especially inviting for sun lovers. I cannot recommend more highly a visit to this hotel for a month or an afternoon tea. This 'secret garden' can only enrich your palate and your faith.
Reader Note:
The amazingly talented Francesco Casetta, Chef de cuisine, at the Hotel Savoy in Florence has moved to the United States and is now living happily in Florida with his wife and beautiful little family. Francesco will let us know where his next culinary role will be played out. We wish him happiness in his new life!!
Villa D'este Hotel
Where Life is Like a Dream
Villa D'Este, located in Cernobbio, Lake Como was built in 1568 as a summer residence for Cardinal Tolomeo Gallio, and was later transformed into a luxury hotel in 1873 by a group of the Milanese high society. Villa D'Este offers the ultimate in opulence and privacy, including underground passages leading from the main building to the indoor swimming pool and sporting club. The formal dining-room, covered Verandah and spectacular outdoor patio overlooking the lake feature the exquisite culinary creations of Executive Chef Luciano Parolari. The resort is not only a favorite of the Italian idle, European aristocracy, and generations of rich and famous, but has attracted a nearly endless list of American celebrities since its inception. Actors George Clooney and Julia Roberts currently own villas on the heavenly Lake Como. Bill Blass, Oscar de la Renta, Karl Lagerfeld, Gianni Versace, Nicola Trussardi, Yves Saint Laurent, and Ralph Lauren have all visited Como, considered the silk capital of the world, and mingled on the terrace of the historic hotel.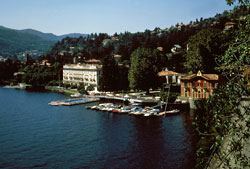 Apart from every amenity one could ask for, the resort also provides the perfect combination of work and relaxation. Business can be done in Milan, one of the world's greatest industrial cities, and guests still have time to enjoy Villa d'Este, where everyday life is forgotten in a dreamlike setting completely isolated from city noises.
Author of the book "Villa d'Este Style", Jean Govoni Salvadore, married a press correspondent in Rome and raised two children, while working in public relations for an international airline. Following the death of her husband she arrived at Villa D'Este, and thirty-eight years later she continues to present beautiful images and leave lasting impressions through her attention to detail, devotion to style and an awesome work ethic. Her book on this majestic and historic retreat is impeccable and filled with luscious past and present photos.
I doubt that I have ever had a more enjoyable or interesting luncheon than the one had during my first meeting with this talented woman. Salvadore's face tells the world that she has met everyone worth knowing, and has enjoyed every moment of it. Her love of Villa d'Este inspired her to write a book filled with the editorial and pictorial history of the internationally renowned resort. The elegant publication brings the reader right into the lives of visitors and families who frequented the resort in past times. American's who use the term 'high society', are not event close to understanding the meaning of this term in relation to the generations of visitors at Villa d'Este, and the lifestyle the resort clientele represented throughout history. It is virtually a who's who venue of polite society, with a history that has surpassed anything imaginable, where impeccable service is provided by a staff that outnumbers the guests.
The rooms in the hotel would have delighted Josephine or Jacqueline, and are sheer grace in design, as well as overflowing with modern conveniences. The décor throughout the hotel is understated elegance, and provides visitors a kind of color therapy through the use of rich but soft colors and soothing textures. The lake itself is quiet and reserved, like the resort, and is dotted with lovely villas, where boats are moored for cruising in the afternoon. The pool is actually built into the lake, with huge sun decks around it that are dotted with comfortable lounges, where guests enjoy the ultimate sun bath. The entire property is filled with rare trees, plants and a sea of exotic flowers that grace this architectural treasure.
I love this magical place so much, and I long to return. Please give yourself the gift of a lifetime to savor some unforgettable moments at Villa d'Este, located at 22012 Cernobbio, Lago Di Como, Italia, only forty minutes from Milan by car, in the small town of Cernobbio, which offers a variety of charming boutiques and eateries. Tel: 031.348.1; e-mail info@villadeste.it.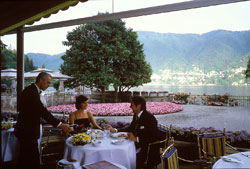 Chef Luciano Parolari's favorites: