CHEF/HOTEL PROFILES  .   .   .
SANTA BARBARA EGGS-CEPTIONAL BRUNCH BITES

By Bonnie Carroll
Touch of Italy from Chef Alberto of Olio Bottega in Santa Barbara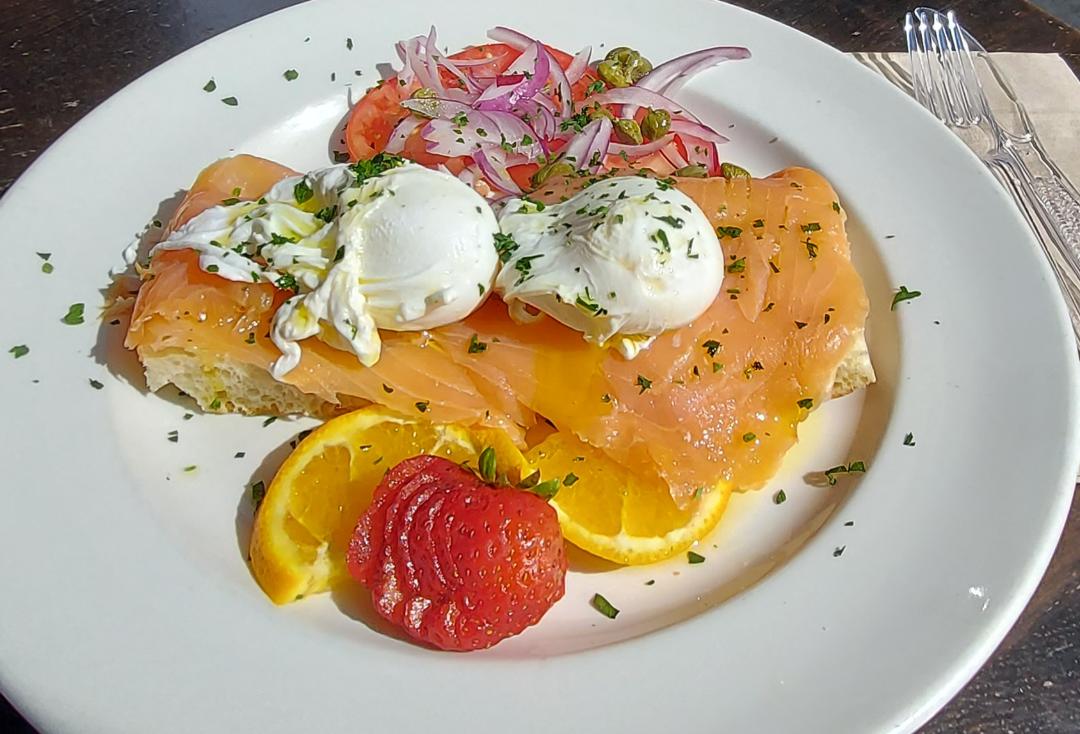 Olio Bottega Sicilian Salmon Benedict

An ideal choice for brunch or a bite after the Santa Barbara Symphony at the Granada Theatre is Olio Bottega, the outdoor dining space created steps from renowned Olio e Limone Restaurante at 11 W. Victoria Street, opened by Chef Alberto and wife Elaine Morello twenty-five years ago (www.oliolimone.com), as well as successfully operated Olio Bottega, Olio Pizzeria (www.oliopizzeria.com) and their newest Sicilian inspired restaurant Bedda Mia (www.beddamiasantabarbara.com), located a few steps from the Granada Theatre on State Street.
My favorite brunch with Sicilian-born Chef Alberto is the Salmon Benedict, made with mouth-watering fresh salmon, on house baked bread with tomato, red onion, parsley, fresh fruit, and perfectly poached eggs. This dish is outstanding with a prosecco or morning espresso. The outdoor dining and authentic Sicilian fare makes this an ideal place to experience a true Italian street dining experience, where people watching is fun and Chef/Owner Alberto makes everyone welcome with words of wisdom on how to best enjoy his menu of original recipes of Italian food and beverages. For information visit: ­­­­­­­­­­­­­­­­­­­­­­­­www.oliobottega.com.
Taste of Solvang at Mad & Vin in The Landsby Hotel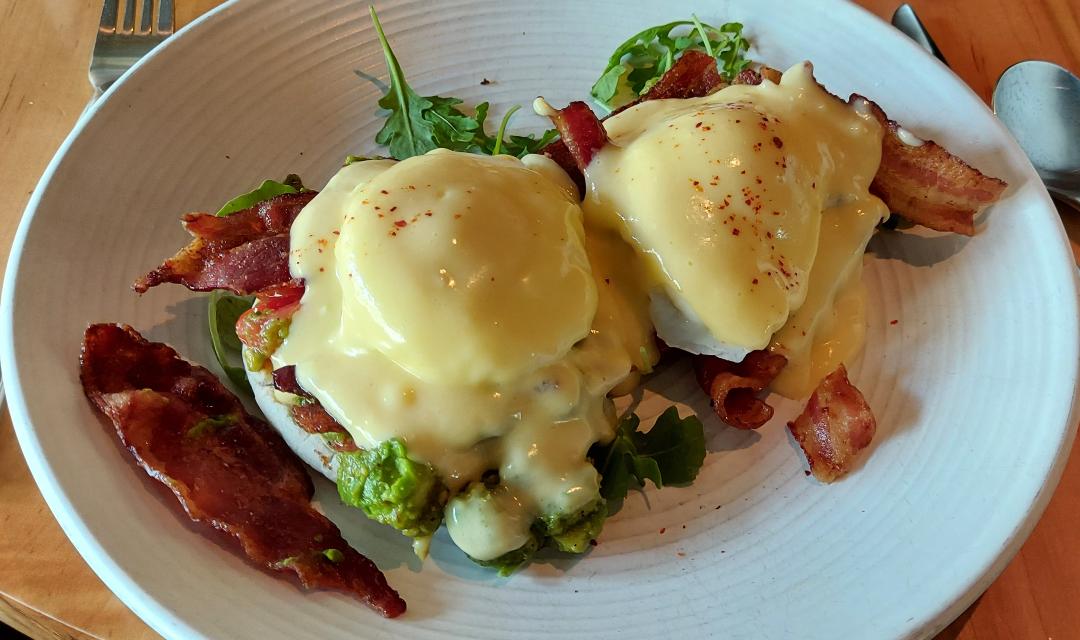 The Landsby Hotel Mad & Vin California Benedict Brunch
Weekend visits to Solvang, California, twenty minutes from Santa Barbara on highway 101 or 154 can be a delightful escape for exquisite views and some of the best wine and food experiences  anywhere along the coast. My favorite haunt for brunch in the Danish community is Mad & Vin (Danish for food & Wine) in The Landsby Hotel. The dining room is warm and inviting, and the new dining structures and patio outdoors are simply delightful for a Sunday brunch. The name Solvang given by the original Danish immigrants means sunny field, and an outdoor breakfast here in the sunshine explains why this region was so attractive to its founding fathers.
I love breakfast at Mad & Vin, but keep going back for another divine California Benedict, made with poached eggs on English muffin with tomato, avocado, onion, and topped with a familiar traditional hollandaise sauce, and choice of meat if desired. The bar at Mid & Vin offers a bevy of delicious brunch selections as well as cocktails, wine, beer, or fresh smoothies for the health minded guest. The Landsby is located in the center of everything at 1576 Mission Drive and is a great home base for walking Solvang to shop, do wine tastings, visit museums, or people watch. For information visit: www.thelandsby.com.
Paris Cuisine Relived at Renaud's Patisserie & Bistro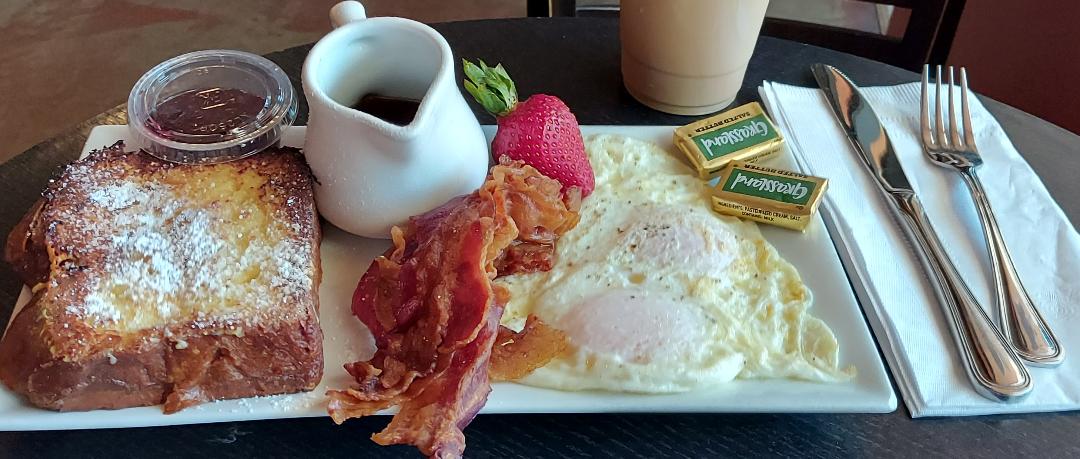 Renaud 1-2-3  (Eggs, French Toast, with Bacon)

Chef/Owner Renaud Gonthier's scrumptious French pastries and lunch specialties have become staples for area residents who adore French food for breakfast and lunch. His pastries are also sold at Gelson's Market in Loreto Plaza at 3315 State Street. Other locations are located across from the Arlington Theatre and at Coast Village Plaza in Montecito. My favorite of his three locations in Santa Barbara is in Loreto Plaza and is a great place to meet with friends to break bread Paris style or begin reading a new book from Chaucer's Book Store over a coffee.
My favorite breakfast is the Renaud's 1-2-3, a delicious combination of French toast, eggs and bacon that is amazing with a European coffee and fresh orange juice. I love the outdoor seating at the Loreto Plaza venue. It is a charming area to chat over breakfast with friends or be anonymous with a good book, croissant, and specialty tea.
Renaud's Patisserie was founded in Santa Barbara over ten years ago, and their elegant French desserts are sought after by ladies who lunch and party hostesses of taste for elegant events. For information visit: www.renaudsbistro.com.
With summer swiftly arriving, and people getting out again, it looks like gathering with family and friends is once again a paramount pastime, and for those living near or traveling along the California Coast I hope you will take time to share one or all of these personal favorites with family and friends, or just enjoy a solo visit savoring an eggs-ceptional start during your own personal breakfast get-a-way or weekend escape.
 Photos: Bonnie Carroll

---