April 2005
Executive Chef Conny Andersson
Four Seasons at Beverly Hills
by Bonnie Carroll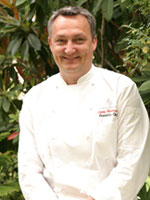 The Four Seasons Hotel opened its doors on Doheny Drive in Beverly Hills in 1987, and has won numerous awards including recognition by Zagat as one of the top 15 hotels in North America. The elegantly appointed venue, features state-of-the-art amenities in their 285 spacious rooms and suites. A hotel of choice for the entertainment industry giants during the Golden Globes and Oscars, the Windows Lounge is always overflowing with award winners and stars in the making. The cocktails and hors d'oeuvres have industry inspired names, and are perfect for any occasion.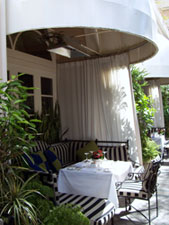 The Gardens Dining room and Café feature the culinary talent of Executive Chef Conny Andersson. This charming venue offers a delightful experience in secluded opulence, and features menu items such as imported white asparagus salad with blood oranges and Hollandaise sauce. The entrée choices are wondrous, but my favorite is the duck breast with hardwood smoked leg and winter vegetable fricassee recipe that won a national Maple Leaf Farms award. The dessert choices are many and outstanding. My favorite is apple torte with vanilla ice cream. The Gardens is nirvana for those who truly love the European style dining salon, where servers ooze with old world charm.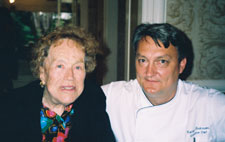 Chef Conny Andersson is a classically trained chef who has spent his career creating dishes to please the most discriminate guest. He is an active member of French Chef organizations in Los Angeles, and loves his work. In 2003 he was chef host to an organization that preserves historic cookbooks, and Chef Andersson, along with his staff, replicated the antique recipes from three different antique cookbooks to present an extraordinary and outstanding dinner for the members. The highlight of the evening was the attendance of Julie Child, who gave a rousing toast to Andersson's magnificent historic dinner. Presidents and Princes have frequented this lovely hotel, and the cuisine here surpasses any challenge.

The Sunday brunch at the Garden is awe inspiring. Food station chefs are busy preparing special order omelets non-stop and beautifully draped tables are filled with every possible food choice, from sushi and seafood to fresh fruits, baked goods and stunning desserts. The eggs Benedict at the Four Seasons always make me happy, and are served with fresh asparagus and Hollandaise sauce. Fresh juices and delicious coffee selections abound in the dining room, and outside on the patio in private but elegant booths.

The hotel spa is my favorite in Beverly Hills, and is a serene respite where you can enjoy the latest healthful cookies and herbal teas while waiting for a treatment. A bevy of pampering services and packages are available, and one I recommend is the Punta Mita massage, which was created at their hotel in Mexico. The recipe for a Margarita, lime with salt and tequila, is the base for this amazing treatment, along with a little sage oil that is applied following the Margarita scrub to purify the body and soothe the senses. The Ayurvedic facial is another tried and true service offered, which has its origins in east India, and is custom designed for patrons, based on questions to determine specific needs. The ingredients for this treatment include dried milk, herbs and special aromatic oils. Your face glows following this treatment, and feels as soft as a baby's bum. The ladies locker room is beautiful, and the steam room is white marble and inviting. The hotel also has a wonderful outdoor full service gym, located next to the pool, with an assortment of equipment and a personal trainer if you wish. The pool area is frequently used for luncheon meetings, and guests may also opt to have a massage in one of the eight cabanas.

Located minutes from everything fun in Beverly Hills, it is an ideal venue for business or pleasure trips when visiting the Los Angeles area. I know the staff at the Four Seasons will be glad to see you, and will make your stay delightful.