W HOTEL SEATTLE
Chic Look and Slow Flavors in a Historic Hotel District
by Bonnie Carroll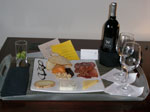 Nestled in the heart of Seattle, across the street from the historic Fairmont Hotel, and walking distance to all the major tourist attractions, is another 'anything you want anytime you want it' hotel that is a hub of activity, wh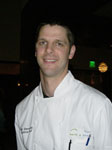 ere locals meet in the busy open bar for cocktails, and everyone seems to enjoy a great meal.
Earth & Ocean, the restaurant in the W Hotel Seattle, is a dream venue of purple and blue, where Executive Chef Adam Stevenson specializes in the spices, flavors and ingredients of the Southwest. His menu reflects an interesting combination of meat specialties and inventive dishes focusing on local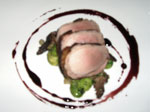 seafood. The room is colorful and alive. The staff are attentive and aim to please.
Adam Stevenson's early culinary experiences came from his native Albuquerque, New Mexico; but it was really the meals prepared in his own home that influenced him most. As a young child Adam loved the foods his family would make and the care that went into making them, watching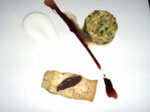 his mother and grandmother stuff cabbages and peppers and making sweet preserves from ripe summer raspberries played a great part in his love of cooking.
Adam attended the Western Culinary Institute in Portland, Oregon and worked at the Cliff House in Tacoma. In 1993 he went to Tulio in Seattle's Vintage Park Hotel, where he cooked wit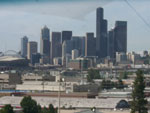 h Chef Walter Pisano, and learned the art of rustic Italian cooking. In 2001 he joined Earth & Ocean as Sous Chef, working with Jonathan Sundstrom, and later Chef Maria Hines, where he learned new American cuisine. Now his food techniques at Earth & Ocean reflect modern American sensibility, but incorporate charcuterie, focusing on cured, smoked and fermented sausages, pickling vegetables,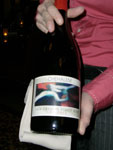 and preparing pastas. He also finds unique ways to incorporate sweet and savory jams in his menus.
One block in either way you will see the Seattle Art Museum or the awar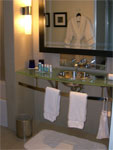 d winning designed Seattle Library. The Seattle Market and a tram stop to visit the Space Needle are a few blocks walk form W, it is in the middle of everything a visitor could wish to see.
The Fairmont, across the street offers a great Jeremy Todd Wellness Spa and Salon, where you can get a great massage to overcome your jet lag, or a very good quick manicure from a nice woman named Shawna, who will help your fingers look finished. This hotel also houses some great designer shops and a French Bakery "Belle Bun" that has amazing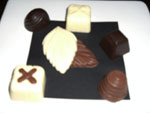 desserts.
My dinner at the Earth & Ocean was delightful and included a brilliant seafood with avocado salad, demi vichyssoise soup, and a variety of meat and fish specialties that were exceptional. The cheese and sausage plate featuring the chef's charcuterie favorites was unforgettable. The desserts here, especially the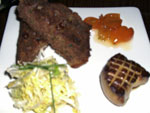 homemade candies are luscious. For that 'anything you want – anytime you want it' late night snack try the artisan cheese and chareuterie tray with a glass of house wine. The wines list is varied and includes some outstanding local varietals. The W Hotel Seattle house wines are from a local family owned winery, and they are excellent.
All the major airlines fly into Seattle-Tacoma, and the airport is a very attractive place to wait for a plane; filled with interesting stores and of course Seattle Coffee. For additional information visit: www.whotels.com.
---
STARWOOD HOTELS ITALY GIVES A CHIC NIC
by Bonnie Carroll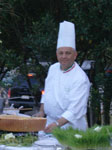 Everyone was dressed in white to celebrate the first day of summer at the spectacular Starwood Hotels Italy Chic Nic party at the Waddles Mansion in Hollywood. Cocktails and hors d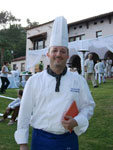 'oeuvres were served on the cascading garden area, and a real picnic with silk blankets and pillows was served in the front garden area of the estate. Chefs from the new W Hotel in Milan, and the St. Regis Grand Hotel in Rome prepared authentic Italian dishes, accompanied by wonderful Italian wines.
Mr. Chessa, International Director for the Hotels thanks his staff, including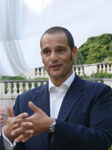 Sophia Peluso from Rome, for their contribution to the beautiful event. The authentic Italian music, coupled with a perfect California night made of a memorable occasion for everyone in attendance, including myself, writer Bonnie Churchill, Emanuela Boni from the Los Angeles Italian Tourism Board office, and a bevy of international travel writers and radio hosts.
The hotel group is growing and expanding throughout Italy, and in adjoining european cities.
For informaton visit www.starwoodhotels.com.