CHEF/HOTEL PROFILES .  .  .
LOQUITA - A DINNER TO REMEMBER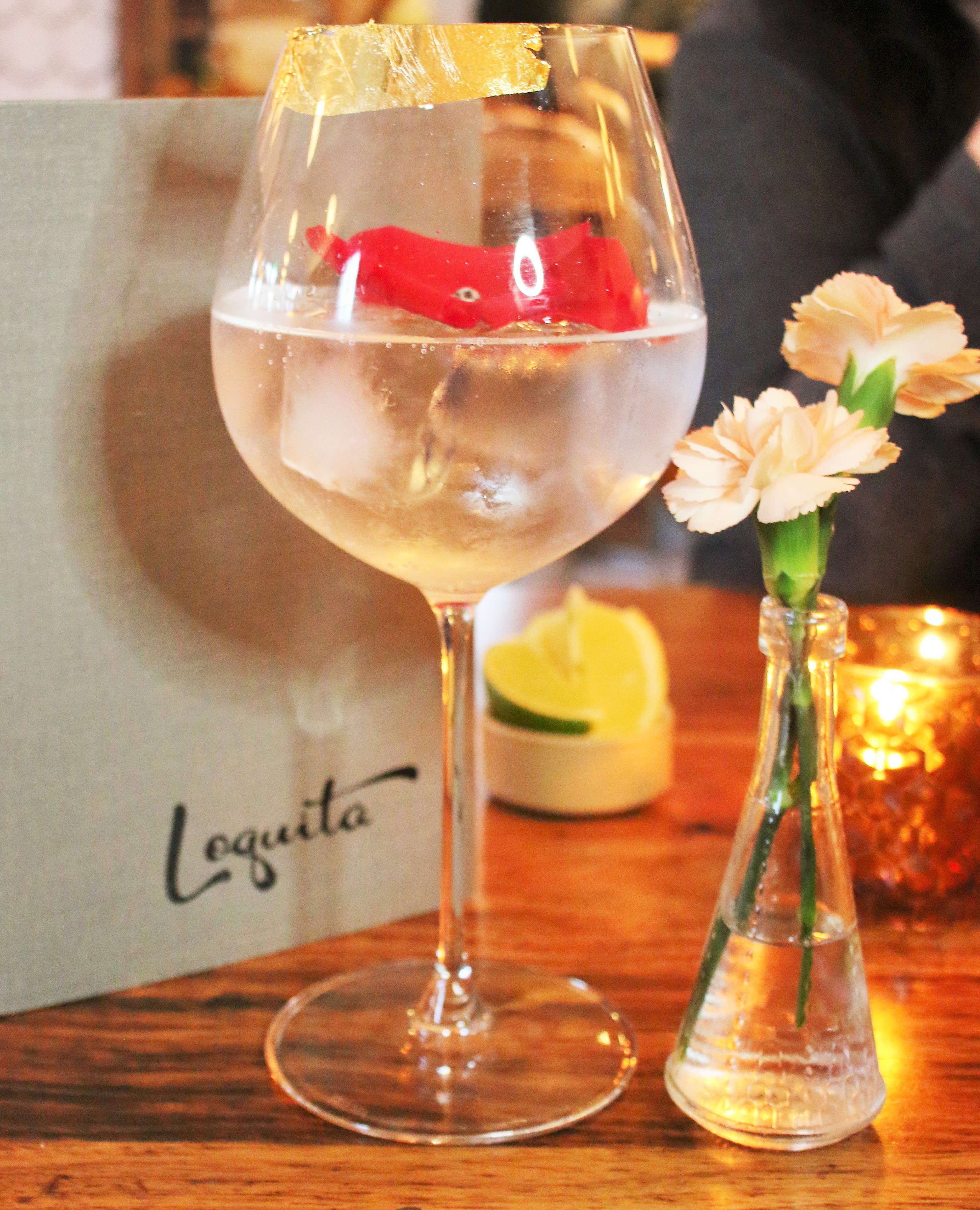 It was a rainy afternoon in Santa Barbara as two of my travel writer friends from LA and I trudged over to the Funk Zone in Santa Barbara to have a special dinner at Loquita Restaurant on State Street, across from the Amtrak Station entrance.
The place was buzzing with dinner activity and attentive servers who were determined to please welcomed us and shared information on the cocktail and dinner menu. The open kitchen sends a warmth of welcome into the room and bar area as you come in the front door and sitting near the open kitchen watching the talented chefs and staff putting finishing touches on the dishes made the experience so much more alive.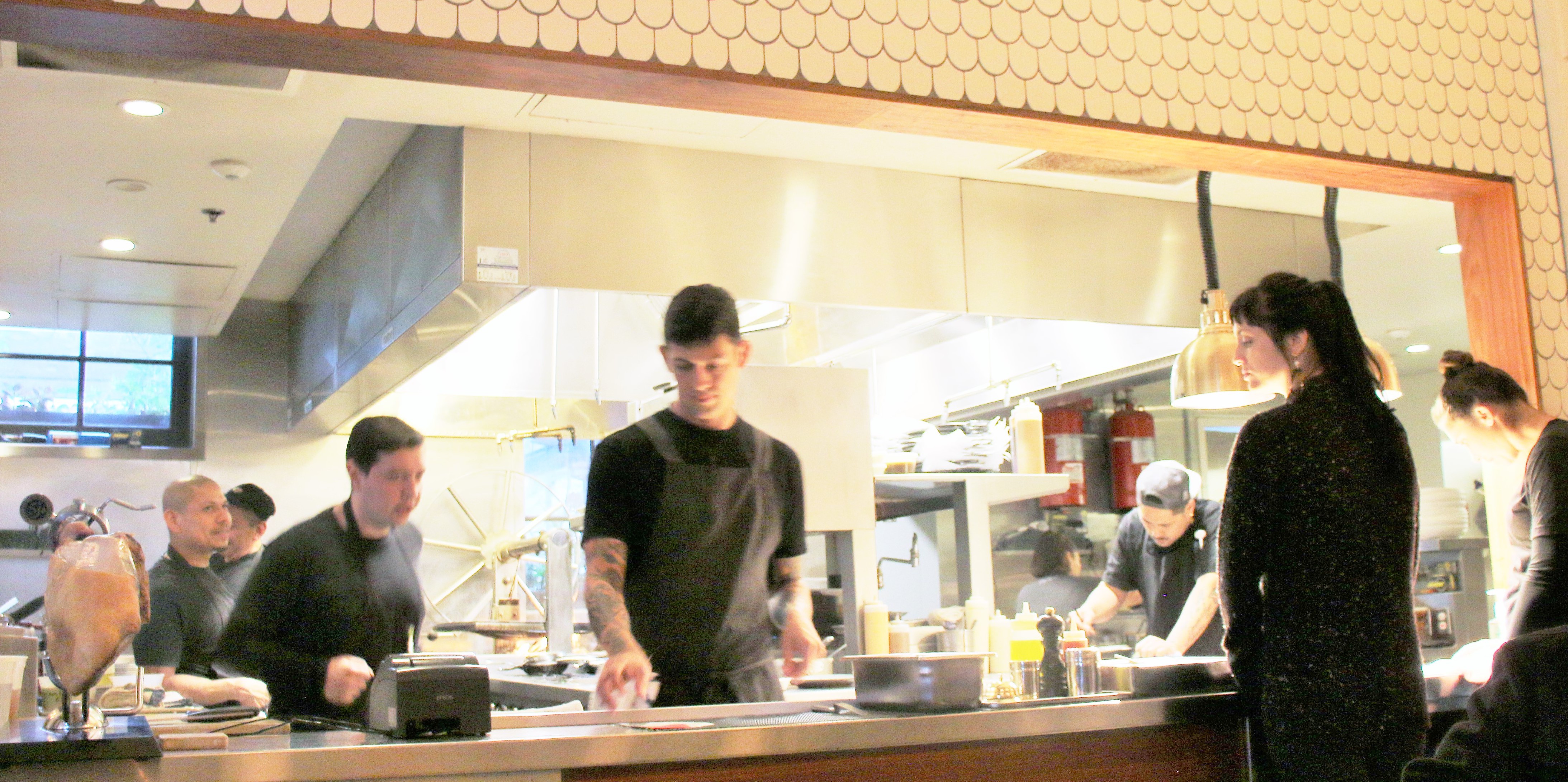 Chefs Working in the Loquita Open Kitchen
The dining area includes tables to accomodate varying size groups and the booths overlooking the kitchen with a close up and personal chef's view is the best seat in the house. Old fashioned Spanish films are projected on the back wall for guests enjoyment and the bar is large and colorful with big stools where guests were enjoying drinks.
We selected a cocktail from the menu Playa Y Oro, a combination of Monkey 47, elderflower tonic, 24kt gold and silver that was golden, beautiful and an outstanding start with the El Bulli Olive, liquid manzanilla olives.  A parade of beautifully prepared small plates began filling the table to share and the fun began. Their menu offers such a variety of tapas, bocaditos, charcuteria, quesos, paella and dreamy desserts that it is difficult to settle on a few.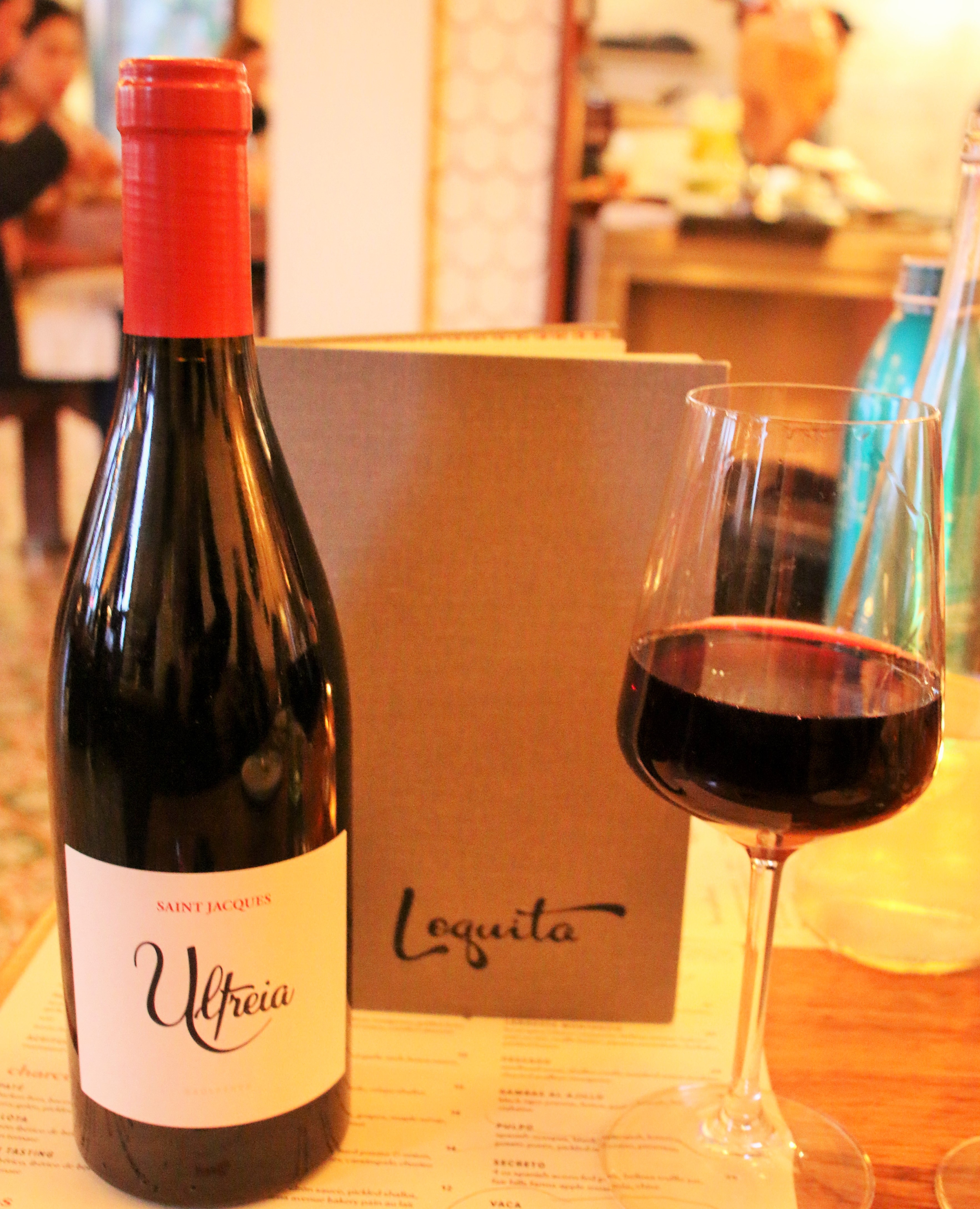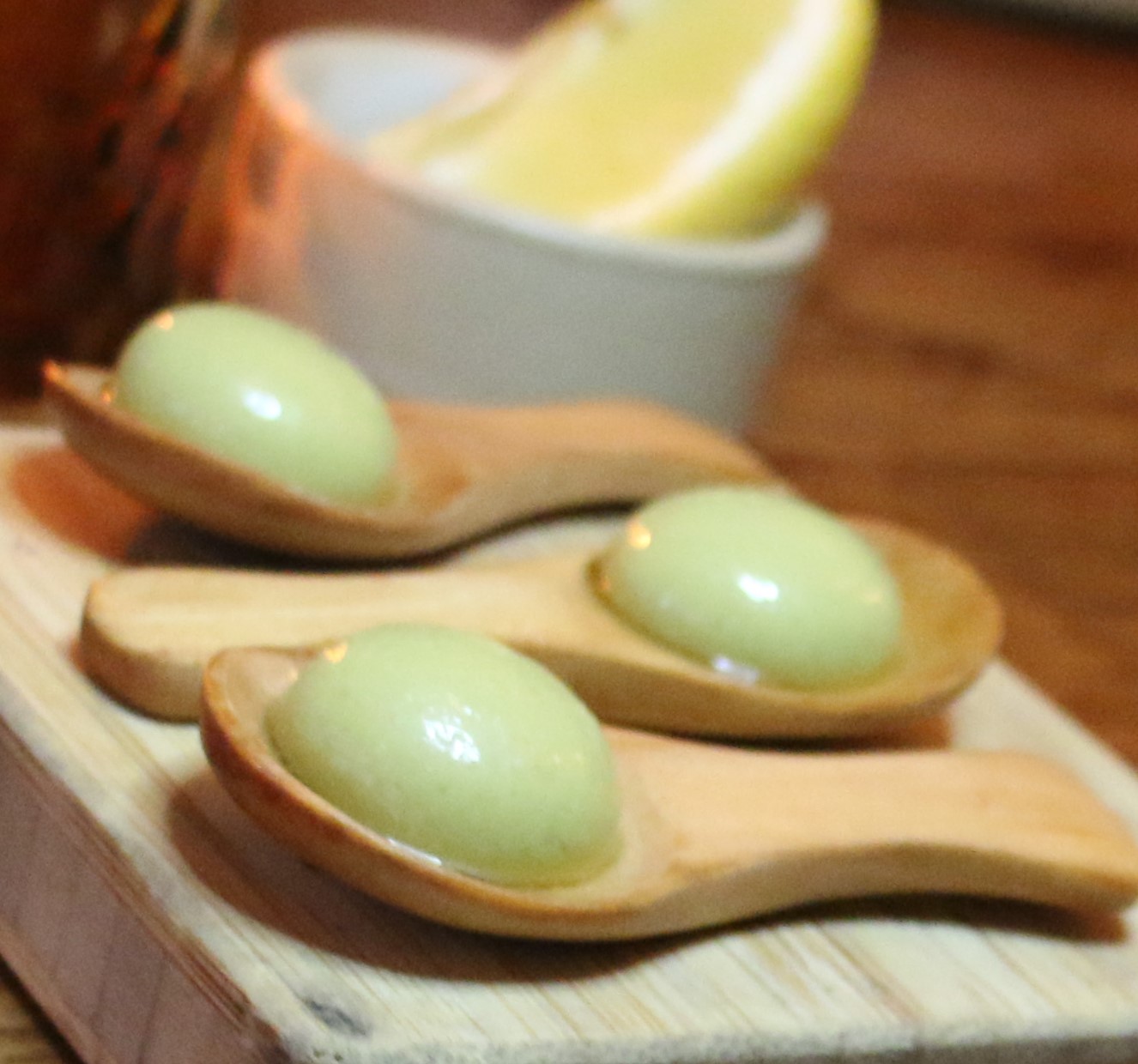 Fine Spanish Wine & Liquid Olives
The wine list is a good size and includes not only local favaorites but also some very fine Spanish selections. We chose a Spanish wine from their fine pairing menu, and it was magical with our food choices, however, our server did lead us a bit on the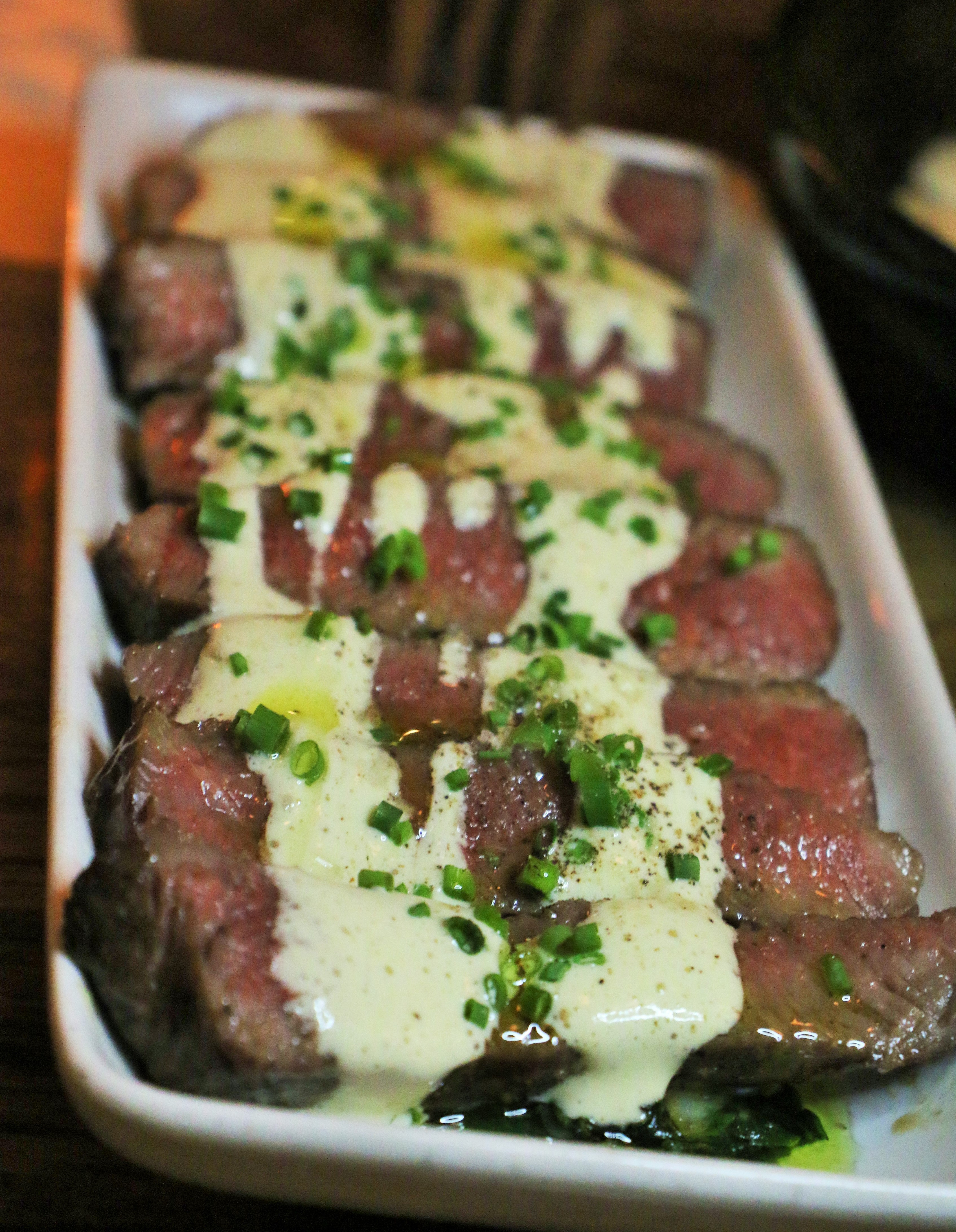 wine selection. I did not taste the Sangria but will the next time as I saw one at the next table that looked amazing.
Our Tapas specialties included Carpaccio De Carne, grass-fed beef, manzanilla olive, pickled mustard seed, 12 year shery vinegar and arbequina olive oil; Patatas Bravas, pommes dauphine, roasted garlic aioli, brava sauce and pimenton with parsley; Pescado, steelhead trout, shallot confit, smoked onion soubise and charred scallion vinaigrette; Pulpo Spanish octopus with black garlic aioli, lemon vinaigrette, potato puree, pickled red onion and pimenton;  Vaca 6 oz flat iron steak, spinach, smoked cabbage with tomatillo bearnaise sauce. These plates were all unique and outstanding!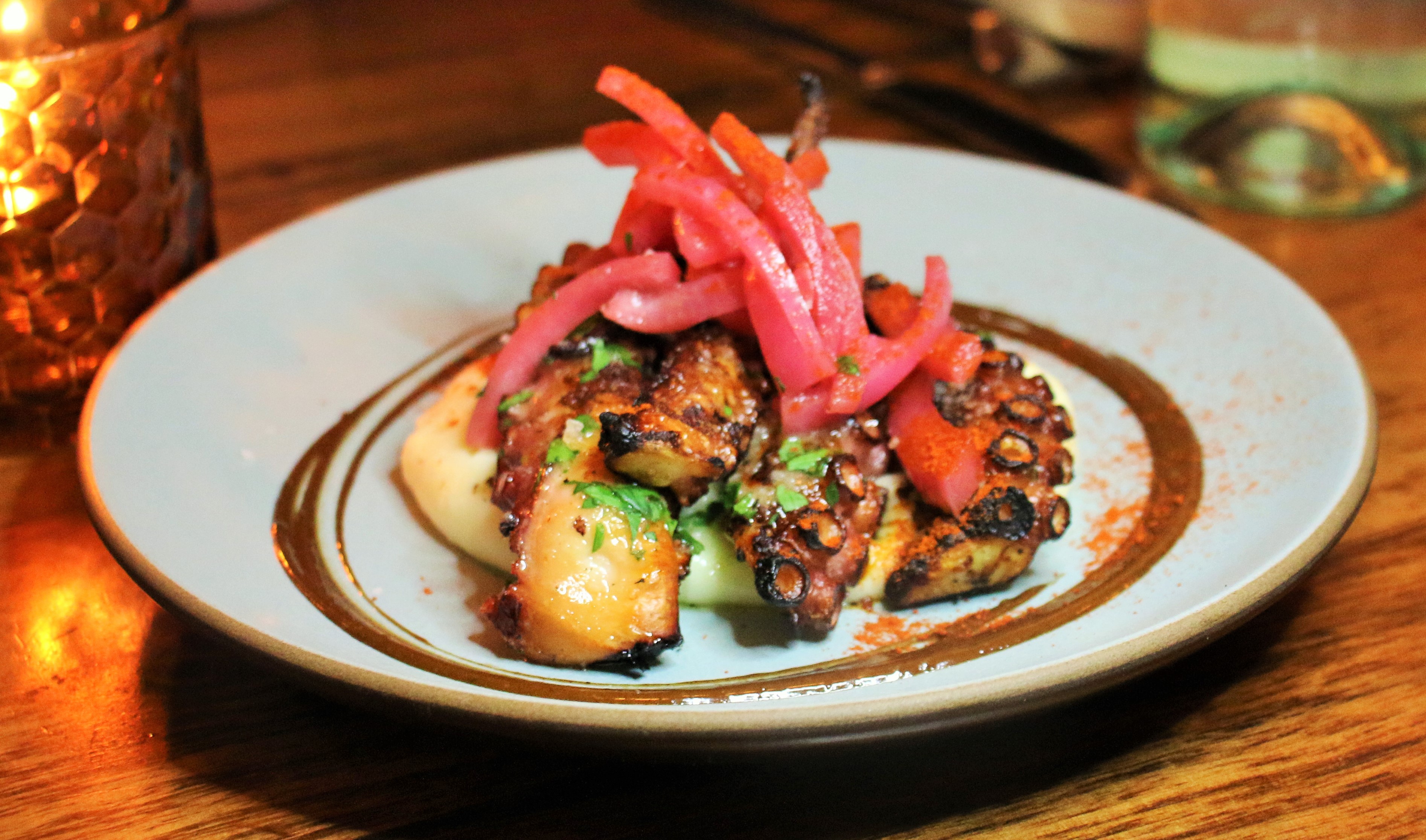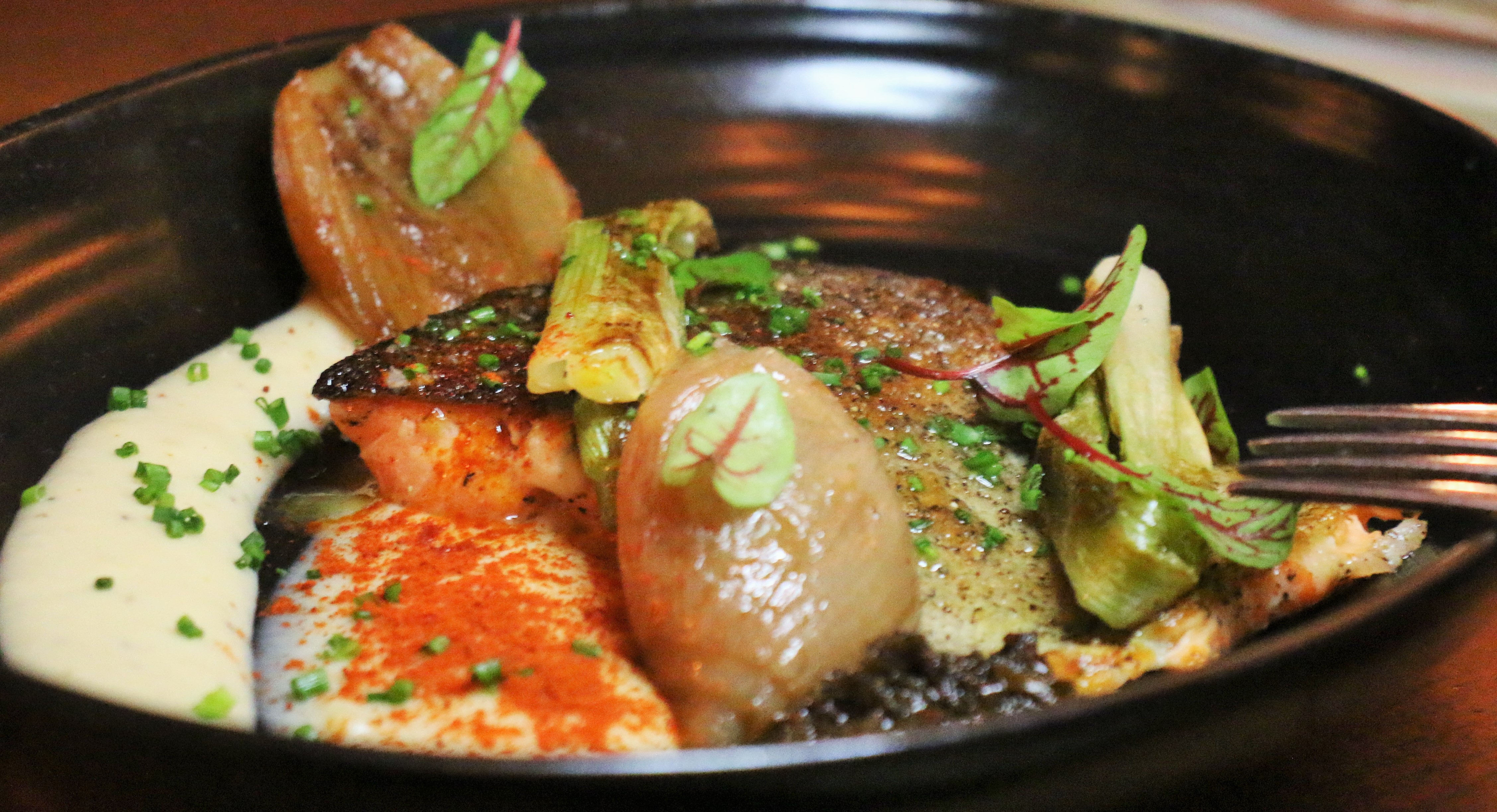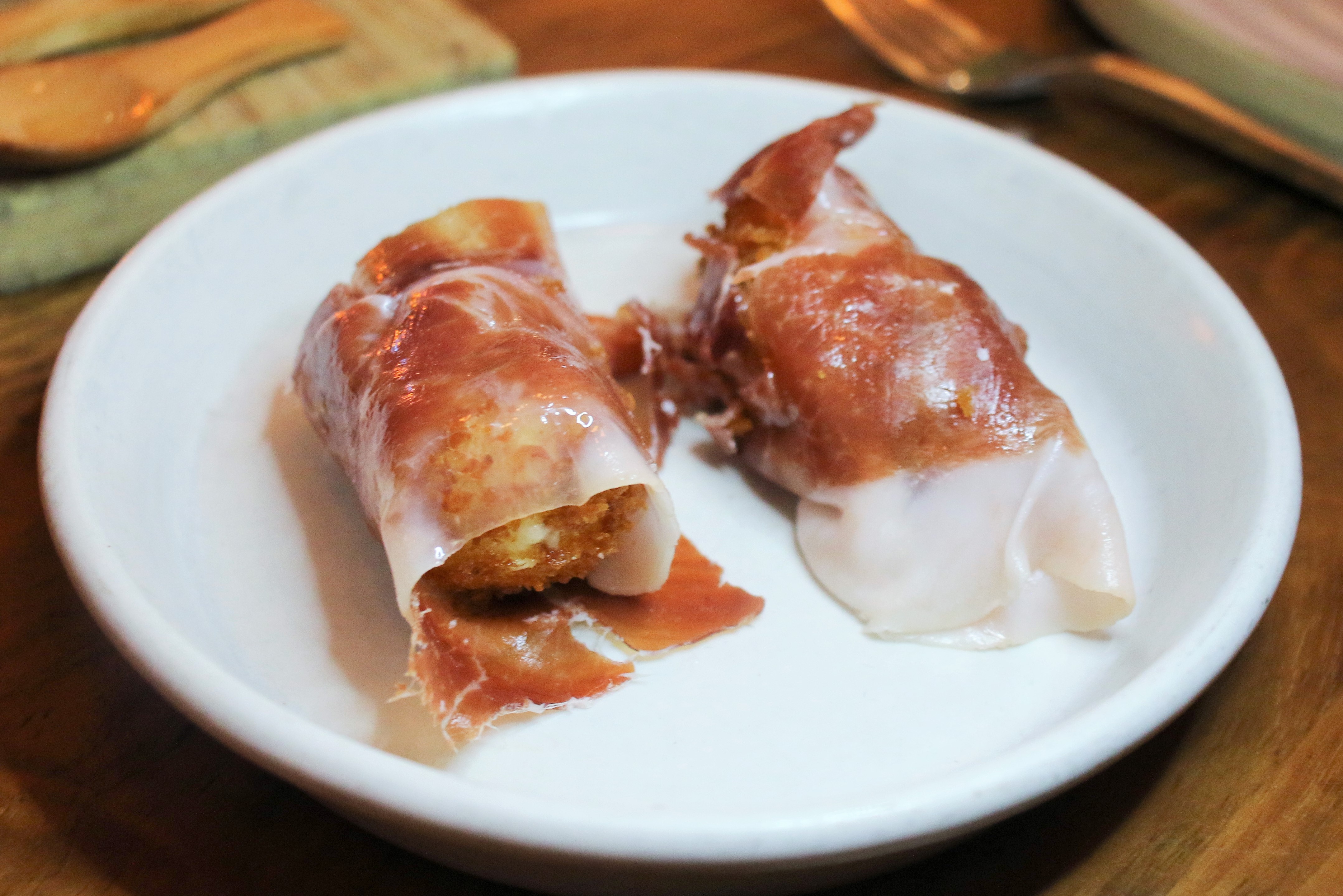 The desserts we enjoyed included a flowerless chocolate cake with all the bells and whistles and Churos with a variety of sweet dipping sauces. It was such a fun sweet ending to our Spanish culinary adventure in the Funk Zone.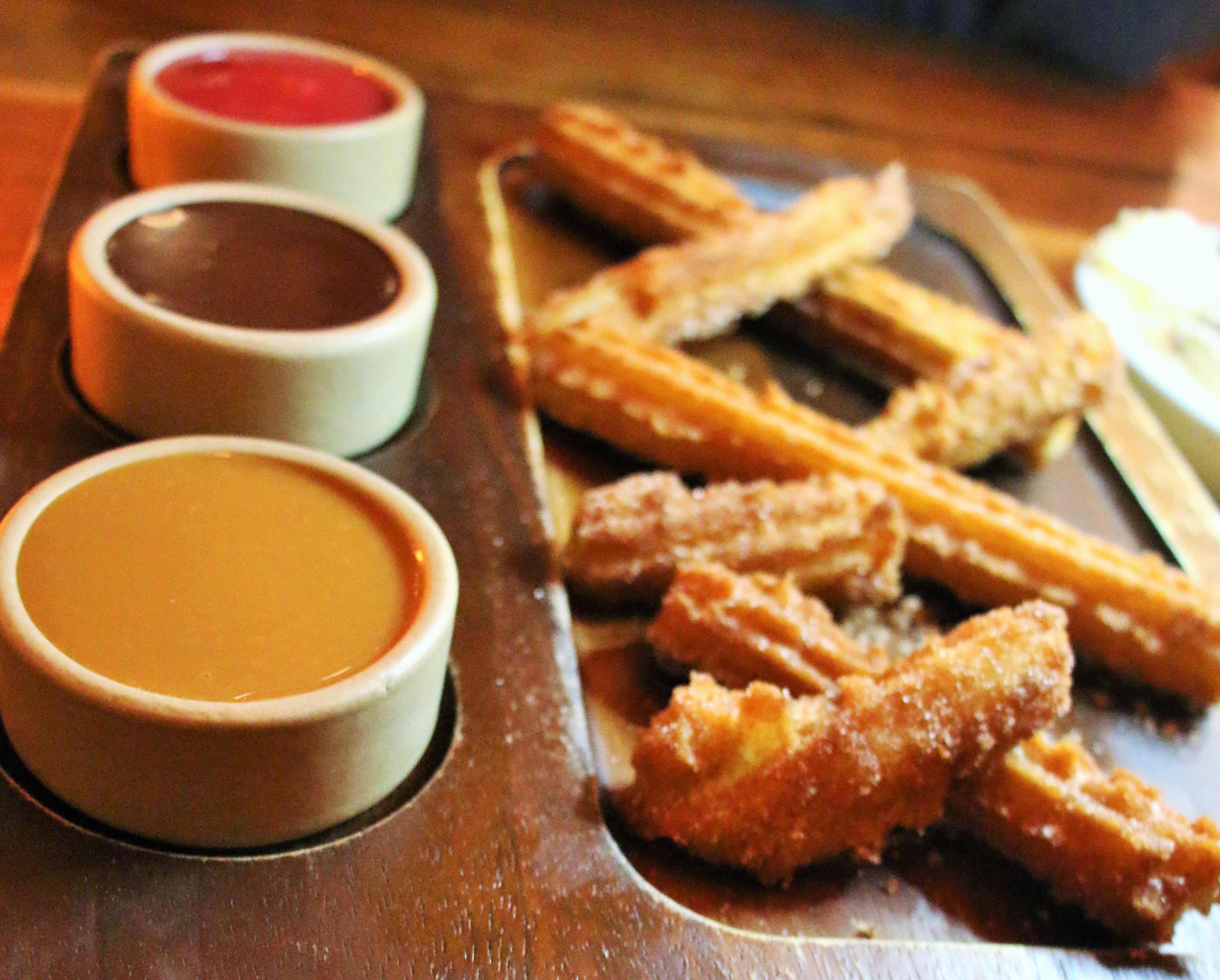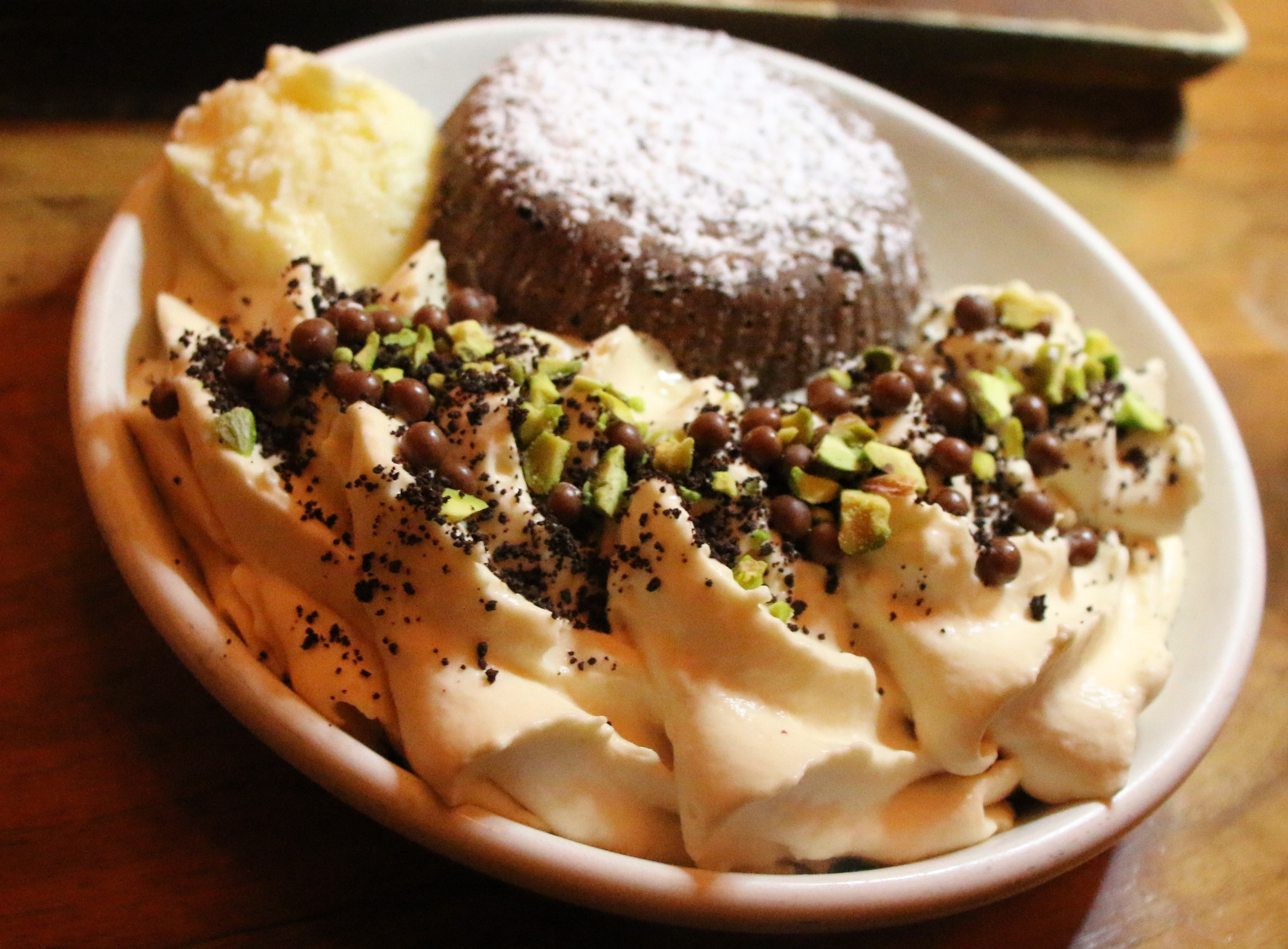 This was without our realizing it our "last supper" in Santa Barbara as the Coronavirus quarantine was imposed on the City of Santa Barbara the next day, and who know's when we will experience this outstanding Chef team, and staff offering again. So glad we were there and praying they make it back into recovery soon. Kudos and thanks to Loquita Chefs Nikolas Ramirez,Tim Connolly and Christian Chavez for an amazing dining experience and an evening to remember.
Loquita
The Funk Zone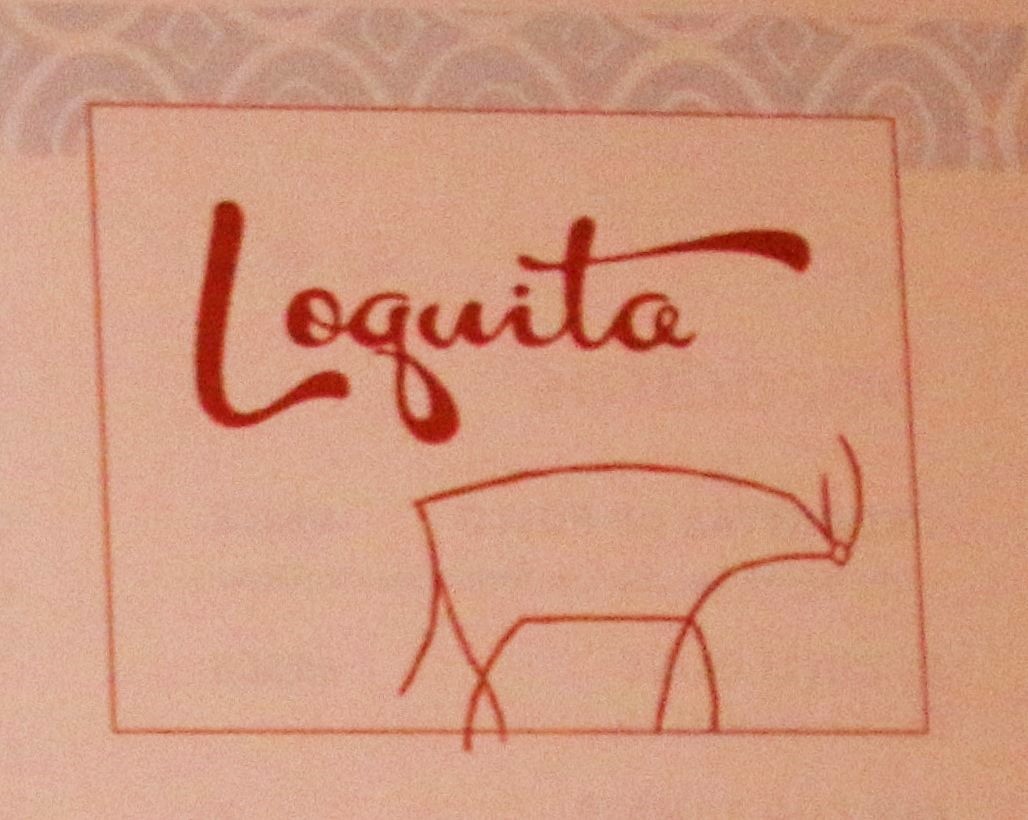 202 State Street - Santa Barbara, California
805-880-3380  www.loquitasb.com
NOTE: Please read the information in the link below to assist the restaurant staff through this unexpected tragedy. I know they would appreciate anything you can do to help. For current activity call number above.
https://mailchi.mp/f0305f39b622/ways-to-help-during-this-difficult-time?e=8ec88d0f5c
---