CASAMAGNA Marriott
Puerto Vallarta Resort & Spa
by Bonnie Carroll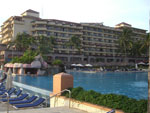 Located in the exclusive Marina Vallarta complex at Banderas Bay, this exquisite 433 room and suite property is in the heart of everything, only five minutes from the international airport and ten minutes from downtown Puerto Vallarta. View from the guest rooms offer and unforgettable view of the entire seaside property and beach.

Hotel dining includes a bevy of choices including a delightful breakfast buffet to be enjoyed outdoors on the patio or indoors in the La Estancia dining area. Las Casitas, the outdoor dining destination near the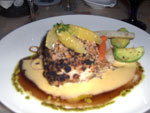 pool is a delightful place to enjoy dinner after a relaxing day of golf or at the beach. Mikado, a Japanese restaurant features a Sushi bar and Teppanyaki show and the Champions Sports Bar serves great burgers to enjoy while watching a favorite sporting event. The Lobby Bar is a lovely open air setting to enjoy the sunset over a signature Tequila cocktail.

Executive Chef Fred Ruiz is well known for his outstanding preparation and presentation of signature dishes like Lobster Taco's and Tamarindo Sea Bass. During the recent 13th Annual Festiva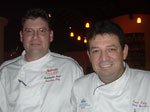 l Gourmet International in Puerto Vallarta, Chef Ruiaz was joined by Executive Chef Chris Borsi from the Marriott's Cleveland, Ohio property, and the two talented chefs created an amazing win-win menu that pleased every hotel guest.

The beach at Casamagna is so beautiful and is a great place to enjoy a massage, or just have fun. The pool has and inviting bar in the water that guest can swim up to for a cocktail. Kids also count at this property, and a separate children's play and pool area provide a wonderful respite for their vacation enjoyment. The Marriott Kids Club offers daily planned activities and child care.

The newest additions to the hotel are the exquisite lobby area, and the OHTLI SPA. This is one of the best designed health facilities in the world, with a collection of the most innovative spa options to be found in one venue. Visitors experience a private indoor free form pool for water therapy treatments, a unique foot Jacuzzi, hot and cold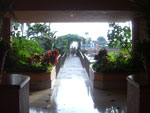 full Jacuzzi pools. Swiss showers, press showers, and a cold plunge are the perfect final touch for sauna or steam bath lovers. The design of the entire venue is attractive and functional, and the quiet room is really quiet!

A state of the art gym features plasma screens on all equipment. A variety of fitness rooms for their many classes and individual training sessions are available, along with a well designed dressing and shower area. Following a workout guests can enjoy rejuvenating at the beauty salon, which offers a complete menu of hair care services, and manicure/pedicure treatments.
It is easy to see why in 1964 Director John Houston selected this delicious seaside resort area to film"Night of the Iguana" starring Richard Burton and Ava Gardner. Although there has been amazing growth on this coastal area since that time, and since my last visit in 1984, Puerto Vallarta sustains its reputation as a destination of simplicity of lifestyle and natural beauty that is irresistible. It will be an ideal place to unwind forever.
For additional information please visit www.visitpuertovallarta.com.