January 2007
HOTEL EDEN ROC
State of the Art Design Meets Old World Charm in Ascona Switzerland
by Bonnie Carroll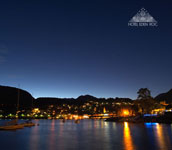 Hotel Eden Roc has a lively history as an artists' colony, and is brimming over with quaint, colorful architecture that is reminiscent of the fishing village that it once was. Its beaches are bordered by palm trees that are reminiscent of seaside village in the south of France. Located just north of the Italian border, it is referred to as the St Tropez of Switzerland. Beautiful snow capped mountains grace this sun-drenched community that sits on the shore of Lake Maggiore. Galleries and antique shops are many in Ascona, and the boutiques draw many visitors to the traffic free streets. I can't think of a more enjoyable place to spend an extended vacation than this elegant property.
The warm welcome guests receive at the Hotel Eden Roc cannot be matched, and the breathtaking views from luminous marble suites that seem to hang like a cloud above the pristine grounds and Lake Maggiore. The modern white and chrome theme in the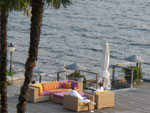 hotel suites glides gracefully into a patio with panoramic views of the lake. Every possible amenity is to be found in the luscious bathrooms, including tasteful products by Bvlgari to please even the most discriminating guest.
The health facilities and three pools, along with a full service spa and beauty salon provide everything one could desire for a healthy workout and massage regimen while vacationing in Ascona. However, in the winter season of 2007/2008 the "Lake Oasis" designed by renowned architect Mario Botta will make a dream a reality by developing a wellness facility to rival every five-star international hotel. The 'universe of relaxation' is set to become the crème de la crème of the existing miniature paradise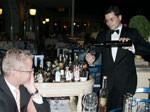 in the winter season 2008/2009. The red marble pavilion will be in a park-like setting and will be topped by a glass cupola in the form of a Mediterranean tree.
The boat dock at the Eden Roc moors a bevy of sexy looking water transports to meet the specific needs of hotel guests. Sightseeing, fishing or water skiing are favorite pastimes here. Boat cruises can become unforgettable moments with the addition of a lunch or dinner provided by the hotel chef to add enjoyment to a sunset dinner or lunch following a swim from the boat.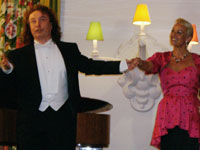 Guests celebrating a birthday at the hotel will wake up to a champagne breakfast that includes a fruit tart with birthday candles. Later, at dinner, the waiters bring out a cake lit with candles and sparklers, while singing a "happy birthday" medley.
This is a very peaceful resort hotel, but in the evening it sometimes becomes a Viennese inspired event, where guests come to dinner in the Restaurant Eden Roc beautifully dressed, and the dinner program includes entertainment by renowned European opera singers, who thrill guests with famous arias between main courses. These evening programs are quite amazing and a credit to the hotel staff, as well as the very talent performers.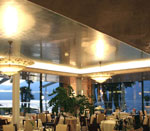 Ristorante La Brezza is a contemporary Mediterranean style restaurant, with seating on the broad terraces overlooking the palm-fringed Bay of Ascona. The menu is simply divine, and may begin with a cheese cart, and end with a grappa cart overflowing with local favorites. Maitre D' Hotel Giovanni Ferraris will charm you with stories about the many cheeses of the area, and is extremely entertaining. My favorite dinner entrée was the roast duck on herbed polenta with braised vegetables. This signature dish reflects the Italian character of Switzerland's Ticino region perfectly (please see recipe below).
Touring in the Ascona area is magical. A visit to a small village to see the modern slate and stone Botta designed Cathedral, followed by a lunch at a local grotto gives a true sense of the lifestyle of the people in this area, as well as a sampling of the culinary faire specific to the Swiss residents who live here. It was a very cold rainy day and very foggy in the mountain area, giving us a taste of what it must be like to travel on these winding roads in the winter months. Our lunch at a local Grotto, located next to a rushing river, included a salad made from fresh garden greens, and the polenta with sausage was outstanding. This wonderful homemade lunch was enjoyed sitting next to a burning fireplace. The warmth of the fire was as comfoting as the hospitality of the owner and his cook.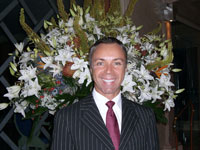 Ascona is a lovely little jewel, where the elite meet to refresh themselves, and understandably the Hotel Eden Roc is a resort of choice. I thank Hotel Director Daniel Zeigler and his amazing staff for giving me my first taste of Ascona at its best, and a bird's eye view of their exquisite beach on Lake Maggiore that I will never forget. For hotel information visit: www.edenoc.ch or email info@edenroc.ch.
Hotel Eden Roc
CH-6612 Ascona
Switzerland
091/785 7171
---
CHEF MARC EHRLER NAMED EXECUTIVE CHEF
OF LOEWS VENTANA CANYON RESORT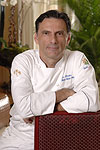 Loews Ventana Canyon Resort snags a new diamond in the desert. This time, the treasure comes in the form of Chef Mark Ehrler, the most decorated chef in the Loews family, a Master Chef of France and the only Chef to receive the AAA Five Diamond ranking in two different restaurants of the same hotel. Chef Marc Ehrler has been named the Executive Chef of Loews Ventana Canyon Resort where he will focus on banquet cuisine and the resort's five restaurants and lounges when he arrives on December 11. "Tucson is about to experience a food and beverage evolution with the talent and drive Chef Ehrler brings to the table," said Managing Director Brian Johnson. "He will help solidify Tucson's growing reputation in the culinary world"