WOLFGANG PUCK CUT AT FOUR SEASONS BAHRAIN BAY
Beautiful New Property Overlooking Bahrain Bay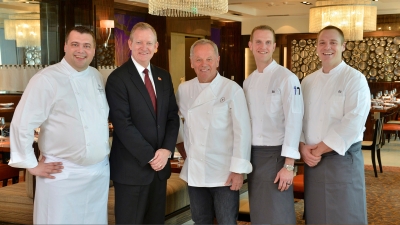 Chef Stefano Andreoli, GM Greg Pirkle, Chef Wolfgang Puck, Chef Brian Becker, Chef Ben Small
by Bonnie Carroll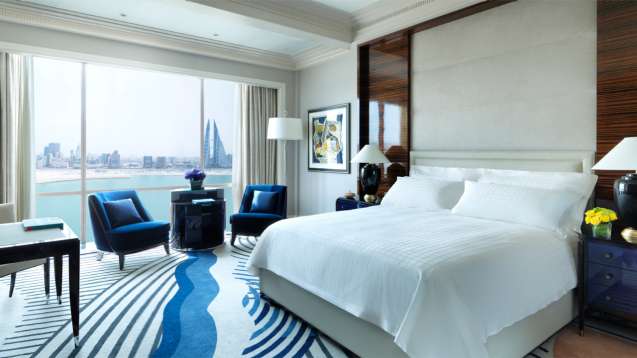 Unparalleled in design, Four Seasons Hotel Bahrain Bay rises 68 stories on a 5-hectare (12-acre) private island, accessed by causeway, boat or water taxi. Elevated on the 11th to 28th floors, the 273 extra-spacious hotel guest rooms – including 57 suites – all present sweeping views of the Manama skyline or the Arabian Gulf.
With seven options for indoor-outdoor dining and drinks, including two signature Bahrain restaurants and a lounge by Wolfgang Puck. Heighten your relaxation with five swimming experiences and a light-filled spa with an array of unisex and women's-only amenities – creating Bahrain's best luxury resort destination.
Following a series of star-studded opening ceremonies and parties, General Manager Greg Pirkle and his team of nearly 600 carefully chosen staff are now welcoming their first guests – and enjoying their first accolades. At the Hotel's inauguration ceremonies on March 1, His Excellency Sheikh Khalid Bin Abdullah Al-Khalifa, Deputy Prime Minister of the Kingdom of Bahrain, predicted that with its monumental façade and expansive views of the Arabian Gulf, Four Seasons Hotel Bahrain Bay would be a new landmark in the city, and offered his good wishes for success.
On hand to usher in Bahrain's new era as a global culinary destination, internationally renowned celebrity chef Wolfgang Puck unveiled three concepts including the acclaimed CUT and CUT Lounge, led by Executive Chef Ben Small; the new Moroccan-inspired BLUE MOON LOUNGE; and the first ever re / ASIAN CUISINE with Executive Chef Brian Beckerat the helm.
And if that isn't enough to whet the appetite, Hotel Executive Chef Stefano Andreoli presents four more original dining options, including the poolside Vento and the chic Azure lounge.
The critically acclaimed CUT by Wolfgang Puck, a very popular venue in the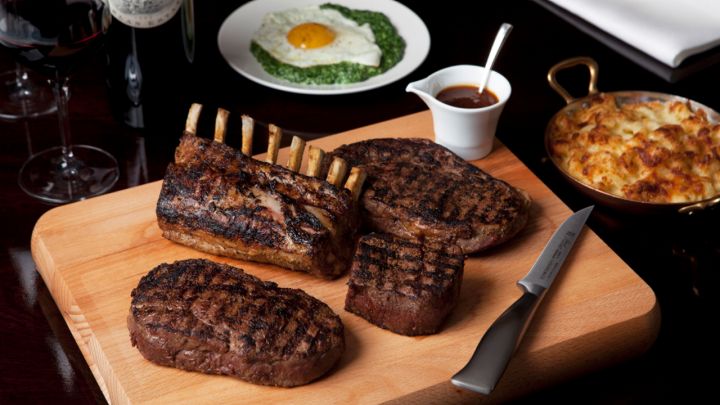 Beverly Hills Four Seasons is widely recognized as one of the top steak restaurants in the world, impresses on every level. As guests enter from a dramatic spiral staircase from the lounge & bar below, this sleek, modern American steakhouse delivers innovation at every level through its unique culinary, service and design combination. The menu features the widest and best selection of beef available. From prime dry- and wet-aged beef to shellfish and sautéed and roasted whole fresh fish, CUT's menu provides broad appeal. Guests are treated to a view of the international celebrity chef's state-of-the-art kitchen and a striking panorama that extends over the pool and across the Hotel's lush grounds to the city of Manama.
The dining room showcases palm wood, Brazilian rosewood and mahogany for a rich, elegant atmosphere, while a beautiful glass and wood wine room and two private dining rooms offer additional eclectic spaces to socialize.
For additional information on Four Seasons Hotel Bahrain Bay please visit: www.fourseasons.com/bahrain
FOUR SEASONS HOTEL BAHRAIN BAY
Bahrain Bay, P.O. Box 1669, Manama, Bahrain
Tel. (973) 1711 5000

Fax. (973) 1711 5001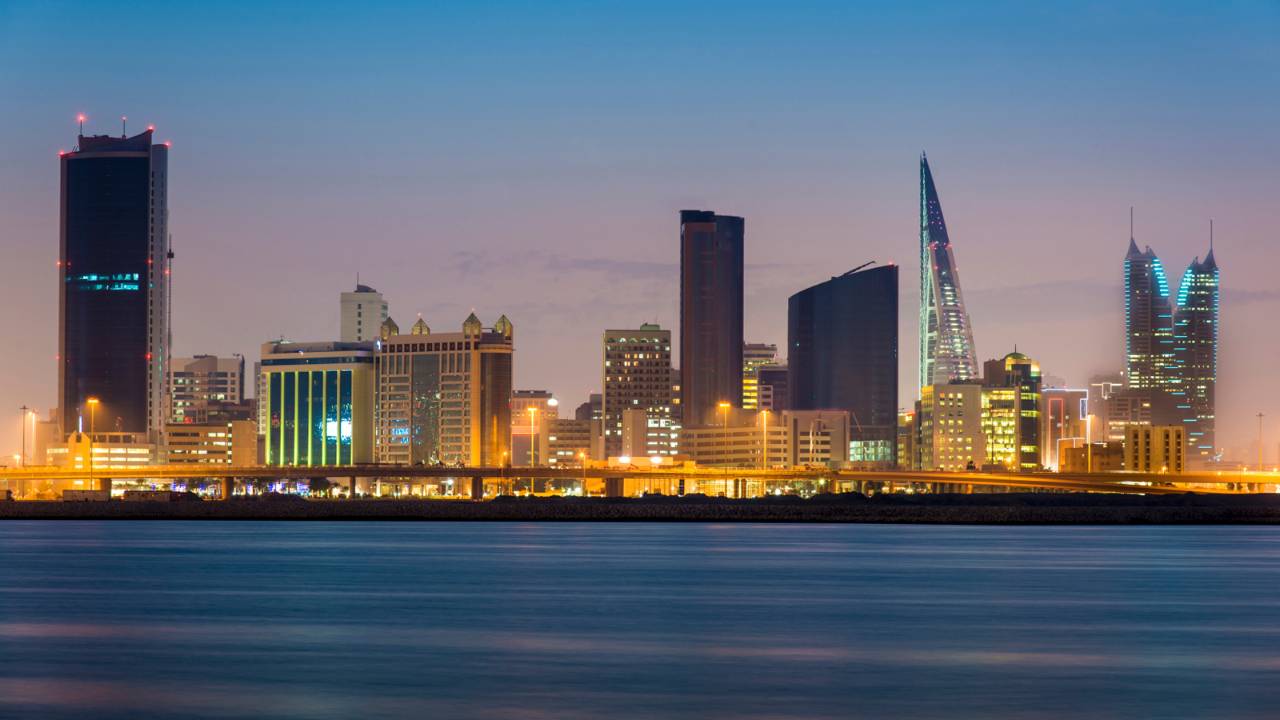 ____________________________________________________________________
THE PENINSULA CHICAGO LAUNCHES "TASTEFULLY THAI,"
A GLOBAL SHOWCASE OF AUTHENTIC THAI CUISINE,
CULTURE, ART AND WELLNESS

Guests and local residents will enjoy exquisite Thai cuisines, spa treatments, floral displays
and decorated elephant statues from the Land of Smiles between April 9 and 15.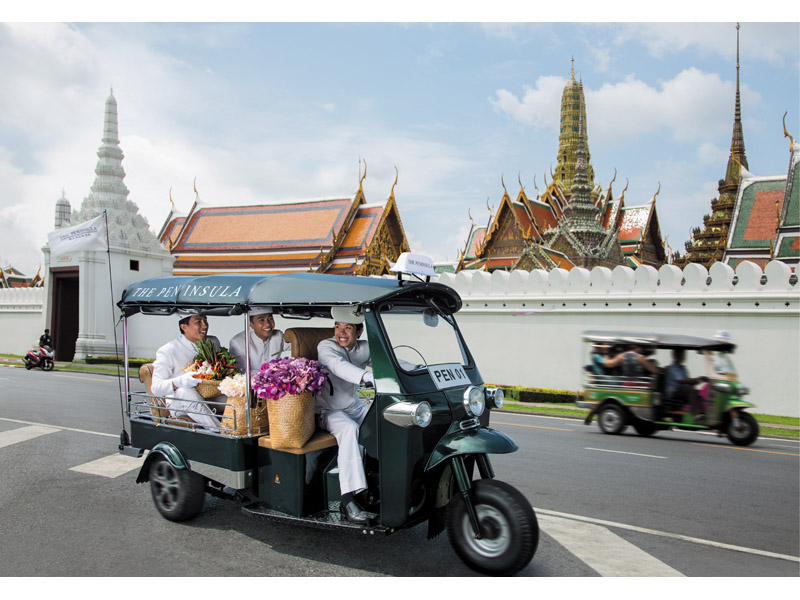 The Peninsula Chicago is presenting "Tastefully Thai," an exciting showcase of the very best of Thai cuisine, culture, art and wellness. The Tastefully Thai presentation is part of a global initiative by The Peninsula Hotels to support the Tourism Authority of Thailand's new global tourism promotion campaign, and to encourage leisure and business visitors to experience the unique charms of The Peninsula Bangkok and the Land of Smiles.
Tastefully Thai highlights at The Peninsula Chicago, include:
Thai Chef Week: From April 9 to 15, Chef Anuwat "Nu" Morakotjantachote, Executive Sous Chef at The Peninsula Chicago, will helm the kitchen at The Lobby to prepare authentic Thai dishes with a contemporary twist. Some of the home-style dishes are based on recipes passed down across the centuries by royal palace cooks, including, Phad Prig-Gaean Pa Nau (stir-fried beef, curry, and green peppercorn), Khoa-Hom (steamed jasmine rice) and Pla Sam Rod (deep-fried sea bass with sweet, spicy and sour sauce). Guests can select from two prix fixe menu options: a 3-course menu priced at $55 or a 5-course menu priced at $95 per guest.
Authentic Thai cuisine specialist Chef Nu has worked at prestigious restaurants across the United States, including Tuk Tuk Thai Restaurant in Brooklyn, New York and The Ritz-Carlton Orlando Grande Lakes, Florida. In 2004, he joined The Peninsula Chicago, and as Executive Sous Chef he oversees all of the hotel's restaurants. Chef Nu has received many distinguished awards, including the Médaille d'Honneur de Vermeil from the Société Culinaire Philanthropique, and he prepared a welcome reception for the Princess of Thailand.
Thai-inspired Afternoon Tea: The world-famous Peninsula Afternoon Tea receives a mouth-watering South East Asian makeover, with Thai-inspired sweet pastries and savoury delicacies such as Mee-krob (tapioca pearl filled with peanut, chicken, turnip) and Kanompang Nar Koong (crispy puff with pork) accompanied by traditional Thai iced tea. Afternoon Tea in The Lobby is priced at $55 per guest.
Turndown Treats: During the Tastefully Thai celebration from April 9 – 15, every hotel guest will receive a Thai-themed turndown amenity.
Thai Brunch Station: On April 12, Sunday Brunch will showcase an authentic Thai cuisine station featuring snow fish with three types of sauces, Phad Thai Noodle, Tom Yum Soup, and Green Curry Chicken. Brunch is served in The Lobby from 11:00 am to 2:00 pm and priced at $110 per guest and $40 for children 12 and younger.
Thai-Inspired Spa Treatments: Thailand is a haven of Oriental wellness excellence, and guests at The Peninsula Spa can refresh and rejuvenate body and mind with a Simply Peninsula Royal Thai Massage. Launching in Chicago on April 9 and a first for a hotel group, The Peninsula Hotels have partnered with the celebrated Wat Pho temple in Bangkok, home to one of the earliest Thai massage schools, where Peninsula therapists are taught traditional Thai massage in an exclusive teaching programme. This holistic treatment is a signature feature of the new Peninsula Wellness global initiative.
Dining reservations can be made by calling +1 (312) 573 6695 or email diningpch@peninsula.com. For spa appointments, please call +1 (312) 573 6860 or email spapch@peninsula.com.
Festive Thai Décor: Continuing the celebration of Tastefully Thai, The Lobby will showcase a display of bright and colorful elephants in full support of the Elephant Parade®, The Peninsula Hotels' partnering organization in an effort to create millions of smiles and raise awareness of the need for elephant conservation. The Peninsula Chicago will auction off these handcrafted replicas, with all proceeds benefitting the Elephant Parade®.
Tastefully Thai highlights at The Peninsula Bangkok, include:
From March to June, The Peninsula Bangkok will be bedecked with fragrant floral decorations inspired by Thai traditions. Guests can savour special menus created by The Peninsula's expert Thai chefs, plus a Thai-themed afternoon tea, turndown treats and spa treatments, including The Peninsula's new signature Simply Peninsula Royal Thai massage. Hotel guests will also have the opportunity to support the Elephant Parade charity, the world's largest exhibition of decorated elephant statues that raises funds for elephant conservation projects in Thailand.
Elephant Parade at The Peninsula Bangkok: The colorful collection of elephant statues displayed in the hotel will thrill guests of all ages. Created by artists from around the world for the Elephant Parade charitable programme, each statue is a unique work of art and exhibitions are held in different cities. After each exhibition, statues are auctioned to take home with part of the proceeds donated to elephant conservation projects in Thailand. The Elephant Parade's flagship store is located at The Peninsula Bangkok, and The Peninsula Hotels are proud to partner with the charity for the upcoming Elephant Parade in Bangkok in December 2015.
"Tastefully Thai" at The Peninsula Bangkok: Located beside the Chao Phraya River in the heart of the Thai capital, The Peninsula Bangkok combines true Peninsula luxury with sophisticated Thai charm. Between 24 March and 30 June, a special three-night package, priced from THB 29,000++, offers a daily buffet breakfast at River Café & Terrace and the "Senses of Thainess" Peninsula Academy programme.
A full day of magical Thai culture features a fun ride in a tuk-tuk to explore Thailand's most renowned flower market, a visit to the Museum of Siam to learn about the history of Thailand and its people, and sampling of the capital's famous Thai street food. A long-tail boat ride along the Chao Phraya River showcases all the elements that make life along the river uniquely beautiful. After visiting an orchid farm and a sacred temple, a signature Thai massage at The Peninsula Spa completes this truly tasteful Thai journey.
---