TEATIME AT THE RITZ LONDON                                                           Overview by Bonnie Carroll
The Ritz Hotel has a rich history and is considered one of the world's greatest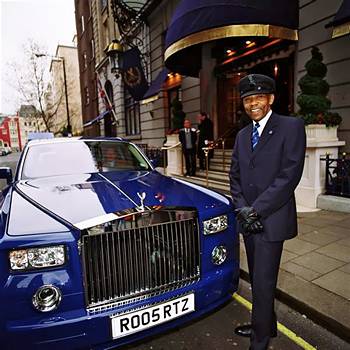 hotels. For over a century The Ritz has also been the benchmark by which other hotels have been measured. It is a London landmark and has been home to the great and the good, the intelligentsia, the glitterati and thousands of discerning guests since 1906. Ritz London Hotel in London, England, is two blocks from Bond Street and within one kilometer of popular London attractions including Oxford Circus, Wesminister and Knightsbridge. London Heathrow Airport is located 45 kilometers away.

The Ritz London was designed to resemble a Parisian block of flats. The lobby features high ceilings graced with glass chandeliers, fluted columns and a leaded glass ceiling topping the three-story rotunda. Service is excellent and includes welcomed amenities like complimentary newspapers, and a multilingual staff and concierge service.
 A delightful tea is served each afternoon in the Palm Court, but can also be enjoyed on the terrace. The Ritz Restaurant, where the Queen held her privage golden jubilee party in 2002, serves breakfast, lunch, tea and dinner. The Rivoli Bar, Palm Court and The Ritz Restaurant have a formal dress code and require men in jackets and jeans are not acceptable…thank Goodness!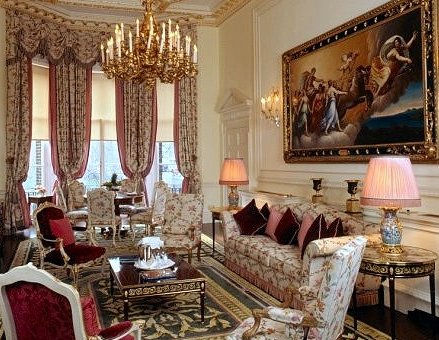 The seven-story Ritz Hotel's 133 guestrooms are furnished in the Ritz colors of blue, peach, pink and yellow. They feature crystal chandeliers, wall accents in 24-carat gold leaf, silk-covered headboards and restored antique furniture. Room amenities include minibars, in-room safes and private baths. Bathrobes and slippers are found in the marble baths as well. Most rooms look over Westminster or Piccadilly, and all include complimentary high-speed internet access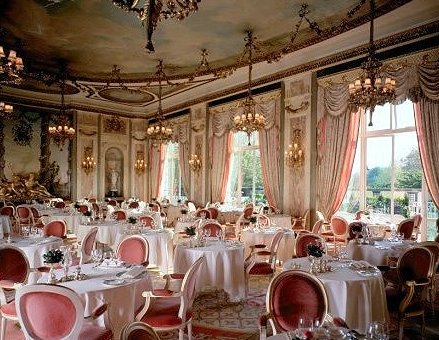 The most famous gathering place at the Ritz is The Palm Court, and this opulently decorated cream-colored Louis XVI setting is the world-famous institution that is known as "Tea at the Ritz", which was once frequented by King Edward VII, Charlie Chaplin, Sir Winston Churchill, Charles De Gaulle, Noel Coward, Judy Garland and Queen Elizabeth, The Queen Mother.
Many of these notables enjoy sipping tea at the Ritz. The Ritz Traditional Afternoon Teas offered in The Palm Court include:
Ritz Traditional Afternoon Tea
@ £39.00 per person
Enjoy a traditional Afternoon Tea in the spectacular Palm Court
Champagne Afternoon Tea
@ £50.00 per person
This tea includes a glass of Champagne.
Celebration Tea
@ £50.00 per person
Perfect for a birthday celebration, it includes a special birthday cake and delivered to your table whilst you dine.
Celebration Tea with Champagne
@ £59.00 per person
This unique Celebration Afternoon Tea is perfect for a birthday or any celebration, it includes a special cake and a glass of Champagne delivered to your table whilst you dine.
The hotel does not allow pets. Check-in time is 2 p.m. and check out is 12 noon. Ammenities include a fitness center, internet access, babysitting, parking, room service, currency exchange, shoe shine, laundry service, business service, safe deposit boxes, conference rooms, parking (valet), casino, security guard, video library, event catering, air conditioning, complimentary newspapers, tour assistance, airport transportation (surcharge), 24 hour desk service, express check-out, limo/town car service, beauty services, concierge, massage treatment rooms, smoke-free property, and a complimentary umbrella for walking tours or shopping in the rain.
The Ritz London, 150 Picadilly, London, 1-800-311-5192
www.theritzlondon.com
TRADITIONAL AFTERNOON TEA – THE RITZ LONDON


Menu

Smoked Salmon Sandwiches
Ham Sandwiches
Chicken Sandwiches
Cucumber Sandwiches
Mature Cheddar Cheese Sandwiches
Egg Mayonnaise and Cress Bridge Roll


Freshly Baked Raisin and Apple Scones with
Devonshire Clotted Cream and Strawberry Preserve


Assortment of Afternoon Tea Pastries
Ritz Chocolate Cake
£39 per person
A Glass of Champagne £18.00
---