August 2005
HOTEL SAVOY, Florence, Italy
Where Old Meets New Gracefully
by Bonnie Carroll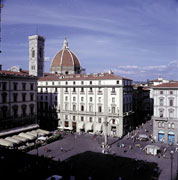 In the beginning of the 20th century famous chefs resided over aristocratic kitchens in private residences, and the exclusive Club dei Nobili, as well as the great hotels. Among the most illustrious was Louis Monod, a Franco-Swiss chef who "reigned" in the ultra-modern Hotel Savoy, and who was also a correspondent from Florence for the prestigious "L'Art Culinaire" magazine and author of the precious book of recipes "La Cuisine Florentine" published in Lurcerne in 1914.
Today the five-star Hotel Savoy carries on the tradition of providing Tuscan and international dishes in a simple elegant venue where impeccable hospitality is shown to visitors. L'Encontro" bar and restaurant in the Hotel Savoy is located in the heart of Florence, where the ancient church of San Tommaso in the Mercato Vecchio once stood.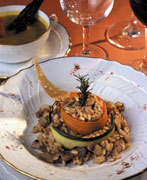 Hotel Savoy Executive Chef Luigi Sciullo is devoted to a philosophy of serving outstanding menu items in an ambience of simple elegance, using only the freshest and finest in local food products. His enthusiasm for creating exciting new recipes, while respecting tried Tuscan favorites is a "challenge" to the old maestro, Monsieur Louis Monod who, in his day, made the Hotel Savoy a veritable temple of good food. Hotel guests now have a lovely view of the piazza, while enjoying outdoor dining in the summer season. This piazza is a favorite place of mine, and offers guests a special opportunity to relax and enjoy the beauty of the surrounding historic structures and marvel at the exciting energy of the people of Florence.
The dinner menu includes a wonderful Prosciutto de parma stagionato, a salad of prosciutto cured for 24 months served with balsamic vinegar, raisin and pine nuts. Soups, pastas and risotto dishes grace the menu, including an unusual Maccheroncini conditi al ragu di vitello a coltello con fave e pecorino, a pasta served with chunky veal ragout tossed with ginger and lemon grass. Meat and fish entrees abound, and include a carre d'agnelo al forno con patate novella, capperi e pomodori, roasted rack of lamb accompanied by new potatoes, capers and tomatoes. Seafood favorites include Rombo al vapore su letto di patate e zucchini con salsa ai frutti di mare e zafferano, Steamed turbot on a bed of potatoes and courgette with saffrony seafood sauce, or brazino arrosto servitor con verdure primaverili allo zenzero e citronella, roasted sea bass served with spring vegetables and ginger citronette. There is also a Parmigiana de melanzane tradizionale, a dish of traditional homemade aubergine (eggplant) parmesan that is a signature item at L'Incontro. If after all this you are still up for dessert, Florence is renowned for its divine endings. They are all good!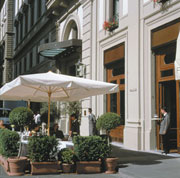 Located walking distance from major attractions of art, culture and fashion, the Hotel Savoy is ideal for business guests or those on vacation. I love the walk from this hotel to the Ponte Vecchio, which was built in 1345, and sits majestically above the river Arno. This famous bridge houses a bevy of fine jewelry shops, and is always a hub of activity. The Palazzo Pitti is also nearby, as is the Boboli Gardens. There are so many wonderful places to tour, and charming small restaurants to stop and enjoy a cappuccino while en route to the next museum or a visit with friends. Across from the hotel is one of the oldest dessert and candy business' in Florence, where beautiful desserts and candies reign, and I enjoyed a most memorable breakfast there during my stay.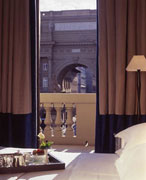 The rooms in the hotel are modern, but elegant, and have every high-tech convenience and amenity. My suite had a very comfortable living room area, with a desk that I used to plan my daily itinerary. The staff at Hotel Savoy are young, eager to please, and all great looking, not to mention, highly efficient. I love Florence, and this hotel is Ideally located for enjoying the best of its extraordinary beauty. For reservation information visit www.hotelsavoy.it.
Hotel Savoy, Rocco Forte Hotels
Piazza della Repubblica 7, Florence, Italy 50123
Tel: +39 055 27 35 1, reservations@hotelsavoy.it